1 Stage Vs 2 Stage Vs 3 Stage Snow Blower – What Is The Best Option?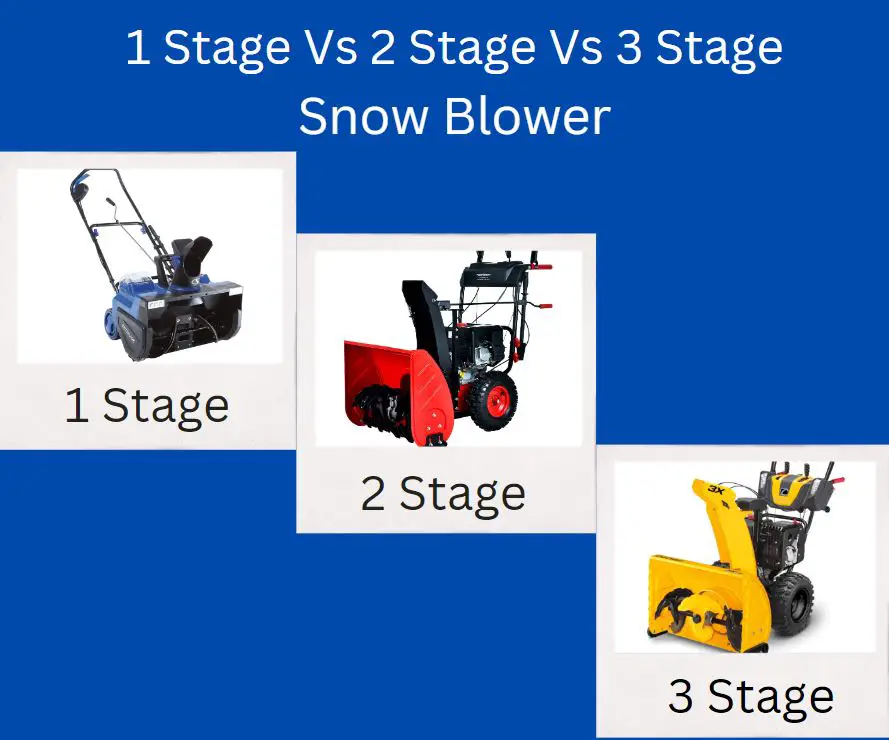 There's no doubt that a snow blower is necessary if you live anywhere that regularly sees moderate to severe snowfall.
You need these machines to help clear your driveway so you can get to work, go to the store and generally do what you have to do.
But a lot of people don't realize that not all snow blowers are built the same. Even as these machines are considered niche power tools, they vary greatly in terms of size, function and power.
If you are buying a snow blower for the first time then you probably have a lot of questions. One of the most common questions surrounding these machines is: what's the difference between a 1, 2 and 3 stage snow blower?
As you shop, you will surely see the amount of stages a blower has in the description as it indicates the power and functionality of the machine.
But in the following buying guide, we will break down what the different stages mean.
Our goal is to help make your shopping a bit easier and to help you find the snow blower that is perfect for your needs.
So join us as we demystify the differences between these kinds of snow blowers.
1 Stage Snow Blower Overview
"A single-stage snow blower basically only has an auger. The auger is responsible for all of the work. It lifts the snow from the surface and it also flings the snow out of the chute. Single-stage snow blowers tend to be less powerful and suited for smaller jobs."
2 Stage Snow Blower Overview
"With a two-stage snow blower, you get an auger and an impeller. The auger in a two-stage blower has the same job as in a single-stage blower: lift the snow from the surface. But it's the impeller that moves the snow up from the auger housing and into the chute."
3 Stage Blower Overview
"A three-stage snow blower will include an auger, an impeller and an accelerator. The accelerator moves the snow up along the shoot at greater speed and with more efficiency than the impeller. These types of blowers are intended for heavier snow."
1 Stage Vs 2 Stage Vs 3 Stage
You may have picked up on it already but one of the main differences between all three of these types of blowers is how hard the auger has to work.
In a single-stage blower, the auger has to work very hard so it is usually not able to pick up as much snow.
On the opposite end is the three-stage snow blower that allows the auger to focus on crushing and lifting snow while the accelerator and impeller do the rest. Each type is suited for different sized jobs as well.
Quick Facts
| | | | |
| --- | --- | --- | --- |
|   | 1 stage | 2 stage | 3 stage |
| Price | Cheapest | Mid-Price | Most Expensive |
| Load | Lightest | Mid-load | Heavy-duty |
| Power | Electric/gas | Electric/gas | Gas |
Single Stage Snow Blowers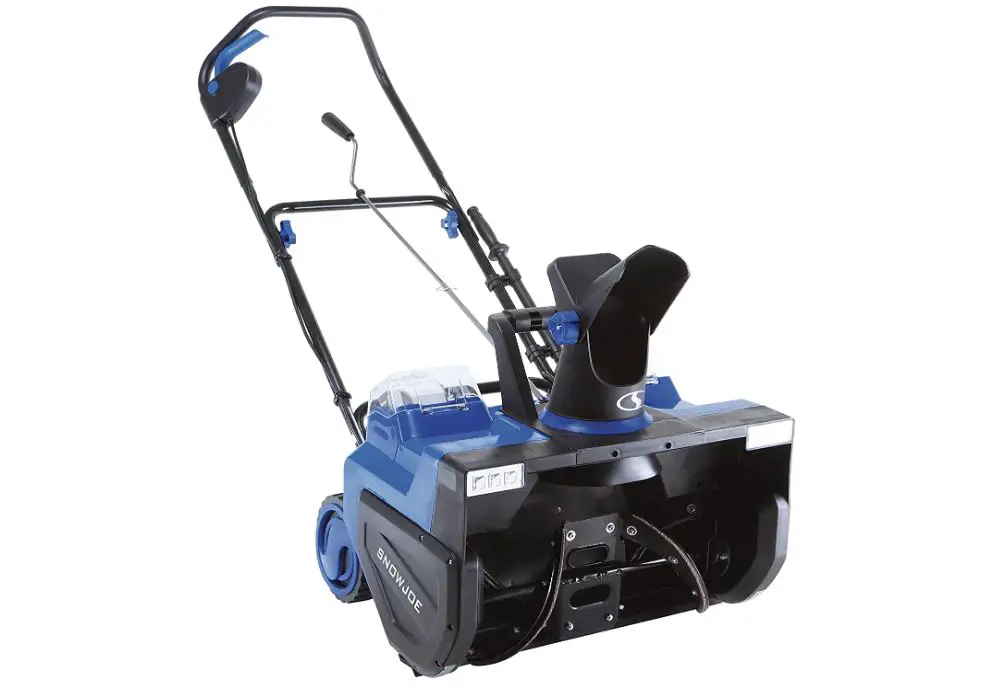 A single stage blower does not have an impeller or an accelerator.
Because the auger is responsible for both lifting and projecting snow out of the chute, the design is usually compromised.
In general, you should only use a single-stage snow blower for about 8" of snowfall – and we're talking about light/fluffy snow. These models don't do well with wet snow.
One of the most common problems with these kinds of blowers is that they take a long time to clear driveways. You should only consider buying a single-stage blower if you have a small driveway to clear.
Pros:
They are affordable
They can be battery-powered
Lightweight
Cons:
Two Stage Snow Blowers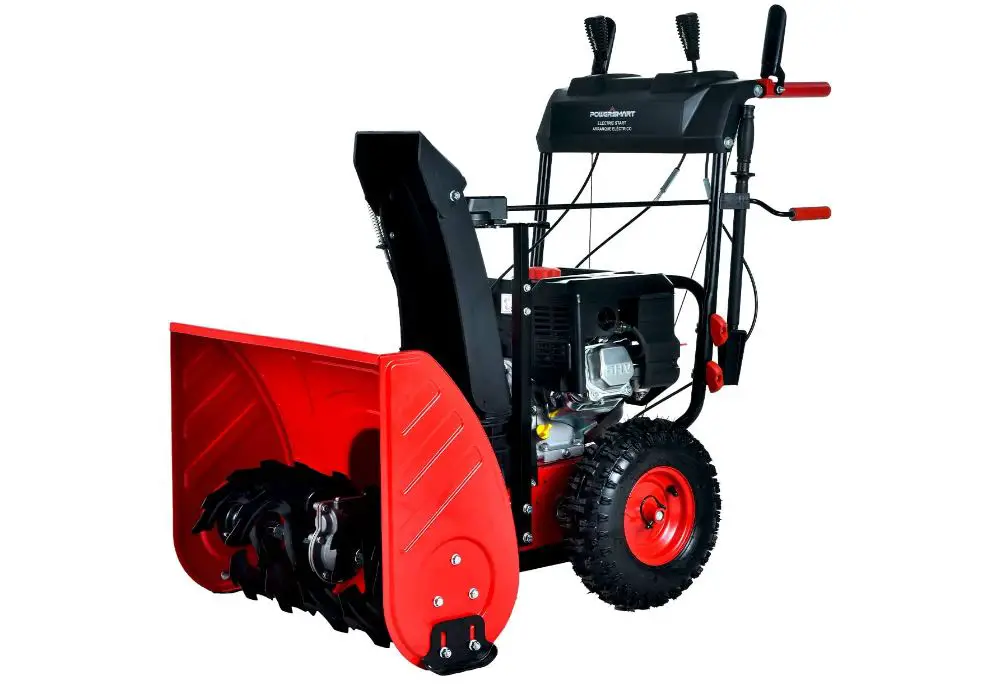 Two-stage snow blowers work with an auger and an impeller.
The impeller usually sits right behind the auger and helps to draw snow off of the auger blades. The impeller is also responsible for propelling the snow out of the chute.
Two-stage blower should be used for 2-3 car garages. They can handle hard-packed snow moderately well, just not a lot of it. One of the common problems that people have with these machines is that they can be difficult to control.
Pros:
Good for mid-sized driveways
The auger doesn't have to work so hard
They tend to last longer
Cons:
Three Stage Snow Blowers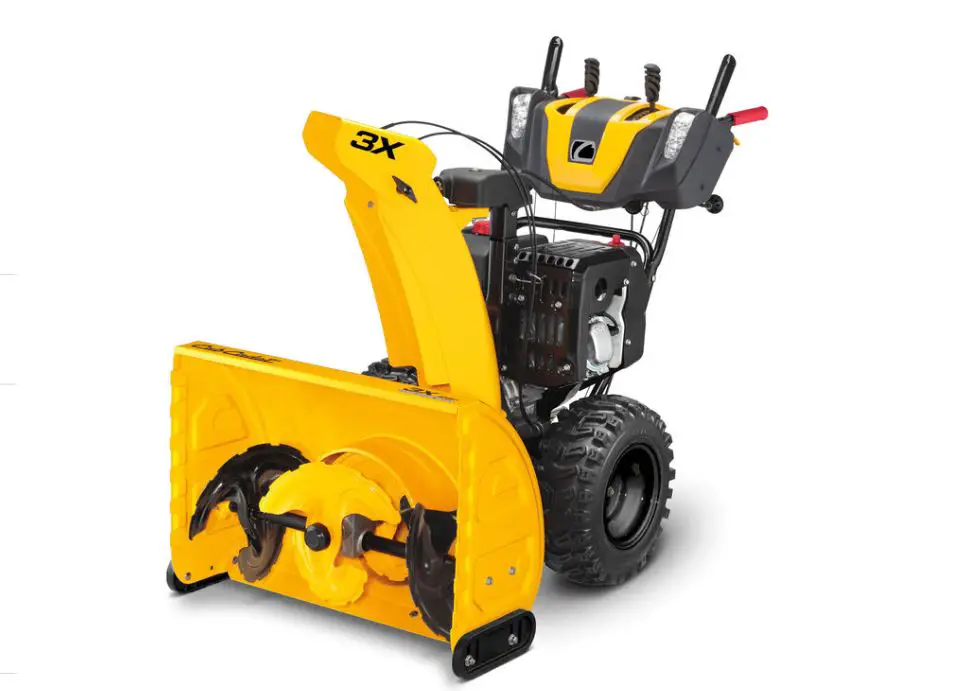 A three-stage blower has all the components of a two-stage blower but with the addition of an accelerator.
The accelerator essentially removes snow from the impeller and up the shoot very quickly.
These would be great for anyone with large properties to clear. They also work really well with hard, wet and packed snow. While these models are often self-propelled, they are usually very bulky, heavy and difficult to store.
Pros:
Very powerful
Great for large properties
Great for commercial applications
Cons:
Which is Best Overall?
Like many things in life, the answer to this question will depend on your needs. Each is designed to tackle different types and amounts of snowfall so you should consider the type of snow you usually need to clear every season.
Which Is Best For Large Driveways?
It's hard to imagine a driveway that would call for a 3-stage blower but we won't exclude all the millionaires out there with massive properties. In general, a 2 or 3 stage blower will be adequate for large driveways.
Which Is Best For Small Driveways?
For small driveways, you are going to want to take a look at sing;e-stage snow blowers. However, you may need to upgrade to a two-stage blower if you typically deal with wet snow
What About Backyards?
It will depend on the size of your backyard and the surface material. For wooden decks, you'll want a blower with an adjustable auger height or rubber augers.
Which Is The Most Expensive To Run?
By far, the most expensive type of snow blower to run is a three-stage snow blower. They consume the most gas because they almost always have larger engines than two-stage snow blowers.
Our Favorite Single Stage Snow Blower
Snow Joe 24V-X2-SB22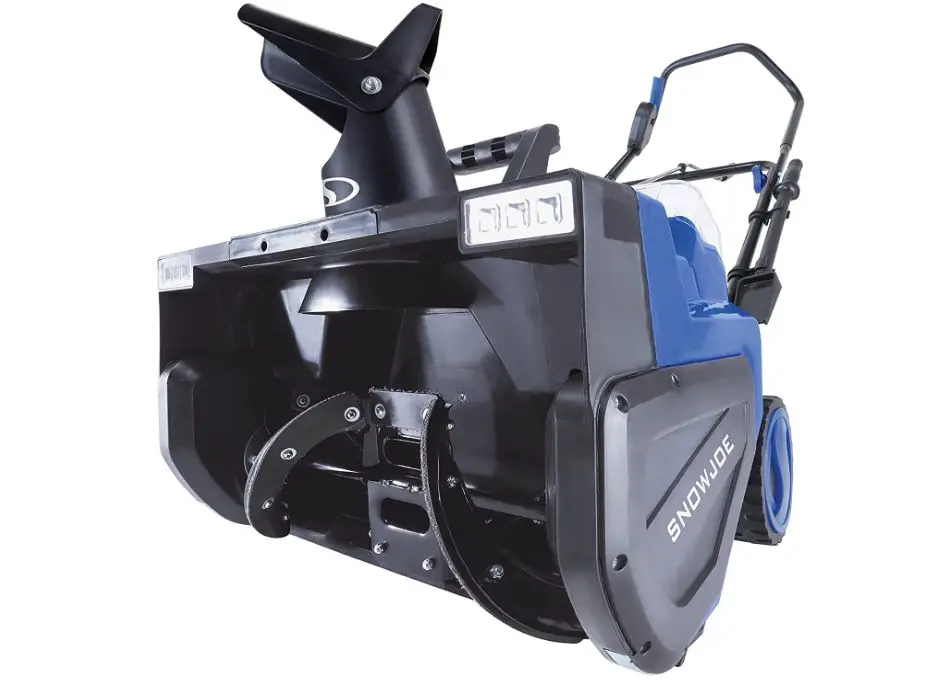 The Snow Joe 24V-X2-SB22 is a cordless electric snow blower with a 22 inch clearing path.
It also has rubber augers which won't do much for hard snow; but they will be safe on your wooden deck.
The Snow Joe 24V-X2-SB22 also comes with an LED headlight to make clearing snow at night safer. The Snow Joe 24V-X2-SB22 is rated to move 840 pounds of snow per minute and can throw snow up to 25 feet.
So for a battery-powered, single-stage snow blower, this machine is actually pretty powerful. You can also adjust the chute up to 180 degrees and control the direction with the lever on the handlebars.
Pros:
Powerful for a battery-operated snow blower
Comes from a good manufacturer
The auger is safe for all surfaces
Cons:
The auger doesn't break up snow very well
Overall Score: 94/100
Check Out More Reviews Here:
Our Favorite Two Stage Snow Blower
PowerSmart Snow Blower 24-inch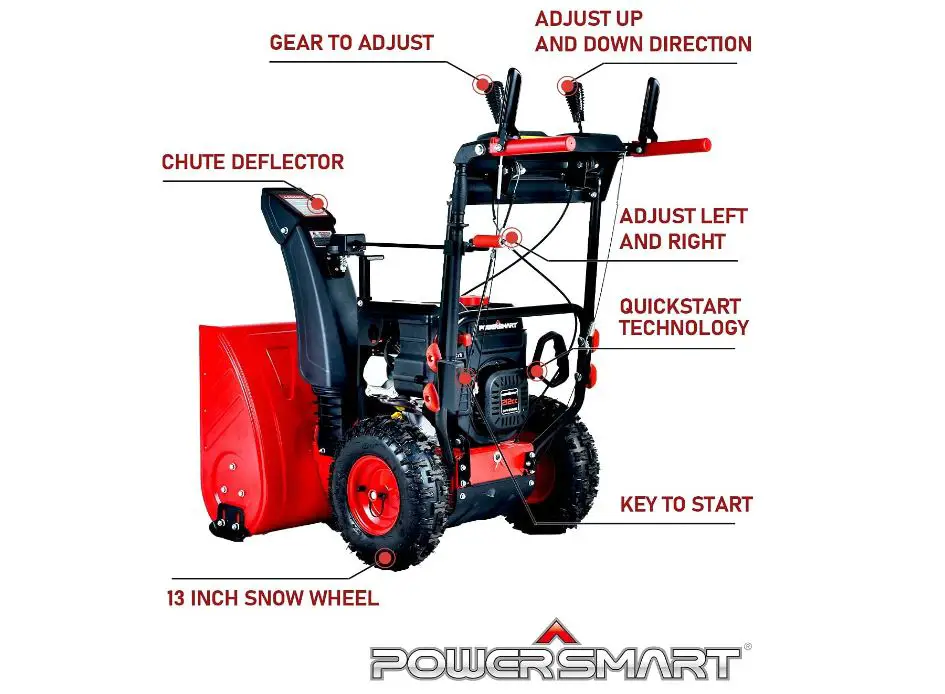 The PowerSmart Snow Blower 24-inch snow blower would be a great choice for anyone who wants a 2-stage blower that is easy to use.
This is a self-propelled snow blower which means that the auger actually helps move the entire machine along.
The only caveat is that this is a corded electric snow blower so your mobility is limited. However, it does have a 212cc engine that is powerful enough to clear up to 12 inches of snow.
The PowerSmart Snow Blower 24-inch also has 6 forward speeds and 2 reverse speeds.
We liked the fact that the PowerSmart Snow Blower 24-inch snow blower has a steel, serrated auger. This makes it much easier to break up hard snow and even small ice patches – all in a snow blower that's easy to maneuver.
Pros:
Includes a 2-year manufacturer warranty
Adjustable snow chute
Wide impeller
Cons:
Overall Score: 96/100
Check Out More Reviews Here:
Our Favorite Three Stage Snow Blower
Cub Cadet 3528SWE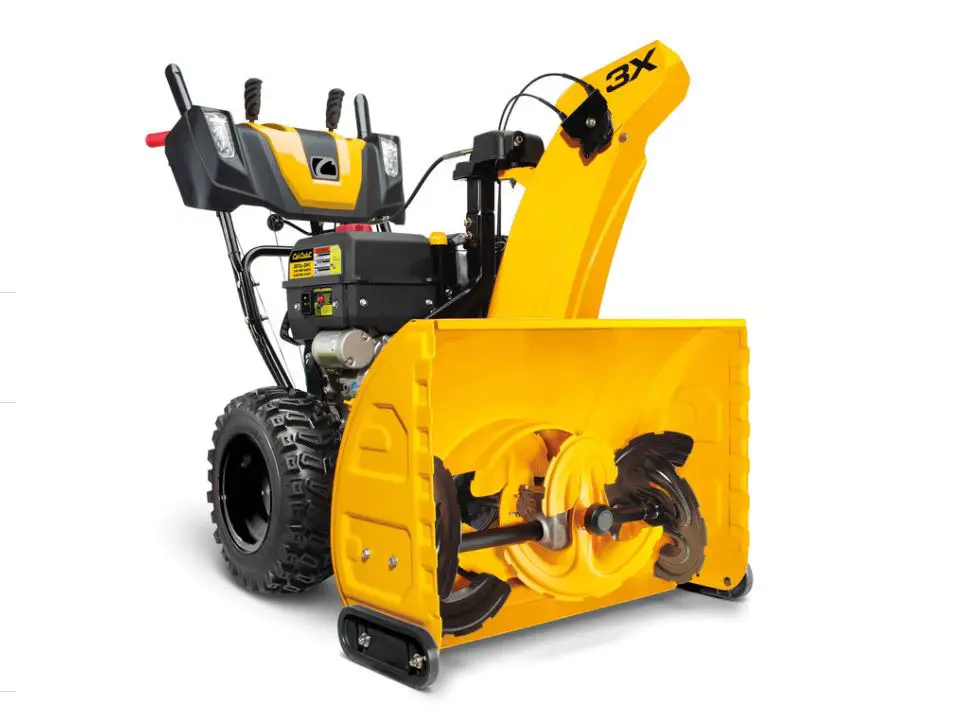 One of the best things about this snow blower is that it has a 4-cycle engine which means you don't have to mix oil and gas to operate it.
Most 3-stage blowers require that you add a certain amount of both gas and oil.
The Cub Cadet 3528SWE is extremely durable and should last for a very long time even if you use it heavily every season.
For that reason, we would say it would be a great choice for anyone looking to make a long-term investment into a blower that will remain reliable for seasons to come.
The Cub Cadet 3528SWE also features electric start so it's very easy to start up even in very cold conditions. It has multiple reverse speeds and is capable of clearing 24+ inches of hard snow with ease.
Pros:
Works great in deep snow
Moves wet snow very easily
No need to mix gas and oil
Cons:
Overall Score: 95/100
Check Out More Reviews Here:
Snow Blower FAQs
Is a 3 stage snow blower better than a 2 stage snowblower?
Not necessarily. A three-stage blower will consume more gas and may be harder to operate than a two-stage blower. However, a 2-stage blower may not have the power to clear heavy snow or large driveways.
Is a single-stage or two-stage snowblower better?
It will depend on your level of need. A two-stage blower will certainly be better if you have a large driveway to clear. However, single-stage blowers are less expensive and they don't consume as much fuel.
Is a 3 stage snow blower a gimmick?
Certainly not for people who live in areas that regularly get 24+ inches of snowfall each season. It's true that for most parts of the world, a three-stage blower is unnecessary. However, extreme snowfall areas may make a three-stage blower totally necessary.
How much snow can a 2 stage snow blower handle?
It will depend on the make and model to be sure but in general, two-stage blowers are rated to handle up  to 10 inches of snow.
What's the difference between a snow blower and snow thrower?
The main difference is that snow blowers are usually powered by gas. Snow throwers are also almost always single-stage machines.
How many inches of snow should fall  before you use a snowblower?
If any snow is impeding you from getting your car out of the driveway, you may need to use a snow blower. But in general, snowfall of 4 inches or more will usually necessitate using a snow blower.
Do snowblowers work on wet snow?
Three and two stage snow blowers will work on wet snow.
What is the best way to remove snow from a gravel driveway?
You can use a snow blower on a gravel driveway. Just make sure that it has skid shoes.
How many years does a snowblower last?
With proper maintenance, it is not uncommon for quality snow blowers to last for more than 10 years.
Should you salt your driveway before or after it snows?
You should only salt your driveway once all the snow has been cleared from it.
Should I run the gas out of my snowblower?
Before storing your snow blower for the season, you should make sure that the gas tank is completely drained.
Do I need to change snowblower oil every year?
Yes. It is recommended that you change the oil in your snow blower at the end of every season.
Can you leave a snowblower out overnight?
You can, as long as you make sure to keep it elevated off the ground and close off the snow chute.
Final Assessment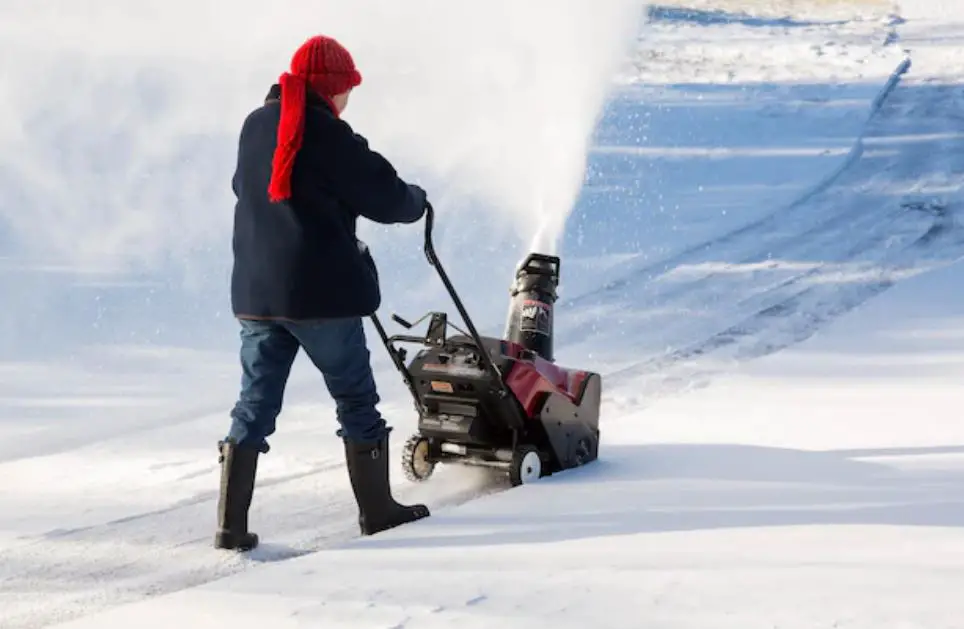 At the end of the day, 1, 2 and 3 stage blowers all have their place.
3-stage blowers will probably only be appropriate in extreme weather areas while 1 and 2 stage blowers should work well for small to medium driveways and properties.
When all is said and done, your property and the type of snowfall you deal with should determine which type of snow blower  is best.