Best Electric Riding Lawn Mowers 2022 – Get The Best Deal Here!

The world has shifted to becoming a more eco-friendly place. With that, the shift from gas to electric has even affected the lawnmower industry. An increasing number of people are seeking out riding mowers that are battery-powered, reduce emissions and run quiet. In this article, we discuss a number of electric riding mowers, and point out the pros and cons of each one.
Benefits of Electric Riding Lawn Mowers
The growth of electric riding lawnmowers means that the technology has improved too, making them more powerful and manoeuvrable. Therefore, the benefits of using electric machines have increased:
They're environmentally-friendly because they don't use gas. This results in reducing emissions into the atmosphere.
They're very quiet, which means that you won't suffer noise pollution when you mow. You can also mow at any time of night or day and you won't disturb your neighbours.
There is less repair work on items such as belts, and less cleaning work to be done in the engine.
The focus on increased power and manoeuvrability makes them easy competition for gas-driven mowers.
With all these benefits, you have nothing to lose by switching to this niche.
What to Look for in an Electric Riding Lawn Mower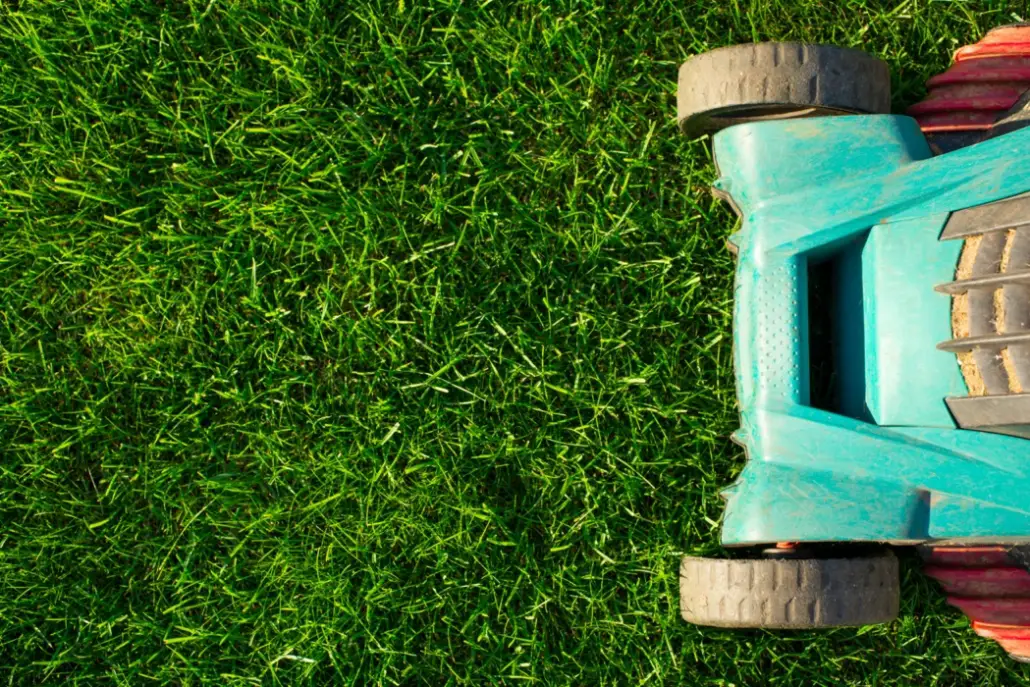 There are several things you need to consider when looking for an electric lawnmower.
Power
You need a mower that will suit your terrain. If you have terrain with a lot of hills, or a steep hill, then you'll need a mower that gives you the greatest power. You need to be able to get up the hills easily, but be prepare to pay a little more. However, if you have a small yard, then power isn't your greatest concern, and you can choose an option that comes a little cheaper.
Durability of the battery
Consider the cutting time after being fully charged. For larger lawns, you'll require cutting time that lasts about 1.5 to 2 hours. For smaller lawns, a smaller model that gives you 30 minutes cutting time will suffice.
Comfort
When driving a riding mower for more than 20 minutes to cut your lawn, comfort is an issue. There's little as off-putting as a bumpy ride. So, choose a mower that gives you seat-suspension, and solid cushioning if you're going to spend a lot of time in the saddle.
Radius of turn
Mowers have to get into small spaces, and the tighter the ability to turn, the better the mow. Zero-turn radius gives the mower a great edge when it comes to manoeuvrability. If you have a square or rectangular piece of lawn, this isn't quite as important.
THE TOP 3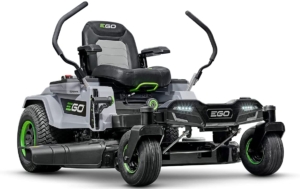 EGO Power+ ZT4204L 42″ Z6 Zero Turn Riding Mower with (4) 10AH Batteries
Best Choice
RYOBI 38-INCH 100 AH BATTERY ELECTRIC RIDING MOWER
Best Premium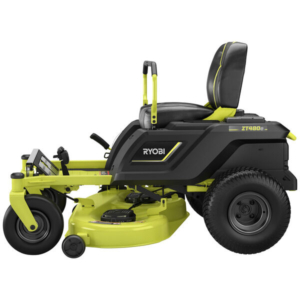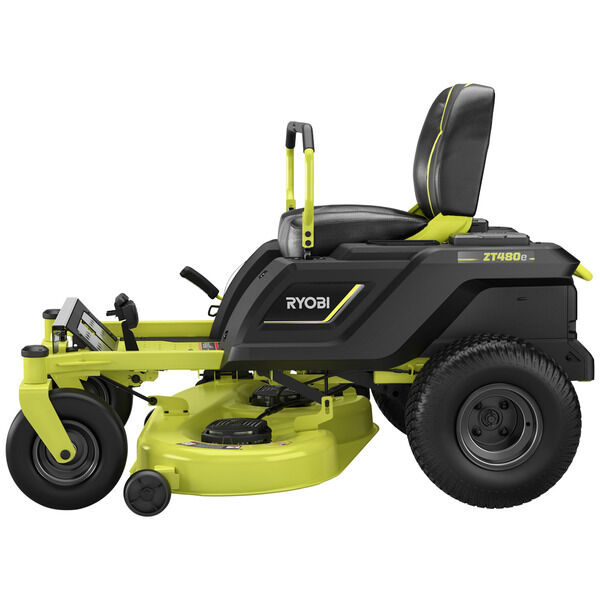 RYOBI 42-INCH 100 AH BATTERY ELECTRIC
Best Zero Turn Mower
#1 – EGO Power+ ZT4204L 42″ Z6 Zero Turn Riding Mower with (4) 10AH Batteries – Best Choice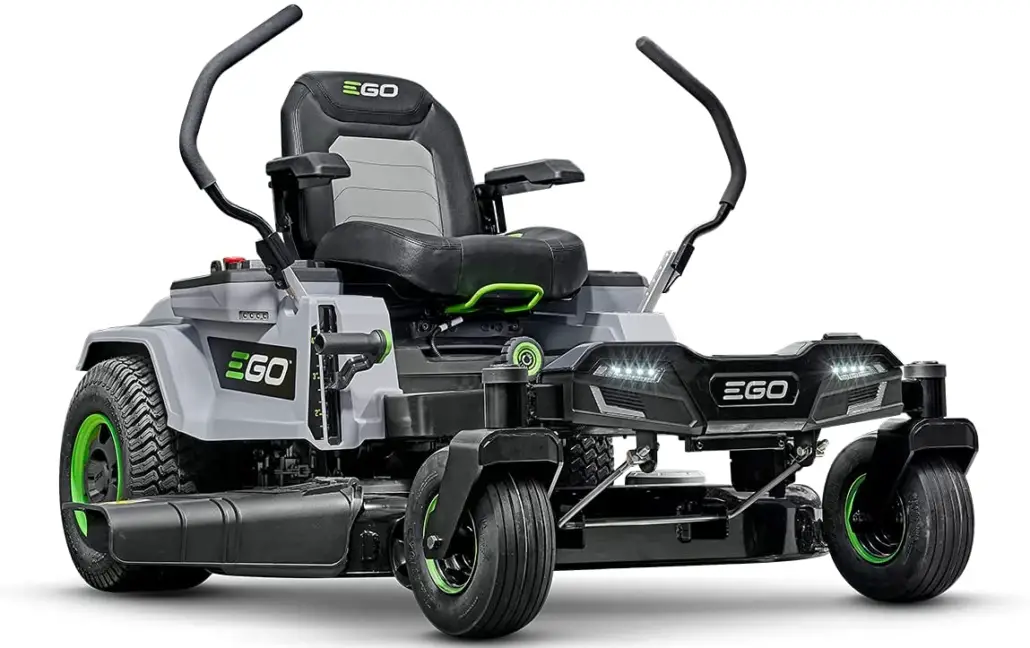 The best electric mower on our list, this machine is nifty, powerful and silent. It has the fastest charger on the market. The EGO Power+ also has an LCD interface with three driving modes: Control, Standard and Sport for varying driving needs.
Specs
Frame: 42"cutting deck
Power: equivalent of 22 hp
Radius: Zero turn
Steering: Lever
Top speed: 8 mph
Cutting positions: 10 (1.5 – 4.5 inches)
3-in-1 function: mulching, bagging and side disperser
Accessories: Phone charger, cup-holder, bum-box
Charge time: 90 minutes
32 LED lights
4 brushless motors
6 x 56V ARC lithium batteries
Features and Overview
The EGO Power+ features Peak Power+ technology, which means that several batteries can be run at the same time. You can also add any number of many batteries you like. This will result in longer running power before charging which is a great advantage in very large areas off lawn.
It's user friendly thanks to the LCD display where you can control blade speed and pick driving modes. It's also comfortable thanks to hydraulic seat suspension.
Pros
Superb comfort
Speedy
Tight turns
Very sturdy
Super-fast charger
Platform-compatible rider
Spare batteries
Cons
Overall Rating: 99/100
Check Out More Reviews Here:
#2 – RYOBI 38-INCH 100 AH BATTERY ELECTRIC RIDING MOWER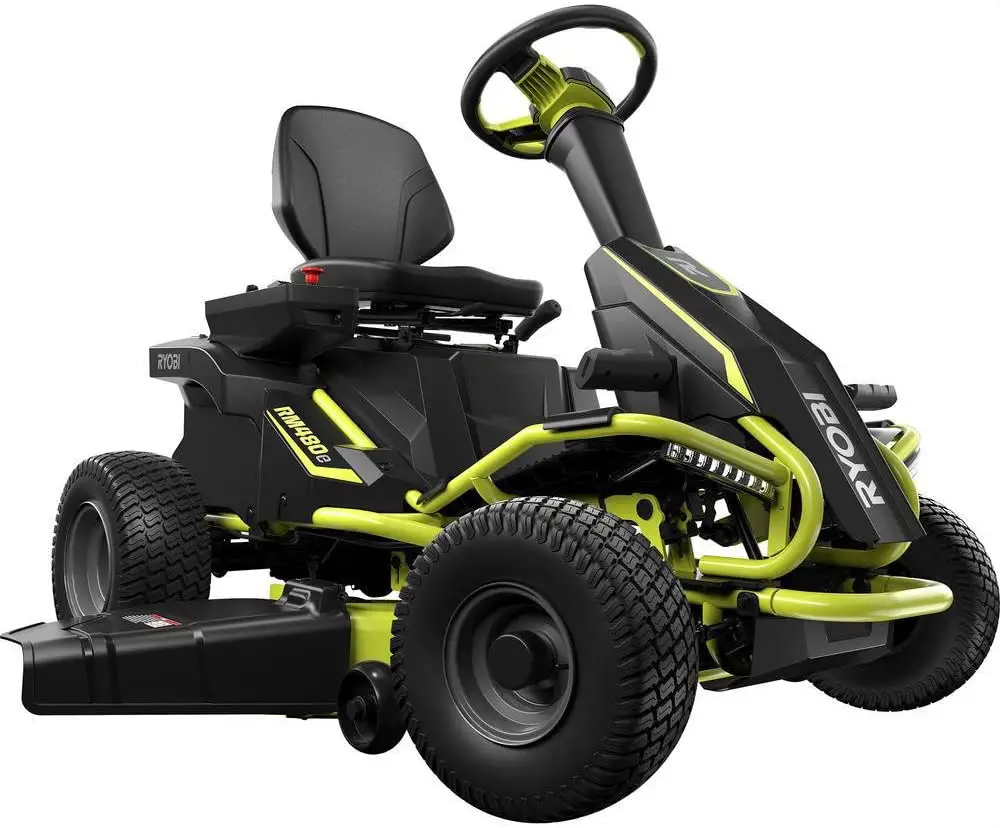 This quiet mower is good for mowing home yards. It has good speed, a small turning circle, and good torque, which makes mowing rapid, even over thick grass.
Specs
Cutting deck: 38"
Cutting time:5 hours
Max speed: 8 mph
Accessories: USB phone charger
Manual transmission
5 acres per charge
48 V battery
LED lights
Cruise control
Features and Overview
This mower suits small yards with relatively flat surfaces. It will give you a lot of cutting time per charge, and will work its way around yards with slopes up to 15 degrees. It also allows you to mulch, and to adjust the blade height and reverse cutting helps you get more done in a short time.
Pros
High amount of cutting time and acreage per charge
High speed
Solid amount of torque
Stable
Can reverse cut
Cuts thick grass
Can adjust blade height
Cons
Seat has a lot of bounce
Design flaws such as placing of levers
Some self-assembly can result in faults
Overall Rating: 92/100
Check Out More Reviews Here:
#3 – RYOBI 42-INCH 100 AH BATTERY ELECTRIC – Best Zero Turn Mower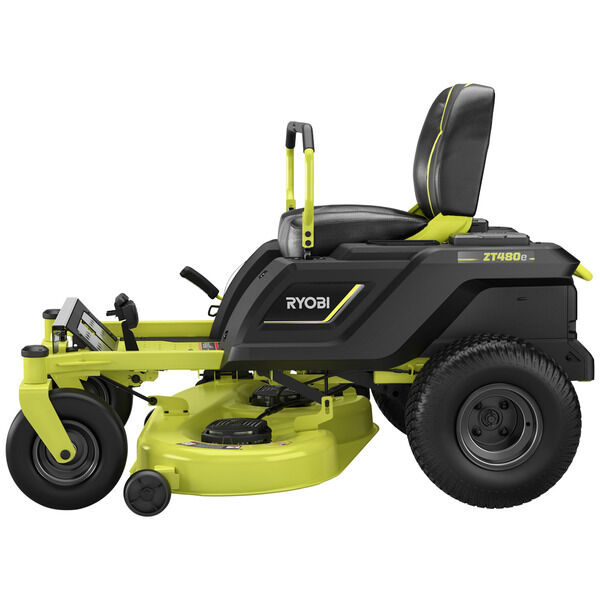 This mower is suited for homeowners rather than commercial gardeners. It's a sturdy machine, with a fair running time, and a few added extras like cupholders.
Specs
Cutting area: 42"
Cutting height: 1.5" to 4.5"
Drive type: zero turn
Max speed: 7mph
USB port
Lap-bar steering
Features and Overview
This steel-framed mower gives you manoeuvrability and ease of steering. It will also function well on small areas of land that are flat. It does well where the grass is even. It's simple to adjust the blade height or the seat. The engine's mid-range of power is practical for home lawns.
Pros
Good cutting time per battery charge
LED lights for night cutting
Charge your phone while working
Can work in small spaces
Low vibration
Comfortable seat
Cons
Can't mow hills or rugged terrain
Loses torque over higher grass
Some steering control issues at times
Overall Rating: 91/100
Check Out More Reviews Here:
#4 – Mean Green NEMESIS ZERO-TURN MOWER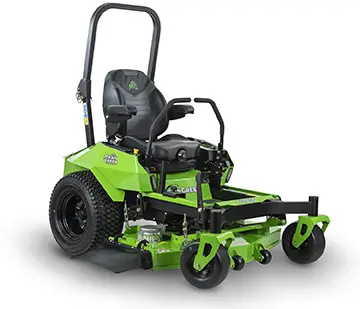 One of the most powerful and versatile riding mowers on the market, this machine cuts at great speed, even up hills.
Specs
Engine: 28 hp
Battery: 72 V battery
Speed: up to 8 mph
Capacity: Allows cutting of 5 acres or up to 2.5 hours
Adjustable cutting height: 1.5" to 5.25"
Interactive touch screen display
ROPS bars
Features and Overview
This is a fairly fast machine and the battery will allow you to cut for over two hours, which is more than most other products. It doesn't skimp on comfort, with its adjustable spring-loaded front seat and armrests.
Additionally, you can leave the grass a little longer than other mowers because of the increase in cutting height. Thanks to the low centre of gravity, you have stability on slopes up to 15 degrees. What's more, the touchscreen allows for adjustment on the move.
Pros
Powerful engine
Comfortable
Navigates steep slopes
Cutting height range
User-friendly touch screen
ROPS bars prevent destabilisation
Cons
Premium pricing
Takes 7.5 hours to charge
Overall Rating: 98/100
Check Out More Reviews Here:
#5 – CUB CADET ULTIMA ZT1 42-INCH 56V MAX ZERO TURN MOWER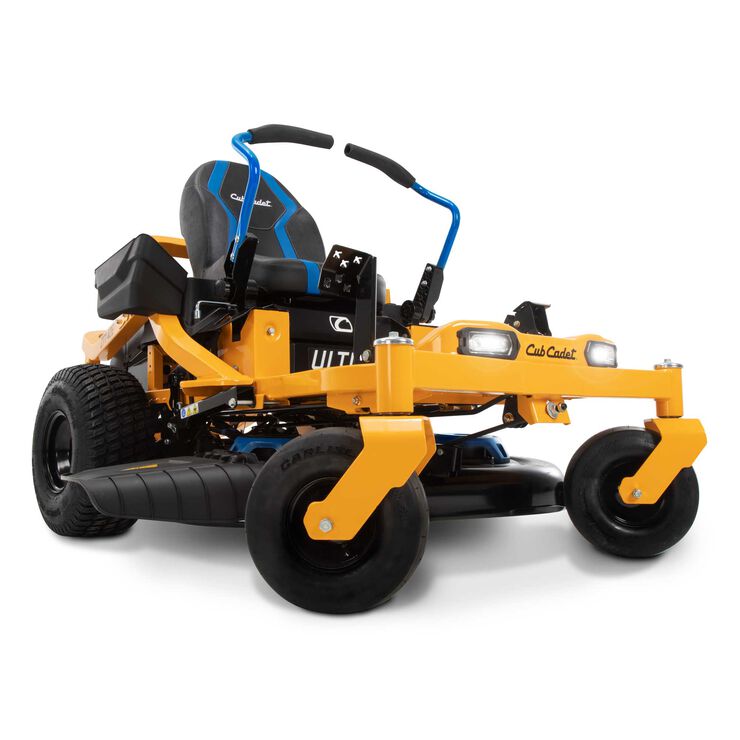 This silent mower has steering levers and an adjustable cutting height up to 4.5 in, and cutting area of 50 in, with good ability to go up hills.
Specs
Battery: 56 V
Cutting area: 2 acres capacity; 50" wide
Speed: up to 7mph
Engine: 23hp
Blades: Adjustable up to 4.5"
Adjustable seat
LED lights in front
Zero degree turning radius
Features and Overview
This powerful mower enables you to get your work done quicker. Not only does it have a zero degree turning radius, and a wide cutting area, but it can move fairly speedily. Additionally, it's comfortable and sturdy, with a solid frame.
Pros
Quick mowing
Zero degree turning radius
Can adjust blades higher than some other mowers
Will go up hills easily
Cons
Self-assembly can result in flaws
Overall Rating: 97/100
Check Out More Reviews Here:
#6 – Craftsman E150 30-Inch Electric Riding Mower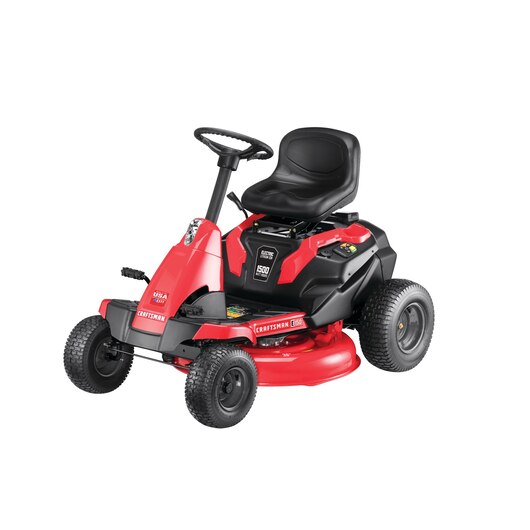 An excellent example of an electric riding mower, this is a compact version of the quiet-running machines.
Specs
Battery: Fast-charge lithium ion 56V battery
Cutting time: 1 hour on a charge
Turning radius: 18"
Foot-powered pedal
Soft-touch steering
Features and Overview
This foot-operated riding mower has a quiet electric motor, giving you a pleasant cutting experience and eliminating harmful emissions. Its small, 18 inch turning radius enables you to turn easily in small spaces. Along with a mid-back seat, the soft-touch steering wheel give you comfort as you work.
Giving you great value for money, there's an optional mulching kit, and an LED headlight for greater visibility.
You can use this one for hilly terrain, as long as you head straight up the incline.
Pros
Comfortable ride
Easy steering
Foot-powered pedal gives ease of control
Optional mulching kit
LED headlights
Goes up hills well
Cons
Complaints regarding steering and brakes
Only one hour of cutting time
Overall Rating: 92/100
Check Out More Reviews Here:
#7 – Weibang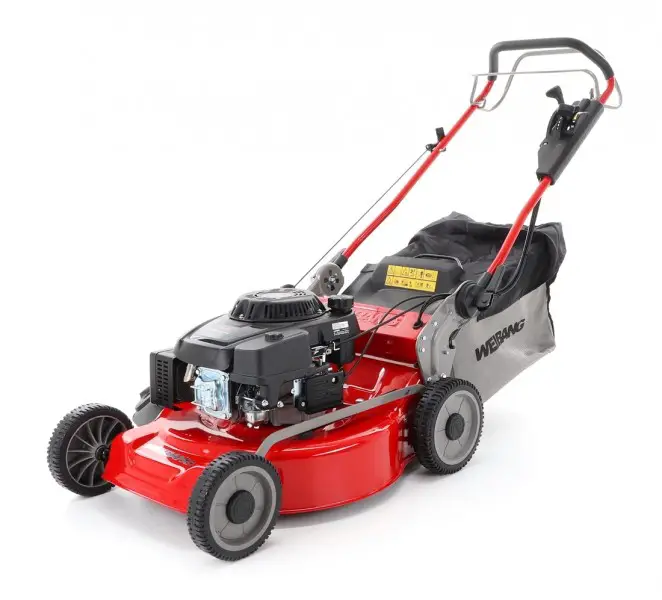 This 72V battery-powered rear engine model gives the quietness and comfort to be expected of electric riding mowers, with the ability to cut for 2 hours. It's really easy to drive, so beginners can try it out.
Specs
Battery: 72 V
Cutting time: 2 hours
Cutting positions: 10 (1" – 4")
Turning radius: 18"
LED lights on front bumper
Mulching
Reverse mowing
Features and Overview
This quiet mower is rear-powered, and has an automatic transmission, giving you forward, neutral and reverse gears. It gives an easy, comfortable ride, with long duration of cutting. Its user friendliness is enhanced by the control panel and LED lights that make it possible to safely work at night. Thanks to an adjustable seat it can work for different people and still provide comfort.
Pros
2 hours cutting time
Mulching included
LED lights
Safety features make it family-friendly
Adjustable seat
Adjustable cutting positions
Can reverse-cut
Cons
Takes 6 hours to charge
Can't mow up steep hills
Overall Rating: 97/100
Check Out More Reviews Here:
#8 – 42″ TimeCutter 452cc Zero-Turn Riding Mower with Smart Speed – Best Premium and Alternative Option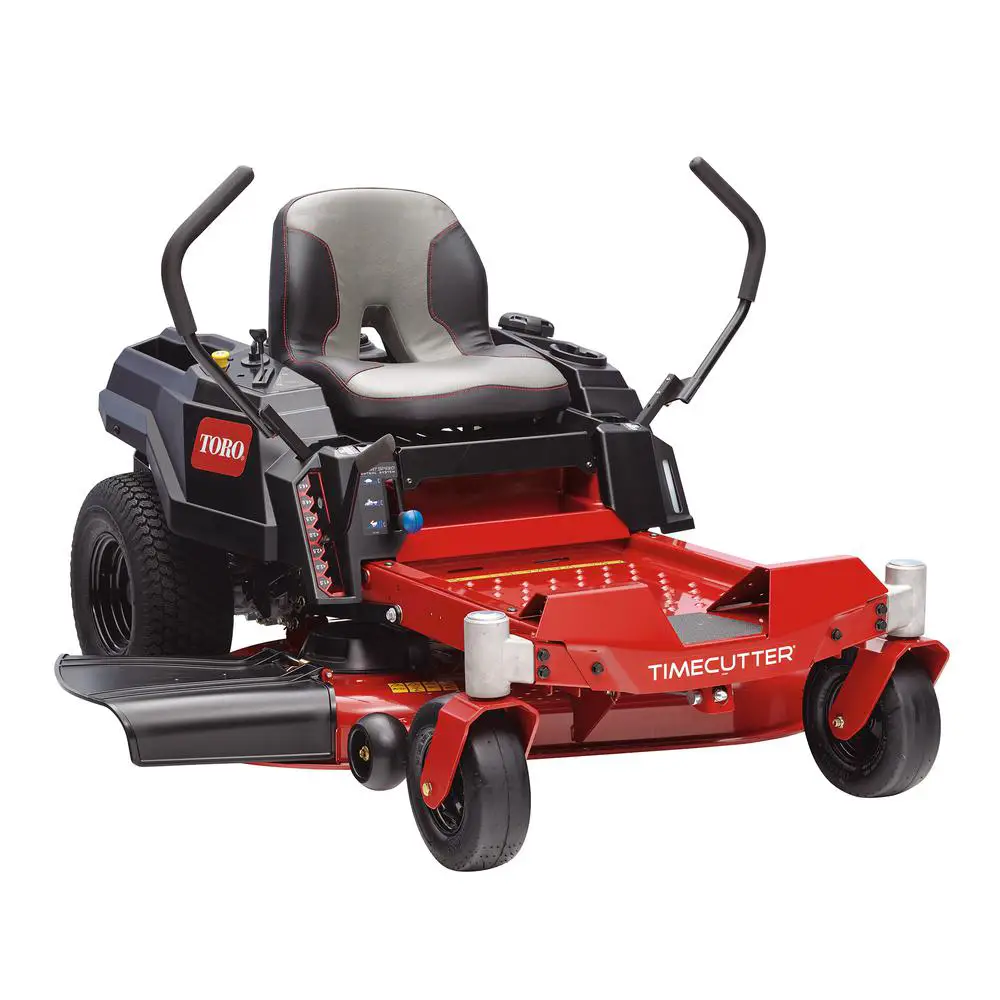 If you do want a fuel driven riding lawnmower with their unique benefits, here's one of our favorites.
The Timecutter mower is designed for large yards. It's fuel-driven, with superior blades that adjust for speed through smart-speed technology.
Specs
42" frame
Step-through deck
Smart-speed technology blades
Steering: levers
Cutting height:5" to 4.5"
Dual hydrostatic transmission
Fuel-driven
Zero-turn
Features and Overview
The Timecutter is a powerful riding mower, that gives a superior cut to your lawn with minimal wear and tear on the blades. It rides well up hills, and turns in tight spaces, making it practical for awkward areas. It also has a foot-lever for adjusting blade height, and optional ROPS (Roll-over Protection System) bars.
You'll be able to work outside comfortably thanks to shock absorbent seating.
Pros
Superior seating
Quality blades
Solid frame
Speedy mowing
Easy adjusting of blade height
Compact for easy storage
Stable
Cons
No hour-meter
Tubeless tires need pumping at tire specialists
Overall Rating: 98/100
Check Out More Reviews Here:
Final Words
Your choice of lawnmower will depend on your budget and the size and landscaping of your lawn. In most cases, you can find an electric mower to do the job as well as some fuel driven ones.
If you have a large lawn with hills, then you can't go wrong with an ECO Power+ or the Timecutter mentioned above. They really are the most powerful, sturdy and long-lasting mowers out there.
However, if you're on a budget, or you have a smaller lawn, then consider the Craftsman or Cub Cadet. They still offer value for money!
Gardening can be so much easier—and eco-friendly—when using electric lawn mowers!
Happy mowing!