Best Toro Snowblower Reviews 2022 – Are They Worth Buying?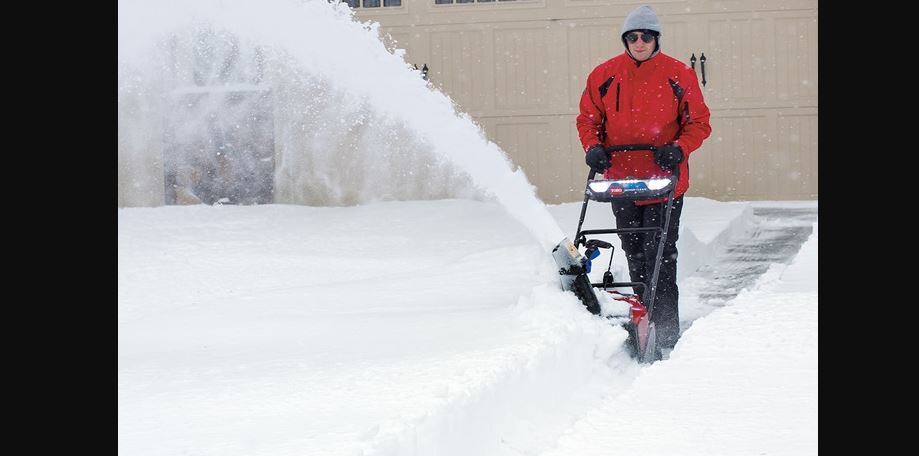 If you live in an area prone to heavy snowfall in the winter months, you might need more than a shovel to keep your driveway, stairs or walkways clear.
In this instance, you'll need a quality, easy-to-use snow blower. When shortlisting potential snow blower options, you'll soon find that Toro is the brand recommended by many.
Toro History
Founded in 1914, the Toro company originally started out making building tractor engines for The Bull Tractor Company.
They released their first snow blower in 1952 and have been dominating the market ever since.
Is Toro a Good, Reliable Brand and Why?
When it comes to reliability, Toro is known for producing among the most durable machines in the industry.
Their machines are sturdy and suitable for home and commercial purposes.
Toro snowblowers have a stellar reputation because they're fast, lightweight and easy to use. With their wide product range, it's very easy to find the perfect snow blower for your yard, driveway or parking area.
To find out more about what makes their snow blowers so impressive, take a look at the short reviews below. Toro has a very extensive snow blower range. We've compared a few of their most popular models.
Best Toro Snowblower Reviews
THE TOP 3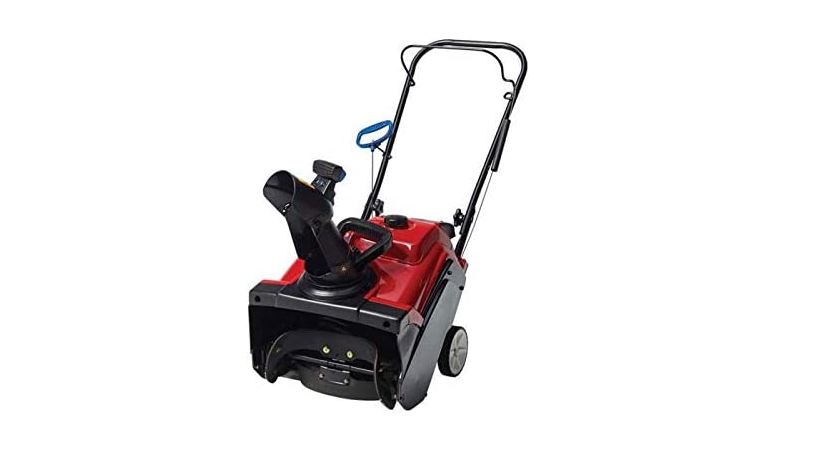 Toro Single Stage Snow Blower
Best Choice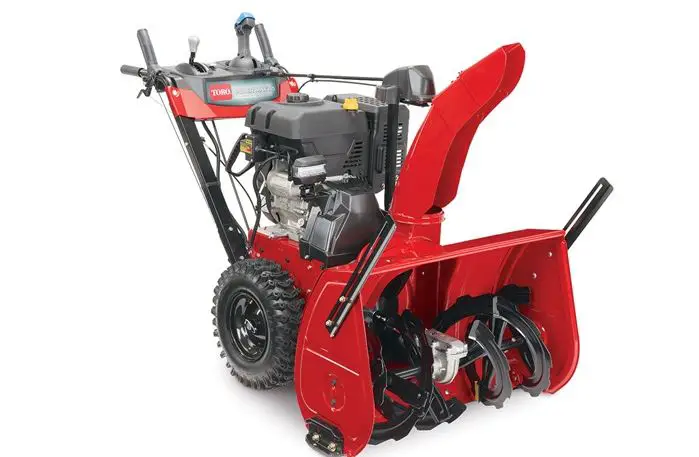 Power Max HD 1432 OHXE Commercial
Best Premium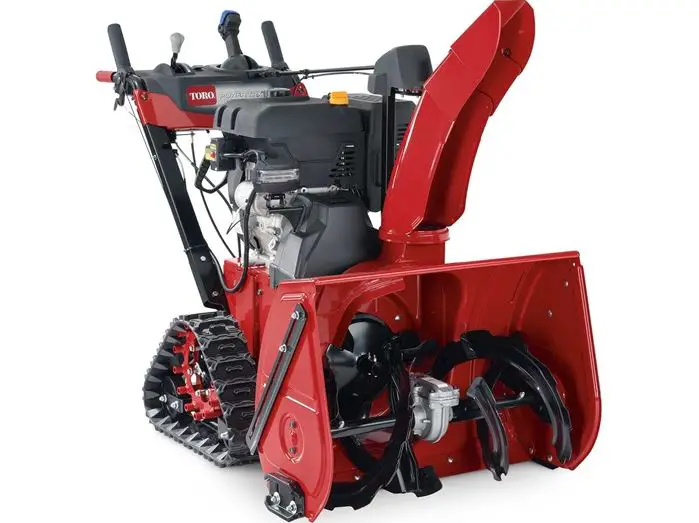 Toro Power TRX
Best Value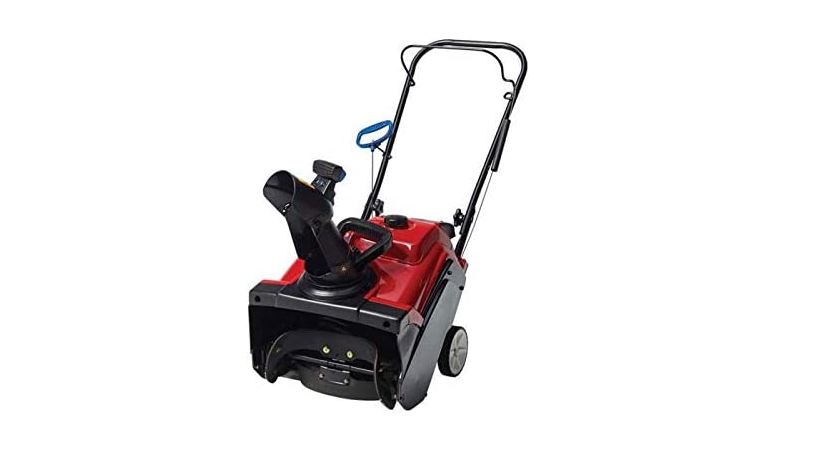 Selling Points:
Ideal for little to moderate snow clearing
Lightweight frame makes it super-easy to use and store
Affordable enough to fit any budget
Quick Facts
Boasts a clearing width of 21"
Assembly is quick and easy
Compact size makes storage simple
Overview And Key Features
Features a 99cc Toro OHV engine
21" clearing width
Can easily move up to 1,100 pounds of snow per minute
Easily clears up 9" of snow
Who Should Buy It
If you need to remove snow from a small, paved surface then this model is ideal. This model can easily clear up to 9" of snow from driveways big enough to fit 4 – 8 cars.
Options
Pros
Easy to assemble
Lightweight
Simple to maneuver
Cons
Not ideal for heavier snowfall areas
Overall Score: 95/100
Check Out More Reviews Here: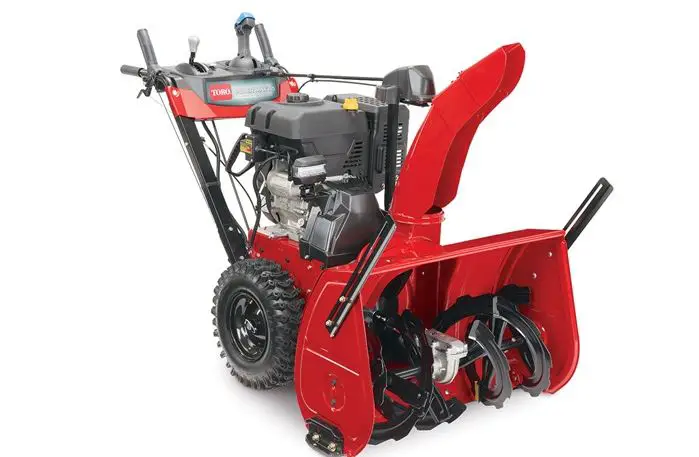 Selling Points:
Ideal for larger driveways
Anti-Clogging System prevents clogging from gravel, snow or leaves
Standard LED headlight makes it easier to work during the day and early evening
Quick Facts
Commercial-grade functions make it ideal to clear excessive snowfall
Power steering makes it easy to maneuver
Boasts an Anti-Clogging auger system
Overview And Key Features
Here, the Quick Stick chute is great for large driveways. Alternatively, if you live in areas that experience high snowfall, the commercial-grade features are quite beneficial.
Boasts a 420cc premium 4-cycle OHV engine
Offers commercial grade clearing of 32" width
Commercial-grade functions include drift cutters, heavy-duty cast iron skids and reinforced 1-piece handle
Options
Pros
Anti-Clogging System
5-year limited warranty
Re-enforced 1-piece handle for extra durability
Cons
Overall Score: 90/100
Check Out More Reviews Here: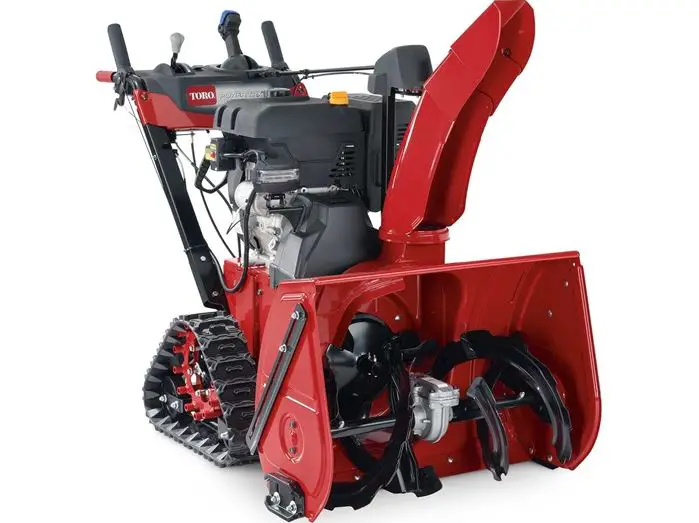 Selling Points:
Features heavy-duty capabilities – two-stage
Clears a path of 28" and tosses snow up to 60 feet away
Ideal for tough snowbound areas
Quick Facts
A nifty Quick-Adjust auger housing lever enables you to scale steep inclines
Variable speed control allows you to adjust settings as required for different levels of snow
Commercial-grade components make it durable
Overview And Key Features
You get a model with heavy-duty tracks, cast-iron skids and drift cutters that make it easy to power steer in tough terrain.
Superior 420 cc two-stage 4-cycle premium TRX engine
Easily starts with a one-push function
Ant-clogging system keeps the auger from clogging on loose gravel from the driveways or walkways
Boasts commercial grade no pins gearbox
Who Should Buy It
With its superior speed control and unmatched stability, this machine is best suited to tough terrain, steep slopes and very heavy snowfall areas.
Options
Pros
Features commercial duty handle
5-year limited warranty
Clog-free
Cons
Not as effective on curved driveways, due to the front end lifting up
Overall Score: 92/100
Check Out More Reviews Here: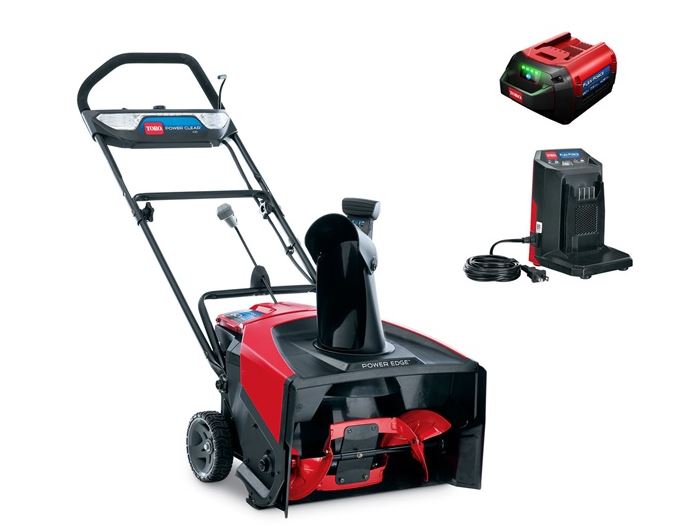 Selling Points:
Best suited to large driveway and commercial areas that experience extensive snowfall
Boasts an all-steel PowerEdge auger, making it ideal to curb the toughest snow
Compact design with a fold-down handle makes storage and transport super-easy
Quick Facts
Hassle-free storage and transport
Extended battery life enables you to clear an extensive area
Durable brushless DC motor offers much more power with a longer runtime
Overview And Key Features
This one is ideal for use in areas that experience heavy, thick snowfall.
Powerful enough to shred through thick, wet snow and toss it as far as 40 feet
Includes an L405 battery and charger that enables clearing a 12-parked car space in one single charge
Steel Power Edge auger durable design
Who Should Buy It
The Toro 21" is perfect for areas with thick, heavy snow. With its extended battery life, it can easily clear large driveways or parking lots, so consider it if you have a larger property.
Options
Pros
Easy to store
Great for concrete and asphalt surfaces
2-year limited warranty
Cons
Positioning handle may be too short for some users
Overall Score: 95/100
Check Out More Reviews Here: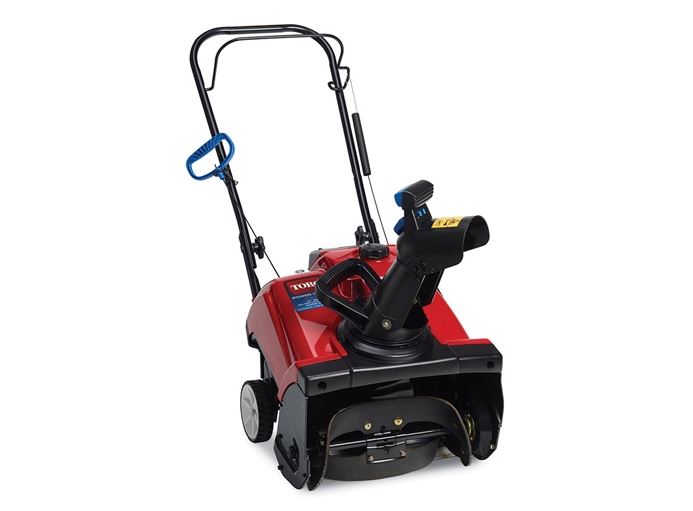 Selling Points:
An 18" clearing width makes it perfect for smaller walkways and driveways
A convenient push-button function makes it quick and easy to use
It's handy locking deflector lets you aim where you want to throw the snow from the chute.
Quick Facts
Perfect for concrete and asphalt surfaces
Quick Start guarantees the snowblower will start in 1-2 pulls
A 7" auger easily cuts through compacted snow and can blow up to 25 ft
Overview And Key Features
The brand's Power Curve Technology reduces clogging and shreds through snow
Easy to start the with push-button function
Compact design
Foldable chute
18" clearing width
Who Should Buy It
This snow blower is ideal for concrete and asphalt surfaces. Since it's compact and foldable it's also easy to store for homeowners who don't have much space.
Options
Pros
Easy to transport and store
2-year limited warranty
Push-of-a-button electric start
Cons
Not ideal for large driveways
Overall Score: 91/100
Check Out More Reviews Here: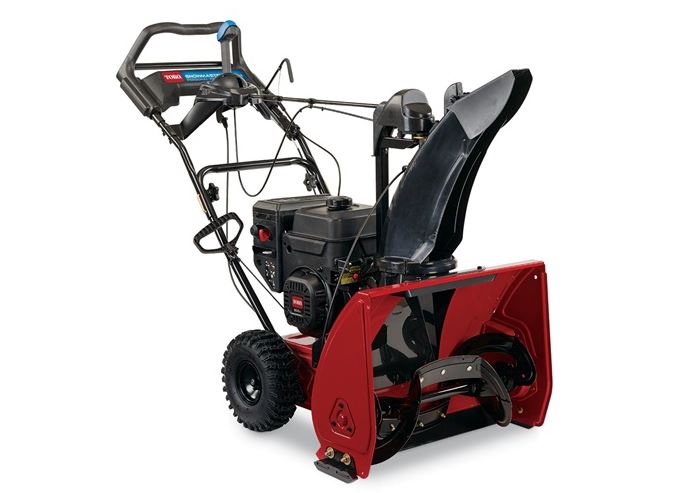 Selling Points:
Superior features make clearing snow easier than ever before
A Self-propel Personal Pace System matches your walking speed
Easily enable sturdy traction, no matter the snow condition
Quick Facts
Superior auger breaks up the heaviest snow or ice remarkably quickly
Boast push buttons start function
Lightweight and easy to maneuver, store and transport
Overview And Key Features
Clients appreciate the self-propel Personal Pace System that easily matches your walking speed, providing better traction.
252cc premium 4-cycle OHV engine
Efficiently blows up to 45 feet of snow
Quick Stick chute control makes it easy to change chute and deflector direction
Who Should Buy It
It's lightweight and the easily maneuverable frame is simple for anyone to use. With the machine's powerful auger, it's easy to cut through heavy snow, making it great for areas exposed to heavy snowfall.
Options
Pros
Great traction in different snow conditions
Electric start
Reliable 4-cycle OHV engine
Cons
Overall Score: 95/100
Check Out More Reviews Here: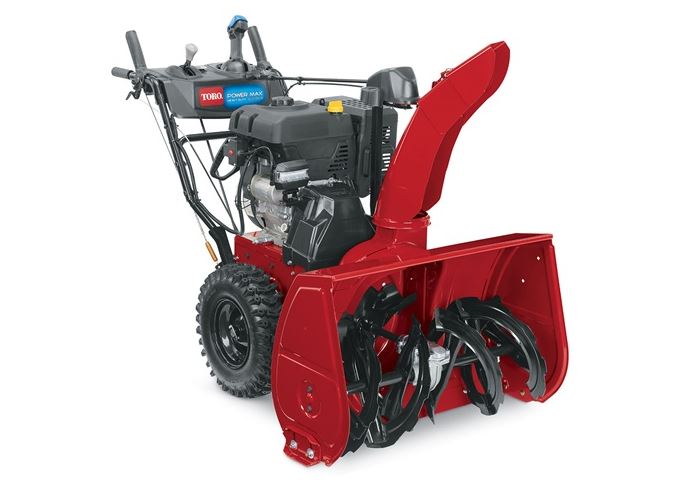 Selling Points:
Designed to quickly make light work of heavy, thick snow
Boasts 6 forward and 2 reverse speeds to cut through the toughest snow pile
Commercial-grade auger gearbox ensures this model is both strong and durable
Quick Facts
Anti-Clogging System reduces clogging of gravel, leaves or excess snow
Power steering makes precision moves easier, which in turn means you can clear snow fast and efficiently
LED headlights and handwarmers make it easy to use in the toughest snow conditions
Overview And Key Features
Toro gives you a dependable 375cc premium 4-cycle OHV engine on this model.
Quick Stick Control allows for easy direction and deflection
LED headlights and hand warmers make it easy to work at night or on very cloudy days
A 32" clearing width means you can cut through the deepest, thickest snow
Who Should Buy It
If you're stuck with heavy, high volumes of snow piling up on your walkway, driveway or yard, this 2-stage blower is ideal. Its 2-stage function ensures gravel doesn't clog your machine.
Options
Pros
3-year limited warranty
Auger stalls when it hits hard material to avoid damage
Self-propelled power steering
Cons
Chute control can be difficult to manage
Overall Score: 92/100
Check Out More Reviews Here:
Other Brands to Consider
If you're not entirely sold on the Toro brand, it's good to know there are a few other brands to consider. Some of the more popular alternatives to contemplate are listed below.
Toro Vs Powersmart Snow Blowers
For large snow clearance, the Powersmart brand is a strong alternative to Toro. Like Toro, Powersmart is well-made and sturdy. Assembly is quick and easy and promises to be great value for money.
Toro Snow Blowers Vs Cub Cadet
Cub Cadet is a firm contender too. With its power steering, durable metal chute and super convenient electric start, you'll enjoy using this brand. Additionally, the Cub Cadets' large 16-inch tires on some models provide you with a good grip.
Toro Snow Blowers Vs Husqvarna
Husqvarna's snow blower machines are designed to get the job done. They offer great resistance, power and reliability. They also boast incredible traction on the ice. As with some Toro models, the Husqvarna brand often features lights and heated handles.
Frequently Asked Questions (FAQs)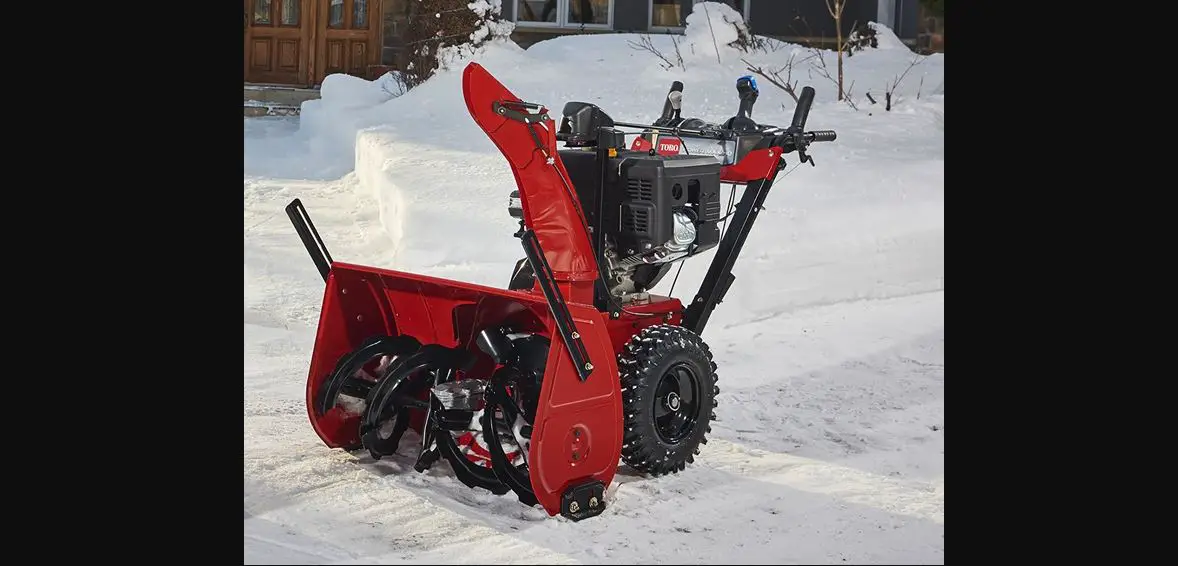 Who makes Toro Snowblowers?
Toro is regarded by many as the top snow blower brand in the industry. The bulk of their engines are made by Loncin, a Chinese manufacturer more commonly associated with motorcycle engines.
How long should a snowblower last?
On average, a snow blower can last several years. It all depends on whether they're maintained correctly and regularly. The type of necessary maintenance will depend on the type of snow blower, so be sure to follow the manufacturer's recommendations.
Which is better–2-stage or 3-stage snow blowers?
One type is not necessarily better than the other. Rather, the ideal pick depends on the amount of snow you deal with in your area. If you're dealing with regular bouts of 18 inches of snow in the colder months, then you'll benefit from the 3-stage blower extra auger for cutting through the frozen snow.
Is a 3-stage snow blower worth the extra money?
If you're looking for a snow blower that can handle larger or even commercial properties, then a 3-stage snow blower is well worth the money!
Do I really need a 2-stage snow blower?
The essential difference between a 1 and 2-stage snow blower is the ground and terrain type they are best for. 2-stage snow blowers are better for use on gravel driveways because they don't clean down to the ground. This avoids loose pieces of gravel getting into the blower's auger and causing damage.
Is a 3-stage snow blower a gimmick?
Many users are divided on this question. However, the fact remains that a 3-stage blower's extra auger handles heavier snow much easier. It also speeds up the process when you're dealing with heavy, deep snow. Essentially your opinion here will depend on whether or not you need the extra auger.
Final Thoughts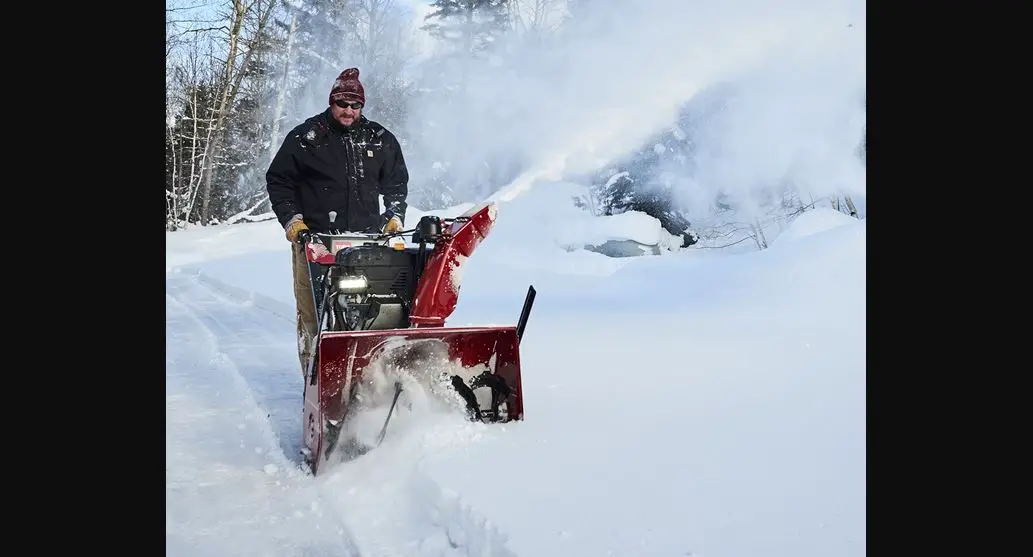 Effectively dealing with winter snowstorms requires the perfect blower for your area.
With the top Toro snow blowers we've highlighted, finding the perfect option with the best features just became a lot easier.
Investing in the right Toro snow blower will help you stay in control once the snow starts falling. Share your experiences with us, to help others make the right decision too.