Freestanding vs. Built-In Dishwasher – What Is The Better Option For You?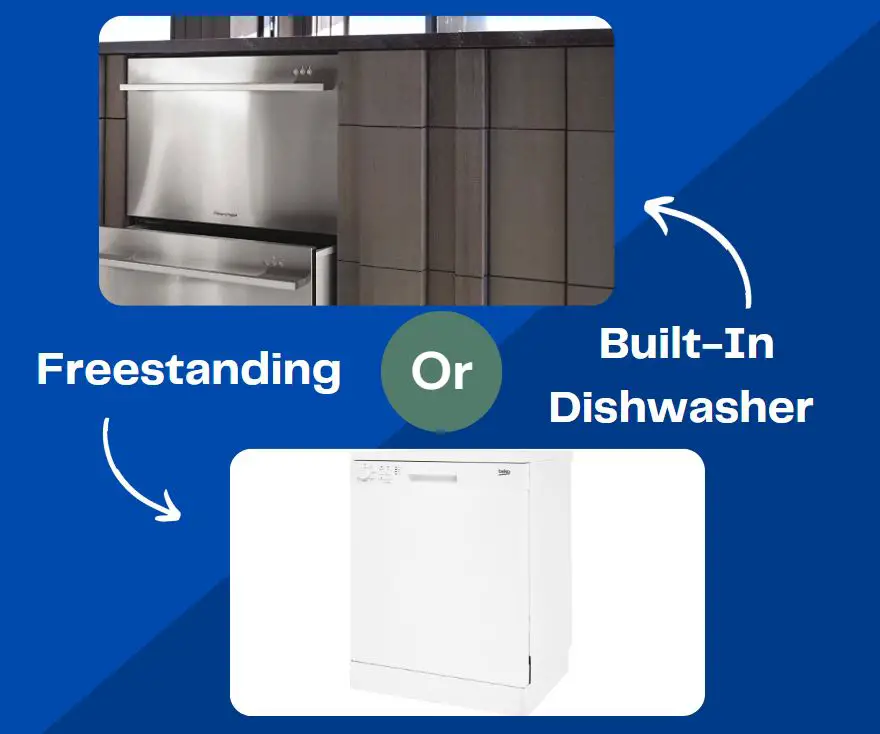 As you set up your kitchen, a dishwasher is one essential appliance.
You would agree that setting up a kitchen is more than adding the necessary equipment. Design is an important thing to consider.
Hence, when it comes to dishwashers, you may hesitate a bit – and find yourself deliberating whether to acquire a freestanding dishwasher or a built-in type. 
Well, it's good you are here. As someone who has used both dishwashers, I'll compare both and let you choose the most suitable one.
Introduction
A dishwasher is an appliance designed to clean dishes — plates, containers, pots, and other kitchen utensils.
There are majorly two types of dishwashers, the in-built/integrated dishwasher (built-in dishwashers can either be semi-integrated or fully integrated) and the freestanding dishwasher. 
Both types of dishwashers are common in most homes across the world.
A freestanding dishwasher can be placed at any desired location in the kitchen, while the built-in type is integrated into the kitchen cabinet.
A Brief Overview of Freestanding vs. Built-In Dishwasher
Freestanding Dishwasher 
A freestanding dishwasher is built to stand alone.
It can be placed at almost any location with a water connection and a drainage point in a kitchen. The freestanding dishwasher has sides and a top cover so that you can put it safely anywhere it will fit.
It's similar to washing machines and refrigerators that are not fitted into a kitchen wall. 
Built-in Dishwasher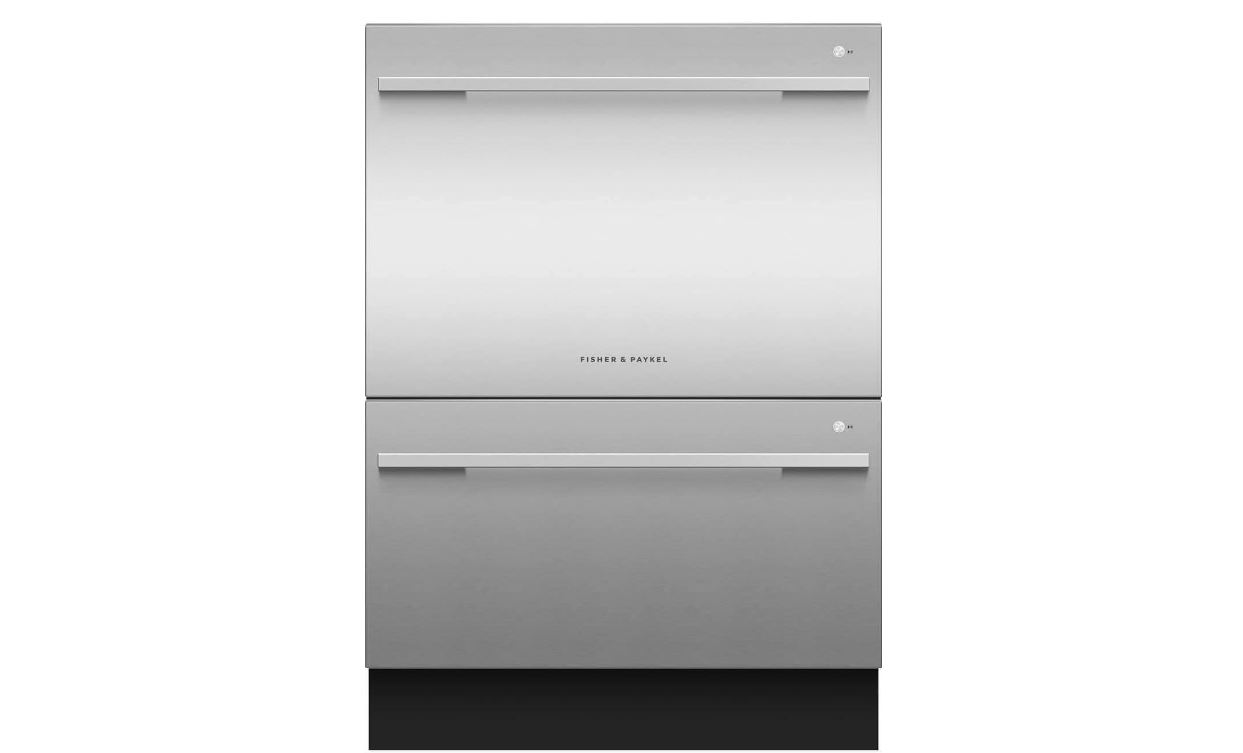 Built-in dishwashers are affixed to the existing framework of a kitchen.
They are a popular option since they improve the look of your kitchen and often have more functions intended to reduce cleaning stress. 
A built-in dishwasher is designed to blend as an original part of a kitchen countertop. As a result, it enhances the look of a kitchen and is almost not noticeable as an external feature of a kitchen.
Freestanding vs. Built-In Dishwasher Comparison Table
| | | |
| --- | --- | --- |
| | Built-in Dishwasher  | Freestanding Dishwasher  |
| Design  | It fits into a cabinet | Must be placed externally  |
| Features  | Has more features  | Has ample features  |
| Installation  | Complex installation  | Simple installation  |
| Mobility  | Difficult to move around  | Easy to move around  |
Why Would You Choose A Freestanding Over Built-In Dishwasher?
Mobility
Freestanding dishwashers are portable, making them ideal for people who frequently rearrange their kitchens or anticipate moving in the near future.
If this sounds like you, I recommend you opt for a freestanding dishwasher instead of the built-in type.
Affordability
The fact that freestanding dishwashers are less expensive than built-in versions is another significant benefit.
Freestanding dishwashers are often connected to your kitchen faucet and sink, unlike built-in dishwashers that need to be installed.
Hence, you save yourself extra expenditures since you don't need to hire a plumber to connect or install water lines.
Doesn't require professional installation
Freestanding dishwashers also have the advantage of being simpler to install, maintain, and upgrade.
Anyone can install them; this saves you time and money. If you purchase a freestanding model, it will often be delivered, assembled, and ready to use.
Easier Maintenance
A dishwasher can become faulty at any time. However, a freestanding dishwasher can be easily fixed since it has a separate electrical and water disposal system.
It's easier and faster to repair than a built-in dishwasher but will require careful assessment
Why Would You Choose A Built-In Dishwasher Over Freestanding?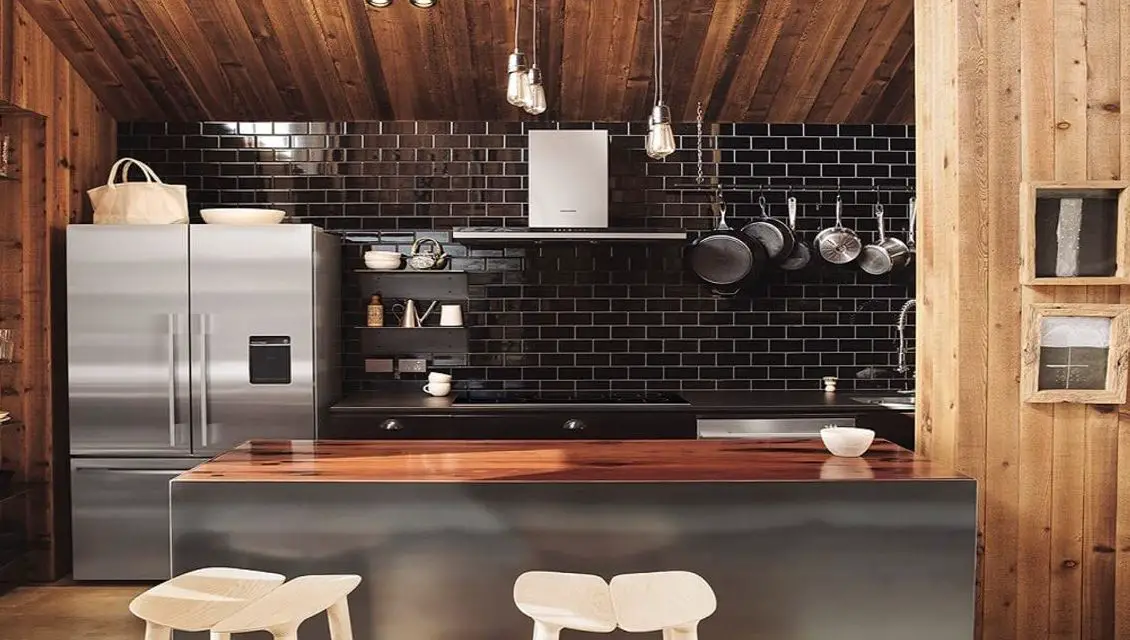 Additional Features
Unlike freestanding versions, built-in dishwashers often have more sophisticated features like numerous sprays, wash cycles, and targeted sprays for
cleaning tough-to-reach and difficult to wash surfaces of pans or baking plates.
They also come with load-sensing technology and digital timers. 
Sleek Design
A built-in dishwasher can be installed under your counter and connected to existing pipes in your kitchen to access water and dispose of waste.
Many homeowners love the tidy, sleek appearance that this offers.
Bigger Inner Space
Usually 24-inches wide, built-in dishwashers can accommodate more utensils.
A built-in washer is perfect if you have more than two people in your house because they can wash many dishes at once. 
Spacing
Built-in dishwashers are stowed underneath your counter, giving your kitchen more space and a less cluttered outlook.
Freestanding types, however, eat into the kitchen and give the impression that your kitchen is congested, especially if it is small.
Quiet Operation 
Low noise is one of the main benefits of built-in designs versus freestanding ones.
For example, built-in dishwashers are always enclosed by cabinetry, meaning that insulating materials dull the sound of their operation.
However, freestanding dishwashers cannot operate without making noise.
Power Source
The Stihl BR200 and the Stihl BR350 are both gas-powered leaf blowers.
The Stihl BR200 has a 35.5 ounce gas tank while the Stihl BR350 comes equipped with a 57.5 ounce tank.
Built-In vs. Freestanding Dishwasher – Cost
Generally, a freestanding dishwasher is less expensive than a built-in one.
Unlike the built-in type, a freestanding machine doesn't need any unique installation. Typically, it drains into the sink and is connected to your kitchen faucet. 
Installing a built-in dishwasher may result in additional expenditures since you may need to engage a plumber to connect or install water pipes.
In addition, modifications may cost extra if your kitchen cabinets lacks an opening.
Built-In vs. Freestanding Dishwasher – Durability & Reliability
The brand of the dishwasher matters more than its type when it comes to how well each one performs.
The durability and reliability of a built-in versus a freestanding dishwasher depends on the manufacturer. So, I'll advise you to get a reputable brand of dishwasher. 
What Are The Main Disadvantages of Built-in Dishwashers?
It takes up cabinet space
A built-in dishwasher will take up valuable storage space if your kitchen is small. In addition, it cannot be taken down or transferred to another site after installation. This makes it inconvenient for someone who frequently moves from one place to another.
Extra Electrical and Plumbing 
A professional plumber will be needed to assist you in installing a built-in dishwasher because it needs to be connected to your kitchen's plumbing. Even though this is a one-time job, hiring a skilled plumber will still cost you money. 
What Are The Main Disadvantages Of Freestanding Dishwashers?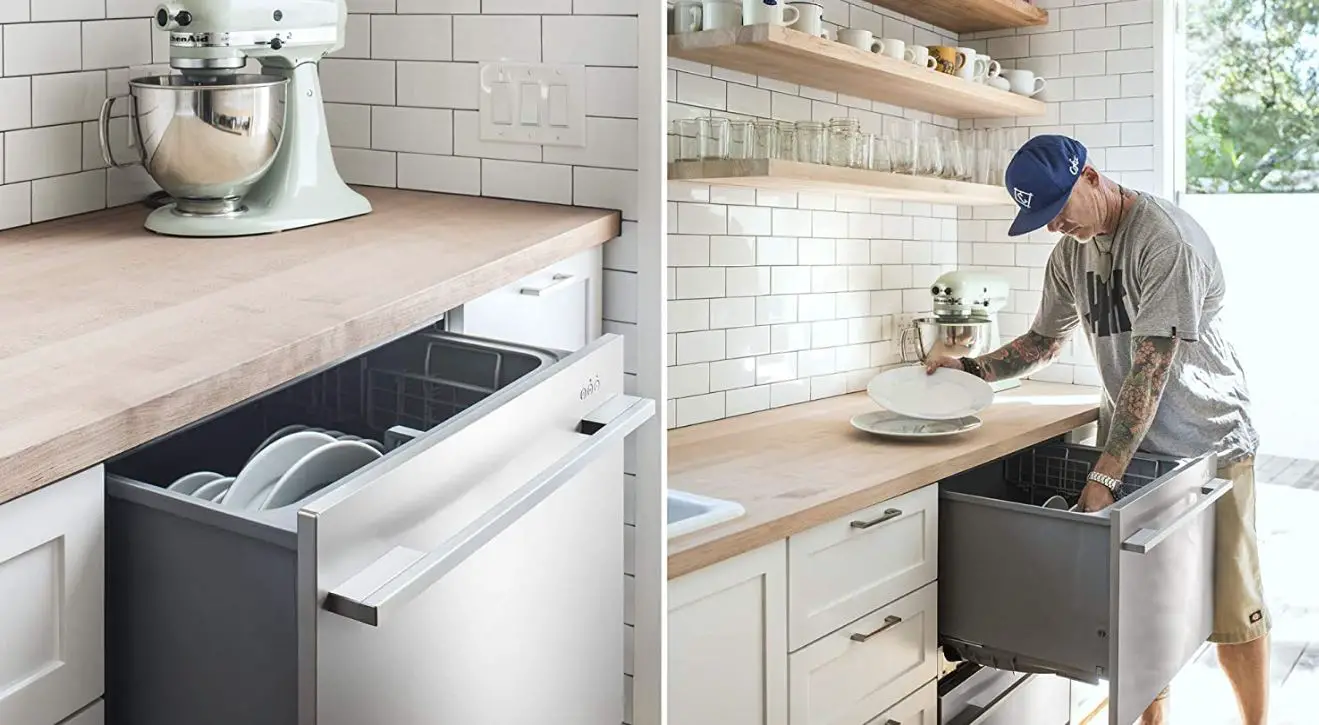 Noise
One of the main drawbacks of the freestanding dishwasher may be noise.
Unlike freestanding dishwashers, built-in types have the luxury of surrounding wooden cabinets to soften the sound of the water spraying.
Unfortunately, the freestanding dishwashers have no padding, so the sound of the machine running reverberates throughout the house. 
What is a Semi Integrated Dishwasher?
To clear up any confusion, let's define a semi-integrated dishwasher.
A quick answer is that they are pretty comparable to fully integrated dishwashers, except that your cabinetry does not entirely hide them.
There is no change in functioning, performance, size, features, place settings, or other factors. 
Dishwashers that are semi-integrated are defined as such by the installation process.
Semi-integrated dishwashers still have an exposed control panel rather than having it covered by the cabinet door, in contrast to fully integrated dishwashers, which typically have controls on the top edge of the door.
What are Sink-Based Dishwashers?
Sink-based dishwashers are only intended to fit under the cabinet and are typically built without sides or a top, leaving exposed internals that your benchtop and cabinetry will hide.
They are designed to be built-in under your bench.
What Are The Different Types Of Dishwashers To Consider?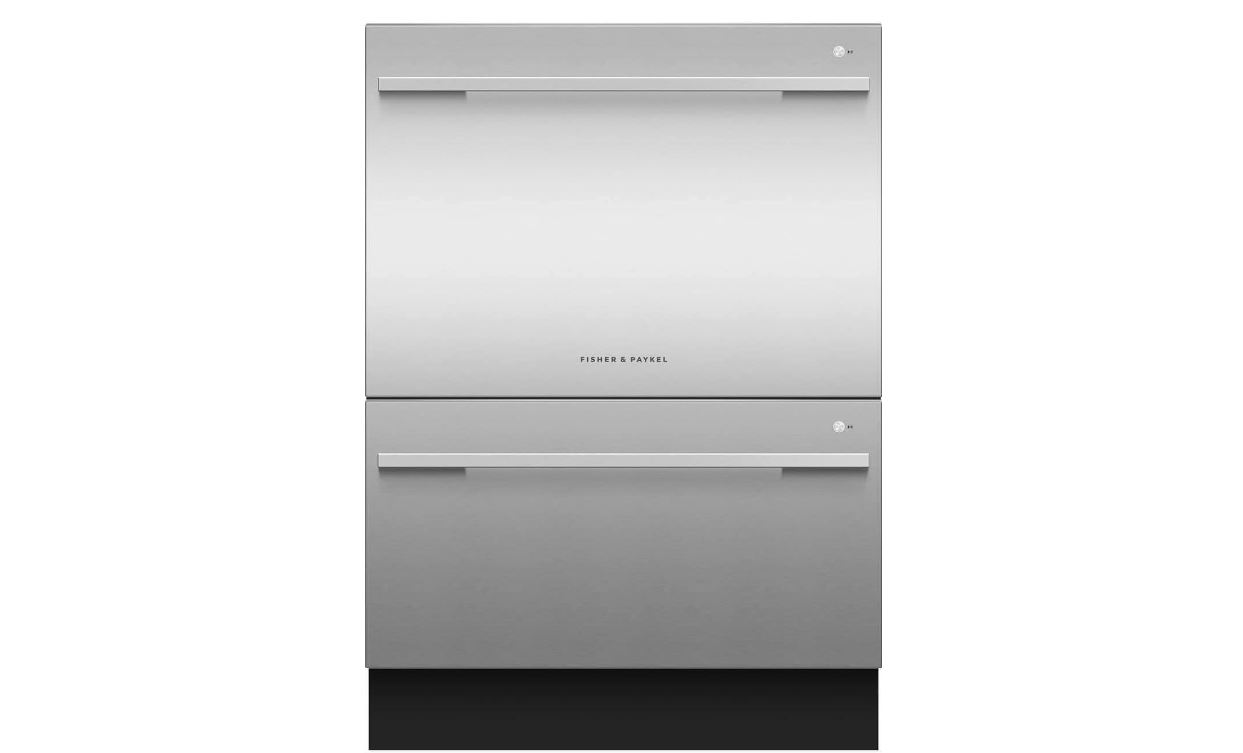 The performance and usability of Miele dishwashers consistently place them at the top, and this model, with its top-mounted controls, is no exception.
It's not just fashionable; it's a cleaning workhorse, and its cutting-edge features make it simple to use.
For example, there is no need to pause between washes to add detergent because the system uses a power disk, which delivers the right quantity of powder detergent for the cycle and lasts up to 20 washes.
In addition, the dishwasher is incredibly simple to fill with its fold-down tines, adjustable racks and shelves, and padded handles.
Why It is Recommended
Automatic detergent dispenser

Clear, simple controls 

Quiet
Drawbacks
Check Out More Reviews Here:
Best Freestanding Dishwasher –

Beko

DFN05320W
The Beko DFN05320W is especially well-suited for anyone trying to spend as little money as possible on their next dishwasher because you can get it for a very reasonable price, allowing you more money to spend on outfitting the rest of your kitchen. 
Of course, you lose out on some additional bells and whistles. Still, many people are content with the trade-off.
There are 13 place settings, four program options (including an economy mode), and four wash temperatures with the Beko DFN05320W.
Why It is Recommended
Reasonable pricing 

Ample space 

 Quick 30-minute wash function
Drawbacks
Not the most effective model
Check Out More Reviews Here:
Best Built-In Dishwasher –

Bosch 300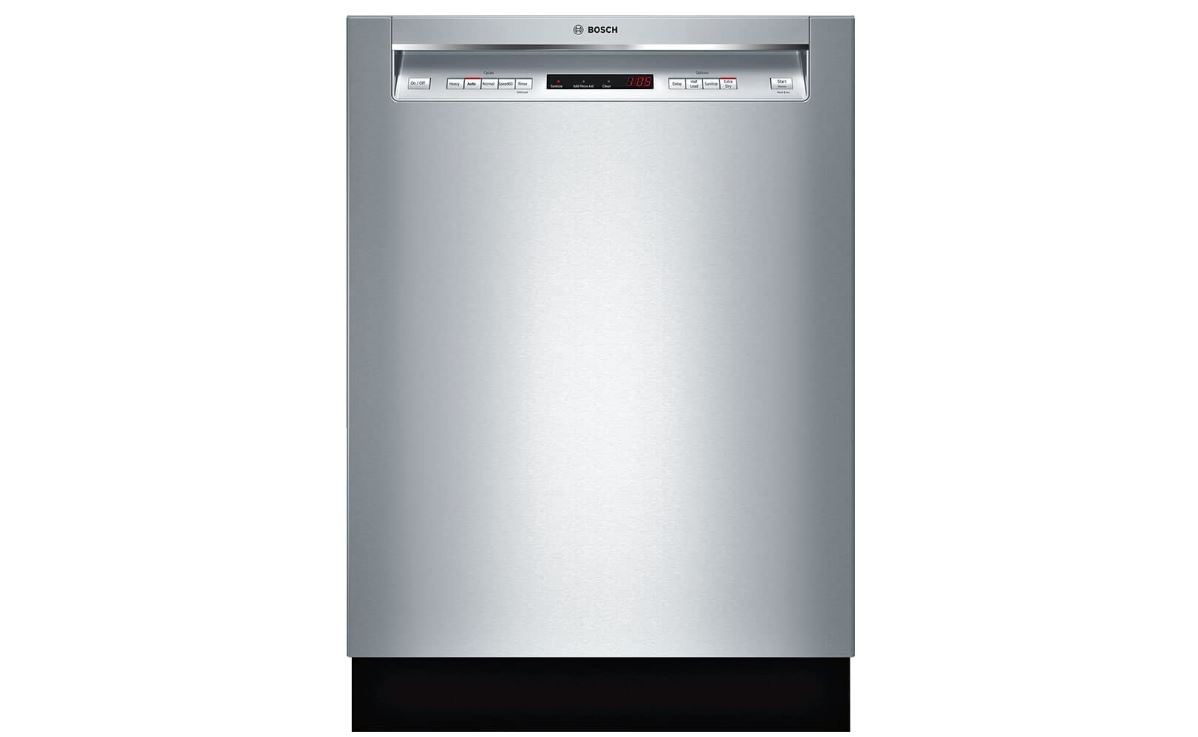 The lower rack's broad space between the tines, which readily accommodates plates of all sizes, is why many people adore this dishwasher.
Additionally, this one has a third rack on top that may accommodate glassware and small bowls in addition to utensils, freeing up space below for more significant items like mixing bowls. 
Serving plates, pots and pans, vases, and other oversized items can be accommodated by folding or adjusting some of the tines on the top and middle racks.
Why It is Recommended
Excellent cleaning performance 

The third rack for glasses and mugs
Drawbacks
Check Out More Reviews Here:
FAQS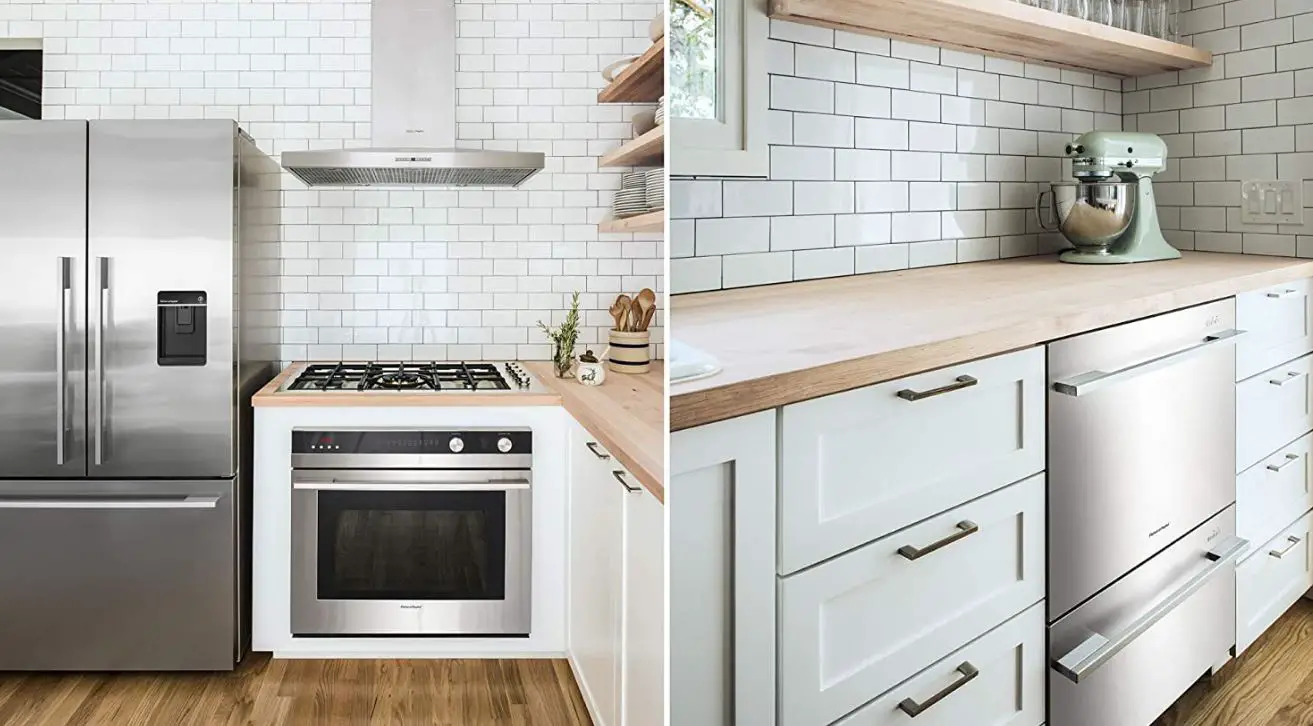 Can you put a freestanding dishwasher in an integrated space? 
No, a cabinet door cannot be attached to the exterior of a freestanding dishwasher.
A cabinet door cannot replace the door that is already installed and molded onto freestanding dishwashers.
Can you convert a freestanding dishwasher to an integrated one? 
No, the design and build of both are different. 
Does a built-in dishwasher need a cabinet?
Dishwashers that are integrated only require a door; they don't require a cabinet.
For some appliances, like fridges, freezers, and ovens, cabinets are provided. However, dishwashers slide between two other cabinets.
Are integrated dishwashers smaller than freestanding ones? 
Freestanding dishwashers typically measure 85 cm tall, 59.8 cm deep, and 60 cm wide.
Usually, freestanding dishwashers are slightly bigger compared to integrated dishwashers.
Do integrated dishwashers sit on the floor?
Dishwashers that are integrated do not physically fit within a cabinet like a single oven or an integrated refrigerator does.
Instead, they must be supported by cabinets or end panels and sit on the floor. They will also require a cabinet door fastened to the appliance's front.
How do I know what size dishwasher to buy?
By measuring the depth of your cabinet opening from the rear wall toward the front, you can calculate how deep your dishwasher can fit.
When selecting a dishwasher, remember that any protruding handles (mainly bar handles) should extend past the front of your cabinets.
What size dishwasher do I need for a family of four?
A typical 24-inch dishwasher is adequate for a 4-6 person family. Dishwashers come in two sizes: compact (18 inches) and regular (24 inches).
How long should a dishwasher last? 
Dishwashers don't last forever. According to manufacturers, a dishwasher has an average lifespan of ten years. But problems with the appliances typically appear within the first five years.
Do you install a dishwasher before or after the countertop?
Countertops must be installed beforehand. The countertops will be built first, even though it's critical to understand where each appliance should go.
Once you've precisely measured everything and the countertops are in place, installing your appliances will be much simpler.
Final Thoughts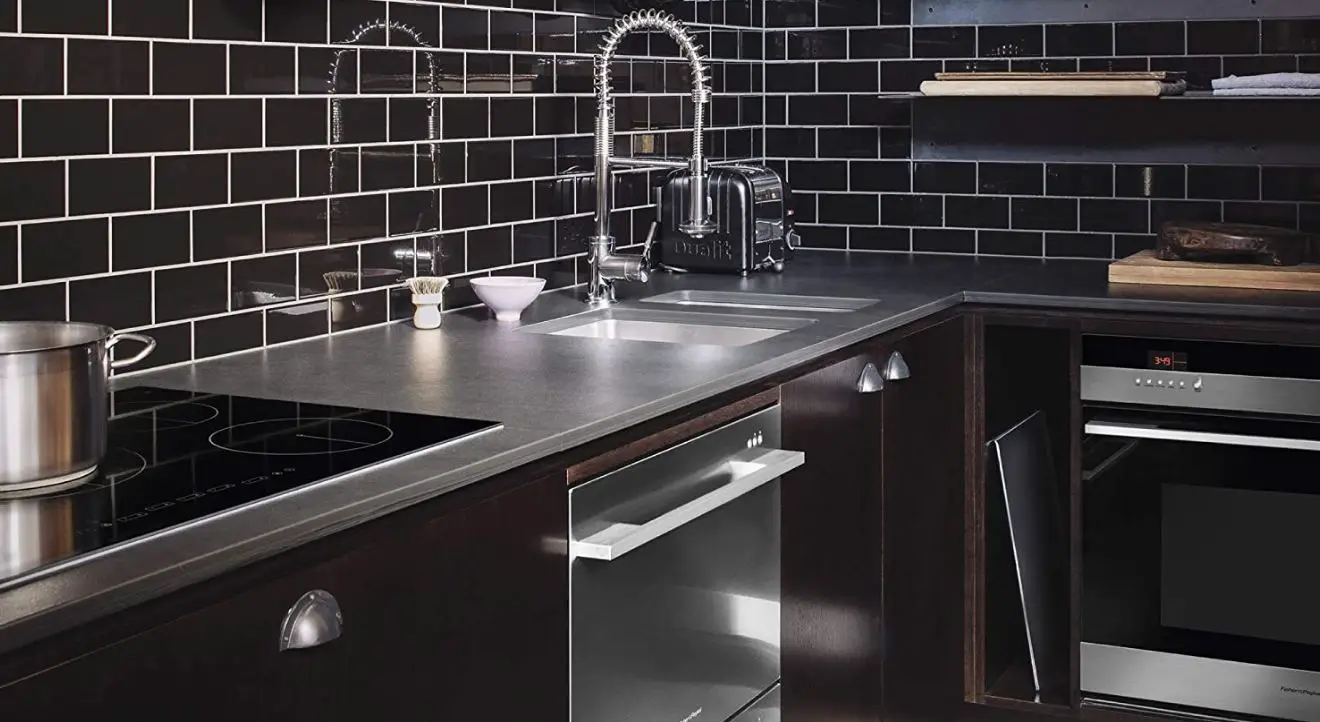 I've touched on every major thing to know about dishwashers.
Be it the freestanding type that you can place in your kitchen, like a washing machine, or the built-in type that you can fit into your cabinet.
Both types of dishwashers are suitable. However, it's up to you to decide which to have in your kitchen.
Remember that if your kitchen is small and you need some space, you may consider getting a professional to fix your dishwasher into the cabinet.
The same applies if you are particular about your kitchen layout. On the other hand, if you are not bothered by space and want to spend less on installing a dishwasher, then go for the freestanding type.
To help you decide better, refer to the advantages and drawbacks of each, as considered earlier.