Freestanding vs. Built-In Oven: What Is The Better Option For You?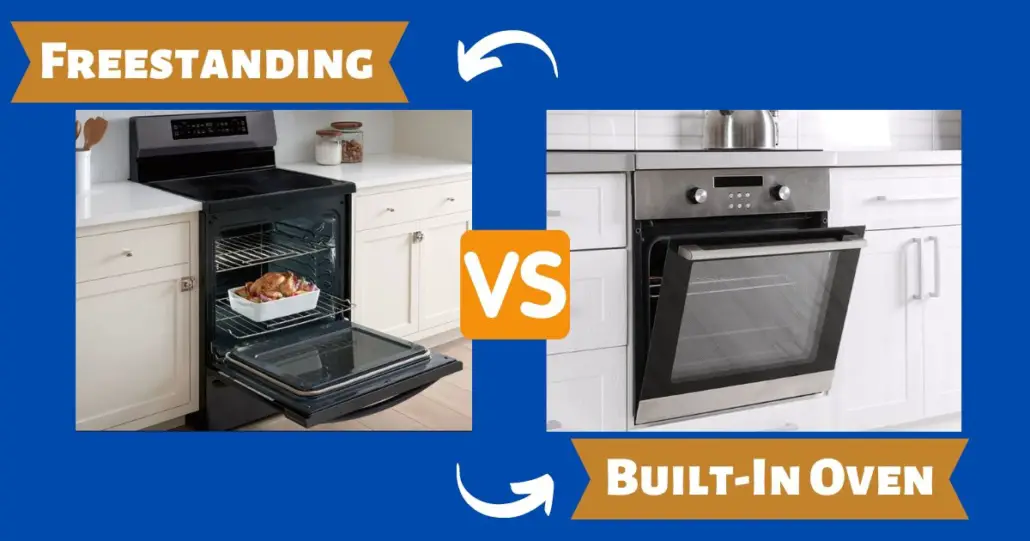 Deciding what type of oven to get for your new abode can be overwhelming. There are so many varieties on the market that knowing how to narrow it down can seem impossible.
And while it may not seem that important, your choice of kitchen appliances, from colorful freestanding refrigerators to sleek built-in ovens, can affect how you use your kitchen and how it looks.
In this article, we browse the differences between freestanding and built-in ovens, the pros and cons of the two, and how to determine which one is best suited for your kitchen. Continue reading for more!
Freestanding Vs. Built In Oven Overview
Understanding these ovens' differences, benefits, and drawbacks can become quite confusing. But it doesn't have to be!
Here is a brief overview of what the two are and how they differ from one another.
Don't be put off by the common misconception that built-in (or integrated) appliances aren't as good as freestanding ones if you're considering purchasing some.
They provide the same function as standard appliances, with the added benefit of being able to be concealed behind doors that blend in with the rest of your cabinets.
Kitchen appliances that are "freestanding" aren't built into any cabinets but can instead be placed wherever in the room. This makes freestanding ovens much more convenient and easier to access than built-in ovens.
What Is A Freestanding Oven?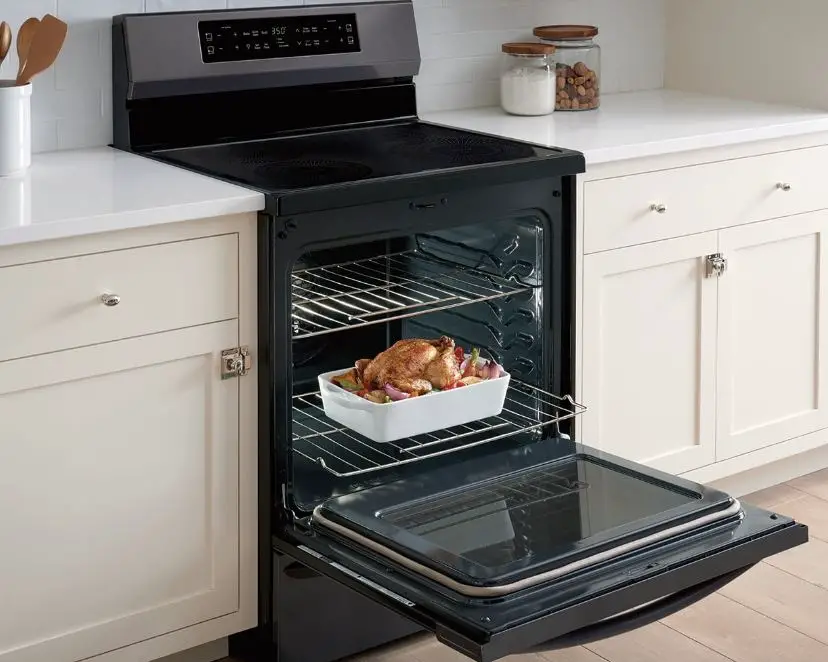 To avoid taking up valuable counter space, many modern homes have opted for freestanding ovens, which sit on the floor in the kitchen rather than being built in.
Depending on the size and location, a freestanding oven may be called a cooker, range cooker, stove, or range.
A freestanding oven's width can range from 50 to 120 centimeters (or more), but its depth and height are often standard.
You may make a minor adjustment to the appliance's interior to accommodate your specific kitchen's measurements.
There is a wide range of sizes, styles, and fuel options for freestanding ovens. Gas, induction, ceramic hob (cooktop), and gas or electric ovens are all viable options.
The number of burners or zones on top and the number of ovens, storage spaces, and warming drawers underneath commonly range from four to eight, depending on the size.
These ovens are particularly common in kitchens with a classic or traditional aesthetic and serve as the room's showpiece.
5 Reasons You Should Choose A Freestanding Oven
It is typically chapter than traditional ovens as it does not have to be built into a particular space.
The installation requires less time and effort. It is much simpler to install than any other oven.
It is easily accessible from anywhere in the kitchen.
Freestanding ovens can be transported from home to home should you move.
Freestanding ovens come in a wide variety of different colors and sizes. Bringing more of a design element into your home compared to a built-in oven.
 What's A Built-In Oven?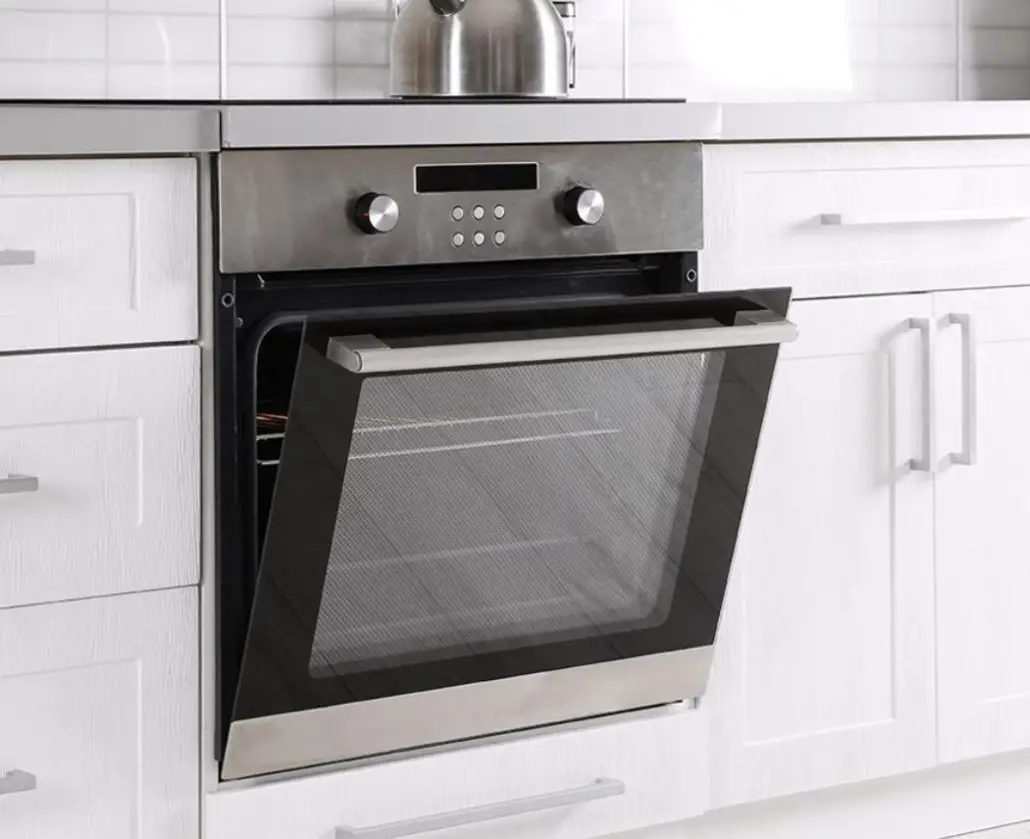 A built-in oven, also called a wall oven or integrated oven is permanently fixed to the wall or inside a kitchen cabinet.
In contrast to a freestanding one, a built-in oven consists of a single device (the oven) and not a range (cooktop).
You will need a separate hob in your kitchen layout if you opt for a built-in oven. There are a few options, including a short base cabinet or a tall tower cabinet.
Both gas and electric models are available for built-in ovens, but in recent years, electric models have exploded in popularity. You can choose from tiny (45cm high), single (60cm tall), or double (90cm high) versions.
Even though there isn't quite as much variety, 90cm built-in ovens are also on the market.
Typically, the depth of a built-in oven will be 55 to 58 centimeters, and the width will be 60 centimeters. With this feature, they may fit into the majority of preexisting kitchen cabinetry.
While several capabilities, such as a combination of microwave or steam cooking, cleaning, WiFi, and multifunctional cooking settings, are also available with freestanding ovens, they tend to be more limited in scope.
5 Reasons You Should Choose A Built-in
It is more visually appealing and easier to customize compared to freestanding ovens.
It can be integrated with a gas top and an electric oven for convenience if you wish.
Built-in ovens are more appropriate for smaller families and those who don't need a bigger oven. They come in more sizes and ranges, offering variability.
They will not get in the way and are accessible all the time.
Built-in ovens allow appliances to be spread out in such a way that there is a better flow to the kitchen, giving more versatility to the space.
Built In Vs. Freestanding Oven – Cost
The cost of an oven might vary widely depending on the model you get. The most cost-effective option is a freestanding range oven.
There is only one cooking device you need to buy, and they start at around $300 for a standalone oven.
If you want a luxury range oven, you may always spring for one of the many high-tech or stylish standalone models that cost several thousand dollars.
The costs for two appliances should be considered if you want a wall oven and a separate cooktop. Combination wall oven and cooktop sets often cost around $1300.
Adding extras like a convection oven, a second oven, or a high-end stainless steel finish can easily double or even triple that price.
The door type and build of the cabinets will also affect how much an oven cabinet and a cooktop cabinet will set you back.
Additional Costings
The price of installation should be considered as well.
A conventional electric range oven requires nothing more than an electrical outlet. Installing a gas range oven requires some extra know-how, especially if there is no preexisting gas line.
A microwave range hood is a common accessory for use above freestanding ovens. Adding that hood to the upper cabinet will cost money.
You should consider the cost of installing the wall oven and the separate cooktop if you choose to go that route.
Built In Vs. Freestanding Oven – Durability & Reliability
Both freestanding and built-in ovens have very similar durability and lifespans. They should typically last about 15 years, with electric ovens lasting a few years less.
Built In Vs. Freestanding Oven – Performance & Efficiency
Built-in ovens tend to take the cake when it comes to performance. They were designed with efficiency and ergonomics in mind.
There is no need to bend down and strain your back, and everything is at the right height, making it all easily reachable.
Freestanding ovens are low and not very ergonomically friendly, especially for the older population.
Built In Vs. Freestanding Oven – Looks
Built-in ovens have a more modern affair, whereas freestanding ovens have a vintage flair. Although each is beautiful in its own right, it all comes down to your taste and style!
What Are The Main Disadvantages With Built In Ovens?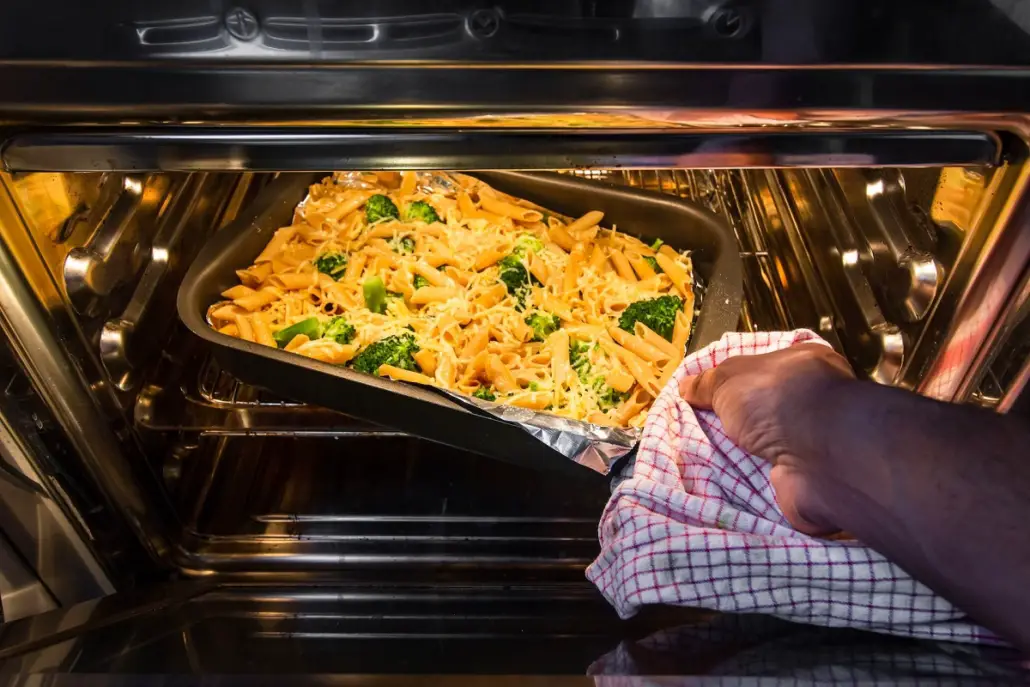 Price
Consumer Reports says 2010 cooktop and wall oven systems cost $1,300 or more. Electric or gas stoves with standard ovens cost about half as much as wall ovens and ranges.
Even high-end electric and gas ranges cost less. all ovens with specific baking functions may not perform better than a cheaper regular oven.
Space
Wall ovens save floor space, but choosing the wrong size might cause issues. According to Consumer Reports, wall ovens are usually 24, 27, or 30 inches wide, whereas conventional ovens are 27 to 30 inches.
Wall ovens can be the same size as standard ovens, but the extra width costs extra. 24-inch models are the most common and cheapest. Smaller wall ovens may not be able to cook whole turkeys or many courses.
Some homeowners handle oven space issues by adding two wall ovens; however, this doesn't allow for huge single dishes.
Electricity
Most wall ovens are electric. Each electric kitchen equipment has its circuit, which can be troublesome for homeowners.
What Are The Main Disadvantages With Freestanding Ovens?
Aren't Seamless
If you want a seamless kitchen design, pick a standard wall oven. Freestanding ovens can be a focal point and require additional cleaning.
No Ergonomics
If you have mobility concerns, freestanding ovens can be a concern because you must bend over to place food in and out, whereas a wall oven can be installed at your desired height.
Not as Appealing
Freestanding ovens are featured in traditional kitchens. These ovens have a retro look that doesn't match modern kitchens. Wall ovens are more attractive and feature-rich than freestanding ovens. Better performance than freestanding units.
 FAQs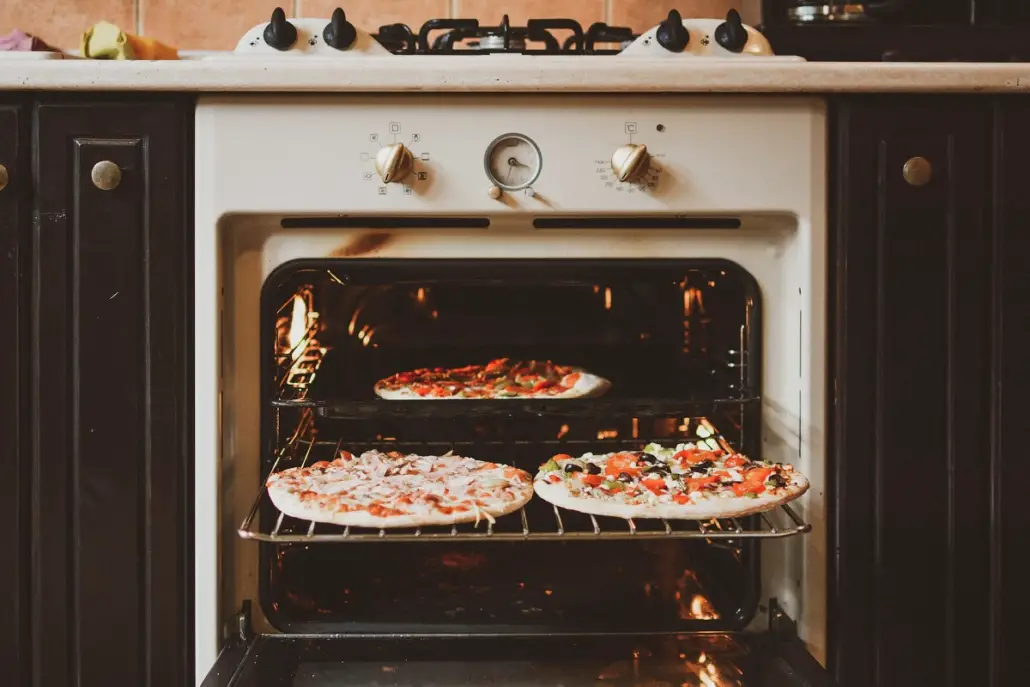 Q: Are freestanding ovens cheaper?
Yes, freestanding ovens are typically cheaper than traditional built-in ovens.
Q: Does a built-in oven need ventilation?
You'll want at least 5 mm of clearance on all sides of the built-in oven. Generally, it is fine as long as the top of the stove is level with the countertop. It is also okay to have a completely flush top on your built-in oven; however, vent space of up to 20 mm is required there in some situations.
Q: Do you need an electrician to install an electric oven?
No, there is no known or particular requirement for an electrician to install an electric oven.
Q: Can a built-in oven go under a worktop?
No. Choose a built-under double oven rather than a built-in one if you plan to conceal it beneath a countertop.
Q: What is the difference between a built-in and a built-under cooker?
A built-in oven is built into the wall, whereas a built-under oven was designed to go under a worktop or kitchen counter. Built-under ovens are usually hidden behind cupboard doors, whereas built-in ovens are always visual.
Q: Will a 60cm cooker fit in a 60cm gap?
Yes. A 60-centimeter stove can fit in a 60-centimeter opening, as most 60-centimeter stoves are a hair narrower.
Q: What height should a built-in oven be?
Most single-wall ovens are between 27 and 29 inches in height.
Q: How do I know what size oven to buy?
Consider how much counter and cabinet space you'll require in the kitchen. Wall ovens measuring 27 to 30 inches in width and holding 4 to 5 cubic feet capacity are great alternatives to freestanding ranges. 24-inch-wide single-wall ovens typically have a capacity of 2 to 3.5 cubic feet.
Q: How far should an oven be from a wall?
A wall oven needs roughly 3 inches of clearance from the cabinetry on either side. A gap like this makes it possible to use almost any housing unit for an oven. Additionally, Most wall ovens have a cooking surface that is 30 inches wide.
Conclusion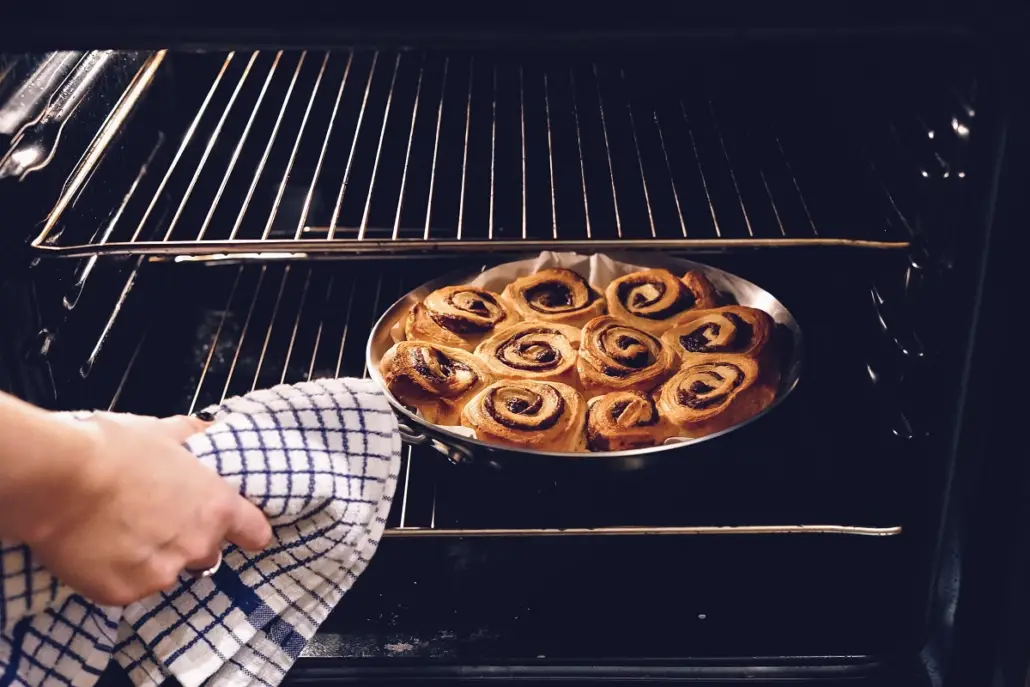 In this article, we have compared the two so you can pick between them with confidence.
The oven should be one of the first things you think about when planning your new kitchen. It has the opportunity to be a statement piece in your kitchen!
Depending on which oven you choose, there will be significant differences in the layout of your new kitchen. So be sure to evaluate and go through the pros and cons critically before making a final decision.
You should choose a freestanding oven if you want to design a traditional or modern kitchen, enjoy entertaining, and don't mind some clutter. A wall oven is an excellent option for those who value a sleek, uncluttered, and simple kitchen design that is also simple to maintain.