Green Board vs. Purple Board – How Do They Compare?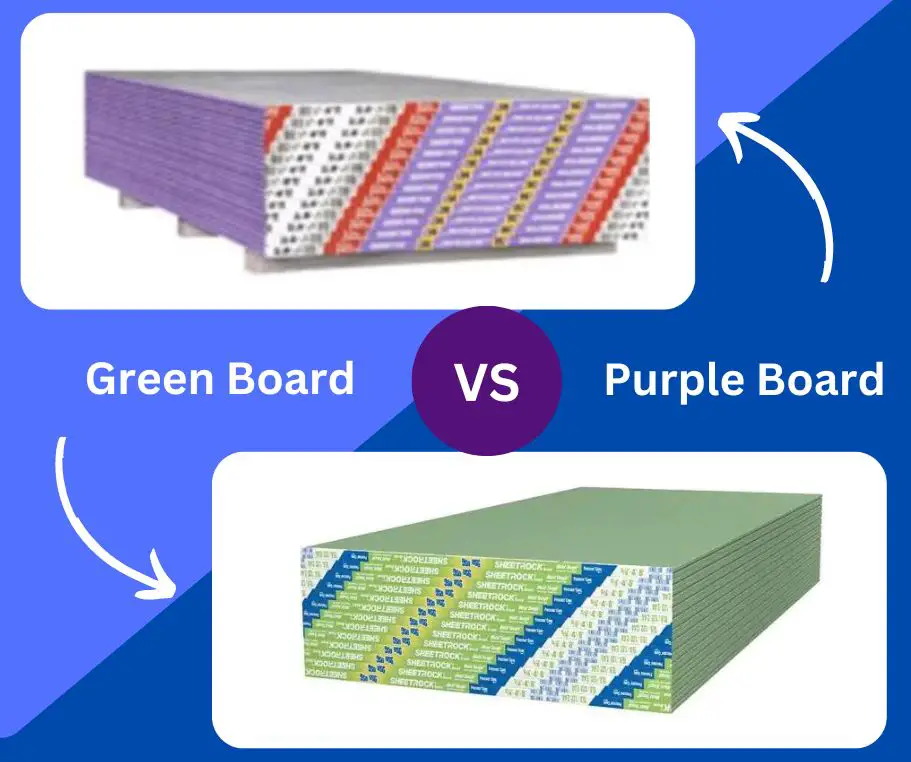 It can be hard to consider the type of drywall to install in your home, particularly in places with a lot of moisture. That is because you have a variety of options that are made to meet different needs.
In this article, we'll compare purple and green boards, after which you'll know which type suits you better.
Before you start a drywalling project, be aware that drywall is a family of goods, each of which has unique uses and applications. The concern is whether all drywall types work in high-moisture or high-humidity areas.
Before the end of this article, you will get the answer to that question, plus more insights on the subject matter.
Overview of Green Board vs. Purple Board
Drywall, also called gypsum board, is a type of building material often used to build the interior walls and ceilings of buildings.
Even though all gypsum-based drywall has a natural resistance to fire, purple drywall is exceptional in its resistance to water, mold, and mildew. Some purple drywall products are resistant to scuffs, dents, and noise.
Drywall's tapered edges, found along the length of the sheets, are an important feature. These edges make a shallow depression filled with drywall tape and joint compound to make the joint look smooth.
There are many kinds of drywall, and matching the color can help you choose the best one for your project.
Quick Facts Comparison Table
| | |
| --- | --- |
| Green Board | Purple Board |
| Green boards are more expensive than standard drywall but are still less expensive than purple boards. Their price ranges between $14 and $18 per panel. | Purple boards are more costly and can cost twice as much as green boards. Their price ranges between $15 and $60 per panel. |
| Green boards' gypsum nature makes them water-resistant. | Purple boards have better mildew, mold, and moisture resistance. |
| Green boards are not durable. | Purple boards are more durable. |
| Green boards' water resistance makes them ideal for damp applications like basements. | Purple boards are ideal for bathrooms and ceilings. |
| Green boards easily scratch and get dents. | Purple boards are tough and don't get scratches or dents. |
Key Differences Between Green Board vs. Purple Board
Green drywall, also called "green board," is often used because it doesn't get damaged by water. Gold Bond Building Products' exclusive purple drywall is the best option because it is resistant to water damage, mold, and mildew.
Many drywall products in the purple color family also resist scuffs, scratches, dents, and noise.
Key Features of a Green Board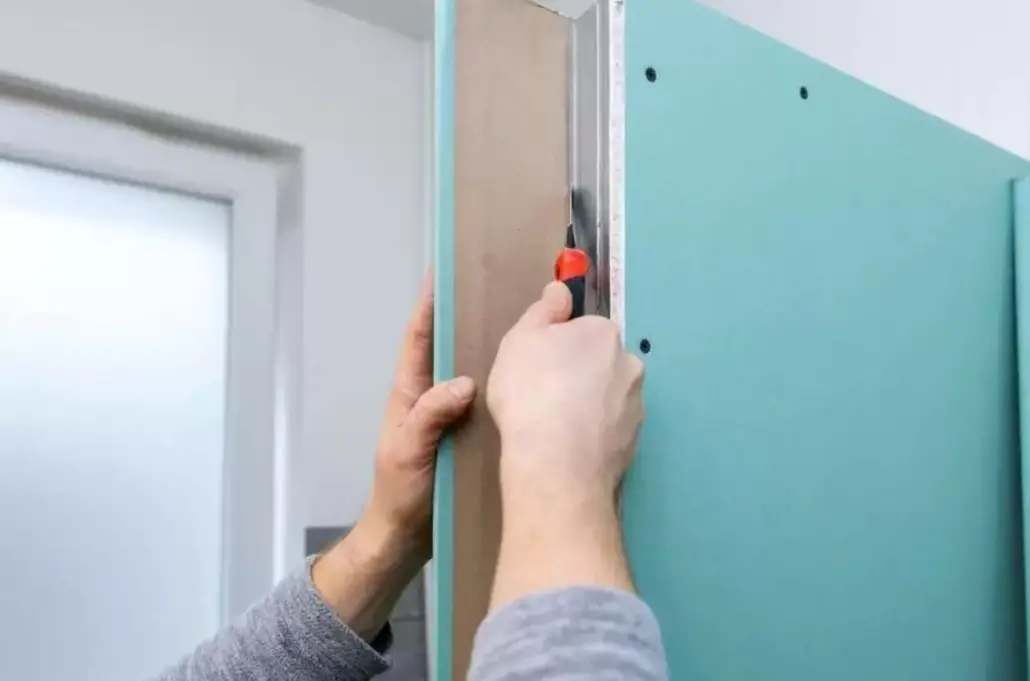 Drywall with a green covering, called green board drywall, is more water-resistant than standard drywall. As an alternative to drywall, the green board is becoming more popular.
It is made of the same materials as regular gypsum paneling, except its face is waxed paper. It is also commonly used as a tile backer for smaller wet areas like bathrooms, kitchens, laundry rooms, basements, and utility rooms.
Using it is not ideal if it's in direct contact with water, but this drywall is designed to prevent moisture buildup over time in humid environments.
Green board, which has been waxed, is more durable than standard drywall. Prices range from $14 to $18 for 4-by-8-foot panels, making them more expensive.
Advantages of a Green Board
It is affordable and readily available in various sizes.
Easy installation. Green boards as modified drywall panels are easy to install.
Durability. The green board is better because its panels are thicker and have more layers.
Moisture resistance. Green boards can hold water for a while.
Disadvantages of a Green Board
Green boards are not waterproof. Despite their popularity, they are not ideal for installation in wet areas.
Key Features of a Purple Board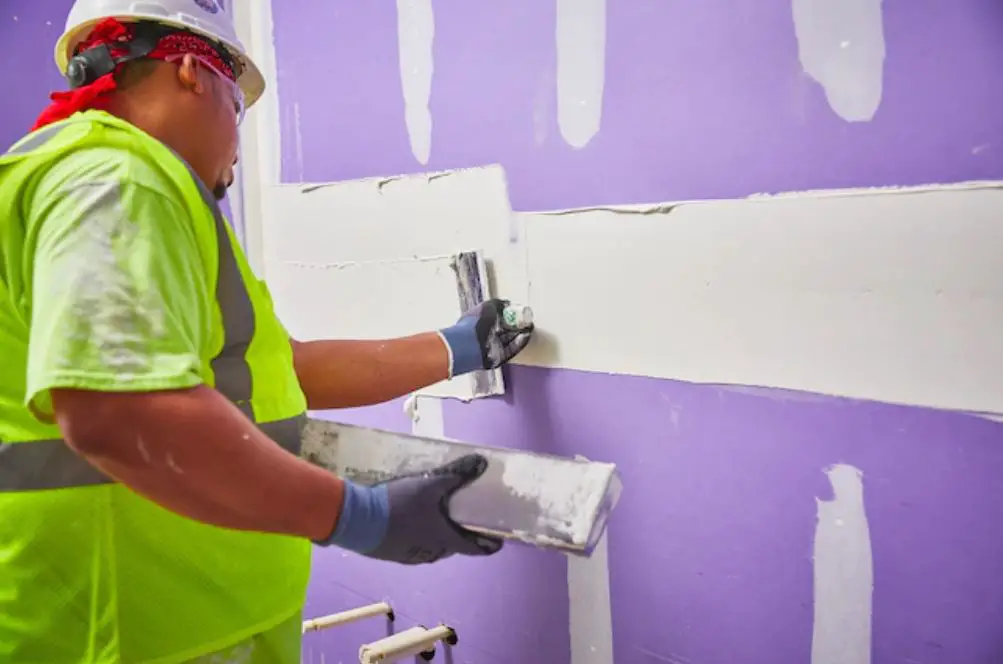 Purple drywall has all the benefits of green drywall, plus increased mold and mildew resistance. Because recycled paper is wrapped around the gypsum core of this drywall, it can handle water better than green boards.
If you want your walls and ceilings to be more water- and mold-resistant, you can use this product anywhere. If your drywall will be in contact with water, the color purple is your best bet.
Depending on the brand, a 4-by-8-foot panel of purple drywall can cost anywhere from $15 to $60. There are high-impact and sound-breaking options available.
Advantages of a Purple Board
Reliable. Unlike standard drywall, it is moisture, mold, and mildew resistant.
Improved air quality. It is Greenguard Gold-certified for improved indoor air quality.
Fire resistant.
Durability. Its quality ensures your project will stand the test of time.
It is noise-proof.
Disadvantages of a Purple Board
You must keep the space well-ventilated at all times during the installation and curing processes.
Don't install it in an area with extreme moisture levels.
How Do They Compare in Price?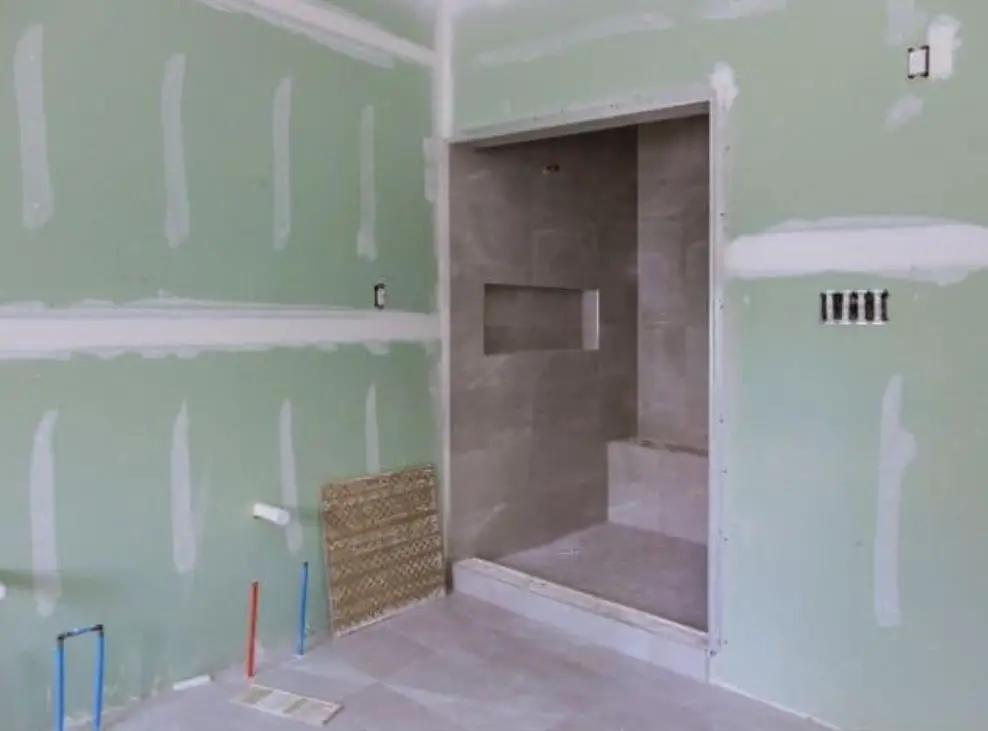 Green drywall typically costs around $14 to $18 per panel, while purple drywall can cost anywhere from $15 to $60 per panel. The price per square foot for installation can be anywhere from $1.50 to $3. Also, different brands of the same product can have varying prices.
How Do They Compare on Durability?
A carefully prepared, fire- and moisture-resistant gypsum core is the foundation of purple drywall. This core is wrapped in thick, 100% recycled paper that can't be damaged by water, mold, or mildew. Those features guarantee durability.
How Do They Compare on Overall Quality?
Green and purple drywall are widely available and offer excellent protection from fire. Apart from their appearance, they have distinct differences.
Green drywall is exceptionally water-proof. Mold and mildew have no chance against purple drywall, which is also resistant to moisture.
The purple board is more robust. The inflexibility of the material makes it challenging to work with. However, that makes it a better soundproofing material than green drywall. The material is also dent- and scratch-proof.
Is Purple Board Worth It?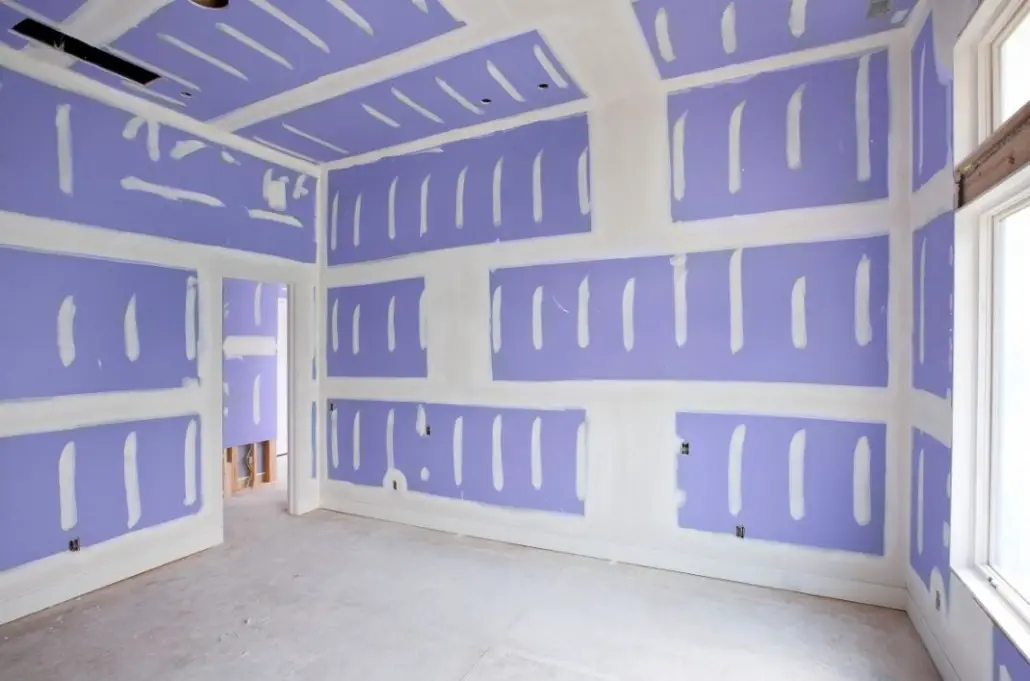 Yes. Purple drywall can be used for any purpose and set up in any environment, regardless of the relative humidity. Because it can handle moisture better, this drywall is better to use in places where mold and moisture are common.
Is Purple Board Heavier Than Regular Drywall?
A sheet of purple board's weight depends, among other things, on its thickness and structure. A normal 1/2-inch sheet usually weighs 51.2 or 1.6 pounds per square foot. That is slightly above a regular 1/2-inch sheet of drywall that weighs 51 pounds.
Is Purple Board Good for Showers?
Purple drywall is often used in bathrooms and places with a lot of moisture to prevent mildew, mold, and rot from growing. Mold-resistant recycled material surrounds a moisture-resistant core of purple drywall.
Is Purple Board Water Resistant?
Yes. Gypsum has a built-in ability to resist flames. Drywall made from gypsum is created by layering two sheets of paper with a core of wet plaster in between.
After the core has dried and hardened, the gypsum board can be used as a sturdy, fireproof construction material. Gypsum has water in its natural state and the steam that comes out when heated delays heat transfer.
What's the Difference Between Green Board and Drywall?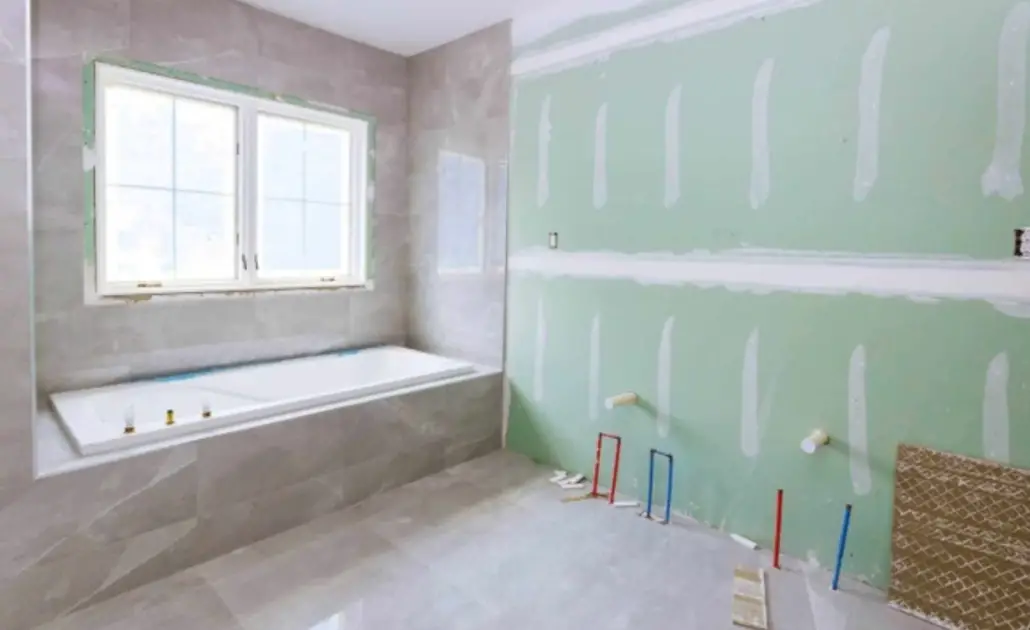 Green board is a type of water-resistant drywall that features a paper backing. It can resist water, but it's being phased out in favor of newer products that double duty against mold and moisture.
It is best left for non-critical uses, like in bathrooms and basements where humidity is high.
The green board is more water-resistant because its thicker paper backing has been waxed. Even though it's still selling in massive quantities, you shouldn't use it if mold avoidance is your top priority.
What Is the Difference Between Green Board and Blue Board Drywall?
Unlike regular drywall, the blue board is made to be covered in plaster rather than paint. Plaster is a great material for finishing a surface because it is strong, lasts a long time, and doesn't let water or mold in.
If you need inspiration from an existing plaster finish or like the way plaster looks, use a blue board for your next project. That is ideal for use on walls and ceilings and is resistant to moisture and mold. It makes it suitable for damp environments.
What Is Green Drywall Used For?
Mold can be a problem in damp environments, like bathrooms, so this drywall is often used. Use mold-resistant drywall mud (also known as joint compound) like green drywall for maximum protection.
Can You Plaster Over Greenboard?
Yes, you can cover a green board with plaster. A plaster bonder, however, is required to ensure proper plaster-to-green-board adhesion. That is a relatively easy task. However, there are rules to follow, so the plaster doesn't start to peel off too soon.
Can I Use a Green Board Instead of Drywall?
Green board is often suggested as an alternative to drywall in places that tend to get wet. Bathrooms, kitchens, basements, and laundry rooms are a few places where you can use a green board. Local laws may stipulate that green boards be used in locations where ceramic or plastic tiles could splash.
What Is Our Recommendation?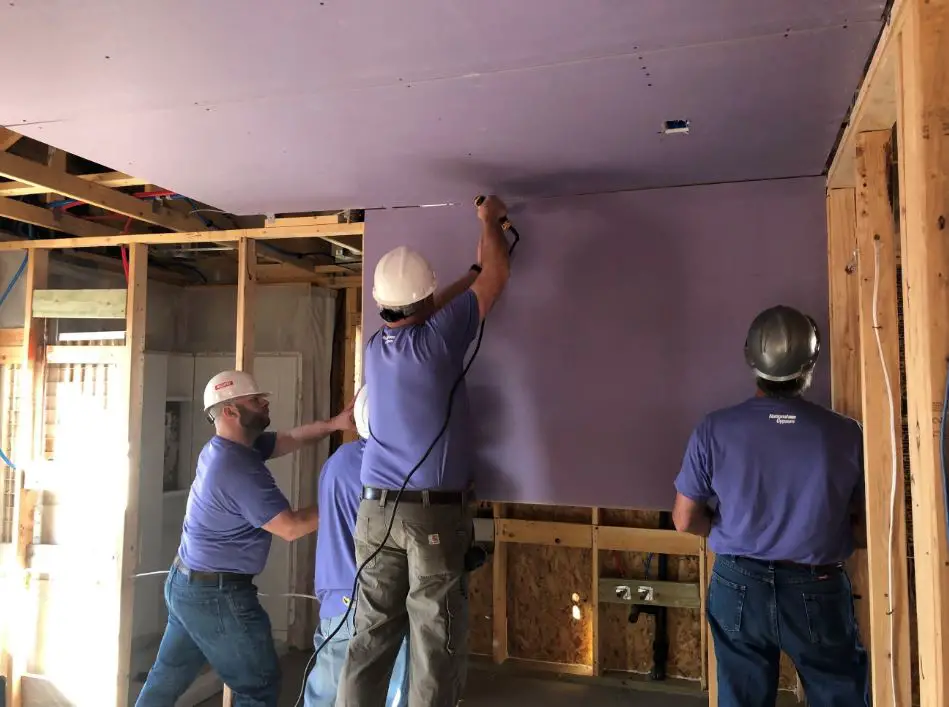 It is important to think about the function of the room and the desired aesthetic when selecting the drywall for your home. Generally, standard drywall is fine for most living and sleeping areas.
You'll want to use a more moisture-resistant green board in wet areas like the kitchen and bathroom. Wet walls around the shower could necessitate using purple drywall in some bathrooms.
Conclusion
It's best to talk to a professional contractor if you still need clarification about the type of drywall you need. Hiring a drywall expert in your area is a great way to determine which option can be best for your home.