Husqvarna 562xp vs Stihl 362 – What's The Better Chainsaw

Chainsaws are extremely powerful tools that can save countless hours of manual labor.
Choosing the correct chainsaw for the job is important because you want to only pay for features that you will actually need.
Two of the most popular choices are the Husqvarna 562xp and the Stihl 362 – so which one is the best and which one should you choose?
The answer will depend on your needs, preferences, and job requirements.
In this article, we will take a look at some general chainsaw features and then we will compare the Husqvarna 562xp and the Stihl 362 to see which is best.
Intro To The Chainsaws And Why The Right Choice Matters
Not all chainsaws are created equal, they are all designed and manufactured to serve specific purposes.
Therefore, depending on your needs, one machine will be better than the other. If you are going to invest a lot of money into a chainsaw then you need to make sure that it will do the job that you need it for.
Overview Of Husqvarna 562xp vs Stihl 362
Both the Husqvarna 562xp and the Stihl 362 are petrol-driven chainsaws that are highly durable, extremely powerful, and are professional grade quality.
Overall these saws are very similar so making a choice of which is best will be a difficult task.
To see a side-by-side comparison, have a look at this video here for an in-action test, or this one here for a comparison discussion.
For some more discussion by owners, check out this Forestry Forum.
Quick Facts Comparison Table
| | | |
| --- | --- | --- |
|   | Husqvarna 562xp | Stihl 362 |
| Power Output | 59.8 cc | 59.0 cc |
| RPM (max) | 9,600 rpm | unknown |
| Horsepower | 4.7 hp | 4.6 hp |
| Weight | 13.4 lbs | 12.3 lbs |
| Guide Bar Lengths | 18 in – 28 in | 16 in – 25 in |
| Price | 819.99 USD | 879.99 USD |
| User Reviews | 4.2 out of 5 (42 reviews) | 4.7 out of 5 (162 reviews) |
| Product Info | | |
Key Differences Between Husqvarna 562xp vs Stihl 362
Husqvarna 562xp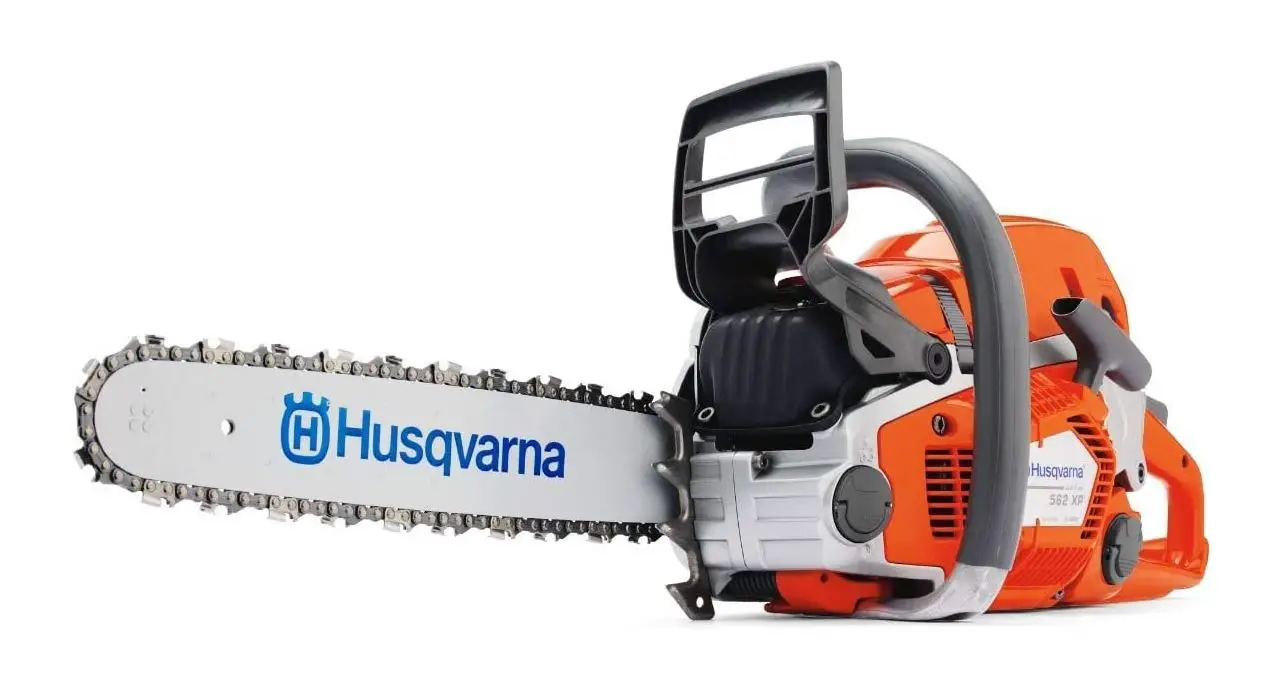 Key Features
AutoTune – for automated engine settings
X-Torq – cuts down emissions and fuel consumption
Air injection – helps for fewer filter cleanings
Sellings Points
Developed for professional logging
Ground breaking design with loads of innovative solutions to increase efficiency
Offers more power for less fuel consumption and fewer emissions.
Pros
Powerful machine
Highly durable and efficient
Can take bigger bar sizes to cut down bigger trees
Cons
User reviews are not as high as they should be
Check Out More Reviews Here:
Stihl MS 362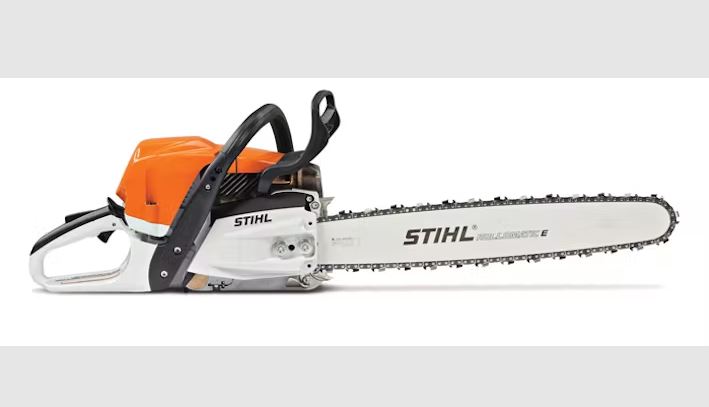 Key Features
Pre-separation air filtration system – boosts engine efficiency
Side-access chain tensioner – allows for quick and easy adjustments
Anti-vibration system – less vibration means less fatigue
Sellings Points
A brilliant balance between torque, power, and weight
Advanced engine technology cuts down on emissions
Designed for professional felling, bucking, and de-limbing
Pros
A great machine with modern technology to improve efficiency
Manufactured by one of the most trusted brands
Very highly rated by customers
Cons
Slightly higher price compared to the Husqvarna 562xp
Check Out More Reviews Here:
How Do They Compare On Price?
On price, the Stihl machine is slightly more expensive compared to the Husqvarna.
The difference in price is 60 USD which makes the Stihl about 7% more expensive than the Husqvarna.
How Do They Compare On Weight And Handling?
The Husqvarna 562xp weighs 13.4 pounds compared to the Stihl 362 which weighs 12.3 pounds.
The difference is 1.1 pounds. The two machines do not differ as much in weight, but when you are working long hours you will definitely start to feel any extra weight.
How Do They Compare On Power – Horsepower
In terms of engine power and horsepower, the two machines are very near to identical.
The Husqvarna 562xp has a very small upper hand with 0.1 hp more.
Where Do They Get Their Power From?
Both of these chainsaws are gas-driven so they run on petrol. They have onboard fuel tanks that hold the petrol.
What Attachments Are Available For It?
The only attachments that these chainsaws can take are a variety of bars and a chain. There are no additional attachments.
How Do They Compare On Efficiency?
Both machines are extremely efficient as they both use state-of-the-art engine technology to produce maximum power with minimal fuel consumption and emissions.
Side-by-side the Husqvarna 562xp might be slightly more efficient due to its extra features like AutoTune and X-Torq.
How Big A Bar Can You Put On Husqvarna 562xp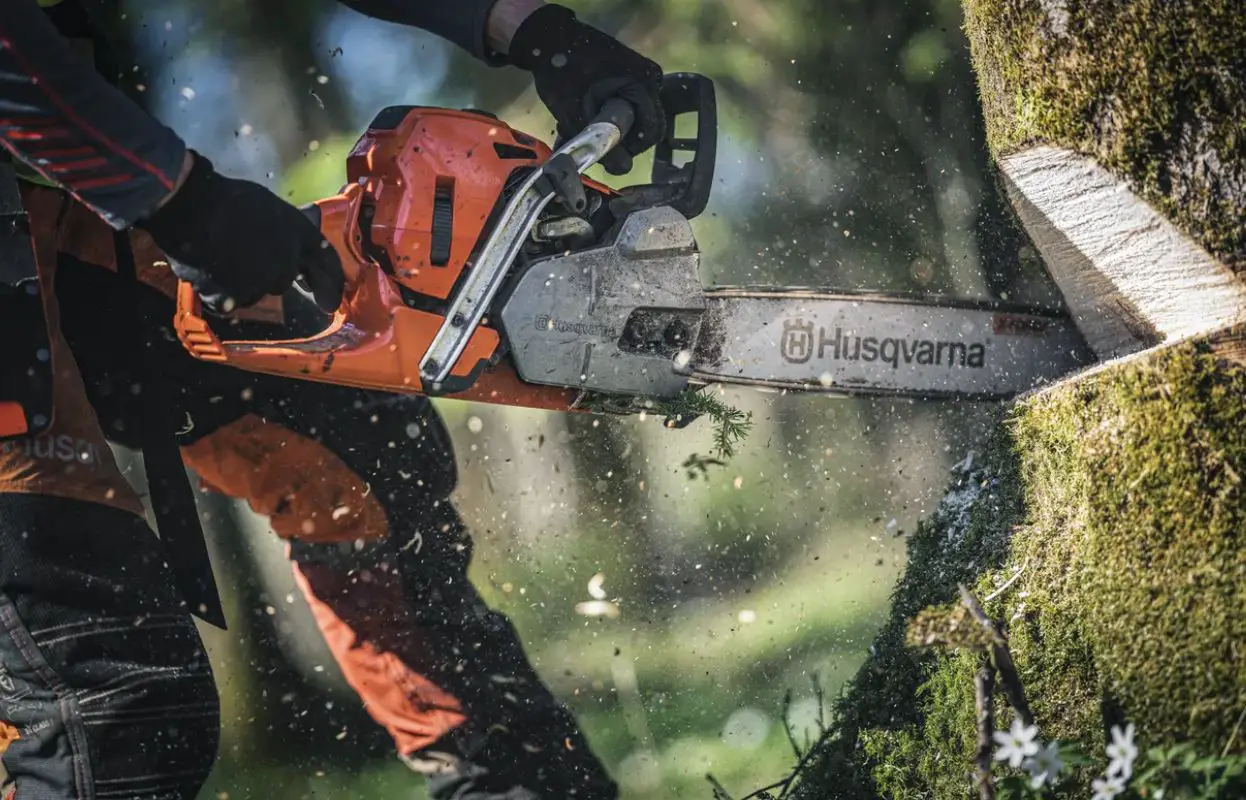 The Husqvarna 562xp can take the following bar sizes: 18 inches, 20 inches, 24 inches, and 28 inches.
How Big A Bar Can You Put On Stihl MS 362
The Stihl MS 362 can take the following bar sizes: 16 inches, 18 inches, 20 inches, and 25 inches.
Stihl MS 362 Common Problems
Common issues include plastic parts heating up and breaking, engine problems after extended use, and chains getting blunt.
Husqvarna 562xp Common Problems
Common issues for the Husqvarna chainsaws are very similar to the Stihl chainsaws. Plastic parts tend to warm up and can break. Also, the engine can sometimes give difficulties.
Who Should Buy Each One?
The machine you should buy depends on your unique situation.
We recommend that you buy the Stihl if you want to pay slightly more and get a slightly more trustworthy machine. If you want a bit more power for a cheaper price – go for the Husqvarna.
You can also find some more discussions about these chainsaws here and here.
What Size Gardens & Jobs?
Both of these chainsaws can be used residentially and commercially. They are designed for professional use so which means they can work hard for extended periods of time.
What Items Are They Best For
Both chainsaws work well for felling, bucking, and de-limbing. They are designed for professional tree and forestry personnel and also work well for firewood cutters.
3 Other Similar Chainsaws To Consider
1.   Husqvarna 592xp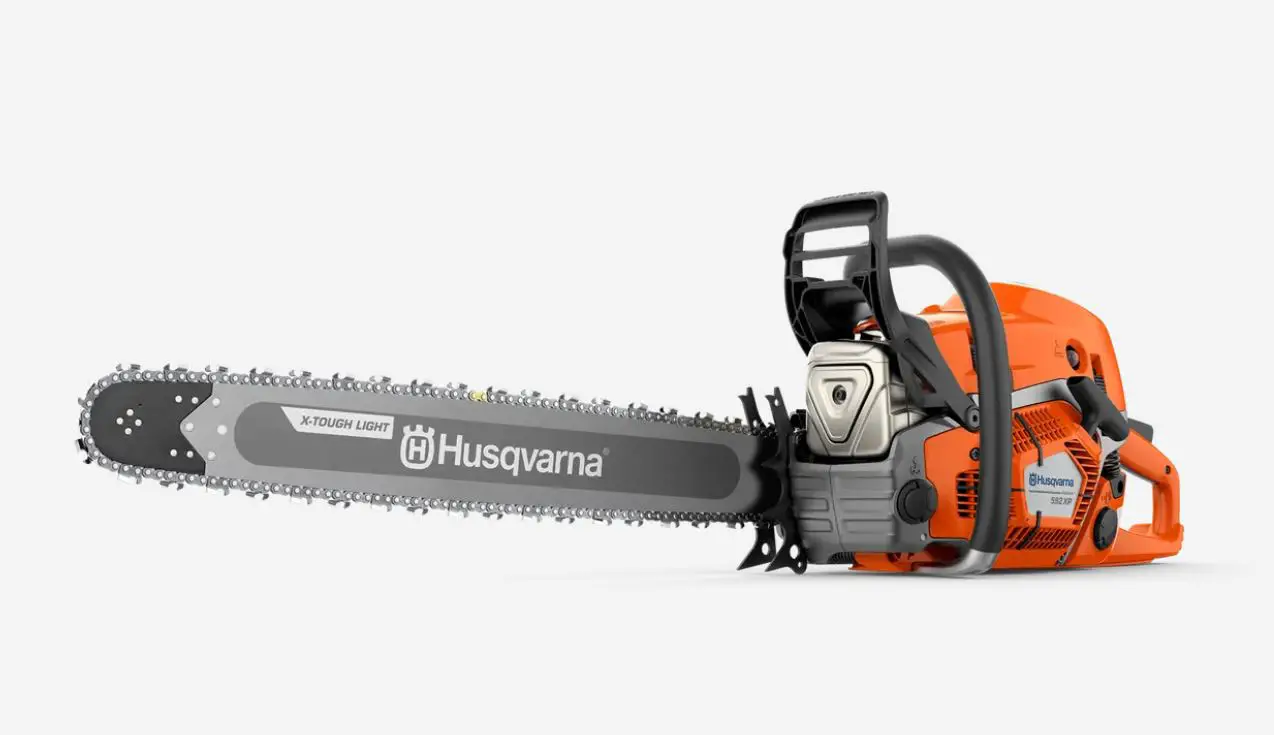 First Impressions
A slightly bigger and more powerful chainsaw. It comes with a 90 cc engine and it can take a bar up to 36 inches. The price is also considerably higher at 1500 USD.
Key Selling Points
One of the best machines on the market
Top-class in terms of weight to power balance
Pros
Powerful to get any job done
Big bar sizes
Cons
Overall Score: 97/100
Check Out More Reviews Here:
2. CRAFTSMAN 41BY4216791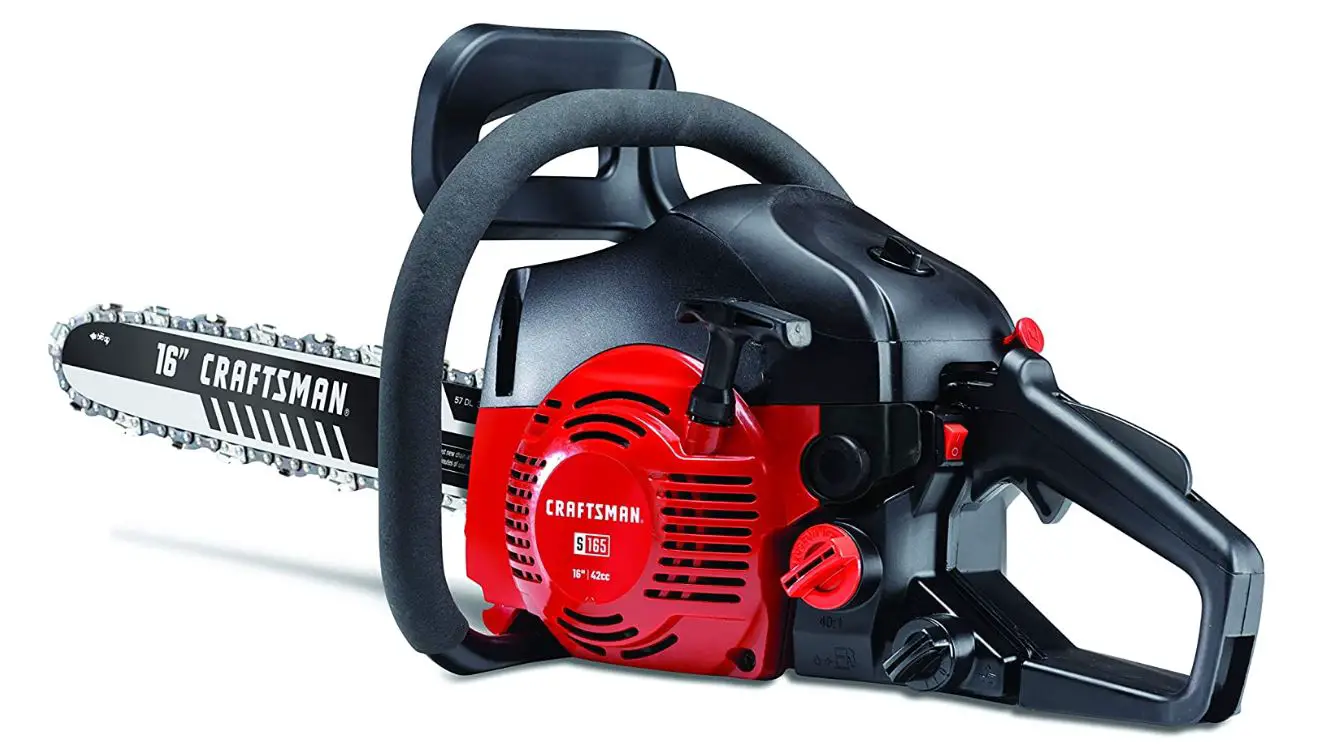 First Impressions
A highly rated machine by Woodsmith. It is a balanced machine that offers everything you need in a chainsaw.
Key Selling Points
Automatic oiler keeps the chain in good condition
Pros
Bucking spikes give extra control
A well-designed machine
Cons
Overall Score: 90/100
Check Out More Reviews Here:
3. Tanaka TCS33EDTP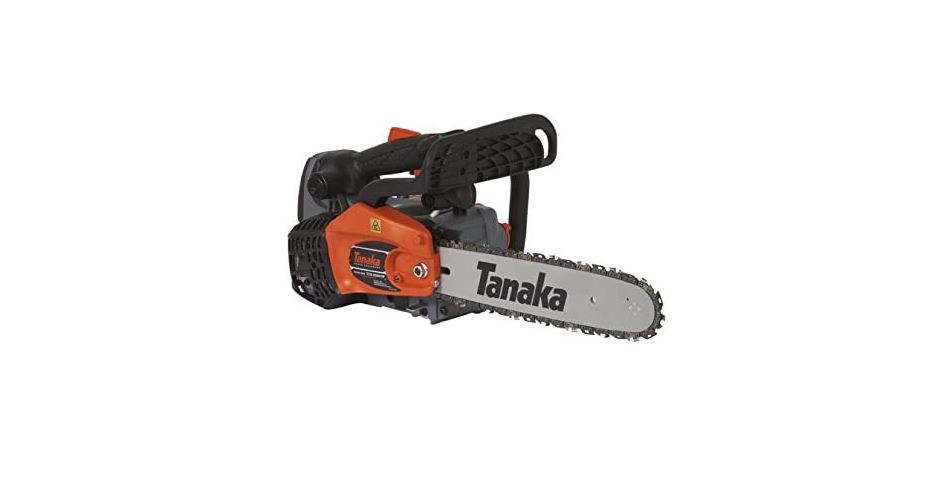 First Impressions
A strong and powerful machine that is easy to handle and will last for a long time.
Key Selling Points
Economical engine
Sprocket nose bar gives additional control
Pros
A well-trusted manufacturer
Multiple safety features
Cons
A fair amount of plastic components
Overall Score: 88/100
Check Out More Reviews Here:
What Is Our Overall Recommendation
Overall we would recommend the Husqvarna 562xp over the Stihl 362.
Both machines are exceptional and either way, you cannot go wrong.
We base the recommendation on the fact that the Husqvarna is considerably cheaper, slightly more powerful, and has more features.
Conclusion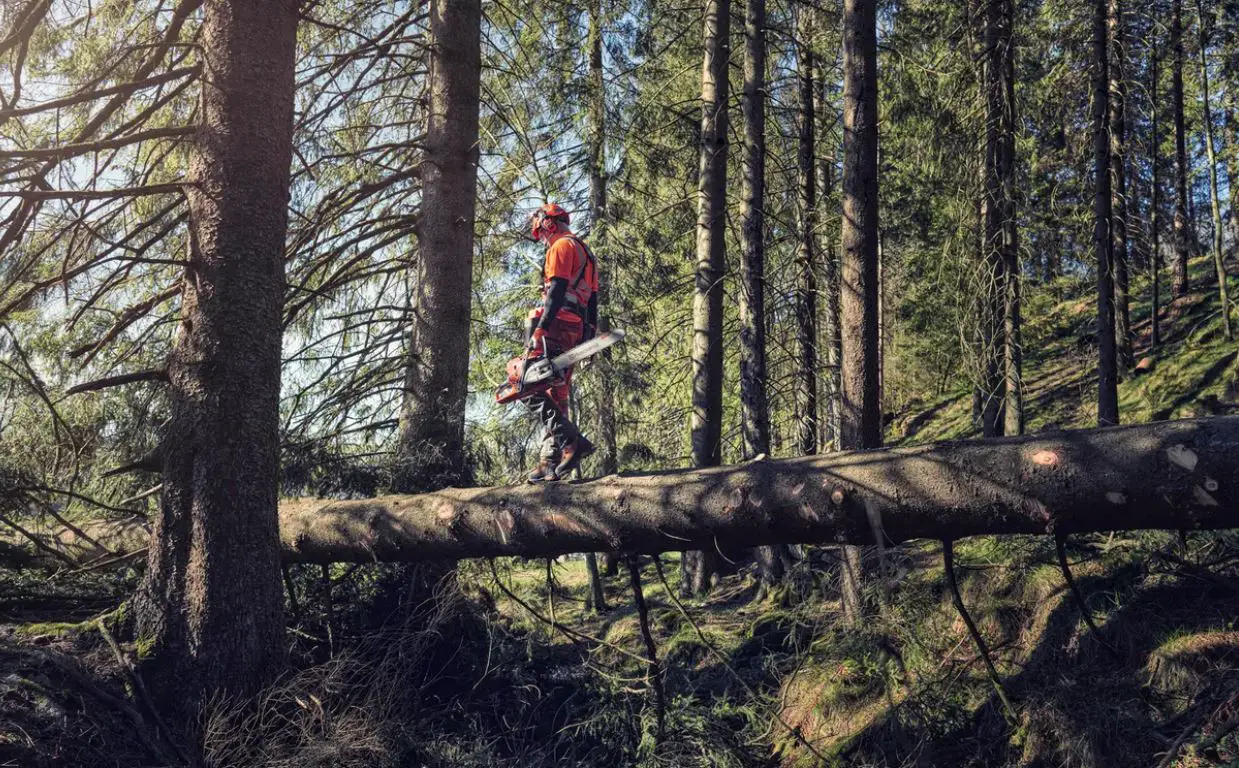 Comparing two very similar chainsaws is a tricky business, but we hope after comparing them side-by-side you have a clear picture of which one might be the best for your needs.
With these highly loved brands, it often depends more on personal preference than on one machine that is better than another.
If you need any more information or assistance, please reach out to us through our website.