Husqvarna 580BTS Vs Echo PB9010 – What's the Better Leaf Blower?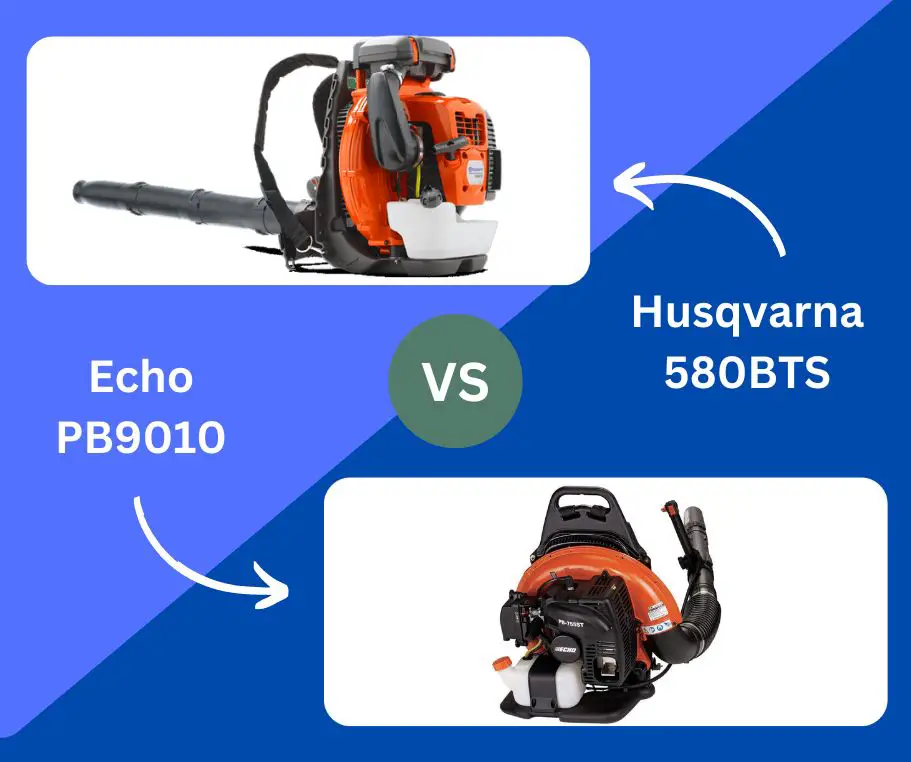 Whether you need to outfit your crew with commercially capable backpack leaf blowers or you have a large property that you want to keep neat and tidy, you really need to be discerning when shopping.
Backpack leaf blowers are viewed as inherently powerful – and inherently pricey. But not all backpack leaf blowers will provide you with the power you need. And with how expensive these machines are, it really pays to do your homework.
To help you make the right choice, we are continuing our series of leaf blower comparisons with a comparison review of the Husqvarna 580BTS and the Echo PB9010.
We tested them both so read on to learn everything you need to know about them.
Husqvarna 580BTS Vs Echo PB9010 Overview
After our testing, it was clear that the story of the Husqvarna 580BTS vs the Echo PB9010 was a story of comfort and usability.
While these blowers are almost identical in weight, the PB9010 is simply more comfortable to operate in the heat or for long clearing jobs.
Even the power output is almost identical between these two but again, the PB9010 has simple yet game-changing features that really increases its viability in the field.
Quick Facts
| | | |
| --- | --- | --- |
| | Husqvarna 580BTS | Echo PB9010 |
| Weight | 26.8lbs | 26.7lbs |
| Power | 4.59 HP | 79.9cc engine |
| Max Air Speed | 220 MPH | 220 MPH |
Key Differences Between the Husqvarna 580BTS and the Echo PB9010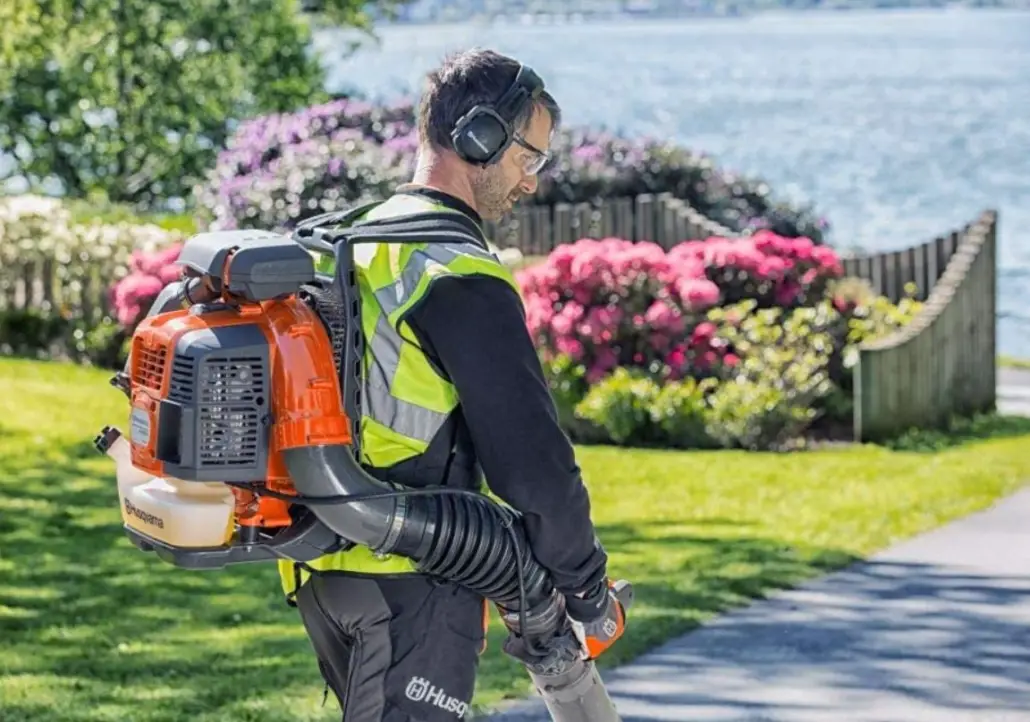 The Husqvarna 580BTS and the PB9010 are evenly matched when it comes to engine output.
The features and usability are where the differences lie though. For instance, the PB9010 has a metal scraping ring on the end of the nozzle.
This makes it useful for scraping pesky wet leaves off the cement. It was also clear that the PB9010 was more comfortable to operate for more than half an hour.
Husqvarna 580BTS Key Features
Full Harness – Of course you get the backpack-style straps for the shoulders; but the harness also includes a chest and waist strap.
Cruise Control – With this feature, you can lock in your air speed without having to constantly feather the trigger.
X-Torq Engine – Husqvarna's trademark x-torq engine helps cut down on emissions and fuel consumption.
Echo PB9010 Key Features
Variable Speed – The PB910 features a variable speed throttle and cruise control function.
Scraping Ring – A metal ring around the tube opening is handy for scraping wet, adhered leaves from various surfaces.
Vented Back Pad – The breathable backpack makes the PB9010 more comfortable to operate in the heat.
Price Comparison
You can get the PB9010 straight from the manufacturer for $629. Similarly, the Husqvarna 580BTS sells direct from the manufacturer for $639.
Weight and Handling Comparison
As you can see from the quick facts chart. The difference in weight between these two blowers is downright negligible.
They also both have tube-mounted control handles. Tube flexibility was adequate with both blowers so in terms of handling and weight, it's a tie.
Power Comparison
Again, both the Husqvarna 580BTS and the PB9010 can reach max air speeds of 220 MPH, making them powerful enough for commercial use. So it was pretty much a draw in terms of power as well.
However, it's worth noting that the Husqvarna 580BTS has a larger-capacity fuel tank.
Power Source
These are both gas-powered backpack blowers. But as we alluded to in the previous section, the Husqvarna 580BTS has a larger 87.9 ounce fuel tank while the PB9010 has an 83.8 ounce fuel tank.
Husqvarna 580BTS Pros & Cons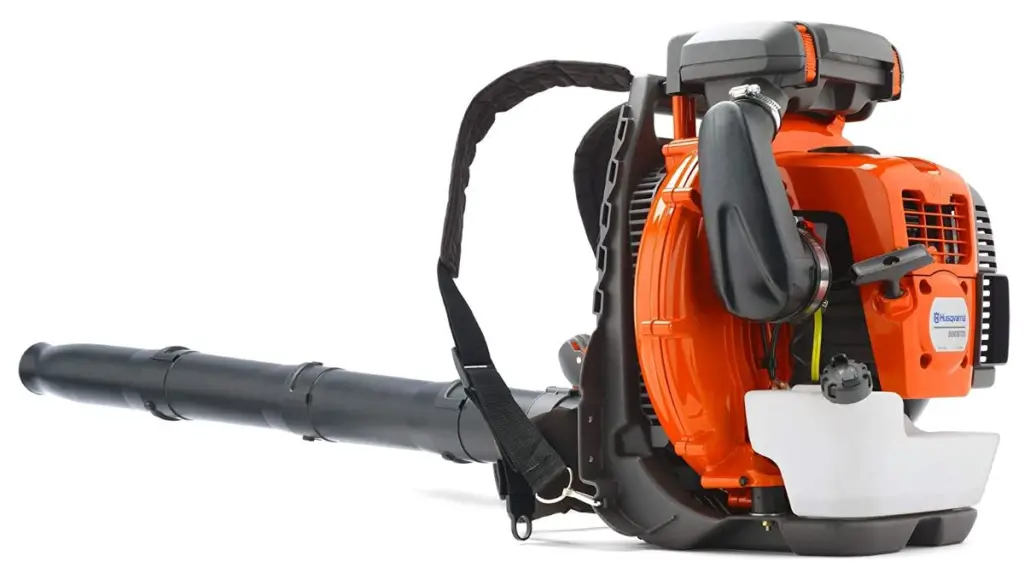 Pros:
Powerful enough for commercial work
Quieter than the PB9010
Clears areas very quickly
Reliable
Good for heavy debris
Cons:
No Scraper
Consumes lots of fuel
Overall Score: 95/100
Check Out More Reviews Here:
Echo PB9010 Pros & Cons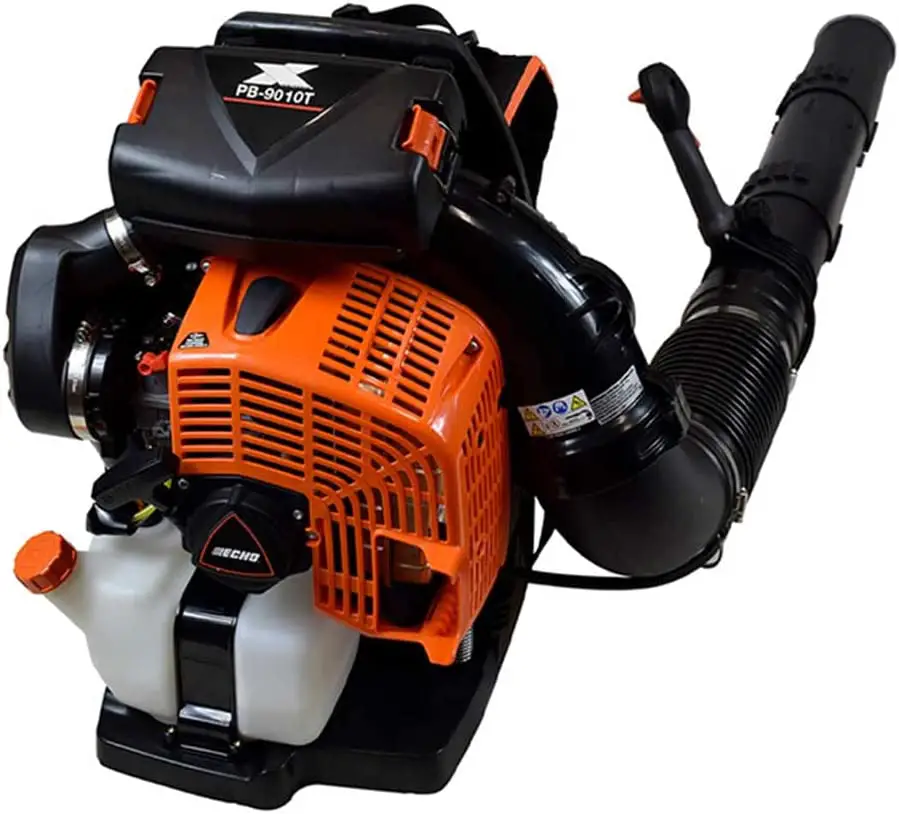 Pros:
Easy to start
Comfortable to operate for a long time
Only 31lbs with a full tank
Scraper
Powerful blowing
Cons:
It's loud
Many plastic parts
Overall Score: 96/100
Check Out More Reviews Here:
Who Should Buy Each One?
We would recommend the PB9010 to anyone who lives in an area that sees high temperatures. Trust us, that vented back pad really makes a difference.
The Husqvarna 580BTS would be a good choice if you need a slightly quieter alternative.
Other Leaf Blowers to Consider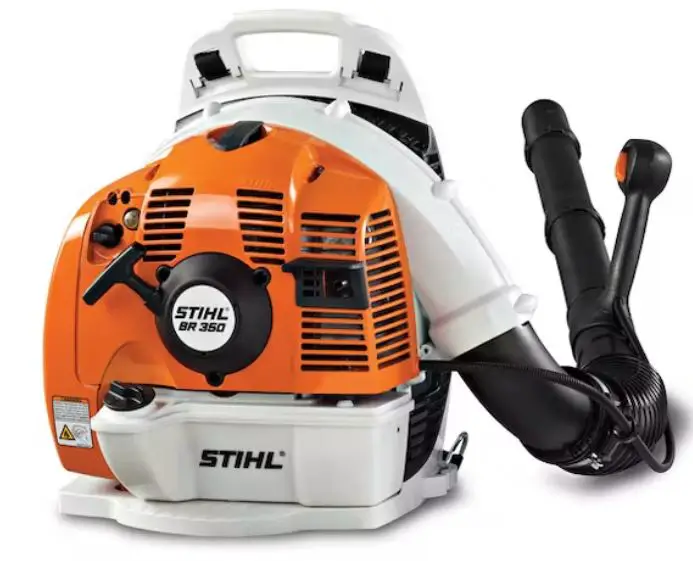 The Stihl BR350 is another gas-powered backpack blower. It weighs 22 pounds (not including a full gas tank) and has a max air speed of 201 MPH. We also liked that this leaf blower started up after a couple pulls almost every time.
Pros:
Consistently easy to start up
Good for large properties
Cons:
Overall Score: 94/100
Check Out More Reviews Here: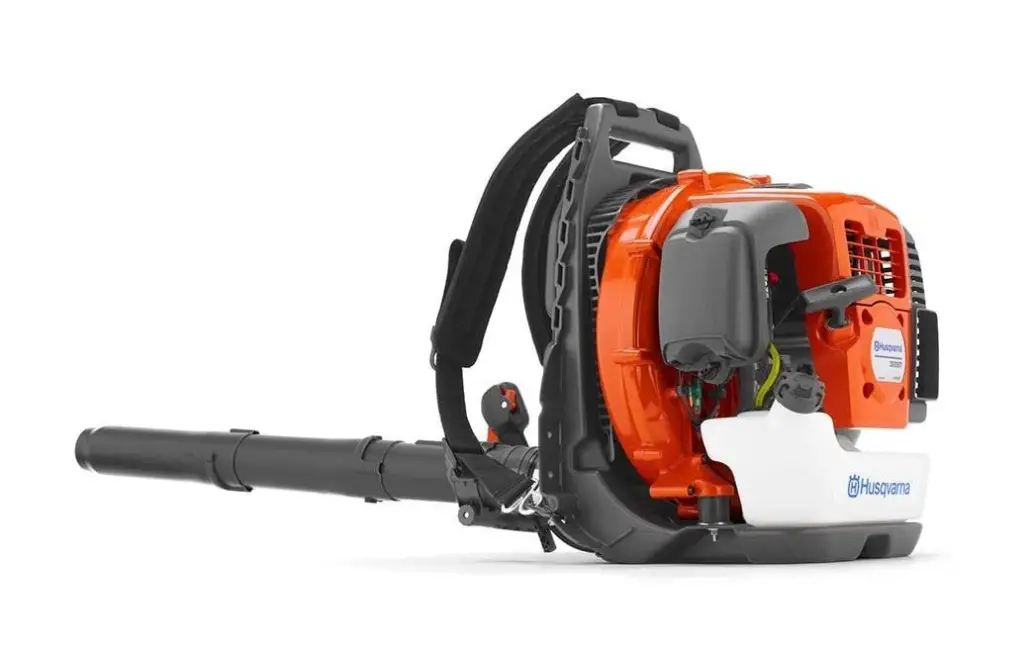 We like this blower for commercial use or if you have 3.5+ acres to clear. It reaches max air speeds of 232 MPH and is built very durably so it can stand the use and abuse of commercial applications.
This isn't a leaf blower that will break down after rattling around in the bed of your truck for a few years. It also features an adjustable handle so it will be comfortable and ergonomic for everyone in your crew.
Pros:
Great for commercial use
BUilt well
Cons:
Overall Score: 96/100
Check Out More Reviews Here: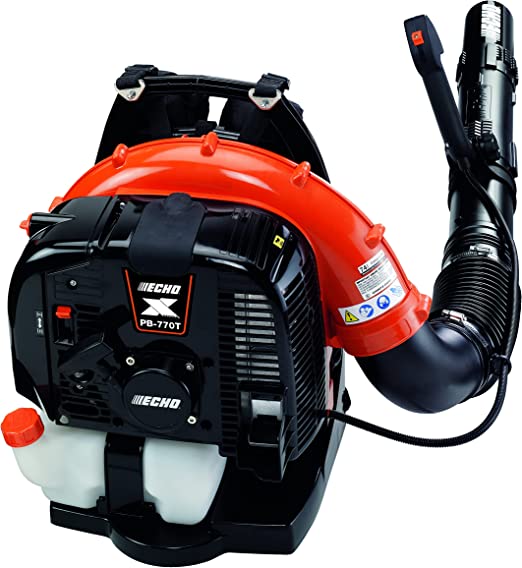 The Echo PB770T has a CFM rating of 756 and max air speed of 234 MPH. This is a powerful blower that would be suitable for both home and commercial use.
The tube rotates very well so it's comfortable and maneuverable. Other features include variable speed control and cruise control.
Pros:
Handles very well
Transparent fuel tank
Cons:
Overall Score: 94/100
Check Out More Reviews Here:
Final Assessment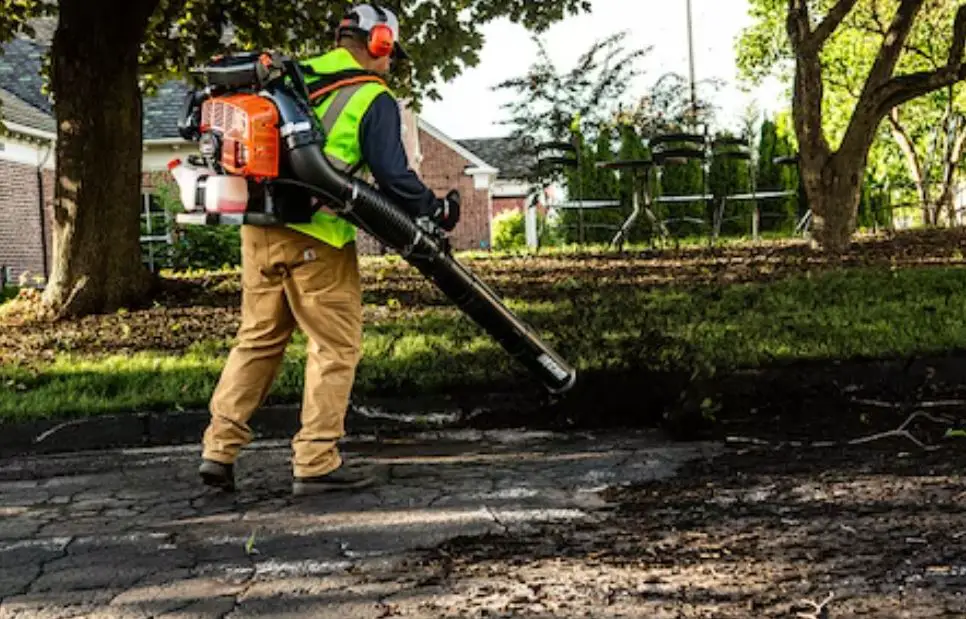 What hurts the Echo PB9010 the most is that most of the parts are made of plastic so we have some questions about its longevity.
However, the fuel consumption of the Husqvarna 580BTS will make it expensive to operate.
In the end, the PB9010 has more to offer. It is more comfortable and is more capable of handling tough wet leaves. Plus, it's slightly cheaper so be sure to check it out if you need a powerful leaf blower.