Merax Compact Electric Portable Clothes Dryer Review – Is It Any Good?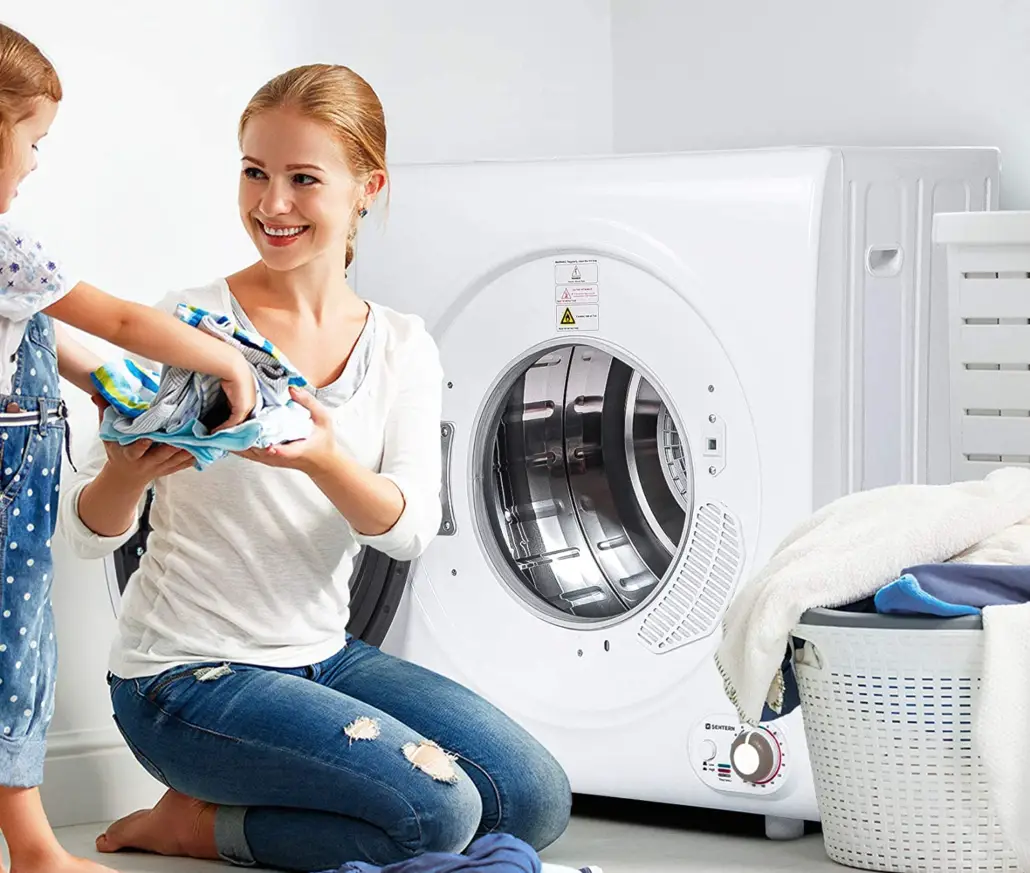 The Merax compact dryer is one of the most popular choices among portable dryers, but is it any good? Indeed it is one of the best compact dryers on the market, if not the best.
It comes with 1400W power usage, reaches 60 degrees Celsiuslots of functions, a great compact design, high production quality, and many happy users.
This review will tell you all you need to know about the Merax compact dryer so that you can decide for yourself if it is the best option for you.
First Impressions
At first impression, this looks like the best compact dryer that you will find on the market.
It gives great value for money, it is effective at dryer clothes, it is easy to move around, and it comes with many good reviews from happy users.
On Best Views Reviews, the Merax dryer has a 9.7 out of 10 rating from 55 reviews. On Amazon, it has a 4.6 out of 5 rating from over 160 reviews.
Quick Facts Table
| | |
| --- | --- |
| Power Usage | 1400W |
| Max Drying Temperature | 60 Degrees Celcius |
| Capacity | 4kg of Clothes |
| Material | Stainless Steel |
| Rating | 97 out of 100 |
| Access Location | Front Load |
| Weight | 27kg |
Key Features
Compact and Portable
This machine is designed to be compact and portable.
This makes it great for when you need to move it around or when it needs to be used in small spaces like an apartment, dormitory, or even for the inside of a motorhome/RV. It is also easily mounted to safe floor space.
Multifunction
There is a lot of different functions available to meet various needs according to the material, weight, and purpose.
Functions include cool drying, air drying, hot drying, and anti-wrinkle. You can set custom times for each, depending on your needs.
1400W Power
The electric dryer uses 1400W power to ensure clothes dry quickly and in larger quantities. It also allows the dryer to reach temperatures of 60 degrees Celcius to accelerate drying. It functions at 120V and 60Hz.
How Does It Perform?
This dryer performs very well. It is able to dry clothes quickly and efficiently. It uses 1400W of power to create high temperatures and high speeds to dry clothes quickly.
It can take as little as 30 minutes to dry your clothes (depending on the type and quantity of clothes). Overall, it performs better than most other competing models on the market.
You can also find the dryer on Ubuy.
How Easy Is It To Move Around?
The Merax compact dryer is specifically designed to be portable so that you can quickly move it around.
It is not too heavy and comes with non-scratch feet so you can easily move it around. To make it even easier, you can also invest in a mobile rolling stand if you want to move the dryer around often.
How Loud Is It?
The Merax dryer has a noise rating of 1 sone. This is not a lot of noise at all, which means it is great for use in small spaces like apartments.
How Heavy Is It?
The dryer weighs only 27kg. This relatively light weight makes it perfect as a portable dryer.
How Durable Is It?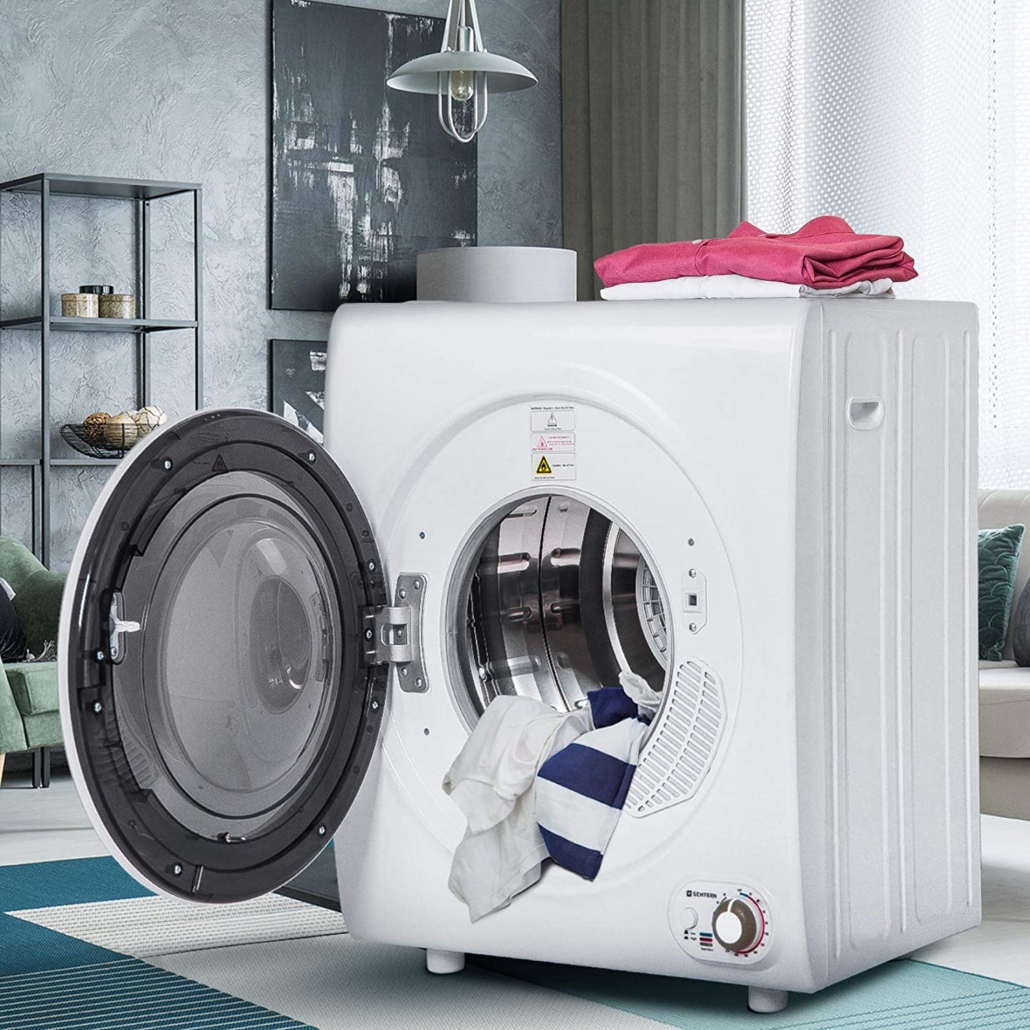 It is very durable, it will last for many years. If you take a look at the Amazon reviews, you will see that there are many happy users that have been using this dryer for a long time.
How Long Should It Last Overall?
A drying machine is not something that you want to buy regularly, they are big and expensive. According to Merax, they pride themselves on the durability of their products.
This dryer should last at least 10 years.
Pros
Compact design
The small and compact design is the biggest advantage of this electric dryer. It will save you a ton of effort and space.
Functionality
The variety of functions is a real bonus as it gives you a lot of control over the temperature and the mode that the machine uses to dry your clothes.
Cons
Capacity
Due to the compact design, the machine only has a 4kg capacity. This is rather little so you might need to do multiple loads.
Price
The price comes in at 450 USD making it a little bit more expensive than competitive models, but the price gives you quality.
Who Should Buy It?
Anyone who is living in a small space can benefit from buying this product. Also, if you are living in a place where things often need to be moved around, this product is for you.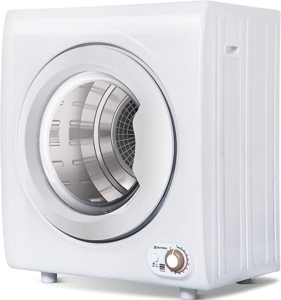 Overall Score: 97/100
Check Out More Reviews Here:
3 Other Similar Clothes Dryers We Like
This dryer is very portable and easy to move around. It comes with an easy-to-use control panel, multiple functions, and it has a smart design that leaves your clothes in the best possible condition.
According to Appliance Radar, the hOmelabs compact dryer is the best value for money on the market. It comes with all the functions you could need and it is perfect for moving and for small spaces.
The Euhomy dryer can hold up to 7kg of clothes and with 1400W it can reach temperatures of 60 degrees Celsius. This is one of the top-selling dryers in the compact dryer class.
To view more similar dryers, take a look at this video review of the best portable dryers on the market.
Conclusion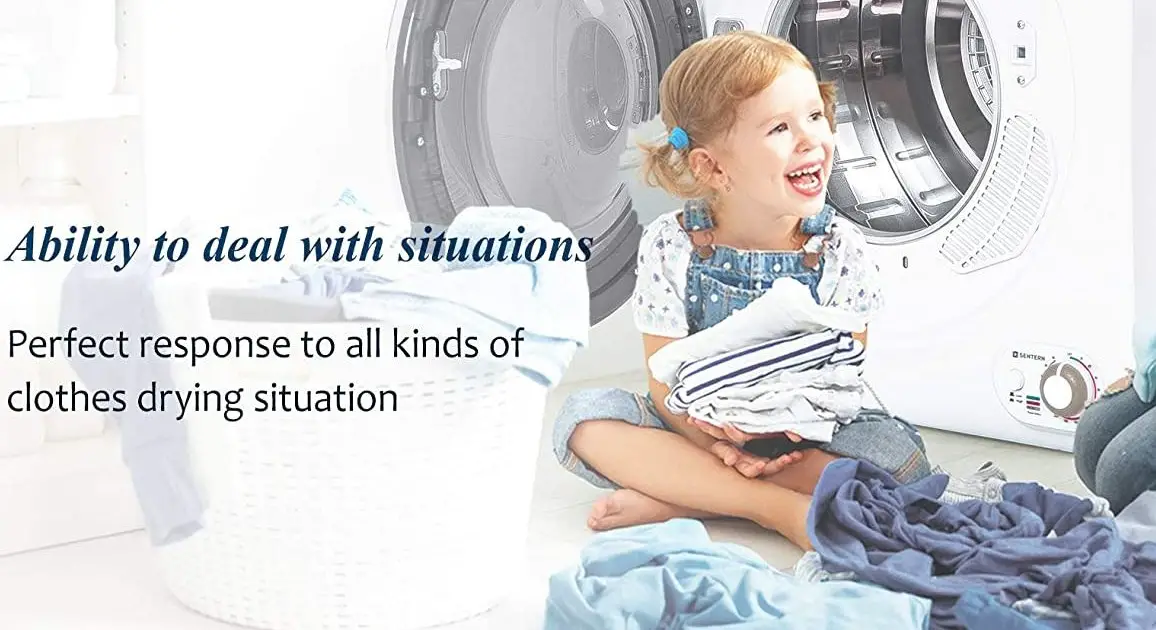 Through this review, we took a look at the Merax Compact Electric Portable Clothes Dryer.
We looked at the key features, the pros and cons, the performance, the durability, and all the other need-to-know points. We also pointed out some other options that we also highly recommend.
We hope that this gave you a good idea about the Merax dryer and that you can make an informed decision about buying it. For more info, have a look at the links provided.