Ninja DT251 Air Fryer Oven: Is It Any Good?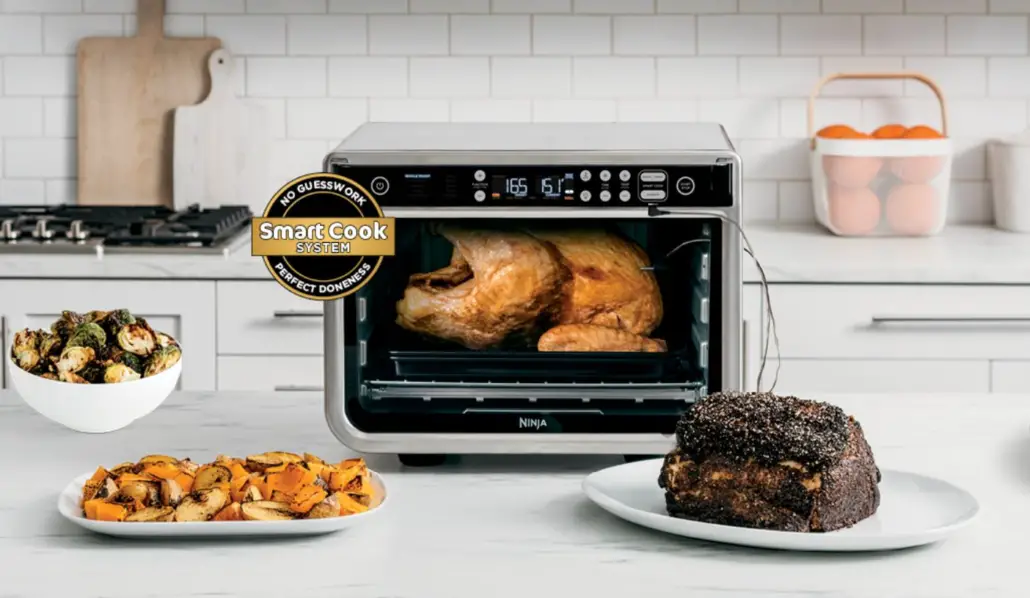 When it comes to kitchen aids, an air fryer oven is one of the most dependable and convenient units to have. Not only does it reduce the need for using excess oil in cooking, but it also can prepare several dishes that would otherwise have been made using a traditional oven.
With this convenience in mind, we decided to review the Ninja DT251 Foodi Smart XL Pro Air Fryer Oven. Sleek and compact with true surround convection technology, this air fryer oven has several smart cook functionalities, including baking, broiling, toasting, air frying and air roasting.
What sets it apart from the Ninja DT201 Digital Toaster is an integrated smart thermometer, which is definitely a perk for ensuring you can always prepare meals in optimal conditions!
First impressions
At a glance, the Ninja DT251 Foodi Smart XL Pro Air Fryer is an eye-catching kitchen unit that is delightfully compact and has a modern, elegant feel. With dual racks and 4 slots, it is easy to position the different sections to suit your cooking needs.
What we really like first off about this air fryer oven, is that it offers easy operation. It doesn't take a lot of guesswork to select the settings for preparing the foods you have in mind, which means mealtimes are less of a pain and more of a joy!
Quick facts
Here's a quick checklist of what you can expect from this unit:
Watts: 1,800 Watts
Temperature Range: 85° – 450° F
Capacity: 12 lb.
Exterior Dim: 17.09″ W x 20.22″ D x 13.34″ H
Racks: Dual-rack (with 4 slots)
Pieces Of Toast: 8 per rack
Max Pizza Size: 12″
Rotisserie: No
Air Fry: Yes
Thermometer: Yes
Key Features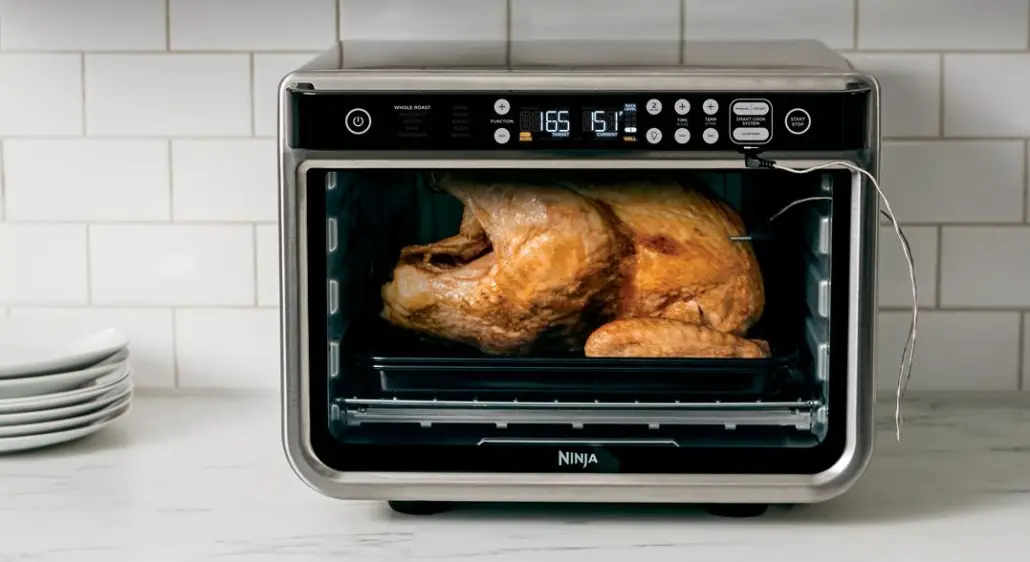 Integrated thermometer
As we mentioned earlier, this air fryer oven comes with a smart, built-in thermometer. This adds a lot of convenience during cooking time. Once the set temperature has been reached, the oven will turn off, which means fewer headaches about worrying that you will overcook your food.
Easy digital controls
No more frustration of trying to operate your air fryer oven – this unit is designed to be low-key but efficient, all while reducing cooking times and still providing effortless meal preparation.
Specialised settings
If there is one thing that any cook knows, is that one-size-fits-all doesn't apply to every dish prepared. Luckily, this air fryer oven offers various ranges for different proteins ranging from chicken to meat and even fish, adding that extra confidence that you will be able to prepare the food of your choice without any hassle.
Plus, you can easily check on food thanks to the built-in oven light.
Fast pre-heating
If you are planning to prepare a roast in your oven, you can simply preheat it in 90 seconds, which is a big benefit compared with traditional ovens. This means that if you need a solution for more efficient cooking times, this oven has a great solution to do just that.
Ample capacity
Despite its compact size, you can still use the generous 12 lb. interior for preparing whole chicken or even medium-sized turkey. For families especially, this allows the convenience of easily cooking larger meals in just one smart, perfectly sized solution.
True surround convection
With the Ninja DT251 Foodi Smart XL Pro Air Fryer's built-in true surround convection, you can easily cook food evenly on both oven levels, without the need for rotating or even swapping your different racks.
It has up to 10 times the convection power of a traditional convection oven, allowing you to get incredibly fast cooking of food on both oven levels.
Multiple heating zones
Not only does this air fryer oven have heating elements in both the top and bottom, but it also has heating surrounding the fan, adding to that full cooking experience.
No more needing to worry about flipping food to get that perfect crisp or to cook evenly: these multiple zones make preparing food a breeze!
How does it perform?
Thanks to its controlled cooking environment, it is easy to prepare all of your favourite dishes. Foods are just as tasty as if you would prepare them in the microwave or oven, and considering reduced oil or other cooking fats needed, you get great-tasting meals that are healthier too!
Cooking quality
The Ninja DT251 Foodi Smart XL Pro Air Fryer provides satisfactory results for various food types. It is important that you do not overload the wire rack or bottom section, as this can impact the final results of your recipes.
Overall, the oven provides good cooking quality with delicious results – do remember to keep to the required settings for different meal types to get the most out of every preparation.
Efficiency
According to Superior Digital News, this air fryer oven packs a lot of power and efficiency. We have to add here that in terms of performance, this air fryer oven cooks around 30% faster than traditional ovens (according to Ninja Kitchen), with fantastic food results every time.
So, if you have been searching for an efficient solution for your kitchen, you are sure to get speed and quality, all in one air fryer oven that can help you prepare several meals and family favourites in less time than it would take you to create recipes in a traditional way.
Durability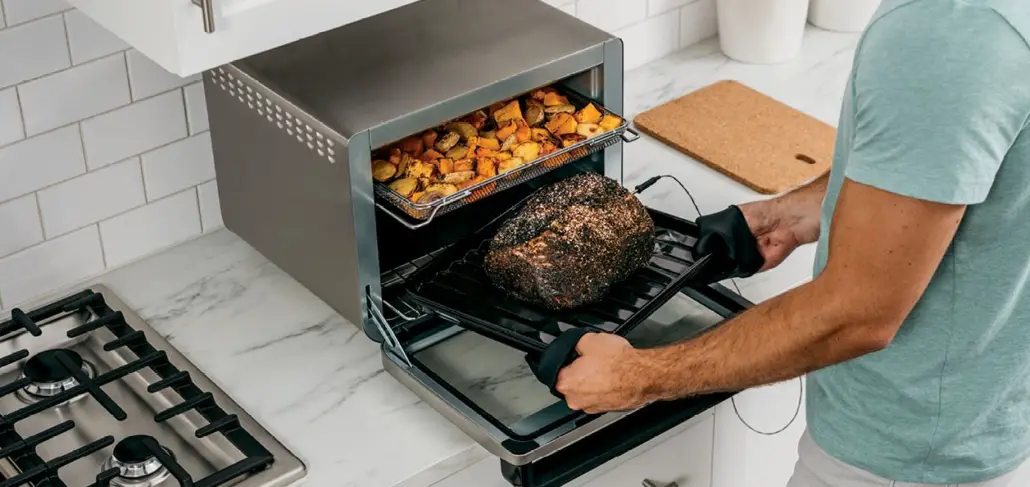 If you are looking for longevity when it comes to an air fryer oven, you need to bear in mind that Ninja offers a one-year limited warranty as well as a 60-day money-back guarantee, according to Reviewed. Also, when it comes to cleaning the unit, this is best to be done by hand.
Pros
Perfect for entertaining and preparing multiple dishes.
Even, fast cooking.
One appliance for multiple dishes, including appetisers, pizzas, and even cakes.
Versatile, easy cooking settings.
Inspiration recipe guide included with the oven.
Cons
Not suited for larger or rotisserie-style meals.
Exterior can get quite hot.
Slightly noisier than other air fryer ovens.
Slightly pricier than other ovens.
Who should buy it?
This oven is a great solution for families, especially when it comes to preparing various dishes. Also, thanks to its incredible functionality, it is a perfect solution for those who would love tasty dishes but don't consider themselves to be great cooks.
Ninja DT251 vs. DT201
According to #TopFiveForYou, which features among others how to use the equipment and what the perks are of it, the Ninja DT251 has somewhat of the upper hand when compared with the DT201. Although both have impressive digital displays, the DT251 offers a smart cooking system, which adds that extra layer of convenience.
You can also view his side by side review of both ovens in this informative video.
Ninja DT251 vs. Breville Smart Oven
The Breville is slightly larger and heavier when compared with the Ninja DT251. It has just as much impressive functionality as the Ninja DT251, however, the Ninja has a more compact solution for those who want less bulk in the kitchen. Also, the Ninja DT251 has a more modern operating panel, which is a bit different from the Breville's traditional look.
Overall Score: 85/100
Check Out More Reviews Here:
3 Other similar air fryer ovens we like
Emeril Lagasse Power Air Fryer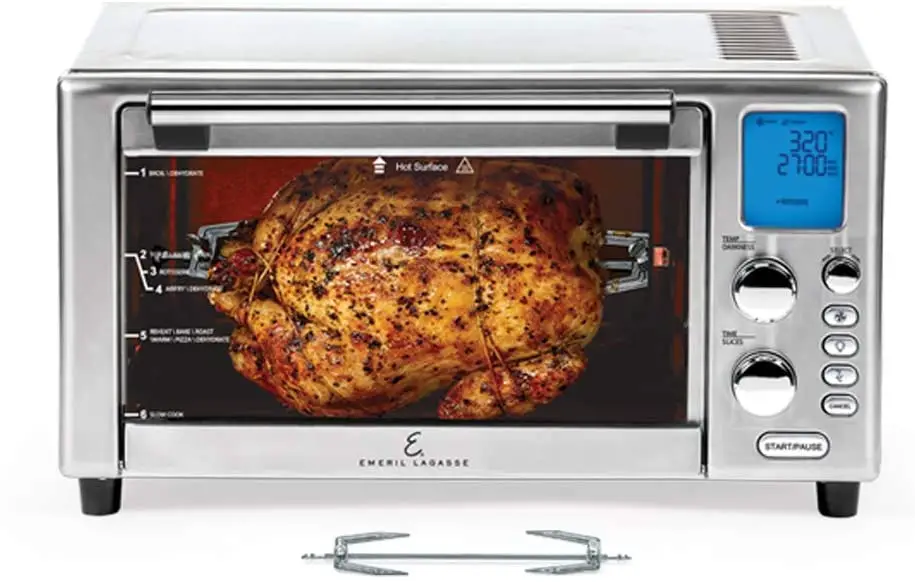 This stainless air fryer offers a whopping 5 heating elements and is a fantastic convection oven with 360° Quick Cook Technology. It has an eye-catching design and can be used to cook several types of dishes and foods. The knob layout might not be for everyone though.
Overall Score: 85/100
Check Out More Reviews Here:
Ninja SP101 Digital Air Fryer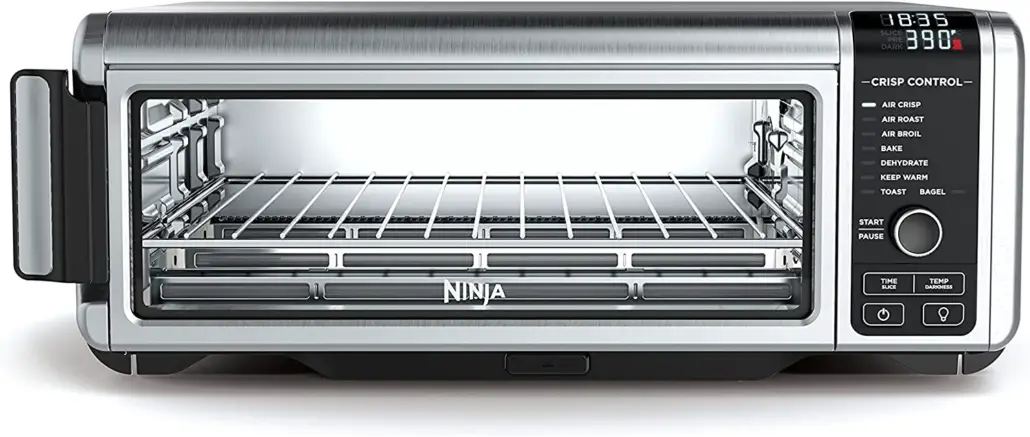 We love the sleek, slim design of this air fryer oven – it is so easy to store! Also, with 8-in-1 versatility plus a large capacity, it is easy to cook bigger portions. Because of its rectangular shape, it is not as spacious as other units, and might take extra time to heat food thoroughly.
Overall Score: 75/100
Check Out More Reviews Here:
COSORI Pro Air Fryer Oven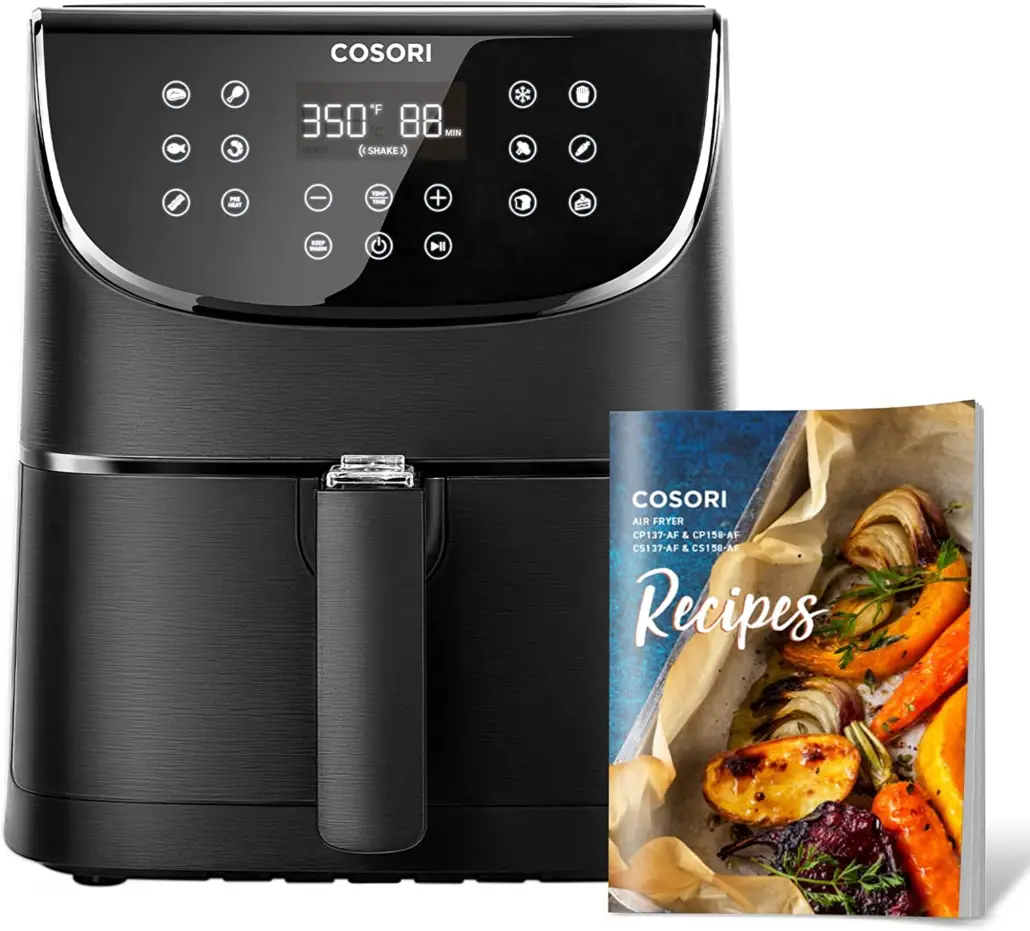 This one-touch cooking solution has that popular air fryer look, but with the added benefit of faster cooking (up to 50%!) and ample capacity that can yield multiple servings. It only offers one level of cooking, though, which means preparing food could take a little bit longer.
Overall Score: 80/100
Check Out More Reviews Here:
Overall conclusion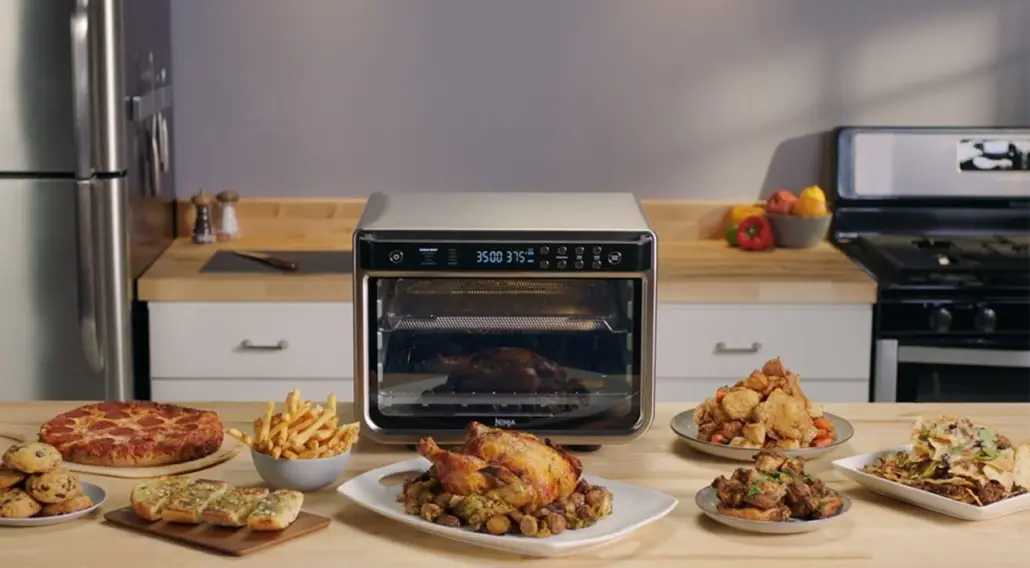 The Ninja DT251 Foodi Smart XL Pro Air Fryer Oven is worth consideration thanks to its smart technology and the fact that it doesn't need much space for helping you get the cooking results that you need.
With an overall rating of 9.4 in Go Ultra Low's guide for the best Ninja oven of 2022, this is a great solution for healthy meals and crispier results. Plus, well-known health website Healthline also listed this oven in its top list for 2022.
If you love entertaining or cooking hearty meals, this is the kitchen necessity that will help you achieve it all – check it out today if you are ready to make the switch from traditional ovens!