Stihl FS56 VS Husqvarna 128LD – What's the Better String Trimmer?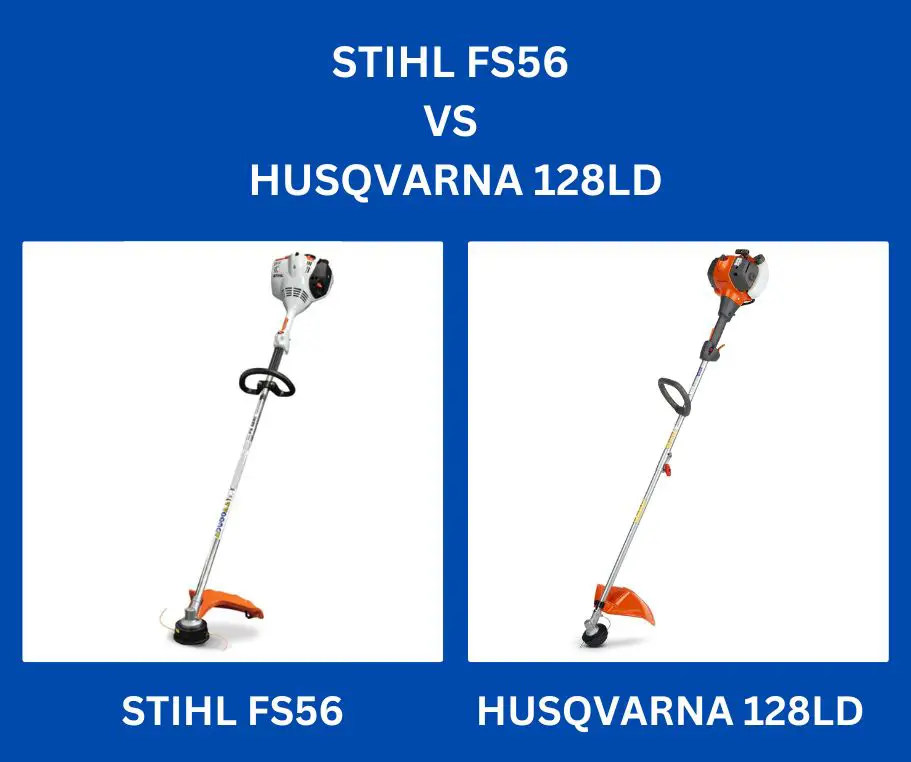 Power, maneuverability and comfort all matter when you are choosing a string trimmer for home use.
But it can be hard to determine which one will have the best combination of these design aspects. That's why we tested two very popular string trimmer models and composed this comparison review.
Today, we will be walking you through the important specs and design details of the Husqvarna 128LD compared to the Stihl FS56. While both are more than powerful enough for home use, only one will win our endorsement.
Stihl FS56 VS Husqvarna 128LD Overview
In terms of power, there is not much difference between the Stihl FS56 and the Husqvarna 128LD.
They have very similar engine sizes that make them suitable for regular home use. The difference comes when you compare features. There's also a difference in price.
Quick Facts
| | | |
| --- | --- | --- |
| | Stihl FS56 | Husqvarna 128LD |
| Cutting Width | 16.5 inches | 17 inches |
| Engine | 27.2cc | 28cc |
| Weight | 10.6 pounds | 10.8 pounds |
Key Differences Between the Husqvarna 128LD and the Stihl FS56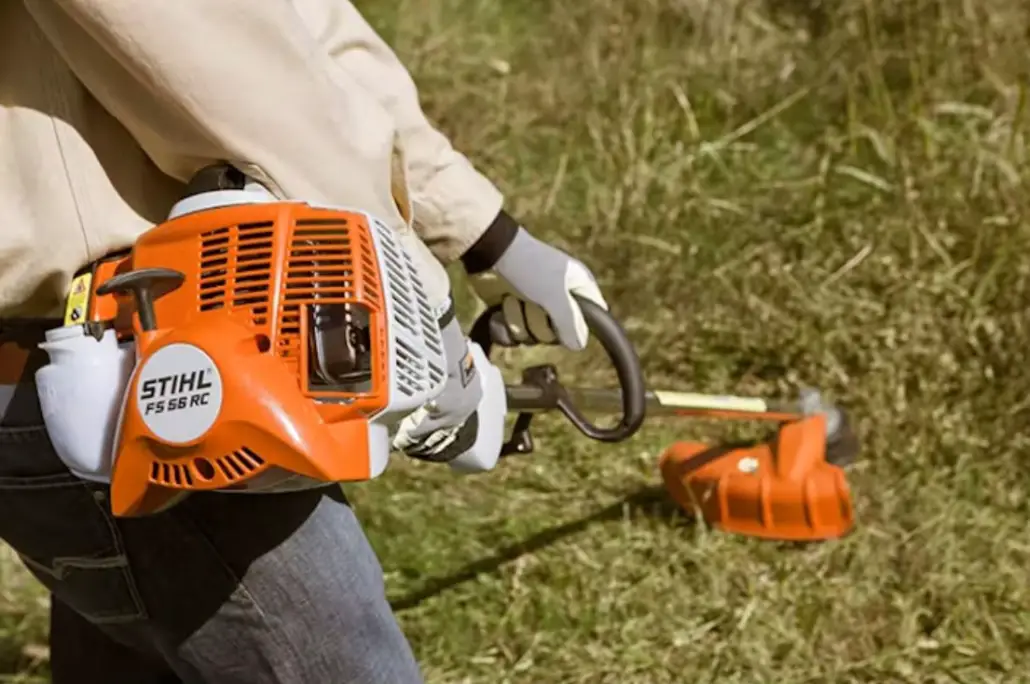 As you can see from the table above, there is not much difference in terms of technical specs.
Both trimmers also come with a debris shield. After testing both of these trimmers though, we felt a difference: vibration. The Stihl trimmer vibrates noticeably lower than the Husqvarna 128LD.
While the Husqvarna 128LD is not unwieldy in any way, it may tire you out quicker than the Stihl FS56. The FS56 also has more features that actually protect the carburetor and the engine so maybe it will even last a bit longer.
Stihl FS56 Key Features
Adjustable Front Handle – The front handle can be adjusted 360 degrees so it's comfortable for any operator.
Purge Pump Primer – This is a feature that primes the carburetor with a small amount of fuel for easier start-ups.
Centralized Controls – All of the controls (throttle, off switch, etc.) are located on the operator handle.
Stihl FS56 Pros & Cons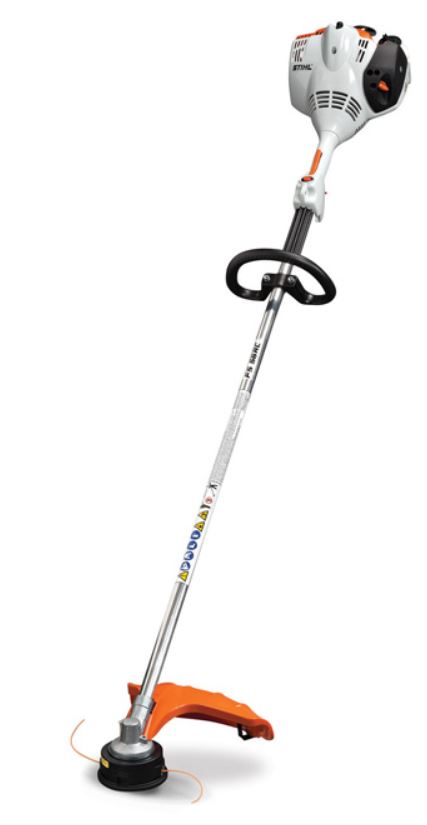 Pros:
More affordable than the Husqvarna 128LD
Low vibration
Very easy to start
Spark plugs are well-protected
Safety throttle interlock feature
Cons:
Struggles a bit with hearty grasses
A bit hard to use for beginners
Overall Score: 96/100
Check Out More Reviews Here:
Husqvarna 128LD Key Features
Detachable Shaft – You can actually detach the shaft from the trimmer head for easier transport and storage.
Air Purge – A simple button that removes excess air from the carburetor so the engine starts up easier.
Smart Start – The choke on the Husqvarna 128LD has been designed to be easy to manage and start.
Husqvarna 128LD Pros & Cons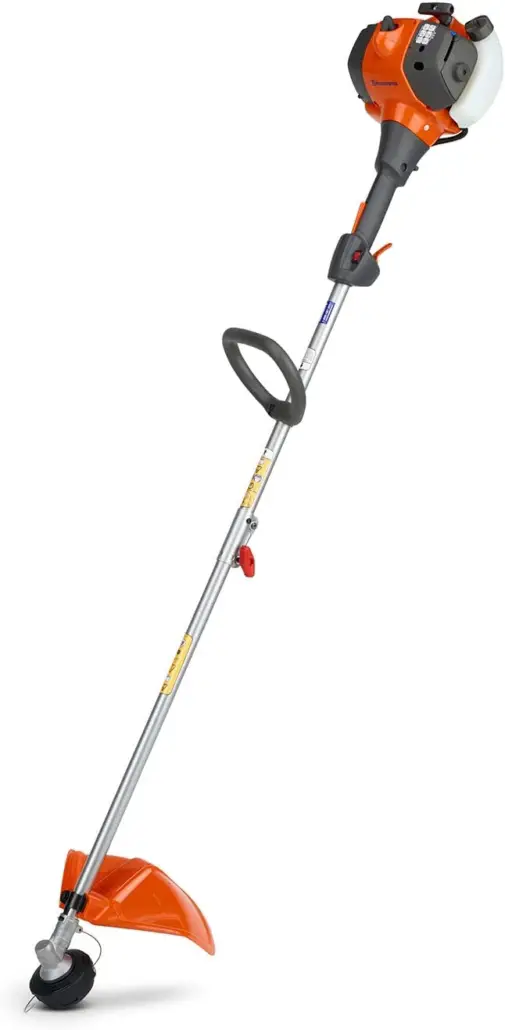 Pros:
It's built very well
Does very well with hearty grasses
It should last for a very long time
Good for light commercial work
Wider cutting width than the Stihl FS56
Cons:
More expensive than the Stihl FS56
Less comfortable to operate
Overall Score: 96/100
Check Out More Reviews Here:
Who Should Buy Each One?
The Husqvarna 128LD and the Stihl FS56 would be a great fit for anyone with an average sized yard (about 2400 square feet). However, if you don't need the extra power and want to save as much money as possible, go with the Stihl FS56.
If you are limited on storage space, have never used a string trimmer before or need to transport your trimmer for whatever reason, the Husqvarna 128LD would be the better buy.
Price Comparison
You can buy both of these string trimmer directly from their respective manufacturers. The Husqvarna 128LD is $240 and Stihl sells the FS56 for $220.
Weight & Handling Comparison
The Husqvarna 128LD is a hair heavier at 10.8 pounds while the FS56 is 10.6 pounds. Honestly, you can't feel the weight difference when you're handling them.
What you can feel is the difference in vibration. The Stihl FS56 doesn't vibrate quite as much when you're running it on full throttle.
Again, it shouldn't be a problem for experienced operators; but if you have a long trimming job ahead of you, we can imagine that the Stihl FS56 would be easier on your body.
Power Comparison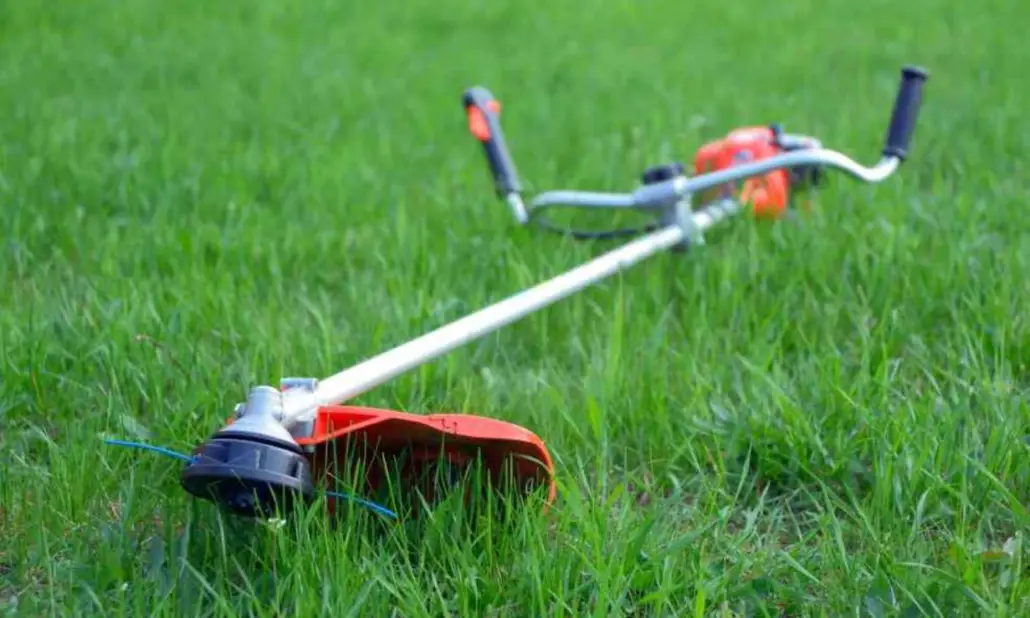 The Stihl FS56 sports a 27.2cc engine. The Husqvarna 128LD is outfitted with a 28cc engine. Once again, the difference in power is almost non-existent.
The FS56 did struggle a bit with hearty grass – it took it a couple of passes to hewn them down while the Husqvarna 128LD took care of thick grass in one pass.
Line Comparison
Both of these trimmers can take a .095" line.
Efficiency Comparison
The FS56 didn't guzzle up quite as much gas as the Husqvarna 128LD despite its 11.5 ounce fuel tank capacity.
Durability Comparison
The FS56 has the better engine protection features but the Husqvarna 128LD just feels like it was built better. In our limited time with the Husqvarna 128LD, it took the most careless use we could throw at it without skipping a beat.
Other String Trimmers to Consider
Ego Power+ ST1502SA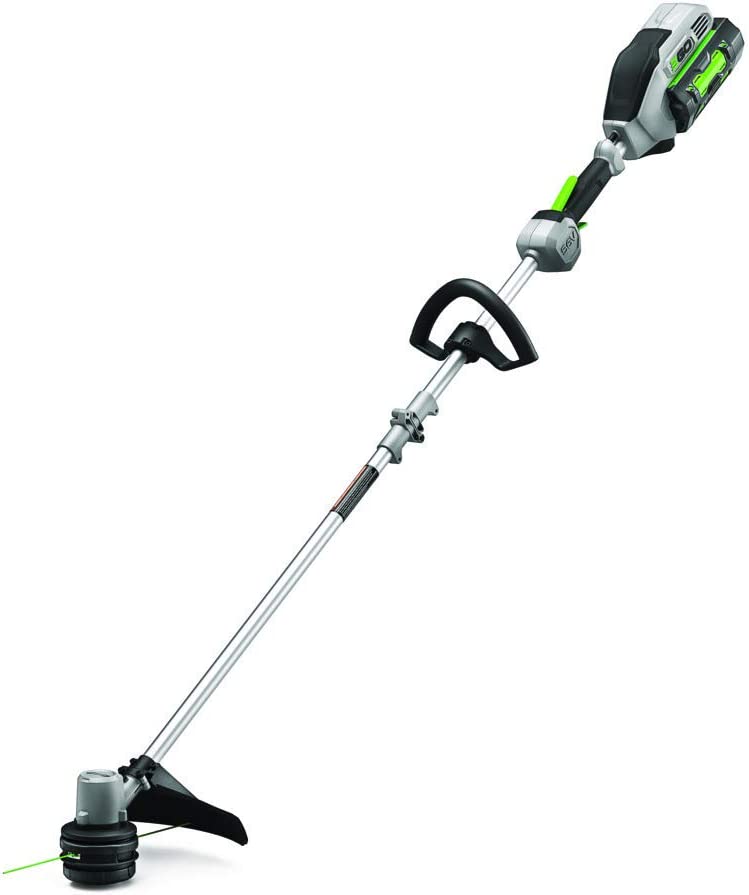 This is another straight-shaft trimmer but it runs off of a rechargeable battery. It has a 15" cutting width so it's better for smaller gardens.
Overall Score: 92/100
Check Out More Reviews Here:
DeWalt FlexVolt 60V String Trimmer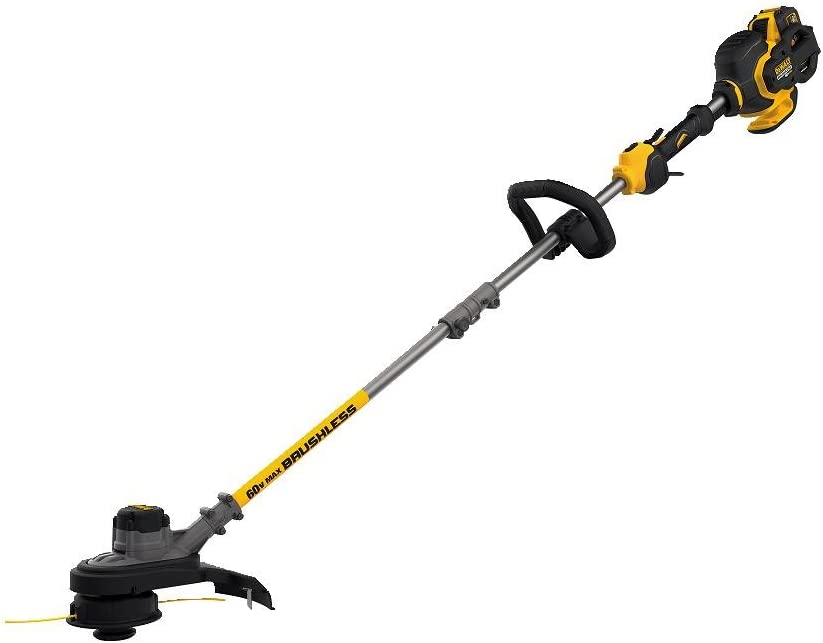 This is another battery-powered trimmer. It has two speeds and a 15" cutting width. It's light in the hands but it doesn't handle weeds too well.
Overall Score: 91/100
Check Out More Reviews Here:
Husqvarna 324L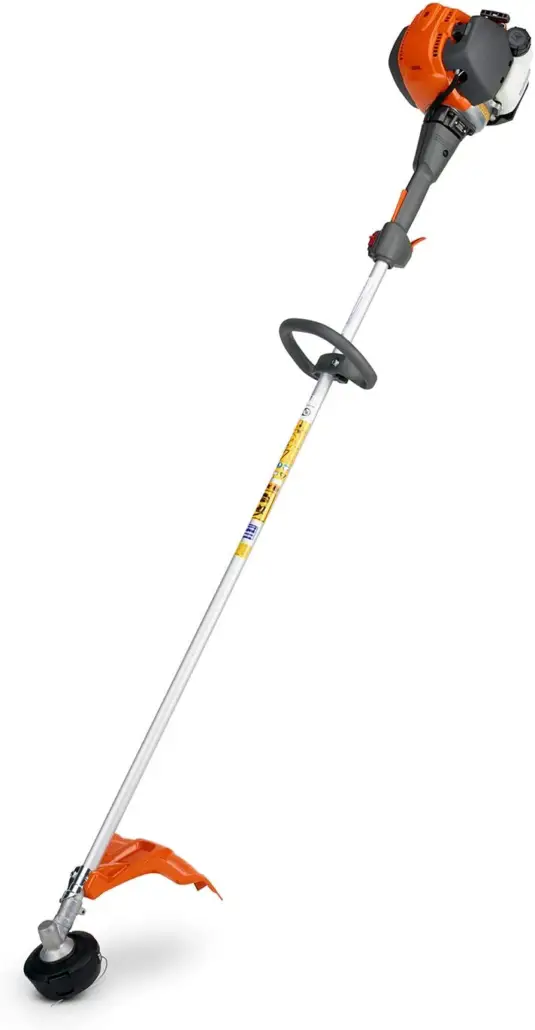 This is a more powerful string trimmer that would be great for commercial use. It weighs 17 pounds and has a cutting width of 18 inches. And it is built as well as the Husqvarna 128LD.
Overall Score: 98/100
Check Out More Reviews Here:
Final Assessment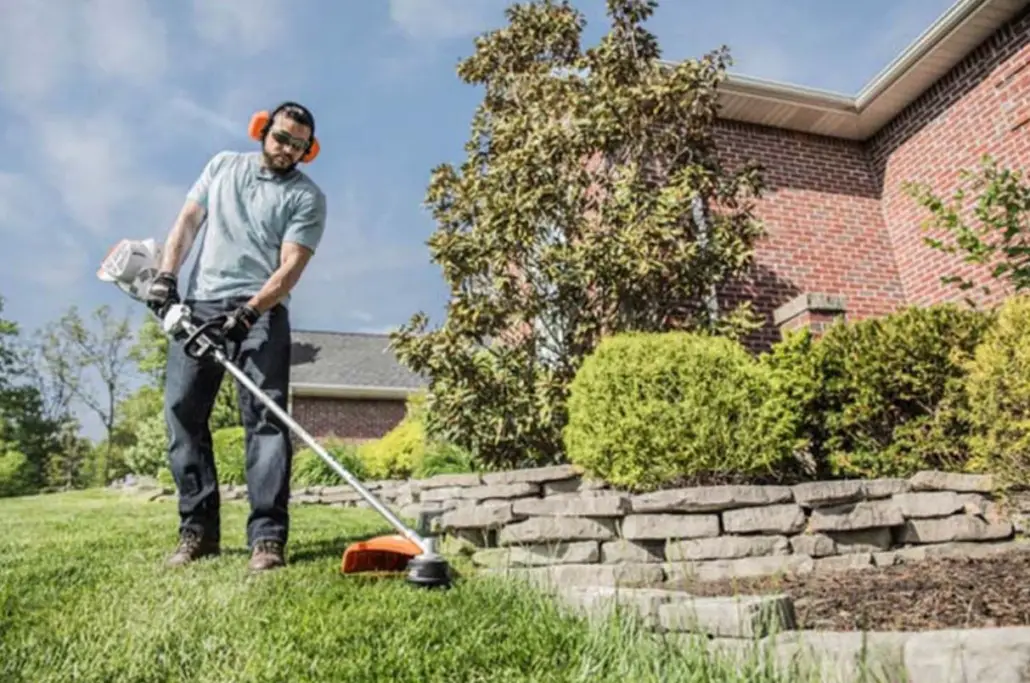 This was a tough one. While the Stihl FS56 is cheaper and better for string trimmer newbies, it struggled with tough grass. And while the Husqvarna 128LD is built very well and easier to start up, it vibrates more than the Stihl FS56.
And since the Husqvarna 128LD is a bit more expensive, we're going to give our endorsement to the Stihl FS56 today. It's a great value for residential use so check it out!