Wedi Board vs Cement Board vs Kerdi Board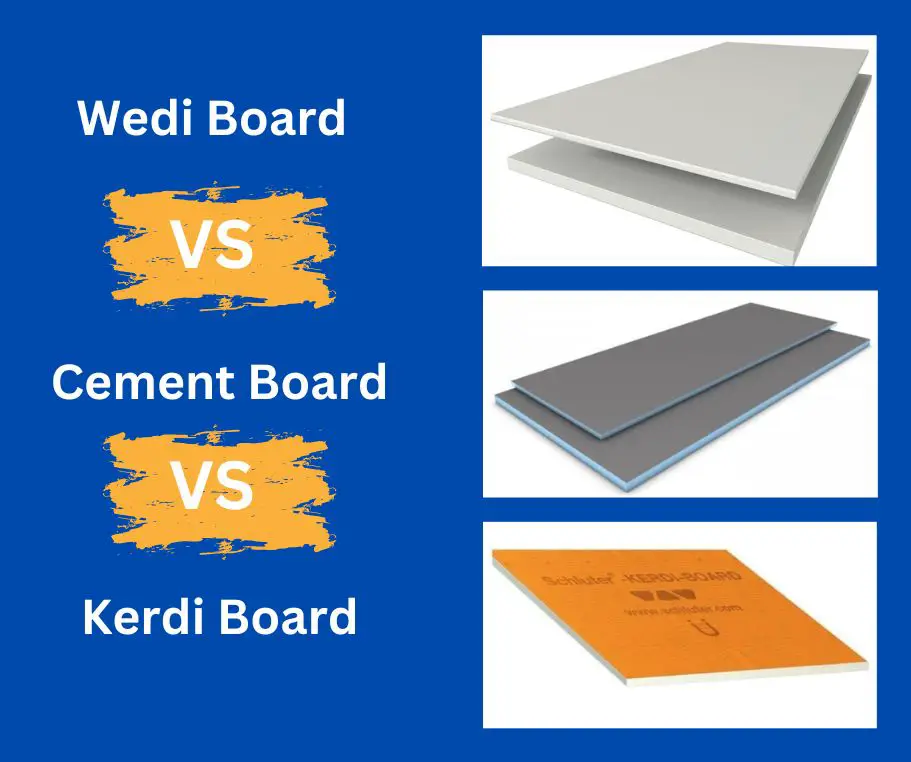 When you're ready to start a construction project, how do you know which tile backer board to use? That depends on factors like the availability of resources and how long you expect the boards to last.
When deciding what kind of board to use, it's important to pick the right backing for your needs to avoid problems in the future.
A good builder can also predict problems like leaks and mold growth and stop them from happening. For better performance, you can use cement board, Kerdi board, or Wedi board to finish the walls and floors of your bathroom.
Overview of Wedi Board vs. Cement Board vs. Kerdi Board
Cement board and Wedi board are two popular ways to prepare the walls and floors of a bathroom. A foam board with a cement-resin finish and fiberglass mesh is called a "Wedi board." The cement board consists of Portland cement, sand, and fiberglass mats.
Both materials can be used in bathrooms, showers, and floors, as they can all get damaged by water. Cement board may be resistant to water and mold, but it still needs to be waterproofed. When compared, the Wedi board is completely waterproof, weatherproof, and pre-assembled.
On the other hand, the versatile tile substrate and construction panel known as the Kerdi board has several uses. It has many uses as a tile underlayment and is compatible with bonded waterproofing assemblies.
This material can make showers, tub surrounds, vanities, shelves, countertops, and more.
Quick Facts Comparison Table
| | | |
| --- | --- | --- |
| Wedi Board | Cement Board | Kerdi Board |
| Lightweight and easy to install | It is hard to install, thus a need to involve professionals | Lightweight and easy to install |
| Waterproof | Not waterproof | Has waterproofing abilities |
| Costly | Affordable | Costly |
What Is a Wedi Board?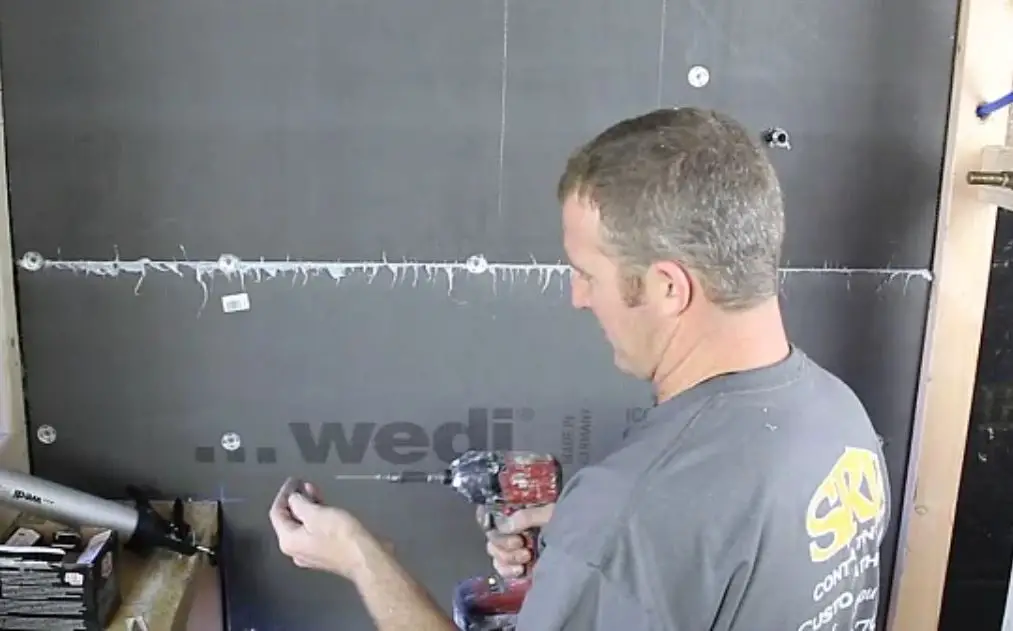 Wedi Board, also called Wedi Building Panels, is a flexible building material that can do more than hold tiles. Wedi Boards are available in a variety of sizes and thicknesses, and they can be installed on a variety of substrates.
Key Features of a Wedi Board
Fast, clean, and easy to work with, they are lightweight, waterproof, and dimensionally stable. The blue, waterproof core is made of watertight extruded polystyrene foam that is strengthened on both sides with fiberglass mesh.
The mesh layer is completely embedded in the mortar coating. That gives the panel strength and lets it stick well to almost any thin-bed mortar. With the mesh already incorporated, delamination between layers during installation is impossible.
Pros of a Wedi Board
Since the Wedi board is lighter, it is much easier to move and install. A square foot of half-inch thick cement board weighs roughly 40 ounces, while the equivalent area of a Wedi board weighs about 75% less.
The surface of Wedi is perfect for bonding.
Unlike cement boards, you can bend this material without it breaking.
Wedi showers feature a pre-sloped base that is already installed.
Tiled shower pans are completely waterproof.
Cons of a Wedi Board
Most warranty claims are dismissed due to improper installation, making a lifetime warranty worthless.
What Is a Cement Board?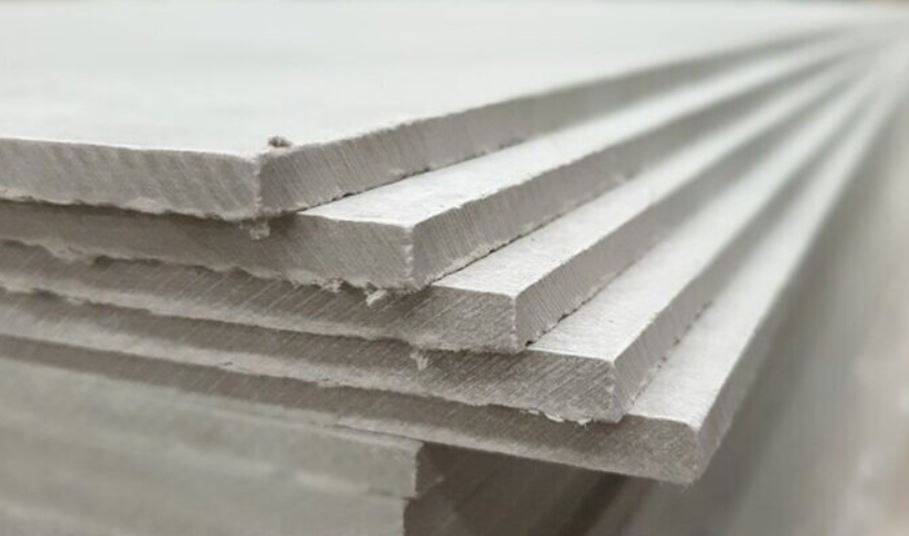 Cement board is often used as an underlayment for tile in kitchens, bathrooms, and other wet areas and on regular floors. Cement boards have been used for a long time, and their low cost makes them an appealing underlayment choice.
Key Features of a Cement Board
The cement board mostly comprises Portland cement, water, and reinforcement mesh. When the cement has dried and cured, it forms a solid panel over the mesh. Cement board is put on a wall first, then thin-set mortar, cement board, and finally tile. That gives the tile something strong to stick to.
However, the cement board has become a popular alternative despite its heavy weight. Even though it is often used as tile underlayment in wet places like bathrooms, it is not waterproof. As an added note, the cement board is easy to hang up in little sections but may become a major mess if it needs to be cut.
Pros of a Cement Board
Long-lasting, with up to 50 years period of service
Durable
Resistant to heat and flame. Its Class 1 (A) rating for flame spread is among the highest.
Environmentally friendly since its components don't degrade into toxic substances.
Cons of a Cement Board
Installation is complex and requires experienced professionals.
It is costly compared to hardboard or composite siding.
Requires regular maintenance, unlike other types, which don't.
What Is a Kerdi Board?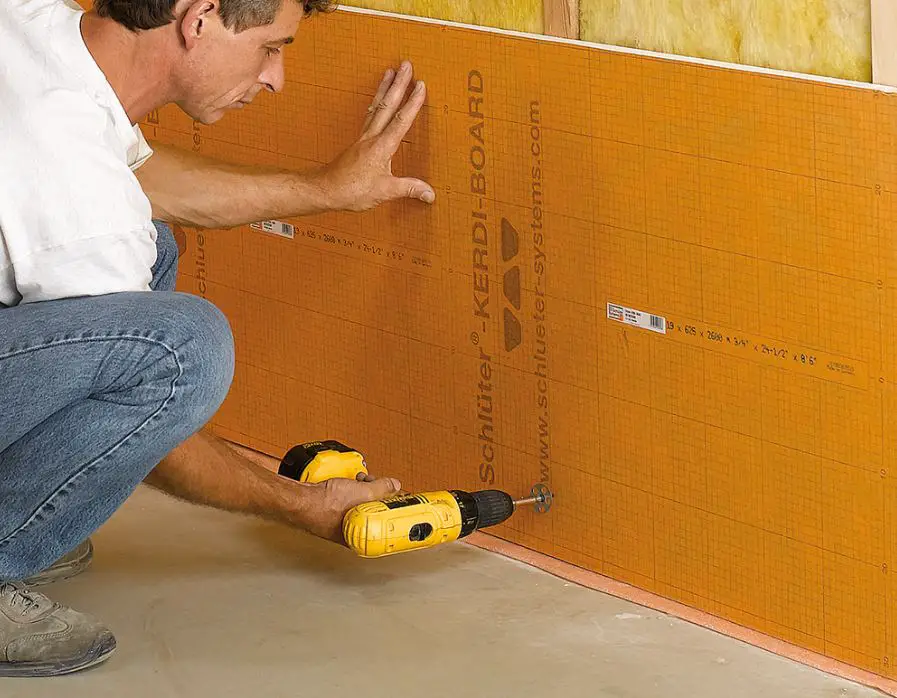 Kerdi board is a polystyrene foam board that has been extruded. It has a fleece webbing inside and a special material on both sides to make it stronger.
That allows for reliable anchoring in a thin-set mortar and other types. As a result of its low weight, the Kerdi board is simple to handle and set up.
Key Features of a Kerdi Board
A Kerdi board is impervious to water. That makes it an excellent choice for high-humidity areas like bathrooms and kitchens. Waterproofing is just one of the many ways it is put to use.
Also, the Kerdi board is cool because it comes pre-marked with lines for simple cutting and measuring.
Pros of a Kerdi Board
There is outstanding structural rigidity thanks to the flat panel surfaces.
The panels are stable and won't rot or warp if wet.
The surface's printed grids facilitate cutting.
Cons of a Kerdi Board
Nearly all warranty claims are written off as installer errors, making a lifetime warranty worthless.
There are concerns with bonding flexibility in the half board at 16 in. and 24 in.
Wedi Board vs. Cement Board – Key Similarities and Differences
Wedi, unlike cement board, has a smooth surface that bonds well and doesn't get brittle with time. Workers are less likely to cause wall damage by lifting and carrying the lighter Wedi board panels into a house than they would be with cement board.
Power saws, scoring, and snapping can all be used to cut Wedi and cement backing.
On the other hand, many people need to consider this when comparing the messiness of cutting a Wedi board with a cement board. When workers cut through cement boards, dust particles get into their lungs.
Because the Wedi produces so little dust in the air, it is safer to use in industrial settings. Wedi also allows you to make modifications using a straightedge and utility knife.
Wedi Board vs. Kerdi Board – Key Similarities and Differences
When comparing Wedi to Kerdi, the method of waterproofing is the primary distinction. In contrast to the Kerdi System, the Wedi System employs the Wedi Joint Sealant rather than a tape membrane or thin-set.
A foam core board is Wedi's advantage over a cement board.
Cement Board vs. Kerdi Board – Key Similarities and Differences
Kerdi and cement boards are used in wet environments like kitchens and baths. They can be shaped to match unique dimensions and are simple to set up. The fact that neither of these materials will grow mildew or mold when exposed to water is a major plus.
These boards come in a wide range of sizes, thicknesses, and weights because their dimensions are specific to their respective board types. Carefully consider your project's requirements when making your product choice.
Knowing how to install the Kerdi board and cement board properly is essential. Also, the cement board is far more long-lasting than the Kerdi board. That makes it the superior choice for high-traffic areas and other situations where moisture is a concern.
Kerdi board is more convenient to install because you can place it over drywall, while cement board requires attachment to studs. In comparison to cement boards, Kerdi boards are much more lightweight.
Who Should Buy Each Type?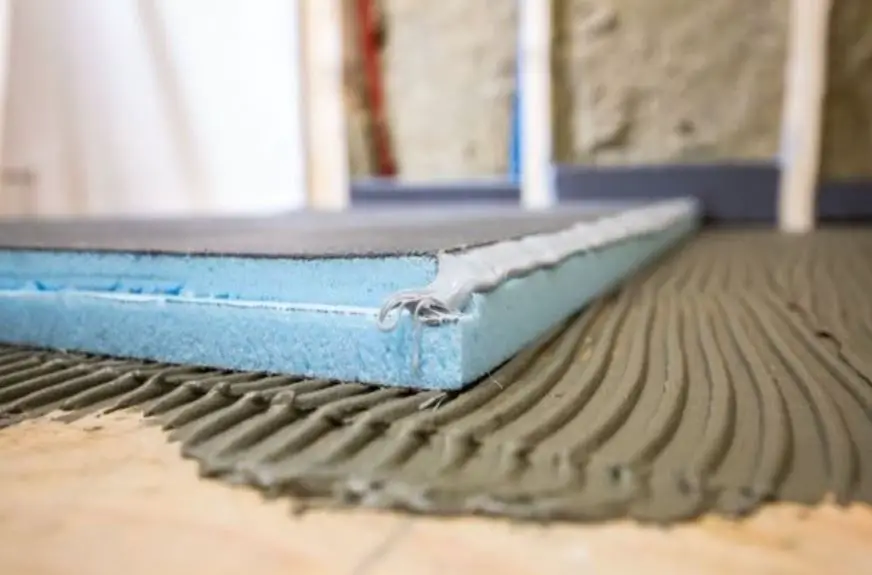 The blue core of the Wedi board comes from the stiff foam made from polystyrene. Because of this, the Wedi construction board is a great choice for a subfloor before plaster or tiles are put down. It can serve in various circumstances because it is waterproof, heat-insulating, lightweight, and stable.
A cement board is commonly used to reinforce the subfloor before tiling. It's versatile enough to be used indoors or outdoors and fastened to either wooden or metal studs.
Use this board type before putting tile or other finishing touches on the drywall in the bathroom. Water and moisture can leak through the grout, tile, and other materials, causing damage to the wood studs and flooring beneath.
FAQs
Q: Is the Wedi Board Better Than Schluter?
Mistakes in cutting Wedi materials are less easily rectified. With the Schluter method, you can use the Kerdi band, mortar, offcuts, and the Kerdi fix. That makes it more flexible.
Q: Is the Wedi System Worth It?
Yes. A Wedi board is much less cumbersome and straightforward to set up because of its low weight. It is estimated that one square foot's weight of 1/2-inch cement board is roughly 40 ounces, while the same area of Wedi board is about 75% lighter.
Also, the Wedi board is better than others because it stays flexible and doesn't warp.
Q: Does the Wedi Board Need Waterproofing?
Wedi boards will seal the gaps between them and make them waterproof without any extra materials. With no need for additional waterproofing materials, the installer is safer and finishes the job faster.
Q: What Is the Same as Kerdi-Board?
Compared to Kerdi-board, the Profoil waterproof membrane is more cost-effective. Like Kerdi, you can apply it to inside and outside corners.
Q: What Is the Best Backer Board to Use in a Shower?
Glass mat gypsum board is a layered material with a gypsum core and fiberglass skin on both sides. Since these planks can withstand moisture, they are perfect for use as shower enclosure walls. These glass mat gypsum boards are available at different prices.
Q: Is Schluter Kerdi-Board Worth It?
Kerdi is the superior material for shower walls, despite the high cost. It's nice that this material makes waterproofing less hassle; it's lightweight and simple to cut and set up.
Conclusion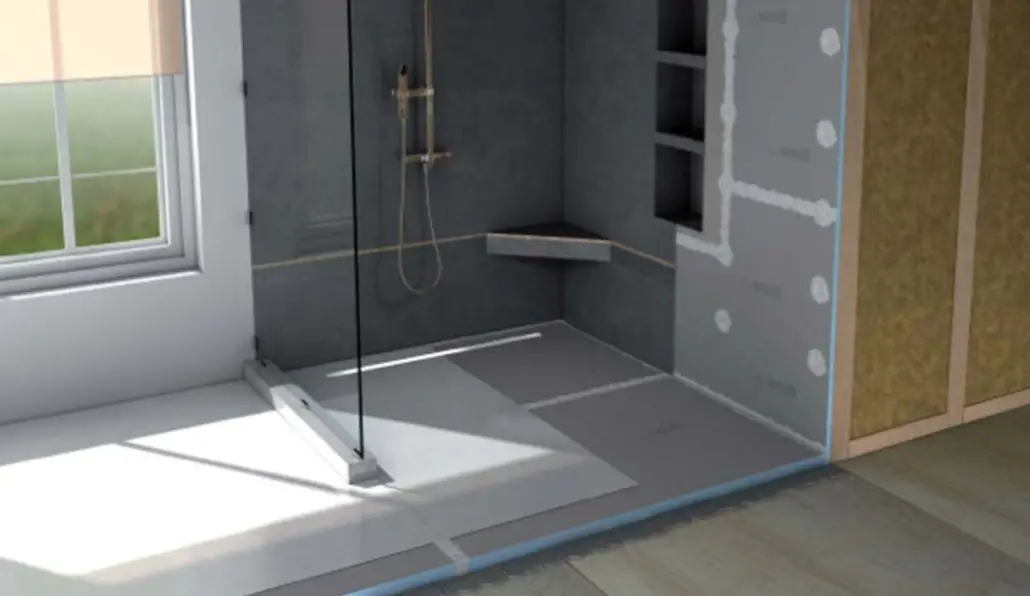 This detailed comparison of the Kerdi Board, the Wedi Board, and the Cement Board should help you decide which one to use for your next project. Additionally, seek the advice and help of a professional to realize your dreams.