Bamboo vs Rattan vs Wicker – Differences, Uses, Pros and Cons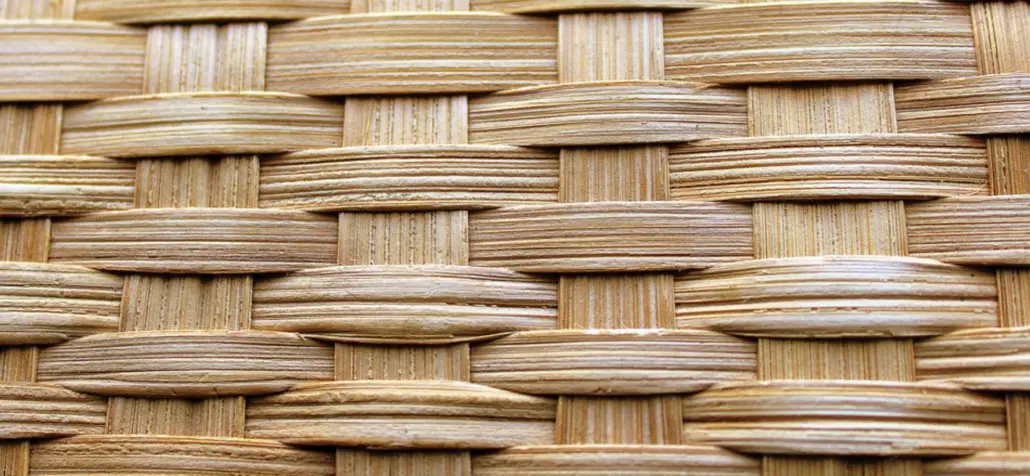 Styles come and go, and décor has changed significantly over the decades, but wicker, rattan and bamboo have made an appearance in homes and gardens regularly over the years.
So, let's find out a little more about all three, as we check out the characteristics of each, find out how they are used, and consider the differences, pros and cons.
Three Unique Wood Styles
Bamboo, rattan, and wicker – you've probably heard of all three, but there's a common misconception that they are all the same. Let's set the record straight – they are not!
Bamboo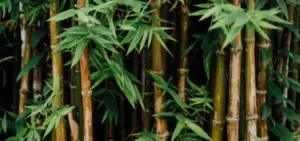 Science indicates that bamboo is part of the grass family, but once upon a time it was  identified as a tree by the Indian government.
This prevented bamboo from being cut or transported, but the ruling has since been rescinded. Bamboo grows extremely quickly and is both lightweight and durable.
There are a wide range of species, and bamboo is considered popular and versatile.
Rattan
Native to tropical areas such as the Philippines, Asia and Africa, rattan (which is part of the palm family) grows very quickly.
As a plant it is naturally renewable and usually regrows every five to seven years. Rattan is known to be lightweight and very, very strong.
Wicker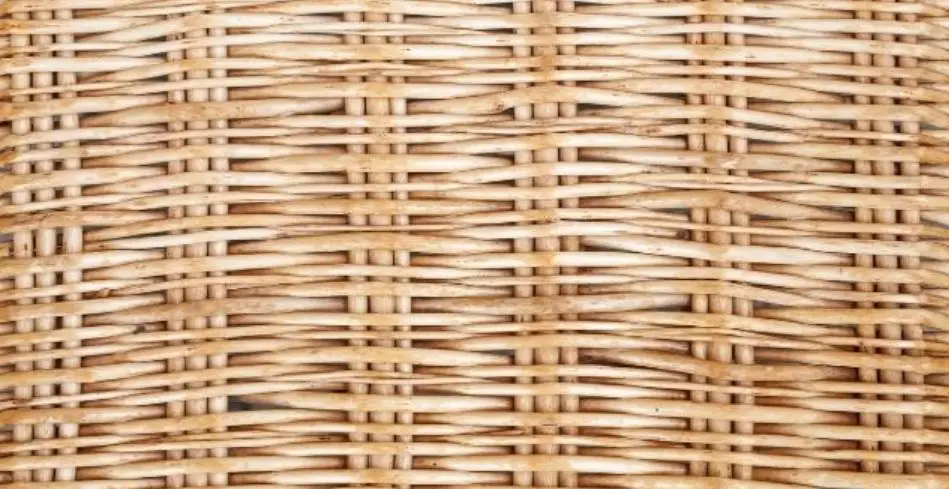 Contrary to popular opinion, wicker is not a type of material, but a traditional type of weave.
The technique dates back to around 3000 BC. Natural wicker comes in many forms including seagrass, cane, rattan, bamboo, willow and reed (this silent German educational film shows the traditional methods used to create wicker furniture from reed).
There's also synthetic wicker (often known as resin wicker).
Bamboo

Rattan

Wicker

Origin

Africa, Asia, South America, North America and Australia
Tropical areas
Traditional craft dating back to ancient Egypt

Growth

Fastest growing grass in the world! Grows straight and upwards
Fast growing palm – grows as a vine
Dependent on material used

Example

Uses

Furniture

Scaffolding

Houseplants

Asian cuisine

Furniture

Buildings

Handicrafts

Baskets

Boxes

Furniture

Qualities

Lightweight

Durable

Outer layer dense

Environmentally friendly

Exceptionally strong

Lightweight

Flexible

Naturally renewable

Dependent on material used but typically lightweight and durable.

Inside

Hollow
Solid
Dependent on material used
The Lowdown On Bamboo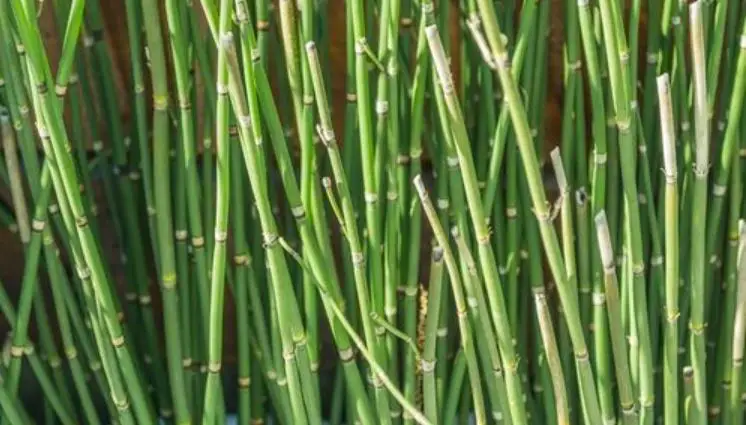 Whilst it's often used in the manufacture of furniture, bamboo is also renowned for being antibacterial, and the shoots are often used to cook up tasty Asian fare.
Durable And Lightweight
Known to be robust and lightweight, bamboo is a useful and versatile material.
Easy To Grow And Harvest
Rattan grows fast, but bamboo is the fastest growing grass on the planet (it's been known to grow at a whooping 47.6 inches in just one day)!
Bamboo can reach full size in just three to four months, whereas standard trees take years and years.
Bamboo grows upright in straight stems, which differs from the winding rattan vines. It's also worth pointing out that bamboo does not need to be stripped of its bark – the stems are simply pulled out and soaked.
Great Green Credentials
As well as growing very quickly, bamboo also has impressive green credentials.
The grass is sustainable and its naturally renewing properties make it a credible alternative to other trees and plants.
Pesticides and chemicals aren't used during harvesting either, which also helps the planet.
The Lowdown On Rattan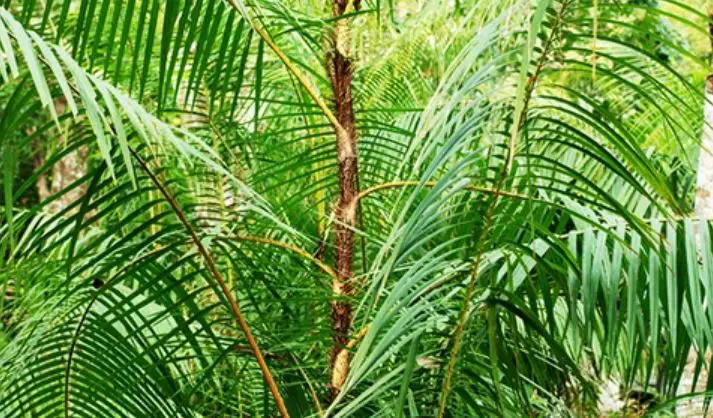 Used to make a number of items including rope, handicrafts, furniture, baskets, canes and dinner mats, rattan is a thought of as a multi-purpose material.
Strong And Solid
Bamboo is very robust and lightweight, but rattan is even stronger!
Bamboo is hollow, but Rattan boasts an exceptionally sturdy core – which makes it durable and very difficult to break. Rattan also has the added benefit of being flexible.
Fast Growing And Easy To Harvest
Rattan grows much more quickly than timber (but not quite as fast as bamboo).
That said, rattan is easy to harvest (gathered from wild, creeping plants) and can be transferred simply from place to place.
Once harvested, the bark is removed and the plant is sanded. The rattan can then be treated as needed e.g., lacquered, stained or polished.
Good Looking With A Timeless Style
Rattan has timeless style and can be spray-painted; you can go for clean lines with a classic white, or alternatively opt for bright and bold colors. Add your own personal touch with comfy, attractive cushions.
Low Maintenance, But You Need To Take Care Of It!
Rattan is relatively easy to look after, but there's a couple of things to remember.
The material is UV resistant, but consistently bright sunshine can cause it to fade. At the other end of the scale, wet and damp weather can lead to rotten furniture – and that never looks good dotted around a patio!
To keep rattan furniture looking smart you should cover it up (be it real or synthetic), and during winter months you might want to take items inside to ensure they remain in tip top condition.
The Lowdown On Wicker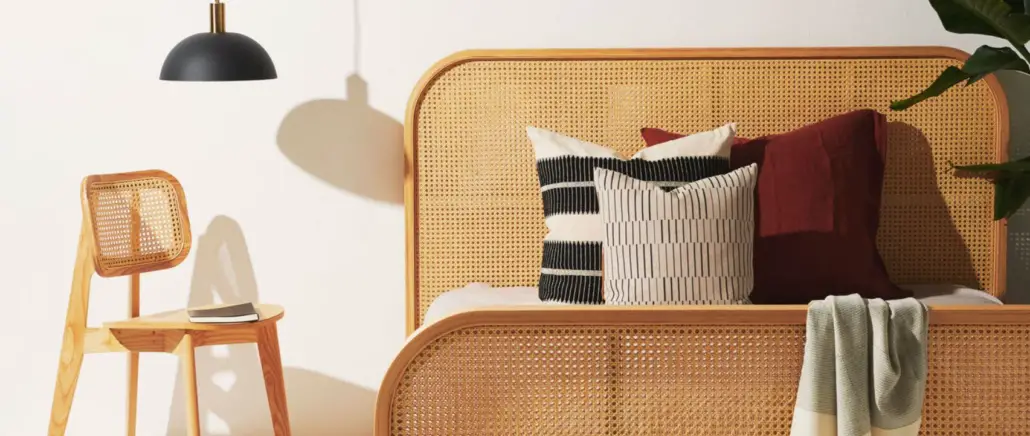 Wicker is used to manufacture a variety of items, such as boxes, baskets and patio furniture – but remember wicker is not a material – its a type of weave.
Natural Wicker Is Resilient
Natural materials such as rattan and bamboo are tough and lightweight – ideal for wicker.
Synthetic Wicker Is Resilient Too!
Synthetic wicker is also very resilient. Mainly polyethylene, synthetic wicker is often known as resin or all-weather wicker, and looks a lot like natural wicker.
How Do The Three Compare?
We've taken a close up look at the characteristics of all bamboo, rattan and wicker – now let's see how they compare.
Bamboo Vs Rattan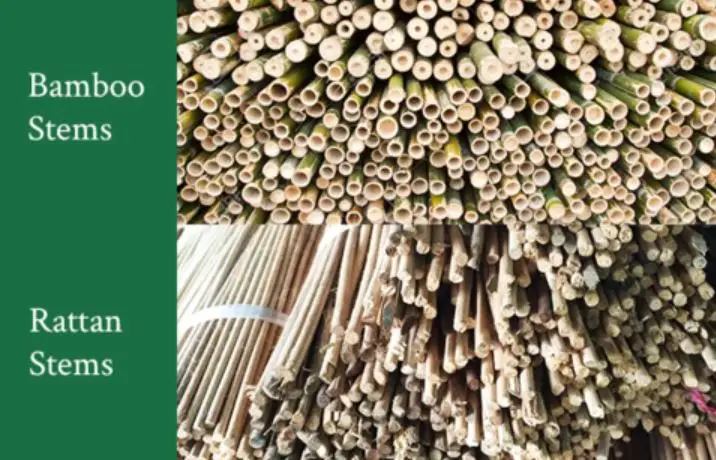 We've already discovered that bamboo is hollow inside, while rattan is solid.
Both are robust, but along with its strength, rattan also boasts impressive flexibility. This means rattan can be curved and bent into convoluted shapes.
Is Bamboo The Same As Rattan?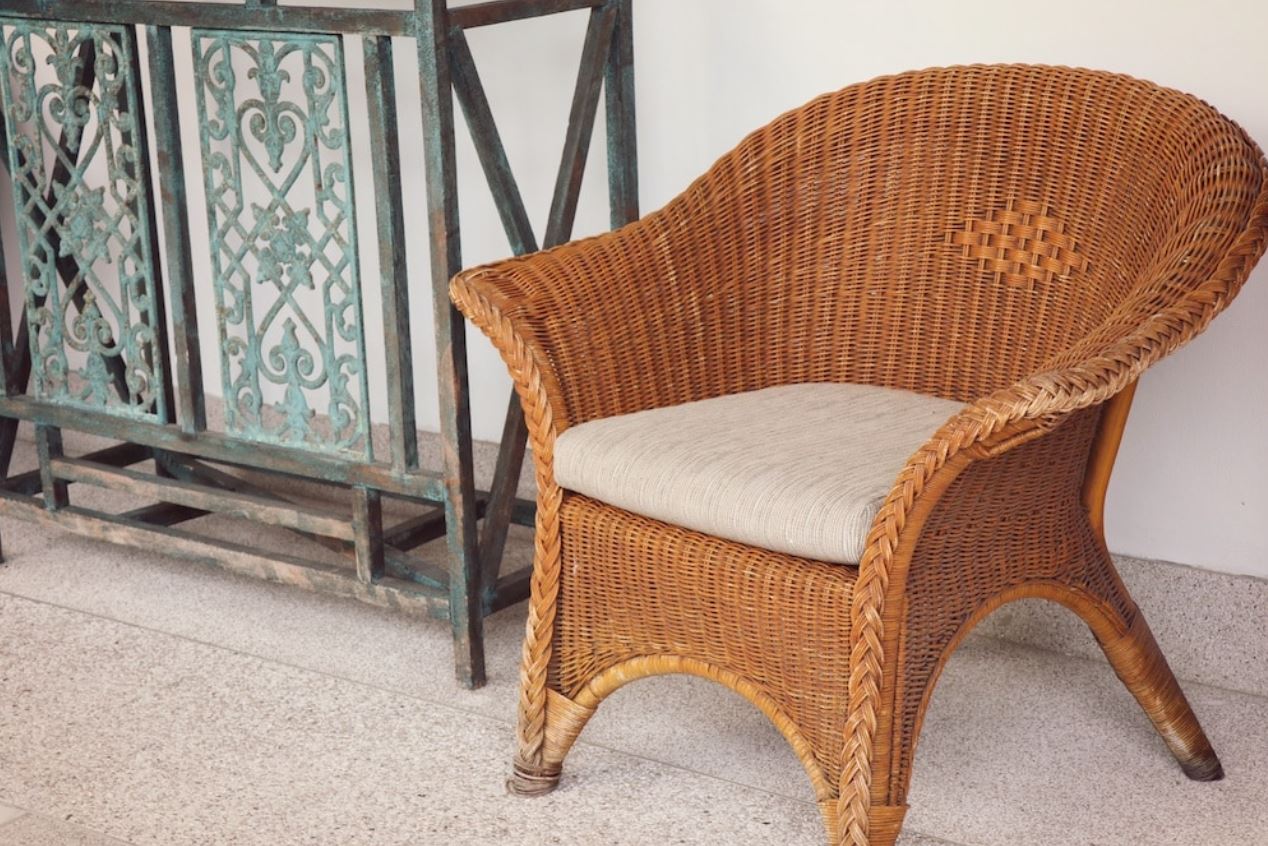 People often mistakenly believe that rattan and bamboo are one and the same, they do share the same notching pattern on the surface, but are different.
Bamboo is a grass and grows straight, and rattan is a palm vine, which enjoys wrapping itself around nearby trees. Rattan is more flexible and bent into curvy shapes.
Are Bamboo And Rattan The Same As Wicker?
We've established that bamboo is a hollow grass and rattan is a palm. Both are materials – whereas wicker is not – it's a weaving technique.
You can use synthetic vinyl/resin or natural materials such as reed, seagrass, rattan and bamboo to weave wicker.
How Do The Three Compare Price-Wise?
As we know, wicker furniture can be woven from a variety of materials, and we are aware that rattan and bamboo are both robust constituents.
Items woven from either will last well. Rattan and bamboo furniture tends to cost more than hardwood and plastic as they are considered labor intensive. Both need to be treated, processed and then carefully woven.
Rattan furniture is more widely available than bamboo, but prices are based on other factors too. Overall cost will depend on the type of furniture e.g., chairs, table etc., additional extras such as comfy cushions, quality and the brand.
Which Is Best For Building?
Bamboo has been used as scaffolding, and many of the skyscrapers in Hong Kong were erected using this robust material.
The lightweight nature of bamboo makes it a good alternative to aluminum and steel, and bamboo scaffolding is quick to put up and take down.
That said, some just don't feel safe enough to go for this option! Rattan is often used to build structures in rural areas.
Which Is Best For Furniture?
Wicker furniture is in high demand, and you can opt for rattan, bamboo or another type of material.
If you are looking for intricate furniture featuring elaborate curves you will need to go for rattan.
Which Is Waterproof?
Quality synthetic wicker tends to feature rustproof frames that can withstand cold and damp weather well.
As a grass, bamboo is water resistant and resilient and rattan can also cope well with inclement weather.
However, consistent exposure to moisture could prove detrimental – so why take the chance? Covers are the way to go!
Which Is Most Popular?
Wicker furniture has seen a resurgence in popularity over the years. The classic weave is instantly recognizable and is no longer left to languish in the conservatory.
Rattan is known to be robust and admired for its handsome good looks, but bamboo is also revered. This organic material is celebrated for its sustainability and this has led to an increase in its popularity too.
Which Is The Strongest?
Both bamboo and rattan are robust, but rattan stands out as the strongest. It's hard to compare the two to wicker, as this can vary depending on the material used in the weave.
Is Rattan Stronger Than Cane?
As they both herald from the rattan plant, its unsurprising to learn that both cane and rattan are immensely tough. Cane is very thin and is stripped from the plant. As it is durable it lends itself well binding furniture. You might see cane on the back of a seat, or on the front of a cabinet door.
Which Is Best – Bamboo, Rattan or Wicker?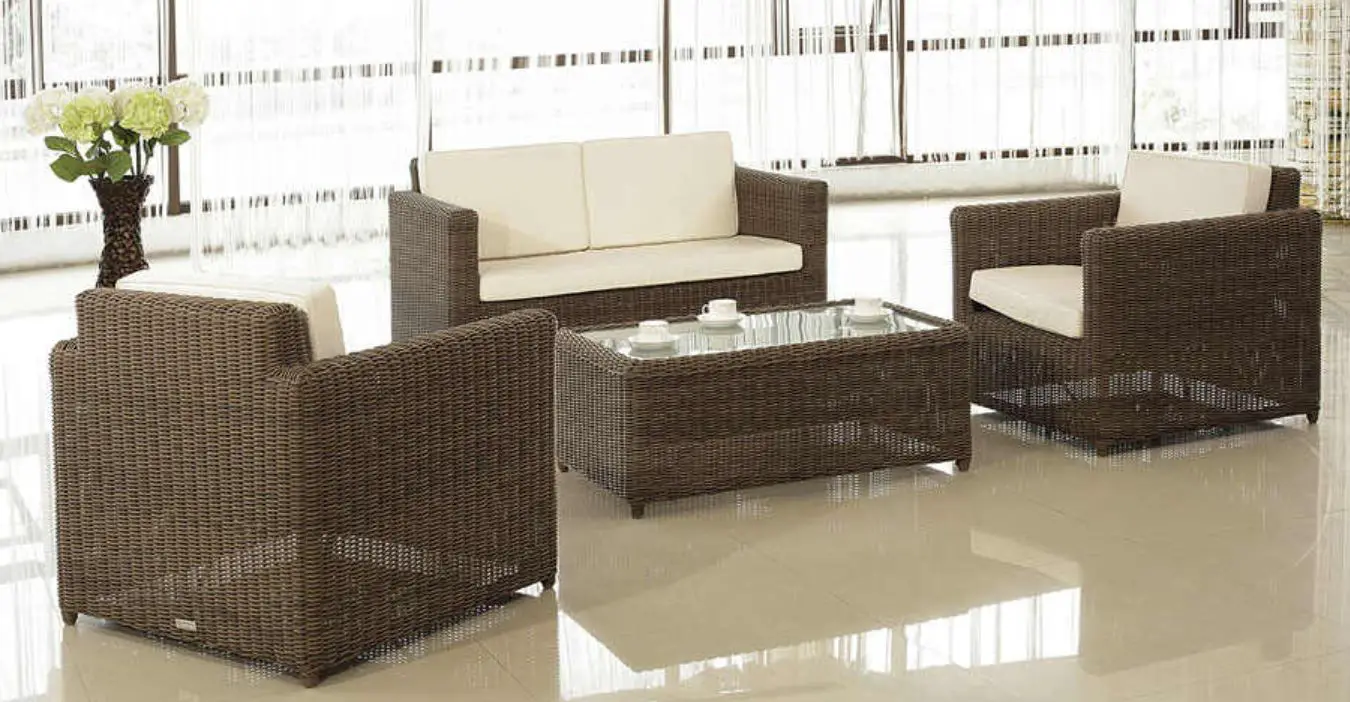 Well, we now know that wicker is a weave and not a material, so if you're on the hunt for wicker furniture you need to find out what it's made of first.
Wicker might be woven using eco-friendly and sustainable bamboo, or super strong rattan – check the quality before you buy.
Both bamboo and rattan are good options and can be fashioned into attractive looking furniture that's made to last. It all comes down to the look you are seeking, and of course, your budget! Shop around and we don't think you will be disappointed!