Craftsman v20 Blower Review – Is It Worth Buying?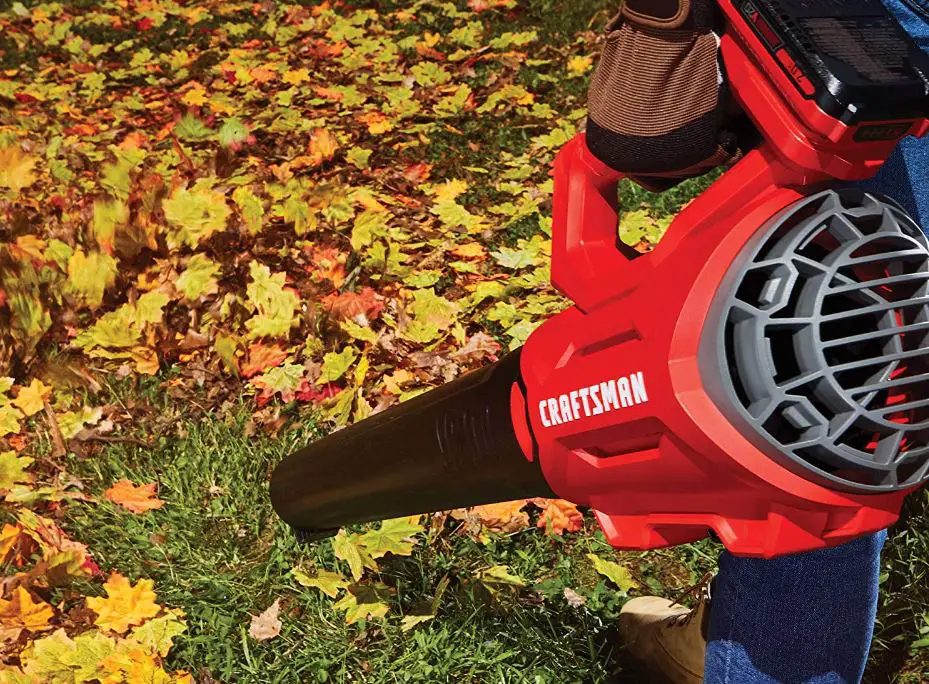 Who wants to spend their weekend mornings or afternoons raking up a bunch of leaves? Long raking hours can take a major toll on your body and it just  isn't fun.
But you know what is fun? Using a cordless electric leaf blower.
Plus, with a cordless electric blower, you don't have to worry about filling your blower up with gas and oil. But these days, there are a lot of cordless electric leaf blowers on the market.
How can you tell which ones are of good quality?
By getting a little help from your friends, that's how. Today we are going to be helping the prospective consumer out by taking a very close look at a very popular electric cordless leaf blower: the Craftsman v20.
Craftsman v20 Overview
The Craftsman v20 is an electric, battery-powered leaf blower that would be a good choice for small to medium yards.
While you shouldn't expect commercial-grade strength from this blower, it is lightweight and ideal for home use. It is capable of a maximum air speed of 100 MPH and has good battery life.
Craftsman v20 First Impressions
The first thing we noticed about this blower was that it was very lightweight.
As soon as we picked it up, we could tell that this was going to be an easy blower to operate. But how powerful would it be?
After all, lightweight design is usually the product of a small motor. And a small motor is usually underpowered.
However, we were impressed with the power of this blower. With a max CFM of 350 CFM, the Craftsman v20 has plenty of power for the average American home.
Craftsman v20 Key Features
Variable Speed Trigger – The variable speed trigger allows you to zone in on the perfect air speed for your needs.
Turbo Button – There is a button above and behind the trigger that allows for a brief boost in fan speed – good for stubborn leaves and heavy objects.
Nozzle Scraper – At the end of the nozzle, there is a scraper that makes it easier to lift leaves and debris that is stuck to the surface.
Brushless Motor – The brushless electric motor is capable of generating 100 MPH air speeds and 350 CFM.
20 Volt Battery – The Craftsman v20 runs off of an included 20v battery. This battery is compatible with many other Craftsman power tools.
How Does it Perform?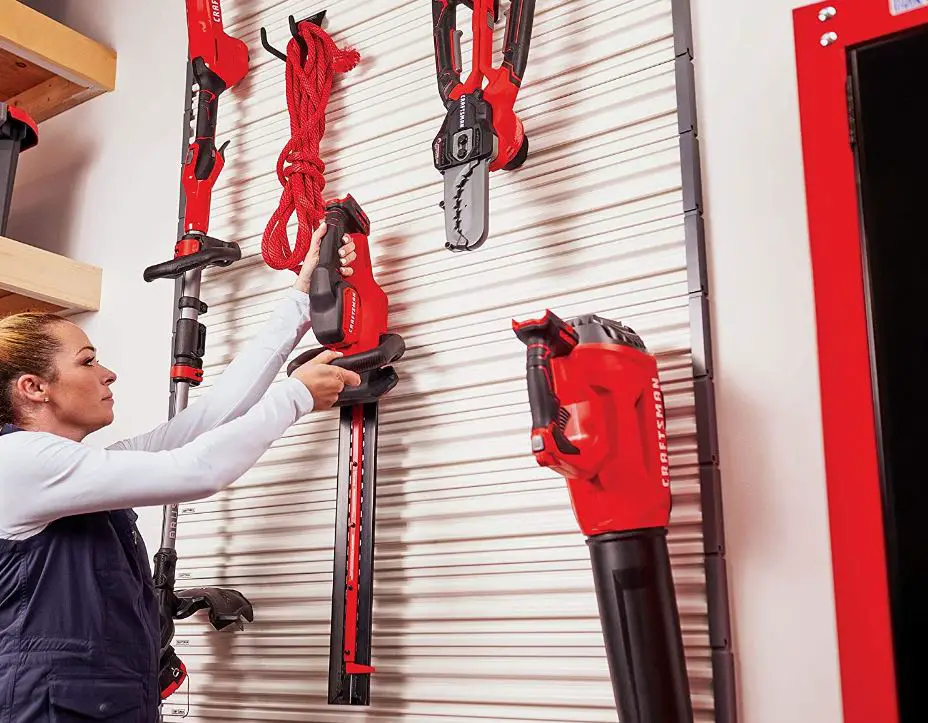 The Craftsman v20 has surprising power. It is very lightweight at just about 8 pounds but it can still move a lot of leaves very quickly.
The variable speed trigger makes it easy to blow away your leaves without blowing away your hardscape features and pebbles.
The scraper was pretty convenient too. It helps with those wet leaves that pretty much adhere to concrete surfaces after it rains.
The battery is easy to load up and it provides steady power for as long as it has a charge.
What we mean is that there is no drop-off in blowing capacity if the battery is down to 50 or 25 percent – you get consistent power from full charge all the way down to drained.
How Loud is it?
Not very. The Craftsman v20 operates very quietly on the lowest power setting – you probably wouldn't even wake up your neighbors.
And even on the highest setting, we didn't feel the need to break out the ear protection.
How Heavy is it?
The Craftsman v20 weighs only 8 pounds so it is very light and can be used by pretty much anyone.
Is it Easy to Handle & Maneuver?
In a word, yes. The Craftsman v20 is a handheld leaf blower and you can easily operate it with one hand.
The trigger is right there on the handle and you can control the speed with just your index finger. You can even reach the boost button with your thumb.
Power Source
The Craftsman v20 is an electric, cordless and battery-operated leaf blower. It runs off of a rechargeable 20 volt lithium-ion battery that is compatible with many other Craftsman power tools.
In fact, if you already have some Craftsman batteries, they will likely be compatible with the Craftsman v20.
How is the Power?
The Craftsman v20 is capable of 100 MPH max air speeds and 350 CFM (cubic feet per minute). The blowing power it delivers is certainly enough for the average American font or back yard.
What Size Job Does it Suit?
If you have a front/back yard that is about 5500 square feet in size, the Craftsman v20 would be powerful enough for you.
How Efficient is it?
On the lowest speed setting, you can easily get a half hour of operation out of this blower. On the highest setting, you get about 15 minutes of runtime.
How Durable is it?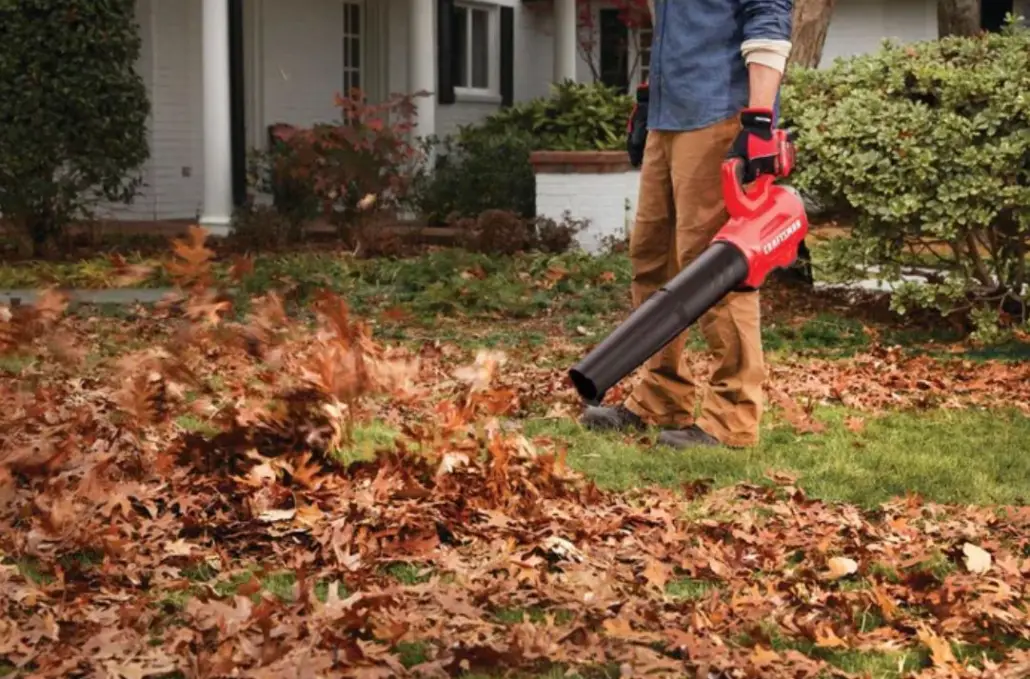 We like Craftsman tools because they are nothing if not durable. The Craftsman v20 is built well and can survive moderate use and abuse.
How Long Will it Last?
We can imagine that the Craftsman v20 would last at least 5 years with proper storage and maintenance.
What Attachments Can You Get With it?
Unfortunately, there are no available attachments for the Craftsman v20.
Craftsman v20 Pros
Very lightweight
Good for medium to small lawns
Good runtime
Battery charges fast
It's easy to operate
Cons:
No cruise control feature
No vacuum function
Overall Score: 96/100
Check Out More Reviews Here:
Who Should Buy it?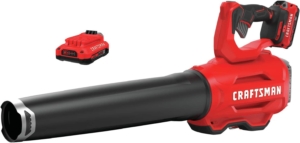 The Craftsman v20 would be a good choice for anyone who prefers a light and simple leaf blower.
Craftsman v20 Comparisons
Craftsman v20 Vs Milwaukee M18 – The M18 blower offers 450 CFM and max air speeds of 120 MPH. It also only weighs 4.9 pounds.
Craftsman v20 Vs Dewalt 20v – The Dewalt 20v is a 400 CFM brushless electric blower with an axial fan and 61 decibel operation.
Craftsman v20 Vs Craftsman v60 – The V60 can reach 110 MPH air speeds and 600 CFM. Also, the battery lasts twice as long as the Craftsman v20's.
Other Leaf Blowers to Consider
WORX WG509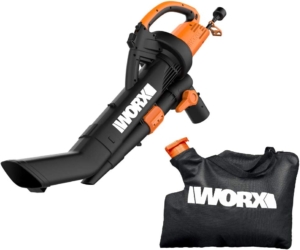 The WORX WG509 operates as a leaf blower, vacuum and mulcher. It's capable of 350 CFM and 210 MPH air speeds. It also has a curved nozzle tip that helps you get under lawn furniture and other fixtures.
Overall Score: 96/100
Check Out More Reviews Here:
Makita XBU05Z 18V LXT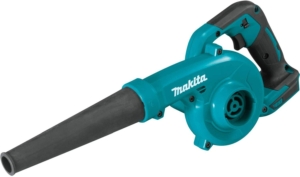 The Makita XBU05Z 18V LXT is a cordless electric leaf blower that only weighs 4 pounds. It would be great for anyone who doesn't want a leaf blower that is hard to operate and taxing on the body.
It features a 3-speed motor that is capable of generating air speeds of up to 219 MPH.
Overall Score: 94/100
Check Out More Reviews Here:
Schroder SR-6400L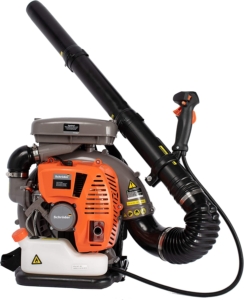 The Schroder SR-6400L is a gas-powered backpack blower. It has  a 2-stroke, 3.7 horsepower engine. The 920 CFM capability is definitely suited to larger properties or light commercial work.
Overall Score: 94/100
Check Out More Reviews Here:
Final Assessment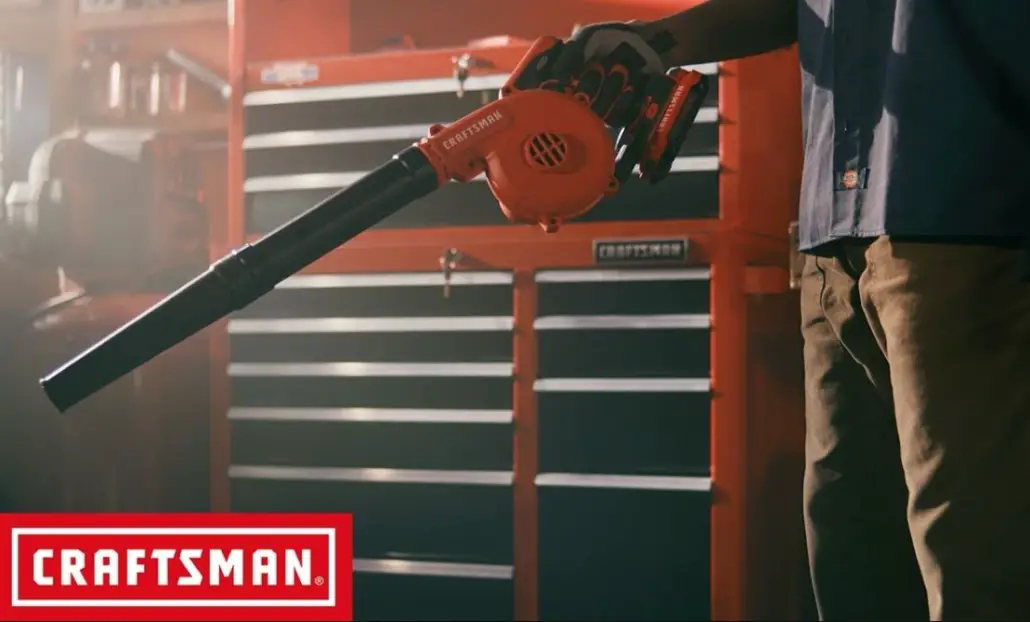 For the average-sized lawn and backyard, it would be hard to do better than the Craftsman v20.
We did miss the cruise control setting and it only operates as a blower; but if a blower is all you need then we would definitely recommend checking out the Craftsman v20.