How To Choose The Best Dishwasher – Complete Buying Guide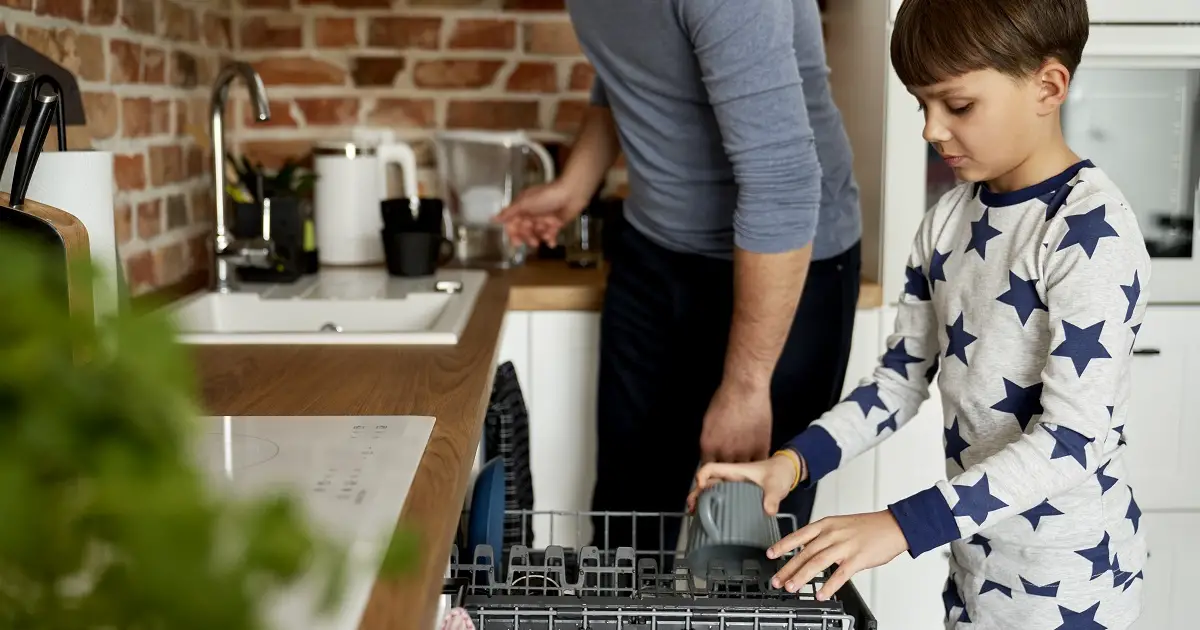 A dishwasher is supposed to free you to spend your time on more enjoyable or important things.
And while most modern dishwashers will help you do just that, you still have to exercise some precaution because it is still definitely possible to buy a lemon of a dishwasher in 2022.
The good news is that if you do your due diligence and a bit of research, you can put yourself in great position to get a dishwasher that works for you.
Before you start shopping for a dishwasher though you should consider how many members of your household there are.
Water and energy consumption are also major factors. And of course, you should do your best to stay comfortably within your budget as these appliances can get pricey.
To help you make a sound consumer decision, we have put together an exhaustive guide on buying a dishwasher. Now you don't have to search all over the internet to find the answers you're looking for – we've done all the legwork for you!
In the following guide you will learn about the different types of dishwashers available, their pros and cons and get answers to the questions you have about these appliances.
There's a lot to cover so let's get started!
Dishwasher Vs Hand Washing
Now you may be asking yourself why you even need to consider buying a dishwasher.
After all, there's nothing wrong with a little elbow grease in the kitchen, right? Absolutely not! In fact some people actually enjoy washing dishes by hand and find a sort of zen in the chore.
Still, you should consider all of your options before making a final decision. The fact is that dishwashers offer a lot of important perks.
But first we'll start by going over washing dishes by hand. On average, it takes about an hour to wash a full sink of dishes and uses up about 12.9 gallons of water.
Hand washing also doesn't require any electricity unless you need to run the garbage disposal or need specific lighting for the chore.
And again, some people actually do like washing the dishes. You also have to consider your body though.
It may be difficult for some people to stand in place and work with their hands for a whole hour. You are also limited in terms of water temperature and the strength of the detergent you use.
Then of course there is the efficiency factor. For a full load of dishes, hand washing typically uses significantly more water.
Now let's talk about using a dishwasher. One of the greatest benefits of using a dishwasher is the water savings.
It typically takes just over 3 gallons of water to clean a full sink of dishes. And while it usually takes more than an hour, it's not like you are standing there spending your own time.
And while a dishwasher also does draw some energy, the amount per cycle is minimal at just about 1.17kWh.
A dishwasher will have a significant upfront cost though and will require installation. You will also need room in your kitchen for one. You also need to take time to load and unload them.
However, a dishwasher uses high temperature water and can be used with strong detergents to kill more bacteria than hand washing.
If you have a small apartment, actually enjoy washing the dishes or don't want to wait over an hour to have your dishes clean, you may not need a dishwasher.
However, if you want to save money on water and free up your time to do other things, a dishwasher would be a great investment.
How to Choose the Best Type of Dishwasher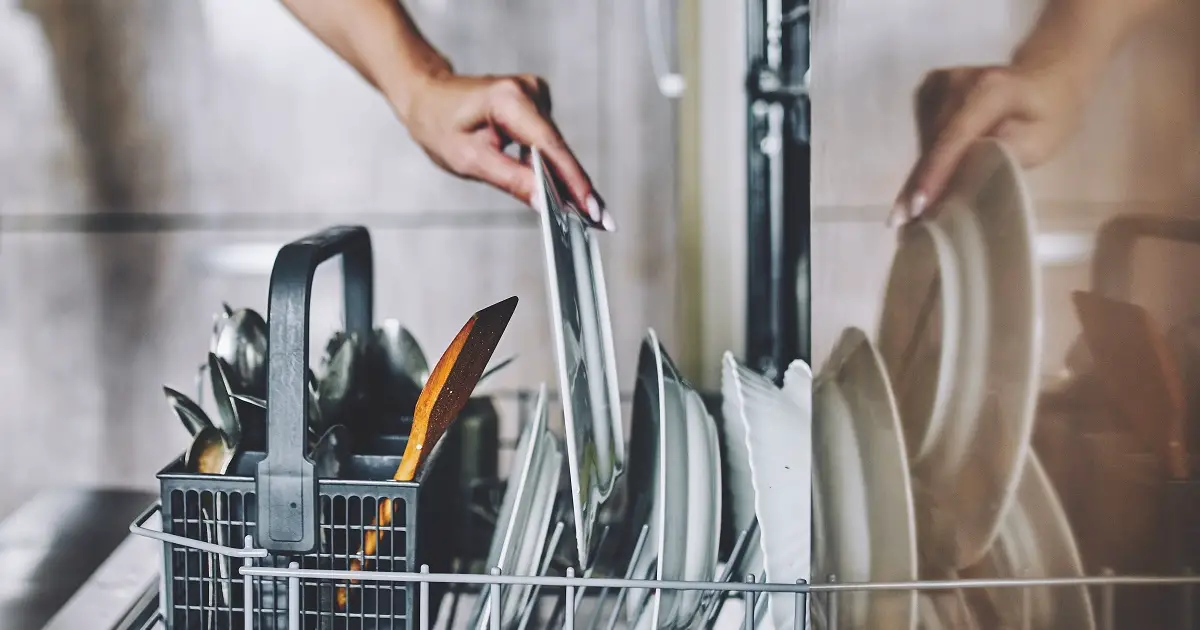 While different types will have different features and functions, there are some basic considerations to make regardless of the type. Here are the basic features you need to consider before buying a dishwasher:
Size – Of course, your kitchen will need to accommodate your dishwasher. They come in different sizes so choose one that won't crowd your kitchen too much.
Energy Consumption – Carefully examine the Energy Guide (usually a yellow label) on any dishwasher you are considering buying. It will tell you how much energy the appliance is estimated to consume per year and how much money it is expected to cost per year to run it.
Capacity – Next, you need to think about how many members of your household there are. Different models have different load capacities so choose one that can accommodate your cleaning needs.
Noise – Noise may also be a factor if your dishwasher will be near the living or eating areas of your home. Keep in mind that the average noise level of a dishwasher is between 46 and 60 decibels.
Budget – Last but not least you have to determine how much you are willing and able to spend on the appliance. Base models can be as cheap as $500 while higher-end models can go well past $1000.
Different Types of Dishwashers
Now that you know about the important considerations that pervade all types of dishwashers, it's time to review the different types available to you.
Integrated Dishwasher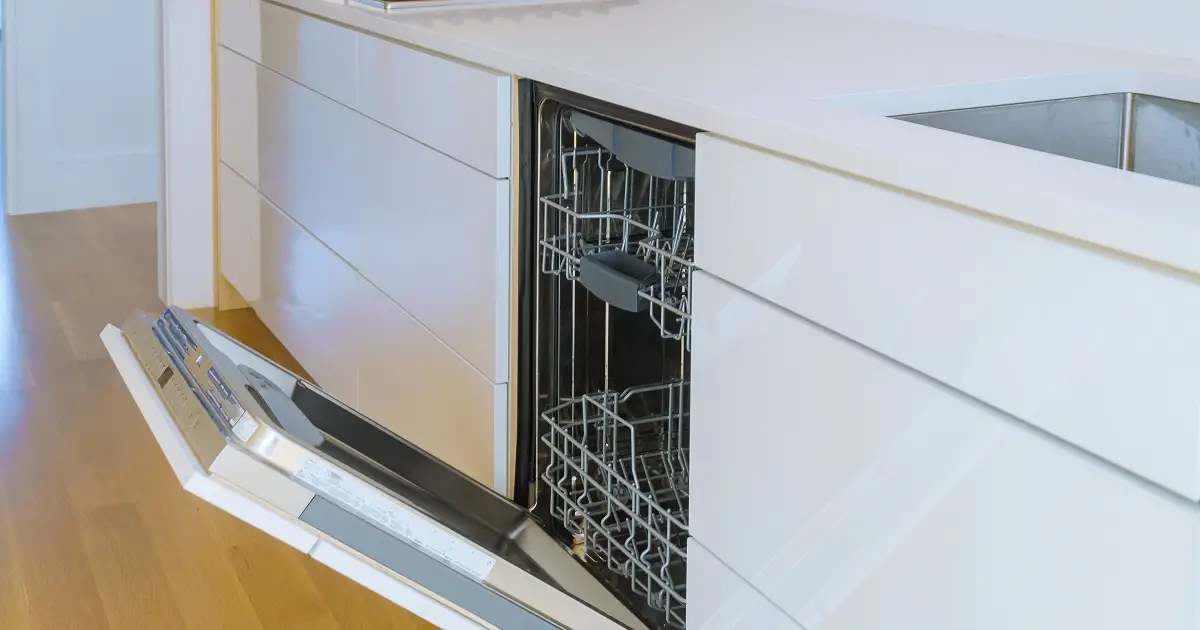 An integrated dishwasher is installed under your counters but the front door is covered by a furniture door. The furniture door can be made to match your counters for a seamless look.
Pros:
These types of dishwashers blend in seamlessly with the your cabinets and the décor of your kitchen.
They come in standard or compact sizes so they can accommodate a wide variety of kitchen sizes.
Like many types of dishwashers, integrated dishwashers are very energy-efficient and can save water.
Cons:
The cost to install these types of dishwasher can be more expensive than installing other types.
Semi-Integrated Dishwasher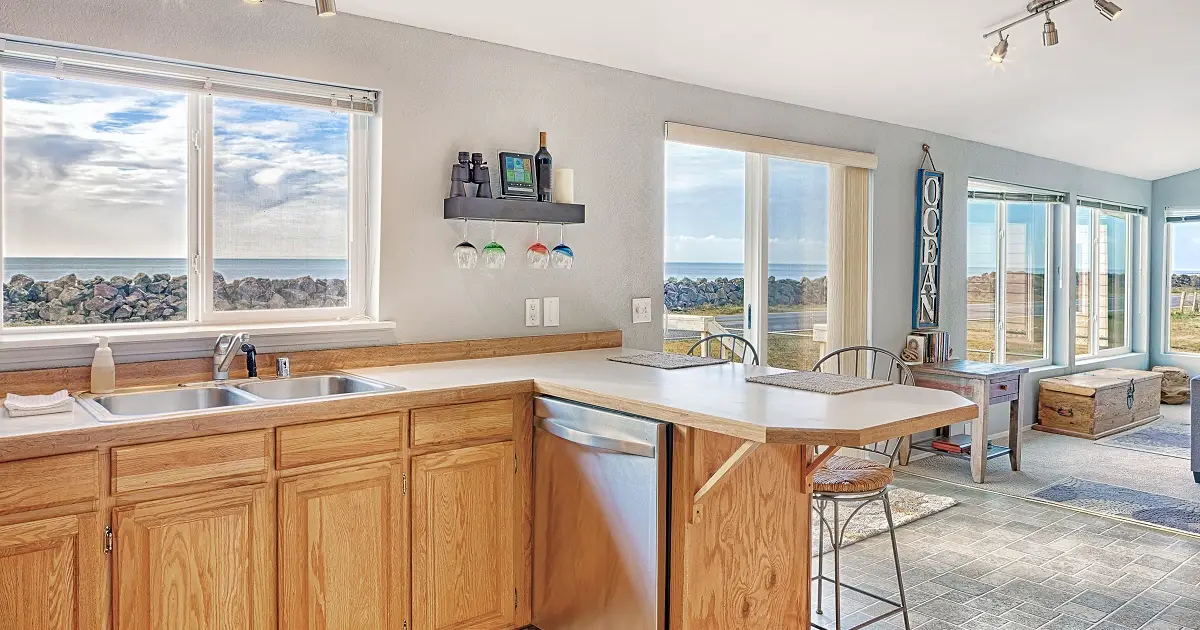 This is the most common type of dishwasher in American homes. It is just like an integrated dishwasher except it doesn't have a furniture door. Instead, the dishwasher front panel and door are exposed.
Pros:
Like an integrated dishwasher, a semi-integrated dishwasher will not take up usable ground space in your kitchen.
It will typically cost less to buy and install a semi-integrated dishwasher as opposed to an integrated dishwasher.
You can expect to save more water using a semi-integrated dishwasher as opposed to hand washing.
Cons:
The upfront cost may be significant especially when compared to hand washing.
Countertop Dishwasher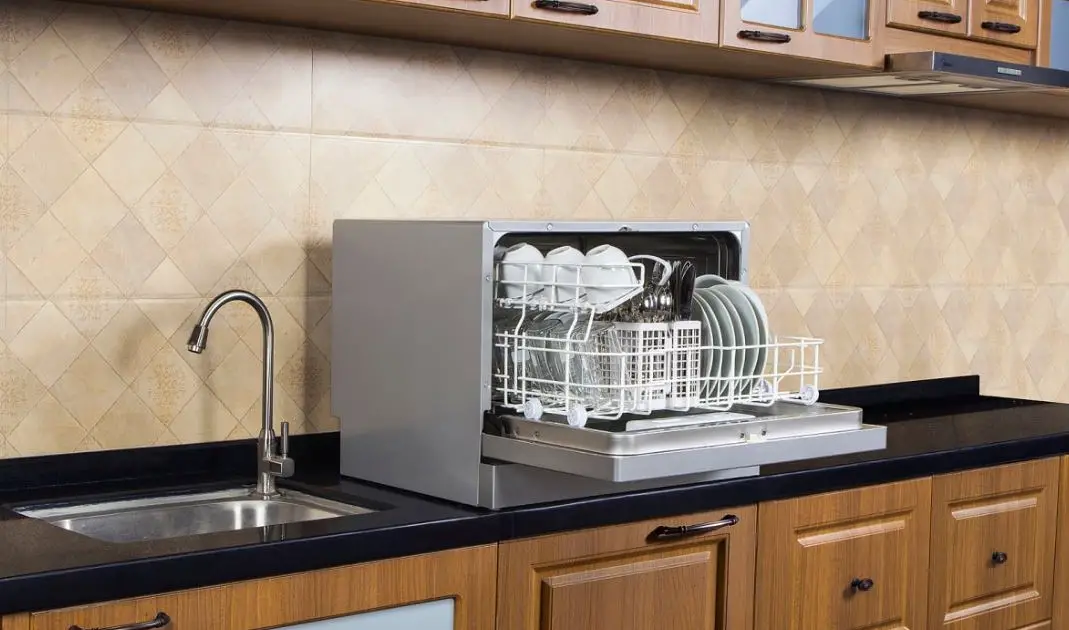 Just as the name implies, a countertop dishwasher sits atop your counter as opposed to underneath it.  It uses a water intake hose that must be connected to your sink faucet and plugs into a standard electrical outlet.
Pros:
These types of dishwashers tend to be less expensive than integrated or semi-integrated dishwashers.
They also use less water and electricity than other types of dishwashers.
These types of dishwashers would also be great for smaller households
Cons:
A countertop dishwasher will naturally have a smaller load capacity as they are generally between 20 and 24 inches wide and between 25 and 28 inches high. They will also take up counter space.
Freestanding Dishwasher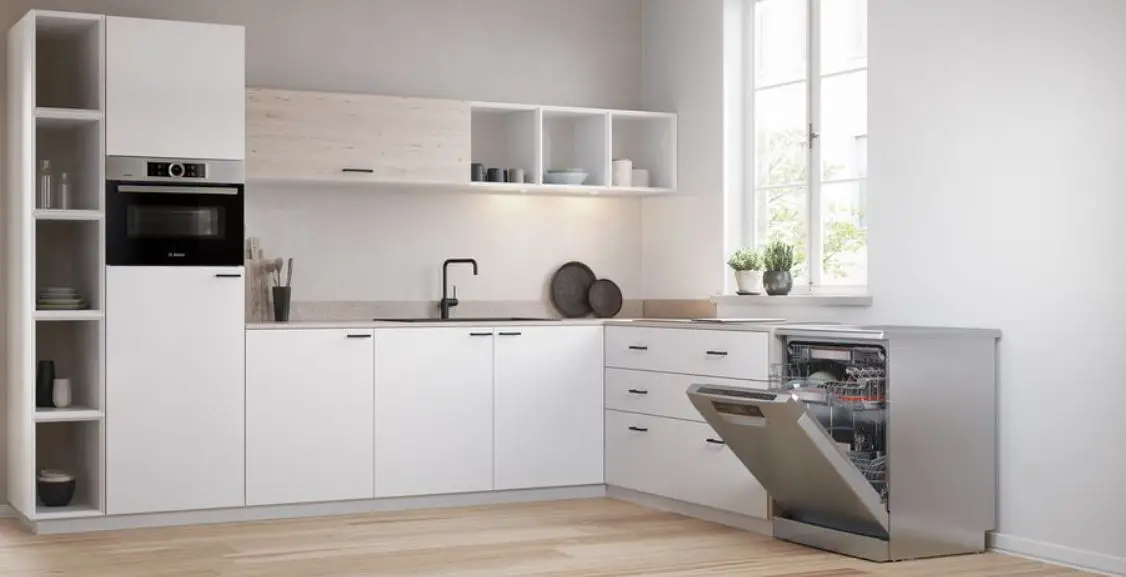 A free standing dishwasher can be placed anywhere it can be hooked up to a water and drainage line. They are finished on all sides and do not need to be installed under your counters.
Pros:
A freestanding dishwasher gives you a bit more freedom in terms of where you can place one.
They are finished on all sides so you don't need to worry so much about placing them somewhere around foot traffic.
You can get a freestanding dishwasher in full and compact sizes. Some compact sizes even have wheels.
Cons:
Noise may be an issue as these dishwashers aren't housed under the counters.
Is Buying A Dishwasher Worth it?
Right off the bat, if you live alone or with just one other person, it's probably not worth it to buy a dishwasher.
It may also not be a sound investment if you don't cook often, eat out often or just don't have much flat and silverware.
However, it may be worth it if you do have a large household or simply want to spend less time on cleanup in the kitchen. It also saves more water than hand washing which is a big perk in terms of long-term savings.
What Size of Dishwasher do I Need?
For A 2-Person Household – For two people, you probably only need a compact dishwasher than can hold between 40-60 items per load.
For A 4-Person Household – For 4 people, you will likely need a full-sized dishwasher that can hold 120-150 items.
For A Small Kitchen – If you are limited on space you might want to consider a countertop or compact dishwasher.
For A Large Kitchen – If you have more room to work with you have more options. Freestanding, full-size or integrated full-size dishwashers may suit your kitchen well.
How Many Different Cycles Does It Have – Do You Need Them All?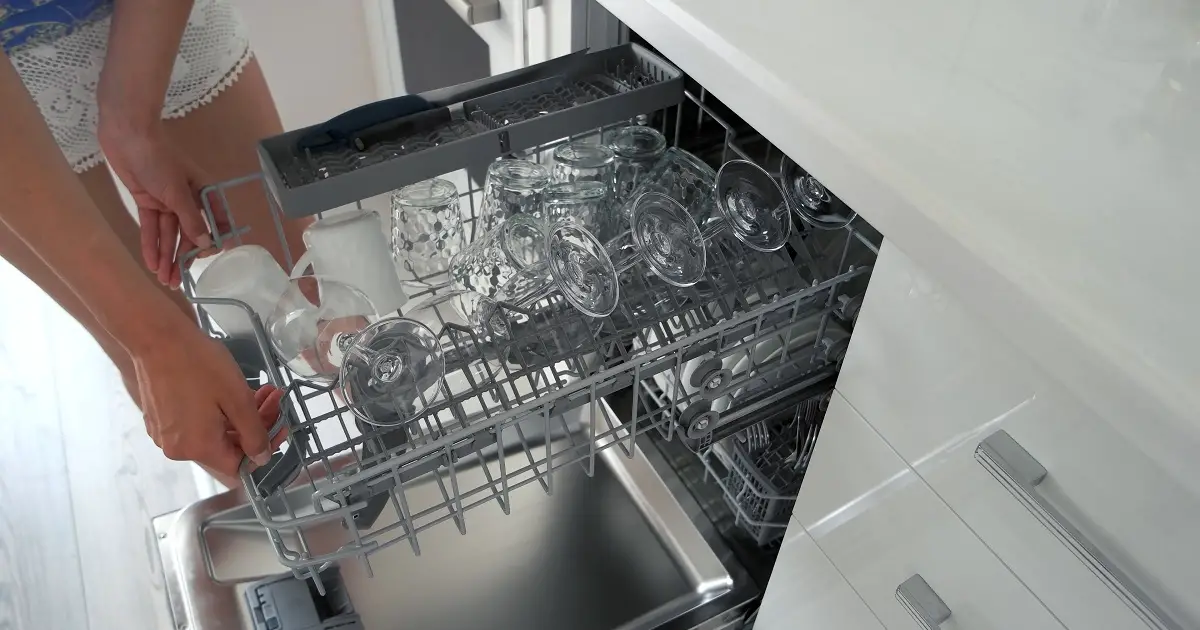 Most dishwashers have three basic cycles: light, normal and heavy. These are usually enough for most consumers' cleaning needs.
However there are other types of cycles like auto cycles that detect the soil level and adjusts water consumption and run time automatically.
This is a good option if you want to save the most water. If you are concerned about noise, you may want to opt for a model that has a "Quiet" cycle.
If you have a lot of China, crystal dishes or other sensitive dishes you may want to get a model with a China/Crystal/Glassware cycle.
Additional Dishwasher Features to Look Out For
Aside from the basic functions and features, you may want to keep an eye out for the following dishwasher features:
Child Lock – This keeps small children from being able to open the appliance in the middle of a cycle.
Adjustable Racks – You can adjust the height of the top rack so you can accommodate larger items.
Smart Tech – Smart dishwashers can be connected to your Wi-Fi so you can control the appliance from your phone.
External Styling – Some models will allow you to choose different front panels or side and rear panels to compliment the décor of your kitchen.
Tub – Most dishwashers have either plastic or stainless steel tubs. Stainless steel is durable but plastic is more affordable.
Drying Capability – Some models will automatically open the door a crack to allow for faster drying.
Water Usage – You can get models with an eco mode to help cut down on water usage.
Hard Food Cycle – For dishes that have caked on food, you can opt for a model with a hard food cycle.
Soil Sensors – This is usually incorporated into "Auto" modes that automatically detect the level of soil on the items and adjust water consumption and run time accordingly.
Wash Zones – With this feature you can designate parts of the dishwasher for heavier soil items.
How Much Electricity Do Dishwashers Use?
It will certainly depend on the make, model and cycle but in general a dishwasher consumes only about 1.17kWh of electricity per cycle.
Dishwasher Tip And Tricks
You don't have to use as much detergent as is recommended. In fact, using too much can scratch your plates.
Put a bowl of vinegar in the top rack with your load if you have hard water or are noticing spots on your items.
If you have small, delicate items you want to wash, try putting them in a mesh laundry bag to protect them.
To avoid spilling pooled water from the top rack, unload the bottom rack first.
Run your sink's faucet until the hot water starts to flow so that the fill cycle of your dishwasher begins with hot water.
Instead of rinsing your dishes before loading them in the dishwasher, try simply scraping them. Rinsing your dishes before loading them may actually make the detergent less effective.
Be careful with loading. While it wastes water to run your dishwasher at half capacity, you shouldn't overload it either – doing so will make it harder to get all your dishes clean.
Should you rinse your dishes before putting them in the dishwasher?
For the most part, no. Rinsing the dishes may actually make the detergent less effective. Plus, it's a waste of water that kind of defeats the purpose of having and using a dishwasher.
Instead, try scraping  stuck-on food with a fork or the rough side of a sponge.
Do Dishwashers work better full or empty?
Dishwashers work best when they are full but not overloaded. It is more water-efficient to run them full.
How do you Load a Dishwasher efficiently?
The best way to load your dishwasher is from the back to the front. Also, load heavier items and more soiled dishes on the bottom rack and keep delicate items on the top rack.
How full should you keep a Dishwasher?
Full, but not so full that the dishes are crammed in there. Remember that there needs to be space between the dishes so that water can reach them. Don't cover small items with large mixing bowls or pans either.
5 Most Reliable Dishwasher Brands
GE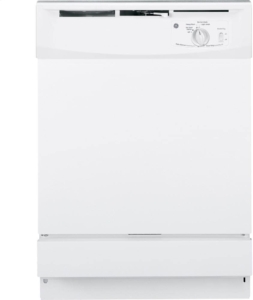 GE is one of the most reputable appliance manufacturers in the world. Be sure to check out the GE GSD2100VWW Built-In 24-Inch Dishwasher which has ample power and capacity for large families.
Pros:
Reliable usage
Filters water
Cons:
Overall Score: 95/100
Check Out More Reviews Here:
Farberware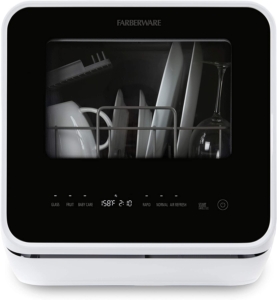 Farberware manufactures some great countertop models. Case in point: the Farberware FDW05ASBWHA Complete Portable Countertop Dishwasher.
Pros:
5-liter capacity
Internal water tank
Cons:
Overall Score: 95/100
Check Out More Reviews Here:
Frigidaire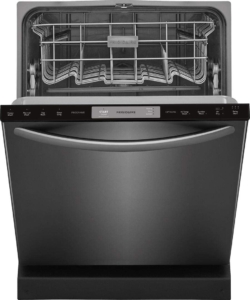 Frigidaire make some of the nicest-looking dishwashers on the market. One of their best models is the FRIGIDAIRE FFID2426TD 24" Built-in Dishwasher which is a sleek semi-integrated dishwasher.
Pros:
Heated drying
2-6 hour delay start
Cons:
Overall Score: 94/100
Check Out More Reviews Here:
Samsung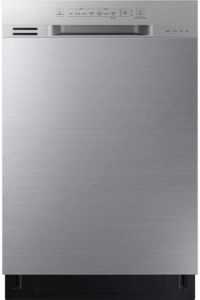 Samsung is known for making high-tech, feature-packed dishwashers which is evident in the Samsung 24″ Built-In Stainless Steel Dishwasher.
Pros:
Sleek design
Includes 3rd rack
Cons:
Overall Score: 93/100
Check Out More Reviews Here:
Black + Decker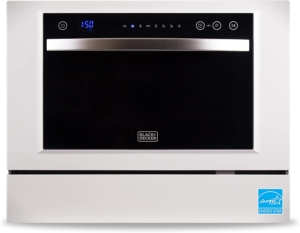 We like Black + Decker because they tend to make very durable dishwashers that last a long time. For a great compact Black + Decker dishwasher, check out the LACK+DECKER BCD6W Compact Countertop Dishwasher.
Pros:
It can hold up to 6 place settings
7 wash cycles
Cons:
Overall Score: 93/100
Check Out More Reviews Here:
Dishwasher Brands To Avoid
On the flip side, there are definitely some dishwasher brands that you will want to avoid. One of those brands is Bosch.
While it is a popular brand, their dishwashers have high failure rates. Some people have to have their Bosch dishwashers repaired after only 6 months of use.
LG is a company that is known for packing many high-tech features into their dishwashers. The problem is that the tech seems to interfere with the reliability of their dishwashers.
The Korean company has also heard complaints of poor customer support.
Dishwasher FAQ's

A dishwasher should last for about ten years. However, you may still need to maintain or perform small repairs on one before the 10-year mark.
Q: Is it worth fixing a dishwasher?
In most cases, yes. Especially if you love having a dishwasher. The reason is that it is less expensive to have your dishwasher repaired than completely replacing it.
It can also be very time-consuming to shop for a new one. However, if your dishwasher is over ten years old and simply want to upgrade to a newer model with advanced features, then it's probably worth replacing your old one.
Q: What are the most common problems with dishwashers?
One of the most common dishwasher problems is that they don't get dishes completely dry. This can usually be remedied by simply using a rinse aid.
You may also notice that the water isn't draining properly. This may be because the your dishwasher has recently been installed and the drain plug was not removed.
Q: What should you never put in a dishwasher?
You should never put sharp knives, cast iron cookware, hollow-handle knives or nonstick pots and pans in the dishwasher.
Q: What is the first thing you should do with a new dishwasher?
You should first shut off your water and power to prep for the installation. Reading the manual is always advisable.
You should also run an empty load after installation to make sure everything was hooked up correctly.
Q: Do dishwashers need hot water?
Absolutely. Dishwashers depend on hot water to replace the use of force (hand washing) to clean dishes.
Q: What happens if you don't use your dishwasher?
If you don't use your dishwasher for a very long time the motor seals could get dry and break.
Q: Is it cheaper to wash dishes by hand or use a dishwasher?
In terms of water savings, it is cheaper to run the dishwasher instead of hand washing dishes.
Q: Should I leave dishwasher door open?
Directly after a washing and drying cycle it's a good idea to keep the door ajar so that excess moisture can escape. This will help keep your dishwasher free of bacteria and sanitary. However, once it is completely dry, it's a good idea to close it up.
Q: Are dishwashers a waste of water?
If you don't rinse your dishes before loading them, they actually save water. A full load in a dishwasher may only use about 3 gallons of water while hand washing the same size load usually takes about 12 gallons.
Q: Do dishwashers damage dishes?
Dishwashers can damage wooden utensils, China, cast iron and nonstick pots and pans.
Final Thoughts
A dishwasher can save you money on water utilities and they are good for the environment. So you should consider getting one for your home.
Feel free to reference our dishwasher buying guide as often as you need and check out some of the models we highlighted!