Ebuns Marble French Rolling Pin – Is It Worth Buying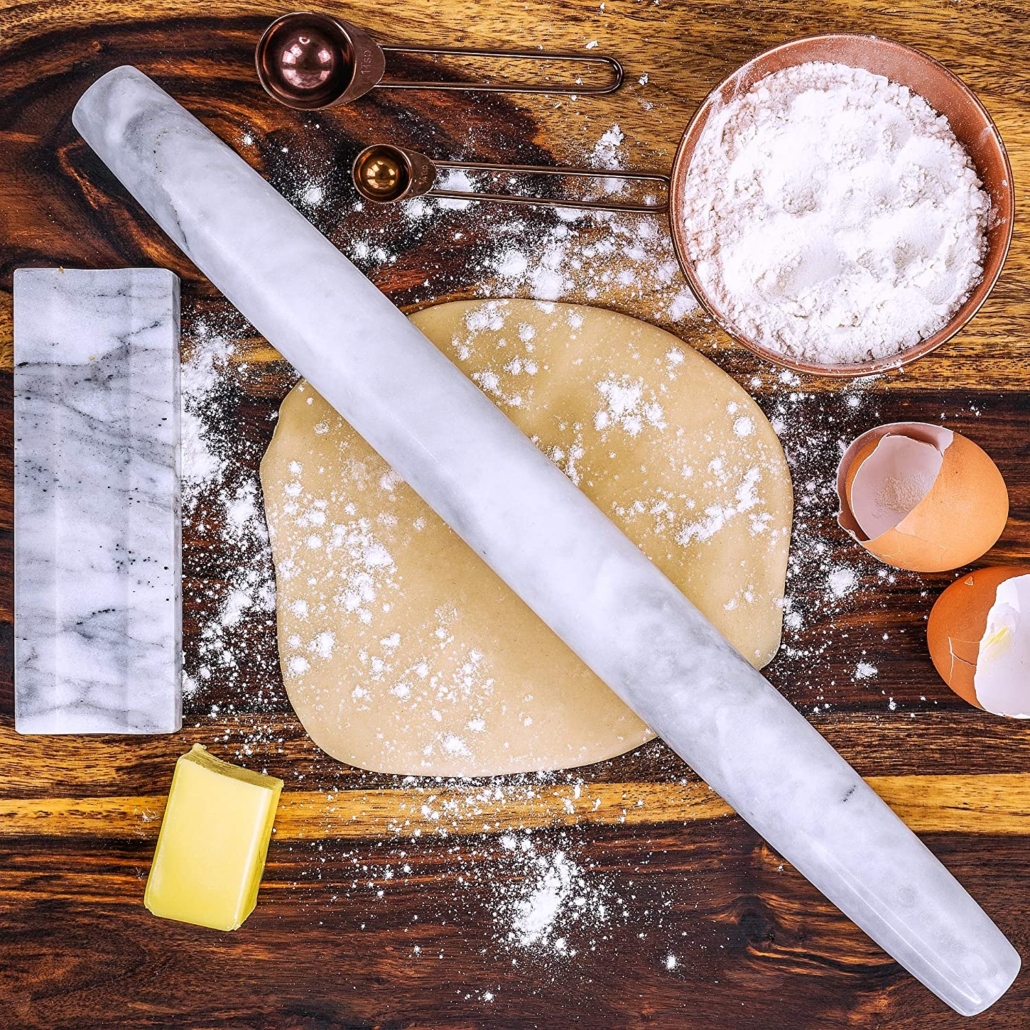 Not everyone is a fan of traditional dowel and ball bearing rolling pins. And if you are looking specifically for a marble French-style rolling pin you need to check out our following review of the Ebuns Marble French Rolling Pin!
Selling Points:
Tapered French-style design
Includes a marble cradle
16 inches long
In 50 Words or Less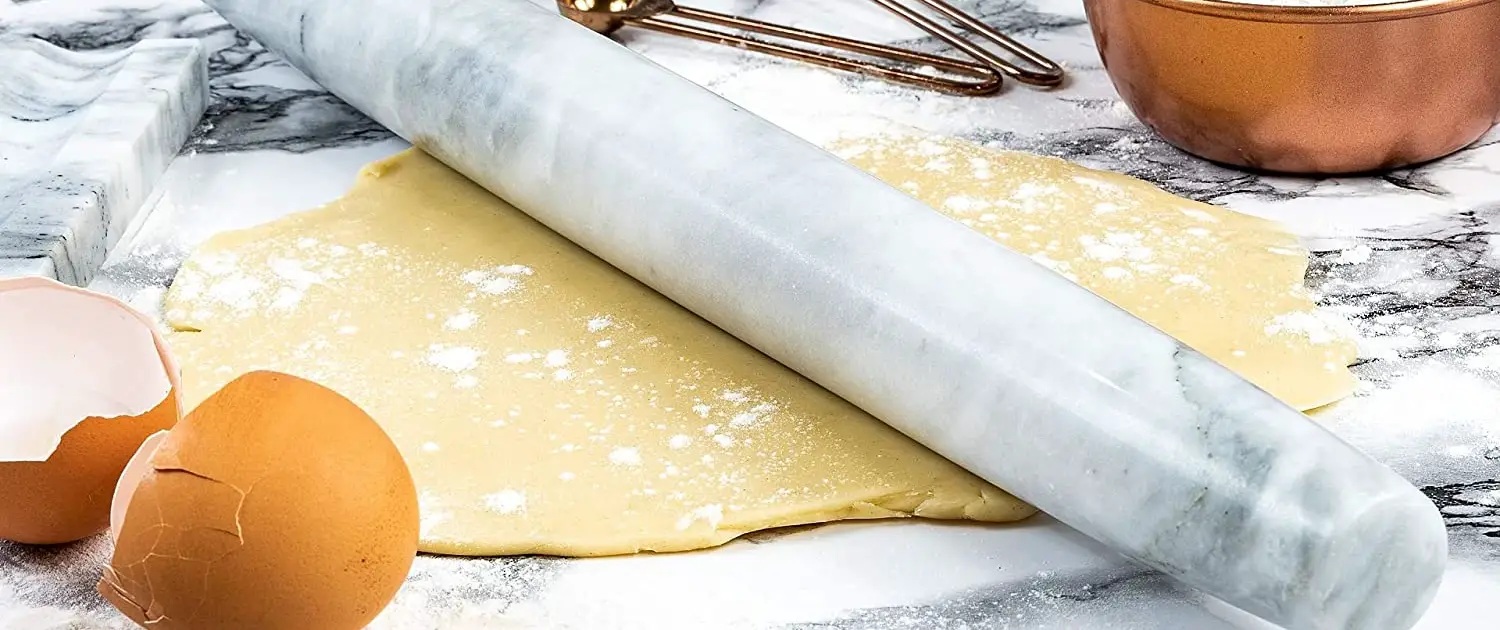 The tapered design of the Ebuns Marble French Rolling Pin means you can work your hands from the middle out to the ends. This makes it a great choice for a wide variety of doughs, pastries and even noodles!
Do you like to make your own hand-pulled noodles at home? If so then the Ebuns Marble French Rolling Pin deserves your attention. At first, we were taken aback at how beautiful this rolling pin is. Keep in mind that it is marble so the pattern is going to vary from pin to pin.
But the one we received had a beautiful milky white/grayish hue to it. Being made of marble, it's also cool to the touch so it just feels nice to hold in your hands. It has a tapered design so it's great for rolling out pizza dough and making your own Asian noodles at home.
It's also a great rolling pin for anyone who like to work the center of the dough really well before rolling out to the edges. The barrel is 16 inches long so it is a good length for pretty much any culinary or confectionary application.
The Ebuns Marble French Rolling Pin would be a great choice for anyone who prefers the versatility of a French rolling pin but who also want the non-stick usability of marble. Of course, you can put this rolling pin in the freezer and the refrigerator for when you are working with puff pastry or pie crusts that need to stay cold.
The non-porous nature of marble also means that you don't have to worry about dough or flour getting caught in tiny nooks and crannies. The Ebuns Marble French Rolling Pin also comes with a handsome, matching marble cradle.
Pros:
Made from solid marble
Nice, heavy weight
Great for pizza and noodles
Cons:
A bit pricey
Not great for beginner chefs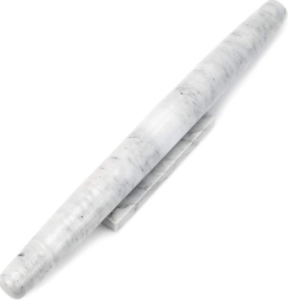 Overall Score: 96/100
Check Out More Reviews Here:
Alternative Marble Rolling Pins To Consider
Conclusion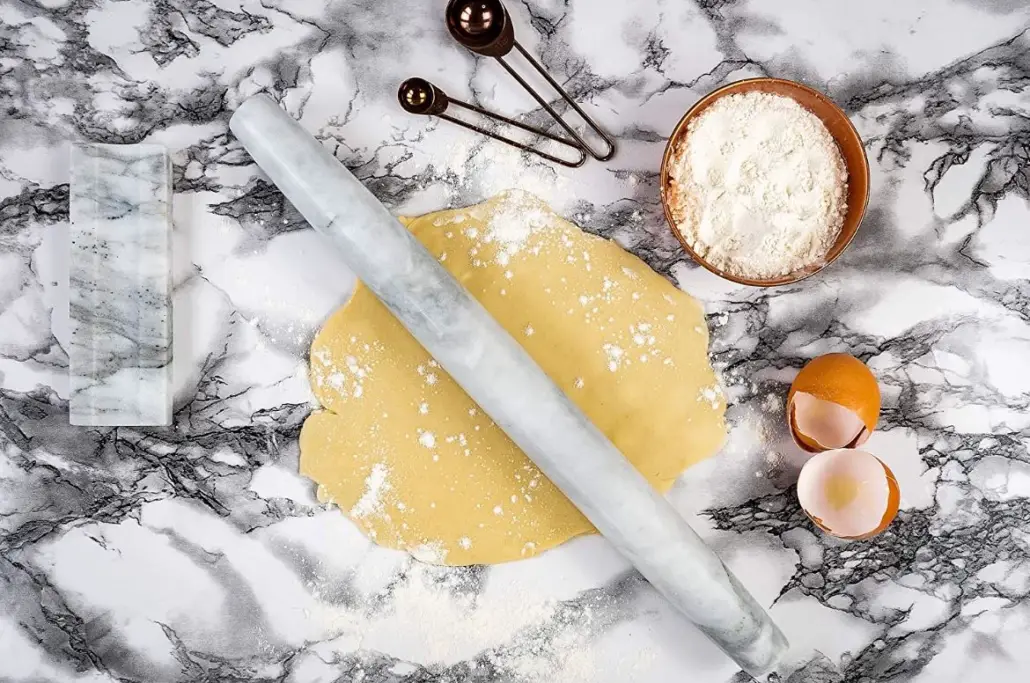 We like French rolling pins because they are very versatile. Combine that with the natural beauty and non-porous constitution of marble and you have a great rolling pin.
However, we caution that the Ebuns Marble French Rolling Pin is not a great starter rolling pin as it will require some technique.
However, if you are an experienced baker or chef you will really love this rolling pin so be sure to check it out today!