Echo CS-400 Vs Stihl MS 250 Chainsaw – What's the Better Option?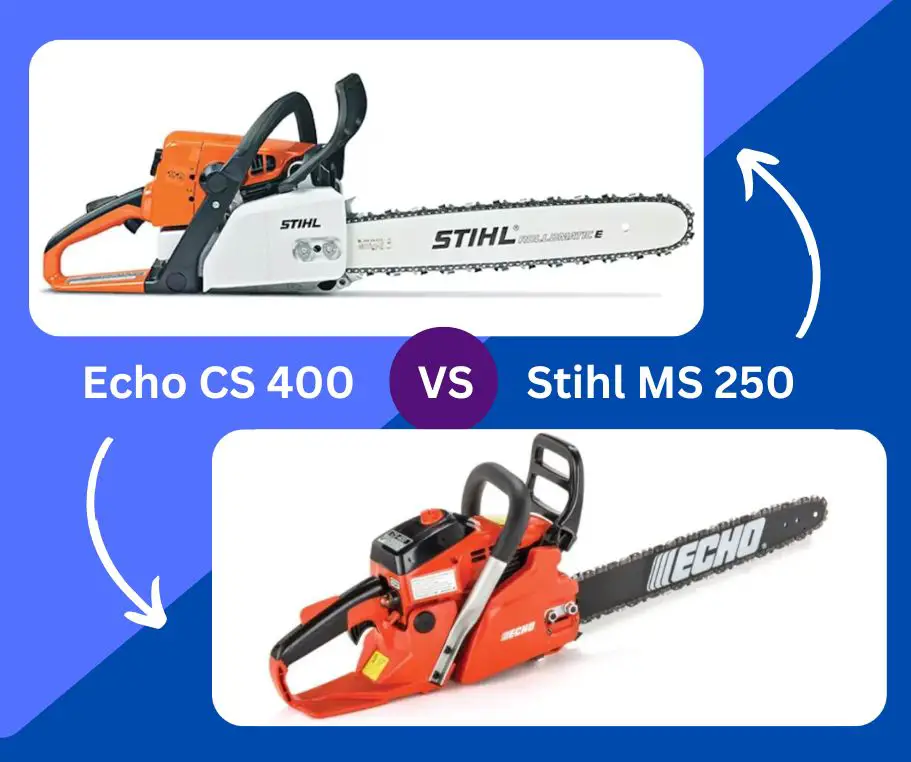 These days, different chainsaw manufacturers emulate each other in terms of features. So with all the similar chainsaws in the same size class floating around, it can be hard to determine which one will serve you best.
But make no mistake about it, how you use and how often you use your chainsaw is the best way to indicate which machine is best for you – even if the choices sport many of the same features.
Making the right selection is important because some chainsaws simply can't stand up to the use and abuse of the field. So in the following comparison review, we will be taking a look at the Echo CS-400 and the Stihl MS 250.
Keep reading to find out what type of work each of these saws is suited for.

Overview of the Echo CS-400 Vs the Stihl MS 250
In many ways, the Echo CS-400 out-Stihls the Stihl MS 250. What we mean is that we found some of the features on the Echo CS-400 that we expected to find on the MS 250. The first difference you have to consider is that the Echo CS-400 is a bit more technologically advanced than the MS 250.
The Echo CS-400 has more features that will help it run at an optimal level even if it's used a lot. On the other hand, you should consider the fact that the MS 250 is the more powerful saw overall.
Despite their similar weight, size and engine displacement, the Echo CS-400 maxes out at 2.2 HP while the MS 250 delivers 3 HP.

Echo CS-400 Key Features
Pre-Cleaner Air Filter – Larger debris is kept out of the air tank with centrifugal force for longer life.
Adjustable Oiler – You can fine tune the oil output depending on the cutting conditions and bar length.
Inertia Chain Brake – This is a safety feature that will stop the chain if enough inertia is generated by kickback.
Echo CS-400 Common Issues
People who have purchased and used the Echo CS-400 have complained about spark plug issues which affect startup.

Echo CS-400 Pros & Cons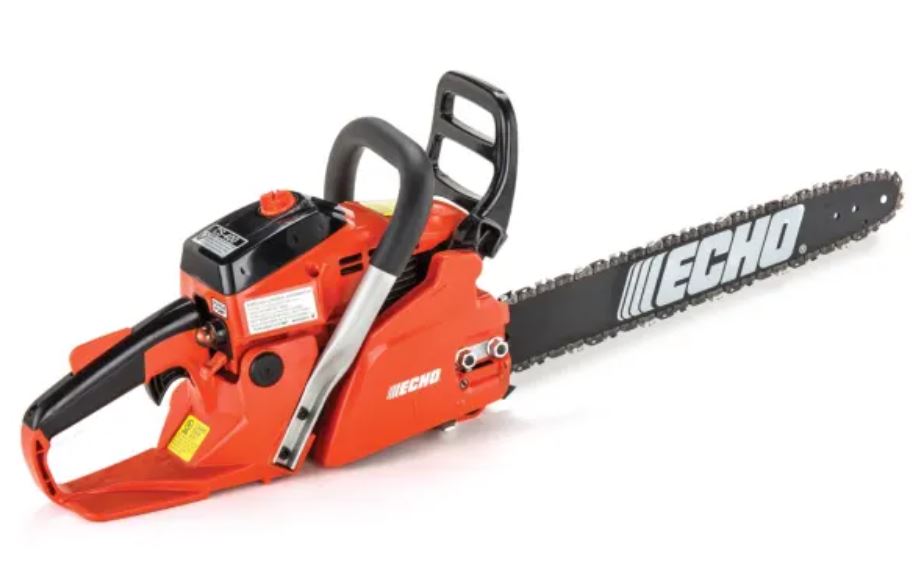 Pros:
Great for residential work
The throttle responds very well
Cuts well through small-diameter oak and sycamore
Easy to start

Cons:
Spark plug issues
Not for commercial use
Stihl MS 250 Key Features
Side Chain Tensioner – A side-access chain tensioner allows you to adjust the slack on the fly – even if you're in the field.
Carburetor Shutter – The carburetor has an adjustable shutter guard to protect it from both hot and cold conditions.
Toolless Air Filter Access – All you need is your hands to unlock the air filter cover – making cleaning and replacing that much quicker.
Stihl MS 250 Common Issues
Most of the problems that users seem to have stem from the ignition system. There have been reports that the Stihl MS 250 is hard to start or won't start at all due to ignition system issues or compression problems.

Stihl MS 250 Pros & Cons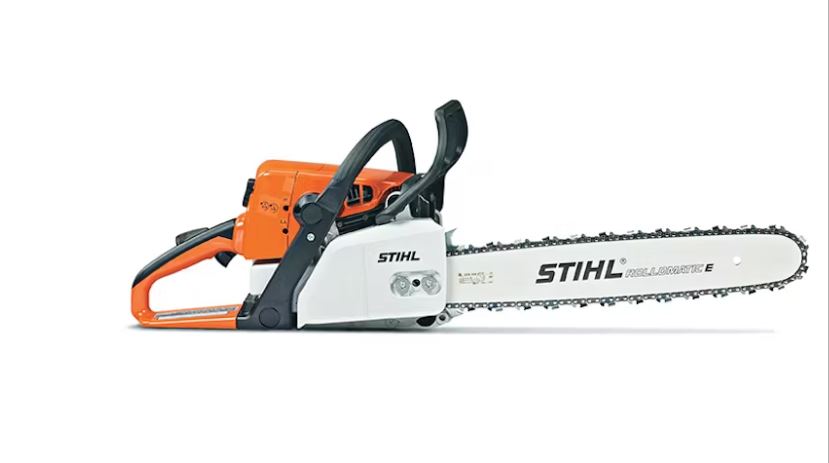 Pros:
More power for the same weight as the Echo CS-400
Good overall weight to power ratio
Should last for a very long time
It has a larger fuel tank than the Echo CS-400

Cons:
It's more expensive than the Echo CS-400
May be difficult to start
Who Should Buy Each?
The Echo CS-400 performs well if you are cutting small-diameter hardwood trees like oak. For the thicker stuff though, we would recommend the Stihl MS 250. It didn't struggle as much with most hardwood species.
Both saws are great for residential storm cleanup, pruning and cutting firewood. However, if you need extra power for cutting hardwood rounds, you should opt for the Stihl MS 250..

Price Comparison
The Echo CS-400 sells directly from the manufacturer for $320. You can also buy the MS 250 straight from Stihl for $400.
 
Weight & Handling Comparison
Amazingly, the powerhead of both of these chainsaws weighs the exact same amount: 10.1 pounds.
However, it should be noted that the fuel tank on the MS 250 is larger than the Echo CS-400. So when you have a full tank, the MS 250 actually weighs more.
Overall though, both of these saws are easy to handle and once you have them in a log, you can use their own weight to advance.
 
Chain & Blade Comparison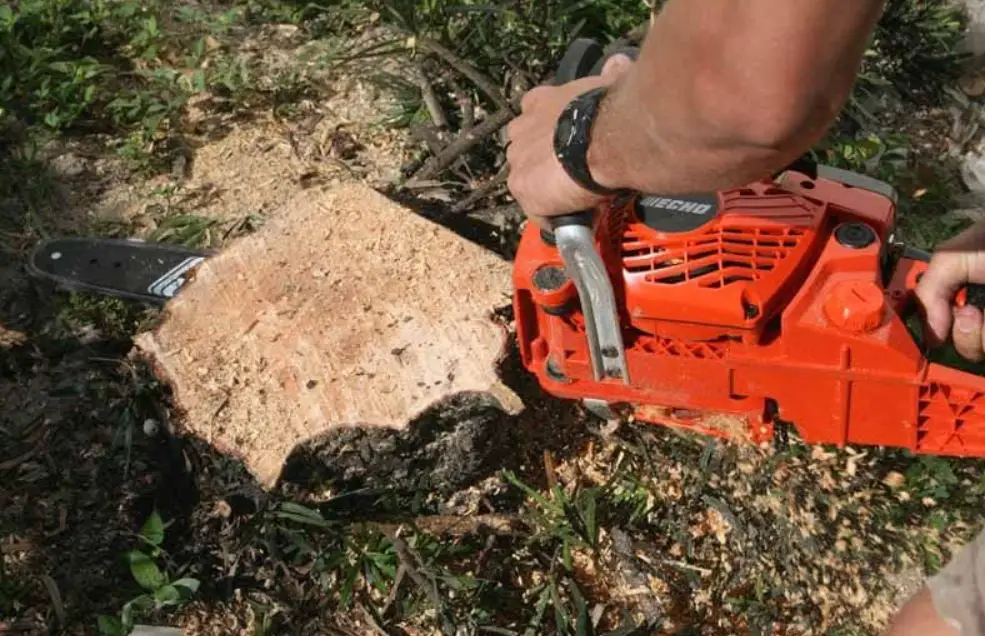 The max recommended bar length for both of these saws is 18". The Stihl MS 250 comes with a .325" RM3 OIlomatic chain but obviously, you can choose a more aggressive chain for it.
 
Power Comparison
The Echo CS-400 features a 40cc, 2.2 HP engine while the MS 250 has a 45cc, 3 HP engine. You can feel the difference when you're cutting through hardwood. The MS 250 kicks back less and it just offers a smoother cutting experience whether you're ripping or cross cutting.
 
Efficiency Comparison
Both of these chainsaws are fairly fuel efficient but the MS 250 has a larger-capacity fuel tank.
 
Durability Comparison
While it seems that these saws are equally durable, keep in mind that they are best used for residential cutting work.

Other Chainsaws to Consider
Prorun PCS214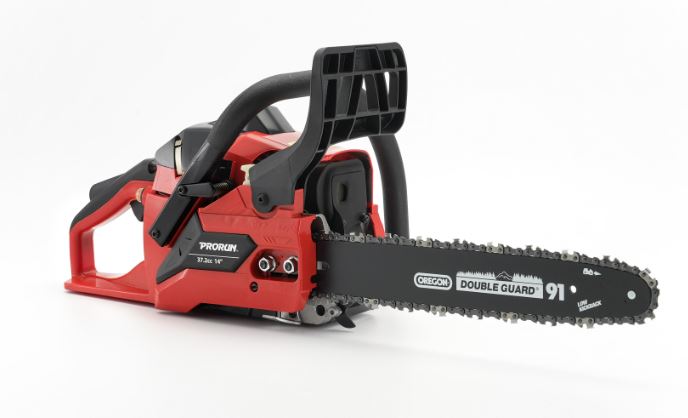 The Prorun PCS214 features a metal crankcase so it holds up well in high RPM conditions. This is a 37.2cc chainsaw with a 14" bar.
Overall Score: 92/100
Check Out More Reviews Here:
Husqvarna 460 Rancher

This is a heavy duty saw with a powerful 60cc engine and a 24" bar. Great for light commercial work.
Overall Score: 96/100
Check Out More Reviews Here:
Stihl 461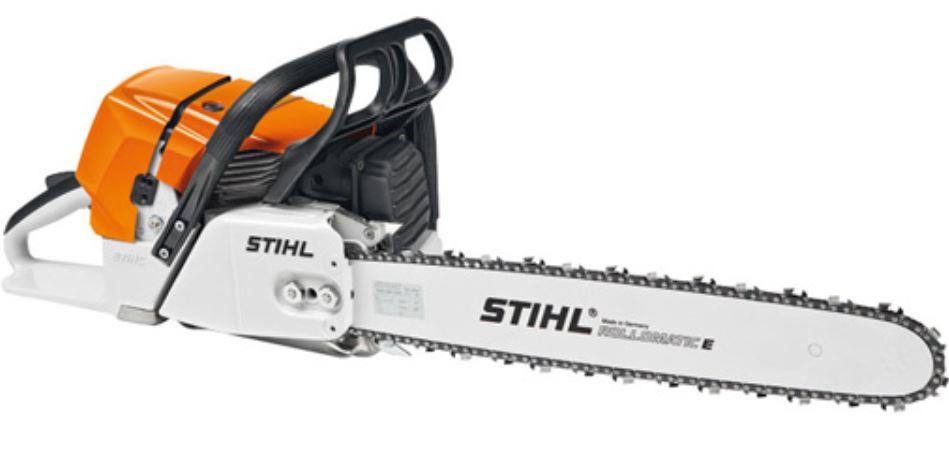 If you need a chainsaw for clearing or forestry work, the 6 HP Stihl 461 would be a solid choice.
Overall Score: 97/100
Check Out More Reviews Here:
Final Assessment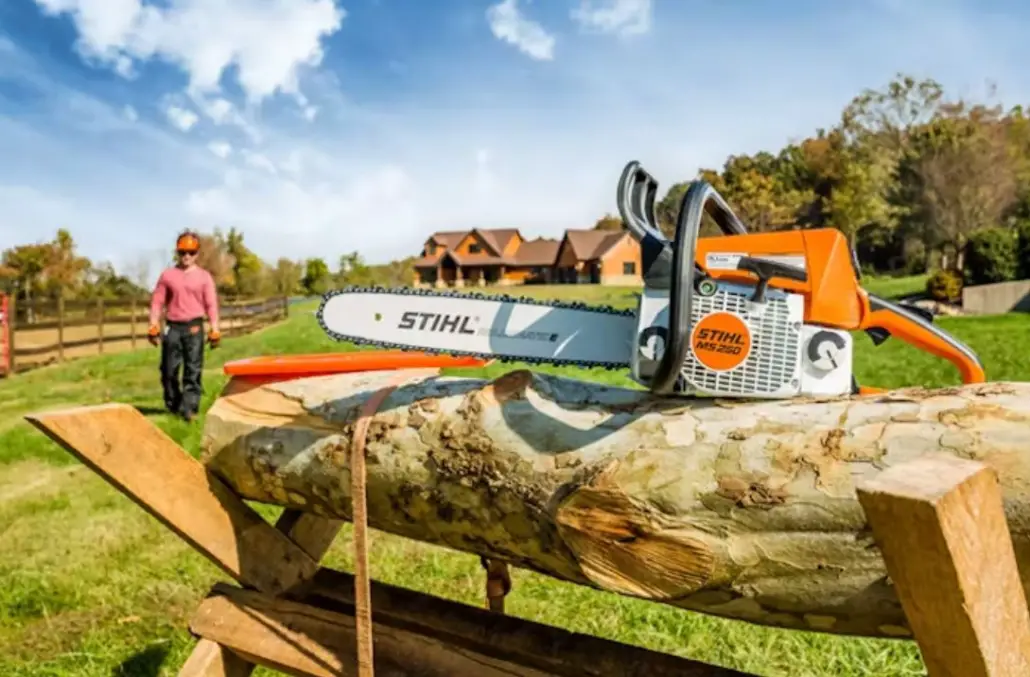 The Stihl MS 250 is suited for larger rounds of hardwood while the Echo CS-400 would be better for light residential work such as cutting through small diameter (about 9" and under) hardwood rounds, firewood processing and delimbing of small trees.
Both have an impressive weight to power ratio but overall, we like the capability https://househomeandgarden.com/wp-admin/post.php?post=5787&action=edit#saveof the Stihl MS 250.