EGO Power+ SNT2112 Peak Power Snow Blower Review – Is It Any Good?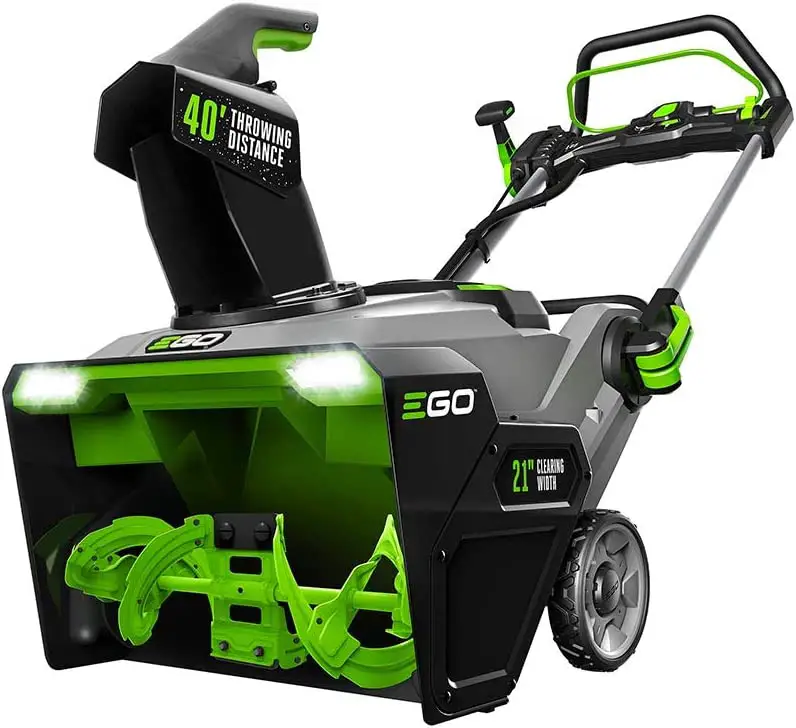 Shoveling snow is physically demanding and time-consuming. If you live in a region where you experience heavy snowfall in the winter, then consider investing in a snow blower.
A popular machine on the market is the EGO Power+ SNT2112 because it's powerful and lasts long on a single charge. You simply need to make sure it's suitable for your specific scenario.
You'll learn all about the EGO Power+ snow blower in our review below. We've provided valuable information on the snow blower's performance, specifications and durability.
And, if you want a machine similar to EGO Power+ then take a look at our alternatives at the end of this review.
Complete Overview
The EGO Power+ snow blower is a battery-operated machine with a high-efficiency brushless motor.
You get variable speed controls so you can choose your pace for removing snow. It also comes with two bright LED headlights so you can remove snow from driveways and walkways at night.
First Impressions
At a glance, the EGO Power+ Peak Power snow blower has a bulky design but it has a comfortable handle height and grip.
Additionally, the handle folds for easy storage. There's also a handle to adjust the chute so you can choose which direction snow will exit the blower.
The EGO Power+ provides all the power of a gas-operated thrower but without the high noise levels and fumes.
Quick Facts Table
| | |
| --- | --- |
| Power type | Battery |
| Maximum throw distance | 40 feet |
| Auger | Steel |
| Clearing Width | 21 inches |
| Speed | Variable |
| Headlights | Two LEDs |
| Handle | Foldable |
Key Features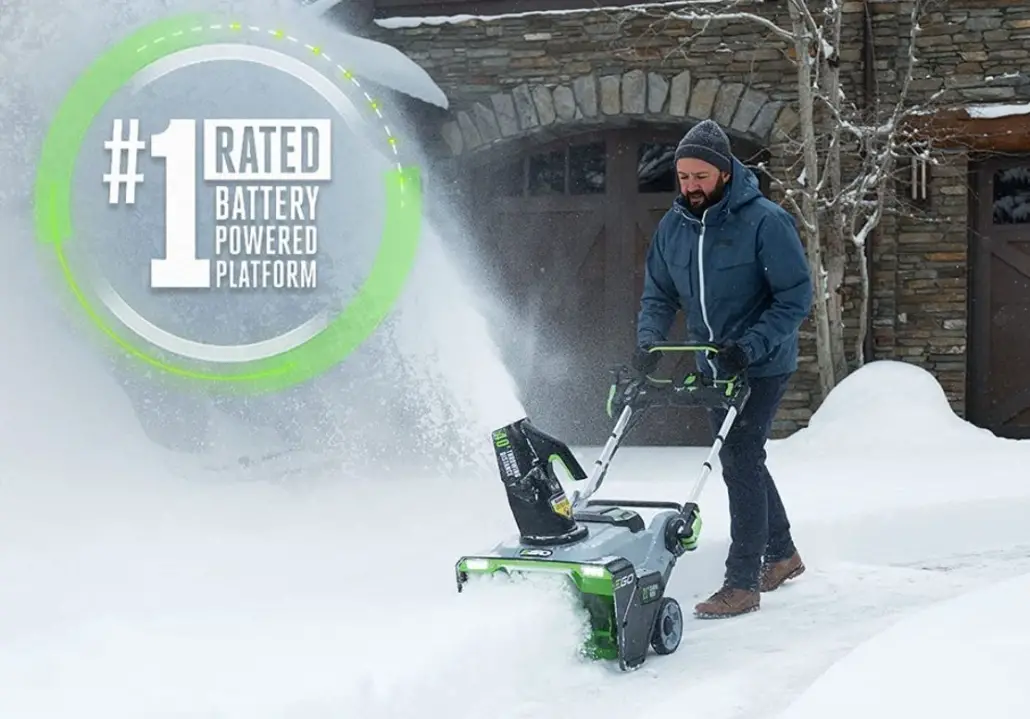 How Does It Perform?
The EGO+ Power SNT2112 snow blower has exceptional performance because it runs on a brushless motor. There is no energy loss due to friction so power remains consistent.
What's more, the steel auger cuts through snow 50% faster than other types such as rubber.
There are speed settings so the auger can run slower or faster depending on how quickly you want to remove snow from your yard and what type of snow you're working on.
How Much Snow Can It Handle
With the steel auger and speed settings you can go through snow that's 18 inches deep and you'll manage up to 12 inches of clearing width.
You can clear snow for as long as your battery lasts, and on average use it can be as much as a 12-car driveway within 40 minutes.
How Loud Is It?
The EGO Power+ SNT2112 snow blower has a noise level of 80dB which is quieter compared to most machines on the market.
So, you can remove snow from your yard, driveway or walkway without disturbing your neighbors.
How Heavy Is it?
A snow blower's weight can be heavy due to all the different, bulky components. The EGO Power+ snow blower weighs approximately 174 pounds which is heavier than many other machines.
However, there is no need to pick it up because it has wheels that allow you to easily push the unit around, from storage to where you use it and back.
Is it Easy to Maneuver?
Since the EGO Power+ Peak Power snow blower has two wheels, you can easily turn the machine and glide over bumpy or sloped grounds.
The comfortable handle allows you to steer the snow blower with very little effort.
What Type of Auger Does It Have?
The reason the EGO Power+ machine can remove snow fast and effectively is due to the steel auger it's equipped with. Choose the auger propeller speed to move snow quicker.
How Long Does the Battery Last?
The machine is powered by two EGO 56V ARC Lithium batteries and you can run your EGO Power+ on full power for up to 40 minutes.
When the battery runs low, a light will flash to indicate that it's time to charge batteries. Recharging batteries can take up to 80 minutes.
How Can You Replace the Battery?
To change or replace your batteries on your Peak Power snow blower, simply lift the battery cover located at the top of your machine.
There are two battery compartments compatible with all sizes and variations of EGO batteries.
Simply line up the grooves on the battery packs to the compartment so you can fit the component into the machine.
EGO Snow Blower Steel Auger vs Rubber
Although rubber augers are affordable, they don't last as long as steel tools. Since you're removing snow from hard surfaces, the rubber auger may wear quicker.
EGO Power's steel augers are rust resistant and won't warp or break.
EGO SNT2112 vs SNT2114
The EGO SNT2114 is also a cordless snow blower powered by 56-volt batteries. However, it comes with skid shoes whereas the SNT2112 doesn't have this feature.
Both snow blowers have similar beneficial features but the SNT2114 is a lighter machine so it's easier to push.
How Long Should it Last Overall – Is it Durable?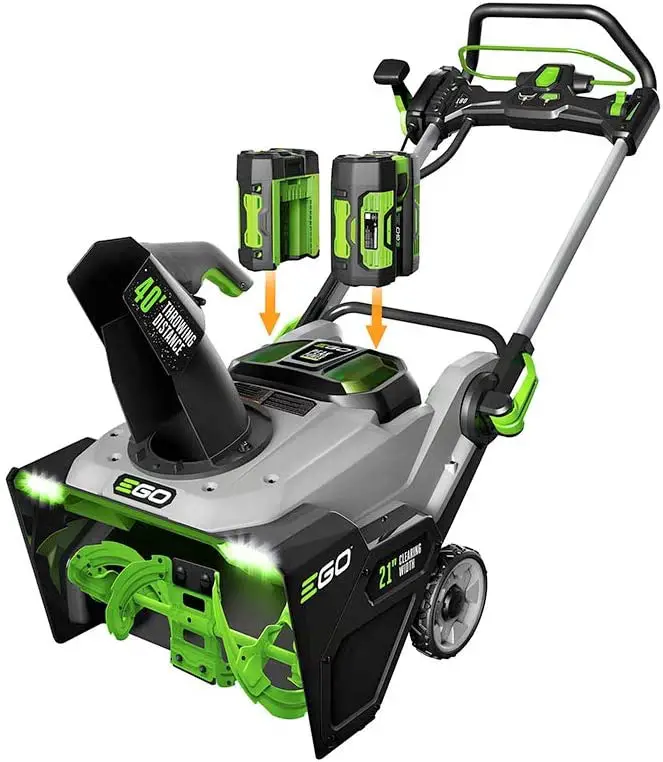 With proper care, your EGO Power+ Peaker snow blower can provide many years of service.
The machine is highly durable because it's made with a combination of hardwearing plastic and steel.
All steel components, including the auger, are rust resistant. You'll be happy to know that the EGO Power+ Peaker snow blower is backed by a 5-year warranty and a 3-year warranty on batteries.
Pros
Excellent performance
Easy to move
Replacing batteries is quick and easy
Lasts for up to 40 minutes
Durable
Cons
May not be suitable for wet snow
Can be difficult to store in small spaces
Who Should Buy It?
The EGO Power+ Peak snow blower is designed for anyone who needs to clear 8 inches of snow on their driveway fast.
It's also suitable for those who want to clear snow at night since it has quality headlights.
Overall Score: 97/100
Check Out More Reviews Here:
3 Other Similar Snowblowers We Like – Mini-Reviews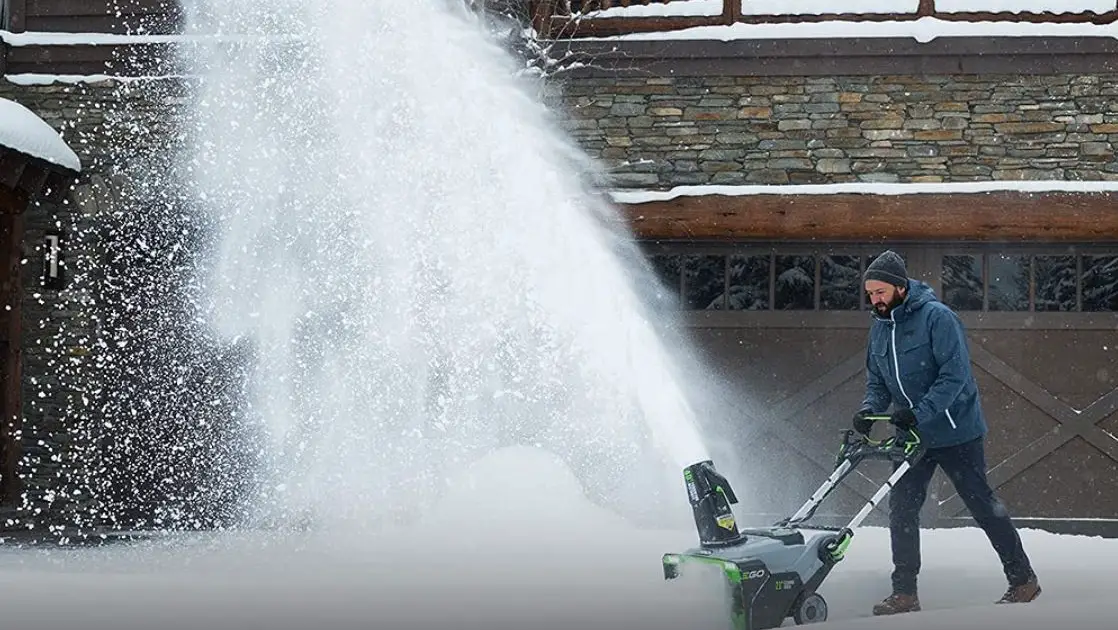 Snapper XD is a compact snow blower that features an 82-volt battery and a brushless motor for consistent power.
The cordless snow blower lasts 75 minutes on a single charge. With the 180° swivel chute, this machine has a snow-throwing distance of up to 20 feet.
Lastly, it can clear snow that's 10 inches deep, making it suitable for light to medium snowfall.
The Snow Joe 24V-X2-SB18 is a cordless snow thrower that's powered by a 48-volt battery. What's more, it has a 1200 W brushless motor that can remove up to 14 tonnes of snow per charge.
The four rubber-tipped can clear paths with 10 inches of snow. There is a 180° adjustable chute that throws snow up to 20 feet away.
If you have a small yard and limited storage space then you may want to consider the Earthwise snow thrower.
It features a 40-volt battery and includes a charger. With this thrower, you can remove snow that's 8 inches deep and it clears 300 pounds of snow per minute.
It has a dual-blade auger and an adjustable chute that can throw snow 30 feet away from your path.
Conclusion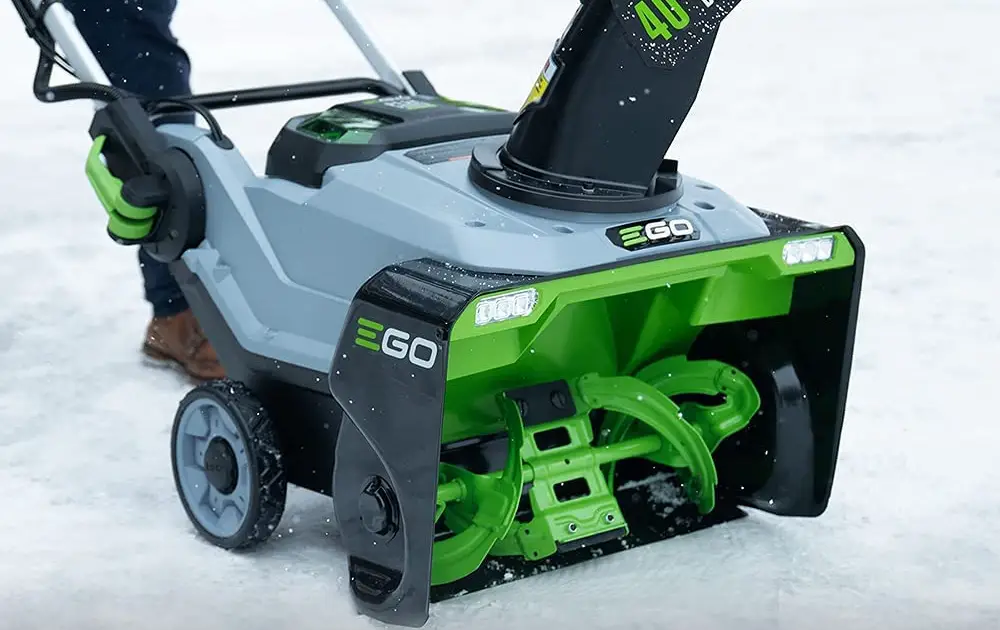 ECO Power+ makes snow blowers that are more environmentally friendly than many of its competitors, since they run on batteries as opposed to gas.
If you're looking for a long-lasting snow blower that can clear walkways and driveways faster then consider getting the ECO Power+ SNT2112.
Use this review to make an informed decision or choose one of our top alternatives.