EGO Power+ SNT2114 21 Inch 56 Volt Peak Power Snow Blower Review – Is It Any Good?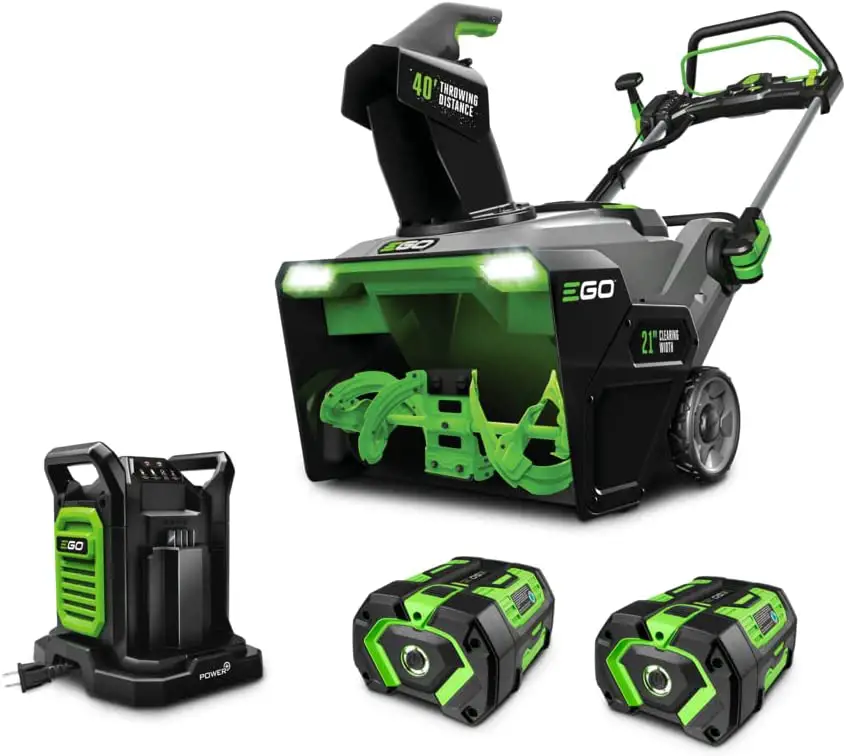 Are you looking for a powerful snow blower that won't break the bank? If yes, then an EGO model may be your solution. The EGO Power+ SNT2114 21-inch 56-volt peak power snow blower is an ideal choice for homeowners who want to get rid of their winter woes.
In this post, we've provided a complete review of the performance of the EGO Power+ SNT2114 and what you can expect from this machine. And, if you want to look for alternatives similar to EGO snow blowers, we've given details on our top three alternative choices at the end of this review.
Complete Overview
The EGO Power+ SNT2114 machine features a powerful motor that delivers superior cutting force and exceptional variable speeds. Its unique design allows it to cut through snow faster than many other models.
First Impressions
What's impressive about the EGO Power+ SNT2114 snow blower is its lightweight and compact design.
This makes it easier to move the machine around the yard. The wheels make it effortless to move over bumpy or sloped grounds. Furthermore, it has a handle length that's comfortable and foldable for easy storage.
Quick Facts Table
| | |
| --- | --- |
| Power type | Battery |
| Maximum throw distance | 40 feet |
| Auger | Steel |
| Clearing Width | 21 inches |
| Speed | Variable |
| Headlights | 2 LED headlights |
| Handle | Foldable, non-heated |
Key Features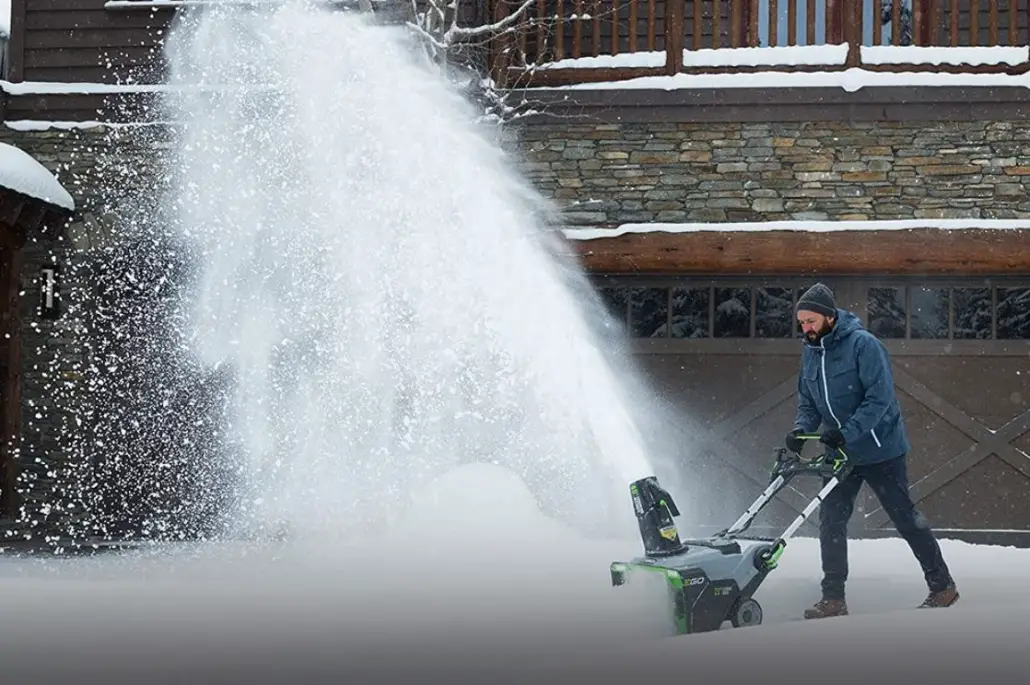 How Does It Perform?
The EGO Power+ SNT2114 snow blower has a high-efficiency digital brushless motor so it will have consistent power throughout the process.
Additionally, the machine is powered by two 56V ARC 7.5 Ah lithium batteries that give you all the performance of a gas snow blower but without the fumes. This snow blower cuts through 8 inches of wet snow up to 50% faster than certain other machines in its category.
How Much Snow Can It Handle?
To remove snow quickly from yards, walkways and driveways you need a machine that's wide enough.
The EGO Power+ SNT2114 has a clearing width of 21 inches and it can remove snow up to 8 inches deep. In practice, this means, in average conditions, it can clear away snow on a 14-car driveway on a single charge.
How Loud Is It?
Since the EGO Power+ SNT2114 is a battery-powered snow blower it's quieter compared to gas-operated machines. Therefore, you can work early in the morning and neighbors won't necessarily e bothered.
How Heavy Is it?
The weight of a snow blower is important because you don't want it to be too heavy to move or so bulky that it hurst your back from too much strain.
This EGO Power+ machine weighs around 143 pounds without the battery so it is on the heavy side. However, the wheels on the machine make it easier for you to push it around.
Is it Easy to Maneuver?
Although the EGO Power+ SNT2114 has wheels it can be difficult to turn sharply because the wheels only allow you to go in a straight line.
You have to physically turn the machine which can get a bit frustrating. Overall, the SNT2114 snow blower moves easily over all sorts of driveways and terrain, including concrete and brick.
What Type of Auger Does It Have?
Ideally, you want a snow blower with an auger that's durable and able to cut through wet and dry snow.
The EGO Power+ SNT2114 snow blower has a high-grade steel auger that's weather resistant. It won't rust or warp no matter what type of snow you're clearing.
How Long Does the Battery Last?
The EGO Power+ SNT2114 snow blower operates on two batteries which last around 40 minutes per charge—in premium conditions.
There will be a flashing light that indicates when the battery is starting to go flat. You'll then have to take the batteries out to charge them. It may take up to 80 minutes for the batteries to fully charge.
How Can You Replace the Battery?
EGO makes it easy for users to change their batteries. There is a battery port on top of the snow blower.
Simply lift the safety flap to remove your flat batteries and replace them with charged ones. Align the grooves of the battery to the lines of the port and push down until you hear a click.
Ego Snow Blower Steel Auger vs Rubber
The EGO company makes both rubber and steel augers. If you're removing snow off of decks or decorative walkways then you may want a snow blower with a rubber auger.
This prevents the machine from leaving deep scratches on the surface. Use a snow blower with a steel auger for concrete floors.
EGO SNT2114 vs SNT2103
EGO makes a range of snow blowers and another popular choice is the SNT2103.
This snow blower can clear a 16-car driveway and it has a rubber-tipped metal auger to prevent damage to your floors. The only downside is that the SNT2013 throws snow at 35 feet as opposed to the SNT2114's 40 feet.
How Long Should It Last Overall? – Is It Durable?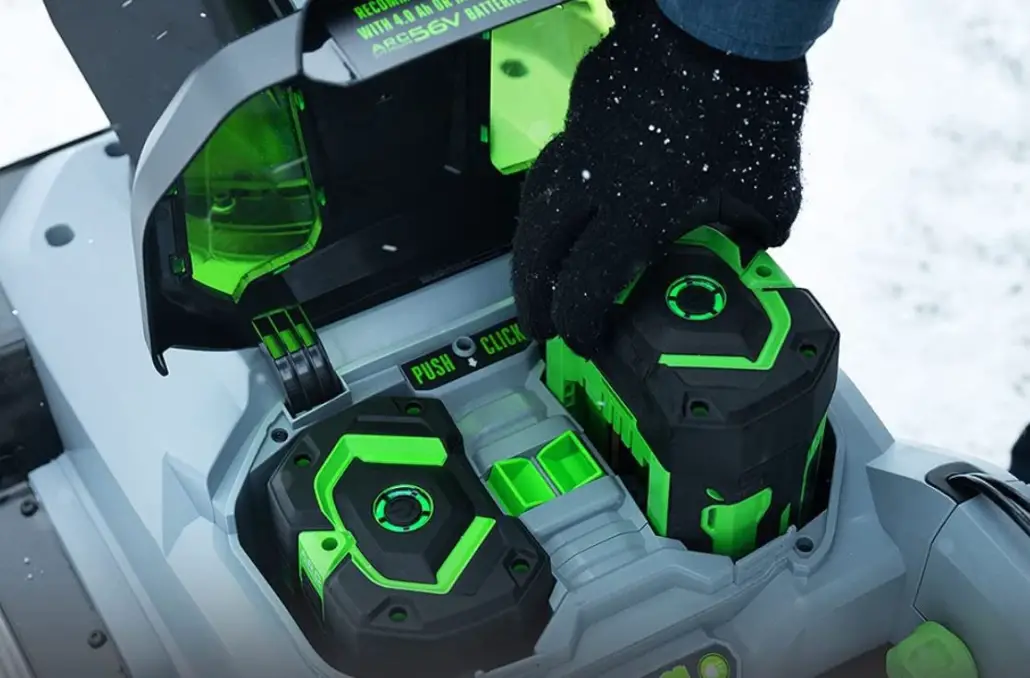 The EGO Power+ SNT2114 snow blower is manufactured with high-grade weather-resistant materials. Most of the exterior is made from durable hardwearing plastic.
All metal components are rust resistant. To give you peace of mind your SNT2114 comes with a 5-year warranty and a 3-year warranty on batteries.
Pros
Excellent performance
Batteries last long
Clears snow fast on a single charge
Easy operation
Cons
Can be difficult to manoeuvre
Replacing batteries is expensive
Who Should Buy It?
If you have a large driveway and need an easy snow thrower to operate then EGO Power+ SNT2114 is a suitable machine for you. It has a wide 21-inch width so it can clear pathways fast. You don't have to be tech-savvy to operate the machine. Simply push the button and it'll start.
Overall Score Out Of 100
98/100
3 Other Similar Snowblowers We Like – Mini-Reviews
With no gas, oil or tune-ups, starting and maintaining the PowerSmart is easy. It runs for about 45 minutes on a fully charged battery and can clear a 12-car driveway covered in 8 inches of snow. It has a 21-inch clearing width and works on a robust steel auger. The 180° adjustable chute throws snow at 40 feet away.
The Greenworks Pro operates on an 80-volt battery and runs for 45 minutes on a single charge. It has a brushless motor that provides consistent power throughout the snow removal process.
Additionally, it has a 20-inch clearing path and can remove snow up to 10 inches deep.
Snow Joe makes various types of throwers but the 24V-SS10 is designed for small decks and sidewalks. It runs on a 24-volt battery that provides up to 25 minutes of run time.
The clearing width is a compact 10 inches and can remove snow 6 inches deep. This machine can throw snow up to 20 feet thanks to the double-blade paddle auger.
Overall Conclusion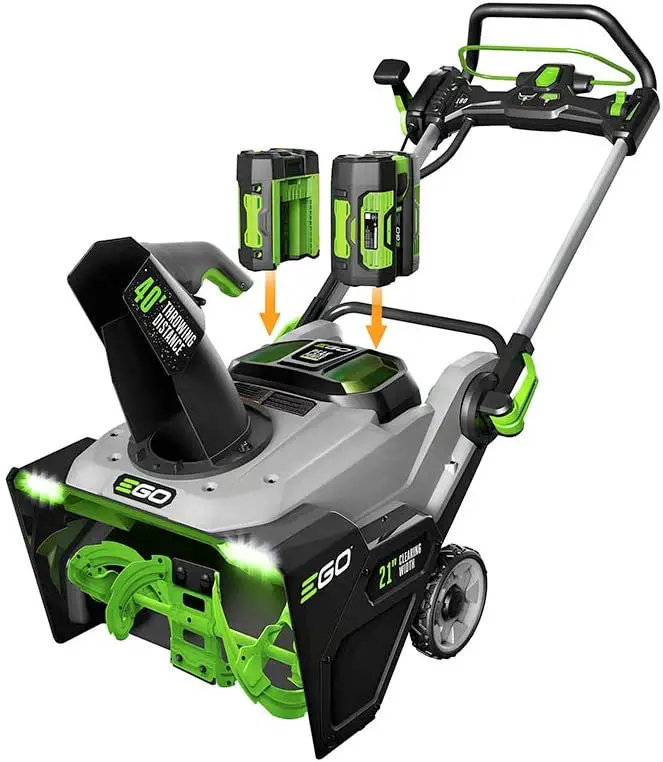 The EGO Power+ SNT2114 cordless snow blower is designed to make clearing snow from driveways and sidewalks fast and efficient.
It comes equipped with a variable speed auger that easily clears snow and throws it up to 40 feet away. Most importantly it's easy to operate and it's affordable.
Use this review to make an informed decision about the EGO Power+ SNT4112 or choose one of our top alternatives.