EGO Power+ SNT2114 Peak Power 21-Inch 56-Volt Cordless Snow Blower Review – Is It Any Good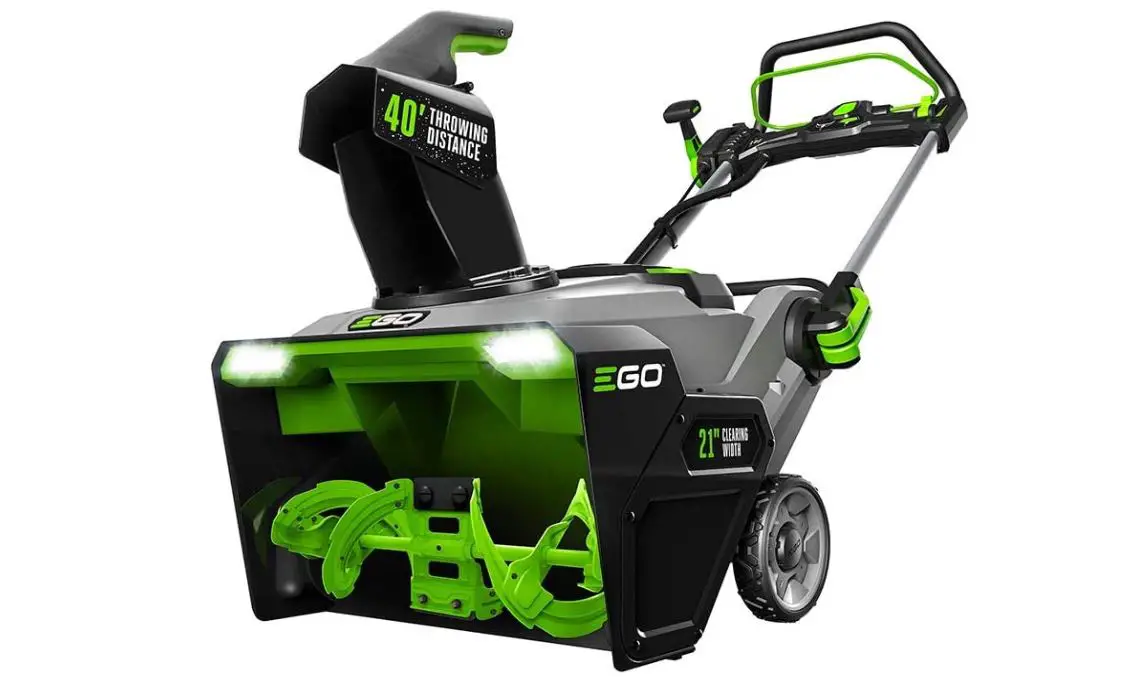 The EGO Power+ cordless snow blower is a single-stage snow blower that is powered by two 7.5Ah lithium batteries.
It is one of the best battery-powered snow blowers on the market due to its lightweight and easy-to-use design. It comes with a steel auger that makes clearing show easier and it is able to blow snow up to 12 meters. 
There are lots of snow blowers on the market and none of them are cheap, so it is important to understand what makes a good snow blower so that you invest in the right machine.
The rest of this review will look at all the most important aspects of the EGO SNT2114. 
First Impressions
The first impression of the EGO Power+ SNT2114 is that it is a very competitive option on the market.
It is a lightweight, single-stage, battery-powered snow blower that is able to clear moderate snowfall without any trouble. The batteries are easy to recharge, the functions are easy to adjust, and it is easy to clean. 
It is a well-designed machine by a company that manufactures some of the best battery-powered tools on the market. 
Key Features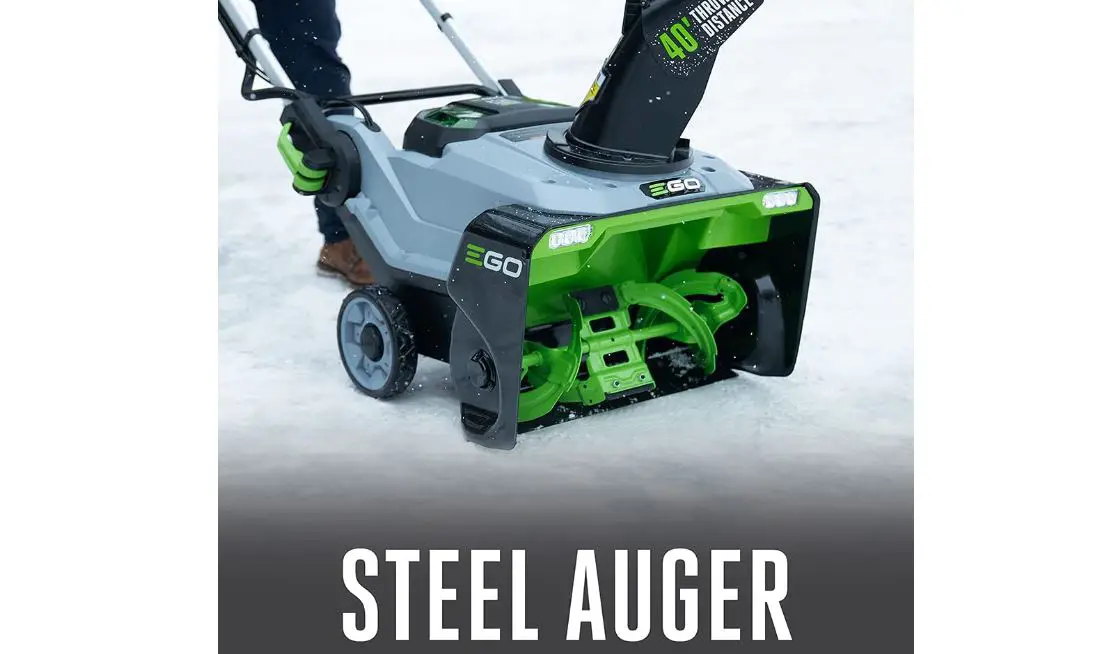 Steel Auger
With a steel auger, it is possible to break up thick snow quickly and easily. Even snow that has become wet and icy is still easy to break apart and remove with the steel auger. EGO states that the steel auger works 50% faster compared to rubber. 
12 Meter Throwing Distance
With the 12-meter throwing distance, you are able to move snow far away from the area that you are cleaning. The snowblower also has an adjustable head so you can easily adjust it to blow snow in a different direction. 
Powered By 2 Batteries
EGO uses their peak power technology to combine any two EGO ARC Lithium batteries. The combined battery power gives increased power and increased battery life. You are also able to easily replace batteries if needed. With this battery capacity, the snow blower can clear a 14-car driveway of 20cm of snow. 
Weather Resistant
The SNT2114 has a heavy-duty design with multiple steel parts that make it as weather resistant as possible. You do not have to worry about using the snow blower in the middle of a snow storm. It will stand up to the task. 
How Does it Perform?
Overall, the EGO SNT2114 performs very well. It is able to quickly and efficiently remove snow without any issues.
As with most single-stage snow blowers, it performs at its best when the snow is not too thick or too wet.
If the snow gets up to 30cm or 40cm, it will become more difficult to clear, but it is still able to do it with a bit of extra effort. 
In this video, you can see how the EGO SNT2114 performs in action. 
How Much Snow Can It Handle?
The EGO SNT2114 is a single-stage snow blower so anything less than 20cm of snow is easy to clear.
When the snow gets thicker than that, it is still possible to clear it but it takes more effort. 
If you regularly have more than 30cm of snow, it is better to get a two-stage snow blower. The Spruce further compares single-stage and two-stage snow blowers. 
How Loud Is It?
It is not very loud, it is similar to the average lawnmower. 
How Heavy Is It?
As described by EGO, the SNT2114 weighs 40kg. 
The steel auger adds some weight compared to older models, but the overall design is still lightweight and easy to use. 
Is It Easy To Maneuver?
The main design feature is that it is easy to use and easy to maneuver.
The machine is lightweight due to many of the parts being plastic, this makes it easy for almost anyone to maneuver around. 
Naturally, thicker snow will make it more difficult to maneuver, especially because it has a lightweight design. 
How Durable Is It?
All EGO products are made as durable as possible while still keeping the price and the weight as manageable as possible.
The SNT2114 comes with a steel auger which makes it more durable compared to previous EGO models. 
What Type Of Auger Does It Have?
As mentioned above, it comes with a steel auger.
This is the biggest upgrade of this model compared to previous EGO models. Previous models came with a rubber auger. 
The steel auger makes it possible to cut through ice and snow up to 50% faster, according to EGO. 
How Long Does The Battery Last?
You will receive 2 EGO 56V 7.5 Ah ARC Lithium batteries with your EGO snow blower.
How long the batteries will last depends on how hard the motor has to work, the speed of the auger, and the duration of use.
Overall, it is able to clear 20cm of snow from a 14-car driveway before the batteries get low. 
How Can You Replace The Battery?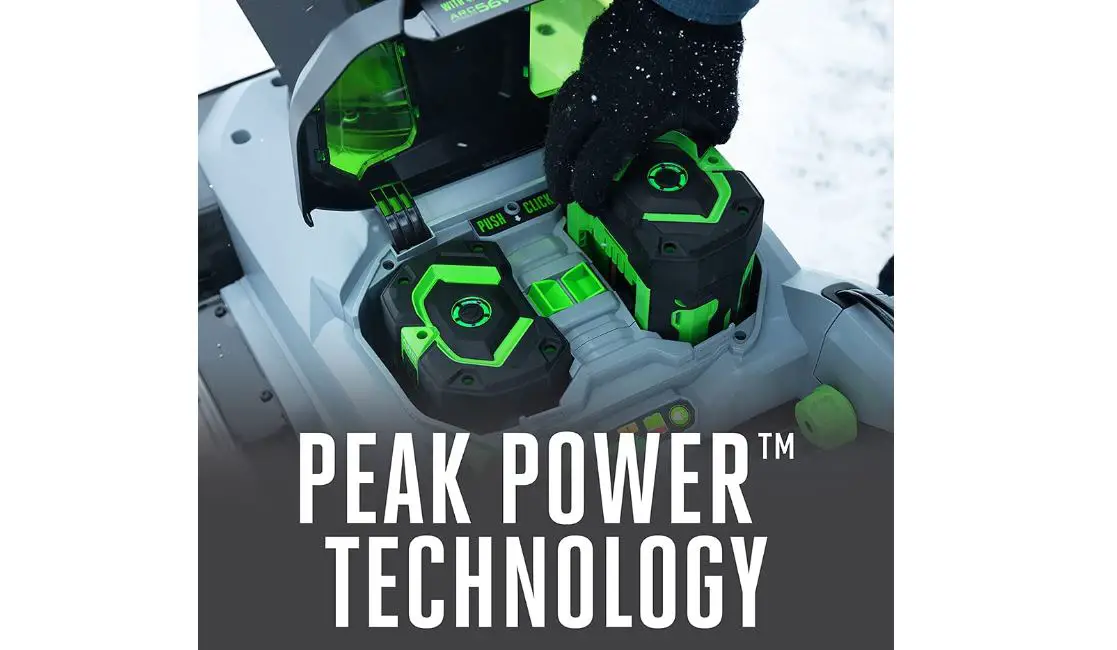 The EGO batteries are interchangeable between EGO products.
The batteries are easy to remove, quick to charge, and can be replaced without any hassle. Charging the batteries can take as little as 30min. 
EGO Snow Blower Steel Auger vs Rubber Auger
Most EGO snow blower models before the SNT2114 came with a rubber auger.
This made the machine cheaper and more lightweight. The steel auger, however, makes it stronger and more durable. With the steel auger, you can cut through snow and ice much faster. 
EGO SNT2114 vs SNT2112
The main difference between the SNT2114 and the SNT2112 is the number of batteries required.
The SNT2114 comes with two 7.5Ah batteries and the SNT2112 comes with only 1 5Ah battery. Batteries come included so that makes the SNT2114 more expensive. 
Here Consumer Reports also take a deeper look at the SNT2114. 
EGO SNT2114 vs SNT2400
The main difference between these 2 models is that the SNT2114 is a single-stage snowblower and the SNT2400 is a two-stage snowblower.
The single-stage machine uses only one part to pick up the snow and propel it away. The two-stage machine on the other hand uses the auger to pick up the snow and then uses another element to propel the snow away. This increases the depth of snow that can be cleared. 
Gadgets Reviews takes a further look at more EGO snowblower models. 
How Long Should It Last Overall – Is It Durable?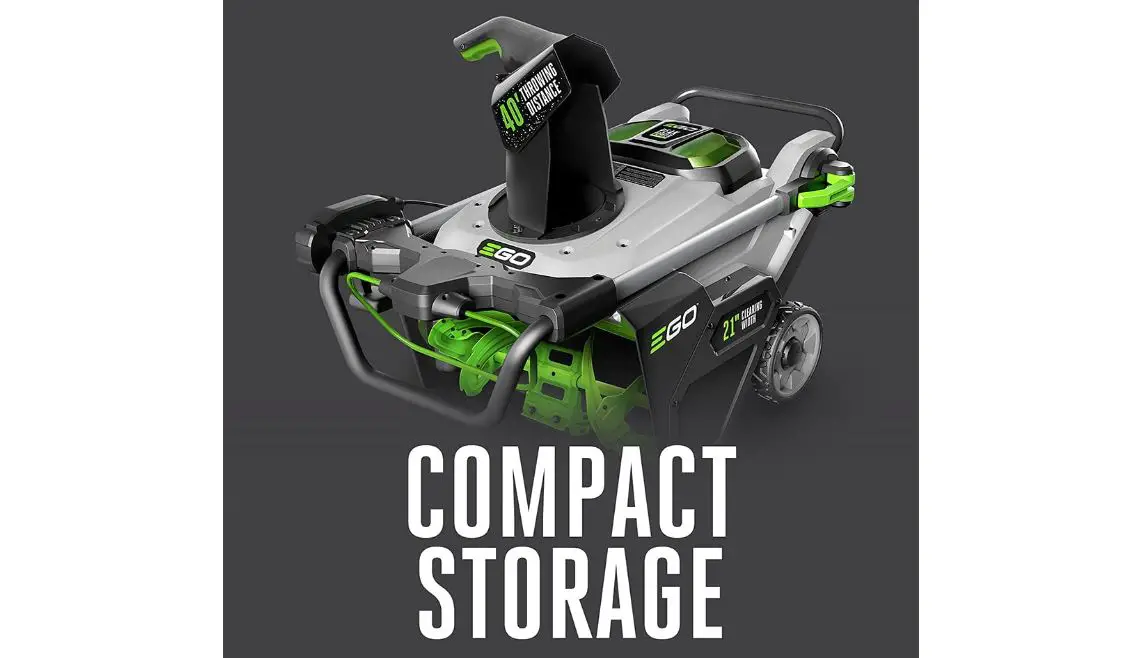 A snowblower is a big machine that comes with a hefty price tag.
When you buy one, you want to make sure that it is durable and that it will last for a long time. 
The EGO brand has proven itself as a quality manufacturer that provides durable equipment. The SNT2114 is no different, you will have this snow blower for many seasons to come. 
Pros
Steel Auger
The steel auger makes it much easier to clear snow as it cuts through the snow without a problem. With a steel auger, you can clear snow and ice up to 50% faster. 
Adjustable Auger Speed
Close to the handle of the snowblower, there is an adjustable lever that adjusts the auger speed. This is great for working in different conditions. 
Cons
Plastic cover
Although the plastic cover does serve a purpose, it also makes the machine a bit less durable. Especially the bottom part the slides over the surface will deteriorate over time. 
Efficiency
There are some issues with the efficiency when the snow gets a bit thicker. In the Amazon customer reviews, you will find a few complaints about this. 
Who Should Buy It?
Any homeowner who regularly gets snow at their home and wants to clear that driveway and pathways. It is an easy-to-use machine that works great for removing a bit of snow every day.  
Overall Score Out Of 100
85 out of 100 
3 Other Similar Snowblowers We Like
Honda HSS928AAT
The Honda HSS928AAT is a top-of-the-range snowblower with incredible power. It will easily clear the heaviest snowfall. The power and quality do not come cheap. 
You can find it directly from Honda. 
Troy-Bilt Squall 208XP
The Troy-Bilt Squall 208XP is another easy-to-use and lightweight option that will not break your bank. It is best suited for light or moderate snowfall. These models are US-built. This is a great alternative to the EGO snowblower. 
Cub Cadet 2X-26″
When you are looking for a two-stage snowblower to clear thicker snowfall, this is a great option. It is a gas-powered machine so it is more powerful, but also on the heavier side. When you have a larger property or thicker snowfall, this is a great option. 
Conclusion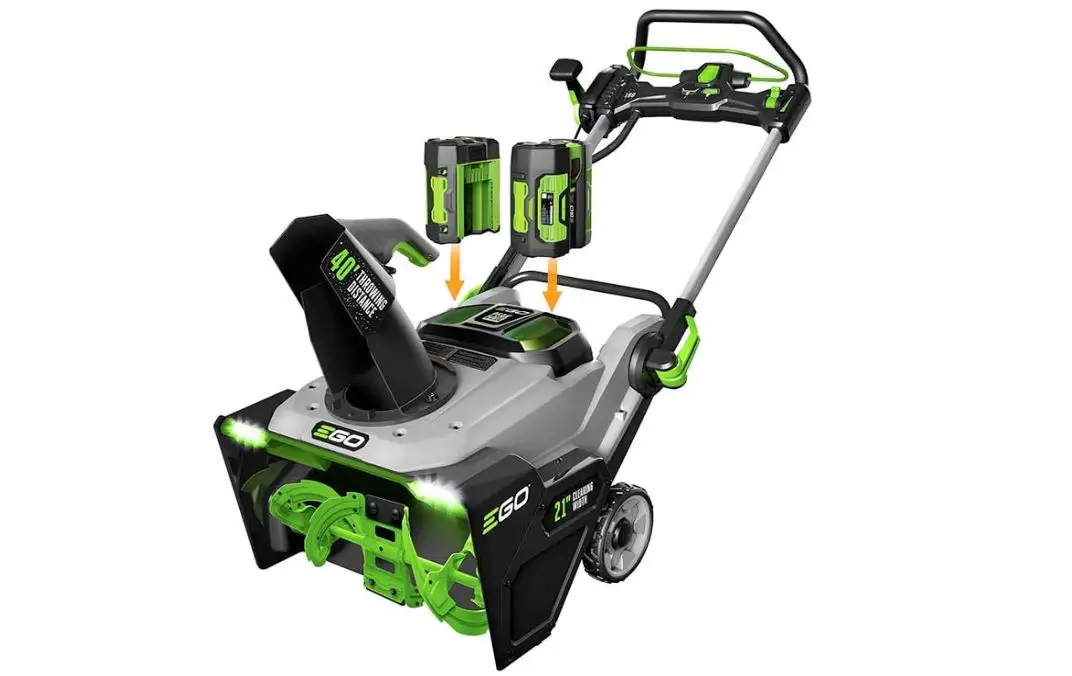 Towards to end of this review article, we hope that you have a clear understanding of what makes a good snow blower and where the EGO SNT2114 falls on that spectrum.
We took a look at all pros and cons of this machine, we answered all the frequently asked questions, and we discusses all the key features that make this a good tool to have. 
Making a good purchase that will suit your needs is important to use, so feel to reach out or follow some of the links provided to get more info.