Snow Joe SJ623E 18-Inch 15-Amp Electric Single Stage Snow Thrower Review – Is It Any Good?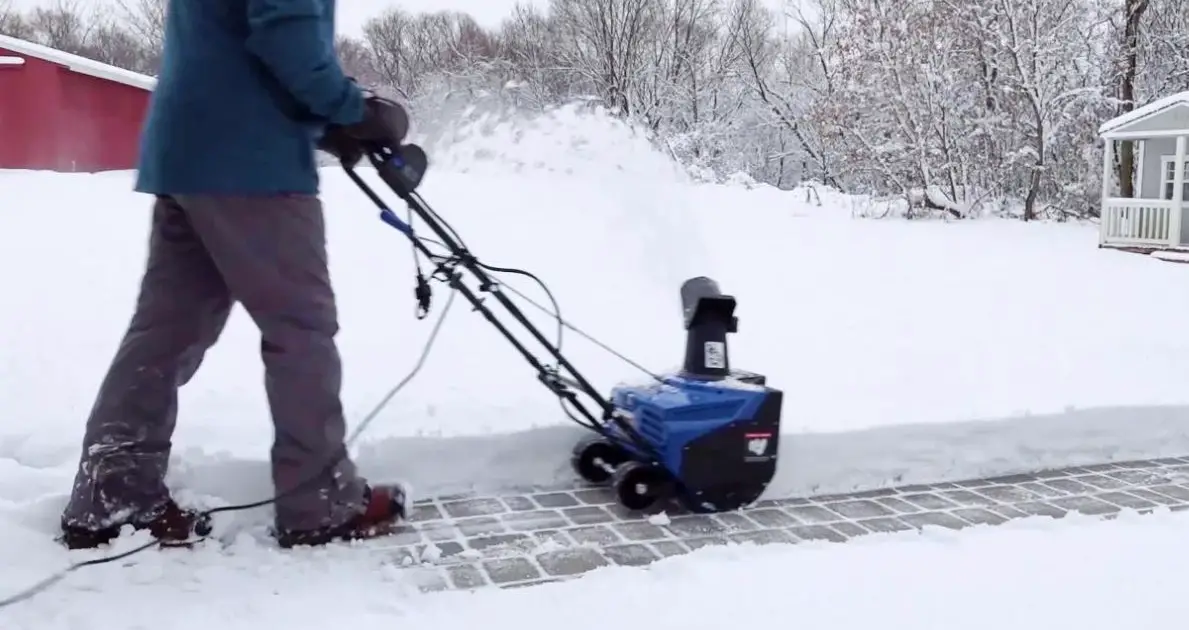 Trying to remove snow from your driveway or walkway can take up a lot of time. Some people wake up hours before going to work or dropping kids off at school simply to shovel snow out of their driveway. To save yourself the hassle, is it worth considering getting the Snow Joe SJ623E single snow thrower?
With the convenience of Snow Joe, you can remove snow from your yard, driveway and walkway within minutes, saving you time each day. But how well does this snow thrower perform? Find out by reading our extensive review on the product, plus mini reviews on similar snow throwers.
Complete Overview
The Snow Joe Ultra SJ623E is an impressive snow remover with a powerful motor and glide wheels to make it easy to manoeuvre. It offers exceptional value to homeowners because of its easy controls, durable construction and its ability to scrape snow clear off the ground. This snow thrower also comes with a chute cleaner for easy maintenance.
First Impressions
Snow Joe manufactures high-quality snow throwers and the Ultra SJ623E is no exception. One impressive feature is the onboard 20 W halogen headlight that allows you to work effectively and safely clearing paths in low-light conditions. It has a similar construction to a lawnmower with handles that provide a comfortable grip.
Quick Facts Table
| | |
| --- | --- |
| Motor Amperage | 15 |
| Gross Weight (lb) | 39.5 |
| Headlight | 20-Watt Halogen |
| Load Speed (rpm) | 2450 |
| Throw Distance (ft.) | 25 |
| Auger Diameter (in.) | 10 |
| Clearing Tool Included | Yes |
| Sound Power Level | 100 dB |
Key Features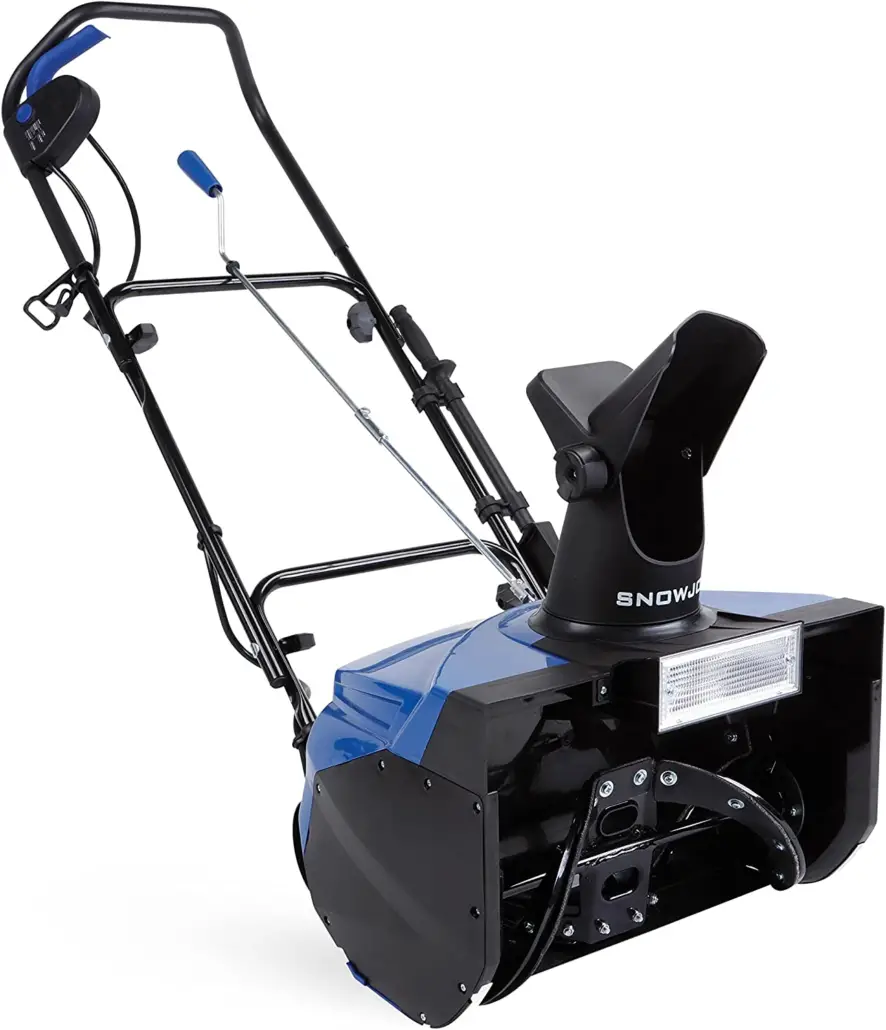 How Does It Perform?
The Snow Joe Ultra SJ623E is an electric machine so you can simply plug it in and get going. Once plugged in, the 15-amp single stage motor gathers snow and tosses it out the chute in one single motion.
The chute dispels snow up to 25ft. This snow thrower provides the performance of a gas machine with the convenience of electric power. It also has a load speed of 2450 rpm which allows you to remove snow faster compared to other similar snow throwers.
How Much Snow Can It Handle?
Another reason why the Snow Joe Ultra SJ623E is impressive is how much snow it removes per hour. This machine allows you to move up to 720lb of snow per minute or 21t per hour. You can also cut a path through snow that's 18 inches wide and 10 inches deep.
How Loud Is It?
One aspect of a snow thrower to consider is the noise level it makes. You don't want to disturb all the neighbors while you work, right? The Snow Joe Ultra produces a noise level of 100dB which is considered standard for this type of unit.
How Heavy?
A snow thrower shouldn't be too heavy or light. It must have the perfect balance for easy manoeuvrability. The gross weight of the Joe Snow single-stage snow thrower is 39.5lb which makes it light enough to move and weighty enough to handle heavy snow.
Is it Easy to Manoeuvre?
To make it easier for you to move your Snow Joe, it comes with compact 2.5-inch wheels so you can glide over sidewalks and driveways. Additionally, the wheels make it easy for you to make sharp turns on slopes or bumpy terrain.
What Type of Auger Does It Have?
To cut through the snow you'll need a unit with a hardwearing auger. The Snow Joe Ultra SJ623E has a 4-blade rotor, constructed of heavy-grade steel. It also has a scraper blade at the base, that removes snow clear from the ground without scraping and damaging your sidewalks or driveway.
Snow Joe SJ623E vs SJ625E
The Snow Joe SJ623E is slightly more expensive than the SJ625E because it has more impressive features. Snow Joe's SJ623E features a 4-blade auger whereas the SJ625E has one auger with two rubber blades.
The chute on the SJ623E can throw snow up to 25ft but the SJ625E can only throw 20ft. On the other hand, the SJ625E has more ploughing capacity and can remove 800lb of snow per minute as opposed to 720lb.
How Long Should It Last Overall – Is It Durable?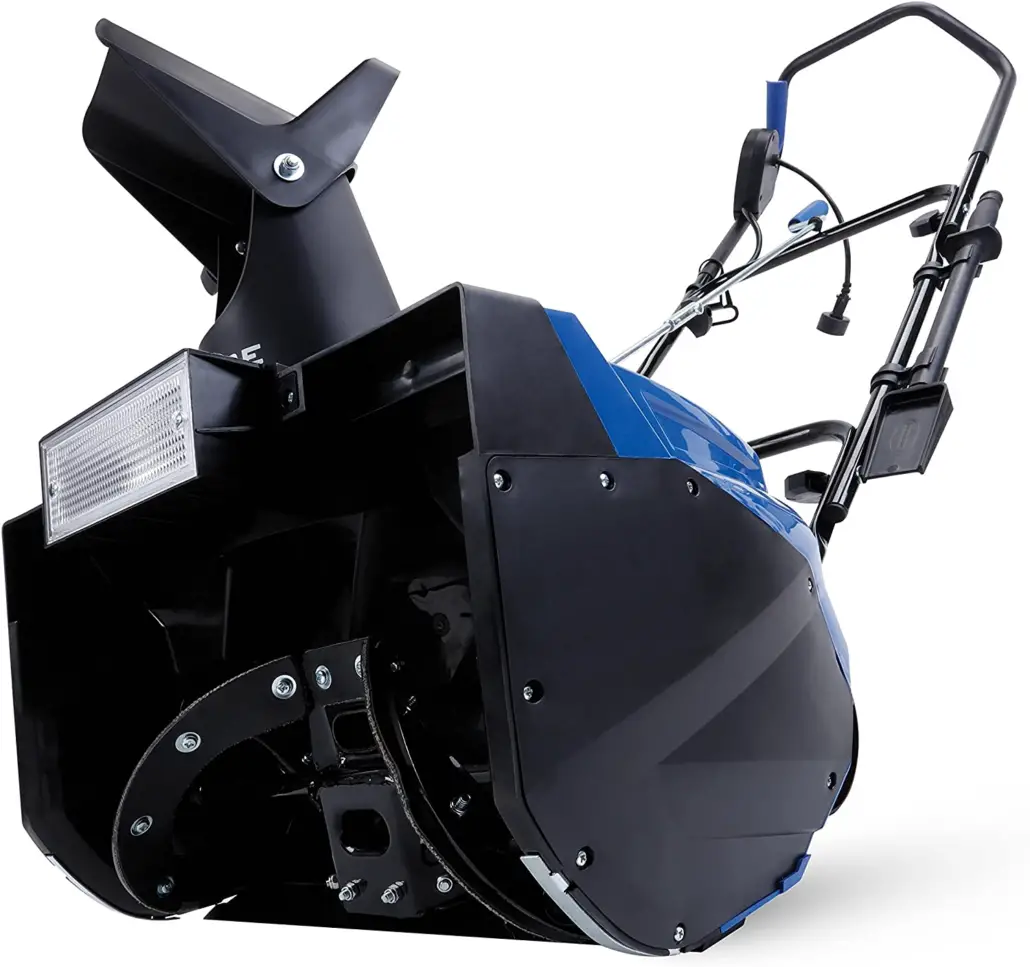 The electric Snow Joe Ultra has an incredibly durable construction and has a combination of hardwearing plastic and steel components. All steel components such as the bolts and handles are rust resistant so you know your snow thrower will last a considerable time. To give you peace of mind, the Snow Joe Ultra comes with a 2-year warranty.
Pros
Easy to move
Comes with an adjustable chute
Wide clearing path
Powerful motor
Durable augers
Long cord length
Cons
Handle can't be adjusted
Doesn't have a service center
Who Should Buy It?
Anyone who lives in an area where they experience heavy snowfall during winter will benefit from the Snow Joe Ultra SJ623E. It's also easy for people to use that don't have experience with ploughing snow.
Overall Score: 98/100
Check Out More Reviews Here:
3 Other Similar Snowblowers We Like – Mini-Reviews
The Troy-Bilt Squall is a 208cc electric snow thrower with a 4-cycle engine that provides exceptional power. It's able to clear walkways with snow of 21 inches wide and 13 inches deep. The chute is easy to adjust so the snow can shoot in a direction of your choosing.
Toro's SnowMaster 724 QXE has a 212cc single gas motor and can handle up to 12 inches of wet snow. You can rotate the chute at a 260° angle so snow can shoot in the direction you choose. It has a durable 10-inch 2-stage auger that can clear 18 inches of snow.
The EGO Power+SNT2100 is a 56-volt cordless snow blower that has a brushless motor. It has variable speed controls so you can choose to clear snow faster or at a pace that suits you. The snow blower can clear 21 inches of snow and shoot it 35 feet away. Lastly, it has LED headlights so you can clear snow in low-light conditions.
Overall Conclusion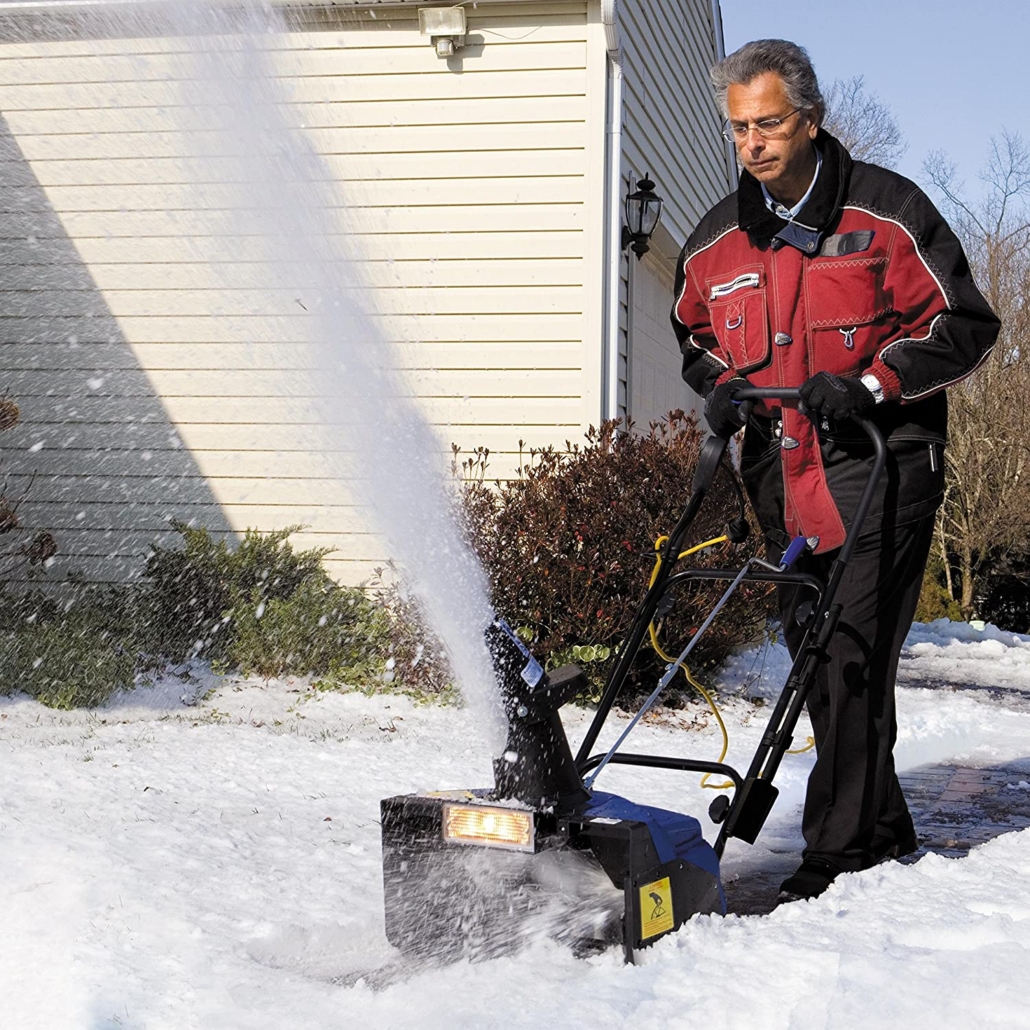 The Snow Joe single-stage snow thrower is an affordable machine that is powerful enough to move 21 tons of snow an hour. What's more, it clears snow completely without damaging the ground thanks to the scraper blade.
If you're looking for a snow thrower that's eco-friendly, low maintenance and clears paths quickly, you'll experience many years of convenient service from your Snow Joe!