Fox Run White Marble Rolling Pin With Wooden Cradle Review – Is It Worth Buying?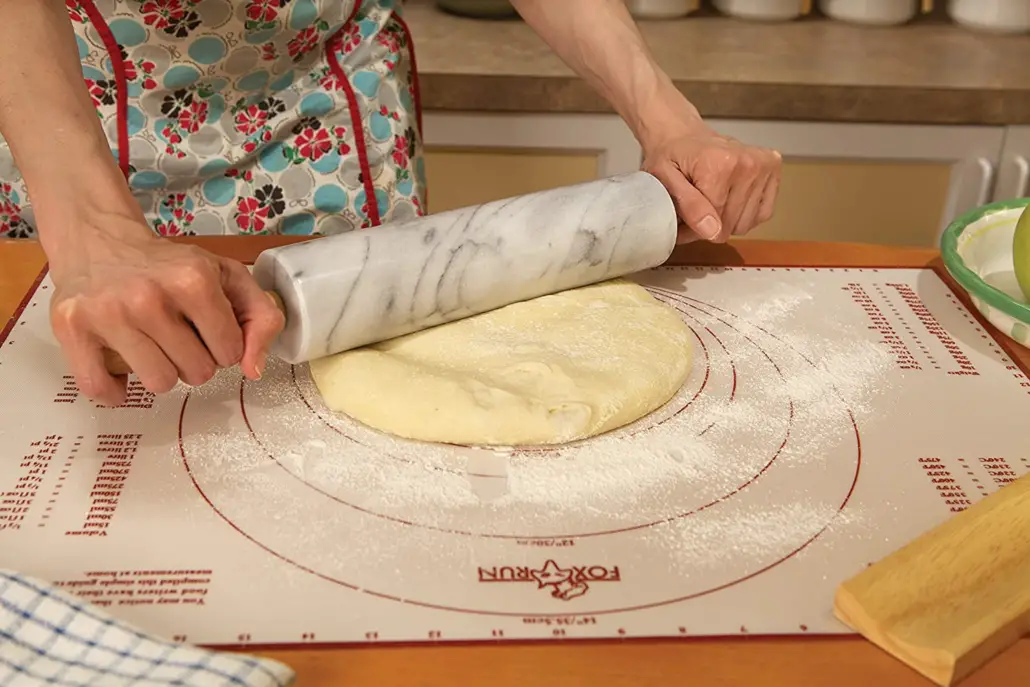 Marble rolling pins are a great choice because they are non-porous and add an elegant look to your kitchen. Let's check out the best overall choice.
Selling Points:
Long cradle
10 inch barrel
4.6 pounds
In 50 Words or Less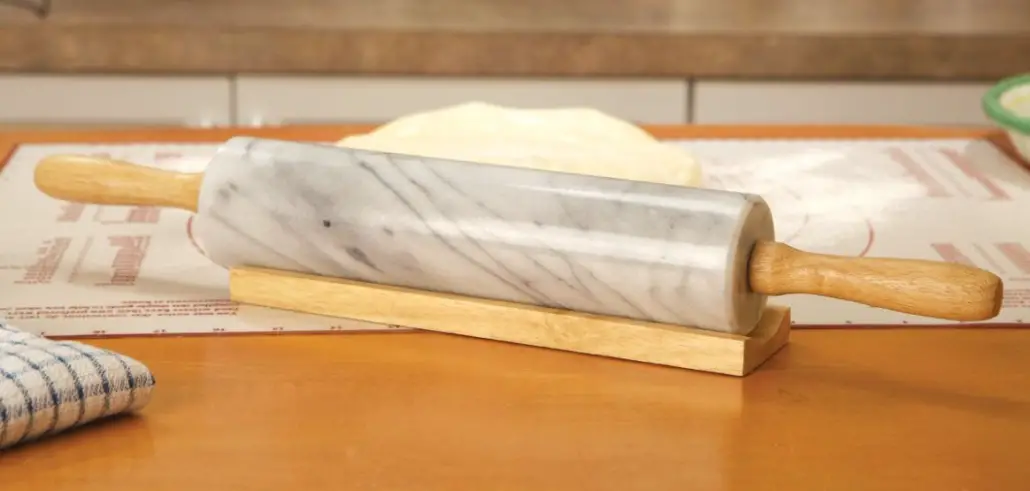 The Fox Run White Marble Rolling pin provides a smooth roll and it's the perfect weight for rolling down stiff doughs and stubborn pastries. The wooden handles provide good control and balance even for inexperienced chefs.
First Impressions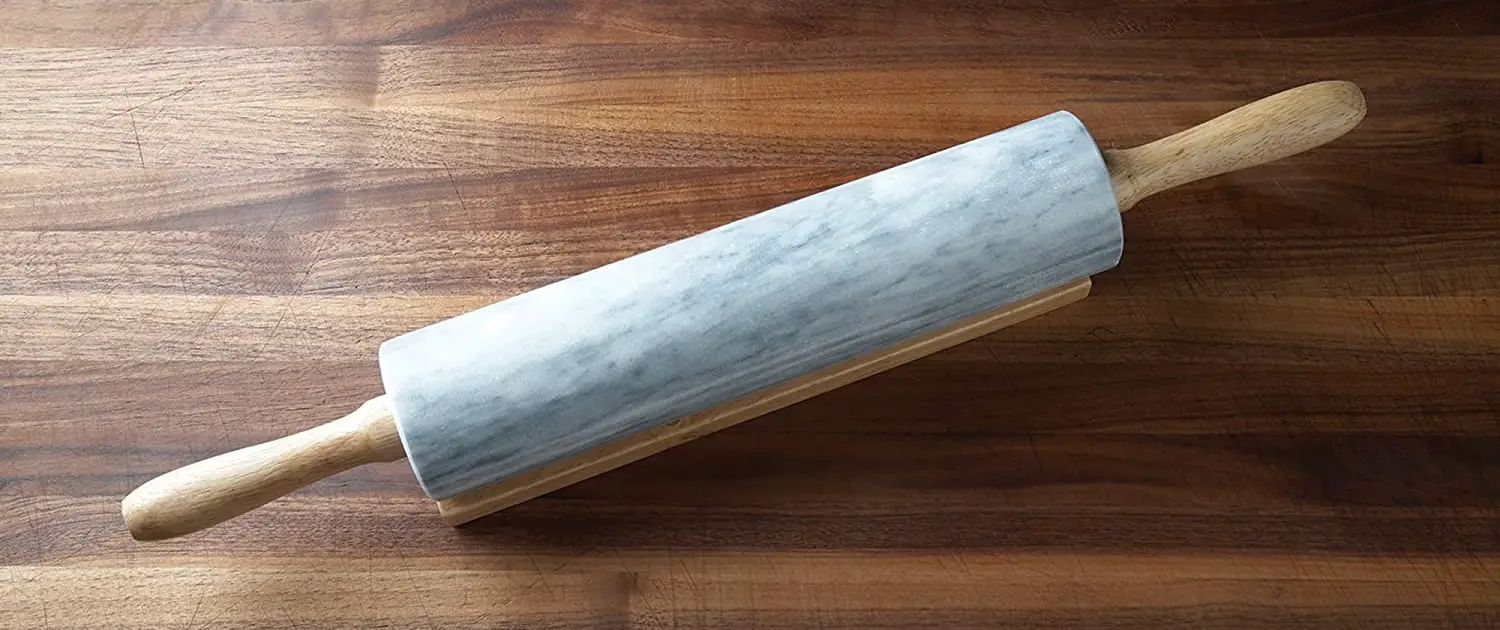 Our first impression of the Fox Run White Marble Rolling Pin with Wooden Cradle was that it looked really nice.
The white marble and gently stained wooden handles compliment each other very well and we were glad to see that it came with a wooden cradle that actually runs the length of the entire barrel (10 inches).
With a lot of marble rolling pin sets, you get a cradle that only covers a few inches of the barrel which makes for poor stability. We like the weight of the barrel too. At 4.6 pounds, you won't need to apply much force to completely flatten out your dough or your pastries.
The Fox Run White Marble Rolling Pin with Wooden Cradle also includes nylon ball bearings. This was a nice touch as the nylon makes for a very smooth roll.
A lot of people shy away from marble rolling pins because they might be too heavy but the ball bearings of the Fox Run White Marble Rolling Pin does a good job of negating the burden of the weight with a smooth roll.
It would have been nice if the wooden handles were a bit more tapered as it would have made the use of this rolling pin more ergonomic overall. Still, they are nice and long so despite the relatively straight design, they still give you good leverage.
Pros:
It looks great
Great for flaky pie crusts
It's great for grinding nuts too
Cons:
The white marble color is likely to change over time
It may be too heavy for some

Overall Score: 98/100
Check Out More Reviews Here:
Alternative Marble Rolling Pins To Consider
Conclusion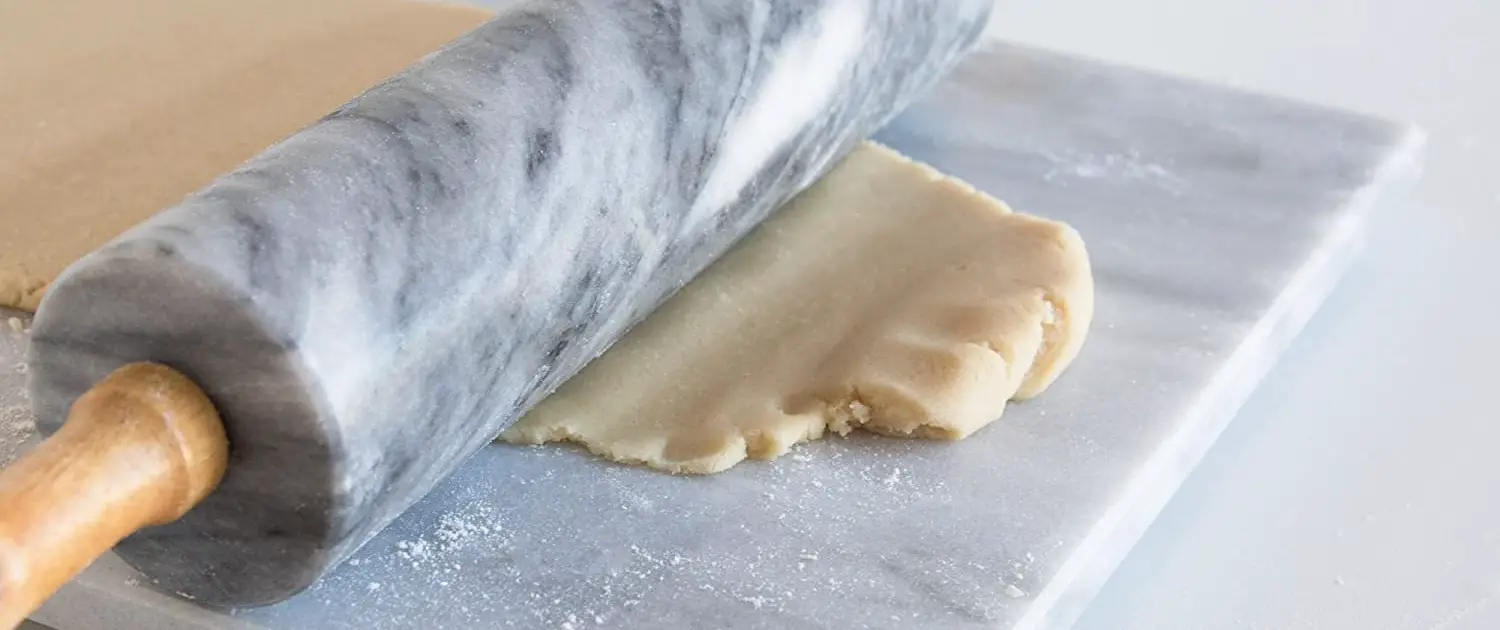 Maybe the thing we like the most about the Fox Run White Marble Rolling Pin is that it comes at a very reasonable price.
For just around $25, you can have this elegant-looking and very versatile rolling pin. We also really liked the durability of it.
You can actually use it to smash or grind up nuts and not worry about it cracking. Of course, there are some concessions. It's marble so the color will likely change over time.
You will also have to hand-wash it as well since marble is not dishwasher safe. Still, the Fox Run White Marble Rolling Pin with Wooden Cradle is a great choice for home-bakers and even professional bakers and pastry chefs.