Gxmmat Exercise Mats vs. Gorilla Mats: What's The Better Large Gym Mat?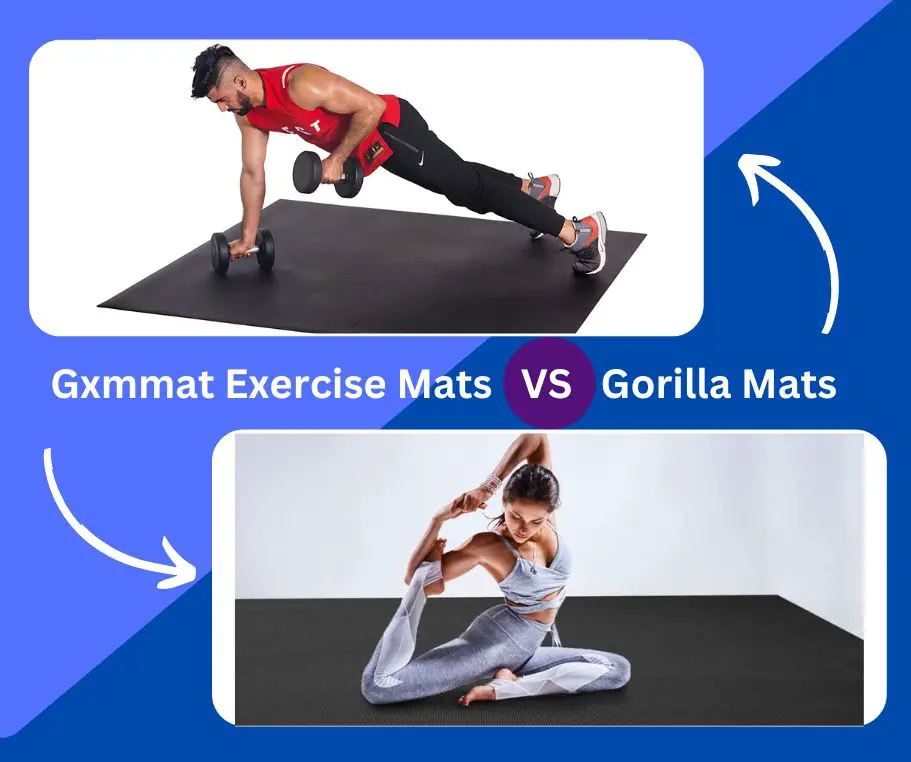 You may be interested in starting home workout routines. You undoubtedly have many videos and instructional materials to guide you through this healthy lifestyle. Getting the proper gyming equipment to smoothen your experience is also vital.
A gym mat is essential on the list of things you need. Various gym mats have specific features and purposes. However, if you are looking for gym mats for home workouts, Gxmmat and Gorilla mats are top-rated choices.
Which one is the better choice? Which mats fit into your workout style? This article provides answers to these questions. In addition, we also consider three other gym mats to give more options.
What Are Gxmmat Exercise Mats?
Gxmmat Exercise mats are large, top-padded home gym mats for beginners and expert trainers. These large exercise mats come in different sizes. Gxmmat exercise mats are famous for their non-abrasive properties and non-slip layers.
If you are a fan of cardio workouts, these mats meet your specific demands. They are also suitable for high-intensity rope jumping and fitness routines. Added to this mat is a lovely pair of workout gloves, straps, and a bag.
Here are the top qualities that make Gxmmat endearing:
Top-quality cushioning
Double-sided non-slip surface
Easy-to-clean surfaces
Bags and straps for packaging.
What Are Gorilla Mats?
Gorilla mats are top-quality home gym mats with high durability. These mats have unique anti-slip technology that sets them apart from other gym mats. You also enjoy extra cushion during your various workout sessions.
These are the key features that make Gorilla mats interesting:
Anti-slip technology
Odorless materials
Multiple and large size options
Noise-canceling properties.
Gxmmat Exercise Mats vs. Gorilla Mats: Know Which Mat Suits Your Style
You might wonder how they compare. We have selected some parameters to show the differences.
Sizes
Gorilla Mats give you more size options. There are six options before you. However, Gxmmat offers you larger options. The largest Gorilla mat is 10 x 4 ft, while the largest from Gxmmat is the 12 x 6 ft mat. This shows Gxmmat mats are larger.
Thickness
Gxmmat has a uniform thickness irrespective of size. However, Gorilla Mats have two different sets of thicknesses. The larger Gorilla Mats are 0.33 inches and are thicker than Gxmmat 0.28 inches, making them more suitable for a permanent setup. The smaller Gorilla mats (0.25 inches) are thinner than Gxmmat exercise mats.
Cost
Checking the cost on Gxmmat official website shows that it is more expensive compared to Gorilla Mats. Both mats come in different sizes and, of course, different prices. Hence you have a mat for all budgets. Note that Gorilla mats come cheaper.
Durability
Gorilla Mats offer you more in terms of durability. These products are better designed to withstand heavy workouts, including jumps and kicks. The mat remains quality after years of consistent use.
Comparison Table
| | | |
| --- | --- | --- |
| Features | Gxmmat | Gorilla Mats |
| Material | High-Density Micro-foam construction. | High-Density Rubber and PER foam |
| Performance | Abrasion-Resistant PVC padding. | Anti-slip Technology. |
| Color | Black Real, Purple Grey, and Grey cool. | Black, Silverback Gray, and Midnight Blue. |
| Suitable Underlying Surface | Carpet, and Concrete. | Hardwood, Carpet, Rugs, and Tiles. |
| Available Sizes | 6 x 4 ft, 6 x 5 ft, 6 x 6 ft, 6 x 8 ft, 6 x 10 ft, 6 x 12 ft. | 6 x 4 ft, 7 x 4 ft, 7 x 5 ft, 8 x 4 ft, 9 x 6 ft, 10 x 4 ft. |
| Thickness | 0.28 inches | 0.25 inches, 0.33 inches |
| Noise | Double Layer padding to reduce noise. | High-functioning noise-cancelling features |
| Warranty | Lifetime | Lifetime |
Gxmmat Exercise Mats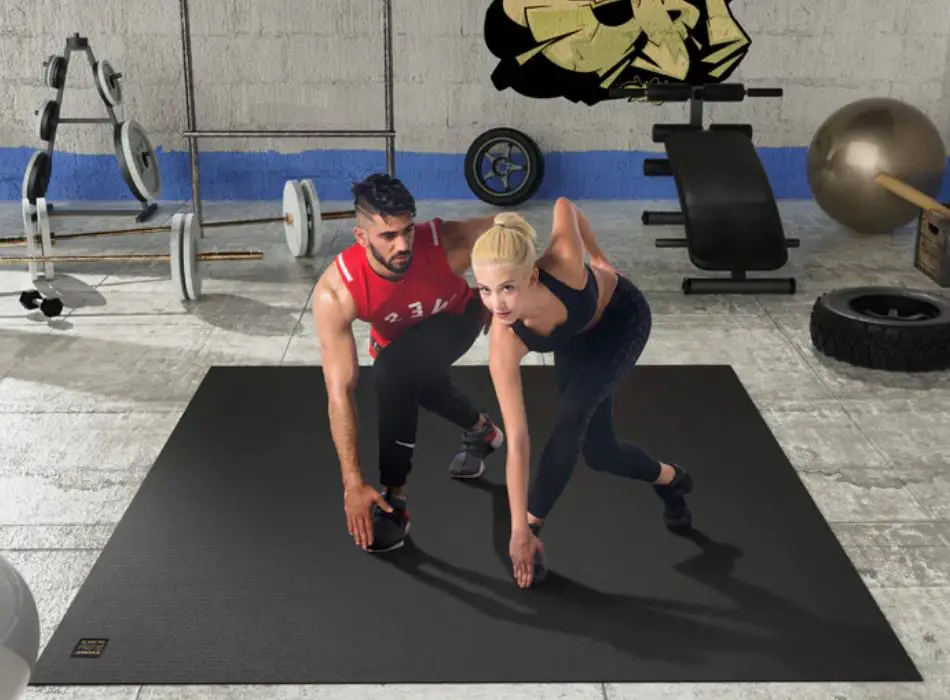 Cardio workouts involve a lot of movement and involve the entire body. Home workouts like this come with a lot of noise and vibration.
A popular form of cardio workout is the jumping rope exercise. Gxmmat has enough quality to help reduce noise during your workout sessions.
Another excellent feature is that these mats are easy to clean. But it is necessary to clean your home gym mats the proper way. Here is a video explaining what you might be doing wrong and also showing the right way to clean your mats.
Why you're cleaning the gym mats wrong
Pros
Resistant to Scratch
The upper surfaces of the Gxmmat exercise mats have PVC padding. This material gives these mats their unique feature. They remain smooth through years of use. The padding is resistant to scratch. It is also tear-proof with non-abrasive qualities. Hence, there are no marks on your shoes, elbows, or gloves.
Thick and Lightweight
The padding and subsequent thickness these mats offer makes them ideal for quiet home workouts. The 0.28 inches of thickness adds to Gxmmat's ability to absorb vibration and noise. Surprisingly, the material is not heavy. The lightweight properties make it easy to move the mat around.
Two Solid Layers
The PVC padding that makes the upper surface is just one part of this mat. The other part has a matrix design of small rings to aid its anti-slid properties. The solid layers offer a cushion to various parts of the body.
Multiple Sizes
There are six different sizes available when selecting Gxmmat. They all have a uniform breadth of 6ft, varying lengths from 4ft to 12ft. These multiple sizes allow you to get a mat small or large enough for your workout needs. With Gxmmat, there is no need to place two mats together; there is a size for you.
Cons
Releases Microfibers
This mat leaves your skin with black fiber shreds after a workout. This shedding is a significant issue with the gym mat. After a period of use, you find microfibers dropping from the mat and on the floor. If you have sweaty workouts, they tend to stick to the skin. The adhesion is irritating to some people.
Tends to Slip
The product description indicates that this mat tends to slip while it is new. The description asserts that the slipping reduces over time. However, you might find that after constant use, the slipping does not reduce. The mat is only suitable for simple workouts. Heavier routines with movement tend to cause the mat to slip and slide.
Gorilla Mats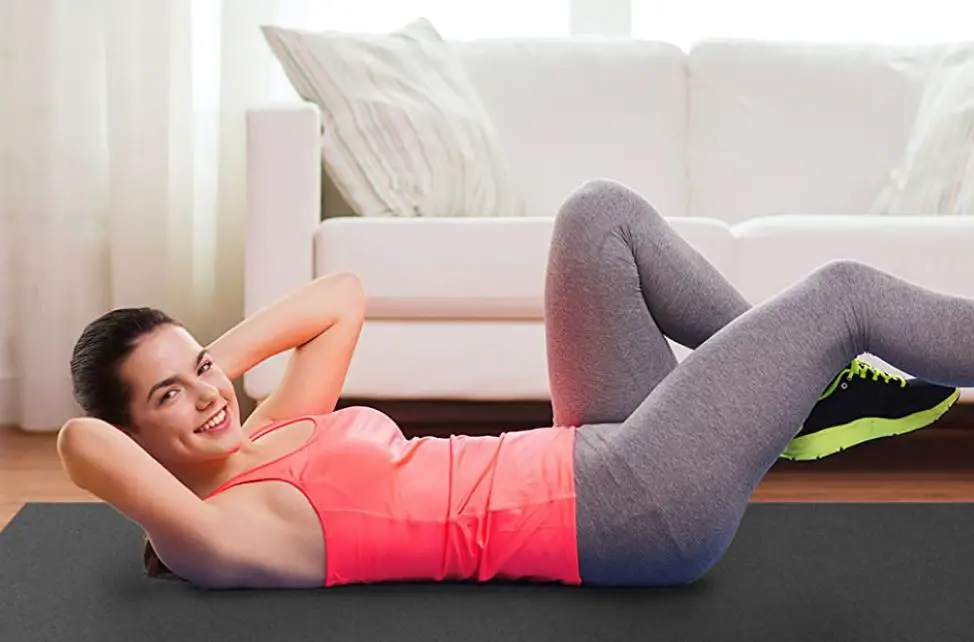 Durability is the main feature you get when choosing Gorilla mats. Another feature that sets it apart is its anti-slip technology. You will enjoy the time you spend working out on these mats.
Pros
Anti-Slide Technology
The under-surface design of a typical Gorilla mat is unique. A pattern of small rings increases the anti-slide surface of the mat. The material on the underside also has enough traction to keep you steady as you move on the mat.
Extra Cushion
The larger sizes of Gorilla mats offer an extra cushion that makes them perfect for noiseless workout sessions. The cushion effect comes from the 0.33 inches thickness of this mat. Thickness does not always mean cushion; however, with Gorilla mats, you get both.
Cons
Not Barefoot Friendly
When working barefoot on this mat, you tend to feel a slip that disrupts your exercise. The slips also reduce stability. You only enjoy enough traction when using training shoes. There is little flexibility with this mat.
Who Should Buy Each One?
Gxmmat is best suited to users that prefer short workout sessions. It is also one of the best-rated cardio workouts, including HIIT and jumping.
Gorilla Mats are the better choice if your exercise routine involves a lot of side movements and the use of dumbbells. It is also suitable for long-term use in a permanent setting.
What Are Some Other Mats to Consider?
MRO Extra Large Exercise Mat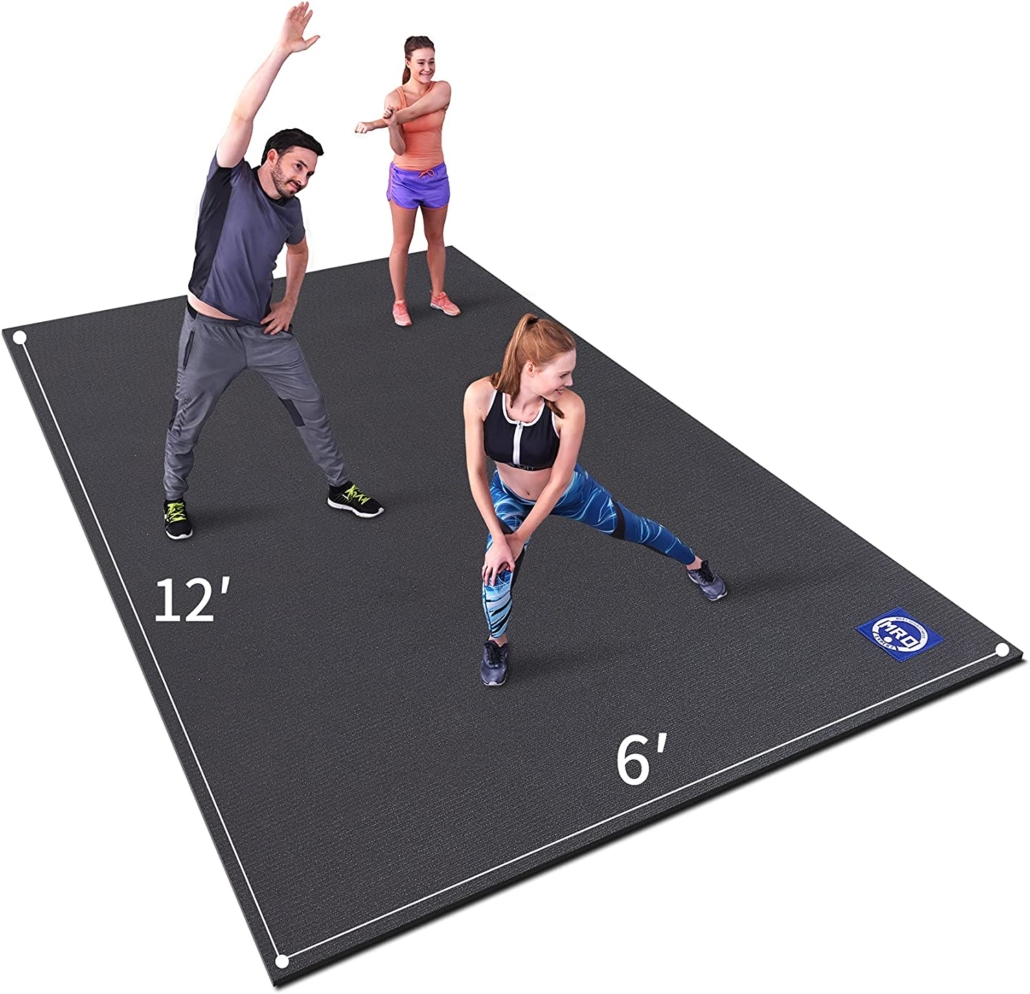 MRO offers you the option to pick mats with extra cushion for comfort and joint support. It is another top-rated exercise mat with supreme durability. You get a free jumping rope, a microfiber towel, straps to hold the mat in place, and a bag for storage.
Pros
Extra thickness and cushion
Tear resistant
Shock absorbing
Cons
Tend to slip and slide
Unpleasant smell
Score Rating
The extra cushion that MRO provides and the material's quality give it a rating of 75%.
Overall Score: 75/100
Check Out More Reviews Here:
ActiveGear Mats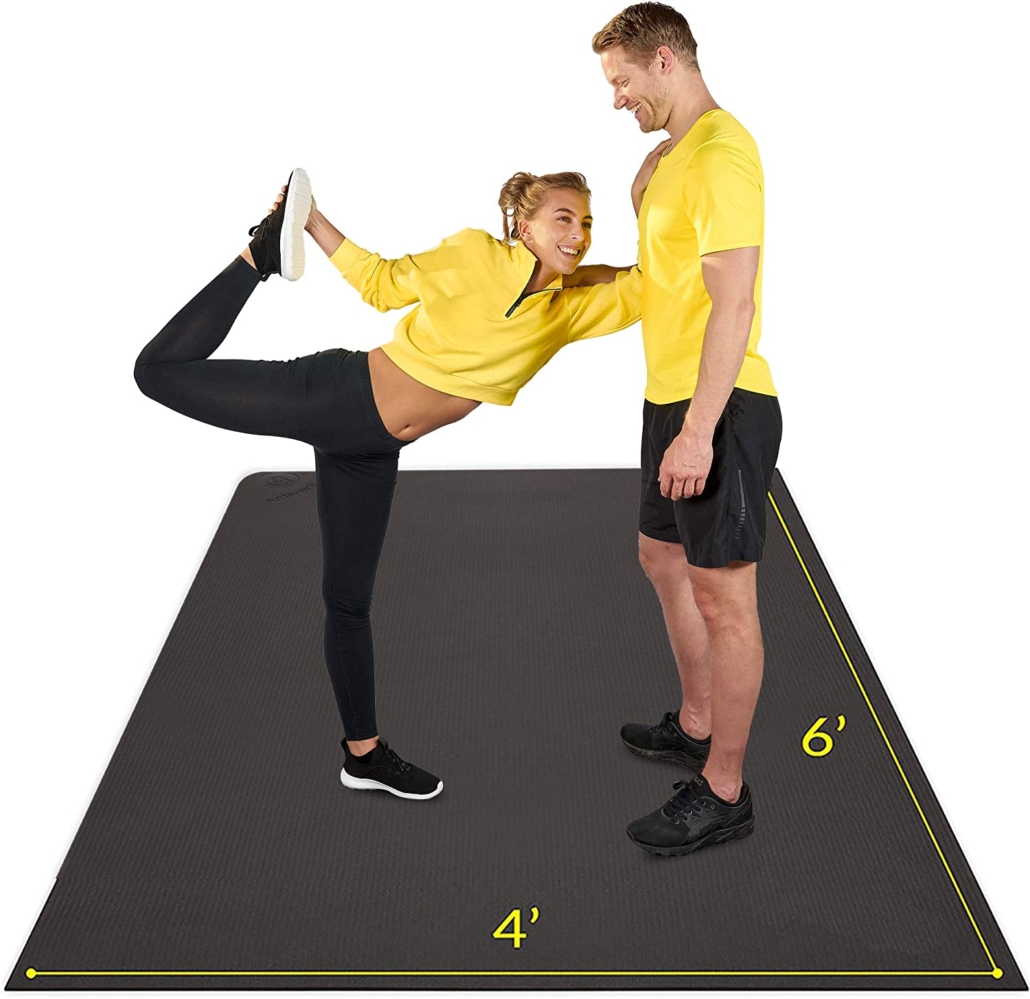 ActiveGear is an attractive alternative for those interested in cardio workouts. The packaging offers easy mobility so you can move around quickly and practice your workouts in different parts of your home. You also get a skipping rope as a bonus offer from ActiveGear.
Pros
Non-toxic
High-density material
Shock resistant
Easy to carry
Cons
Curls up at the edges
Distinct, unpleasant odor.
Score Rating
The high-density material makes ActiveGear more durable and deserves an 83% score rating.
Overall Score: 83/100
Check Out More Reviews Here:
Square36 Mats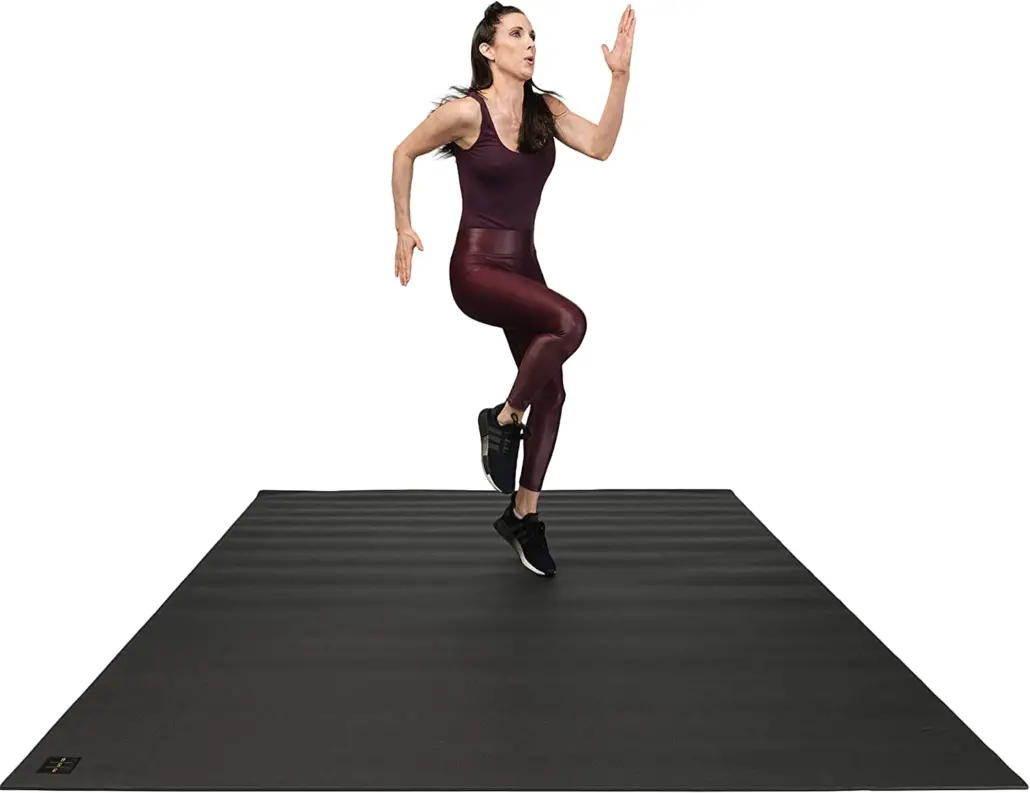 Square36 Mat is an excellent pick for those interested in heavy workouts. This mat keeps your performance level high with extra flexibility. You can train barefoot or with a shoe. There is enough grip to aid both workout options.
Pros
Non-toxic
Multiple sizes
Suitable for different surfaces
Suitable for shoes and barefoot
Cons
Distinct scent
Tends to slip.
Score Rating
This choice is one of the best home gym mats out there, and it rightly gets a score rating of 89%
Overall Score: 89/100
Check Out More Reviews Here:
Recommendations
These top-quality mats provide what you need to enjoy workouts at home comfortably. We recommend that you select Square36 mats due to their top-quality material and durability.
Final Thoughts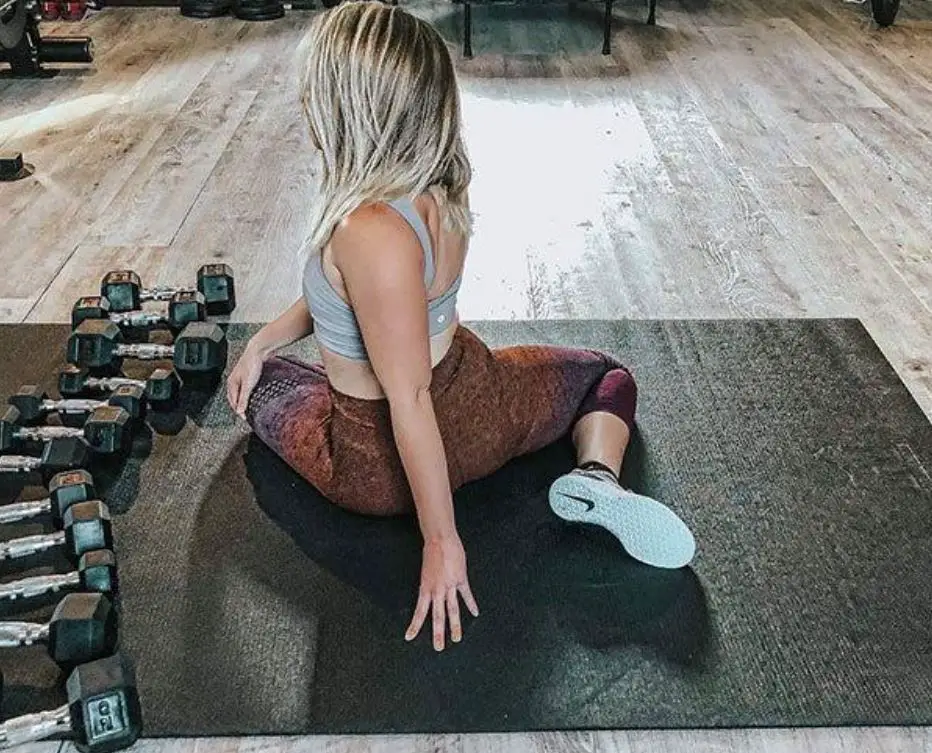 Both choices are excellent, with many exciting features and selling points. It is essential to note these features and pick the better gym mat for your home workout.
Here are some summarized points from this article:
Gxmmat exercise mats are best suited to cardio workouts.
Gorilla Mats are better for a durability test.
Gxmmat mats are famous for their non-abrasive properties.
Gorilla Mat is the cheaper mat when you compare the sizes.
These points and many others are discussed in this guide, giving you complete detail on what these mats offer you. It is easier now to make an informed choice. Get the mat that fits your routine, and maintain a fit and healthy body.