Husqvarna 435 Vs Husqvarna 135 Chainsaw – What's the Better Option?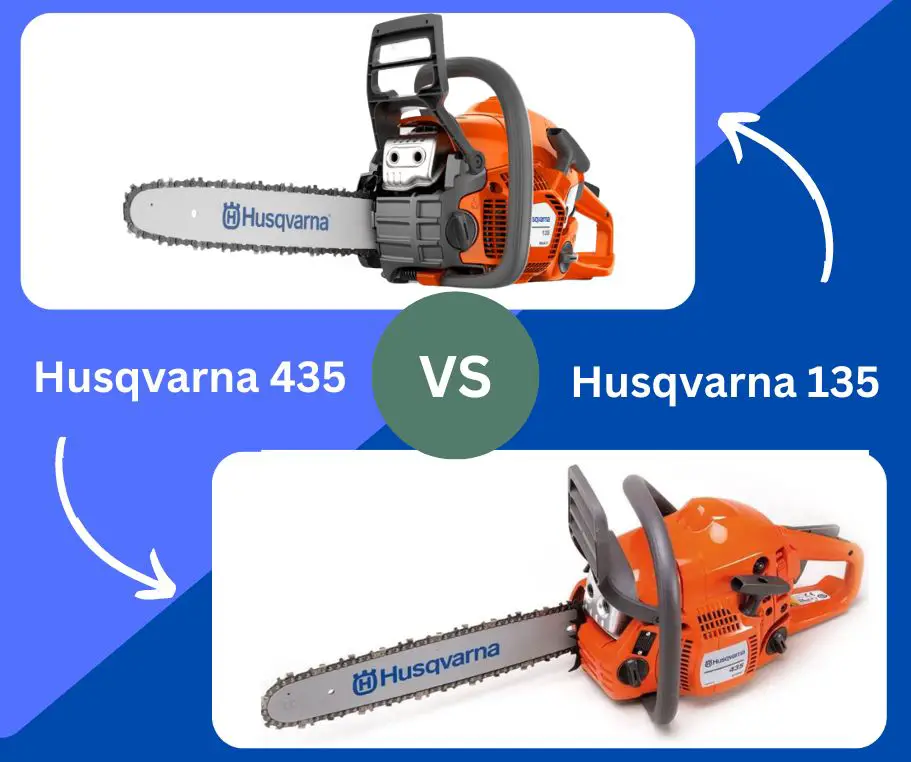 Husqvarna is a great chainsaw manufacturer to shop whether you need to outfit your crew or just need a chainsaw for household cutting.
The reason people love Husqvarna chainsaws is that they last a long time and provide professional-grade strength at all class levels. Their bigger chainsaws get plenty of shine but today we will be shedding some light on their often overlooked light-duty chainsaws.
It's important to choose the right chainsaw for home use because one cutting chore you probably face regularly is firewood cutting. You need a lightweight and nimble saw that's safe to use around the house; but you also need enough power to help you keep the house warm. So let's take a look at a couple of saws that may do just that.

Overview of the Husqvarna 435 Vs the Husqvarna 135
At a glance, the Husqvarna 135 and the 435 are very similar. In fact, if you have never bought a chainsaw before, you may swear that these two are the same.
But in a nutshell, you can describe the difference between the Husqvarna 135 and 435 like this: the Husqvarna 435 is the upgraded version of the Husqvarna 135.
The Husqvarna 435 has a small handful of features that the Husqvarna 135 doesn't and there are quiet upgrades here and there that you wouldn't be able to notice unless you ran these saws side-by-side.

Husqvarna 435 Key Features
Three-Piece Crankshaft – The crankshaft is made of forged metal so it's incredibly strong and will stand up to any home cutting job.
Quick-Release Air Filter – We really liked that the air filter was easy to remove without the use of tools.
Easy Cylinder Cover – You can easily access and replace the spark plug with the snap-on clasp that covers the cylinder housing.
Husqvarna 435 Common Issues
Some consumers have reported that the spark plugs that the 435 comes with are defective.

Husqvarna 435 Pros & Cons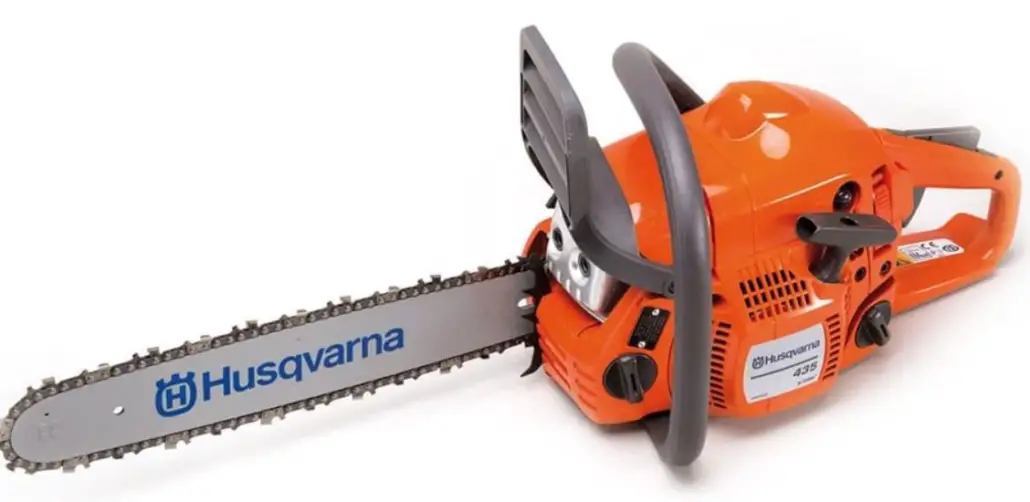 Pros:
Very user-friendly
Easy to maintain
Great power to weight ratio
Thoughtful features

Cons:
Slightly sluggish throttle response
More expensive than the Husqvarna 135
Overall Score: 98/100
Check Out More Reviews Here:
Husqvarna 135 Key Features
Low Vib Technology – The Husqvarna 135 was designed to produce low vibration for better user comfort.
X-Torq Engine – The X-Torq engine was designed to lower emissions and to improve fuel-efficiency.
Centrifugal Air Filter – Centrifugal force actually ejects larger particles from the filter so it never settles on the surface.

Husqvarna 135 Common Issues
There have been a few issues associated with the Husqvarna 135 such as clogged oil inlet holes and sprocket issues.

Husqvarna 135 Pros & Cons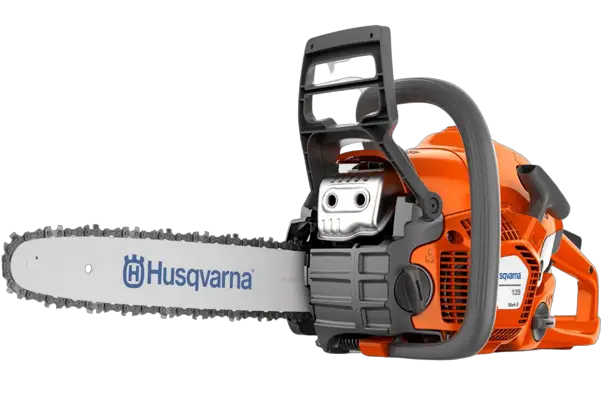 Pros:
More affordable than the 435
Doesn't run too loud
Great for cutting firewood
Easy to start

Cons:
Maintenance isn't as easy as the 435
Idles harder than the 435
Overall Score: 97/100
Check Out More Reviews Here:
Who Should Buy Each?
We would actually recommend the Husqvarna 435 for anyone who doesn't have a lot of experience with chainsaws. The extra features are very intuitive for newbies and will make it a much easier chainsaw to maintain overall.
However, the Husqvarna 135 offers comparable power in almost the same sized package – for less money. So if you are on a budget but still want a powerful saw, the Husqvarna 135 would be a great choice.

Price Comparison
You can buy both of these saws directly from the manufacturer. The Husqvarna 135 sells for $300 and the 435 sells for about $330.

Weight & Handling Comparison
Husqvarna even upgraded the chassis design with the 435. It weighs 9.7 pounds while the slightly less powerful Husqvarna 135 weighs 10.3 pounds.

Chain & Blade Comparison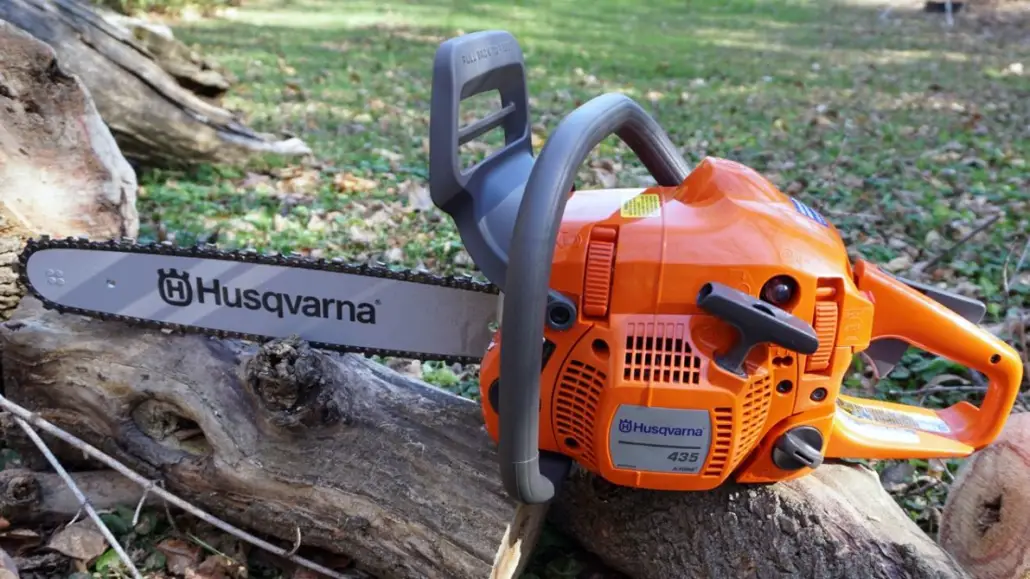 The recommended max bar length for the Husqvarna 435 is 18" while the max recommended bar length for the Husqvarna 135 is 16". They both use a .050" gauge chain.

Power Comparison
The difference in power between these two chainsaws is pretty much negligible. The Husqvarna 135 engine puts out 2.1 HP while the Husqvarna 435 produces 2.2 HP.
They are both capable of felling small trees, delimbing pretty much any species of tree and processing multiple cords of firewood.

Efficiency Comparison
Again, Husqvarna upgraded the fuel consumption rate of the Husqvarna 135 in the 435. Overall, the 435 consumes less fuel per minute than the Husqvarna 135.

Durability Comparison
The great thing about both of these saws is that they are built by a manufacturer that makes products geared toward professional use. So they are both very durable saws.
However, we have to believe that the Husqvarna 435 will last a longer time because of the three-piece, forged crankshaft. This is especially true if you plan to run it at high RPMs frequently.

Other Chainsaws to Consider
Husqvarna 120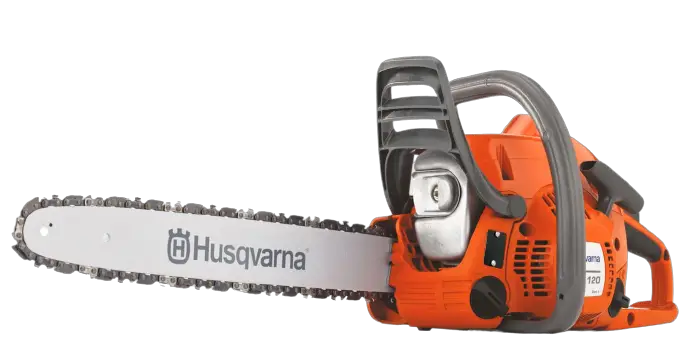 The Husqvarna 120 has a 1.8 HP engine and features the air injection filter that keeps large debris from settling on the filter surface. It's a reliable saw for home use and can fit a 16+ inch bar.

Overall Score: 96/100
Check Out More Reviews Here:
Stihl MS 171
The Stihl MS 171  weighs only 9.5 pounds but still pumps out 1.7 horses. It's a powerful little saw that is also easy to maintain.

Overall Score: 95/100
Check Out More Reviews Here:
Husqvarna 545 Mark II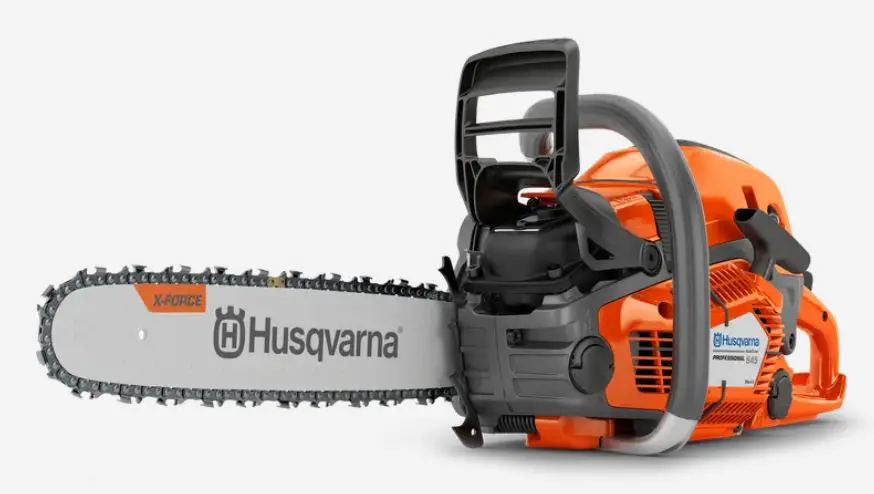 For how powerful it is, the 545 Mark II is very fuel efficient. It sports a 50.1cc engine so it is suited for the bigger jobs like large storm cleanups and felling larger diameter trees.
Check Out More Reviews Here:
Final Assessment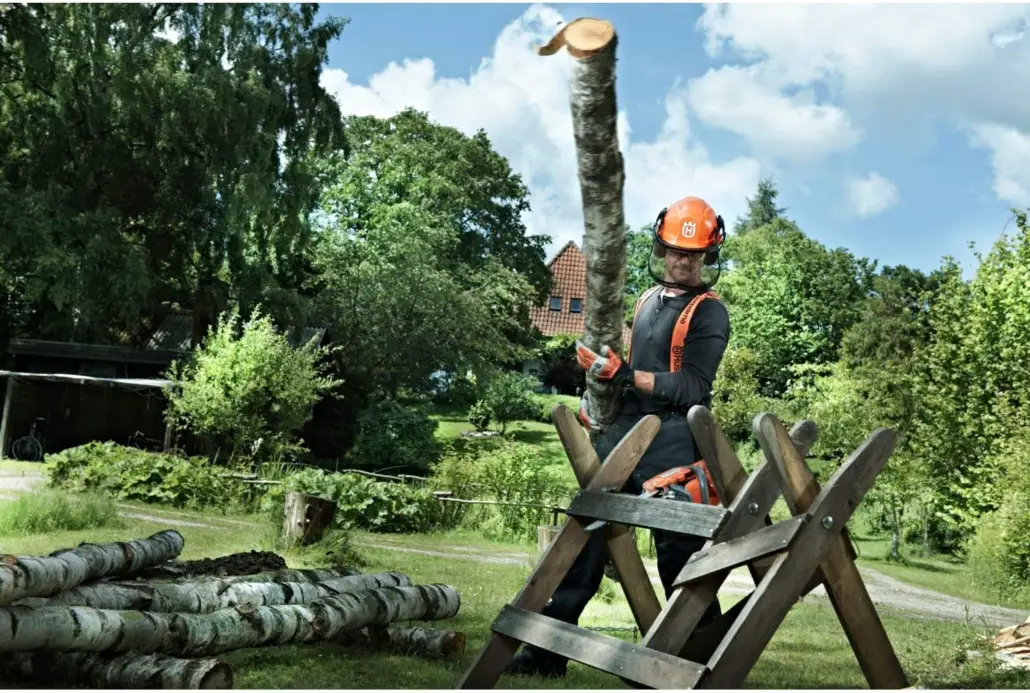 Really, the only knock we have against the Husqvarna 435 is that it costs about $30 more than the Husqvarna 135.
In every other way, it is the superior machine – it even runs slightly quieter than the Husqvarna 135. It would be a perfect saw if it had a more responsive throttle but we can easily overlook that flaw.
Don't get us wrong, the Husqvarna 135 is still a quality machine and it would meet all your home cutting needs. But Husqvarna really made key improvements in the Husqvarna 435 which is why it earns our endorsement.