Leaf Blower Buying Guide – Are They Worth Buying?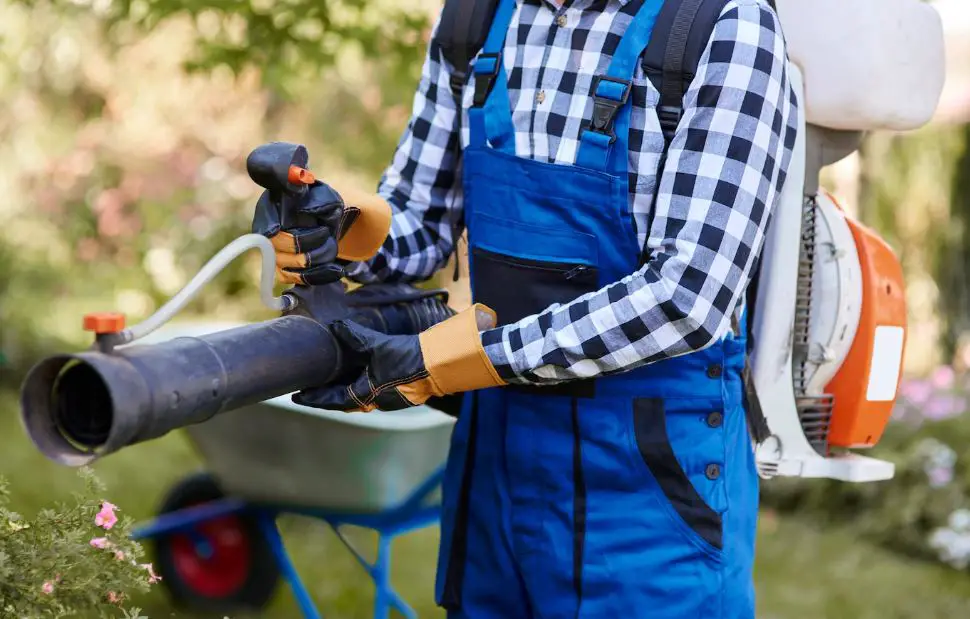 Leaf blowers can be very handy tools when the trees on your property decide to make a mess of your yard.
If you do have trees on your property that shed a bunch of leaves every season, a leaf blower would definitely be worth the investment.
That's because it can take hours to fully clear your yard of leaves and other debris. Your rake can only do so much which is why leaf blowers are a downright necessity for some people.
Leaf blowers can save you a lot of time and turn a monotonous chore into an almost fun activity.
So if you deal with a ton of fallen leaves on your property every season, let us state now that leaf blowers are definitely worth it.
That all being said, you still have to choose wisely. A lot of people don't realize that there are a lot of different kinds of leaf blowers and that some are more suited to certain kinds of jobs than others.
Certain leaf blowers can do a lot more than just move leaves around too.
If you are considering buying a leaf blower then we applaud you because you are likely poised to make an investment that will save you time and spare your body.
And in order to help you make the best choice for your needs, we put together the following buying guide that will walk you through the fundamental considerations you need to make.
Overview of Leaf Blowers
"Leaf blowers often make clearing leaves from your property much easier. They can also make the chore go by much quicker. There are several different kinds of leaf blowers on the market so you have a lot of options."
Battery Blower Vs Gas Blower
Both a battery-operated and gas-operated leaf blower will offer you the mobility you need to clear your property of leaves.
Battery blowers tend to be less powerful than gas blowers though.
Of course, with a gas blower, you will need to make sure that you have a ready supply of fuel. With a battery blower, you will need to make sure that the batteries are charged.
Battery blowers tend to be less expensive than gas blowers because they are generally less powerful.
The power of a leaf blower is measured in miles per hour (MPH). The MPH rating refers to how quickly air exits the nozzle of the blower.
In general, battery blowers will have lower MPH ratings – although some modern battery blowers are now rivaling mid-level gas blowers in terms of power.
If you have a large area to clear or you often deal with wet leaves and heavy debris, you should go with a gas blower. If you only need a blower for some light clearing of a smaller area, a battery blower may be all you need.
Corded Vs Cordless Leaf Blowers
The main difference between these two types of leaf blowers is fairly apparent: one needs to be plugged in at all times to operate and the other runs off of a battery.
But there are more subtle differences to consider.
For instance, corded blowers tend to weigh less than cordless electric leaf blowers – mainly because of the batteries. And while you get infinite runtime with a corded blower, you are limited in terms of mobility.
It should also be noted that most cordless electric blowers can run for about a half an hour at a time.
Other Types of Leaf Blowers to Consider
Handheld Leaf Blowers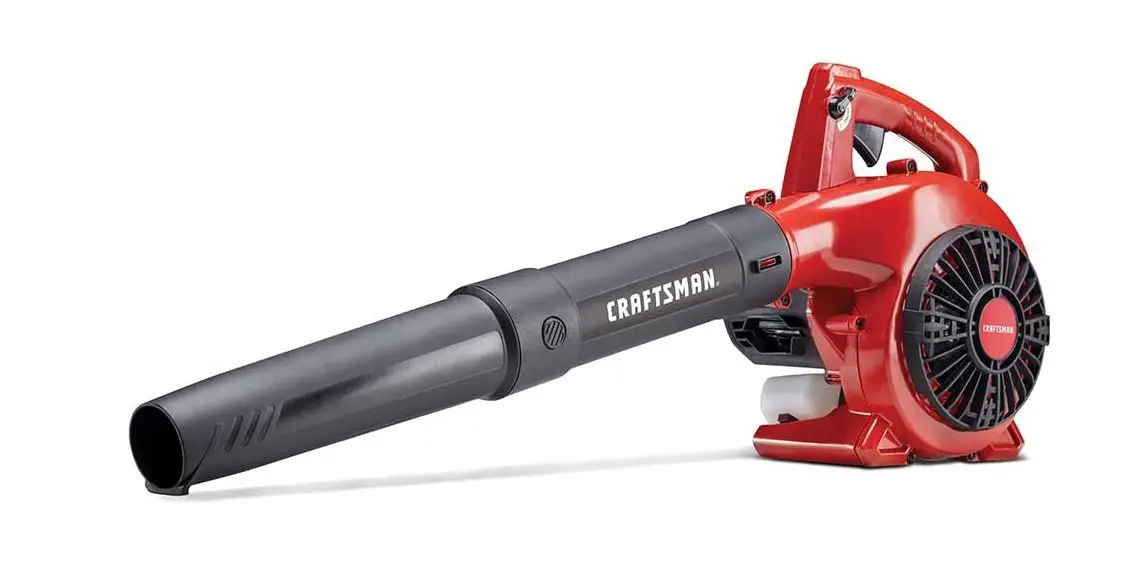 Selling Points:
Come is a variety of power types
Lightweight
Not too loud
Handheld leaf blowers come in gas, electric (corded) and electric (battery) models. They tend to be about 10 pounds or lighter and are not as loud as some other types of leaf blowers.
Handheld leaf blowers are best for people with small to mid-sized properties. Though they aren't as powerful as backpack or walk-behind blowers, they are enough for the average US residence.
Pros:
Easy to operate
Affordable
Versatile power options
Cons:
Walk Behind Leaf Blower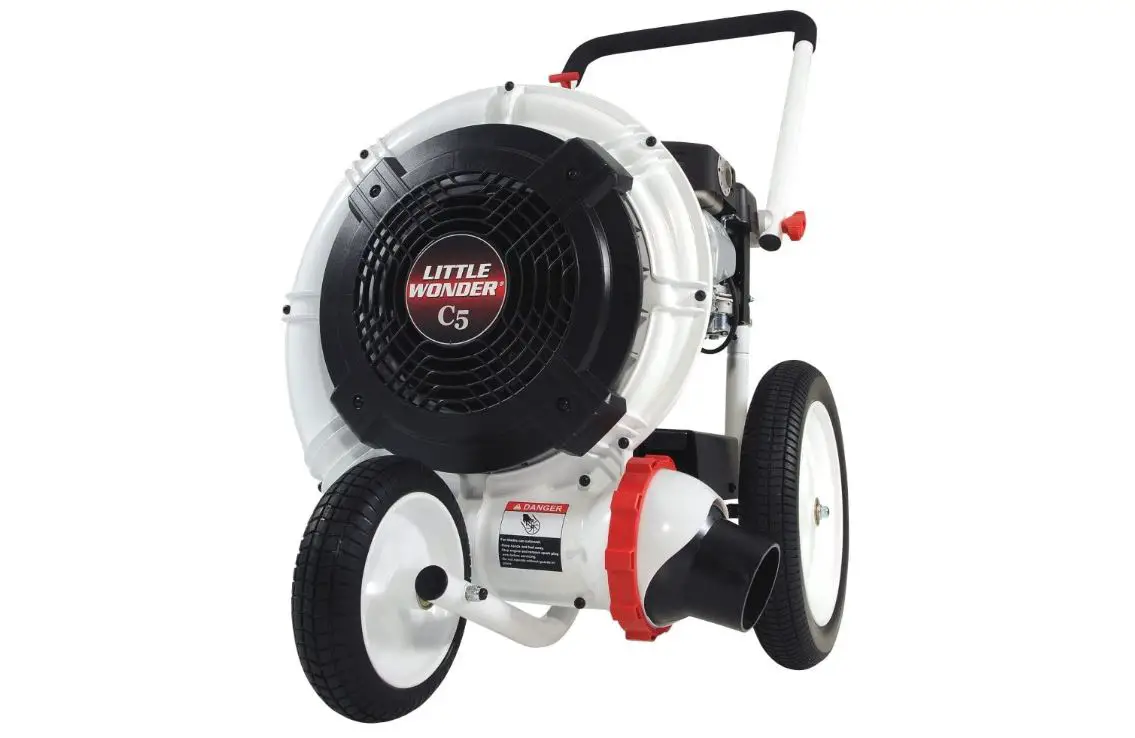 Selling Points:
Powerful
Gas-powered
Four-stroke engines
Walk-behind leaf blowers are gas-powered. They are typically for larger areas or even commercial use.
The blower motor itself typically rests on a chassis that is mobilized by wheels. They have handles so you can walk them along from behind.
These types of blower tend to be heavy though – about 100 pounds or more. If you need heavy duty clearing power then a walk-behind blower may be a good choice for you – just be aware that they are typically noisy.
Pros:
Great for wet leaves
Great for heavy debris
Good for commercial use
Cons:
They need considerable storage space
Backpack Leaf Blower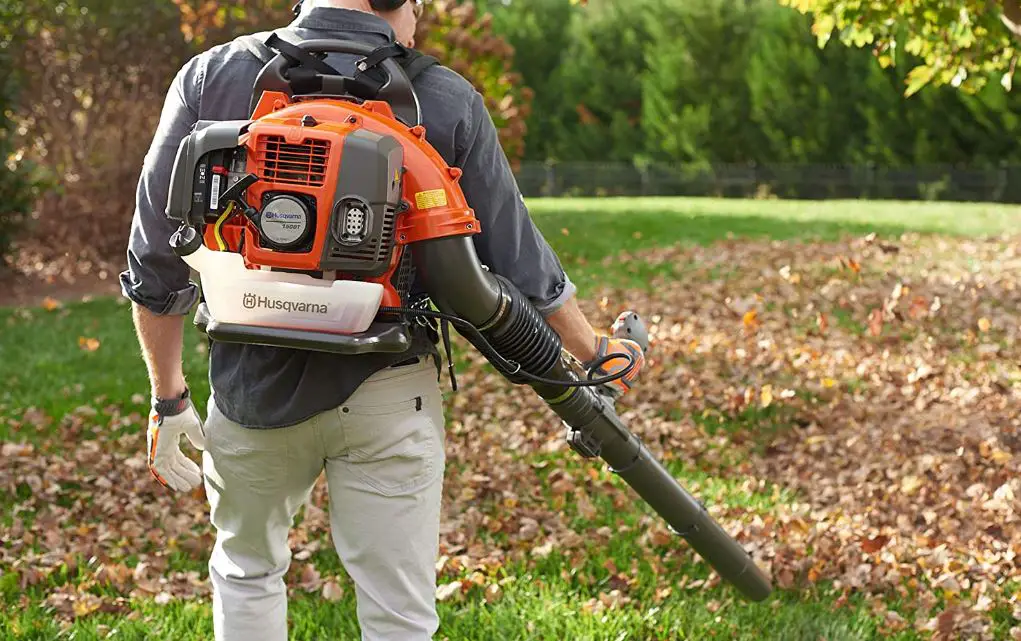 Selling Points:
Gas or electric
Mid-power
Easy on the arms
The motor of these kinds of blowers is essentially strapped to your back while the blower nozzle is operated by your arm.
You can choose from either gas or battery powered blowers.
These kinds of blowers are certainly more powerful than handheld blowers and typically weigh twice as much. However, much of the weight is borne by your shoulders via backpack-style straps.
This would be a good option for anyone who needs a bit more power than what a handheld blower can provide; but less than what a walk-behind blower brings to the table.
Pros:
Great for mid-sized properties
Comfortable
Good runtime
Cons:
What Wattage do you Need for Battery Blowers?
In general, battery blowers will come in three output versions: 20v, 40v and 80v. The wattage you need will depend on the type of debris you normally need to clear. For wet leaves, sticks and other heavy debris, 80v would probably work best.
Leaf Blower Vs Rakes
Rakes are a lot more taxing on your body. It also takes longer to clear a yard with a rake. While you may need a rake for spot clearing even if you have a leaf blower, in general you will want a leaf blower if you have a large area to clear.
Leaf Blower Vs Vacuum
Vacuums can be handy when you don't simply want to relocate leaves just to have to  bag them later. The main problem with vacuums though is that they can often get clogged.
What Are the Key Considerations When Buying A Leaf Blower?
Air Output – This will essentially tell you how powerful the blower is. Air output is measured in miles per hour (MPH) so the higher the MPH, the higher the blowing power.
Efficiency – Fuel or battery efficiency is also important. If gas is cheaper in your area you may want to opt for a gas blower. But if electricity is cheaper for you then you should at least consider an electric blower.
Durability – The durability of the chassis and motor are crucial to how long you can expect a blower to last.
Cost – Leaf blowers range widely in price. So of course, you will also have to consider your budget for one.
Overall Performance – Some leaf blowers will perform better in certain conditions. Also, some blowers may be harder to start up because they use pull cords while others can be started with a push of a button.
Leaf Blower Pros
Quick Work – A leaf blower will help you cut your raking time in half. They can make quick work of a large job.
Variety – Another great thing about leaf blowers is that there are all kinds. No matter what your situation is or what you prefer, you are likely to find one that suits your needs.
Residential and Commercial Use – Leaf blowers are great for both commercial and residential use.
Power Options – Many people don't like dealing with gasoline so they opt for electric leaf blowers.
Leaf Blower Cons
Noise – Many leaf blowers can be very loud. You may have to wear ear protection while operating the more powerful kinds. In fact, some cities don't allow certain types of leaf blowers because of the noise they produce.
Price – Naturally, a leaf blower will be much more expensive than a rake.
Weight – The larger leaf blowers will invariably weigh more which may tax your body.
Best Battery Powered Leaf Blower
DeWalt 20v Max Leaf Blower


The DeWalt 20v Max Leaf Blower is a solid low-power electric blower. It features a brushless motor so it should last for a very long time.
It has a max MPH of 125 with the concentrator nozzle.
It weighs just over 5 pounds too! It's very easy to adjust the power as you blow with the variable trigger that can be locked into position at any time.
On the lowest speed, you can get about an hour and 20 minutes from the battery.
Pros:
Comes from a reliable manufacturer
Great for small jobs
Good runtime
Cons:
The chute sometimes blows off
Overall Score: 96/100
Check Out More Reviews Here:
Best Gas Powered Leaf Blower
Husqvarna 952711925 125B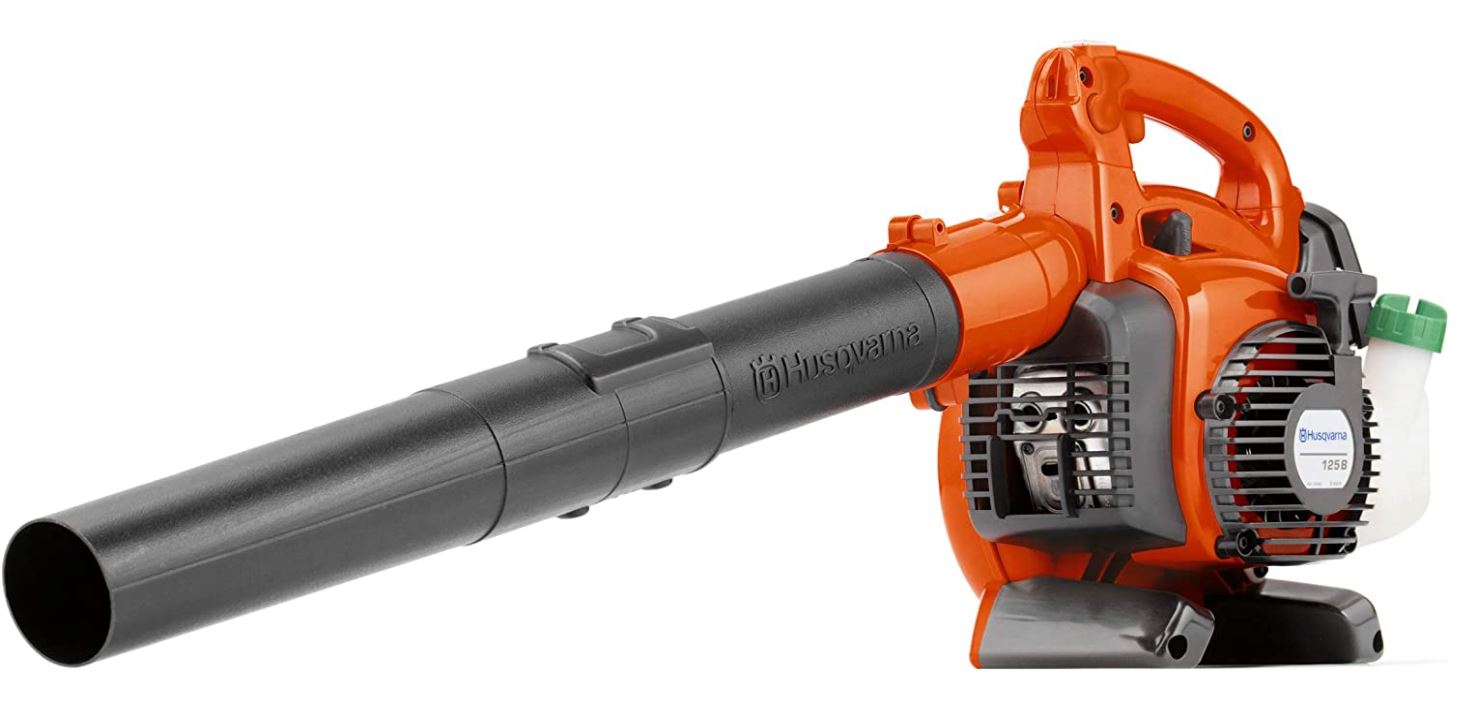 The Husqvarna 952711925 125B features a 28CC motor which strikes a really good balance between power and weight.
In fact, despite the fact that this thing generates 170 MPH, it weighs just over 9 pounds.
You can also adjust the length of the blowing tube which not only changes the blowing power; it changes the noise level as well.
This would be a great blower for anyone who is conscious of the amount of noise they are making.
Pros:
It can run pretty quietly
Very easy to operate
Lightweight
Cons:
The carb jet may need adjustment
Overall Score: 95/100
Check Out More Reviews Here:
Best Handheld Leaf Blower
Craftsman B215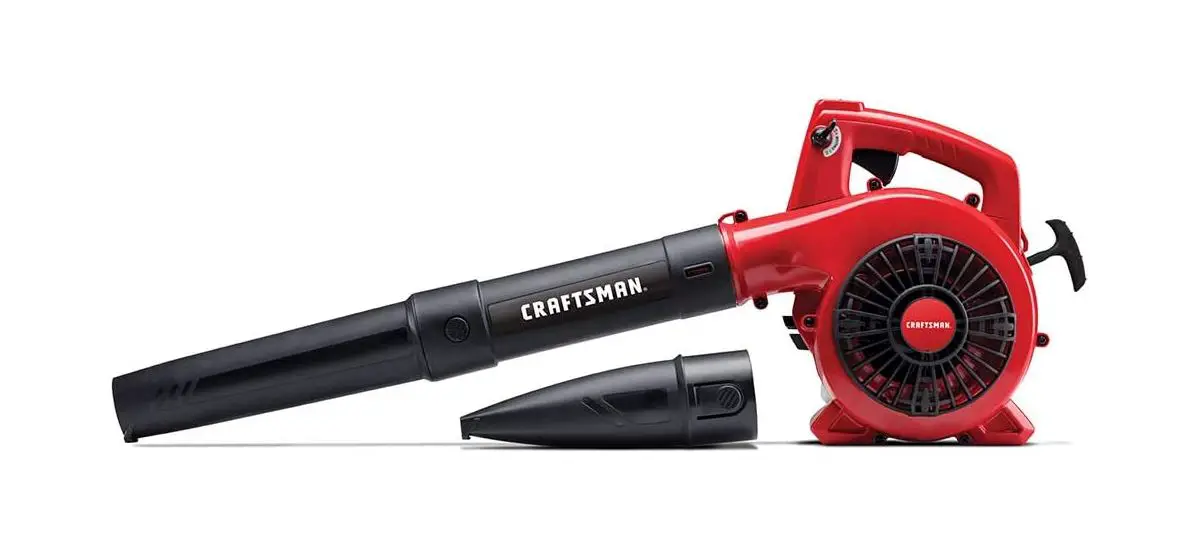 The Craftsman B215 is a 2-cycle gas powered leaf blower. It comes with a nozzle extender so you can adjust the air output.
It has an impressive 25cc engine that is capable of air speeds of 200 MPH on the highest setting.
Our only gripe with the Craftsman B215 though is that on the highest setting, it isn;t very fuel efficient.
In fact, if you run it on the highest setting, you will only get about 20 minutes of runtime – and that's with a full tank.
The Craftsman B215 weighs about 11 pounds but you do get a good amount of power overall.
This would be a great choice for anyone who has heavy debris or wet leaves to deal with; but still want the convenience of a handheld blower.
Pros:
Nozzle features an integrated scraper
Includes concentrated nozzle attachment
Variable speed throttle
Cons:
It can sometimes be difficult to start
Overall Score: 96/100
Check Out More Reviews Here:
Best Walk Behind Leaf Blower
Little Wonder 99170-03-01 C5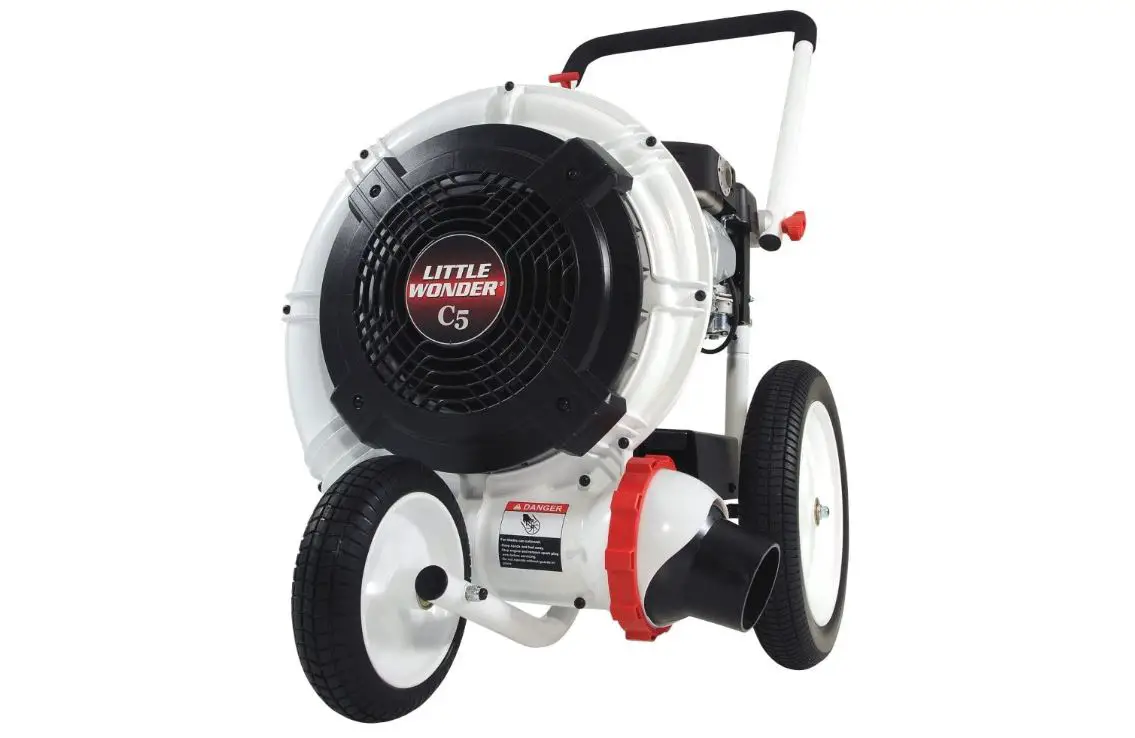 One of the coolest things about the Little Wonder 99170-03-01 C5 is that you can adjust the airflow in almost any direction while you're using it.
It is outfitted with a 170cc Subaru engine that is capable of generating air flow as fast as 200 MPH.
This is a serious leaf blower with plenty of power so it would be great for commercial use or if you simply have a large property to clear.
The operator handle can also be adjusted so no matter your height, you should be able to operate this blower comfortably.
The rear wheels are 16 inches and they have pretty good tread on them too.
Overall, we like the Little Wonder 99170-03-01 C5 because it rolls along smoothly, isn't too heavy and provides more than enough power even for commercial use.
Pros:
Includes an impeller
The handle is padded comfortably
Handle folds down for easier storage
Cons:
Overall Score: 97/100
Check Out More Reviews Here:
Best Backpack Leaf Blower
Husqvarna 150BT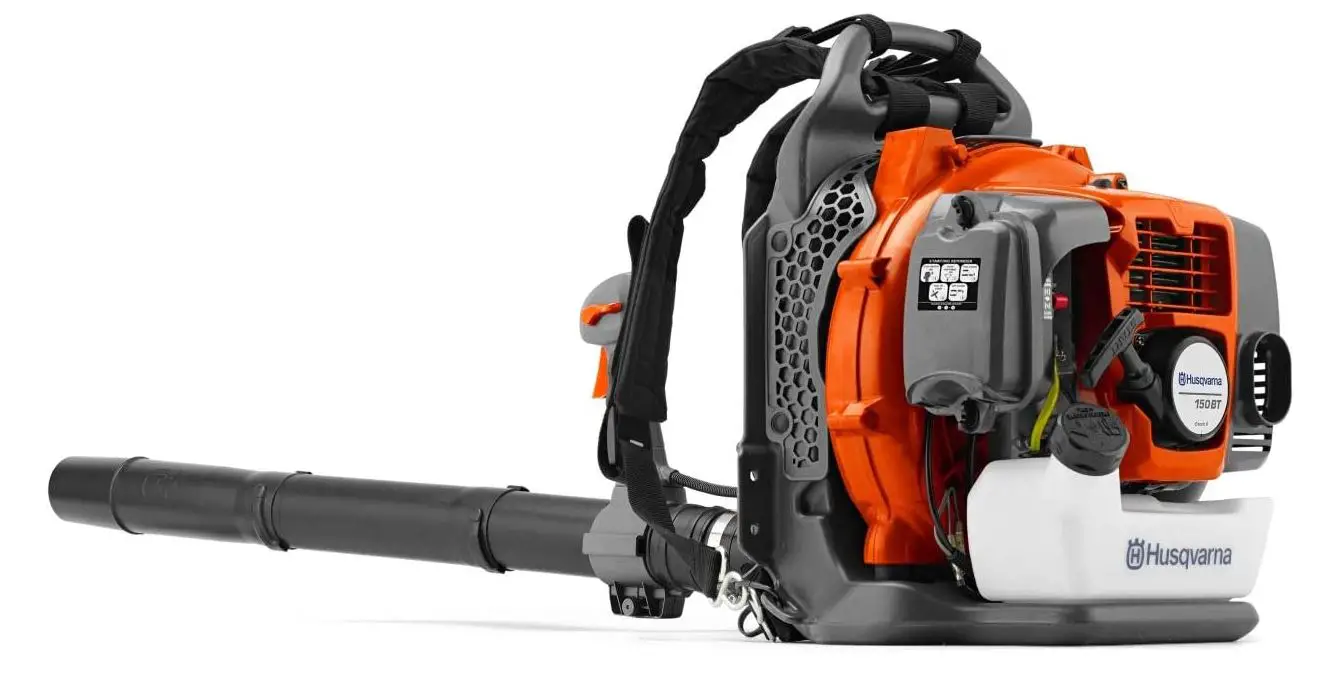 What we really like about the Husqvarna 150BT is that it comes with wide shoulder straps and a hip belt.
These features work together to minimize harsh vibration and make for very comfortable operation.
This is a gas powered backpack leaf blower that features a 50cc, 2-cycle engine. It's capable of generating air speeds of 251 MPH so it's plenty powerful.
It is a bit noisy; but that is honestly to be expected of backpack blowers in this engine class.
There are also dampeners placed between the engine and the chassis to help reduce vibration which adds to the overall comfort of this blower. The Husqvarna 150BT also features a variable speed throttle and adjustable blower tube length.
Pros:
Very well-built
Surprisingly comfortable
Very powerful
Cons:
Overall Score: 97/100
Check Out More Reviews Here:
Leaf Blower FAQs
When should you not use a leaf blower?
There are a few instances in which a leaf blower may not be the best tool to use. For instance, if you don't want to make a lot of noise, you may not want to use a leaf blower.
If you are trying to remove a few leaves from a tight spot, a rake might actually work better. Also, if you don't want to have to bother with bagging leaves later on, you may want to use a vacuum instead of a leaf blower.
Can you use a leaf blower when wet?
If conditions outside are rainy or humid, you should exercise precaution with leaf blowers. While these machines can run in wet conditions, you should do your best to not let the insides get wet.
The outsides of most models are fine if they get wet; but you have to be extra careful about getting electric blowers wet.
How long does a battery last on a leaf blower?
It depends on the model as battery life can vary widely. Most electric cordless leaf blower batteries have a max runtime of about 20 minutes. However, some of the high-end models have batteries that can run for as long as an hour.
What makes a leaf blower powerful?
Typically, the size of the engine is what will determine how powerful the leaf blower's airflow will be.
What is a good speed for a leaf blower?
Again, it will depend on your needs. However, for most residential purposes, you should only need a blower that generates air speeds of 150-190 MPH.
How much force does a leaf blower have?
It will depend on the size of the engine. Leaf blower force is measured in both CFM and MPH.
How many watts is a leaf blower?
If you are interested in an electric leaf blower and wondering how many watts they come in, you have some options. In general, you can get an electric leaf blower in 20v, 40v and 80v versions.
What is CC on a leaf blower?
CC refers to the size of the engine. CC stands for cubic centimeters.
What is CFM in a leaf blower?
CFM stands for Cubic Feet Per minute and refers to the amount of air a blower can move.
How much gas does a leaf blower use?
It depends on the size of the engine but most models take about 3.2 gallons.
Are leaf blowers necessary?
They are necessary if you have a large yard to clear and want to save time on raking.
Final Assessment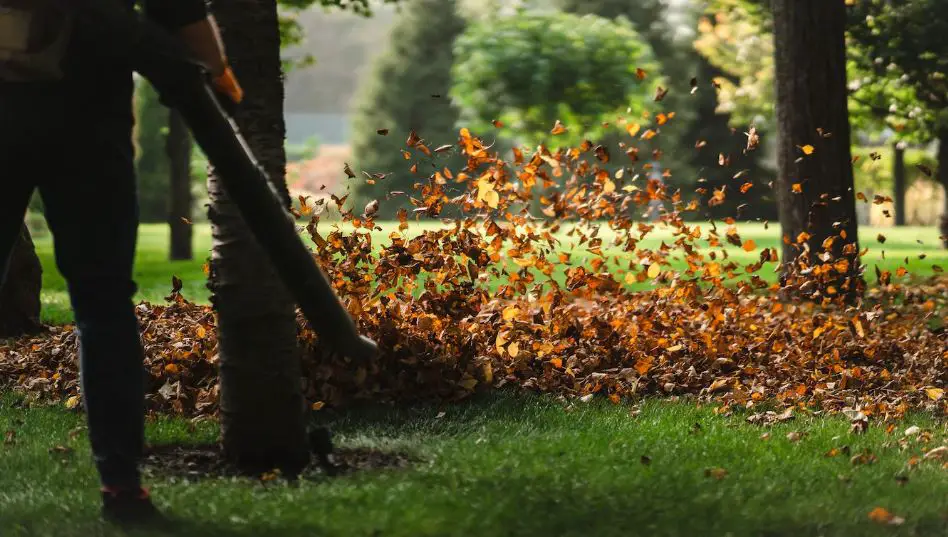 There you have it: a complete rundown of leaf blower options along with their pros and cons.
It's clear that these tools can come in hand in a number of situations and we hope we made your decision a bit clearer. Be sure to check these leaf blowers out today!