Leaf Blower Buying Guide – How To Choose The Best Option For Your Home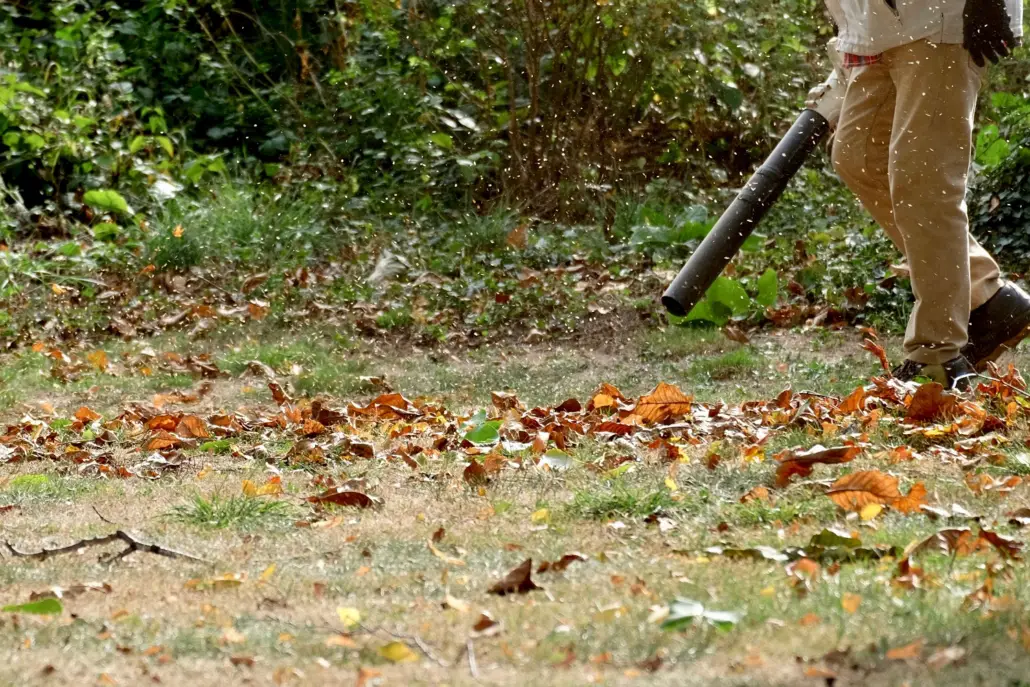 Keeping your lawn clean can be a daunting chore – especially if you have a particularly large lawn. A leaf blower will make keeping the ground free of fallen leaves, grass clippings and other debris much easier and faster as opposed to raking.
But how do you choose the right type of leaf blower? In the following guide we will tell you how and provide valuable insights into these tools. Let's get started!
Things to Consider When Buying A Leaf Blower
The concept behind a leaf blower is very simple: air is pushed out at high speed so you can move and corral leaves as needed. But there are more details that you have to consider when buying one.
In particular, you need to consider the size of your lawn when buying a leaf blower. You should also know the pros and cons of each type. The types of jobs you need done should also inform your decision. Let's take a look at the important considerations:
Lawn Size – Cordless handheld blowers are good for small to medium lawns while a walk-behind leaf blower may be needed for large lawns.
The Work – Some blowers also operate as vacuums, mulchers and are better at blowing dirt so think of the kinds of jobs you will need to do in your lawn.
Power – Air output and speed are measured by MPH and CFM (cubic feet per minute). The higher the MPH and CFM, the more powerful the blower will be.
Reach – Cordless blowers provide unlimited range and would be a good option for larger lawns.
Weight – Most handheld leaf blower weigh around 10 pounds but backpack blowers can be much heavier so consider the weight that you are comfortable with.
Noise – The more powerful the blower, the noisier it is likely to be.
Budget – Of course, you should carefully consider how much money you can responsibly spend on your blower.
The Different Types of Leaf Blower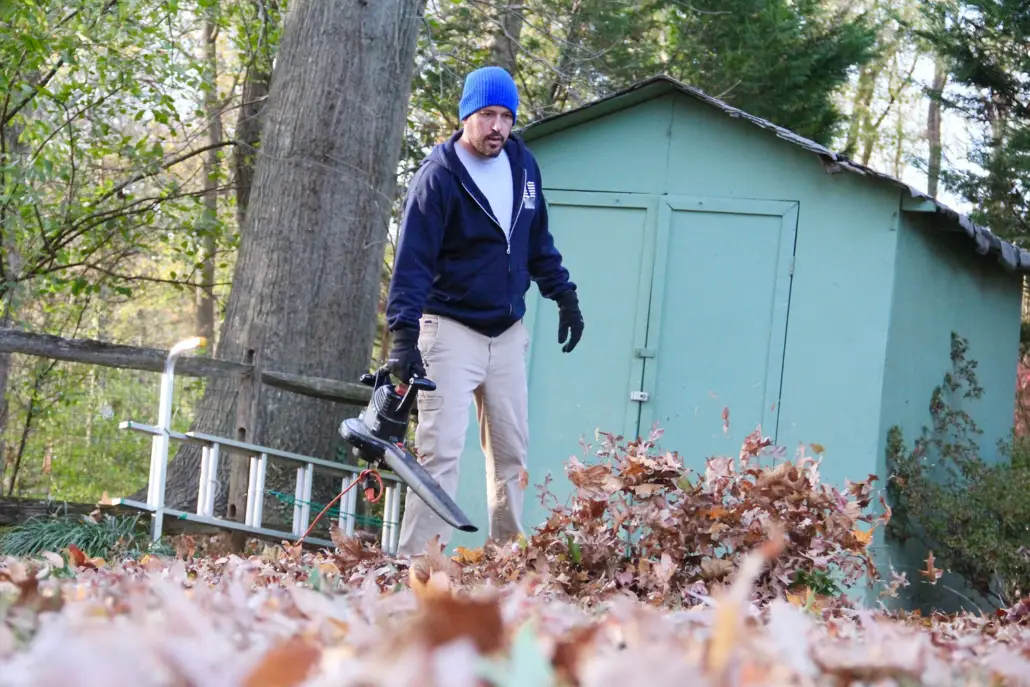 Next, you will need to consider the different types of leaf blower there are as some are better suited for some jobs than others.
Corded Electric Leaf Blowers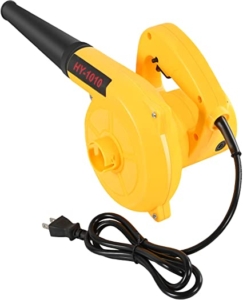 A corded electric leaf blower can be plugged into any standard electrical outlet. While they lack range on their own, you can use an extension cord if you need more reach.
Pros:
No Gas – You won't have to keep a supply of gas handy to operate your corded electric leaf blower.
Lightweight – Without a gas motor and a gas tank, corded electric leaf blowers tend to be very lightweight.
Good for Small Yards – Corded electric leaf blowers are best for small yards or delicate garden areas like flower beds.
Cons:
Limited Reach – Naturally, the cord will limit how far you can go with the leaf blower though an extension cord is always an option.
Underpowered – Corded electric leaf blowers aren't the best if you have a lot of debris to take care of.
These types of blowers would be great for anyone who doesn't have a big space to blow. Depending on your utility rates, they can also be less expensive to operate than gas blowers.
Overall Rating: 94/100
Check Out More Reviews Here:
Cordless Battery Handheld Leaf Blowers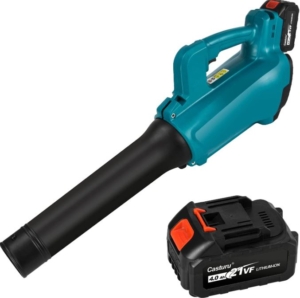 Cordless battery-powered leaf blower provide unlimited range and some models are just as powerful as mid-grade gas-powered blowers. They typically operate off of a rechargeable lithium battery.
Pros:
Unlimited Reach – These are good for medium sized lawns because there is no cord to limit your reach.
Possible Savings – If you already have compatible batteries from other power tools, you can save money on replacement batteries.
No Gas – Again, you will not have to keep stores of gas handy with a cordless battery-operated blower.
Cons:
Weight – The battery certainly adds weight and these types of blowers are typically heavier than corded models.
Battery Swapping – For larger areas or longer run times, you may need to swap the batteries to get the job done.
Battery-powered leaf blowers are also friendlier to the environment than gas models. They would be a good choice for anyone with a medium-sized lawn.
Overall Rating: 97/100
Check Out More Reviews Here:
Gas-Powered Handheld Leaf Blowers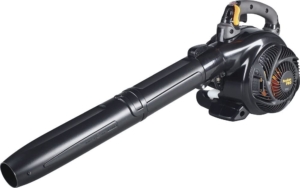 Gas-powered handheld leaf blowers provide ample power and run off of normal gas. There are no cords to deal with either.
Pros:
Powerful – As far as handheld blowers go, gas-powered leaf blowers tend to offer the highest MPH and CFM.
Good for Large Lawns – Compared to battery and corded blowers, gas-powered blowers are better for large lawns.
Wet Leaves – Gas-powered blowers are better for moving stubborn debris like wet leaves.
Cons:
Noise Level – These types of blowers are also pretty noisy so they aren't a good option for sound sensitive areas like schools and hospitals.
Maintenance – Gas-powered blowers also require more maintenance than any electric blower.
Gas-powered blowers would be a good choice if you need extra power and don't intend to use your blower indoors. They vibrate more than electric blowers and are typically heavier so consider the wear and tear on your body.
Overall Rating: 95/100
Check Out More Reviews Here:
Gas-Powered Backpack Leaf Blowers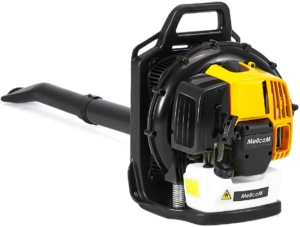 With a backpack blower, you carry the actual motor on your back via shoulder straps. A flexible, lightweight blower hose extends out of the backpack unit and can be operated with one arm.
Pros:
Professional Application – If you need a blower for commercial use, a backpack blower would be a good choice.
Longer Run Time – A backpack blower will provide more run time than most handheld blowers.
More Power – A backpack blower will also be more powerful than your average handheld blower.
Cons:
Fatigue – This is not a good option if you have back or shoulder issues or if you get fatigued easily.
Noise – Naturally, the larger motors of backpack blower will produce more noise.
Professional gardeners, landscape contractors or property manager may want to look into a backpack leaf blower. Keep in mind though that they are harder to store than handheld units.
Overall Rating: 94/100
Check Out More Reviews Here:
Gas-Powered Wheeled Leaf Blowers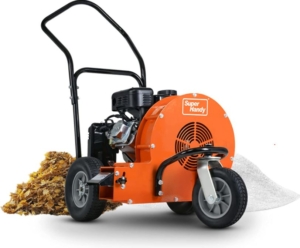 Wheeled leaf blowers are also known as walk-behind blowers. They have wheels and you operate them by pushing them a long much like a lawnmower.
Pros:
More Power – Of all the blowers we have mentioned so far, wheeled blowers tend to offer the most blowing power.
Easy on the Body – Because most of the weight of the machine is placed on the wheels, walk-behind blowers are easier on the body.
Professional Application – Because of the power of these blowers, they are also great for professional applications.
Cons:
Storage – Wheeled leaf blowers tend to be the most difficult to store because of their size and awkward shape.
Maintenance – Walk-behind blowers also need regular maintenance which may be too demanding for some people.
If you have a very large lawn or need a blower for your job, a walk-behind blower might work best for you. They're also great if you have joint or mobility issues. Just make sure you have enough space to store yours.
Overall Rating: 95/100
Check Out More Reviews Here:
Combination Vacuum/Leaf Blowers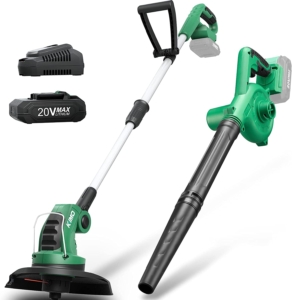 Some leaf blowers also operate as vacuums. They use suction power to suck up lawn debris and trap them in an internal tank.
Pros:
Good for Mulching – You can use the blower function to spread your mulch once you have sucked it up with the vacuum function.
Doesn't Need to Blow Debris – If you don't want to blow a bunch of leaves and dirt into your pool or on your car, a vacuum blower would be a good choice
Good for Flower Beds – The suction can help clean up your flower bed without harming the flowers.
Cons:
Less Power – In general, a combination vacuum/blower will not be as powerful as the other ones we've mentioned.
Limited Capacity – With a vacuum blower, you may need to empty the leaf bag often.
Vacuum blower tend to be best for small gardens and lawns. They are also viable if you have a pool in your backyard.
Overall Rating: 96/100
Check Out More Reviews Here:
Electric Vs Gas
Electric leaf blowers are better for the environment but aren't as powerful. Gas blowers require more maintenance but are better for larger lawns.
Battery Vs Corded
Battery blowers offer unlimited range but the batteries take time to charge. Corded electric blowers are lighter but have a limited reach.
Backpack Vs Handheld
Backpack blowers are more powerful but more difficult to  store. Handheld blowers are lightweight but not the best for commercial applications.
Walk-Behind Vs Backpack
Walk-behind blowers can be easier on the body but difficult to store. Backpack blowers are powerful but can tire your shoulders out.
Leaf Blower Vs Rake
A leaf blower will make shorter work of your lawn cleanup chores. They are more expensive and noisier;  but they are much better for big cleanup jobs.
Leaf Blower Vs Vacuum
A leaf blower is quick but may blow debris where you don't want it. A vacuum will be good for anyone who has a pool or delicate flower beds.
Residential and Commercial Projects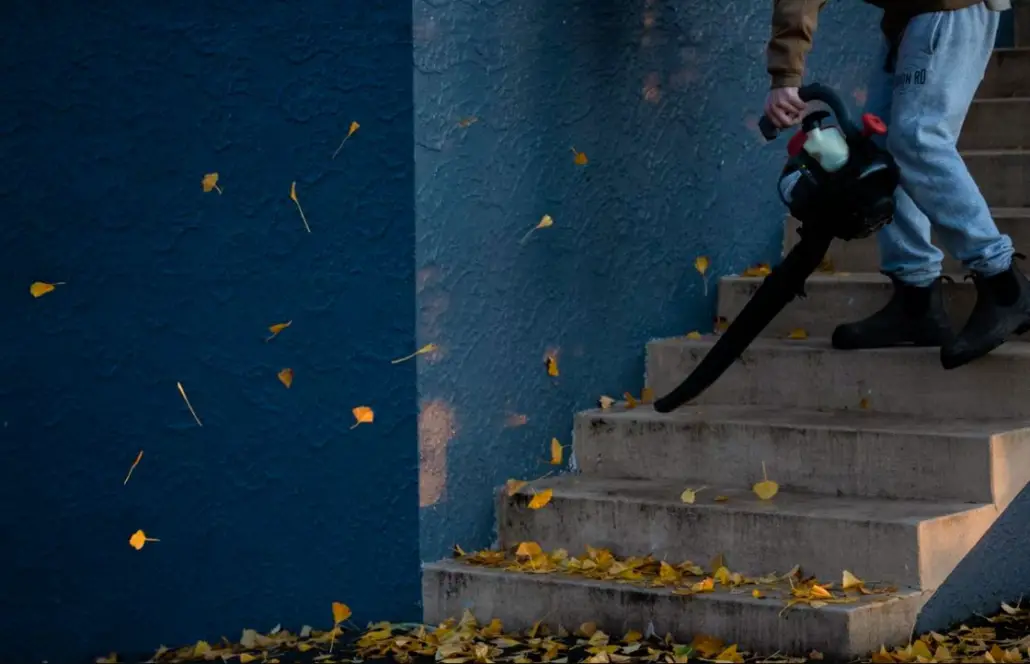 If you need a blower for daily, near-daily, large or commercial applications a backpack or walk-behind blower would be a good choice. For smaller residential projects, any handheld blower should do fine.
Leaf blowers have different shaped nozzles as well. The narrower nozzles are best for leaves while rounded nozzles are better for moving dirt. You will also see CFM and MPH ratings on leaf blowers. The CFM (cubic feet per minute) will determine how much debris the blower can move at once. The MPH will determine how fast the air is being propelled.
High CFM is better for moving lots of leaves at once while high MPH will make it easier to move heavier debris.
What Leaf Blower Is Best For Small Jobs?
For small jobs a handheld corded blower or a vacuum would work well. However, you are going to have less power overall.
What Leaf Blower Is Best For Medium Jobs?
For medium jobs, you may want to look into a gas-powered handheld blower. The downside is having to keep a can of gas handy.
What Leaf Blower Is Best For Large Jobs
For large yards, you may want to consider a walk-behind blower or a backpack blower. The downside with these types is that they are harder to store.
Leaf Blower FAQ's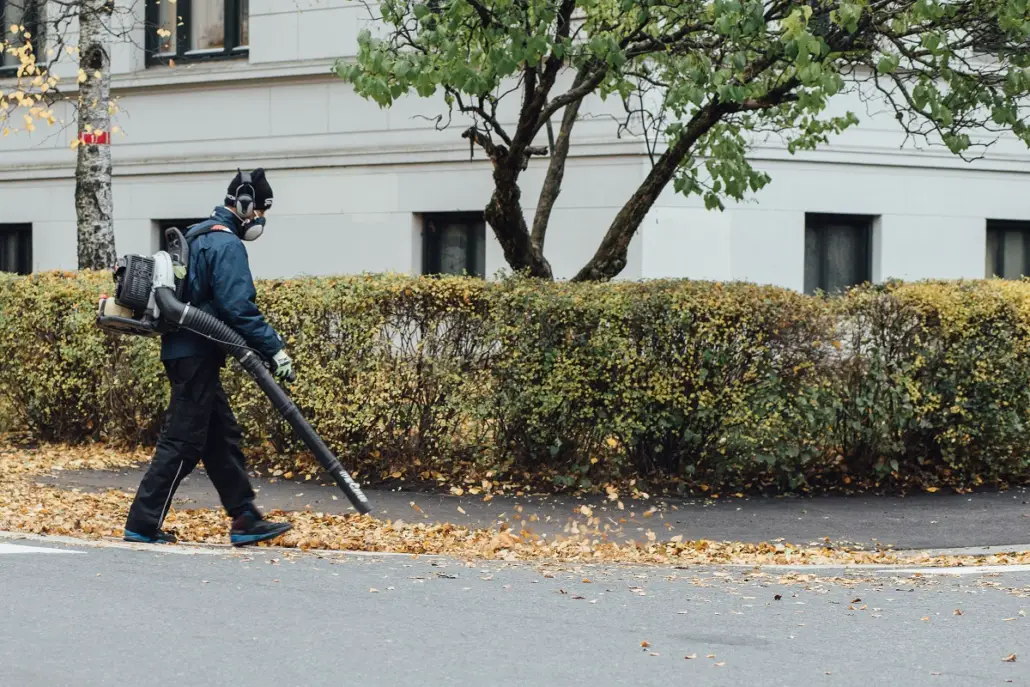 Q: How To Maintain A Leaf Blower?
Store it in a dry place, check/replace the air filter regularly and wipe it down with a damp cloth after every use.
Q: How Much Will A Leaf Blower Cost?
Corded blowers are the least expensive while gas-powered models are the most expensive. They can range from $60 to $200+.
Q: How do you use a leaf blower efficiently?
It's best to go easy on the throttle. Short bursts are usually more effective than running it at full throttle all the time.
Q: Why you shouldn't use a leaf blower?
If noise is an issue or if you are cleaning up an area near a pond or pool.
Q: What is the strongest gas powered leaf blower?
Echo makes one with a CFM rating of 1110 and an MPH rating of 220.
Q: What happens if you leave a leaf blower in the rain?
Leaving a blower in the rain could cause a short circuit.
Q: Can You Use A Leaf Blower On Grass?
Yes. You can use it to clean leaves off the grass or dry the grass before mowing.
Q: Can A Leaf Blower Pick Up Grass?
Vacuums can and some models operate as both a blower and a vacuum.
Q: Are Leaf Blowers Waterproof?
No, they should never be left out in the rain or get excessively wet.
Q: Why do leaf blowers have bags?
Some models that operate as a vacuum will have a bag to catch the debris.
Final Thoughts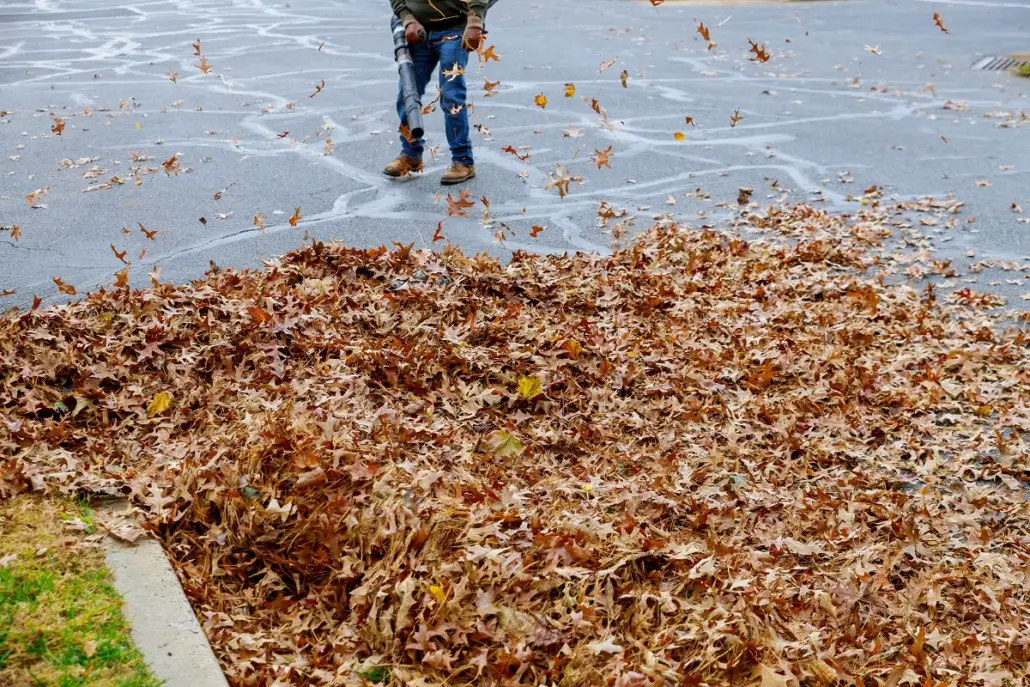 As you can see, there is a lot to think about. But if you made it this far in the article then you have a good idea of which blower will work for you! Carefully consider all of your options and happy gardening!