String Trimmer Buying Guide – How To Choose The Best Weed Eater For Your Garden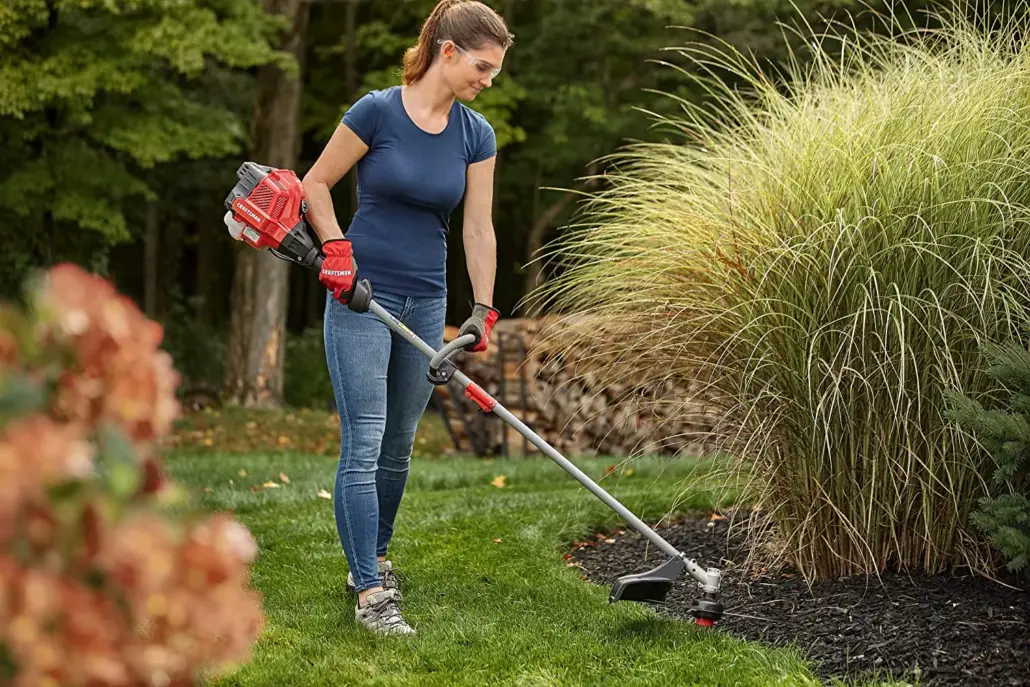 If you're reading this article then you probably take a lot of pride in maintaining a pristine lawn, backyard or garden. And you probably already know that there are some jobs that your lawn mower just can't do.
Weeds can ruin the look and the function of your lawn and dealing with them has been the bane of many a home gardeners' existence. The good news is that there are viable options for taking care of weeds that don't involve getting down on your hands and knees and pulling them by hand.
A string trimmer (also known as weed whackers) is an essential tool for anyone who cares about their lawn. As the name implies, string trimmers utilize a length of plastic that spins at a high speed to safely chop down low foliage and weeds.
In recent years, they have become a lot more affordable and viable for home use. You still have to practice some discernment though as there are different types with their own pros and cons.
In the following article we will be walking you through all the different types of string trimmers and answering commonly asked questions about them. Be sure to read through this article before you make your final decision!
The Different Types of String Trimmers
String trimmers are great tools because they can get up to hard edges and cut down weeds.
There are 3 basic types of string trimmers. There are cordless string trimmers, some of which run on a lithium ion battery while some are gas powered. There are also corded string trimmers. Let's get into more detail about each type.
Corded Electric String Trimmer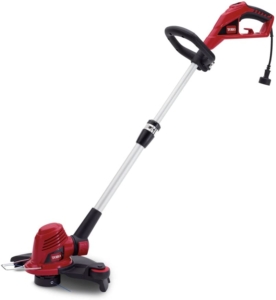 As the name implies, corded string trimmers need to be connected to a wall outlet. The cords are usually pretty short but corded units work as well as cordless trimmers. You can also hook them up to an extension cord for more mobility and range. With a corded electric string trimmer, you won't have to worry about gas, oil or charging any batteries.
Pros:
Good Power – A corded electric string trimmer will be more than enough to handle burly weeds and foliage.
Unlimited Run Time – As long as you have your corded trimmer plugged in, you can run it for as long as you need.
Good for Smaller Gardens – A corded electric string trimmer is great for handling lawns and gardens that are a quarter acre or less.
Cons:
Limited Range – Even with an extension cord, you will only be able to go so far with a corded electric trimmer.
Weight – Some corded electric trimmers can be a bit heavy which is especially troublesome if you have back problems.
A corded electric string trimmer would work great for anyone with a small lawn or garden. They are ready to go when you are but we would definitely recommend pairing one with an extension cord to increase it's range.
Overall Rating: 93/100
Check Out More Reviews Here:
Cordless Battery Powered String Trimmer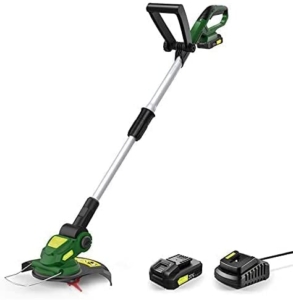 These types of electric string trimmers run on a rechargeable lithium ion battery. Electric string trimmers are better for the environment than gas trimmers but offer the same kind of power and performance. Plus, many run on the same kinds of batteries that you may already have if you have power tools that are the same brand.
Pros:
Good for the Environment – Rechargeable batteries have less of an impact on the environment than gas.
Unlimited Range – These are cordless trimmers so they are great for larger lawns and gardens.
Convenient – Cordless electric string trimmers are also convenient because they don't have cords that you can stumble over or navigate around.
Cons:
Charging Time – You will have to make sure that your batteries are charged and ready to go when you want to edge your lawn.
Battery Swapping – For larger areas, you may have to swap out the battery midway through the job.
Cordless string trimmers are a great choice for large lawns and gardens. Plus, you can choose one based on the power tools and batteries you already have so you don't have to buy additional batteries or chargers.
Overall Rating: 97/100
Check Out More Reviews Here:
Gas Powered String Trimmer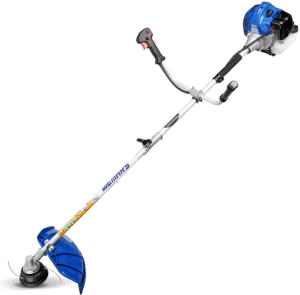 Gas powered string trimmers are powerful enough to take on thick weeds and are great for edging sidewalks and driveways. You will have to keep them topped off with gasoline and keep a supply handy for when you need a refill. They come with either 2 or 4 cycle motors and provide unlimited range.
Pros:
Versatile – Gas powered trimmers are good for handling any kinds of weeds and cultivating your law/garden space.
Unlimited Range – Like cordless electric trimmers, gas trimmers allow for unlimited range and excellent maneuverability.
Price – These days, you can get gas powered string trimmers for less money than some cordless models.
Cons:
Spilling – With any gas-powered lawn tool, there is always the chance that you will spill gas when refilling.
Maintenance – Buying gas for your string trimmer can get expensive in the long-run.
A gas powered string trimmer would be a good choice for anyone with large lawns or gardens. They may also be a good choice if you have other gas-powered tools since you will need to have a supply of gas around anyway.
Overall Rating: 94/100
Check Out More Reviews Here:
Things to Consider When Buying A String Trimmer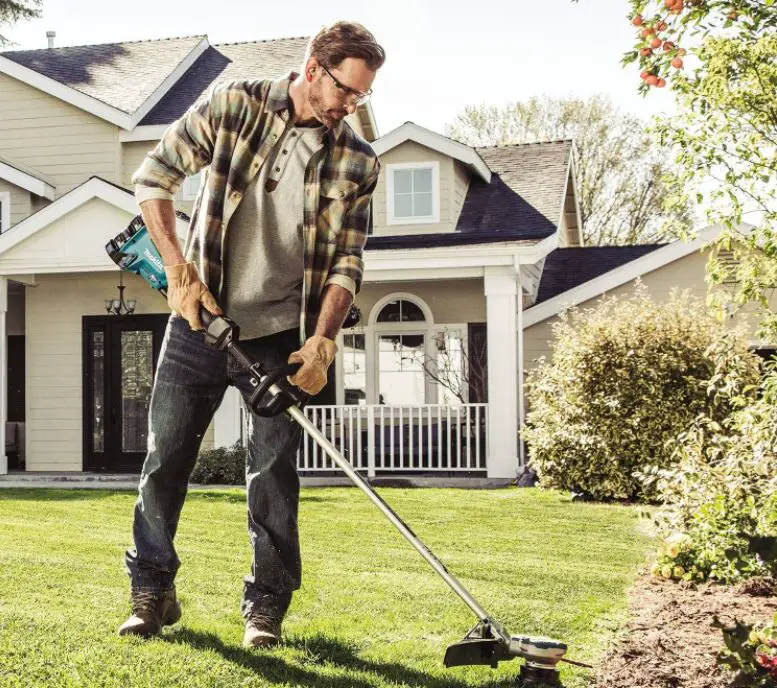 Aside from the three main types of string trimmers, there are important aspects to consider before you make a purchase.
Size of the Area – The type of trimmer you buy should depend largely on the size of the area that needs to be trimmed. Corded trimmers work best in small lawns while gas and battery powered units work well in large gardens.
Cutting Width – The length of the plastic string will determine how wide the cutting width will be. Again, larger cutting widths are better for larger gardens and lawns.
Shaft – String trimmers will have either a straight or curved shaft. A straight shaft gives you a bit more range but can be harder to wield.  Curved shaft trimmers are usually shorter and more maneuverable but lack range.
2 Cycle and 4 Cycle – 2 cycle trimmers weigh less and usually vibrate less than 4 cycle trimmers. 4 cycle motors are more fuel efficient and provide more torque – a definite advantage if you need a more powerful trimmer.
Power Base – A power base will allow you to use more attachments and use your trimmer for more than just cutting down weeds – a good choice if you have a lot of lawn jobs to tackle.
Replacing the String – You should also take a look at how easy it is to replace the string as they should be switched out every so often.
Fixed Lines – Fixed line trimmers are loaded into the trimmer head as opposed to wound into it which makes it a bit easier to replace the string.
Bump Feed Trimmers – Bump feed trimmers allow you to let out a length of string by simply pressing the trimmer head against a flat surface so you have more control over the length of your string and cutting radius.
Auto Feed Trimmers – Auto feed trimmers put out more string as needed and don't need to be paused to adjust the cutting radius.
Attachments – Some models can be fitted with different attachments like a hedge trimmer, pole saw, sweeper, blower and edger.
Noise – You should consider how much noise you want to make when trimming weeds as different trimmers generate different levels of sound.
Safety – You may want safety features like a J handle that keeps your hands a safe distance from the string.
Budget – Last but not least, carefully consider how much you can responsibly spend on a string trimmer.
Corded Electric Vs Gas
Corded electric trimmers don't need gas and they can run for as long as you need them to. They are best for smaller lawns and gardens. Gas trimmers offer more mobility but you need to keep some gas handy to run one.
Cordless Battery Vs Gas
Cordless battery trimmers to be less noisy but may have a higher upfront cost. People with large lawns should consider battery powered trimmers. Gas trimmers would be good if you already have other gas-powered tools.
Corded Vs Cordless
Cordless string trimmers offer more mobility but you have to be mindful of battery life. Corded trimmers are good for smaller areas but require an extension cord in most cases.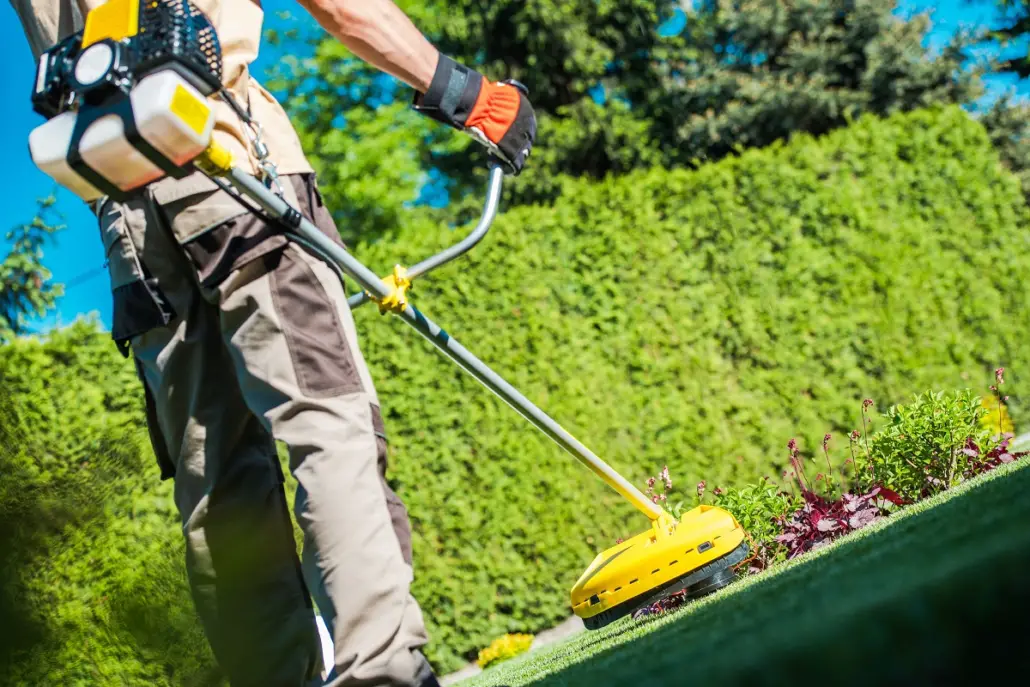 Should You Buy A Powered Base With Different Attachments?
If you want your trimmer to do more than just trim weeds, a powered base would be a good option.
What Attachments Should you be Looking for?
It depends on the needs of your lawn but in general, sweepers and edgers come in very handy.
What's The Difference Between Straight And Curved? What Is Better?
A straight shaft will give you more range while curved shafts tend to be shorter and more wieldy. A straight shaft is better for large lawns while a curved shaft will be better for people with mobility issues or back problems.
How Much Power Do We Need In Our String Trimmer?
For lawns up to a half acre, cordless trimmers work well. Gas trimmers may be more suitable for lawns over half an acre.
What Are The Best Brands Of String Trimmer? Best Model For Each?
The Honda HHT35SLTA and the Cub Cadet ST15E are both great trimmers.
Are They Dangerous?
For gas powered trimmers, you may want to wear ear protection because of the noise but aside form that trimmers are not dangerous. Close toed shoes, safety glasses and gloves are always advisable though.
The Gap Between Head And Shaft – Will It Cause Grass To Get Stuck?
Yes, a large gap may cause taller blades of grass to get tangled in it.
How To Deal With Vibrations And Grip?
A thick rubber grip will help dampen vibration.
What String Trimmer Is Best For Small Jobs?
Corded trimmers are good for small jobs but they do not provide the range that cordless models do. They are more affordable but lack versatility.
What String Trimmer is Best for Medium Jobs?
Battery powered electric trimmers put out around 20-40 volts and are ideal for medium sized lawns and gardens (up to about half an acre). They may not be as powerful as gas trimmers though and you have to be mindful of the battery level.
What String Trimmer is Best for Large Jobs?
Gas-powered trimmers are ideal for large lawns (over half an acre) or particularly burly weeds and foliage. They are louder than most trimmers though and you will have to keep a supply of gas handy.
String Trimmer FAQ's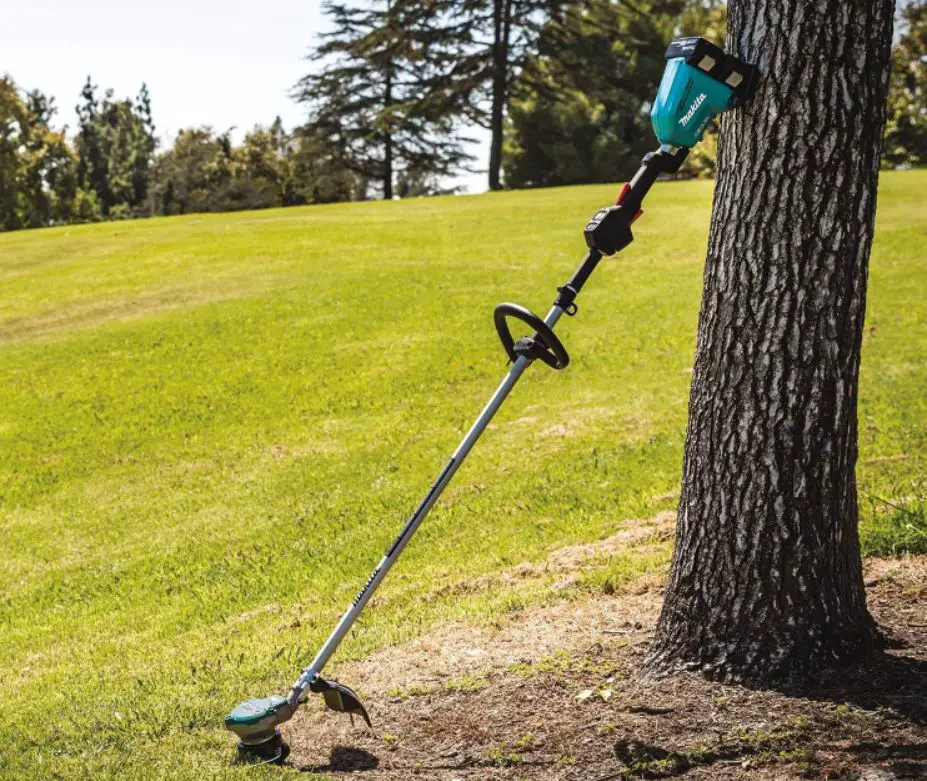 Q: How To Maintain A String Trimmer?
Replace the air filter about every 90 days and keep the exterior clean with water and a mild dish soap.
Q: How Much Will A String Trimmer Cost?
You can expect to pay between $175 and $250 for common string trimmers.
Q: How often do you change string in a trimmer?
If you use your trimmer weekly, the string should be replaced every 90 days. If not, you can go 180 days or more before replacing.
Q: Why does my string trimmer line keep getting stuck?
This usually happens when you allow the string to shorten too far into the spool housing.
Q: Should I take the guard off of my string trimmer for any reason?
No, doing so may shorten the lifespan of your trimmer.
Q: Does trimmer line get brittle with age?
Age and storage conditions can make trimmer line brittle. Cold weather can also cause the line to become brittle.
Final Thoughts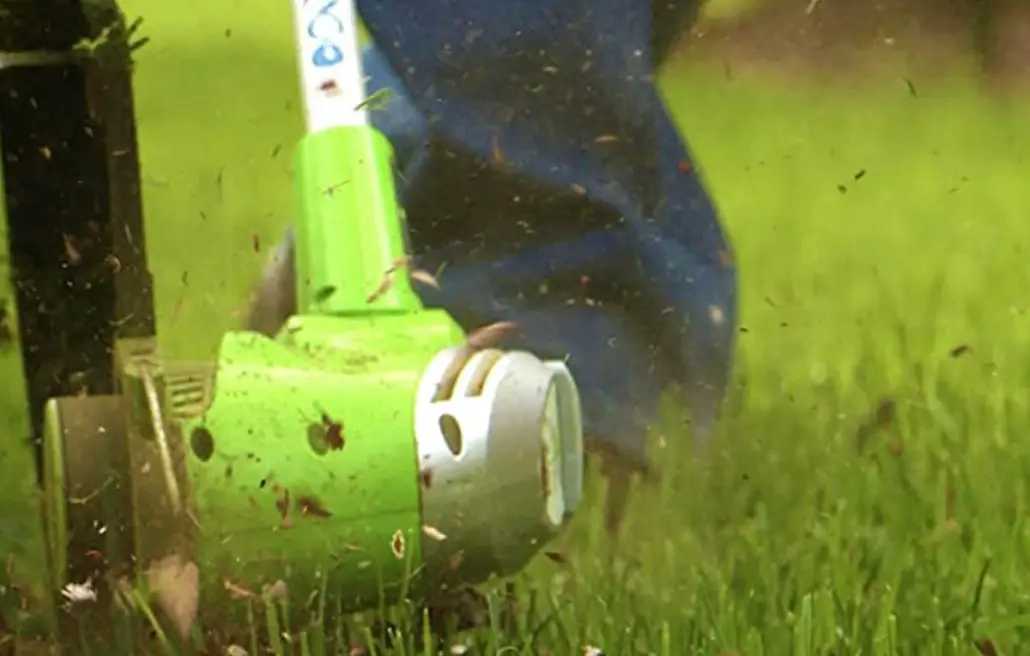 A string trimmer can make your life a lot easier but you have to know how to choose the right one. We hope our guide has been helpful and provided you with insight as to which type would be best for your gardening needs!