Ninja Air Fryer Max XL vs. Instant Vortex Plus – What's The Better Air Fryer Oven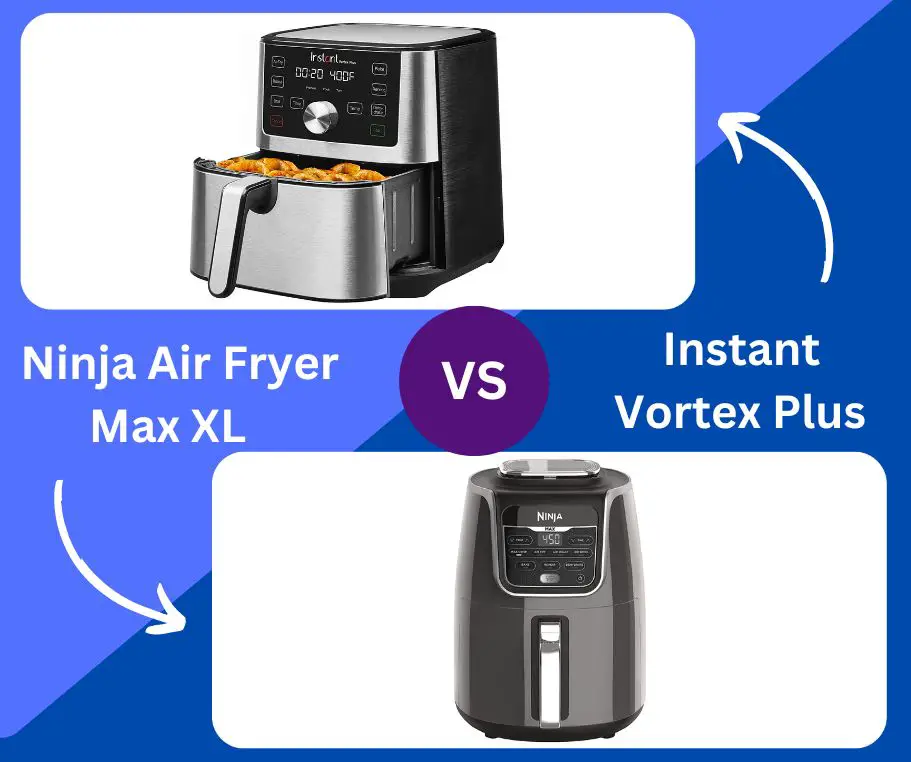 Air fryers are a recent kitchen trend, with everyone getting them and loving the results of deep frying without all the oil. They are also trendy among consumers who want to speed up cooking and save energy and time.
Two of the biggest brands dominating the air fryer ecosystem are Ninja Foodi and Instantpot, with their respective multifunctional Ninja Air Fryer Max XL Vs. Instant Vortex Plus air fryers. Both devices are highly recommended because they can churn out crisp, crunchy foods through hot air circulation.
However, with all the multifunctional features of both devices, you may wonder which brand deserves your patronage. Well, continue reading as we review both products and help you identify the better air fryer oven for your kitchen.
Why The Right Choice Matters?
Air fryers have been drawing attention recently because they are effortless to operate, easy to clean, and cook as no other appliance does in the kitchen. What's more, products like Ninja Air Fryer Max XL vs. Instant Vortex push innovation to the next level by offering consumers a wide range of digital features at affordable prices.
However, whether or not Ninja Air Fryer Max XL vs. Instant Vortex air fryers are suitable for you is ultimately a decision you'll have to make. But coming from someone with insight into kitchen gadgetry, you stand to enjoy a host of benefits when you choose the right product.
Overview of the Ninja Air Fryer Max XL vs. Instant Vortex Plus
The Instant Vortex Plus air fryer has generated impressive reviews from Food Network Kitchen, ranking it best in their air fryer category. The product was tested based on function, user interface, and ease of cleanup.
As for the Ninja Max XL Air Fryer AF161, it wasn't able to earn a top spot on the Food Network Kitchen; however, it managed to impress Good Housekeeping and Forbes, securing the best overall in air fryers.
According to Lauren Denby of the Forbes Vetted Contributor Group, the Ninja Air Fryer Max XL's combination of functionality and efficiency during her cooking tests made her love the product so much.
| | | |
| --- | --- | --- |
| Specifications | Instant Vortex Plus | Ninja Air Fryer Max XL |
| Basket Size | 6 Quart / 5.7 Liters | 5.5 Quart |
| Dimensions | 12.36L x 14.92W x 12.83H | 14″ x 11″ x 14.75″ |
| Temperature Range | 95-400 oF | 120-450 oF |
| Time Range | 1 min to 40 min | 1 min to 12 hours |
| Dishwasher friendly | No | Yes |
Key Features And Selling Points Of The Ninja Air Fryer Max XL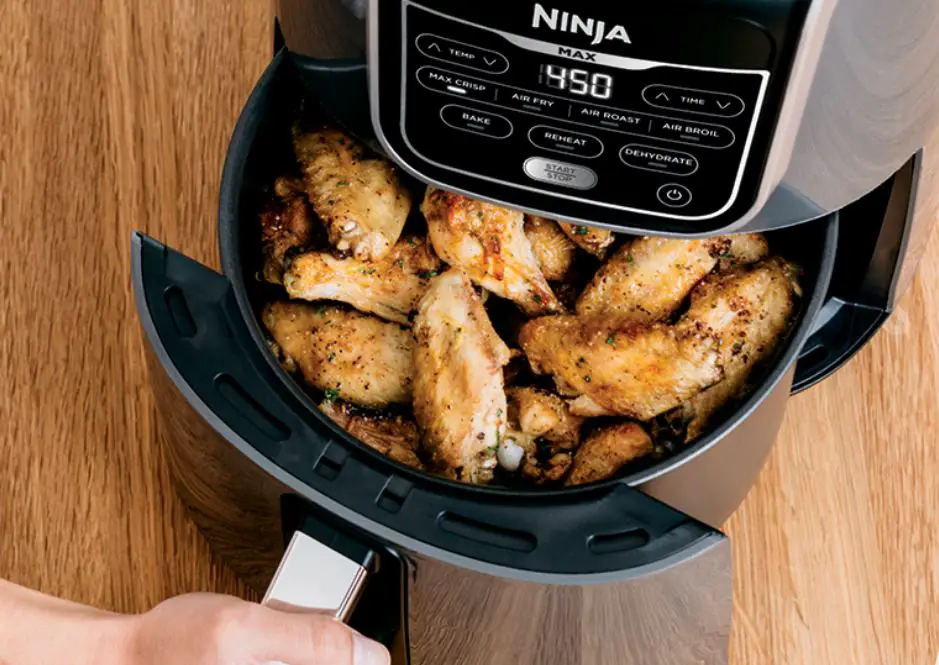 The Ninja Air Fryer Max XL is a solid performer in the air fryer evaluation with seven modes and weighing 10.5 pounds, making it one of the lighter air fryers. Although it has few standout features, consumers will find Its 5.5-quart food capacity adequate.
The kitchen appliance comes with a nonstick ceramic coating air fryer basket and a crisper plate which is dishwasher safe. Unlike some other brands, Ninja Air Fryer Max XL does not discourage you from washing the basket in the dishwasher.
The temperature range of the Ninja Air Fryer Max XL is among the highest of the air fryers in the assessment, allowing consumers to get perfectly crispy results.
Key Features
Max Crisp Technology to deliver superheated air
Wide temperature range of 105°F to 450°F
Ceramic-coated nonstick basket
Broil rack for a crispy and bubbly finish
Multiple functions
Pros
Higher cooking temperature range
Relatively lightweight and compact
20 chef-inspired recipes
7 cooking settings
Cons
Low energy efficiency
More expensive than some competitors
Fewer presets than some air fryers
Ratings
The Ninja Air Fryer Max XL deserves a rating of 84 out of 100 because of its easy to clean and easy to use multiple functions. However, its poor energy efficiency and high costs contribute to its lower rating than Instant Vortex Plus Air Fryer.
Overall Score: 84/100
Check Out More Reviews Here:
Key Features And Selling Points Of The Instant Vortex Plus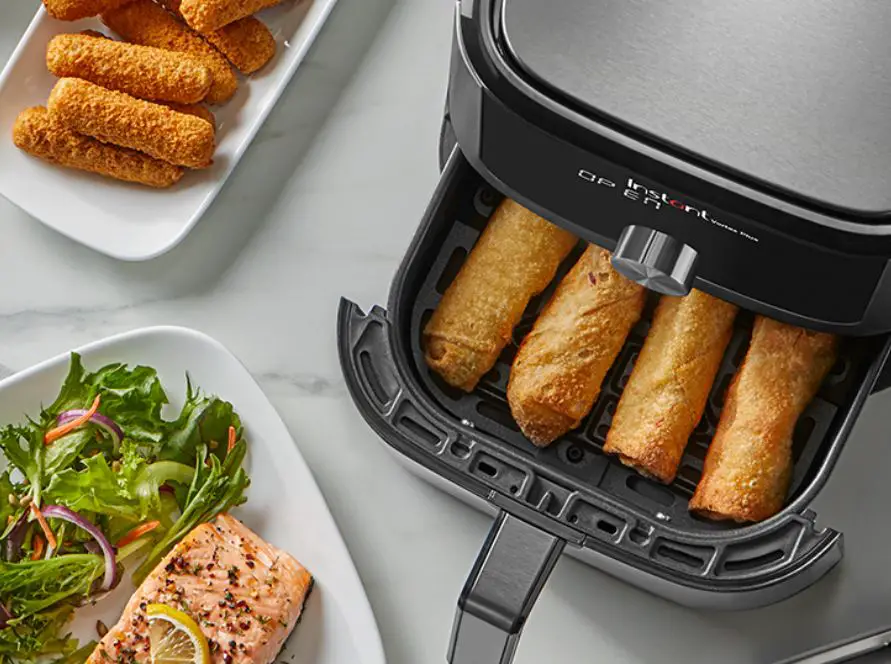 The stainless-steel Instant Vortex Plus Air Fryer is more versatile than ever, with multiple cooking methods. You can air fry the crispiest chips, bake delicious cakes and pastries, roast protein products, reheat leftovers, grill perfect steaks, and dehydrate foods and fruits.
With easily adjustable time and temperature dials and simple one-touch smart programs, you can achieve a perfectly crispy fried texture and flavor without the fat. Also, you can save your presets so your favorite meals can be made using 95% less oil.
Key Features
6-in-1 functionality
Easy-to-Use Interface
Easy-Clean Basket
6-Portion Capacity
Compact stainless steel Design
Pros
Cheaper than most competitors
Touch screen interface
Larger Capacity than competitors
Cons
Quite heavy
Not dishwasher friendly
No cooking recipes included
Rating
This product deserves a rating of 88 out of 100 due to its cheaper cost and larger capacity.
Overall Score: 88/100
Check Out More Reviews Here:
Key Differences Between Ninja Air Fryer Max Xl vs. Instant Vortex Plus
The features of the Instant Vortex Plus Air Fryer and the Ninja Max XL Air Fryer AF161 are great options for most people. However, there are some differences worth noting
Price
These products are affordable, selling below $145; however, the Max XL is slightly more expensive and will cost you some extra dollars.
Performance
Even while both machines deliver outstanding results, the Ninja has the edge concerning speed. Customers in a rush and placing a high value on their time would choose the Ninja due to the faster turnaround time compared to the Instant Vortex air dryer, whose preheating process is slower.
Size
This is a major distinction between the two, with Instant Vortex Plus providing 6 quarts of cooking capacity, while the latter only gives 5.5 quarts.
Efficiency
These gadgets feature straightforward, friendly interfaces that are simple to use. However, the Max XL has a small display and buttons, while the Vortex plus sports a sleeker touch display.
Other Similar Air Fryer Ovens To Consider
The Ninja Foodi 8-Quart DualZone Air Fryer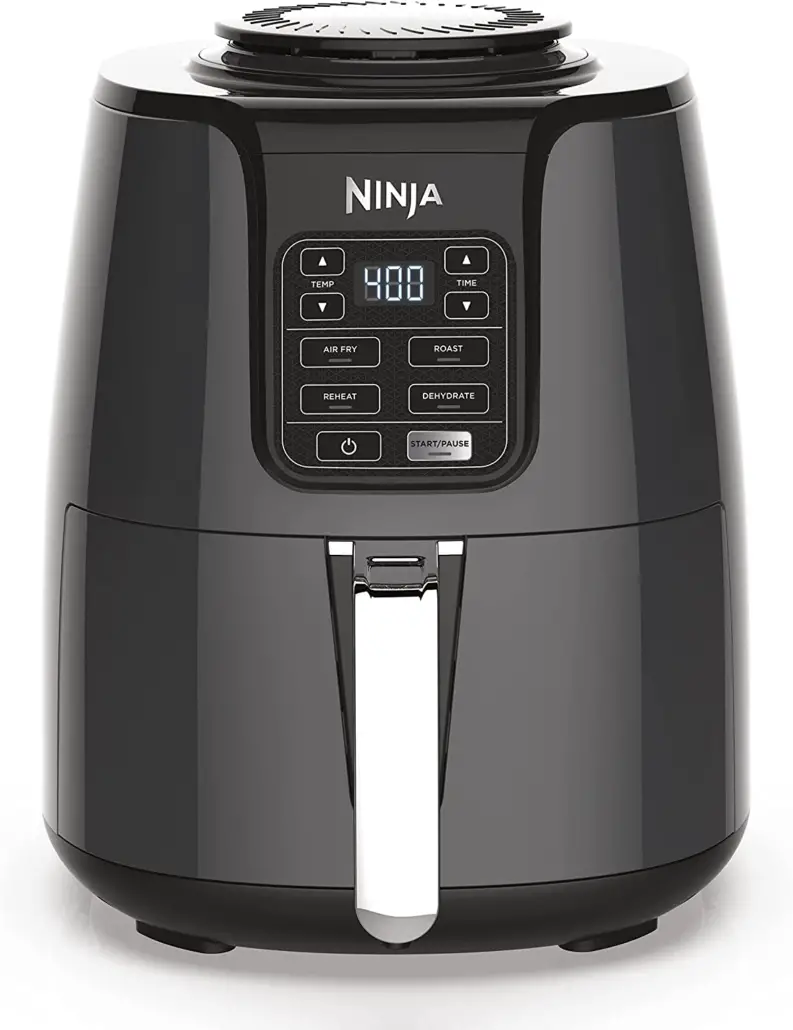 The Ninja Foodi, despite its compact design, comes with two 4-quart baskets that may be used in tandem with the appliance's Smart Finish function to simultaneously cook two separate dishes to their desired temperatures and cooking durations.
The air fryer extracts moisture from the surface by circulating hot air over the meal, giving the dish a deep-fried crunch. It's possible to reduce the amount of fat in meals by as much as 75% when using this approach compared to deep-frying.
Pros
Cheap
Low-powered and lightweight
Dishwasher friendly
Cons
Smaller Capacity
Limited Functions
Check Out More Reviews Here:
Dash Compact Air Fryer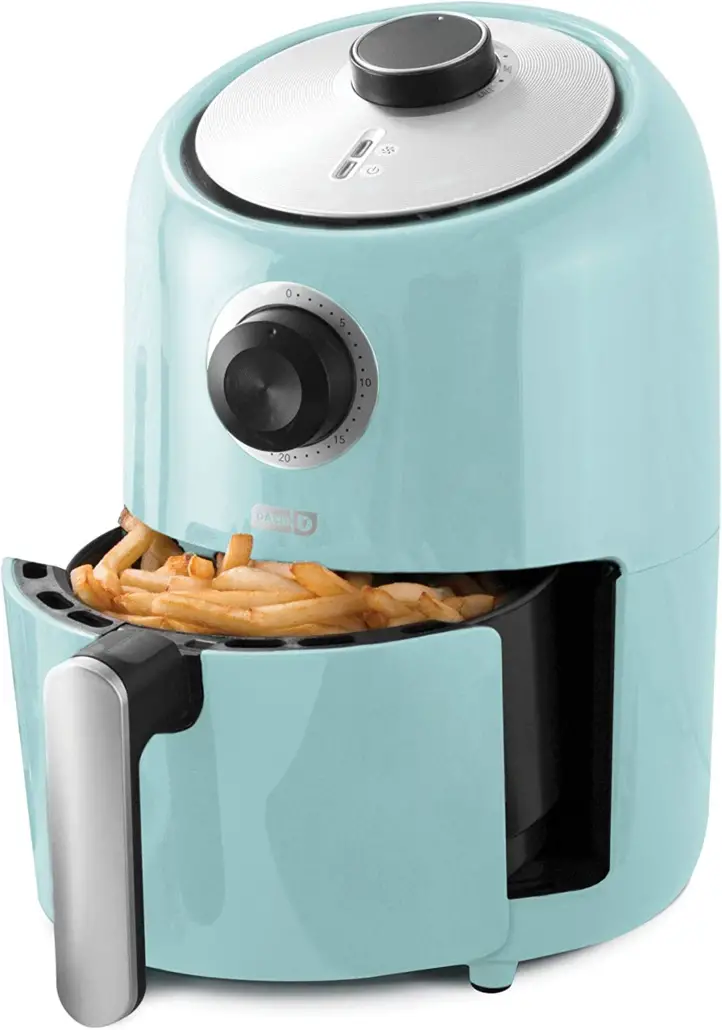 If you're looking for an inexpensive air fryer, go no further than the Dash Compact Air Fryer. It's only 5.7 pounds, yet it can also fry chicken wings and French fries.
The Dash Compact Air Fryer comes with only an air fryer basket and a crisper plate, and it lacks any sort of presets or functions. A mere 1,000 watts of power is needed to run this air fryer, making it the most efficient model available.
Pros
Affordable
Lightweight
Energy-efficient
Cons
Small capacity
No presets or functions
Check Out More Reviews Here:
Cosori Smart Wi-Fi Air Fryer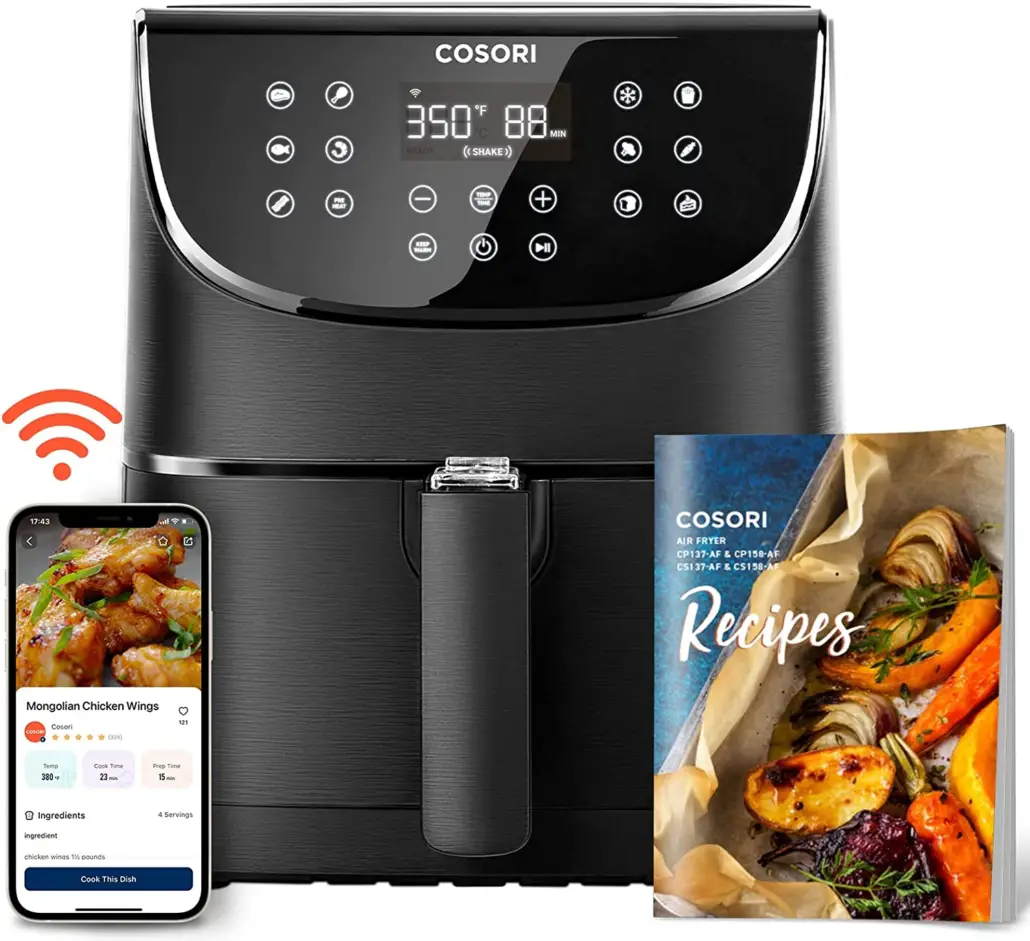 The Cosori Smart Wi-Fi Air Fryer is one of the best air fryers on the market. Compared to other air fryers, this one stands out for its extensive features, including 11 different cooking modes and presets.
According to a video review on the Two Sleevers youtube channel, the Cosori Smart Wi-Fi Air Fryer's most appealing feature is the inclusion of a smartphone controller VeSync app. This enables remote scheduling, control, and monitoring of the appliance.
Pros
Smartphone monitoring technology
Features 11 presets and functions
Nonstick Baskets
Dishwasher safe
Cons
Takes up a lot of counter space
Average capacity
Check Out More Reviews Here:
Overall Recommendation
Both the Instant Vortex Plus Air Fryer and the Ninja Air Fryer Max XL are useful when it comes to making fries and chicken wings that are crispier and cooked more healthily than deep fryers.
However, the Instant Vortex Plus Dual Air Fryer is the best option if you're looking for a cheaper, lighter, large-capacity air fryer for your kitchen top. Also, If you want to keep an eye on your food as it cooks, this is the ideal option.
The  Ninja Air Fryer Max XL is highly recommended if you plan to cook frozen foods in the air fryer often since its innovations guarantee that frozen foods will be crisped and browned to perfection.
Conclusion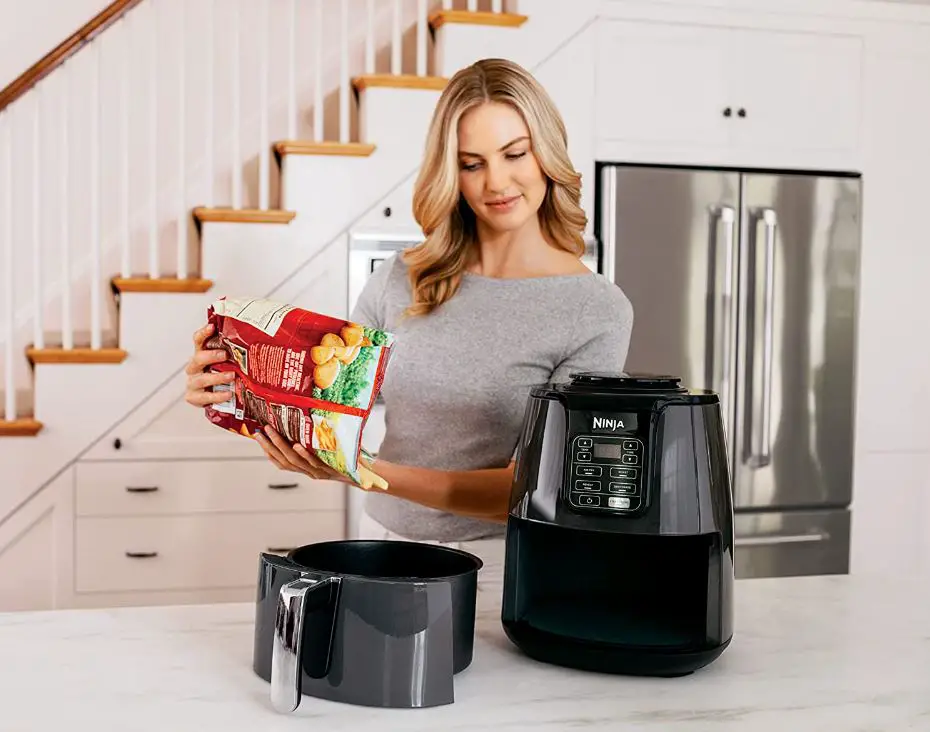 If you're looking to indulge in tasty treats such as fries and chicken wings without worrying about the health implications of deep-frying, using either Ninja Air Fryer Max XL or Instant Vortex Plus air fryer will grant you your wish.
The manufacturers are well recognized as industry leaders and provide a wide variety of basket-style air fryers that use hot air to fry food relatively oil-freely. Both fryers are highly versatile, efficient, and affordable, which is why they come highly recommended by consumers and credible experts.
So, if you are interested in this healthy cooking trend and have some extra cash to spend, utilize our review guide to select the best air fryer for your countertop and get the benefits.