Scotchgard Vs 303 Fabric Guard – What's the Better Fabric Protector?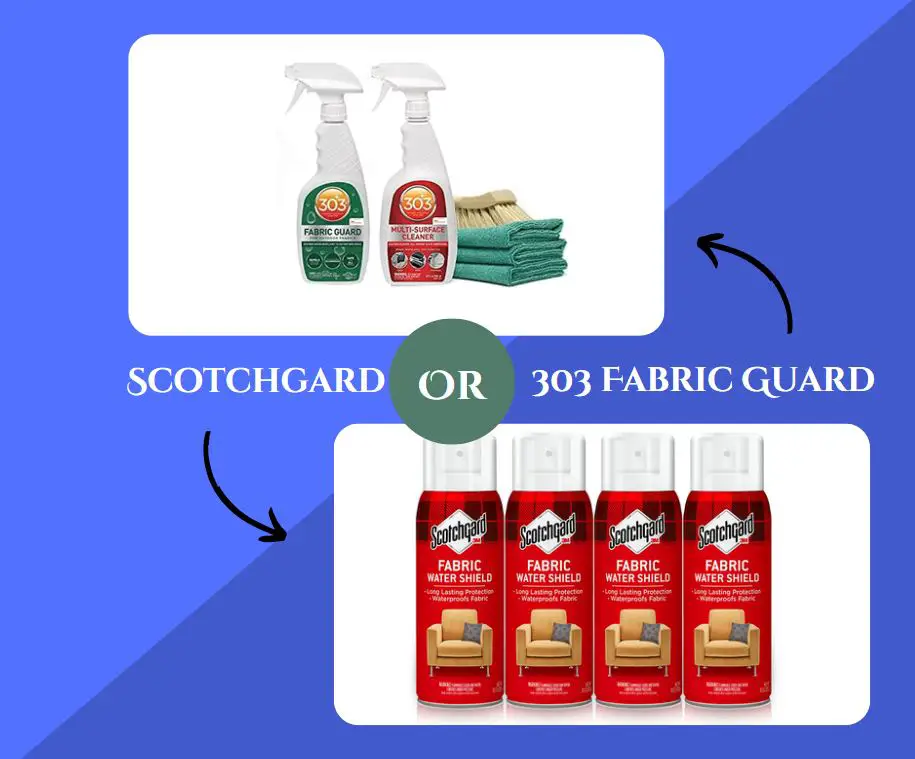 Have you ever bought patio furniture only to find that it has been rendered useless by the sun and rain after just a couple of months?
Don't worry, many consumers have gone through the same thing.
That's why a lot of consumers are turning to products like Scotchgard and 303 Fabric Guard. These products can help protect your outdoor fabrics. Oh yeah, they can preserve your indoor fabrics too. But what's the better buy? Let's get into it!
Scotchgard Overview
Scotchgard is probably a brand you are already familiar with.
They make a lot of different kinds of fabric guard products and they have been around since 1956 to boot. Most of their products focus on indoor fabrics like rugs, drapery and furniture.
However, in recent years, they have expanded their product line to include outdoor water protection sprays. There was a time when Scotchgard was heralded as the clear-cut best spray-on fabric protector brand.
However, in recent years there have been a number of manufacturers that have challenged the stalwart brand. Manufacturers such as…
303 Fabric Guard Overview
303 Fabric Guard is made by a company simply known as 303 Products.
303 Products does not have the long history that Scotchgard does. 303 Products was founded in 1980 and unlike Scotchgard, they actually started out as a manufacturer of outdoor fabric protector sprays.
Since their inception though, the company has branched out into fabric cleaners and products that can be used to protect pretty much every type of fabric.
What's the Difference Between Scotchgard and 303 Fabric Guard?
The main difference between the two brands is that 303 Fabric Guard is seen as more of a specialty item.
Their products are best-known for outdoor use. For example, 303 Fabric Guard is typically used for boats and outdoor furniture.
On the other hand, Scotchgard is seen as more of a household brand. Many of their products have been developed to protect furniture, carpets and even clothing from stains.
Quick Facts
| | | |
| --- | --- | --- |
|   | Scotchgard | 303 Fabric Guard |
| Established | 1956 | 1980 |
| Specialty | Indoor fabrics, stain removers | Outdoor fabrics |
| Availability | Online, in stores | Online, in stores |
| Country of Origin | America | Australia |
Scotchgard Products
Scotchgard Fabric Water Shield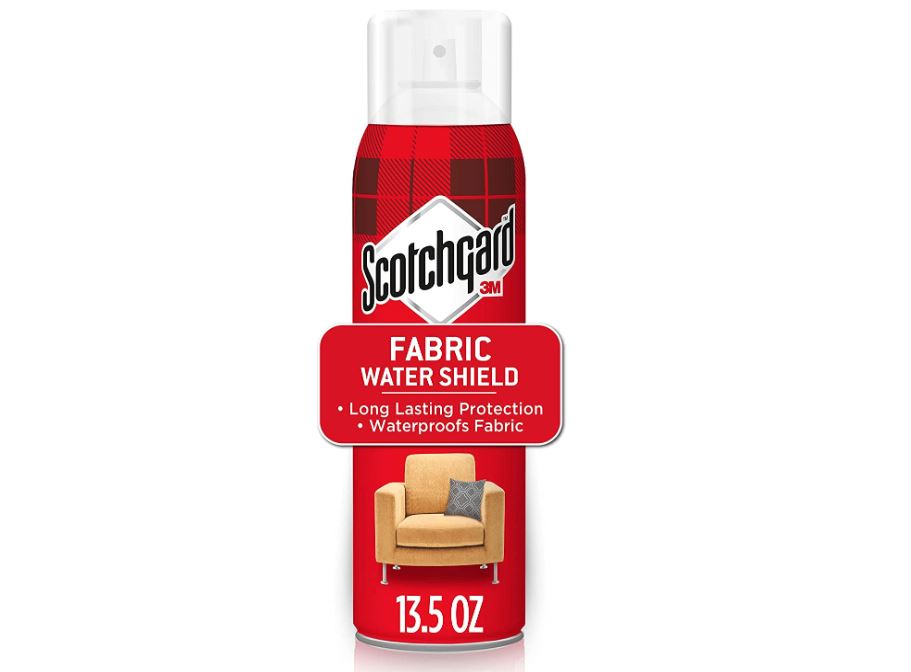 Selling Points:
Made for water-based stains
Spray-on treatment
Suitable for outerwear
Scotchgard Fabric Water Shield is a handy little can to have around the house or even in your truck/RV.
That's because it can be used to help repel water off of a wide variety of fabrics including suede, canvas and cotton.
One thing we liked about this spray was that it doesn't impact the breathability of clothing.
We can see a lot of campers use this on their clothes and not being affected by an odor or a stifling, unbreathable coating.
Overall Score: 98/100
Check Out More Reviews Here:
Scotchgard Fabric & Carpet Cleaner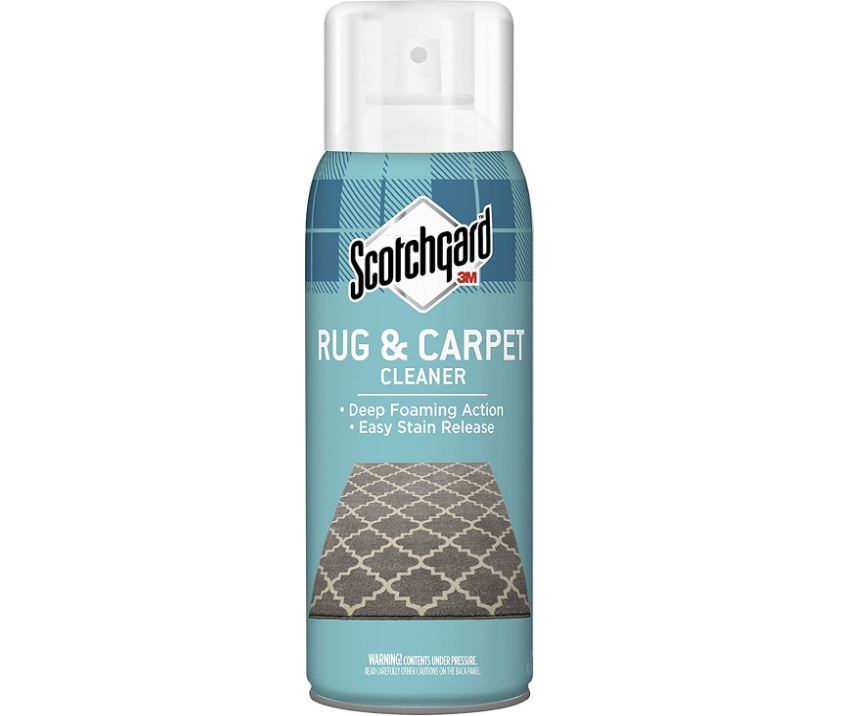 Selling Points:
Spray can
Can be used on washable carpets
Removes stains
If you already have stains on your couches and rugs, Scotchgard Fabric & Carpet Cleaner may be able to help.
Keep in mind that this spray probably won't lift stains that have been there for years; but it works well on recent stains of all kinds.
Scotchgard Fabric & Carpet Cleaner was even useful for getting recent wine stains out of high-pile carpeting.
When tested on car upholstery, Scotchgard Fabric & Carpet Cleaner performed just as well so it's great to have in the car as well.
Overall Score: 96/100
Check Out More Reviews Here:
303 Products
303 Fabric Guard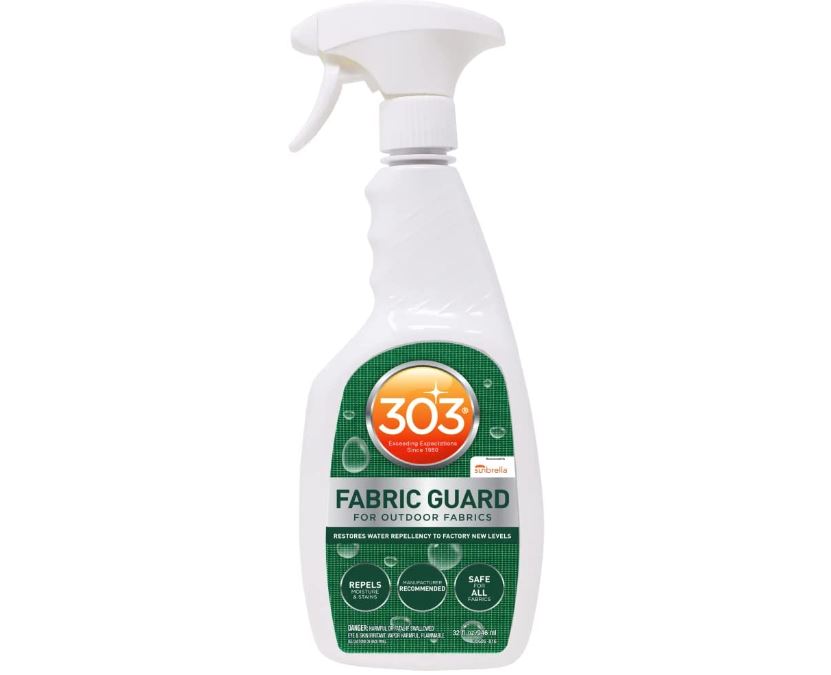 Selling Points:
Restores factor water repellency
Suitable for outdoor fabrics
Does not increase flammability of fabrics
What we really liked about 303 Fabric Guard is that it not only protected against water-based stains; it protected against oil-based stains as well.
Like Scotchgad, this is a spray-on fabric treatment. Just keep in mind that it takes about 24 hours to properly dry.
303 Fabric Guard can be used on car upholstery, umbrellas, tents, backpacks, canvas, natural fibers and synthetic fibers.
It protects better against water than oil-based stains though.
Overall Score: 97/100
Check Out More Reviews Here:
303 Multi Surface Cleaner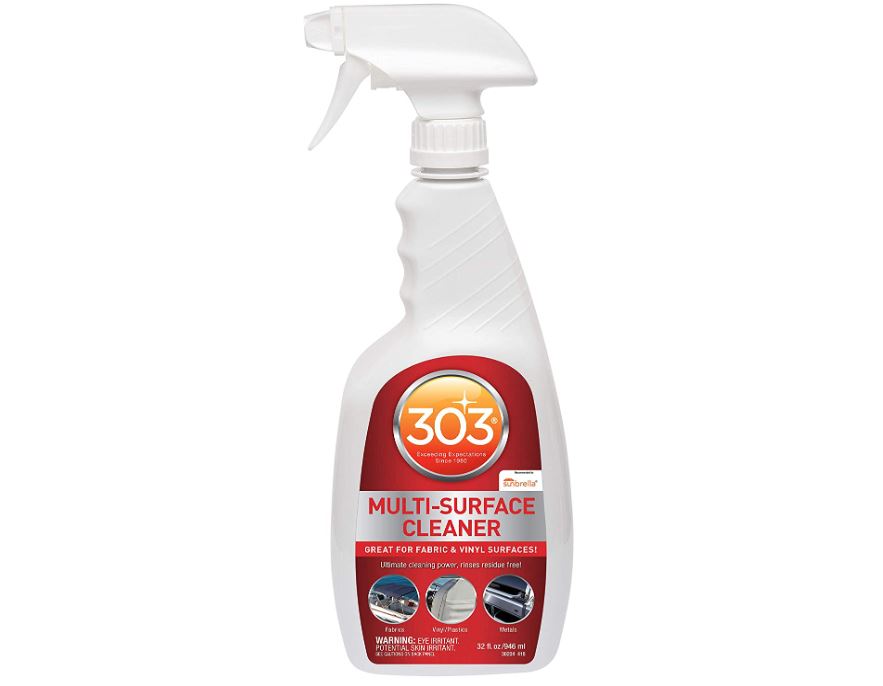 The 303 Multi Surface Cleaner can be used on metal, aluminum, wicker, vinyl, rubber, plastic, stainless steel, chrome and of course, fabrics.
It is a stain remover that works moderately well.
All you have to do is spray the surface until it is wet and wipe the stain off with a cloth or rag. We found that you have to go through multiple applications to get out tough stains though.
Overall Score: 94/100
Check Out More Reviews Here:
Who Has the Better Product Range?
Though both brands performed admirably, it seemed like the Scotchgard brand had a wider array of products.
Did Scotchgard Get Discontinued?
Their products were never discontinued. However, they did change their formula in recent years to eliminate certain components that may have been harmful to the environment.
Are 303 Products Toxic?
So far there have not been any safety complaints lodged against 303 Products for being toxic.
Which Brand Has the Safer Products?
In 2022, it at least appears that both Scotchgard and 303 Products are safe.
Which is the Best Company?
This will surely be a matter of opinion. Based on our testing though, Scotchgard makes slightly more effective products. They have been around for a lot longer and their stain removers are more effective. However, for strictly outdoor waterproofing performance, we would still recommend 303. 303 products were also better at protecting against UV damage.
Scotchgard Overall Rating: 97/100
303 Overall Rating: 95/100
Final Assessment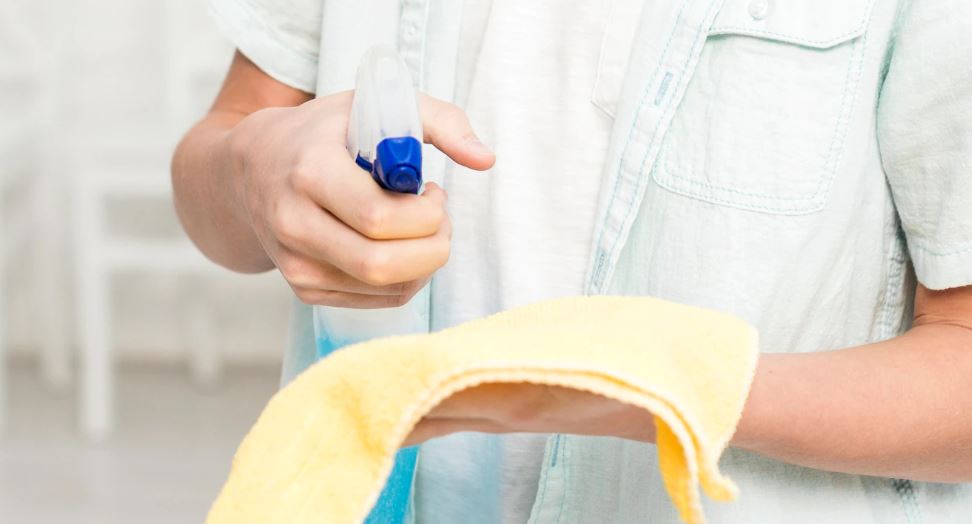 As is the case with other brands we have compared Scotchgard to, 303 Products are clearly better to use outdoors.
The 303 Fabric Guard worked extremely well for repelling water and helping outdoor furniture retain color and vibrancy.
So if you have a lot of outdoor furniture or fabric to protect, you may want to keep a bottle of 303 Fabric Guard handy. In this comparison though, it was clear that Scotchgard makes the better stain removers. Their products are also very reliable in terms of protecting indoor fabrics from stains.