Snow Joe SJ627e Review – Is It Any Good & Worth Buying?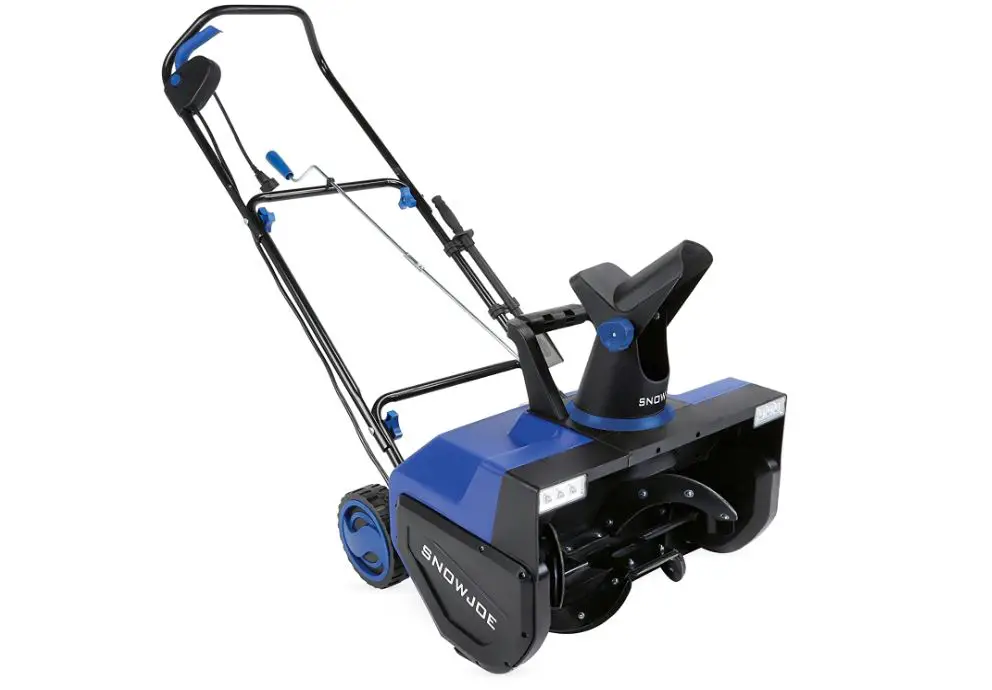 You have probably heard the old saying, "better safe than sorry" and if you have ever been caught in a snowstorm without a snow blower, are probably all too familiar with this old adage.
The fact is that if you live in an area that regularly gets more than 4 inches of snowfall, you need a reliable snow blower. Otherwise you won't be able to get your car out of your driveway – well, not easily anyway.
Sure, you can use a snow shovel; but for more than 4 inches of snowfall you could be taxing your body much more than you need to. You will also surely be spending more time clearing snow than you need to.
That's because there are reliable and affordable snow blowers out there that you could be using instead. Today we will be reviewing one such snow blower: the Snow Joe SJ627e. Is it the right blower for you? Let's find out!
Snow Joe SJ627e Overview
"The Snow Joe SJ627e is ideal for mid to large driveways. Keep in mind that this is an electric, corded snow blower so you will need an extension cord. The powerful 15 amp motor is rated to move 25 tons of snow per hour."
Snow Joe SJ627e First Impressions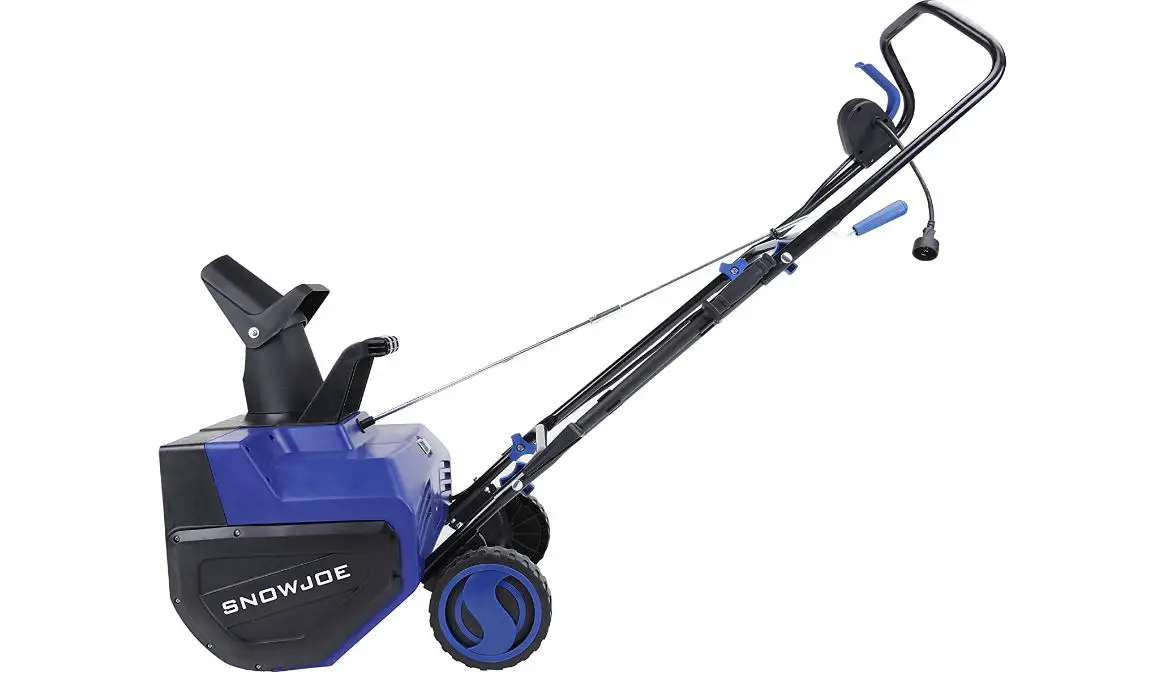 When we first unboxed the Snow Joe SJ627e, we were taken with its size.
It seemed like a big, heavy-duty blower but we were relieved when we actually got it assembled because it didn't weigh too much.
Snow Joe SJ627e Quick Facts
22 inch clearing path
15 amp motor
13 inch clearing depth
Steel augers
Single-stage snow blower
Dual LED work lights
Corded electric snow blower
Adjustable snow chute
6 pounds
Snow Joe SJ627e Key Features
Steel Augers
– This is one of our favorite features because lower SNow Joe electric blower models have rubber-tipped augers that don't cut through tough snow very well. The Snow Joe SJ627e on the other hand has steel augers so it performs better in hard snow.
Dual LED Work Lights
– The LED lights are embedded at the top of the auger housing which actually looks pretty cool. They are nice and bright too so you can see better when you need to clear snow at night or early in the morning.
22 Inch Clearing Path
– The 22 inch clearing path coupled with the 13 inch clearing depth is good enough to clear a 3-car garage driveway in just about an hour.
Corded Electric Motor
– The Snow Joe SJ627e is a corded electric blower with a 15-amp motor. Besides being powerful enough for hard snow, it also means you don't have to bother with mixing gas and oil or changing the oil every year.
Adjustable Snow Chute
– The Snow Joe SJ627e's snow chute can be adjusted 180 degrees.
Scraper Bar
– Near the bottom of the auger housing is a scraper bar. The scraper bar helps feed snow into the auger housing without damaging the surface.
How Does it Perform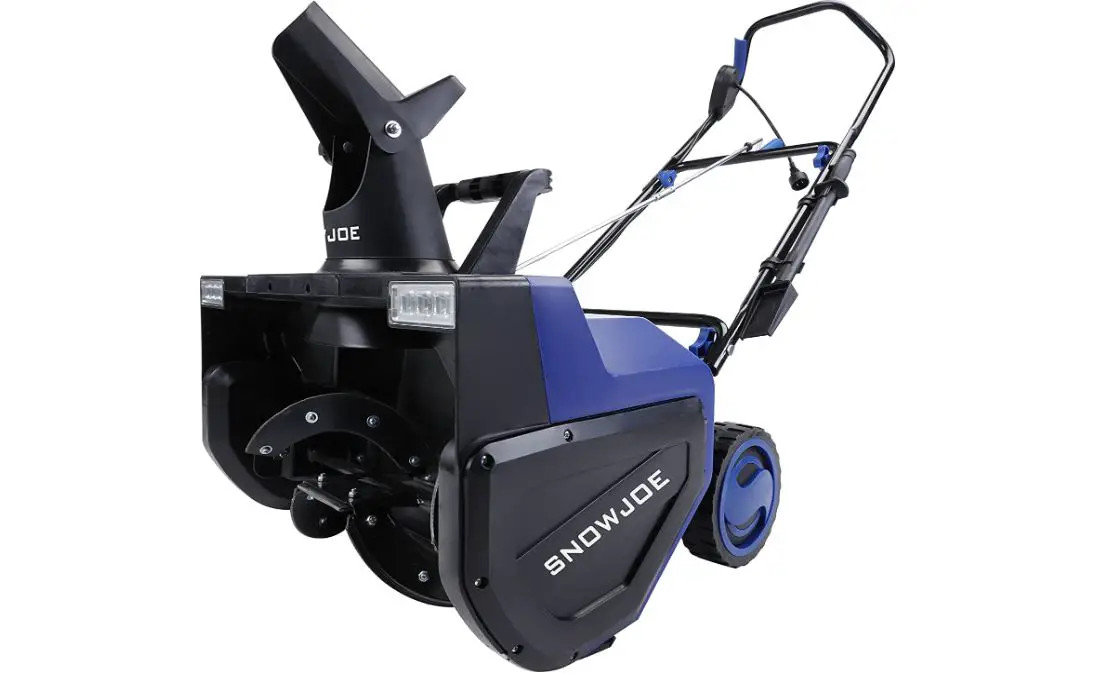 Again, we thought this snow blower was going to be heavy, clunky and awkward; but it wasn't. At just 34 pounds and with a couple of heavy-duty snow wheels, the Snow Joe SJ627e moves around very easily.
This is not a self-propelled blower though so you will have to do all the pushing. It chews up hard snow very well though and can handle moderately wet snow as well.
How Much Snow Can it Handle
The Snow Joe SJ627e has a 22 inch clearing path and a 13 inch clearing depth. It can clear a 2-car garage driveway in about 40 minutes.
How Loud is it?
Being an electric, single-stage blower, the Snow Joe SJ627e is very quiet. It would be even quieter if the chassis weren't made from mostly plastic; but the engine doesn't get very loud even on the highest setting.
How Heavy is it?
The Snow Joe SJ627e weighs just over 34 pounds.
Is the Snow Joe SJ627e Easy to Maneuver?
For a non-self-propelled blower, the Snow Joe SJ627e is actually easy to move around. Mainly because it's lightweight but also because the wheels give you a good amount of grip even in 10+ inches of snow.
How Durable is it?
This is one of the knocks we had against the Snow Joe SJ627e. Most of this snow blower is made from plastic. Granted, it's a heavy plastic but plastic all the same.
That all being said, it does seem durable. Keep in mind that we tested it for just under a week so we can't say for sure how durable it really is.
What Type of Auger Does it Have?
The Snow Joe SJ627e is outfitted with an all-steel auger. We would have liked it better if it was a serrated steel auger; but it still worked very well. At the very least, at least it doesn't have a rubber auger like many electric, single-stage blowers have.
Snow Joe SJ627e Vs SJ625e
The SJ625e is also an electric corded single-stage snow blower. However, the SJ625e has a smaller, 21" clearing path and only one LED work light. The SJ625e would be better suited for slightly smaller driveways – 2-car garage driveways max.
Snow Joe SJ627e Vs SJ623e
The SJ623e is an even smaller model with an 18 inch clearing width and a 10 inch clearing depth. However, it is affordable and would still be a good fit for small driveways or smaller sidewalks.
How Long Should the Snow Joe SJ627e Last?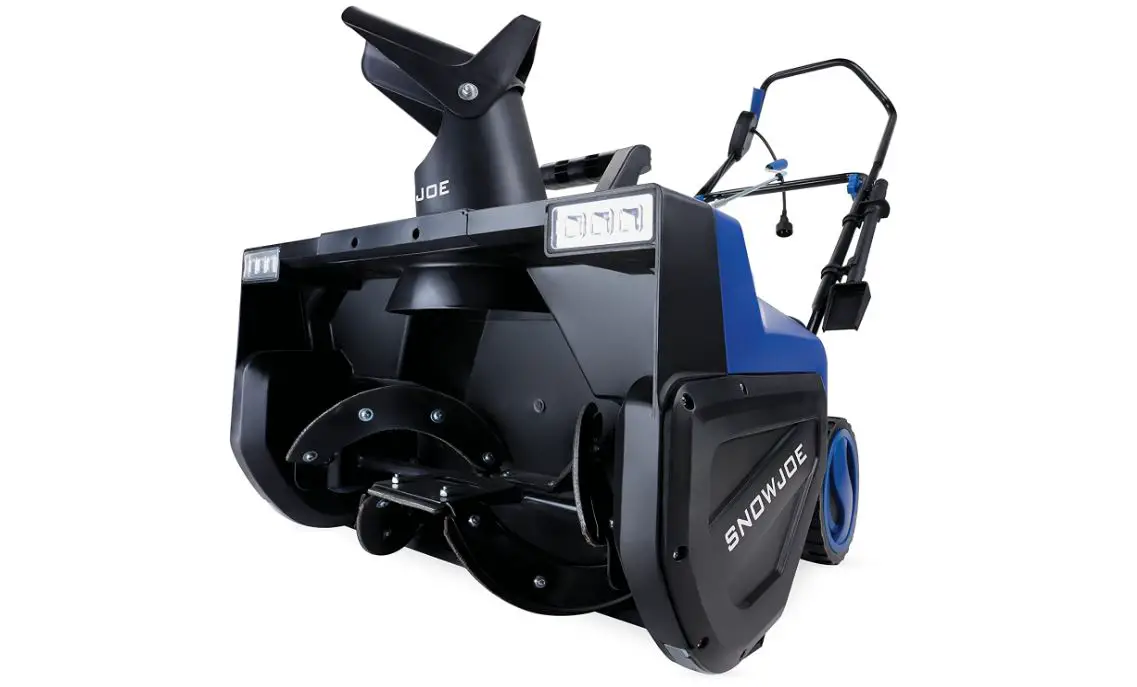 Again, we were only able to test the Snow Joe SJ627e snow blower for just under a week. As an educated guess though, we can definitely see this snow blower lasting for 5+ years.
Snow Joe SJ627e Pros
2 bright LED lights
Easy to maneuver
Handles soft snow very well
Handles hard snow moderately well
Unlimited runtime
Handles wet snow moderately well
Snow Joe SJ627e Cons
Mostly plastic design
Durability concerns
Cord can get tangled up
The chute can get stuck
Overall Score: 96/100
Check Out More Reviews Here:
Who Should Buy the Snow Joe SJ627e?
The Snow Joe SJ627e would be ideal for anyone who needs a mid-powered snow blower but doesn't want to have to deal with gas and oil changes.
Alternatives
PowerSmart 15-Amp Electric Snow Blower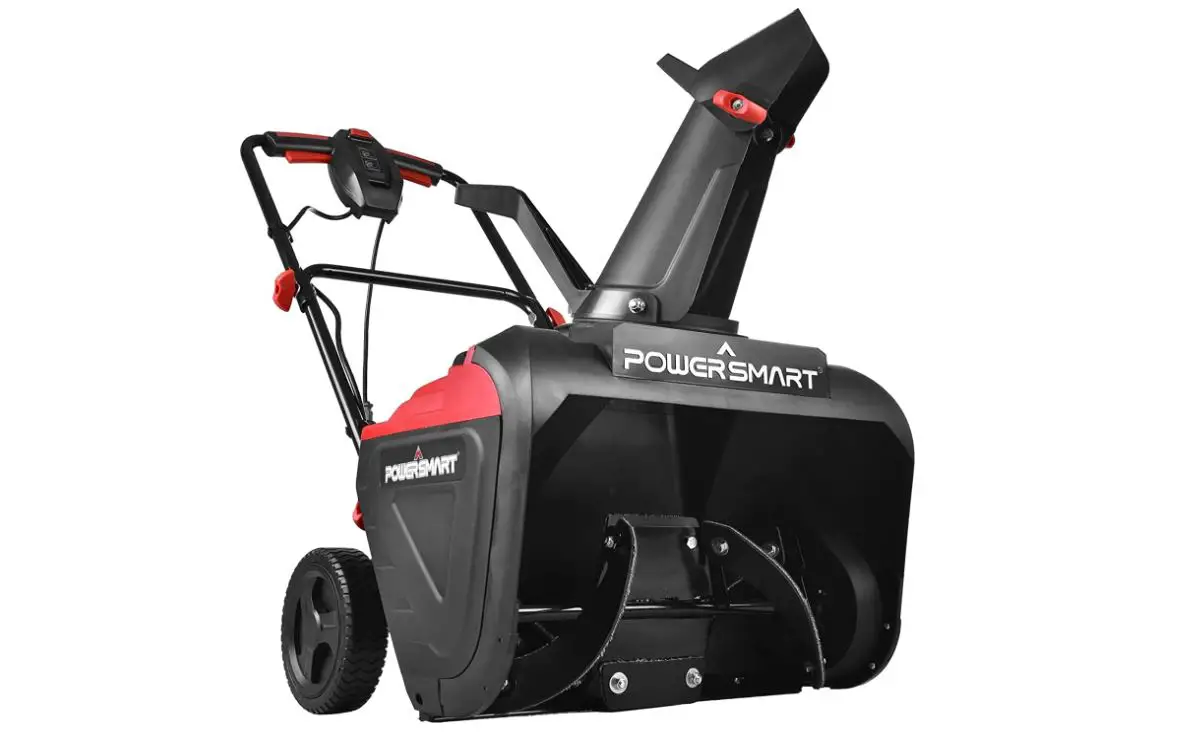 The PowerSmart 15-Amp Electric Snow blower is similar to the Snow Joe SJ627e in operation. It starts up easy and gives you unlimited runtime. However, it does have rubber augers so it may not be well-suited to hard snow.
Overall Score: 94/100
Check Out More Reviews Here:
Snow Joe Ultra SJ624E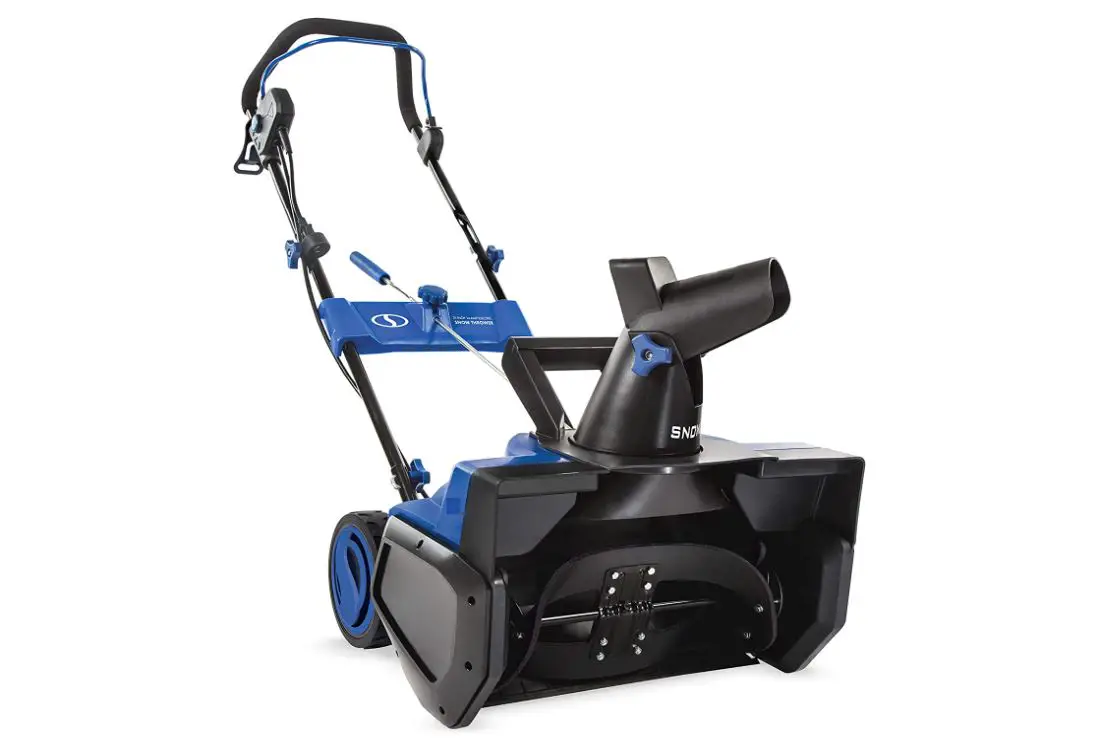 The Snow Joe Ultra SJ624E has a 21 inch clearing width and it sports a 14-amp motor. It has many of the same features as the Snow Joe SJ627e though and would be ideal for smaller, 1-2 car garage driveways.
Overall Score: 95/100
Check Out More Reviews Here:
Voltask Electric Snow Blower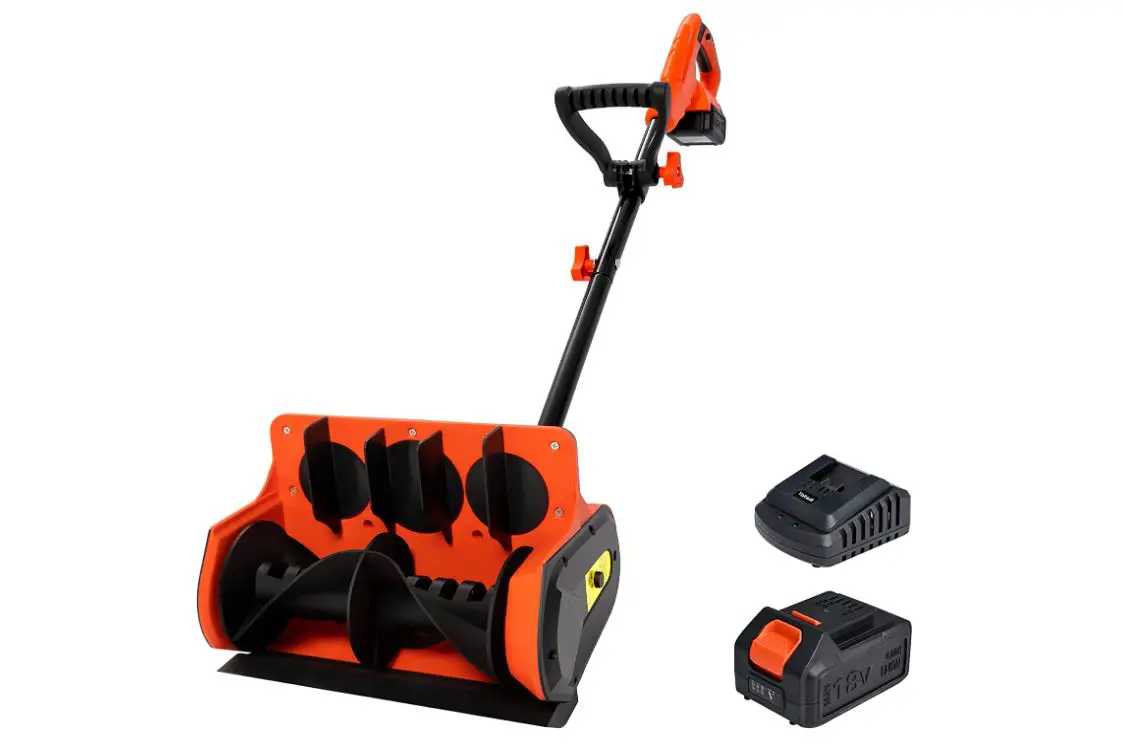 The Voltask Electric Snow Blower has a 13-amp motor and a 20 inch clearing path. It can throw snow up to 30 feet and has an adjustable chute.
Overall Score: 92/100
Check Out More Reviews Here:
Final Assessment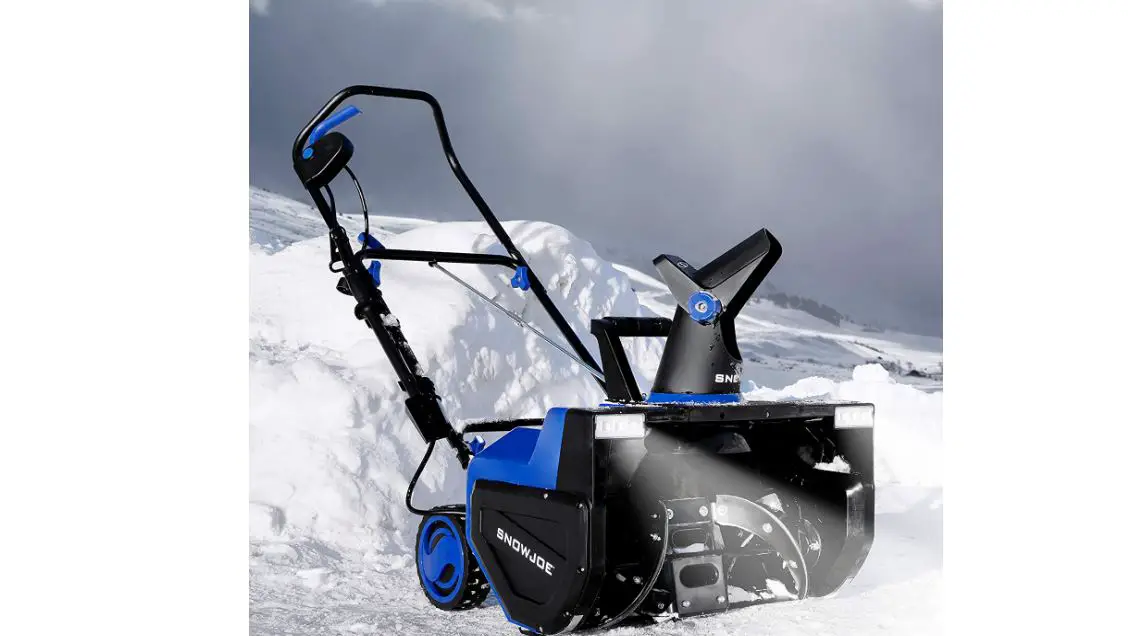 Overall, we really liked the Snow Joe SJ627e.
It is more than capable of clearing 2-3 car garage driveways and you get unlimited runtime. Cord management can get tricky when you're using it; but if you can get past that, you will find that the Snow Joe SJ627e is a reliable, useful and affordable snow blower – definitely worth the buy for mid-sized jobs.