Simplicity 1222ee Snowblower Review – Is It Any Good & Worth Buying?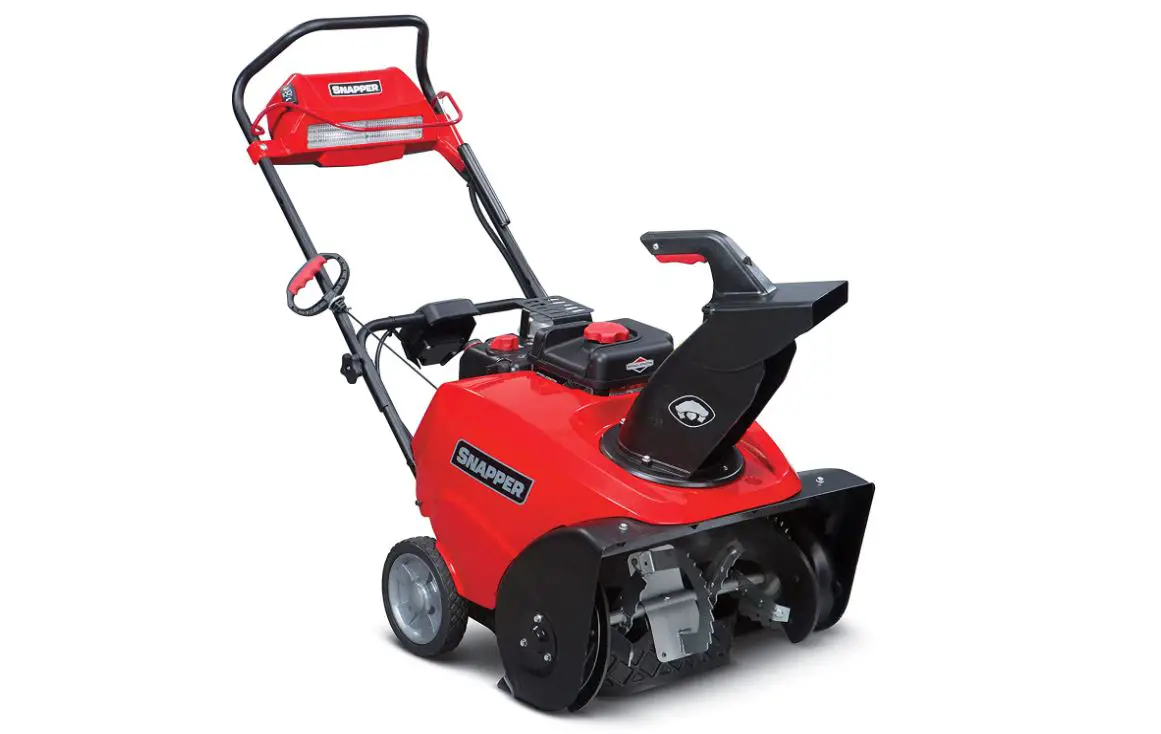 Some people describe the Simplicity 1222ee snowblower as a 'little blower', but don't let that put you off.
For budget buys but also for efficiency, it's worth looking into this snowblower for maintaining your property. Our Simplicity 1222ee snowblower review tells all, with stats and comparisons included.
Complete Overview
The Simplicity 1222ee is a helpful tool even after very heavy snowfalls, all thanks to a powerful motor.
The manufacturers pair this with an effective auger that will loosen packed snow and help you keep the driveway clear.
By the way, don't get confused with the names. You'll see marketing material refer to 'Snapper', 'Simplicity' and 'Briggs and Stratton'.
This is because Simplicity Manufacturing acquired Snapper in 2002 but just two years later there was another acquisition by Briggs and Stratton. So, all these brand names are associated with one another.
First Impressions of the Simplicity 1222ee
With the Simplicity 1222ee you're looking at a fairly compact machine but once the motor starts up you'll realize it's more powerful than you think.
Looking at the machine you'll notice large controls, that make it easy to use, even while wearing your gloves.
Quick Facts Table
| | |
| --- | --- |
|  Specs |   |
| Clearing Width | 22in |
| Engine/power | 4 cycle, 250cc |
| Light | Dual incandescent headlight |
| Warranty | 3 years |
| Intake height | 12.5in |
| Weight | 98 lbs |
| Chute turning radius | 200° |
| Fuel capacity | 3.2 quarts |
| Throwing distance | 30ft |
Key Features of the Simplicity 1222ee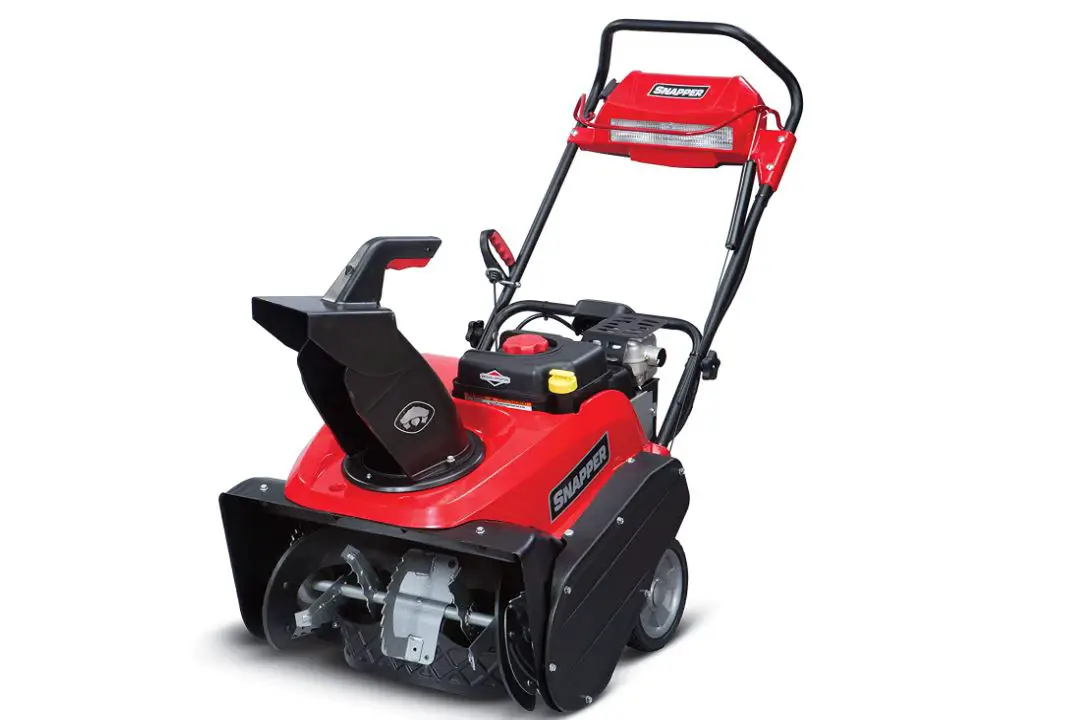 How does this Snowblower Perform?
Overall, this snowblower often surprises users with its performance. Though compact its engine makes it powerful enough to make quick work of clearing the snow away.
It starts easily, preventing the frustration many homeowners experience when trying to get machines working in the bitter cold.
Still, if you do have issues getting it going, the electric start is a huge help. But most customers rarely have the need for it.
Other helpful features that also make a positive impact include the ability to control the chute's rotation from the handles.
This electric feature means you don't have to stop to adjust it, unless you need to change the height of the chute.
How Much Snow can it Handle?
The 1222ee has a clearance width of 22 inches. According to its specs it has a 12.5in intake height. However, this will depend on the type of snow you're clearing away.
In some cases you may find it handles deeper snow, even if you have to go slow or go around a second time to completely clear away the white.
For packed snow, heavy snowdrifts or very wet conditions be prepared to clear only about 6 inches at a time.
How Loud is this Model?
The machine does experience a lot of vibration that adds to the noise level. It's loud—as you can expect from any snowblower.
Is it Easy to Manoeuvre?
Note that this isn't a self-propelled unit, which therefore requires some effort from the user. However, the machine isn't too heavy, so most users will find it an acceptable weight to push forward.
In addition, because the auger makes contact with the surface, it helps to drive the machine along. The weight, along with the auger's help, means you won't get fatigued too quickly.
When it's time to manoeuvre it into storage, once again the fact that it's lighter than many two-stage snowblowers means it's easy to handle.
How Durable is this Snowblower?
Overall users find the snowblower lasts a considerable time. You can plan to use if for years to come as long as you maintain it well. Even the plastic components are of a high quality.
Note that features like the electric rotation may wear out over time. This could require costly replacement parts that aren't always easy to come by, since not all retailers stock this brand.
What Type of Auger Does the Simplicity 1222ee have?
There's a lot to be said for the serrated auger of this model. You firstly benefit from the rubber paddles that help clear a path.
However, you need some extra help if you're clearing heavy snow or layers of snow that has been packed. This is where the serrated steel blades come in handy.
You'll see the machine clears up snow right to the bottom, so you can see the asphalt or other surface type you're trying to clear.
Simplicity 1222ee vs 1022ee
If you like this brand you could also consider the 1022ee model. The clearance width and height specs are very similar.
However, the engine is smaller at only 208cc, and this will make a difference when pushing through thicker snow.
Also, it has a quality, wear resistant, polymer auger, but the 1222ee with its steel serrated auger will be more efficient.
Furthermore, you'll rotate the chute manually and when you want to get the job done quickly you may prefer the electric setup of the 1222ee.
Simplicity 1222ee Pros and Cons
| | |
| --- | --- |
| PROS | CONS |
| Large controls for easy usage | Not self-propelled |
| Headlight covers large area | |
| Powerful motor | |
| Well-designed auger | |
| Electric chute operation | |
Who Should Buy the Snow Joe Snow Shovel 324e?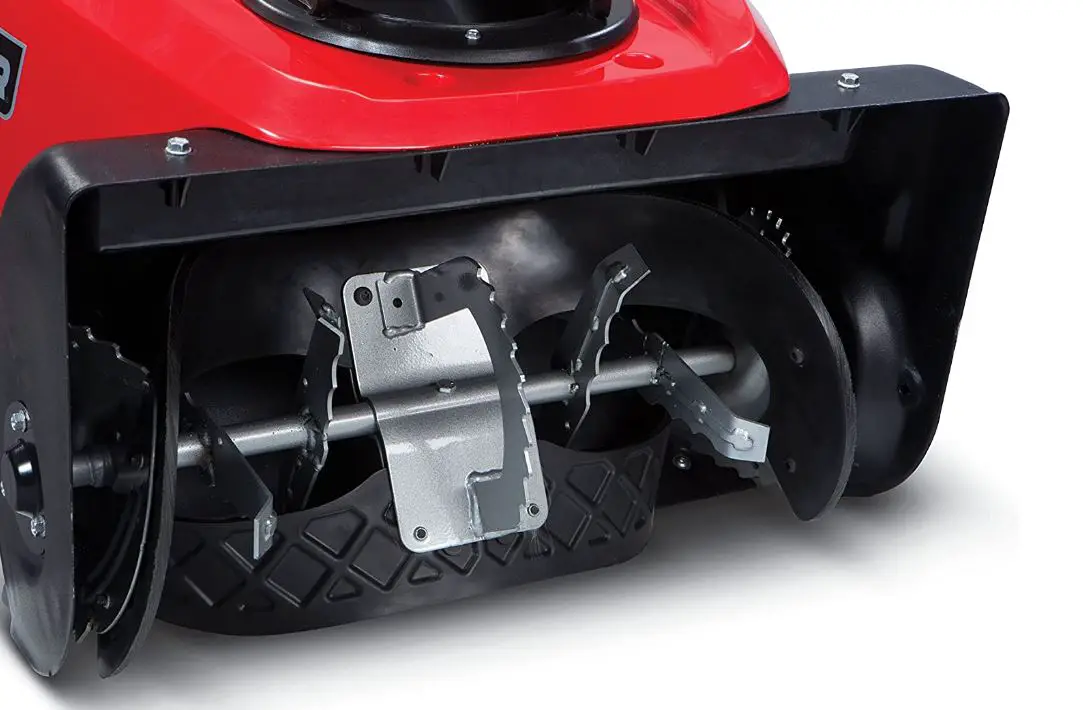 Firstly, this model is a wise investment for anyone shopping on a budget.
If most two-stage blowers are too expensive, this is an efficient snowblower to consider without compromising too much, since it's one of the best one stage blowers on the current market.
Another feature that matters when shopping for these machines is how large an area you need to clear. Experts suggest this is a practical solution for sidewalks or 2-car driveways.
However, with the powerful motor and its ability to fling snow a considerable distance, users have had success working on much larger areas as well.
Lastly, this is a safe option for anyone looking for a lightweight but efficient machine. If you have back problems or can't handle equipment that's too heavy, this could serve you well.
Overall Score Out Of 100
95/100
Check Out More Reviews Here:
Overall Conclusion
The Simplicity 1222ee is a definite win in the snowblower industry.
By combining a powerful motor with a strong auger, even a single stage snowblower can do the job.
This makes for a worthwhile investment for anyone shopping on a budget—or if you have limited space available in the garage.
The brand also added helpful features—from lights to large controls—so you'll feel comfortable using it in no time.