Snow Joe Snow Shovel 324e Review – Is It Any Good & Worth Buying?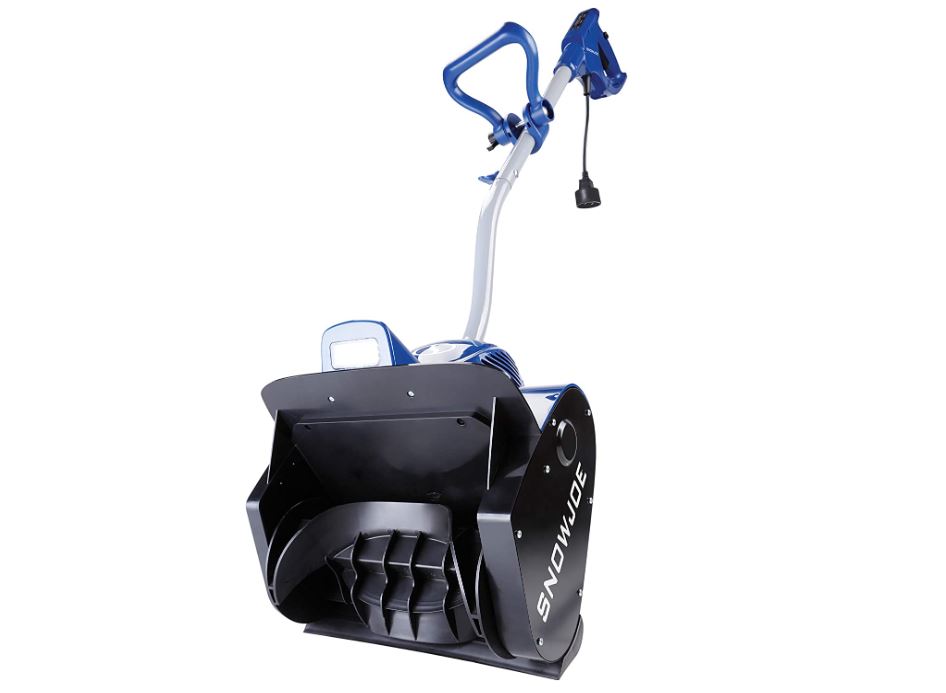 You're tired of shoveling snow but you also don't really need a large snow blower—or perhaps it's not a priority when you consider your budget.
Is there a sensible compromise? Enter the Snow Joe Snow Shovel 324e!
Yes, it's a shovel, but it also has a motor. This means less picking up a shovel multiple times and more clearing away the snow.
It's meant for quick snow clearing sessions, such as when you want to use the deck or clear the steps and porch. Our Snow Joe Shovel 324e review will help you determine if it's what your next winter requires.
Complete Overview
The 324e shovel is of compact design, taking up minimal space in your shed or garage.
With its 10 Amp motor it blows snow away, although it doesn't have a chute to help you direct the snow in a specific direction.
The 2-blade paddle auger is great for softer snow, rather than hard, wet snow. Thanks to the integrated LED headlight you can fetch it to use early in the morning in low light conditions or at night even.
First Impressions of the Snow Joe Snow Shovel 324e
Compared to other snow clearing devices, it's bigger than a standard shovel, but more compact than snowblowers.
So, it could be the ideal compromise between your different options for the winter home maintenance schedule.
Of course, it's not as durable and efficient as traditional snowblowers, but if quick pickups are necessary to improve your winter lifestyle, this model will do nicely.
This is a corded electric unit, so do make sure you keep the cable out of the way when working.
Quick Facts Table
| | |
| --- | --- |
|  Specs |   |
| Clearing Width | 11in |
| Engine/power | 10 Amp motor |
| Light | 2W LED |
| Throw distance | 2ft |
| Intake height | 6in |
| Weight | 12.6lb |
| Capacity | 300lbs / minute |
Key Features of the Snow Joe Snow Shovel 324e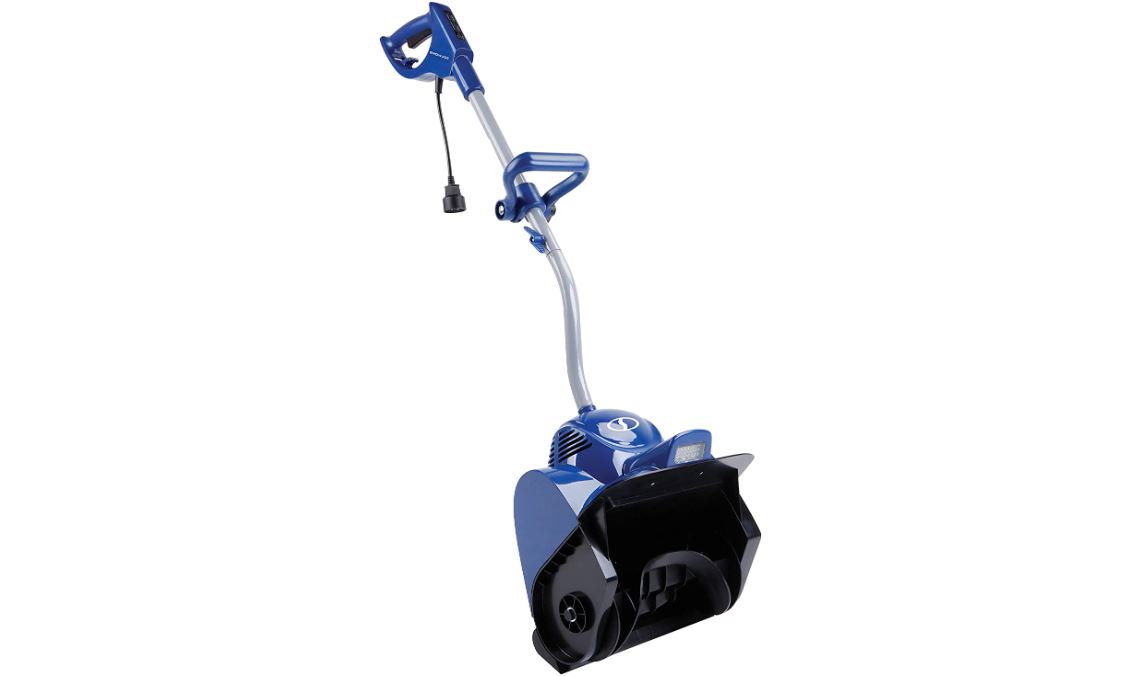 How does this Snowblower Perform?
Do remember it's not a full-on snowblower, so there are limitations.
The one aspect where it does lack practicality is the fact that you can't control where the snow falls, since there's no rotating chute as is the case on traditional snow blowers.
This could result in the snow piling up where you don't want it, or falling in the neighbor's yard.
Also, it's a bit problematic when clearing away light, dry snow. If the wind blows towards you, you may end up being covered in snow yourself.
So, using this shovel efficiently requires you to consider weather details such as wind speed and direction and then planning your snow clearance accordingly.
But apart from this, it's a well designed and durable little machine that simplifies snow shoveling exponentially.
How Much Snow can it Handle?
The snow shovel has a clearance width of 11 inches, clearing a good-sized area at a time.
Users find this also helpful when they're clearing steps or other narrow parts on their property, because you can get it into smaller nooks and crannies.
You can't take on all snowdrifts that are very thick, as it's only designed to handle up to six inches. You'll have to go over the same area multiple times if you're clearing away thicker snow.
Still, in the right conditions you can move as much as 300 pounds of snow in one minute. The type of snow you work on also makes a difference since it's less efficient on hard layers.
Note that when you push it into too large a mound of snow, it will affect operation. Often, if the snow covers the components at the bottom the motor will stop working for a few seconds.
What does it Weigh?
Weighing 12.6lbs, it's light enough for most people to handle. Even some customers with back problems don't find it too cumbersome.
In part this is thanks to the back-saving handle which the brand patented. These customers prefer using this snow shovel to a traditional shovel they need to pick up.
Of course, this depends on the weight you're able to handle.
Is it Easy to Manoeuvre?
Because it's light you can manoeuvre it fairly easily. It's also easy to manage when you carry or pull it towards its storage space.
The brand designed an adjustable handle so you can customize it for comfort and the ergonomic feature means it's less fatiguing to use.
How Durable is this Snowblower?
Some users do experience issues with the auger blade wearing out. Good news is that replacement parts for this model are easily available.
For example, you can order a paddle auger online or even adjustable handles and joint fixing knobs.
How Long Will it Last?
You do get a 2-year warranty with this snow shovel and Snow Joe makes durable machines. Therefore, you can expect to get a few winters' work out of it, but you may need to replace parts at times.
What Type of Auger Does the Snow Joe Snow Shovel 324e have?
The brand installed a 2-blade paddle auger into the 324e shovel.
It could wear out quickly if you use it on very hard, rough surfaces, but it's replaceable. Also be careful that it doesn't harm your deck or other wooden surfaces.
For soft snow this auger is sufficient to clear six inches of snow.
Snow Joe 323e vs 324e
A very similar option is the Snow Joe 323e. It's another of the brand's electric snow shovels.
It also has a 10 Amp motor and thanks to a 13 inch clearing width you may get the job done faster. Note that it's slightly heavier than the 324e model, though this fact isn't a dealbreaker in most cases.
Snow Joe SJ619 vs 324e
A snow shovel, even an electric one, may not always be enough. That's when you consider a snow thrower, of which the SJ619 is a good option.
Having a clearance width of 18 inches you can clear away much more snow compared to the Snow Joe 324e electric shovel.
The SJ619 can also clear as much as 8 inches at a time and thanks to the chute you can better manage where the snow falls.
Of course, it's much more expensive and takes up more floor space.
Snow Joe 324e Pros and Cons
| | |
| --- | --- |
| PROS | CONS |
| Lightweight | No adjustable chute |
| Electric start with safety switch | Limited capacity |
| Ergonomic handle | |
| LED light to work in low light conditions | |
| Compact design takes up minimal floorspace | |
| Light enough to hang from wall for storage | |
Who Should Buy the Snow Joe Snow Shovel 324e?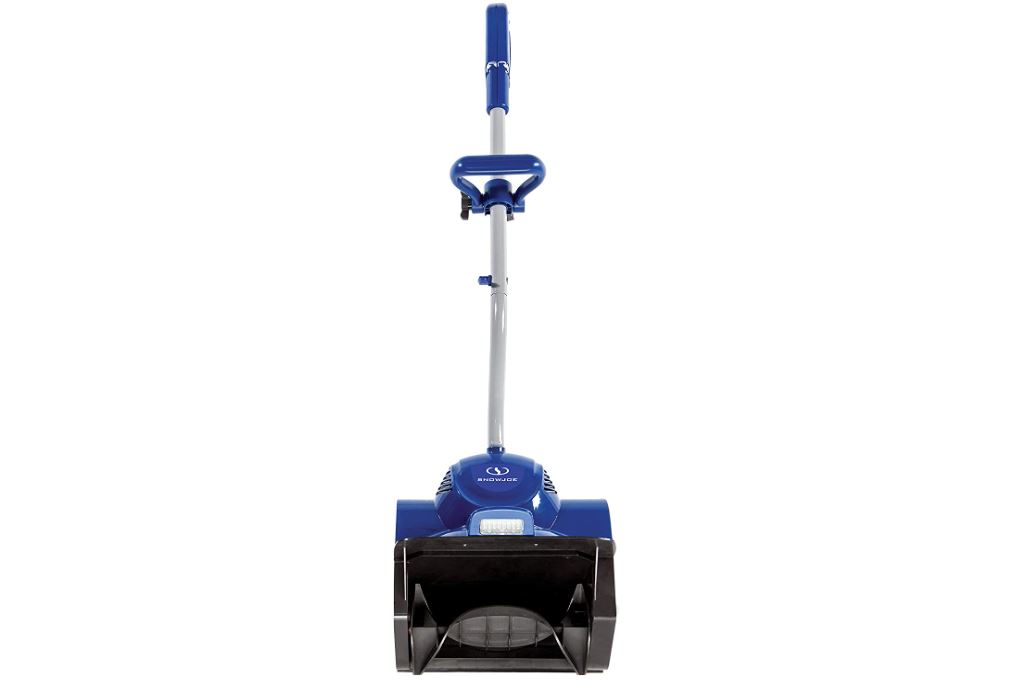 Do consider the surfaces you need to clear. This machine is mostly efficient on paved areas.
When working on wood, such as a deck, it could damage the surface.
Keep in mind that it's designed for sidewalks, steps, decks and patios. You could find it doesn't do as well on larger areas, resulting in fatigue or frustration.
A good reason to consider the 324e is a lack of space. Since you can hang it from the wall or store it in the rafters, you can keep your garage or shed uncluttered, while still having an effective tool to clear away snow.
Overall Score Out Of 100
92/100
Check Out More Reviews Here:
Overall Conclusion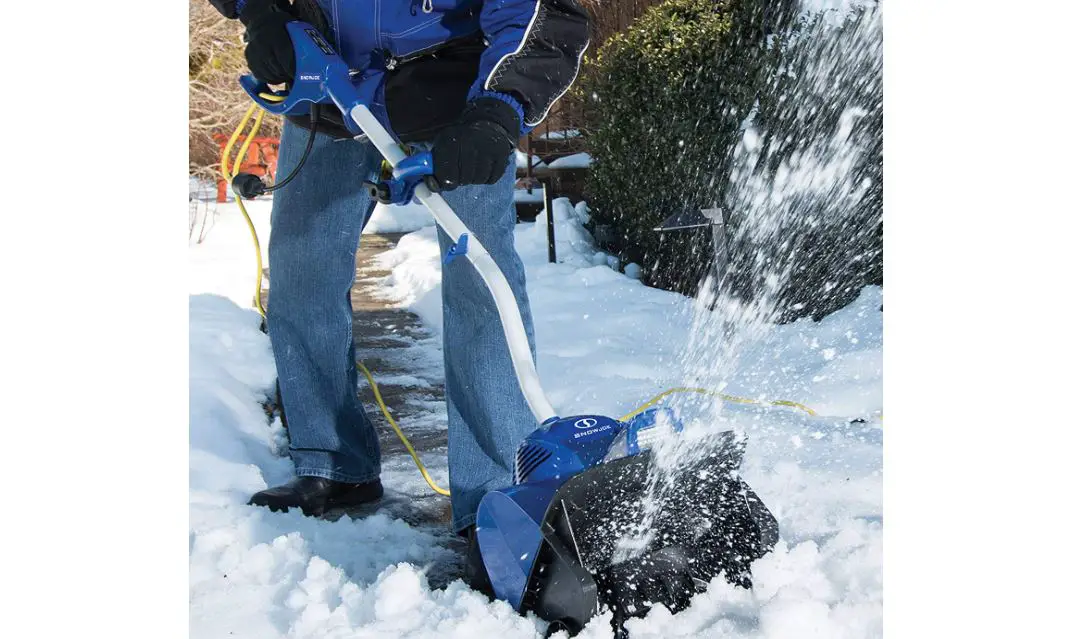 Snow Joe does have a revolutionary approach to snow shoveling.
Getting this ergonomic model that speeds up your winter's work can make a huge difference in time management, without cluttering your garage.
The Snow Joe Snow Shovel 324e is well worth considering by anyone who is tired of traditional shoveling.
And, we're impressed that the brand makes it possible to use it even if you can't handle much weight. Snow shoveling can be quick and easy!