Worx Trivac Wg512 Review – Is It Any Good & Worth Buying?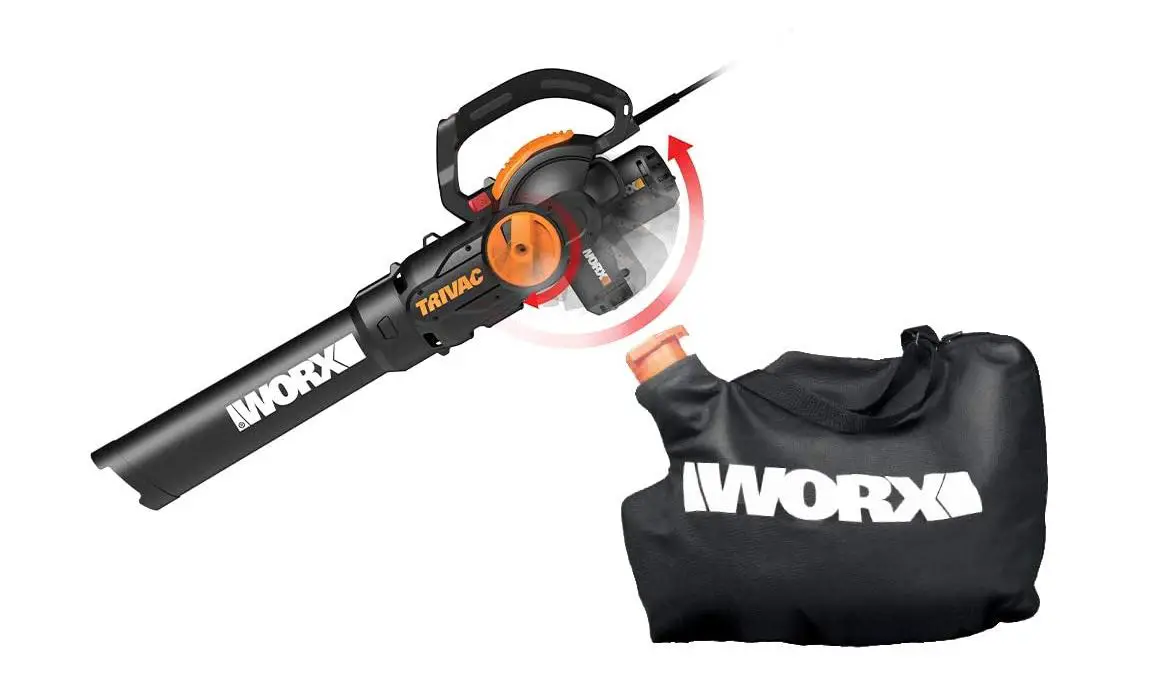 Is there an easy way to clear your property of fallen leaves?
That's what you need a leaf blower for and if you invest in a multi-purpose model like the Worx Trivac Wg512, you get a vacuum and mulcher too.
Our Worx Trivac Wg512 review will help you understand this machine so you can determine if it's the garden tool investment you need this year.
Complete Overview
The Trivac Wg512 is a 3-in-1 machine, giving you blow, vacuum and mulch capabilities.
It's easy to switch from vacuuming to blowing thanks to a large knob—a quick turn is all it takes. There's also a mulching bag which attaches or detaches very quickly.
First Impressions of the Worx Trivac Wg512
Although it's a plastic unit on the outside, we appreciate metal components inside, such as the metal mulcher.
At a 16:1 mulching ratio, multiple bags of leaves and debris may only require one or two after being mulched.
This helps users save on garbage bags and manage garden maintenance much easier. Furthermore, the nozzle is nice and big, helping you cover a large area.
Key Features of the Worx Trivac Wg512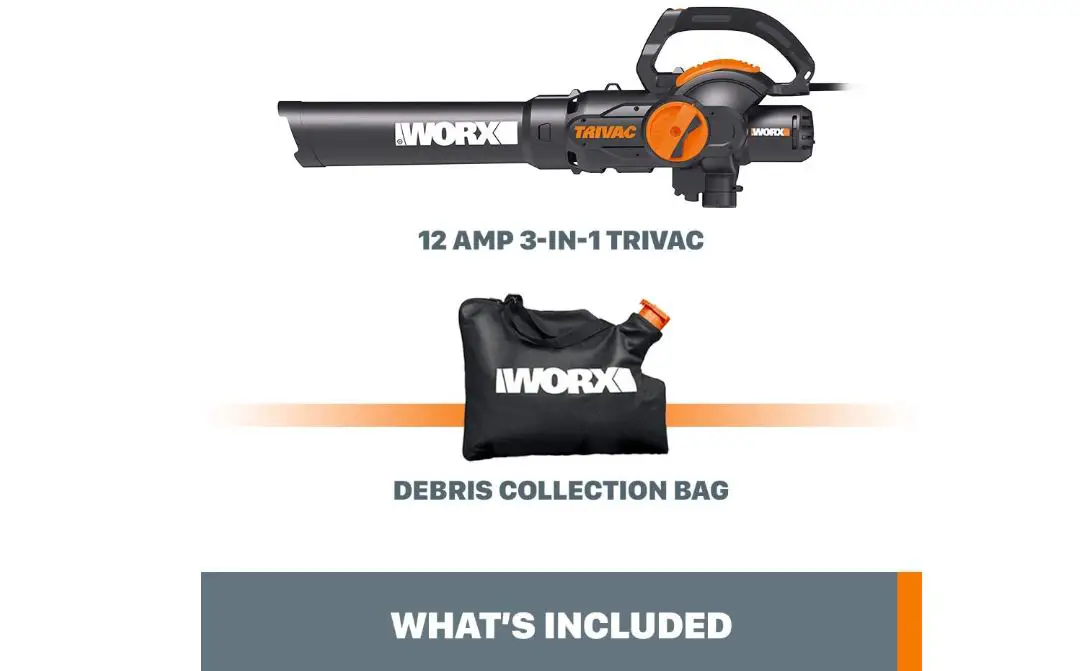 How does it Perform?
Overall, the Wg512 model performs well, especially for mulching, in average gardens.
It's powerful enough to blow garden leaves and debris to clear driveways or grassy areas and the vacuum and mulching features work effectively.
How Loud is it?
You can expect a noise of around 79dB with this machine. This isn't especially quiet compared to similar models, but it's also not the loudest blower and mulcher of its kind on the current market.
How Heavy is it?
The machine weighs 8.6 pounds, making it fairly easy to carry around without causing too much fatigue. You may even be able to operate it with one hand.
Users will feel the weight but thanks to the ergonomic features and the well-designed strap, it balances well and feels comfortable to use at first.
Just be prepared for the added weight of the mulch as you clear the yard. You may get fatigued after a long gardening session.
Is it Easy to Handle and Manoeuvre?
It's a large machine but easy enough to handle. This is thanks to the ergonomic features and the unit being well balanced.
You may need to practice blowing leaves in a certain direction, especially because there's such a large nozzle. At first you may blow leaves all over before getting the hang of it.
But the learning curve isn't too difficult or long.
Power and Engine
Note that this model is only available as an electric model. Therefore, you may need some practice working with an electrical cord attached to your blower.
Over time it will become second nature to work without it getting in the way. Luckily, the design includes an extension cord retainer, preventing the cord from disconnecting if it snags.
Also, you need to plan your maintenance work so you have access to an electrical outlet close enough to the area you need to clear. You may need a high-quality extension for this purpose too.
The brand does have cordless models, but they'll have different specs, such as the WG583.
The 12Amp power level creates air capacity of 600CFM. The wide mouth of the tube also aids in this. Furthermore, the air exits the tube at a speed of 75mph.
What Size Job Suits the Worx Trivac Wg512?
This is a machine designed with domestic use in mind, so you may need a bigger model for commercial use.
When using it on your property you have the benefit of different speeds. This helps you clean nooks more efficiently—simply use the lower speed when you need a bit more control.
Once you need to clear open spaces of leaves and debris you can turn it to the higher setting.
How Efficient is the Worx Trivac Wg512?
One of the most efficient features of this machine is the mulching rate. It can turn the equivalent of 16 bags of content into just one bag, all thanks to a mulching propeller.
The metal mulcher can turn dry leaves into small particles. This will help you finish the job much faster, because there's less emptying of bags AND it's easier to dispose of the debris afterwards. That's how a mound of leaves can quickly leave your garden, so everything looks neat and tidy again.
However, note that the brand advises you not to use the blower on its vacuum mode when leaves are wet. They could jam or even damage the machine.
So, in the rainy season you're left with the less efficient option of blowing leaves, rather than sucking them into a bag. On other days, at least wait until after the dew has been dried by the sun before clearing the yard.
How Long Will it Last?
You can have peace of mind you're making a long-term investment because the brand offers a 3-year warranty.
You also get a 30-day guarantee so feel free to test it out and notify Worx if anything is wrong with your blower. You'll even find live support on the Worx website.
What Attachments are Available?
The one attachment to use is the mulching bag. Note that some users find the strap design of this bag should be improved.
It tends to slip off your shoulder while you work. But it's not a deal breaker, since it works well overall.
You can use other accessories and products of Worx with the Trivac Wg512 leaf blower. There's the LEAFPRO that makes it even easier to bag large amounts of leaves, without touching the leaves and debris
. And if it's your gutters that need cleaning you can use the GUTTERPRO attachments with the Trivac Wg512, helping you improve your house maintenance abilities.
Worx Trivac Wg512 Pros and Cons
| | |
| --- | --- |
| PROS | CONS |
| 3-in-1 design | Bag strap slips off |
| High CMH rating | Loud machine |
| Excellent mulching ability | |
| Balanced for comfort | |
Who Should Buy the Worx Trivac Wg512?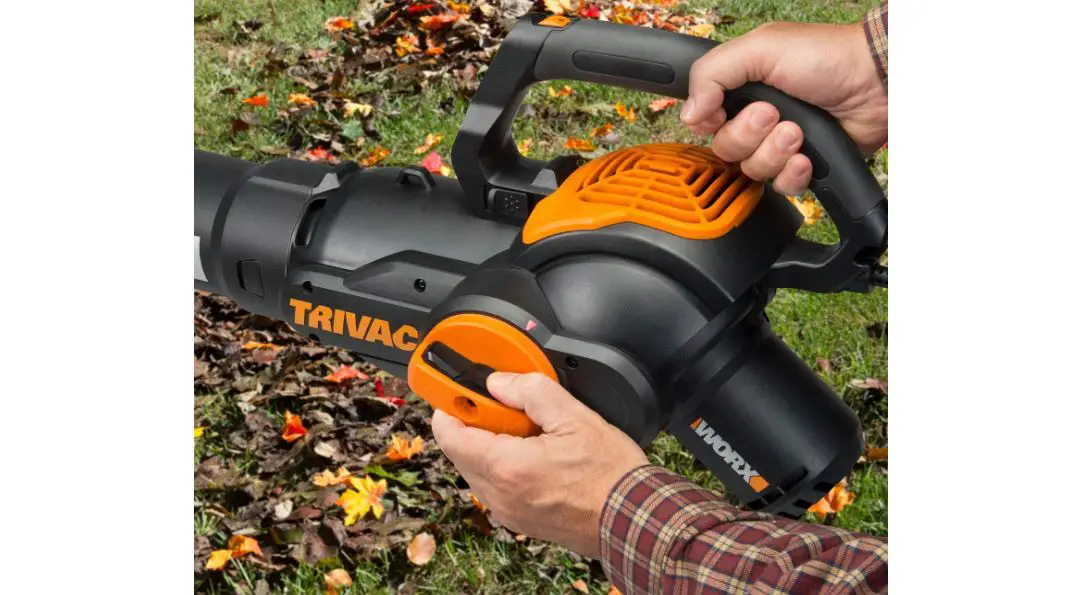 The Worx Trivac Wg512 blower, mulcher and vacuum is excellent for home maintenance. Do make sure your body can handle the weight.
Despite the ergonomic features, someone with back problems could quickly get fatigued carrying the large machine with a bag of leaves attached.
Overall Score Out Of 100
92/100
Check Out More Reviews Here:
Worx wg509 vs wg512
If you need to dislodge particles and debris from surfaces, you may like the Wg509.
Like the Wg512 you have a 3-in-1 leaf blower but this one can push out air at a top speed of 210mph. That's powerful enough to help clean surfaces effectively.
Also, it has a mulch ratio of 18:1. But of course these features result in it being a little heavier at 9.3lbs.
Worx wg512 vs wg524
The Wg524 impresses with a 620CFM rating and there's even a leaf collection system included.
The 18:1 mulching ratio is another drawcard. But it's slightly heavier than the Wg512 and the air speed is only 70mph.
Worx wg518 vs wg512
The Worx Wg518 is another 3-in-1 machine, but it's not as heavy duty as the Wg512. It can only reach 400CFM compared to the Wg512's 600CFM.
That's thanks to the TriVac technology on the Wg512.
If you need a very light blower and one that delivers a higher MPH rating, you can consider the Wg518.
Our Recommendation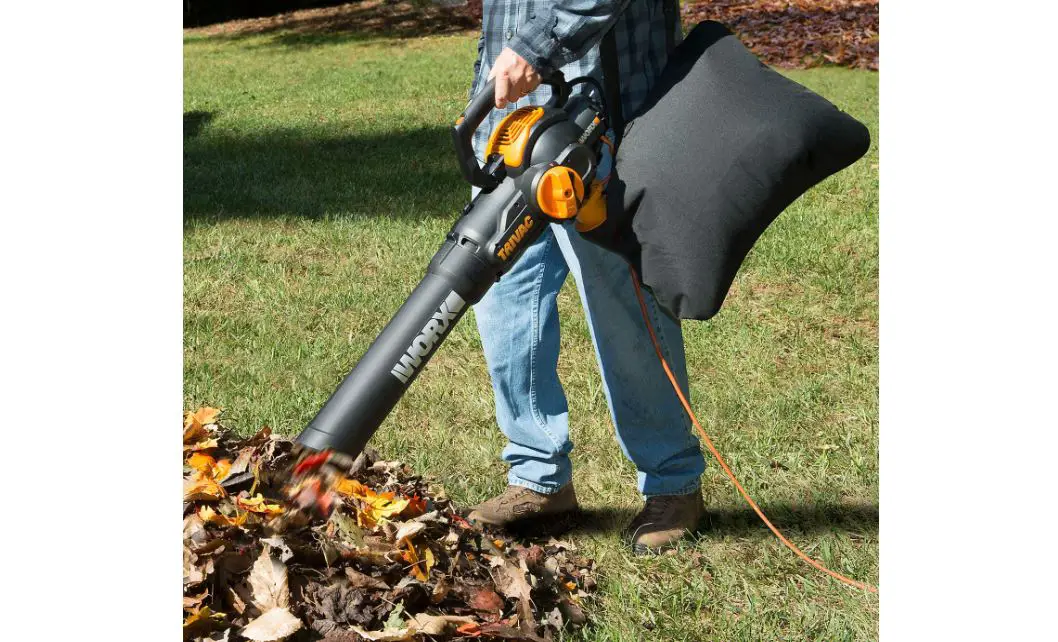 Always remember to shop for leaf blowers according to your unique needs, which is why the comparisons above are so valuable.
However, we see the Worx TriVac Wg512 as an excellent compromise between the different functions needed to clear the average yard.
Pick the wg509 if you need that impressive MPH level, but most homeowners will find the Wg512 more than sufficient.