Stihl 261 Vs Stihl 311 Chainsaw – What's the Better Option?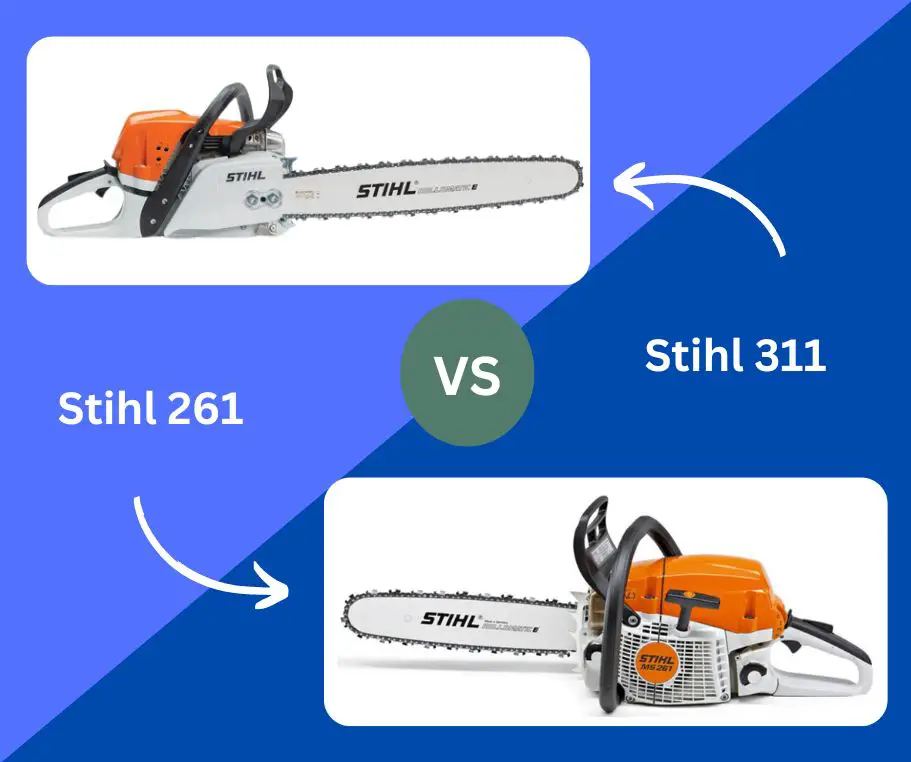 Stihl is a solid choice if you're in the market for a new chainsaw. However, you really have to do  your homework in order to choose the right one for your needs.
One of the things we like the most about Stihl chainsaws is that they are known to last a very long time. But longevity doesn;t always equate to utility in the field. If you don't have enough power or if a saw is unreliable, it won't matter how long it lasts.
So to help you make a sound consumer decision, we have reviewed and compared two very popular Stihl chainsaws. Read on to find out everything you need to know about the Stihl 261 and Stihl 311 chainsaws.
 
Overview of the Stihl 261 and Stihl 311
One important thing to note about these chainsaws is oiler capacity. The Stihl 311 has the larger chain oiler capacity at 11.8 ounces while the oiler capacity of the Stihl 261 is only 9 ounces. Not much of a difference on paper but in the field, this can be a major point of emphasis.
So right off the bat, if you need a chainsaw that can run for a long time, the Stihl 311 may be the better choice. However, for residential cutting applications, both of these chainsaws perform well.
 
Stihl 261 Key Features
Master Control Lever – With just one lever you can control the choke, on/off switch and starting throttle.
Caring for Nature Seal – The Stihl 261 also bears Stih;'s low emission technology which exceeds both CARB and EPA standards for outdoor equipment emissions.
Ematic Oiling – Two ramps help guide oil to the sliding faces of the bar for more efficient lubrication. It should be noted that this feature only works if you use the Stihl Oilomatic chains.
Stihl 261 Common Issues
Some users have complained that the chain that the Stihl 261 comes with is too dull. This can result in inefficient cutting or a smoky smell.
 
Stihl 261 Pros & Cons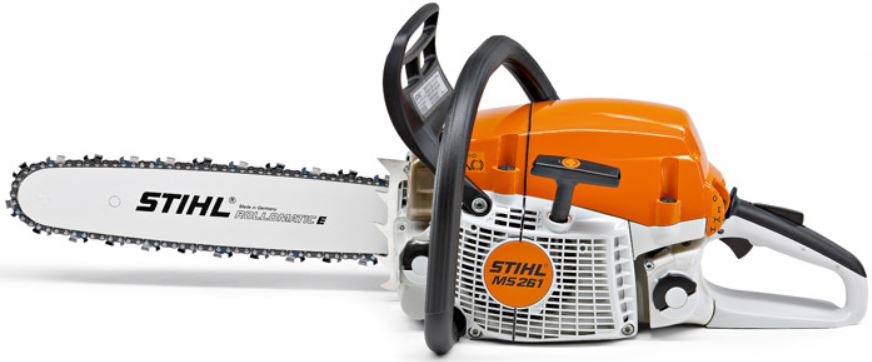 Pros:
Great power to weight ratio
Very easy to start
Suitable for light forestry work
Comfortable to operate
Cons:
It can overheat at times
Not good for large diameter trees
Stihl 311 Key Features
Pre-Separation Air Filter – The Stihl 311 uses centrifugal force to prevent larger pieces of debris from reaching the air filter.
Decompression Valve – With this valve, you can release excess compression from the cylinder on demand.
Side Chain Tensioner – This feature makes it easier to adjust the tension of the chain with the use of just a bar wrench.
Stihl 311 Common Issues
Some people have had problems with the Stihl 311 dying in the middle of cutting. This is usually a compression issue which could indicate a faulty compression tester or release.
 
Stihl 311 Pros & Cons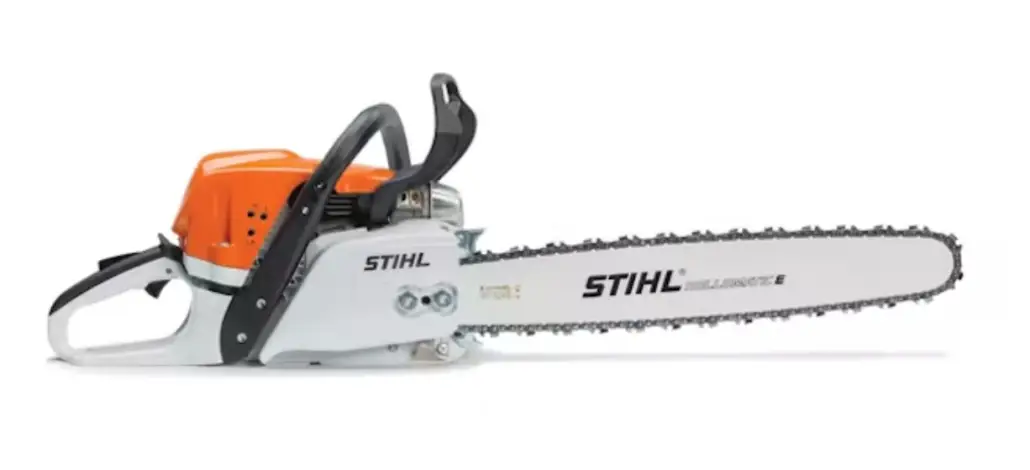 Pros:
It can take a 20+ inch bar
Cuts through hard wood very well
Good for 25-30 inch rounds
Powerful even with a semi chisel chain
Cons:
Trigger issues
Can be hard to start
Who Should Buy Each?
The Stihl 261 was very easy to start and generally more user-friendly than the Stihl 261. On the other hand, the Stihl 311 is slightly more powerful than the Stihl 261.
So if you need an extra boost of power for cutting through hard wood, the Stihl 311 would be the better choice. However, if you are just doing some light storm cleanup or trimming, the Stihl 261 should be more than powerful enough for your needs.
 
Price Comparison
The Stihl 311 will cost you around $600 while the Stihl 261 typically sells for around $650.
 
Weight & Handling Comparison
Even though the Stihl 261 is heavier than the Stihl 311, it's actually more comfortable to operate. The Stihl 261 weighs 16 pounds and the Stihl 311 weighs just over 13 pounds.
They both basically work on their own when they're into a log; but the Stihl 261 seems to vibrate less. Even with an aggressive chain, the Stihl 261 is very easy and comfortable to run.
 
Chain & Blade Comparison
The Stihl 311 comes with a ⅜" RS3 Oilomatic chain and the Stihl 261 comes with an Oilomatic .325" RM3 chain. It's recommended that you use a max 20" bar for both of these saws.
 
Power Comparison
The power difference is almost negligible when you look at the specs. The Stihl 261 produces 4.0 HP while the engine of the Stihl 311 produces 4.2 HP.
However, you can feel it when you're actually cutting. The Stihl 311 just cuts through hardwood better. Even larger 30" rounds are no problem for this saw. The Stihl 261 sputters a bit when you put it to large logs.
 
Efficiency Comparison
The fuel tank on the Stihl 261 can hold 16.9 ounces while the Stihl 311 comes with a 20.3 ounce fuel tank. They both consume fuel at about the same rate though.
 
Durability Comparison
These saws are built very similarly and they should both last a long time with regular maintenance.
 
Other Chainsaws to Consider
Stihl 251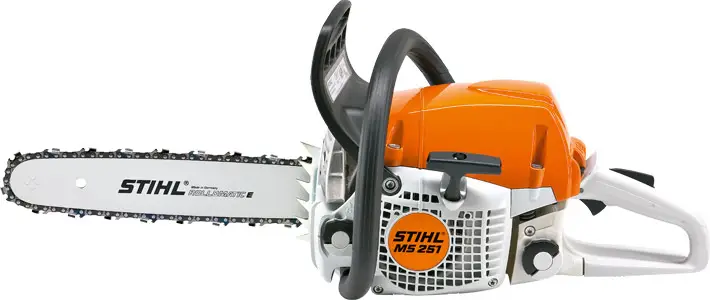 The Stihl 251 has a 45.6cc engine and is suitable for residential cutting. It weighs just 11 pounds so pretty much anyone can wield it effectively.
Overall Score: 94/100
Check Out More Reviews Here:
Echo 20" Chainsaw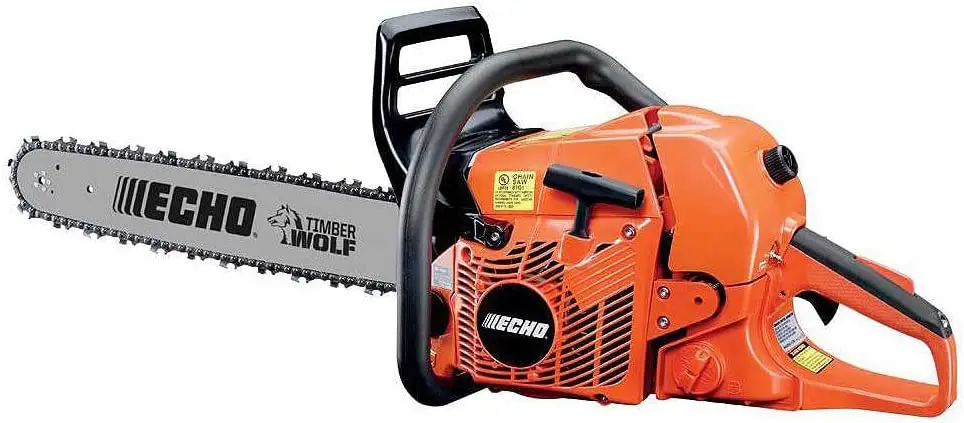 This Echo chainsaw comes with a 20 inch bar and has a 59.8cc engine. You can cut logs up to 20" in diameter with this saw.
Overall Score: 96/100
Check Out More Reviews Here:
Husqvarna 445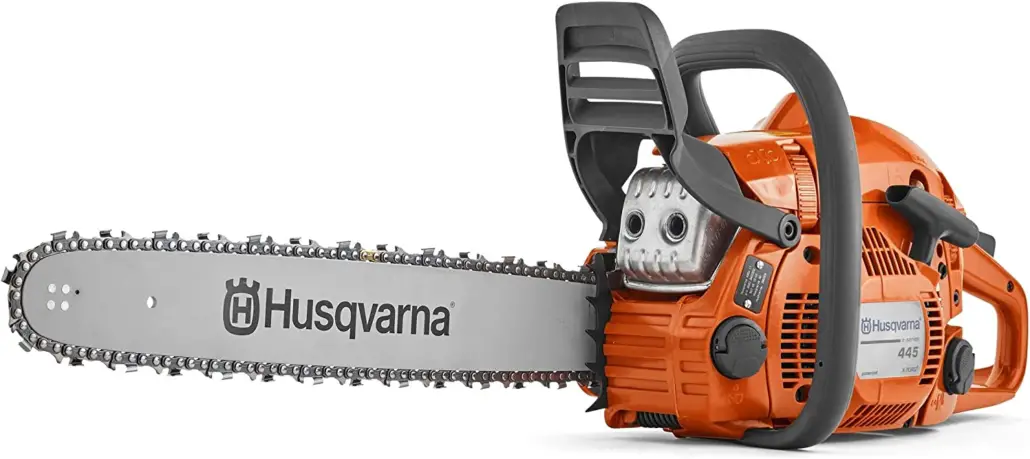 The Husqvarna 445 comes with helpful features like an automatic chain oiler. It comes with an 18" bar but can be fitted with a much longer one if you need.
Overall Score: 97/100
Check Out More Reviews Here:
Final Assessment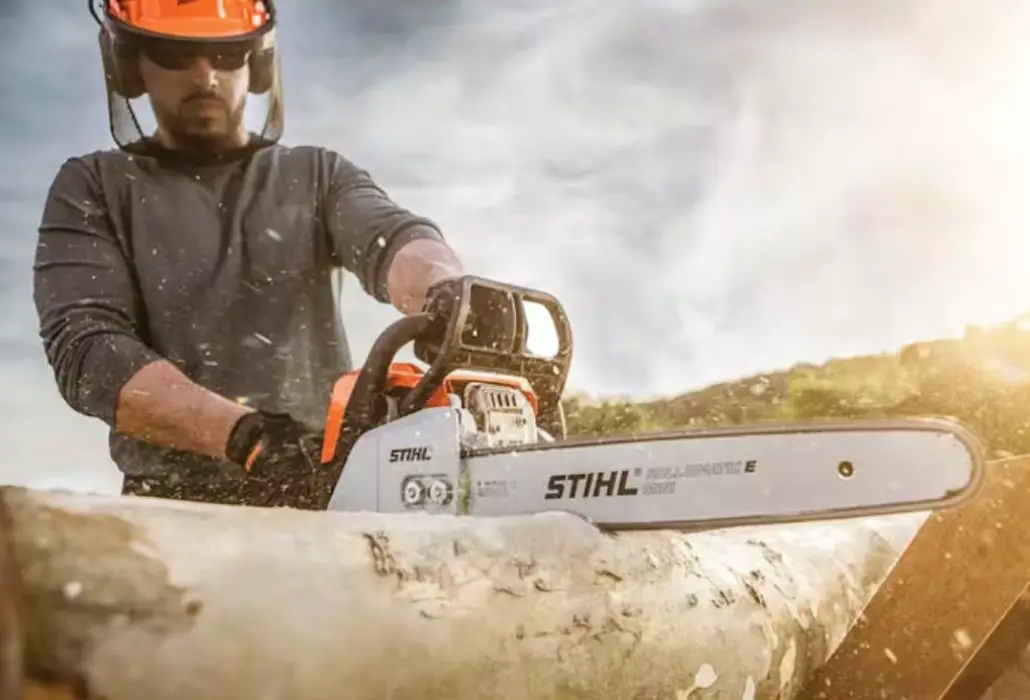 It basically comes down to the kind of cutting you do. If you do light clearing, the larger fuel tank and oil reservoir of the Stihl 311 would work better for you. But if you normally only deal with softwood and light firewood cutting, the Stihl 261 works well enough.