Stihl BR 800 And Redmax 8500 – What's the Better Leaf Blower?
Stihl may be the better-known brand name; but you would be doing yourself a disservice if you are in the market for a backpack leaf blower and you overlook Redmax.
Making the right choice matters so you should explore all of your options. After all, backpack leaf blowers aren't exactly cheap. So we reviewed the Stihl BR 800 and the Redmax 8500 to help you decide which is the right blower for your needs.
Overview of the Stihl BR 800 and the Redmax 8500
The Stihl BR 800 and the Redmax 8500 are comparable in power and operation.
It should be noted that we reviewed the Redmax RH8500 – the "RH" cleverly standing for right-handed. However, it does come with the throttle on the left hand side if you are a lefty.
Both of these blowers are gas-powered. And upon our review, we found that both of them would be suitable for commercial work and to maintain larger backyards, lawns and gardens.
Quick Facts Comparison Table
| | | |
| --- | --- | --- |
| Specs | Stihl BR 800 | Redmax 8500 |
| Weight | 23.1lbs | 30.8lbs |
| Noise Output | 78 db | NA |
| Fuel Capacity | 67.7 ounces | NA |
| Engine | 79.9cc | 75.6cc |
| CFM & MPH | 912/239 MPH | 908/206 MPH |
Key Differences Between the Stihl BR 800 and the Redmax 8500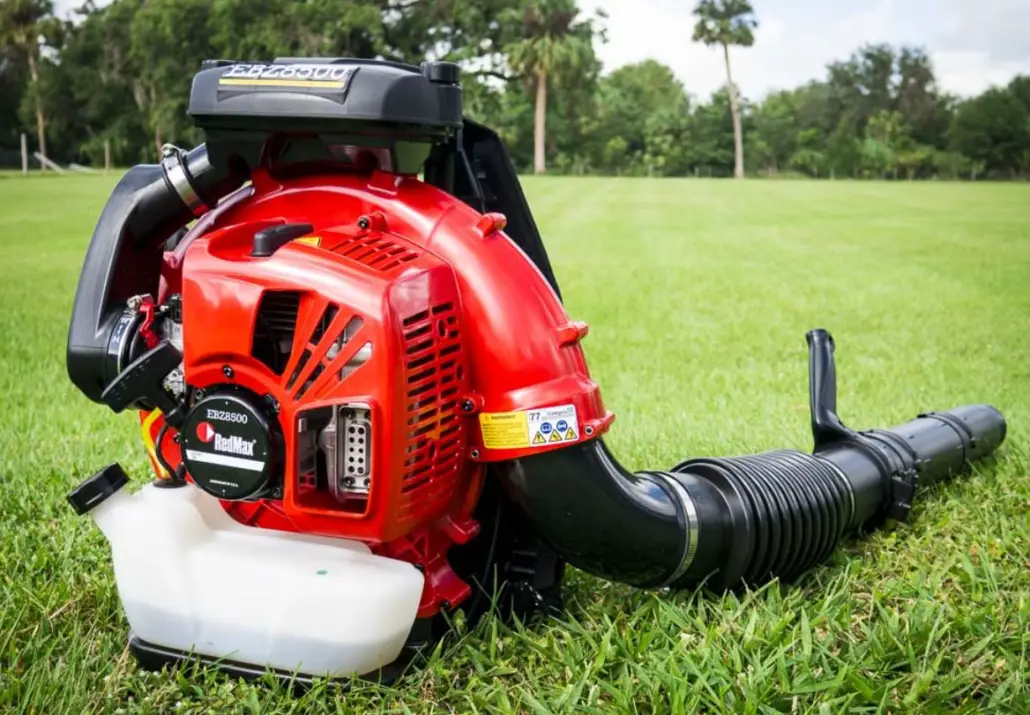 These blowers are very similar in terms of specs which lead to comparable performance.
However, there was one spec difference that really mattered when it actually came time to blow leaves: MPH. You will notice that the Stihl BR 800 has a 33 MPH advantage over the Redmax blower and you can really feel it when operating.
You will also notice that the Redmax 8500 is slightly heavier than the Stihl BR 800 which could also be felt if you have to blow leaves for any more than 20 minutes.
Stihl BR 800 Key Features
Anti-Vibration System – The Stihl BR 800 features low vibration technology to enhance comfort.
Multi-Control Handle – You can control the speed and idling setting right from the tube-mounted handle.
Purge Pump Primer – This feature allows you to prime the carburetor with fuel for easier startup.
Redmax 8500 Key Features
Active Cooling Back Pad – The fan actually directs air to the back pad to help you keep cool.
4 Horsepower Engine – The 4.4 HP engine is powerful enough to displace wet leaves and small branches.
Tube-Mounted Control – The control handle is mounted right on the tube so it's comfortable to operate.
Price Comparison
The Stihl BR 800 typically retails for about $700 while the Redmax 8500 can usually be found for about $750.
Weight & Handling Comparison
We liked that the tubes of both of these blowers were flexible and moved with the natural movements of our arms. However, the Stihl BR 800 felt significantly lighter. It will be easier on your body if you have a large property that will take more than 20 minutes to clear.
Power Comparison
The Stihl BR 800 wins in this department as well. While both blowers provide power that will likely be enough for home and commercial use, the Stihl BR 800 was actually better at removing heavier debris like pine cones, acorns, twigs and small branches.
Power Source
Both the Redmax 8500 and the Stihl BR 800 are gas-powered leaf blowers. The Stihl BR 800 has a 67.6 ounce fuel capacity and while the fuel capacity specs for the Redmax aren't available, it is about the same size as the Stihl BR 800.
What Attachments Are Available?
Unfortunately, neither of these blowers come equipped with additional attachments. But you can get accessories like waist straps.
Stihl BR 800 Pros & Cons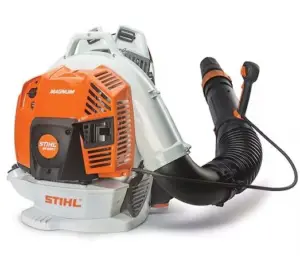 Pros:
More blowing power
Better at blowing wet leaves and heavy debris
Adjustable harness
Lighter than the Redmax 8500
Cons:
Carburetor issues
Many plastic parts
Overall Score: 95/100
Check Out More Reviews Here:
Redmax 8500 Pros & Cons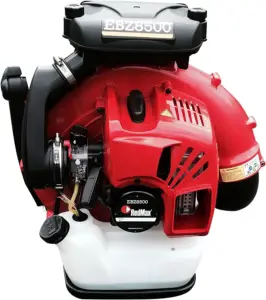 Pros:
Keeps your back cool
Not very loud
Low emissions
Suitable for commercial work
Cons:
More expensive (usually)
Louder than the Stihl BR 800
Overall Score: 94/100
Check Out More Reviews Here:
Which One Should You Buy?
If you are looking for a blower that won't tax your body after a half hour of use, the Stihl BR 800 would be a solid choice. The Redmax 8500 would be a better choice for anyone who would prefer a more durable blower.
3 Similar Leaf Blowers
The following alternative leaf blowers are comparable in style, power and operation:
This is the little brother of the Stihl BR 800 but it's still good for large properties. It's only 21.6 pounds but it can still move air at a max of 338 MPH. It's easy to start and is slightly more affordable than the Stihl BR 800.
This is also a backpack leaf blower that delivers power comparable to the Stihl BR 800. It's very easy to operate even if you've never used a backpack blower before.
The Husqvarna 360BT features the X-Torq engine which lowers emissions and increases fuel economy. It weighs 23 pounds and has a CFm rating of 631 so it's still suitable for large yards and lawns. However, it may not be suitable for large commercial jobs.
Final Assessment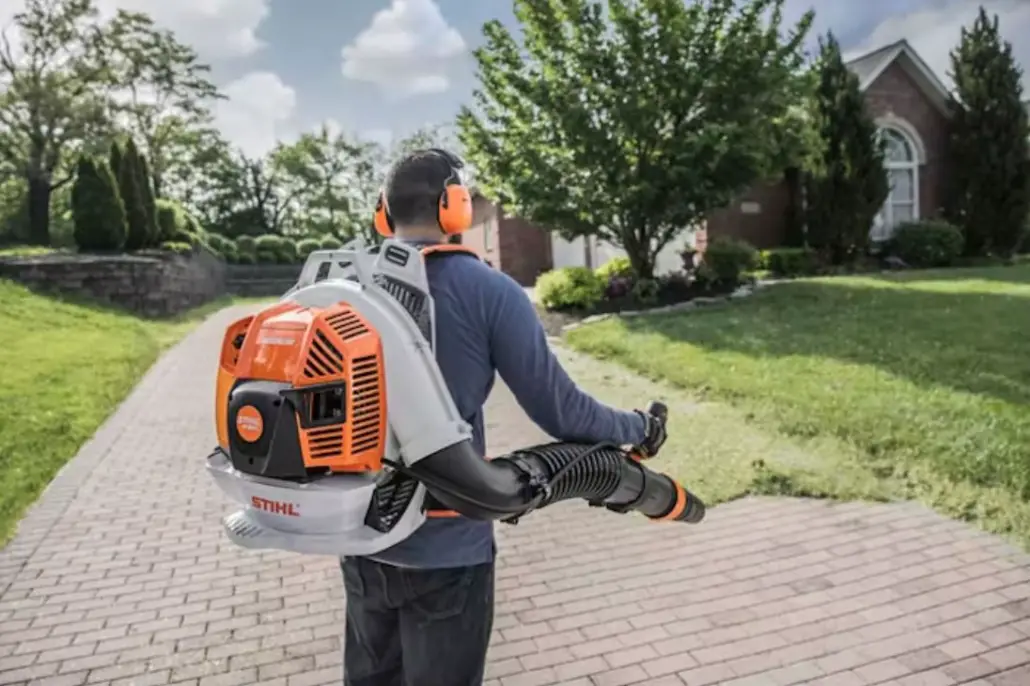 After all is said and done, it is pretty clear which leaf blower came out on top – at least in our opinion.
The Stihl BR 800 outperformed the Redmax 8500 in almost every arena. The Stihl BR 800 is lighter, more powerful and it is typically cheaper at retail outlets. While the Redmax 8500 impressed us with features like active back cooling, it was still heavier than the Stihl BR 800.
That little bit of extra weight can really be felt when you have been blowing leaves for a long time. You can't really go wrong with either of these blowers if you simply need a powerful backpack blower; but if you are looking for the best overall value as well, the Stihl BR 800 is the better choice.