Echo PB9010 and Stihl BR 800 – What's the Better Leaf Blower?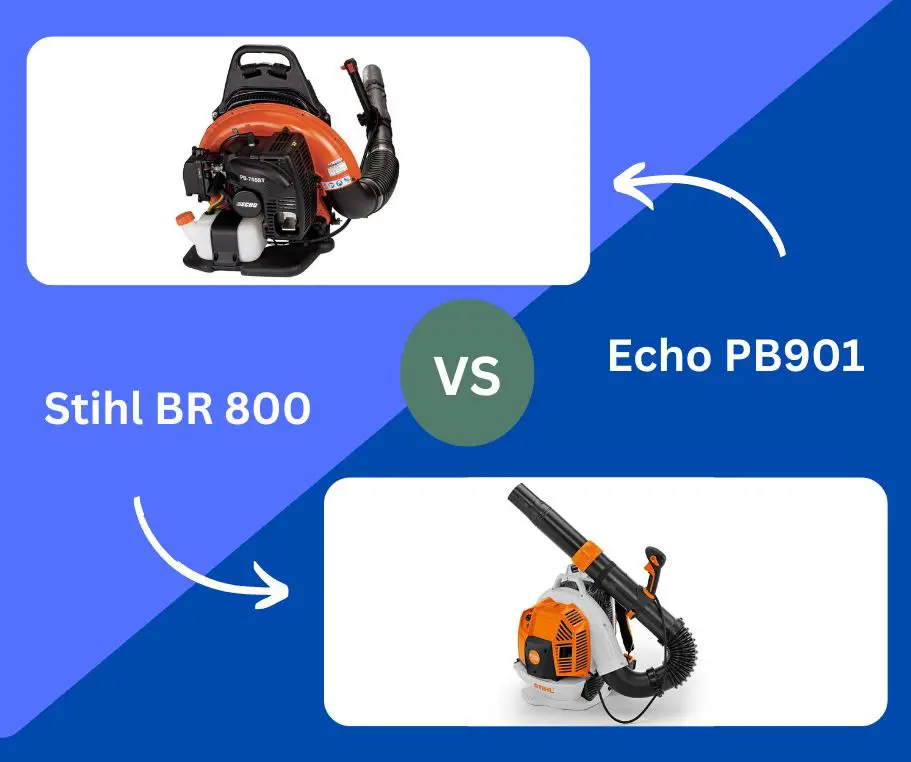 Stihl and Echo are two titans of the outdoor equipment and lawn maintenance industry. So we pit two of their most popular models against each other to see which one would come out on top.
For anyone in the market for a backpack leaf blower, Stihl and Echo are two brands that need to be on your radar. But it can still be difficult to choose between the two. You need to realistically consider your blowing needs, your budget and your body.
To help you make the best choice in all three of those departments, we reviewed the Stihl BR 800 and the Echo PB9010. Let's take a look…
Overview of the Echo PB9010 and the Stihl BR 800
The Stihl BR 800 and the Echo PB9010 are both gas-powered, backpack style leaf blowers.
And after reviewing them both very carefully, we can safely conclude that they are ready for commercial work. Owners of large properties will be able to get good use out of them as well; but just be careful about disturbing your neighbors as neither of these beasts are exactly quiet.
Quick Facts Comparison Table
| | | |
| --- | --- | --- |
| Specs | Stihl BR 800 | Echo PB9010 |
| Weight | 23.1lbs | 26.7 |
| Noise Output | 78db | 80db |
| Fuel Capacity | 67.7 ounces | 83.8 ounces |
| Engine | 79.9cc | 79.9cc |
| CFM/MPH | 912/239 | 1110/220 |
Key Differences Between the Stihl BR 800 and the Echo PB9010
As you can see, the engine size of both of these blowers is exactly the same.
That's about where the similarities end though. The Echo PB9010 is heavier by over three pounds; but that's a forgivable increase in light of the fact that it has a much larger fuel capacity.
The Echo PB also has some helpful features that the Stihl BR 800 lacks like a metal nozzle ring and a vented back pad. Both of these features help with comfort and performance. Still, the Stihl BR 800 is lighter, quieter and delivers higher air speeds.
Echo PB9010 Key Features
Pleated Air Filter – The air filter can be easily accessed, cleaned or replaced without tools.
Metal Tube Ring – The metal ring on the rim of the nozzle allows you to scrape pesky wet leaves off of hard surfaces.
Cruise Control – From the tube-mounted handle, you can set your desired air speed and keep it there without having to feather the throttle.
Stihl BR 800 Key Features
Adjustable Support Harness – A nice feature that allows operators of all heights and sizes to find their comfort zone.
Anti-Vibration System – Low vibration technology and design make the Stihl BR 800 comfortable to operate for long periods of time.
Purge Pump Primer – This feature provides fuel directly to the carburetor to make it easier to start the engine.
Price Comparison
You can get the Echo PB9010 directly from the manufacturer for $630 while the Stihl BR 800 typically retails for around $700.
Weight & Handling Comparison
The Echo PB9010 is slightly heavier than the Stihl BR 800. And when you have a full tank of gas, you can really feel the extra weight. We liked the nimbleness and the flexible tube of the Stihl BR 800 so in this department, the Stihl BR 800 comes out on top.
Power Comparison
We were surprised that even though these two blowers have the same size engines, the Stihl BR 800 actually produces a higher air speed. While you can blow a wider swath of leaves with the PB9010, the Stihl BR 800 was better at displacing heavier debris like acorns, twigs and even small pine cones.
Power Source
Both the Stihl BR 800 and the Echo PB9010 are gas-powered backpack leaf blowers. The Stihl BR 800 features a 67.7 ounce fuel tank while the Echo PB9010 sports a much larger 83.8 ounce fuel tank.
What Attachments Are Available?
While neither of these blowers come with additional attachments, you can typically find after-market accessories and attachments like gutter cleaner extensions.
Echo PB9010 Pros & Cons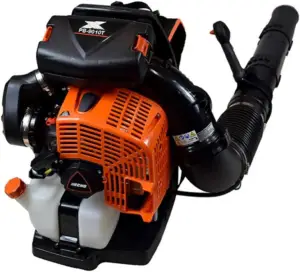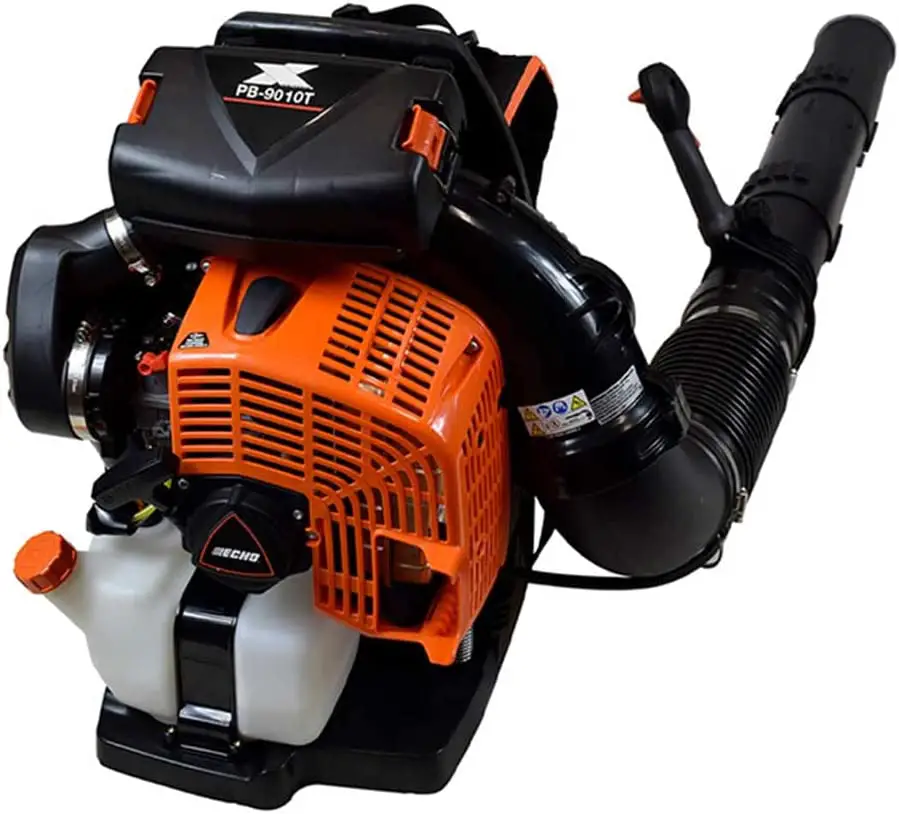 Pros:
More affordable
Great for commercial work
Allows you to work for an 1+ hours at a time
Convenient cruise control feature
Cons:
Overall Score: 95/100
Check Out More Reviews Here:
Stihl BR 800 Pros & Cons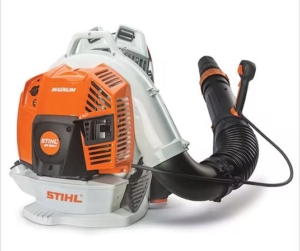 Pros:
Lighter on the back
Quieter than the PB9010
Better at moving heavy debris
Good for large properties
Cons:
Shorter running time
Doesn't a vented back pad
Overall Score: 94/100
Check Out More Reviews Here:
Which One Should You Buy?
There is no universal winner here. The Stihl BR 800 will be better if you need to move heavier debris but don't necessarily need to work for an hour or more at a time. The Echo PB9010 will be a better option if you typically have to remove wet leaves from hard surfaces like decks and hardscapes.
3 Similar Leaf Blowers
We also took a look at three other leaf blowers that are in the same power class.
The Redmax 8500 comes in either a left or right-handed version. It weighs 30 pounds and can generate max air speeds of 206 MPH. It also has an active back cooling system which channels air from the fan straight to the back pad.
Another standout Echo model, the PB580 sports a smaller 58.2cc engine and a tube-mounted throttle. It would be a good choice for smaller properties.
The Echo X series backpack blower has the same size engine as the 9010: 79.9cc. It also has a metal nozzle ring and it's very easy to change or clean the air filter without the use of tools.
Final Assessment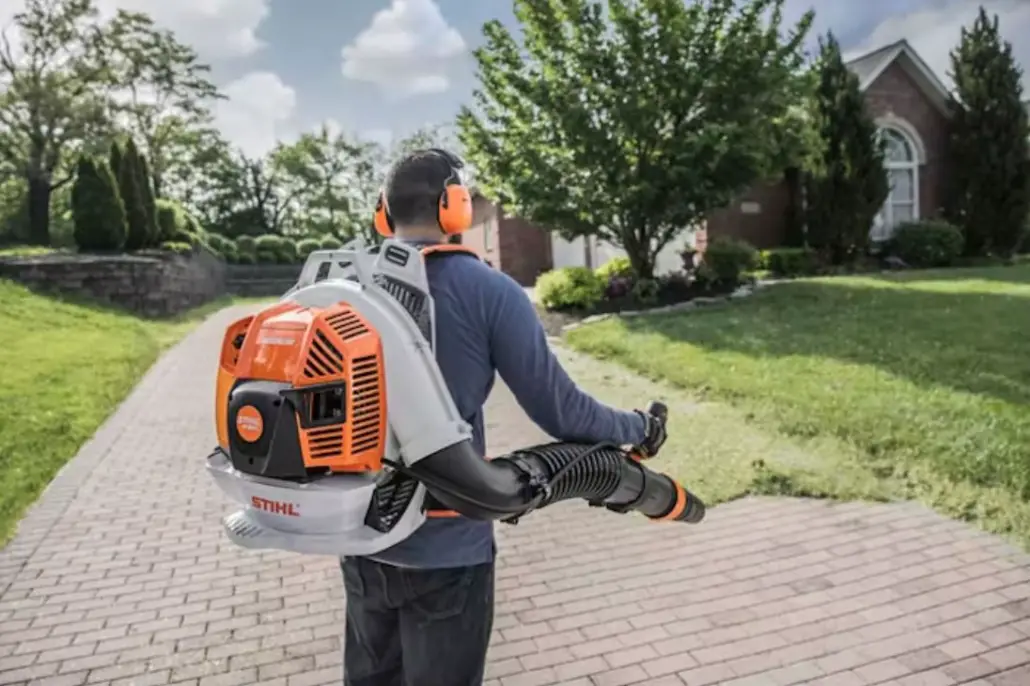 This one was a bit tricky but in the end, it will come down to what you prioritize. If you value a comfortable and easy to maneuver leaf blower, the Stihl BR 800 would be the better choice for you.
However, if you prefer convenient operation the cruise control-equipped Echo PB9010 is your leaf blower. Both are worth your consideration so choose wisely.