Stihl BR200 Vs Stihl BR350 – What's the Better Leaf Blower?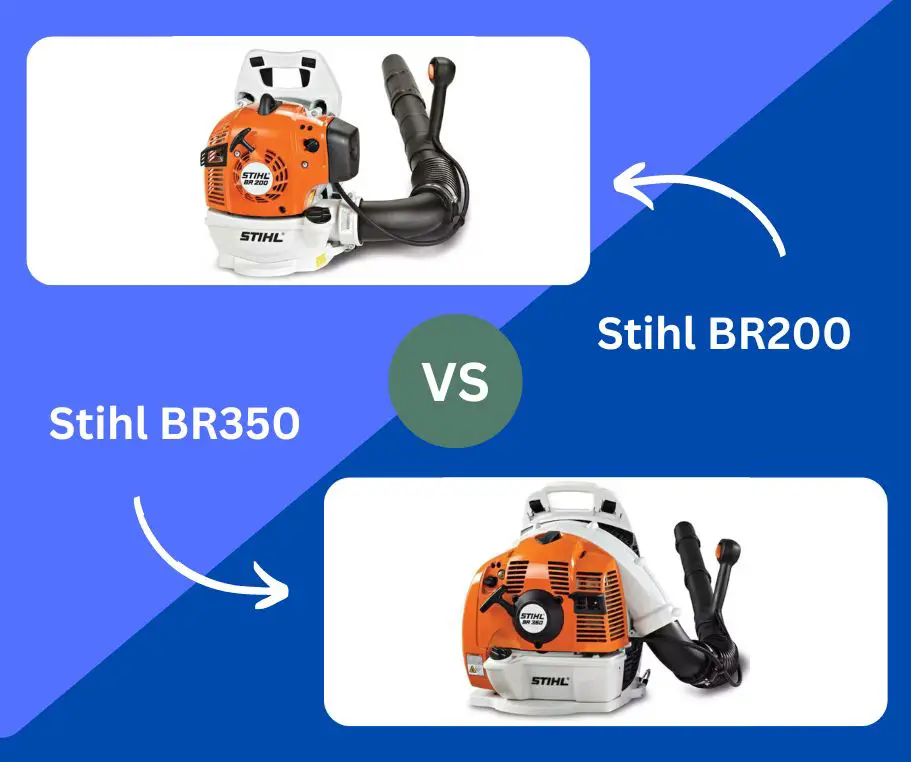 A lot of people are of the perception that backpack leaf blowers are only for career gardeners. So some consumers shy away from these types of blowers thinking that they are not suitable for their needs.
However, you could be doing yourself a massive disservice by disqualifying these types of leaf blowers outright. After all, not all of them are ridiculously overpowered. In fact, many of them are suitable for residential use.
Today we are going to be taking a look at a couple of backpack blowers that are certainly viable for use around your own yard.
Stihl BR200 Vs Stihl BR350 Overview
Stihl is known for making excellent leaf blowers that are reliable, durable and comfortable to operate.
After testing the Stihl BR200 and the Stihl BR350, we would concur with this narrative.
However, there was a stark difference between these two otherwise very similar blowers. That difference was power.
Quick Facts
| | | |
| --- | --- | --- |
| | Stihl BR200 | Stihl BR350 |
| Weight | 12.6lbs | 22lbs |
| Power | 1.07 BHP | 2.8 BHP |
| Max Air Speed | 150 MPH | 201 MPH |
Key Differences Between the Stihl BR200 and the Stihl BR350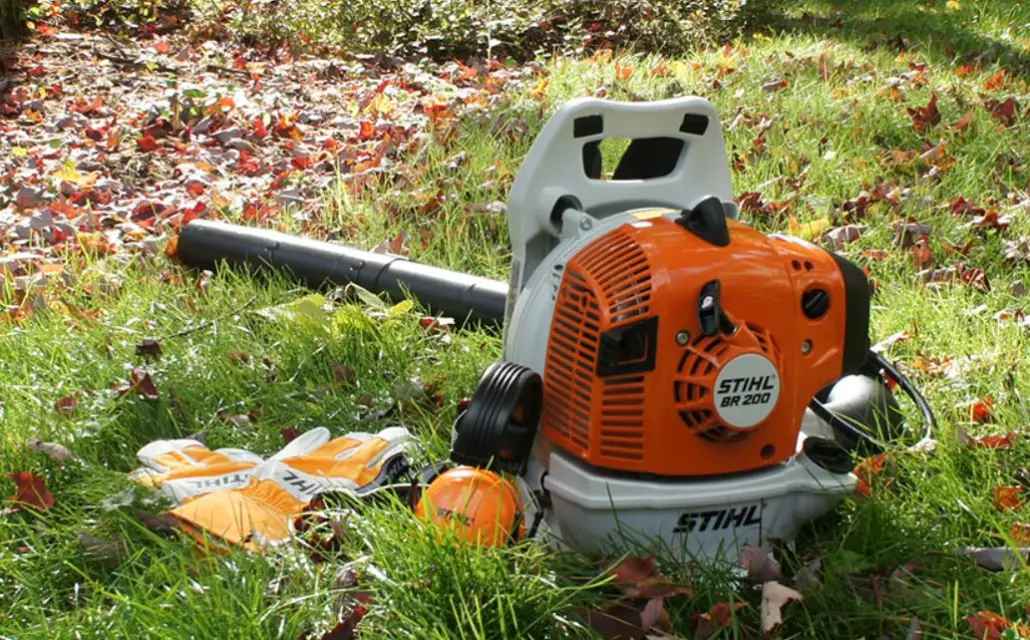 Aside from the engine output, the Stihl BR350 also has a few key features that set it apart from its little brother, so to speak.
For instance, the Stihl BR350 features a purge pump primer that protects against flooding. The Stihl BR200 has no such feature.
It's a small quality of life feature but when you use your leaf blower often, it can make a big difference.
Stihl BR200 Key Features
Adjustable Support Harness – The straps of the Stihl BR200 can easily be adjusted to your height to reduce stress on the back and shoulders.
Tube-Mounted Control – The control handle is attached at hand's length right on the tube for more ergonomic operation.
5 Ounce Fuel Reserve – For the most part, you won't have to refuel in the middle of a job with the large 35.5 ounce fuel tank.
Stihl BR350 Key Features
Low-Emissions Technology – The Stihl BR350 has been tested to go beyond the emissions standards set forth by the EPA and CARB.
Purge Pump Primer – The purge pump primer allows for the carburetor to be primed with fuel for easier startups.
Anti-Vibration System – Both the Stihl BR200 and the Stihl BR350 come equipped with Stihl's Anti-vibration system.
Price Comparison
The Stihl BR200 usually retails for about $320 while the more powerful Stihl BR350 will run you about $380.
Weight & Handling Comparison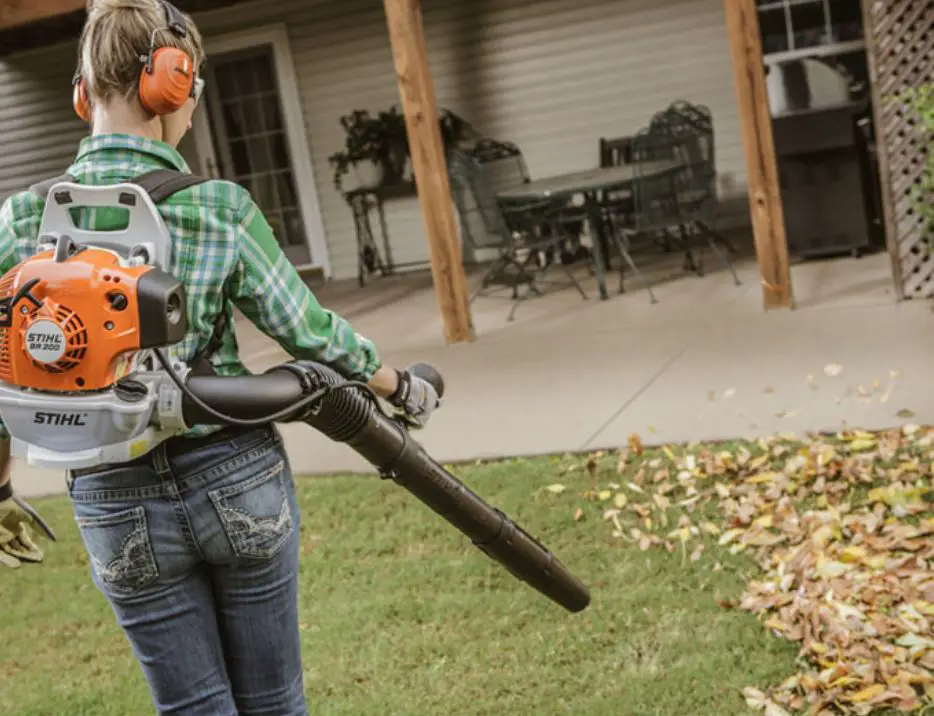 As you can see from the quick facts chart above, the Stihl BR350 weighs almost twice as much as the Stihl BR200.
And you can really feel the difference when you strap it on. So overall, the Stihl BR200 was lighter and easier to handle.
However, the tube of both of these blowers were equally light and the mounted control handle was easy to operate.
Power Comparison
You are going to get a lot more blowing power from the Stihl BR350 with its 63.3cc, 2.8 BHP engine. Overall, the Stihl BR350 was better able to displace wet leaves, small branches, twigs and other heavy debris.
Power Source
The Stihl BR200 and the Stihl BR350 are both gas-powered leaf blowers. The Stihl BR200 has a 35.5 ounce gas tank while the Stihl BR350 comes equipped with a 57.5 ounce tank.
Stihl BR200 Pros & Cons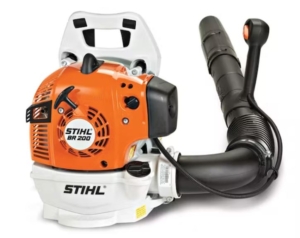 Pros:
More affordable
Easier on the back
Good for properties under an acre
Very easy to use
Should last a long time
Cons:
The tube comes off at times
A bit noisy
Overall Score: 95/100
Check Out More Reviews Here:
Stihl BR350 Pros & Cons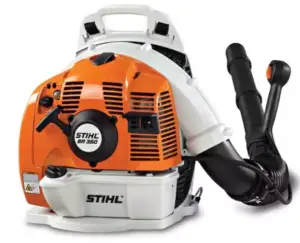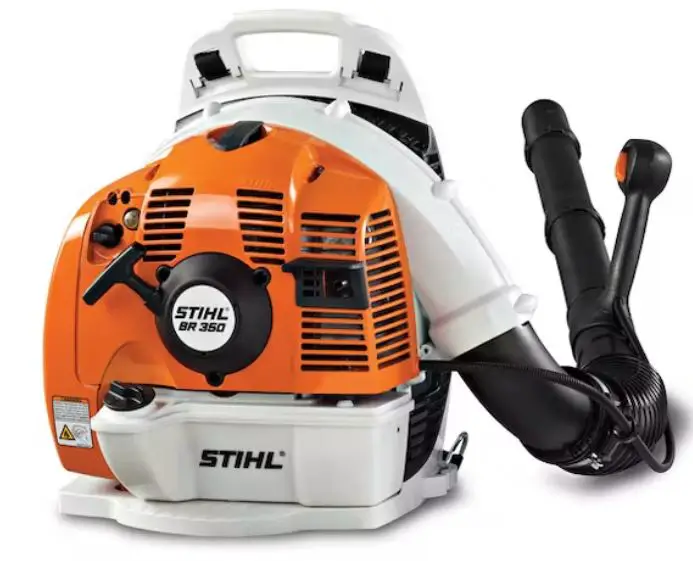 Pros:
Easy to start
Great for wet leaves
Great for properties over 1.5 acres
Durable design
Easy to mix fuel and oil
Cons:
Can't switch the tube for left-handed operators
Louder than the Stihl BR200
Overall Score: 97/100
Check Out More Reviews Here:
Who Should Buy Each One?
The obvious answer is this: if you have a smaller property (under an acre), choose the Stihl BR200.
If you have a larger property (1+ acre) choose the Stihl BR350. What isn't so obvious are the startup issues.
We had a bit of a hard time with cold startups with the Stihl BR200. So if you need a blower that can start up at least relatively easily in any condition, the Stihl BR350 may be the better choice.
Other Leaf Blowers to Consider
Stihl BR600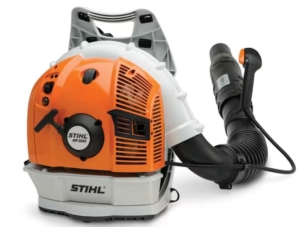 If you need even more power than what the Stihl BR350 can offer, the BR600 may be more your speed. It has a 64.8cc engine that can generate a max air speed of 238 MPH.
The variable speed trigger is easy to operate too because it has a throttle lock feature – meaning you won't have to keep your finger on the trigger the whole time you are using it.
Pros:
Great for large properties
Adjustable straps
Cons:
Overall Score: 94/100
Check Out More Reviews Here:
Black + Decker 3-in-1 Electric Leaf Blower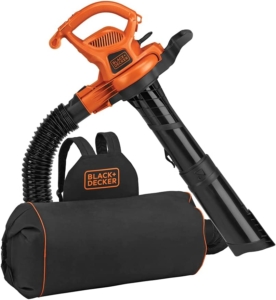 If you want a blower that can also function as a vacuum and mulcher, this one may be of particular interest to you.
This is also an electric leaf blower so you don't have to deal with mixing fuel and oil. However, this is a corded blower so you will have limited range. It offers max air speeds of 250 MPH so it rivals the power of gas blowers.
Pros:
No emissions
Unlimited runtime
Cons:
The cord can become cumbersome
Overall Score: 94/100
Check Out More Reviews Here:
Husqvarna 360BT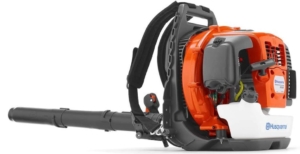 This backpack blower is capable of a max air speed of 232 MPH. This is certainly powerful enough for commercial use and the adjustable control handle makes it very comfortable to operate.
Pros:
Commercial strength
Built well
Cons:
Overall Score: 93/100
Check Out More Reviews Here:
Final Assessment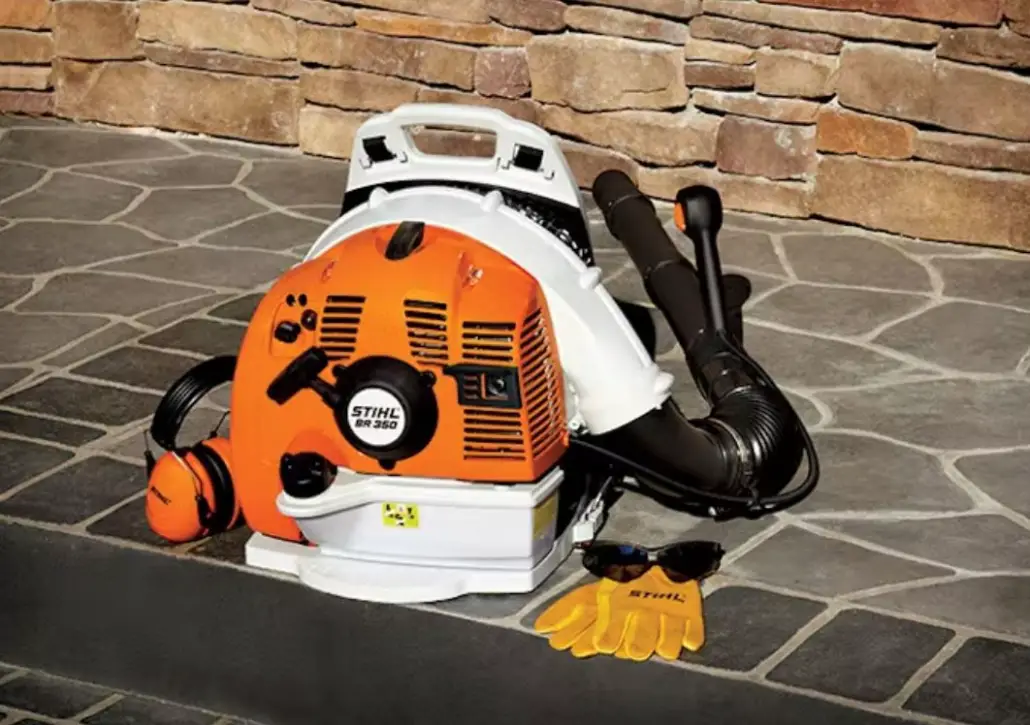 Overall, we have to say that the Stihl BR350 was the better leaf blower and not just because it is bigger and more powerful.
It was also easier to start and can run for hours without having to refuel. It's the better blower overall; but the fact remains that if you have a smaller property, the Stihl BR200 will still be the better value for you.