Stihl FS56 RC String Trimmer Review – Is it Any Good?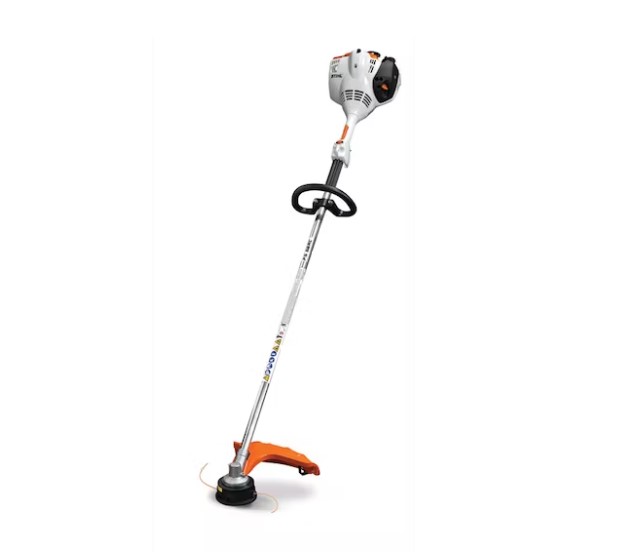 If you are even considering buying a string trimmer for home use, you probably take a lot of pride in your lawn's appearance.
That's why it's so important to do the research and dial in on a trimmer that will meet the challenges of your lawn and yard.
Stihl is a great brand to start your shopping with but they make many trimmers that are in the same size class.
Today we will be reviewing one of their string trimmers that would be great for general home use.
But will it be the right choice for your lawn? Let's find out by taking a deep dive into the Stihl FS56 RC.
Stihl FS56 RC Overview
The first thing you should know about the Stihl FS56 RC is that it is a gas-powered straight shaft string trimmer.
So if you have retaining walls and other obstacles you need to work around, you may actually want to check out a curved shaft trimmer.
However, if you have a deck you need to get under or need as much reach as possible, the Stihl FS56 RC would be suitable for your needs.
While we're sure it can handle light commercial work with its 1.07 HP engine, this thing is ideal for residential use.
Plus it has a ton of innovative features designed to protect the motor and make it very user-friendly.
Quick Facts
| | | |
| --- | --- | --- |
| SPECS | Stihl FS56 RC | |
| Weight | 10.6lbs | |
| Cutting Width | 16.5" | |
| Engine Displacement | 27.2cc | |
| Length | 69.9" | |
Stihl FS56 RC Key Features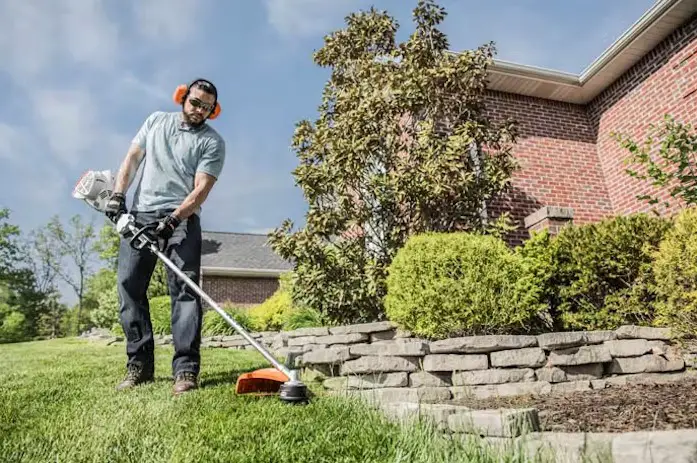 Protected Spark Plug – You can still access the spark plug easily but it is enclosed to ensure reliable combustion.
Air Filter Cover – You don't need tools to access and change out the air filter when it needs cleaning.
Lined Drive Shaft – The fully lined drive shaft helps reduce vibration and enhances operator comfort.
Wrap-Around Handle – The Stihl FS56 RC features a comfortable wrap-around handle that can be adjusted around the shaft 360 degrees.
Purge Pump Primer – You can prime the carburetor with fuel with a simple press of a button.
Echo CS-352 Common Issues
Some customers have said that their Echo CS-352 seizes up which can be a problem in the cylinder.
Stihl FS56 RC Pros & Cons
Pros:
Very comfortable overall
The upright fuel tank is easy to fill
Steel clutch
It should last for a very long time
Polymer housing keeps the trimmer light
Cons:
The string can be difficult to replace
The trim head rotates counter clockwise
Overall Score: 97/100
Check Out More Reviews Here:
Weight & Handling
One thing we were very impressed with right away was how balanced the Stihl FS56 RC feels in the hands. It weighs just over 10 pounds so it's very lightweight overall.
But even if you have never handled a string trimmer before, you should have no problem finding your comfort zone with the Stihl FS56 RC.
The wrap-around style front handle is comfortable and it can be adjusted by rotating it around the shaft.
That means left and right-handed operators can both wield the Stihl FS56 RC comfortably and effectively.
Engine Power
The Stihl FS56 RC comes with a 27.2cc engine which is powerful enough for weed eating and even taking care of some unkempt shrubbery.
The cutting width is only 16.5 inches so it might not be great for large commercial landscaping jobs; but the average homeowner should find the Stihl FS56 RC to be more than capable of handling their lawn care needs.
Durability
We like that the Stihl FS56 RC has a steel-on-steel clutch. This should ensure years of flawless operation.
The outside is made of a lightweight polymer. Call us old-fashioned but we wish garden tools were still made with metal chassis.
However, we can forgive the Stihl FS56 RC because the polymer chassis does help keep the overall weight down. Plus, it seems to be pretty impact-resistant.
Efficiency
The Stihl FS56 RC is very efficient with fuel overall. Even at full throttle, the gas lasted for a surprisingly long time.
Cutting Performance
The Stihl FS56 RC handles thick grass and weeds easily. The only caveat here is that the trimmer head spins counter-clockwise.
So operators used to trimmer heads that spin clockwise may have to change their trimming pattern.
Stihl FS56 RC Common Issues
Some Stihl FS56 RC string trimmers have been recalled due to faulty fuel caps that may cause gas spills.
Other String Trimmers to Consider
Echo SRM-225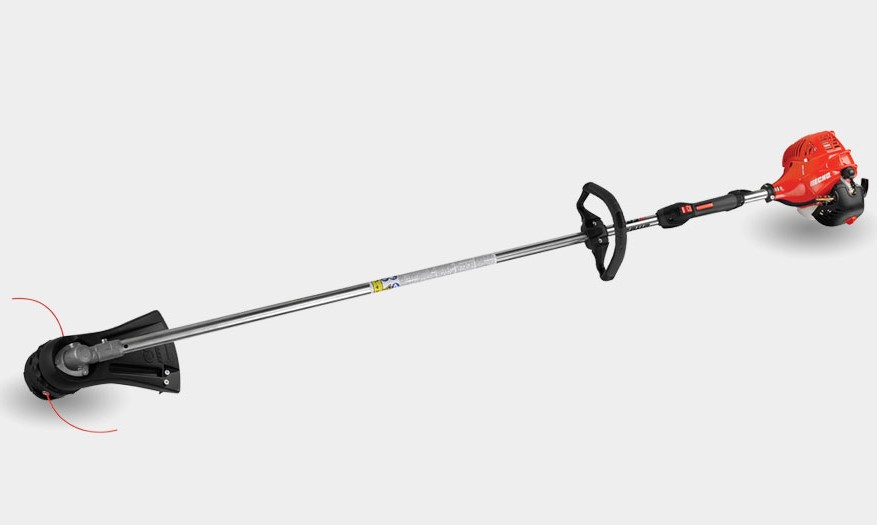 The Echo SRM-225 is a straight-shaft trimmer with a 21.2cc engine. It has a 59" shaft so it provides plenty of reach.
Pros:
Durable debris shield
Easy to start
Cons:
Overall Score: 96/100
Check Out More Reviews Here:
Worx 40V Line Trimmer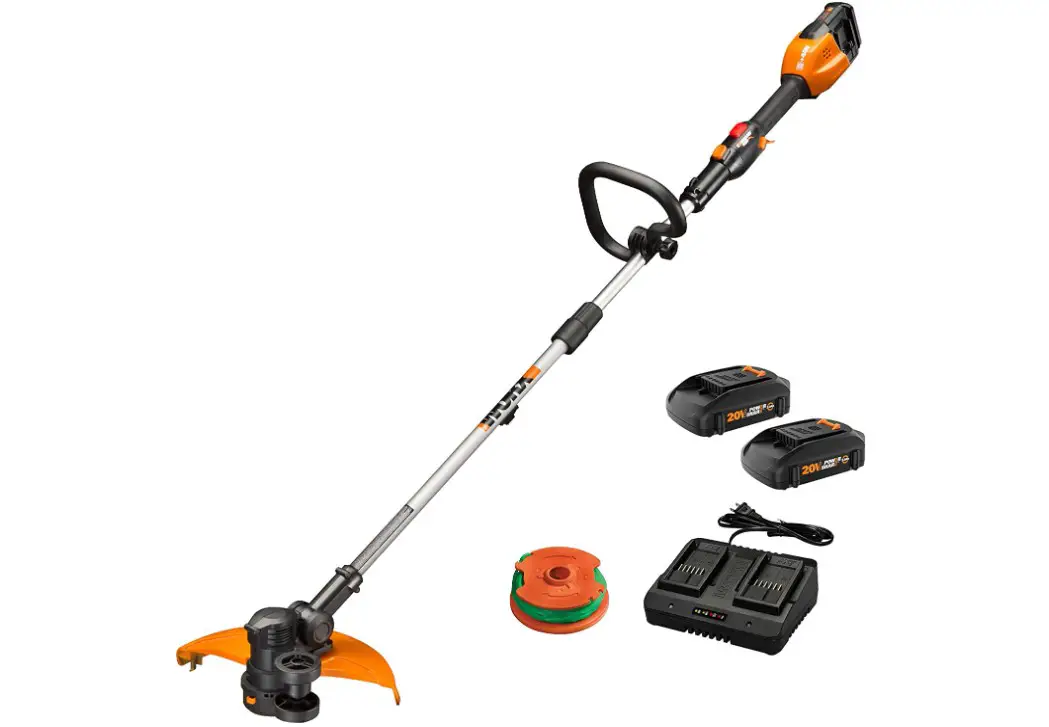 This is a battery-powered string trimmer that would be a great choice for anyone who doesn't want to have to keep reserves of fuel around the house.
On a full charge, it can operate for about 45 minutes. Plus, it doesn't produce any harmful emissions. It would be a good choice for home use on small to medium sized lawns and yards.
Pros:
It runs very quietly
No cords or gas to deal with
Cons:
The battery takes a long time to charge
Overall Score: 95/100
Check Out More Reviews Here:
Worx WG163E String Trimmer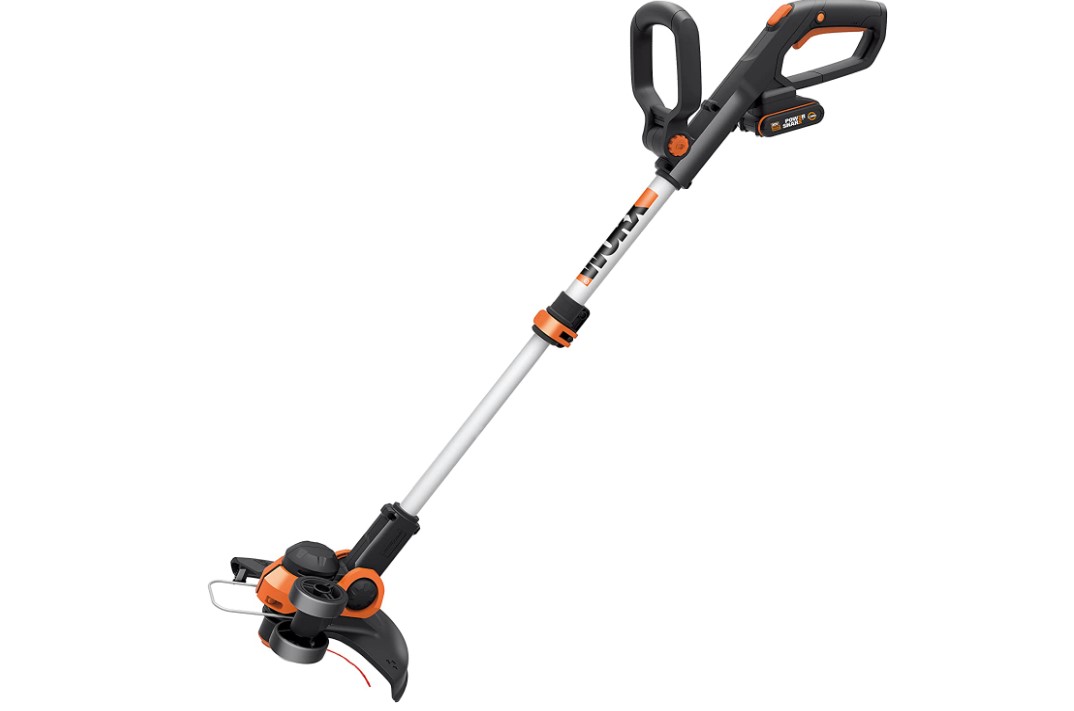 This is another battery-powered string trimmer from Worx. It comes with a 20v lithium ion battery and weighs just over 5 pounds.
This is an incredibly light and wieldy string trimmer; but the cutting width is only 11.8 inches. Still, it's a great choice if you have a small lawn or garden to tend to.
Pros:
Great for small areas
Very affordable
Cons:
Overall Score: 93/100
Check Out More Reviews Here:
Final Assessment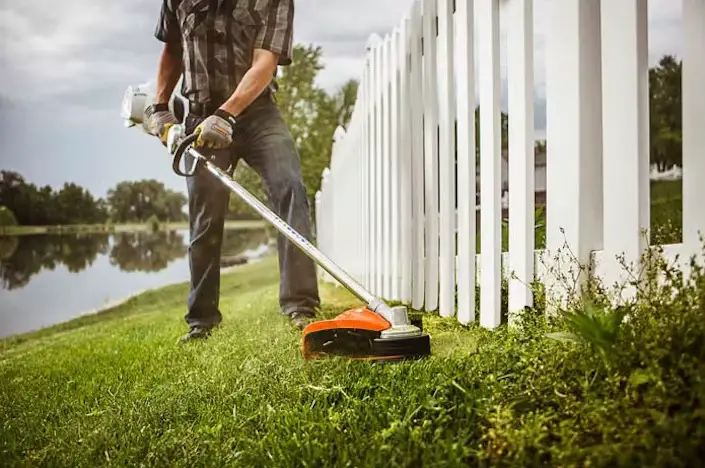 Overall, we really liked the Stihl FS56 RC. While the counter-clockwise rotation can be a bit annoying if you're used to clockwise rotation, it's not really that hard to get used to.
The line could be easier to replace too; but you get very impressive cutting power for less than $250.
Plus it's built very well and should last a long time. For the average DIY lawn care enthusiast, the Stihl FS56 RC would be a solid investment.