Stihl MS 271 vs Husqvarna 455 – What's The Better Chainsaw?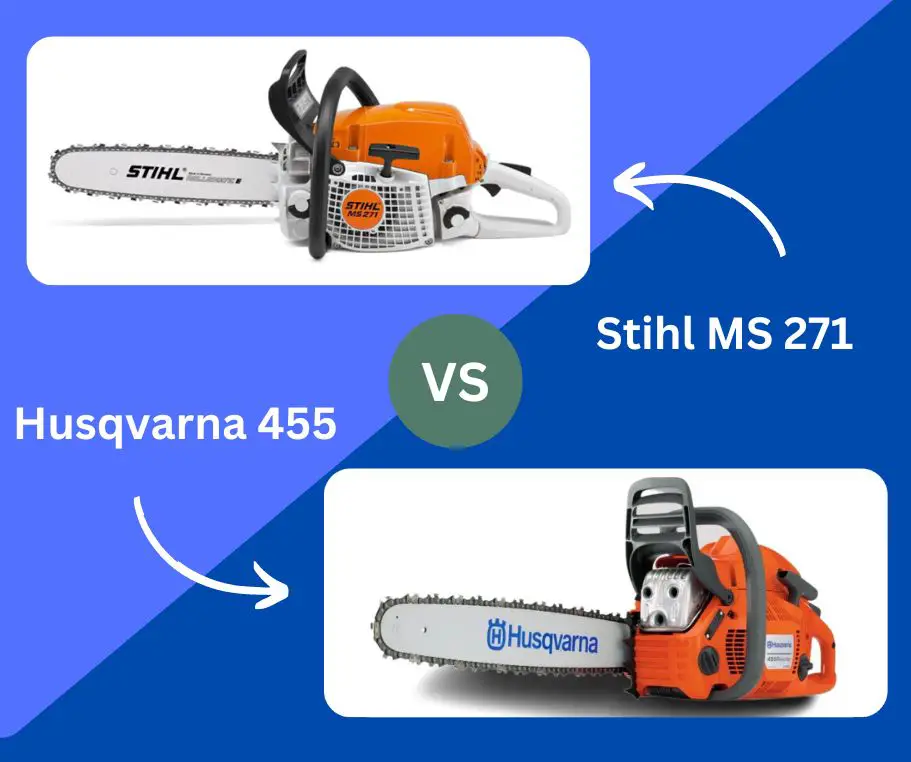 Both Stihl and Husqvarna are excellent brands when it comes to chainsaws. But what are the differences between the Stihl MS 271 and Husqvarna 455 and why should you be asking this question?
Each chainsaw has a unique set of features and each of those features can benefit you in ways that complement the wood cutting tasks you most often find yourself doing. To choose the right one for you, check out our review on both the Stihl MS 271 and the Husqvarna 455 chainsaws.
Overview of the Stihl MS 271 and Husqvarna 455 Chainsaws
The market appeal for these two chainsaws is that they are your bestselling models for homeowners looking to cut basic firewood. Their blade guide maximum is 20 inches for both, meaning these two chainsaws are not designed for heavy duty milling or large tree felling.
For the most part, these chainsaws will be purchased by private users as opposed to professional tree felling companies. But that doesn't mean professionals won't consider them for small scale cutting once they've felled a large tree and want to process it further.
You'll probably notice while you read this that when it comes to brand awareness, both Stihl and Husqvarna are top of the popularity list. Watch this video from Stoney Ridge and get some insight into how these two brands compete alongside each other.
Quick Facts Comparison Table
SPECS

Stihl MS 271

Husqvarna 455

Weight

12.3lbs

13.23lbs

Noise Output

103 dB

104 dB

Fuel Capacity

16.9 oz

14.88 oz

Blade Guide

Max 20 inches

(16 inches recommended)

Max 20 inches

(18 inches recommended)

Engine

50.2 cc 3.49 bhp

55 cc 3.5 bhp
Main Differences Between the Stihl MS 271 and Husqvarna 455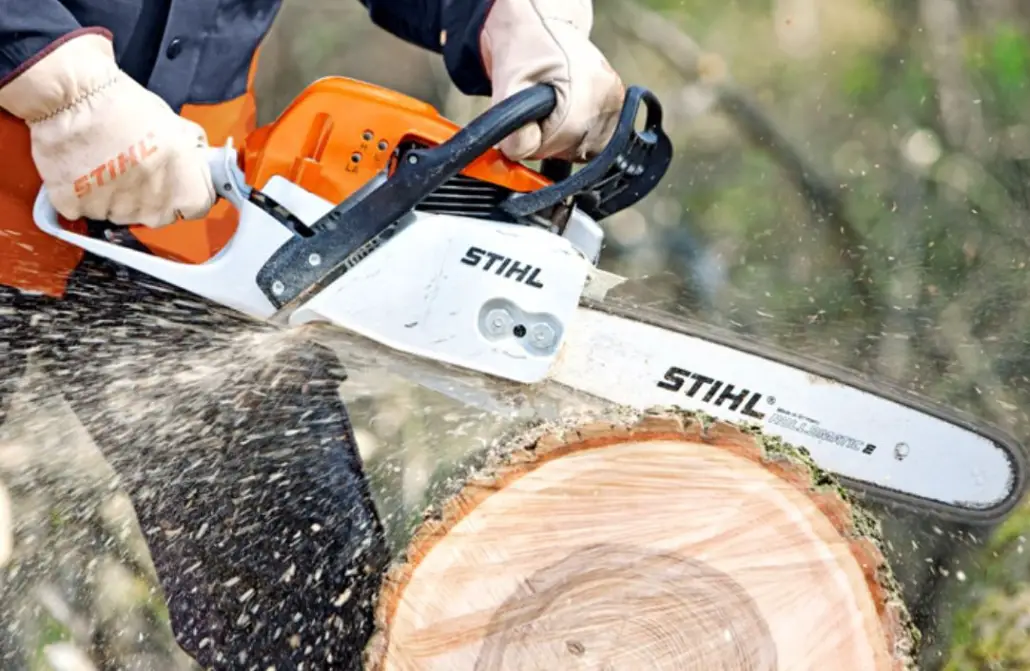 The differences between the Stihl MS 271 and Husqvarna 455 are rather trivial. While the Husqvarna has slightly more power and a larger engine capacity, it also comes with a smaller fuel tank.
The most notable difference would probably be the recommended chainsaw bar guide; 16 inches for the Stihl MS 271, and two inches longer for the Husqvarna 455.
Key Selling Points for Each Chainsaw
Stihl MS 271
The Stihl MS 271 was designed for fast and efficient log cutting. Stihl has patented a number of small conveniences for their chainsaws, some of which are included in the FEATURES section below.
The MS 271 is also an excellent chainsaw for intermittent use. The fuel tank is slightly larger than that of the Husqvarna 455, giving it more cutting time.
Husqvarna 455
Users will appreciate the extra width recommendation on the Husqvarna 455, but chances are you won't use it that often. Most of the small to medium logs homeowners contend with are thinner than 12 inches, so this feature probably won't affect most purchases.
We can forgive the Husqvarna 455 for being slightly heavier because of its larger engine. Although some would argue that the extra engine size doesn't do much for this chainsaw's power output compared to the Stihl MS 271.
Which Chainsaw is Cheaper and Why?
The Stihl MS 271 is quite a bit cheaper than the Husqvarna 455. We actually think that this is the biggest difference between the two chainsaws, because being as similar as they are, most users will opt of the cheaper option.
Weight and Handling of the Stihl MS 271 and Husqvarna 455
Handling of both these chainsaws is super comfortable. They're not heavy chainsaws and their handles are designed to accommodate quick and easy cutting.
Choice will depend on the individual's preference between the two, but we found that the Stihl was slightly lighter and easier to manoeuvre.
Power Comparisons Between the Two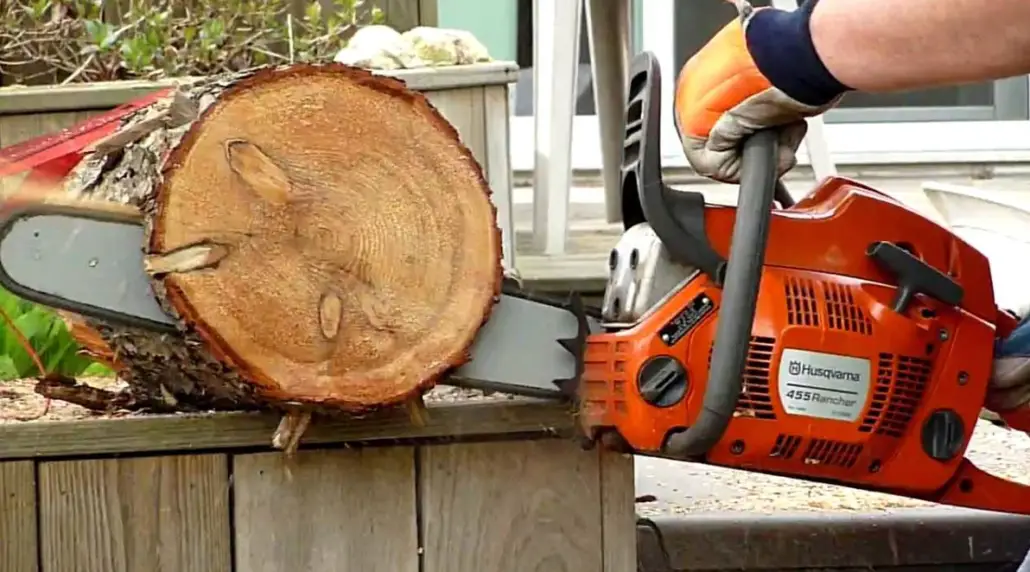 As mentioned, despite the Husqvarna 455 having a larger capacity engine, the two chainsaws are almost identically matched in power output.
It should also be mentioned that the Stihl is more fuel efficient due to the smaller engine and fuel saving technology used by the brand.
Although Husqvarna also implements their own trademark fuel saving technology, we felt that the fuel tank size and smaller engine made for longer lasting cutting from the Stihl MS 271. Also bear in mind though that neither of these chainsaws are designed for all-day use anyway.
Other Features
Additional features of the Stihl MS 271:
Side access chain tensioner
Pre-separation air filtration technology
Anti-vibration
"Oilmatic" saw chain
Easy chain adjustment on the side of the device
X-Torq fuel consumption saver
Lower vibration technology (LowVib)
Air injection for less filter cleaning
Felling markings for accurate cutting
Front handle for easier grip
Similar Chainsaws to Consider
Milwaukee M18 FUEL 16″ Chainsaw: This chainsaw is just over half the price of the Stihl MS 271 and Husqvarna 455. Although it's not as well known a brand, it has similar specs to our two featured chainsaws.
Husqvarna 970515528 445 18″ Gas Chainsaw: An older version from Husqvarna, this chainsaw has several features that match the Stihl MS 271 and Husqvarna 455.
Ego 18" Cordless Chain Saw: Also fuel operated and going for about half the price of the Stihl MS 271 and Husqvarna 455, the Ego 18" Cordless Chain Saw is a viable option for those who want to do small cutting around the yard.
Pros and Cons of the Stihl MS 271 and Husqvarna 455 Chainsaws

Stihl MS 271 Pros and Cons:
| | |
| --- | --- |
| PROS | CONS |
| Better fuel consumption | Limited to 16 inches |
| Larger fuel tank | |
| Slightly lighter | |
| Cheaper | |
Husqvarna 455 Pros and Cons:
| | |
| --- | --- |
| PROS | CONS |
| Convenient handles | More expensive |
| Limited to 18 inches | Smaller fuel tank |
Our Recommendation on Which One to Buy
We really liked both the Stihl MS 271 and Husqvarna 455 for home use. Both emit a low amount of noise, are light, and handle nicely. For the reason of fuel consumption, we had to go with the Stihl this time around—even if the reasons may seem small.
Another reason we recommend the Stihl MS 271 is due to the lower price. Going at over $50 cheaper, this chainsaw gives homeowners everything they need to handle small to medium wood cutting. It a great investment for anyone looking to invest in a long term chainsaw for home use.
We also felt that the engine size of both emitting the same amount of bhp was a bit of a trivial but obvious difference. Stihl's ability to design a smaller engine that is as efficient as the larger engine by Husqvarna tipped the scall more towards the Stihl MS 271 chainsaw.
Final Thoughts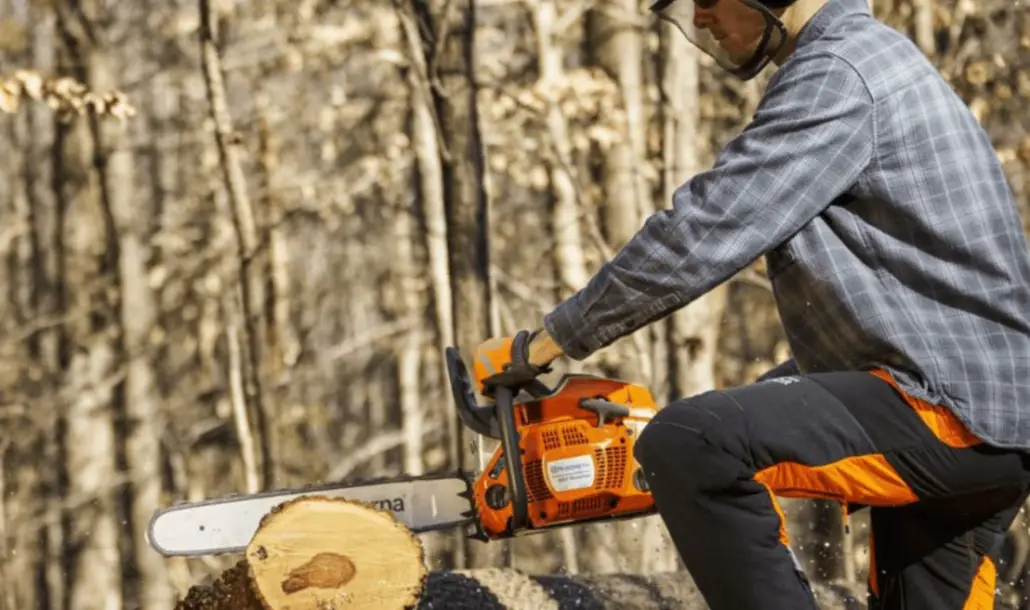 You really can't go wrong with either the Stihl MS 271 or the Husqvarna 455. Preference may come down to the handles, the price, and/or the brands themselves, The Spruce points out about these two competing companies. Both these chainsaws operate with low vibrations, easy-to-access knobs & switches, and excellent warrantees.
Have more questions? Please leave a comment!
But we hope this comparison review provided you with everything you need to pick the right one for you. Happy cutting!