Stihl 881 vs 661 – What's The Better Chainsaw?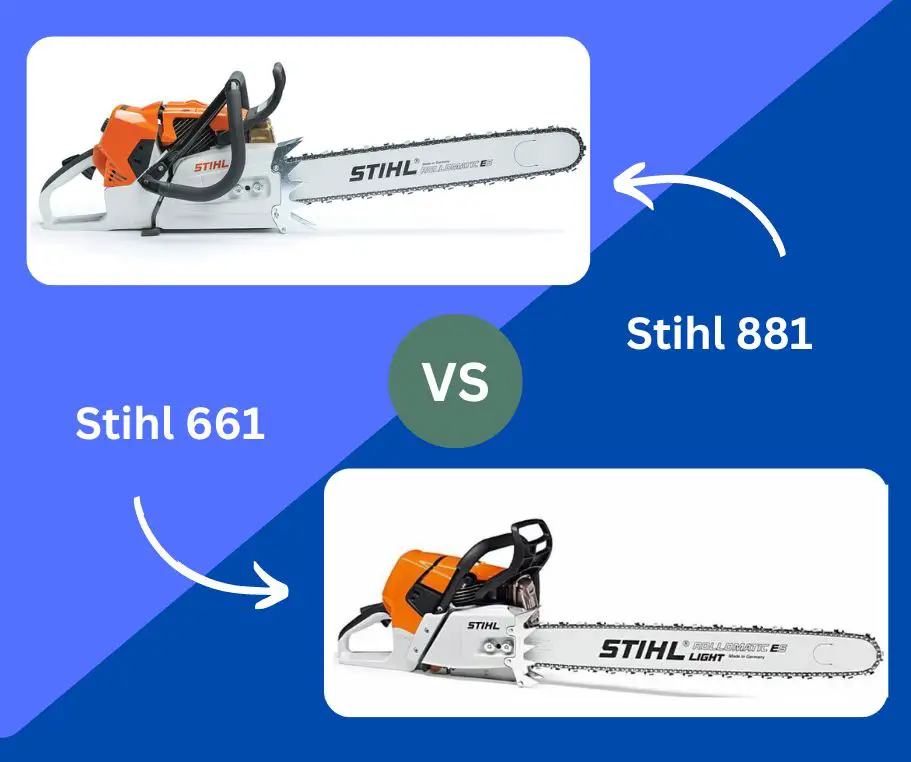 When it comes to the Stihl 661 versus the 881, we must consider that each one of these chainsaws has been designed for specific tasks.
Choosing the right one should be seen as a long term investment, because the various uses for each one respectively makes you as the user's life easier.
As we compare the Stihl 881 chainsaw with its smaller model, the 661, take note of aspects such as weight, power, noise, and size. Depending on your needs (both immediate and long term), this review will empower you to make an educated choice regarding the best one.
An Overview of the Stihl 881 and the 661 Chainsaws
Both of these chainsaws are made by Stihl, a highly trustworthy brand of garden power tools. Therefore we can highly recommend either.
An overview of both might assist you in making your choice quickly. If not, further specs will be discussed further below.
While the 661 is cheaper and smaller than the 881, it should be mentioned that it is limited in its blade cutting range. That being said, the 661 is a very versatile chainsaw, and many users claim that they've found enough usage out of it without having to upgrade.
The 881 one is the larger of the two, but this does result in a higher price for purchase. The 881 provides a larger blade cutting range, and provides more power for larger logs or trees. Further specs can be conveniently compared via the table below.
Quick Facts Comparison Table
| | | |
| --- | --- | --- |
| SPECS | Stihl 881 | Stihl 661 |
| Weight | 23.7lbs | 16.5lbs |
| Noise Output | 118 dB | 118 dB |
| Fuel Capacity | 44 oz. | 28.7 oz. |
| Engine | 121.6 cc 8.6 bhp | 91.1 cc 7.2 bhp |
| Blade Guide | 21 in – 41 in | 16 in – 36 in |
Main Differences Between the Stihl 881 and the 661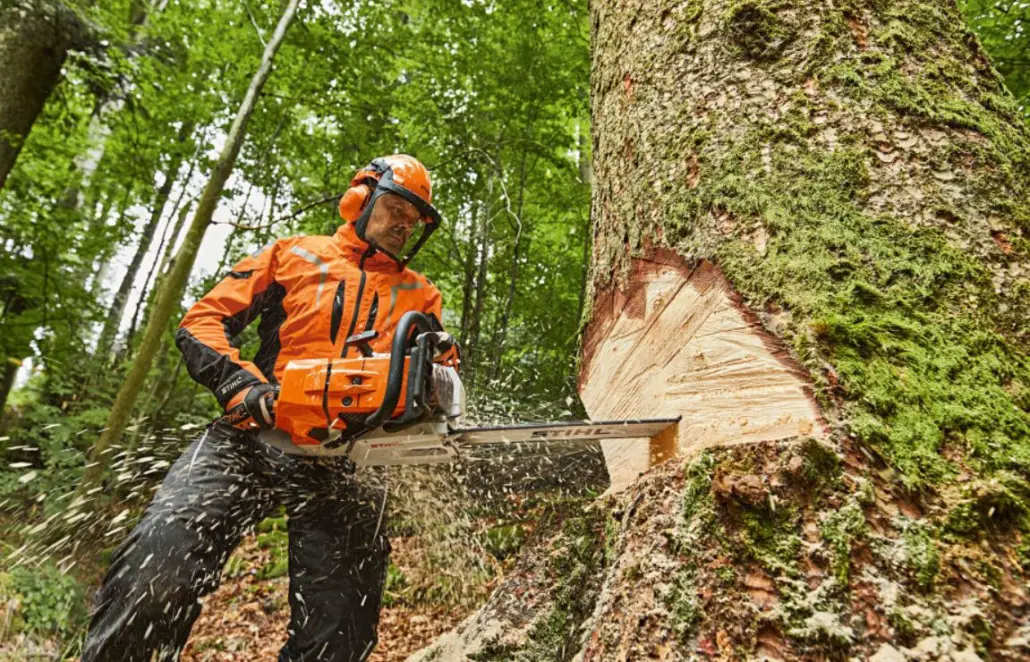 The most obvious difference between these two chainsaws at first glance is their respective sizes. Even though the 661 is a fairly large and versatile chainsaw, the 881 is significantly larger with a longer blade.
Engine and power are similar, but the 881 exceeds the 661 in both. This of course means that the 881 is a little heavier than its counterpart, but efforts have been taken in the design to minimize weight as much as possible without compromising on power.
Key Selling Points for Each Chainsaw
881
Users who are in the tree felling industry will consider the 881 one as a viable option due to its blade length of 21 to 41 inches. This, as you will discover, is a log size that isn't particularly common in most parts of the US, but may still be necessary for some.
The 881 uses sound muffling technology to minimize noise as much as possible. In fact, the 881 puts out more or less the same dB level of noise as the 661—despite its power difference.
661
Most users at home, and even in a professional setting, will find a lot of use from the Stihl 661 chainsaw. Its guide bar length is 16 to 36 inches, making it very versatile for common log widths.
The 661 has a shorter blade, and is also lighter than the 881. This promises easier handling, and better accuracy while cutting.
According to Second Life Design, the 661 is a better chainsaw for milling.
Which Chainsaw is Cheaper and Why?
The 661 has a significantly lower price than the 881. Stihl probably figures that the 881 is a more specialized chainsaw because of its size.
It's likely that only die-hard users will purchase the 881 for their own private convenience. For the most part, the 881 is a professional tree felling power tool.
With a smaller engine capacity and power output, the 661 is cheaper. The blade length also contributes to this price difference and the fact that more private homeowners will probably opt for the 661 rather than the 881.
Ease of Use: Weight and Handling of the Stihl 881 and 661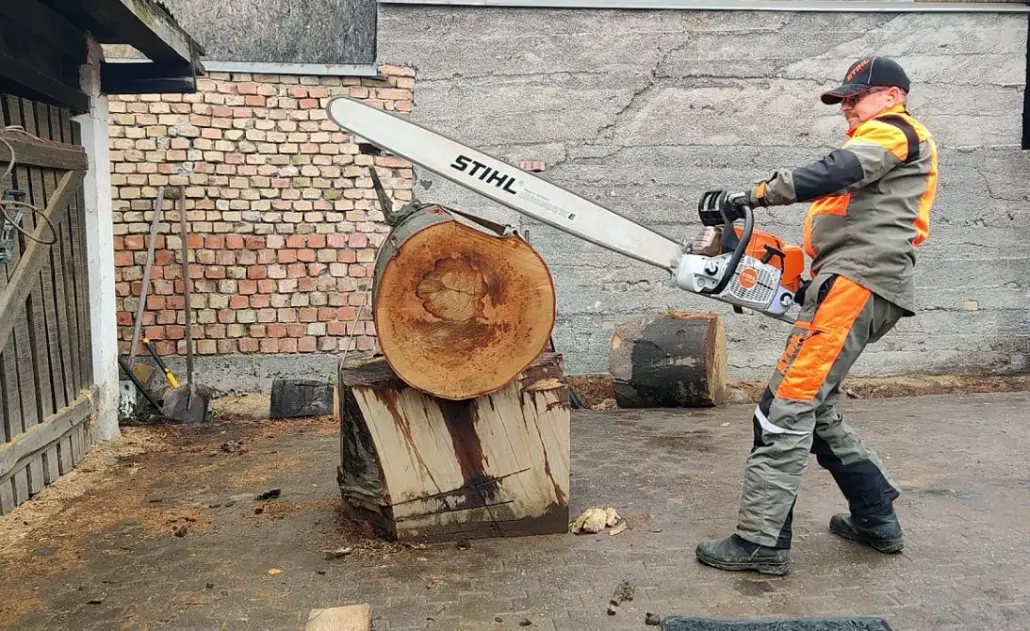 Due to the weight and length of the powerhead, the 881 may prove slightly more difficult to handle compared to the 661.
Professionals know how to handle a chainsaw of this size, and for such a large chainsaw, we found that the 881 does handle quite well.
The 661 lends itself to easy use for someone who knows chainsaws, but doesn't necessarily use them on a daily basis. The speed and length of the powerhead make this chainsaw an easier-to-handle chainsaw for regular and daily use.
Power Comparison
The lengthy blade of the 881 definitely calls for more power and speed. This Stihl chainsaw boasts an engine displacement of 121.6 cc, higher than the 661's displacement of 91.1 cc.
Brake horsepower comparisons of the two isn't super different. The 661 has a power output of 7.2 bhp, while the 881 has a slightly higher bhp of 8.6.
Other Features
A convenient stop switch to prevent engine flooding
Minimized exhaust fume output
A wrap handle for switching between felling and limbing
Retainers on oil and fuel caps
Customizable oiler for variations in bar lengths and cutting needs
HD2 air filter
Anti-vibration technology
The Stihl Quickstop technology to minimize injury during possible kickback occurrences
Features of the Stihl 661 chainsaw include:
Stihl Elastostart shock absorption technology
Side access chain tensioner for angled cutting
HD2 air filter
Automatic oiler for customizable bar length and cutting preferences
Decompression valve for the combustion chamber
Fuel and oil cap retainers for convenient sealing
Pros and Cons of the Stihl 881 and 661 Chainsaws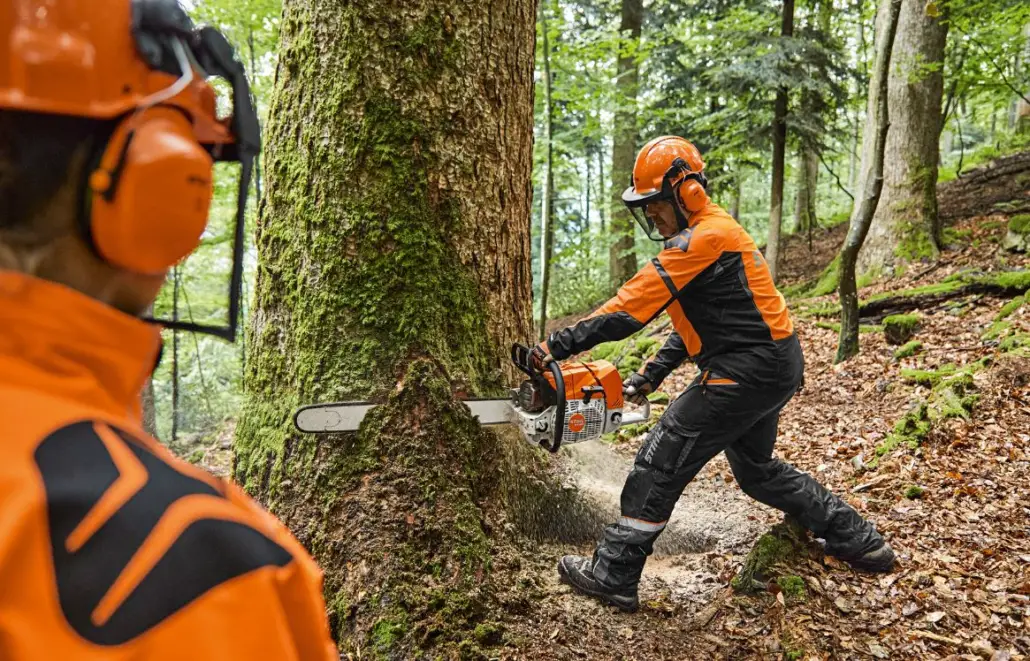 Stihl 881 Pros and Cons:
| | |
| --- | --- |
| PROS | CONS |
| Larger guide bar length | Heavier |
| More powerful | More expensive |
| Superior fuel consumption | |
| Less exhaust fumes | |
Stihl br661 Pros and Cons:
| | |
| --- | --- |
| PROS | CONS |
| Lighter with better handling | Limited guide bar length |
| Cheaper | Less power |
| Better suited to private users | |
| Angled cutting | |
Which One Should You Buy? Our Recommendation
If you're comparing these two chainsaws for your three felling company, the question you should ask yourself is about investment. If you don't have other chainsaws in your arsenal, a good starter chainsaw would be the 661 because of its angling and versatility.
But if you already own a midrange chainsaw and you're looking for something larger, the 881 is an excellent product as an upgrade. Consider the width and size of the trees you're cutting most often, and use then as an indication for which one is next/first on your list.
For private users, we'd highly recommend the 661. It's a highly evolved chainsaw with plenty of features to add versatility and ease to your cutting. It's light, easy to use, and comes with all the safety features you'd expect from a good chainsaw.
Final Thoughts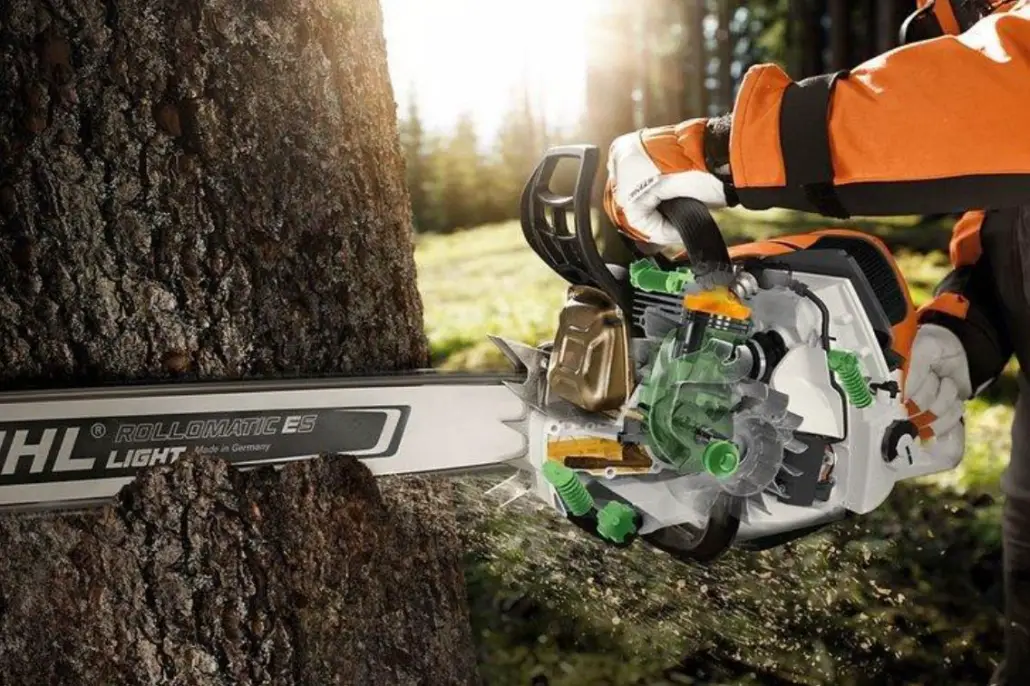 We hope this comparison has helped you to make the best choice for your particular chainsaw needs. As always, you can rest assured in the Stihl brand, and both of the chainsaws will provide you with plenty of good use in the near and distant future.