Ninja SP101 vs SP301 – Which Is The Better Air Fryer Oven For You?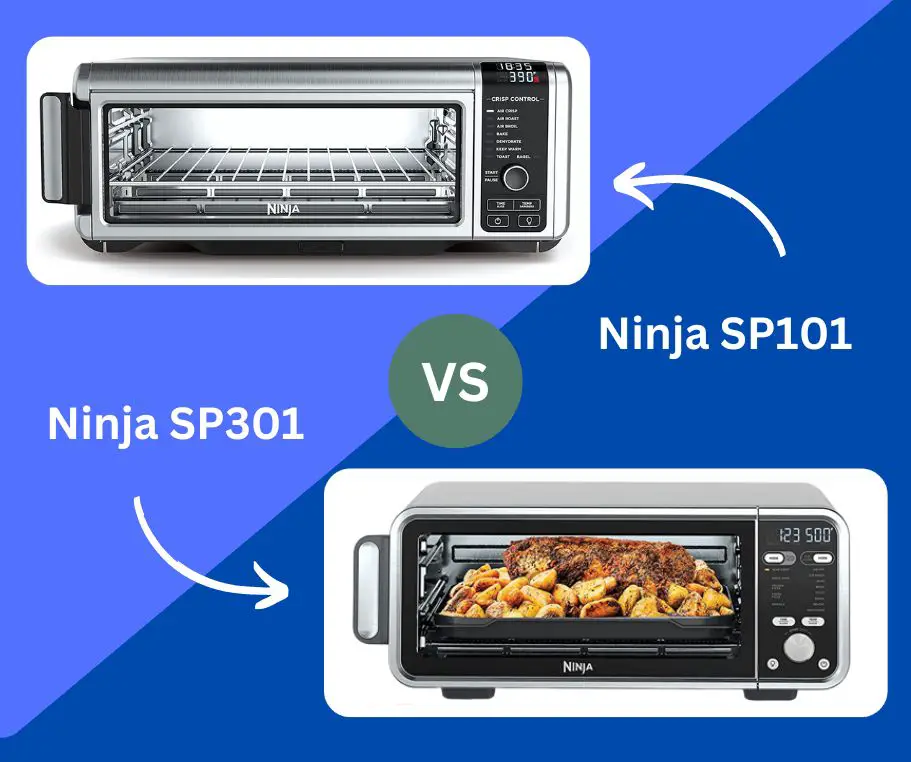 If you are familiar with air fryers, then you'll probably know the Ninja series is one of the best. So, while you possibly know of Ninja SP101 and Ninja SP301, what you may not know is — which is the best or the ideal option for you.
Before we delve into the details of this comparison, it's good to know that both ovens have exceptional performance.
An Overview of the Ninjas: The SP101 and SP301
Get Familiar With the SP101
Also known as the Ninja 8-in-1 air fryer or Flip-away toaster oven, the smart-sized design of this stainless steel appliance allows it to fit easily into small spaces. With eight cooking modes and four cooking accessories, the SP101 also has a heat capacity of 450°F.
Get Familiar With the SP301
SP301 oven is a stainless steel design with a dimension that makes it slightly bigger than the SP101. 13 cooking programs allow the oven to air fry, bake, air roast,  toast, dehydrate, and much more. The temperature peaks at 500°F, and the interior is a high-quality non–stick overlay.
SP101

SP301

Power

1800W

1800W

Dimensions (inches)

19.72×7.56×14.96

20.21×15.33×8.15

Weight (pounds)

18.56

21.3

Max Temperature

450°F

500°F

Accessories

It comes with the following;

• Sheet Pan

• 1 Air Fry Basket

• Wire Rack & Removable Crumb Tray

• Sear Plate (Non-stick)

It comes with the following;

• Sheet Pan

• 1 Air Fry Basket

• Wire Rack & Removable Crumb Tray

Coating

Non-stick

Non-stick

Price
Some Key Differences Between the SP101 & SP301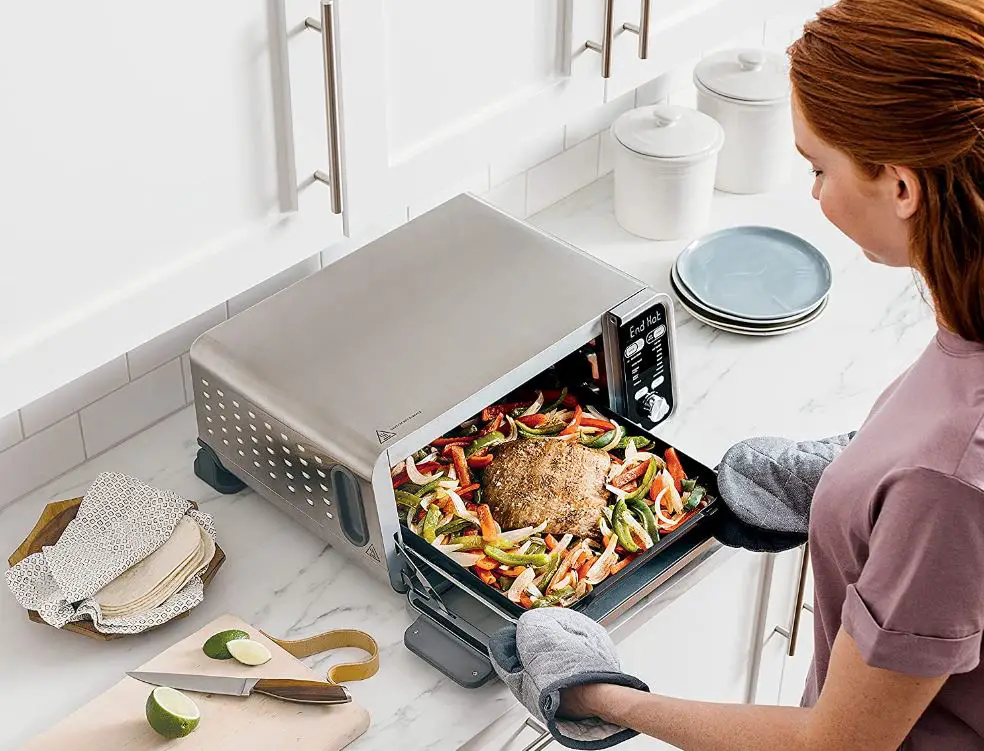 Both ovens have excellent cooking capacity. Yet SP301 outperforms SP101 in terms of cooking ability and some additional features.
For example, while the SP301 has 13 cooking modes, SP101 has only eight. The size, temperature capacity, and oven accessories differ as the SP301 wins in this department.
You may have guessed that the SP301 is an upgraded version of the SP101; well, you are not wrong. In the SP series, the 301 comes fitted with new functions such as dual heat air fry and bigger inner space, which allows it to accommodate larger food quantities than the 101.
Of course, if you are choosing the best SP series air fryer for the money, picking the 101 would be a no-brainer. It doesn't end there. If your countertop is small, with its flip-up design, you can simply make it stand vertically to save space.
The Standout Features of Ninja SP101
The SP101 is more than a mini oven. Despite its size, which is quite an advantage for people who can't afford to use large appliances in the kitchen, it has a digital crisp control technology. It may surprise you that the interior can accommodate a 13-inch pizza.
The Best Features of Ninja SP301
The SP301 has lots of standout features. The dual heat technology seems to be the most fascinating of them all. The dual heat function allows you to sear and crisp simultaneously.
Another function unique to this SP model is the 13 cooking programs. This is more than most air fryers can perform.
Beyond increased functionality and size, the SP301 has a high premium finish. The edges are not sharp but beautifully built to be safe and aesthetically pleasing.
All I'm saying is you can have it all with the SP301 – aesthetics, functionality, and enough cooking space! As shown in this unboxing and testing review, the video shows that SP301 emits heat from the top and bottom (unlike previous models) and reveals how you can make the most of all 13 cooking modes.
Price Comparison 
In the fight for affordability, the SP101 comes out on top. At $216, you can purchase SP101 on Amazon. As for SP301, the price is pegged at $260, and it's noticeably costlier due to the extra functions it packs.
Which Is Bigger – Does Size Matter?
From the table above, the SP301 is bigger. As repetition for emphasis, the dimension of the 301 is 20.21×15.33×8.15 inches making it a few inches bigger than the SP101 with a size of 19.72×7.56×14.96 inches.
What Cooking Programs Has Each Got?
SP301 has 13 cooking programs. Its cooking modes include everything the SP101 is built to handle and more. Hence beyond roast, broil, keep warm, toast & bagel, bake, dehydrate, and air crisp which the SP101 can handle, the SP301 also has extra cooking modes such as sear crispy, frozen pizza, rapid bake, fresh pizza, air roast, and griddle.
The SP301 can operate two cook modes simultaneously, making it the more efficient choice.
Which of the Ninjas is Hotter?
The maximum temperature of the SP101 is a decent 450°F, while the SP301 has a 500°F heat capacity.
Power Capacity
Both have the same power capacity of 1800 watts.
Pros and Cons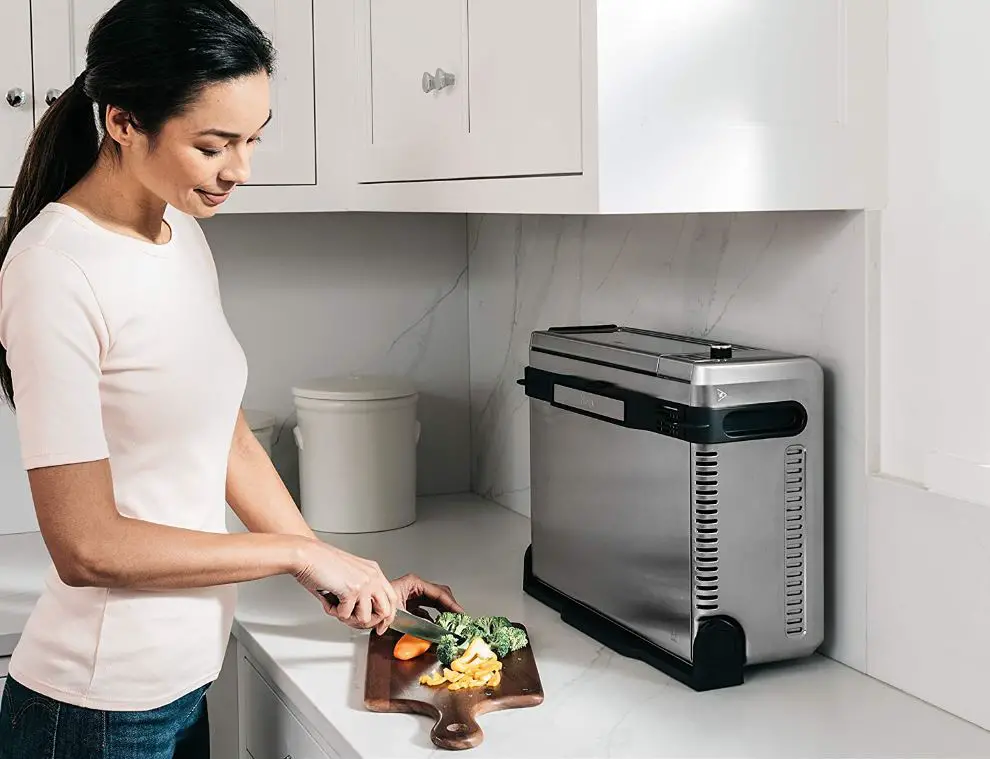 Why You Should Buy The SP101
More affordable
Space-saving design
Why You May Not
Not suitable for big-size cooking
No dual heat mode
Overall Score: 80/100
Check Out More Reviews Here:
Why You Should Buy The SP301
Large cooking spaces
Extra cooking modes
Dual heat function
Why You May Not
Overall Score: 86/100
Check Out More Reviews Here:
Who Could Buy Each of the Ninja?
The SP101 is best for regular users who make simple meals – if you fall into this category, then voila! Professionals or users who frequently make various meals in large sizes would find the SP301 more suitable.
There you go! Now you know which to buy.
What Can You Cook With SP Ninjas?
The ovens can cook a lot of meals. You can fry chicken, cook vegetables, bake cookies and cakes, and dehydrate food items. The SP301 takes it further by allowing you to reheat or get a frozen pizza ready to eat.
What Similar Ovens Can You Consider?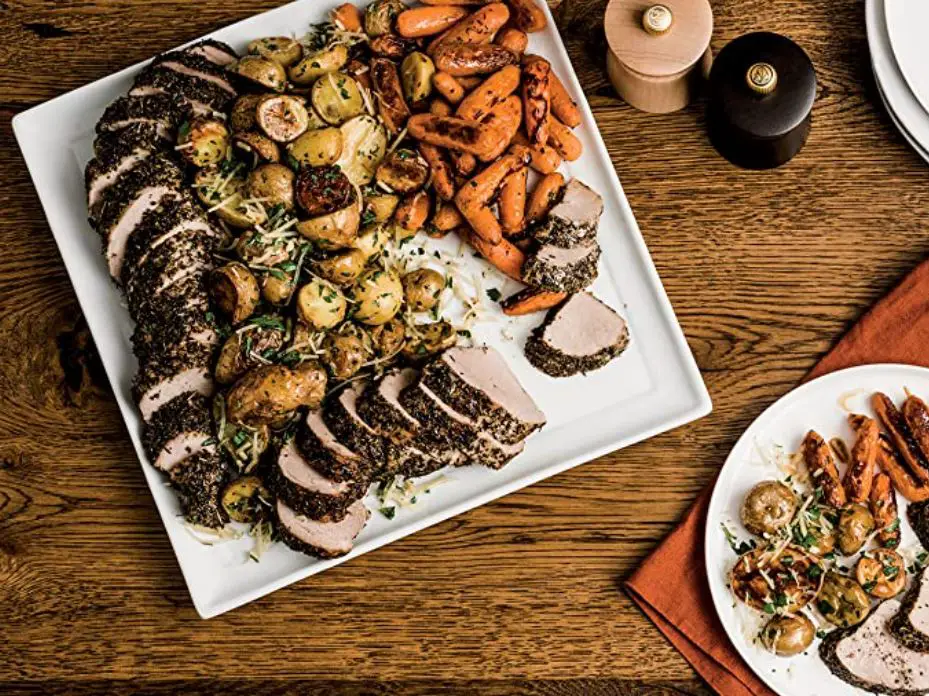 The SP201 is an excellent choice with ten cooking modes and up to four cooking accessories.
Overall Score: 94/100
Check Out More Reviews Here:
The Ninja DT251 Smart XL Pro Air Oven is big enough to accommodate a whole chicken, and it comes with an integrated smart thermometer.
Overall Score: 98/100
Check Out More Reviews Here:
The advanced Ninja DT201 10-in-1 XL Pro Air Oven has an optimum heat distribution system, and it's an affordable option.
Overall Score: 95/100
Check Out More Reviews Here:
Which Ninja Should You Go For?
Which ninja to go for depends on budget and usage. If you intend to make simple, small-sized meals, go for the SP101. If you want something bigger and equipped for numerous cooking modes,  then the SP301 is your ideal ninja.
Final Remark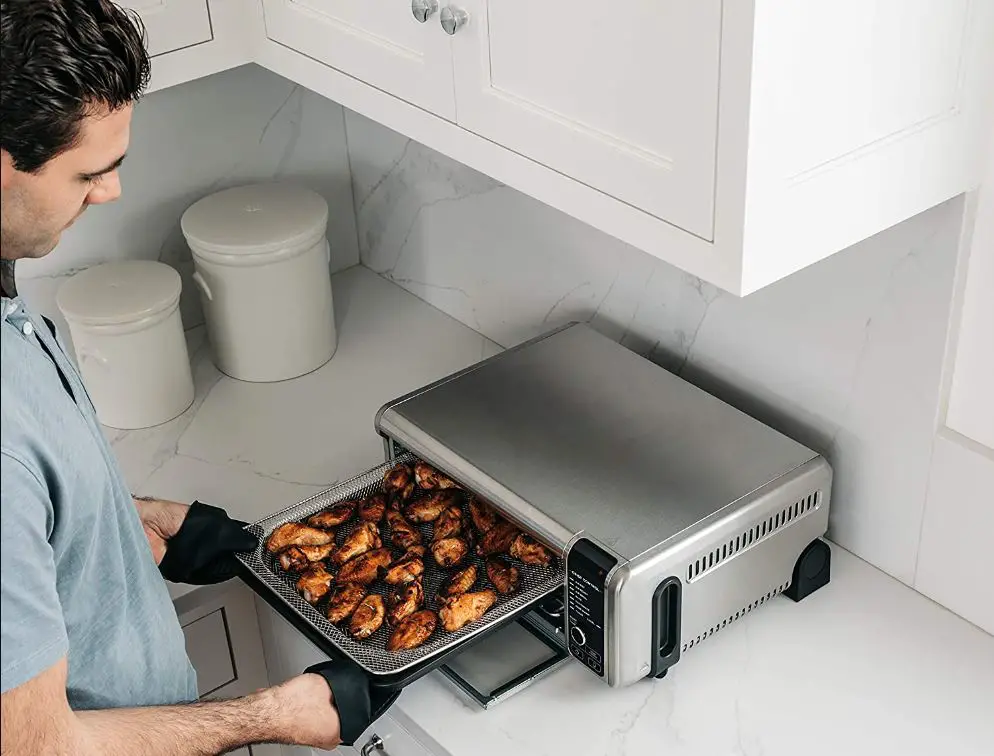 In the end, the SP301 is the better ninja. It has more cooking modes, extra cooking accessories, a bigger space capacity, and is also more efficient due to its dual cooking function.
However, this doesn't mean the SP101 is not a good option. In fact, it has a couple of advantages.
For those looking to spend less and who do not need a near-professional oven, the SP101, with its eight modes and ample inner space is sufficient. Check through the features of each and make a decision to purchase the Ninja that best meets your needs.