Submersible Pump vs Jet Pump vs Centrifugal Pumps – What Is the Best Option?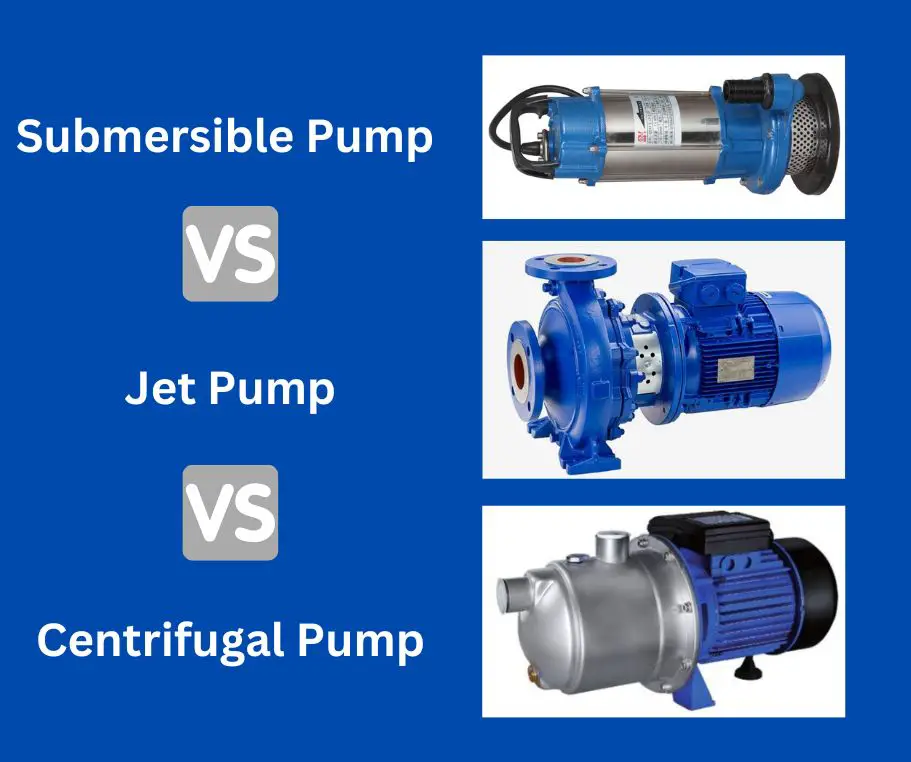 Many people struggle when looking for better alternatives for their water pumps. This article will compare and contrast a centrifugal pump, a jet pump, and a submersible well pump, all of which pump water from underground sources.
We will look at the pros and cons of each method and will enable you to choose the right pump for your next project.
This article will also be handy when replacing your pump. Picking the right pump will ensure efficiency, guarantee durability, and save on maintenance costs. So, if you follow the tips in this article, you should have no trouble reaching the goals of your next project.
Overview of Submersible Pump vs. Jet Pump vs. Centrifugal Pump
Jet pumps are less expensive and more flexible than submersible pumps, but the latter is more eco-friendly and easier to install. Submersible pumps force water upward, while jet pumps draw it in.
Submersible pumps are typically more efficient for deep wells because they push water with less energy. Because of that fact, determine your Well's depth when deciding between a jet pump and a submersible pump.
Centrifugal jet pumps have an ejector attached to the pump's discharge end, allowing for more efficient pumping. Bernoulli's principle of the Venturi effect is the basis for how they work. It dictates using constriction to decrease pressure and provide suction.
In general, jet pumps are less efficient than centrifugal pumps due to factors like friction loss.
Quick Facts Comparison Table
| | | |
| --- | --- | --- |
| Submersible Pumps | Jet Pumps | Centrifugal Pumps |
| Are waterproof | Equipped with waterproof plugs and switches | Have a waterproof electric motor and pump that are integrated |
| Their usefulness in many settings makes them common in households | Outperform other pumps in power and output | Unlike other pumps, they have mechanical parts outside the well |
| Have high maintenance costs | Installation requires skilled technicians | Are affordable and easy to maintain |
What Is a Submersible Pump?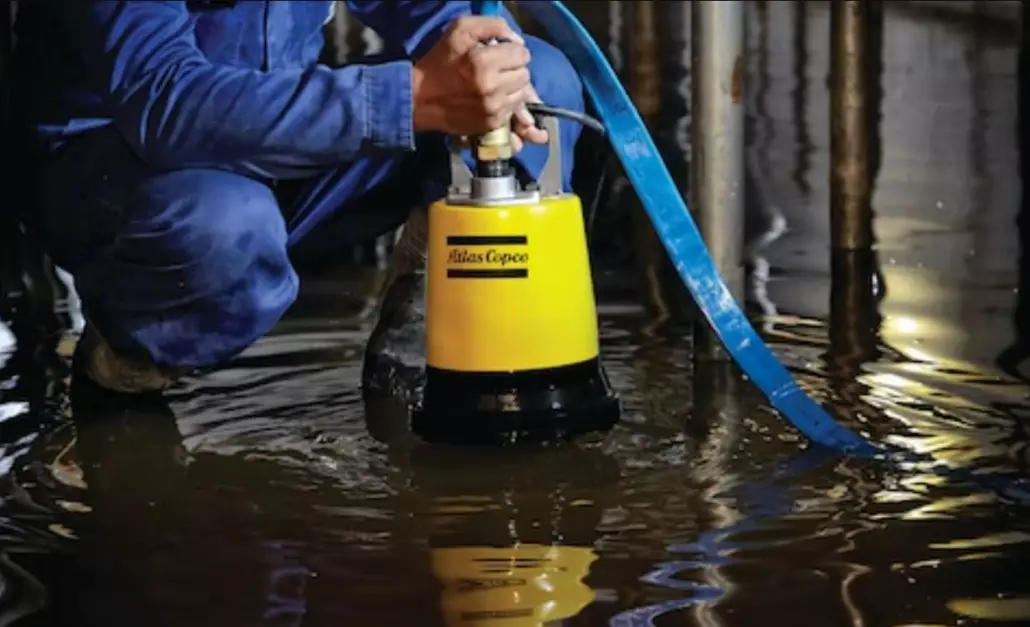 As their name suggests, submersible pumps are installed deep in the Well, below the water's surface.
Submersible pumps are the most common type because of their usefulness in various settings. Any Well, regardless of depth, can accommodate these pumps.
These pumps are waterproof, long-lasting, and need little upkeep. However, to get the pump to the surface for servicing, you must take it down into the Well. A professional Well pump repair specialist can handle this, but the extra work will certainly increase the repair cost.
Key Features of a Submersible Pump
It is cylindrical, with the motor housed in its base and linked to an external power source. The water gets pushed through the system by increasing the pressure created by a series of impellers in this pump.
The Well's water supply is automatically transferred to a holding tank at the push of a button.
An adapter controls who can use the Well and gets the water from the Well into the house's plumbing system.
Pros of a Submersible Pump
Efficient. A submersible pump is placed below the surface of the liquid. Since this is the case, it can extract the liquid with minimal kinetic energy.
Submersible pumps have corrosion-resistant components because of the materials they're made from.
Since they are always underwater, submersible pumps work better when put in the right place. Therefore, this pumping device can quickly and efficiently transfer the fluid.
The design and placement of the submersible pumps make them low-maintenance pumping devices.
Cons of a Submersible Pump
The seals can easily become corroded. If that happens, water will get into the motor and cause it to stop working until it is fixed.
Because of the seal, the submersible pump is a little more difficult to access for maintenance.
Another significant drawback is that one pump can only be useful for some applications.
What Is a Jet Pump?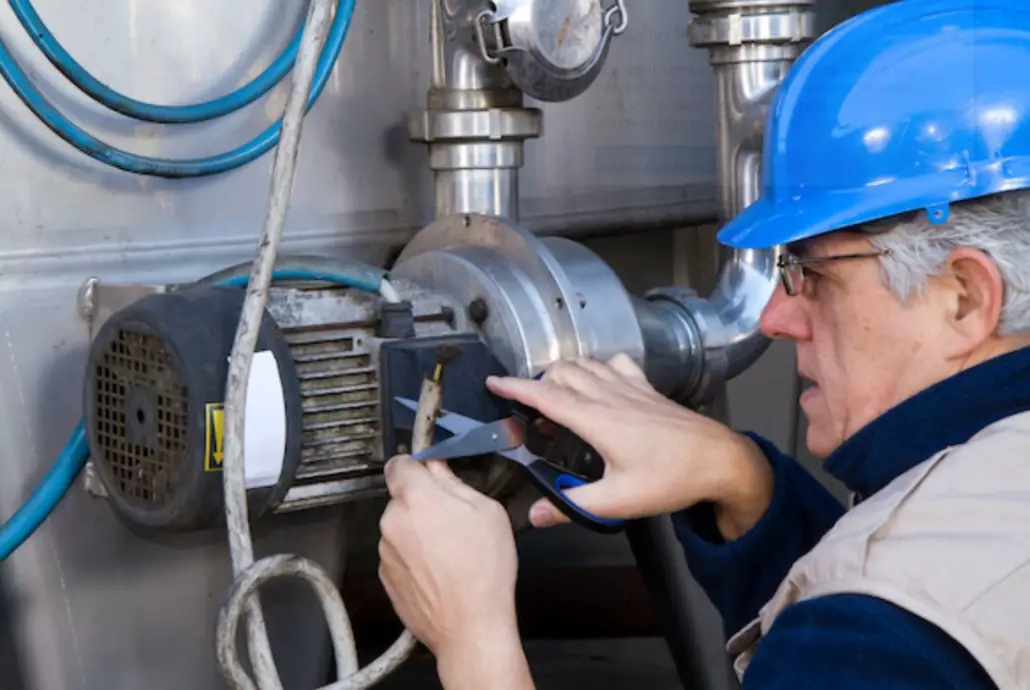 It is a state-of-the-art pump that outperforms its less-advanced counterparts in power and output. Like submersible pumps, jet pumps can operate in wells of varying depths.
Whether the jet pump is "single-drop" or "double-drop" will determine how it is set up. Single-drop models are ideal for shallow wells and are installed indoors or in a detached building.
Double-drop variations, ideal for deep wells, necessitate a split installation. Even with the jet assembly in the Well, the motor must remain above ground.
Key Features of a Jet Pump
A jet pump's main selling point is that it requires no moving parts and can use water as its power fluid. As with a hydraulic piston pump, a downhole working barrel and the rest of the surface equipment are identical.
Maximum daily discharge rates can reach 4,769 m3, which is second only to gas lift in terms of how much it can move.
Pros of a Jet Pump
In addition to bringing water to your house, jet pumps have many other uses around the property. They can be useful for gardening and irrigation, draining ponds, and managing floodwaters.
Moving jet pumps for shallow and deep wells away from the actual well site for easier maintenance and repair access is easy.
When it comes to efficiency, a submersible jet pump is on par with a deep well jet pump. They also have high capacity.
In most cases, all jet pump types are cost-effective and low-maintenance.
Cons of a Jet Pump
Sand and grit are a serious concern as they damage jet pumps. All jet pumps have problems with cavitation, which causes the pump to get gas-locked.
What Is a Centrifugal Pump?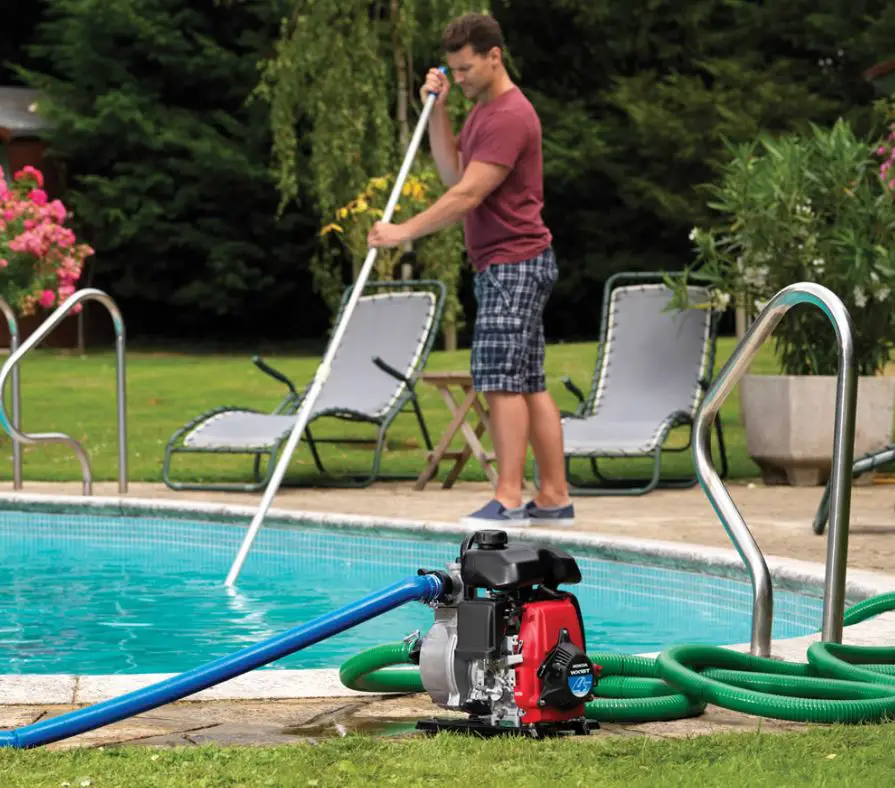 A centrifugal pump generates suction by spinning an internal fan. Unlike other pumps, centrifugal pumps have mechanical parts outside the Well. As a result, that makes servicing them much easier.
Centrifugal pumps have limited functionality in deep wells because of their weak suction. You can use a centrifugal pump if your well is shallower than 25 feet. Additionally, the centrifugal variety is the most affordable.
Key Features of a Centrifugal pump
The applications for centrifugal pumps are extensive. You will always find a centrifugal pump that fits your needs. That is whether you need one that is magnetically or electrically driven, self-priming, or good for industrial settings.
The mechanical heart of a centrifugal pump is the impeller, which spins quickly on an axis to put centrifugal force on the fluid. That propels it through the pump's housing and out the suction outlet.
Centrifugal pumps are more efficient than pumps driven by air pressure, so they are the best choice for high-flow applications. Another important quality of a centrifugal pump is its adaptability to user specifications.
Heating jackets, self-priming chambers, and hygienic shrouds are a few add-ons that can craft the ideal pump.
Pros of a Centrifugal Pump
Centrifugal pumps utilize the kinetic energy of a motor to transfer liquids from one pump's end to the other. Due to their simplicity, they possess a wide range of benefits.
Liquids or water are kept fully separate from the motor, thus minimizing the risk of water getting where it does not belong. Since centrifugal pumps don't have drive seals, there is no chance of an expensive repair. They have extremely consistent outputs and are smaller than other pumps with comparable outputs.
Cons of a Centrifugal Pump
Since centrifugal pumps rely on rotating power, they have weak suction capabilities. In this case, the pump must be submerged to function.
Cavitation problems can also arise with them.
Also, these pumps work best with less viscous substances.
A centrifugal pump may not be ideal for transporting an extremely viscous substance.
Submersible Pump vs. Jet Pump– Key Similarities and Differences
Jet well pumps are motorized, above-ground water extraction systems that use suction pipes and jets to bring water to the surface. Submersible pumps use hydraulic pressure to transfer water from an underground well to a surface reservoir.
Submersible pumps are extremely efficient compared to jet pumps. Immediately after being submerged in water, it begins operating and pumping. On the other hand, a jet pump needs to be primed by hand. Therefore, you must put in a lot of work for very little reward.
Jet Pump vs. Centrifugal – Key Similarities and Differences
As opposed to centrifugal pumps, which are affected by the pressure at their inlet, jet pumps always pump at a constant rate. The word "pump" is only used for machines that "lift" water against the force of gravity.
The centrifugal pump is a rotary pump that uses the impeller's kinetic energy, whereas the reciprocating pump is a jet pump driven by a piston.
Submersible Pump vs. Centrifugal – Key Similarities and Differences
Both submersible and centrifugal pumps use centrifugal force to pump water. Their unique designs necessitate that they are set in different locations.
While centrifugal pumps get installed on dry land, submersible pumps are placed in water. Centrifugal pumps are best for water supply and drainage, while submersible pumps pump water from deep wells.
How Do They Compare in Price?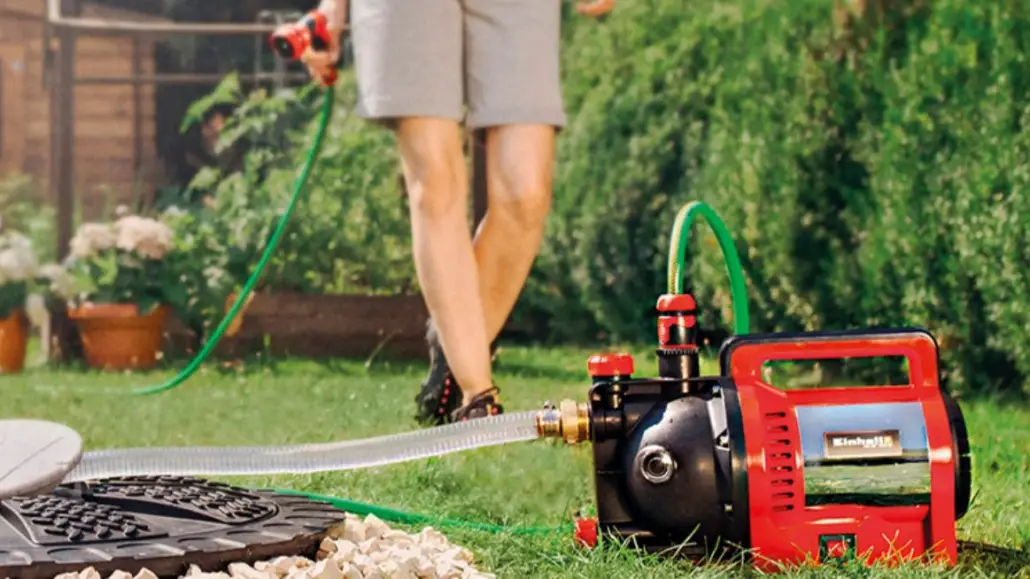 Prices for jet pumps range from around $100 to $800, while those for submersible well pumps can go from $200 to as high as $1,200. Compared to submersible pumps, centrifugal pumps are more affordable due to their diminutive size.
A centrifugal pump will cost between $100 and $500.
How Do They Compare – Installation?
Due to factors like friction loss, jet pumps aren't as efficient as centrifugal pumps. However, they could be better suited for use with gasses and in wells with varying conditions and turbulence on the surface.
How Do They Compare – Sizing?
The depth of your well is an important factor in choosing a pump. Centrifugal and jet pumps can only handle wells shallower than 25 feet. Although there are many choices if the depth is less than 25 feet, it's best to consult an expert before making any final decisions.
How Do They Compare in Efficiency and Durability?
A well's submersible pump needs to be replaced every 8–10 years, but many Well pumps can serve for up to 15 years in homes with light to moderate water needs.
Additionally, regular maintenance practices of your pump will determine the pump's efficiency and durability.
Who Should Use a Submersible Pump?
Submersible pumps are a fast and effective way to eliminate unwanted water. They can remove water from flooded basements or other areas. They can also be useful for irrigation and pumping water from boreholes and wells.
Who Should Use a Jet Pump?
Jet pumps are commonly used to provide potable or domestic water by drawing it from a water source below the pump. They then force it up through a suction pipe. i.e., private residences, vacation homes, and sprinkler/irrigation systems.
Who Should Use a Centrifugal?
Centrifugal pumps are among the most widely used types of pumps. Because of their versatility and high efficiency, they are used in various settings.
They have a high flow rate and can handle a broad range of heads and capacity. They are also easy to operate. Centrifugal pumps are ideal for pumping liquids between 0.1 and 200 cP viscosities.
Best Submersible Pump – Mini Review With Pros and Cons
Superior Pump 91014 1/4 HP High Flow Thermoplastic Utility Pump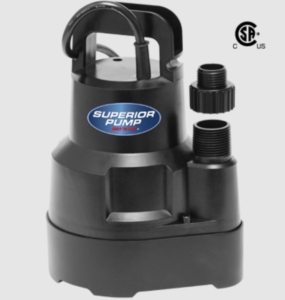 When it comes to pumps, Superior Pump is the industry leader because all of its products are rigorously tested before leaving the factory. This 1/4 horsepower oil-free submersible utility pump comes with a 3/4 inch garden hose adapter and can pump up to 2220 gallons of water per hour.
Certified by the Canadian Standards Association, this pump comes with a 12-month guarantee. On the downside, the only negative review from users is low lift power.
Best Centrifugal Water Pump – Mini Review With Pros and Cons
Goulds Pumps GT20 Irri-Gator Self-Priming Single Phase Centrifugal Pump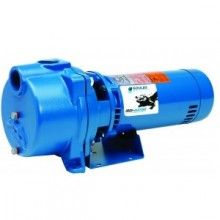 The Goulds GT Irri-Gator self-priming centrifugal pumps are known for being reliable, efficient, and easy to take care of. Irrigation, HVAC, water transfer, and dewatering are some of its other uses that extend far beyond watering the lawn. These models have 1-1/2″ NPT discharges. On the downside, users state that its performance deteriorates with time.
Best Jet Pump – Mini Review With Pros and Cons
Goulds J10S Shallow Well Jet Pump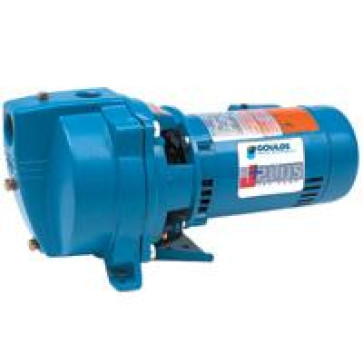 The Goulds J10S's unique features and design make it a great choice for a home, cottage, or booster service. A shallow well adapter is not needed because one is built into the design of the casing. This pump is resistant to corrosion and has a back pull-out design that makes wiring a breeze in the motor's two separate compartments. Despite the good features at a fair price, the pump's maintenance is quite expensive.
FAQs
Q: Which Pump Is Better, the Submersible or the Jet Pump?
Jet pumps can still work at depths of a few hundred feet, but submersible pumps are usually better at greater depths. Since the pump is now located lower in the Well, it does not draw water up but forces it upward.
However, a submersible pump will only function if it's completely covered by liquid.
Q: What's the Difference Between a Jet Pump and a Centrifugal Pump?
Jet pumps, like side channel pumps, are self-priming centrifugal pumps. The design of jet pumps, whether one impeller or several, places constraints on the types of particles they can handle.
Q: Which Type of Pump Is Best for a Well?
The depth at which submersible well pumps can function varies with the model. As a result, a submersible well pump can still serve those who reside in arid regions where wells may be hundreds of feet deep.
Since submersible well pumps use gravity during the pumping process, this won't increase energy costs either.
Q: Which Type of Pump Has the Highest Efficiency?
A rotary vane pump is the most effective pump design. This pump works best when the fluid is pumped in a circular motion. When pumping fluids, some pumps are more efficient than others.
Q: What Are the Disadvantages of a Submersible Pump?
Corrosion of the seals is a potential issue over time. In this case, water will leak into the motor, rendering it inoperable until it is fixed. Having that seal also makes servicing the submersible pump strenuous.
Q: Which Pump Is Best for Borewell?
There are several guidelines to follow when shopping for Borewell submersible pumps. These factors include the pump's size, delivery pipe, water discharge rate, head range, and motor cooling. Kirloskar KP4 Jalraaj-0713S, the V Guard 1 HP submersible pump, and the Crompton 1 HP 7STG water pump make that list.
Q: Which Is the No. 1 Water Pump in India?
Regarding pumps and other water-related products, Kirloskar is unrivaled in India. It's an Indian business that dabbles in engineering hydro turbines, pumps and valves for agriculture and home use.
Q: Which Pumps Are Best for 150 and 600 Borewell?
While many factors influence the choice of a pump, two stand out. They are the head and the flow. So, how much is the flow for a pump with a 600, or 150-meter head?
To answer that, analyze other factors, such as well diameter, drawdown, and water depth. They will guide you toward picking the best borewell.
Conclusion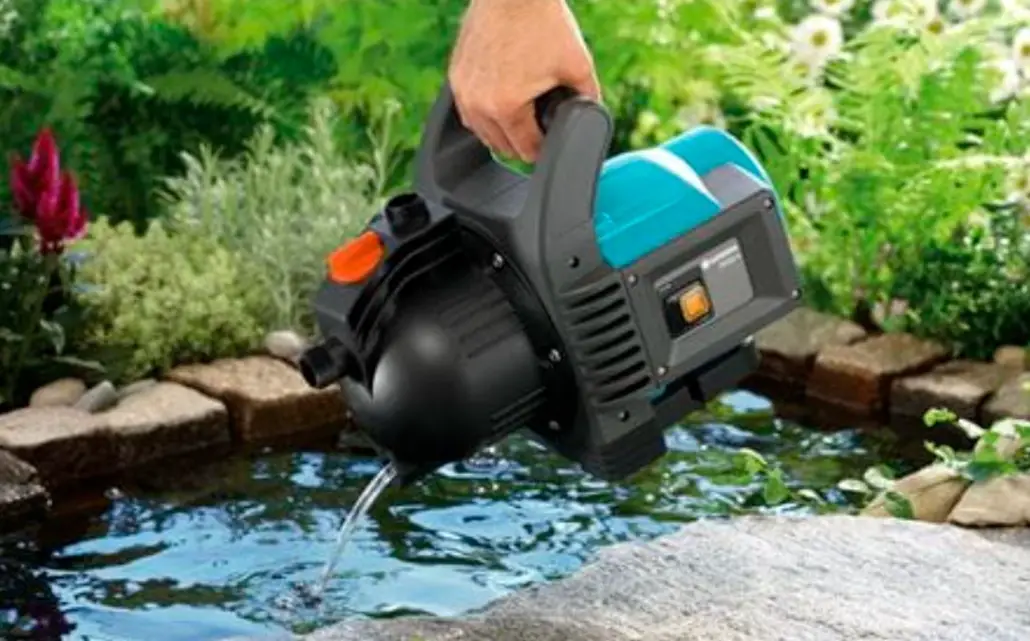 These pumps feature reliable and effective mechanisms that boost output. To maintain such a high standard of operation, you need a pump that is up to the challenge presented by the task.
Before you buy any of the pumps we talked about, you should think about all the details of what you need.