Sun Joe 24v-x2-17lm Lawn Mower Review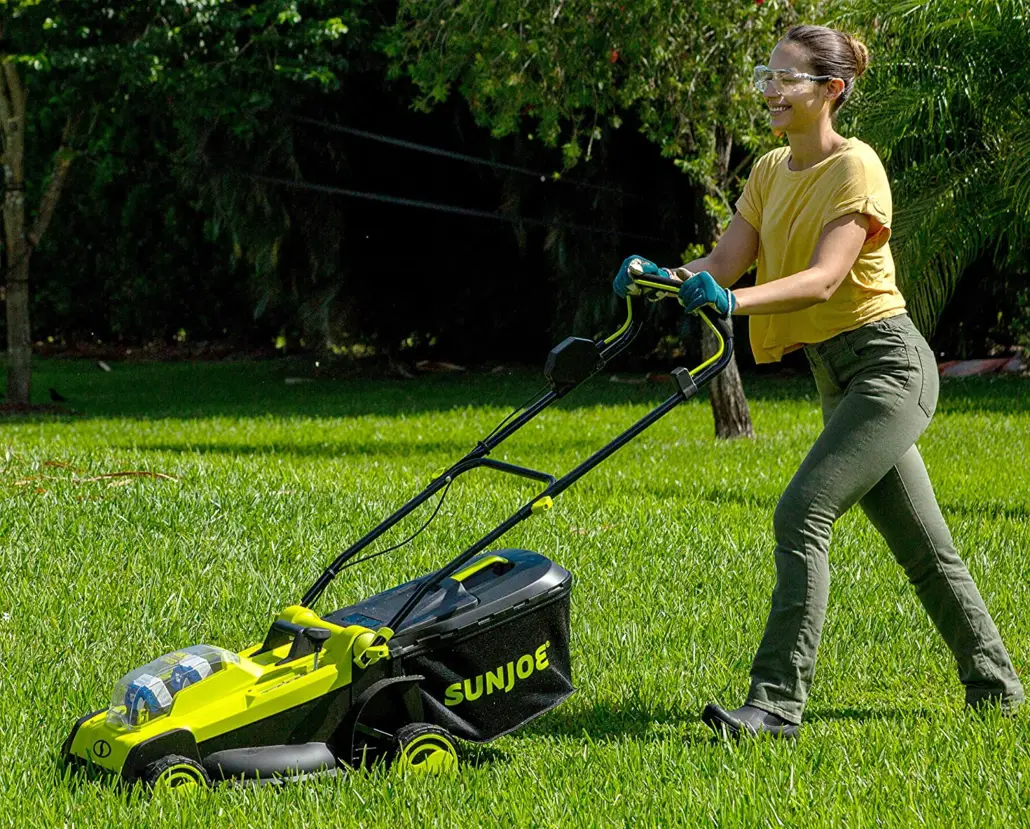 It's not hard to see why so many people actually prefer electric lawnmowers. You don't have to deal with changing the oil or worry about the engine oil burning if the mower is tipped to steeply. You also won't need to keep cans of gasoline around the house.
But you have to be careful when choosing an electric mower. Some of them are under-powered or don't offer enough run time. To help you sort through your options, we will be taking a look at the Sun Joe 24v-x2-17lm Lawn Mower in the following review.
Sun Joe 24v-x2-17lm Lawn Mower Overview
The Sun Joe 24v-x2-17lm Lawn Mower is an affordable battery-operated mower that would work well for small to medium lawns.
The entire set comes with 2 rechargeable batteries and a dual-battery charger. These are lithium-ion batteries that offer a max of 48 volts of power. Again, this is why we would say that this mower is best for medium to small lawns.
Larger lawns would require a mower that can run for longer periods of time. Also, be aware that the actual run time could be as low as 25 minutes if you are dealing with wet, long or particularly tough grasses as it will make the motor work harder and the battery drain quicker.
First Impressions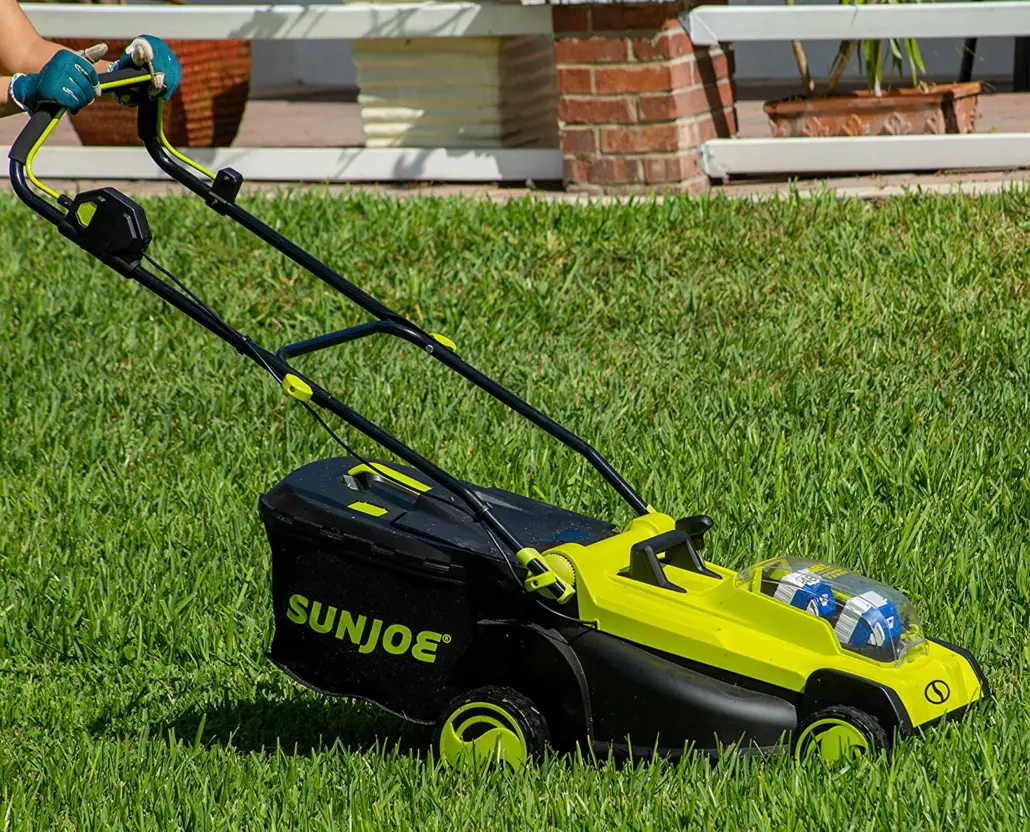 While we weren't wowed by the green finish, we did like the fact that it was so lightweight.
The Sun Joe 24v-x2-17lm Lawn Mower weighs just about 34 pounds. It feels very lightweight and very easy to push. Which is a good thing because this is not a self-propelled mower. You will need to put a bit of elbow grease into it.
Still, it is easy to operate and glides over lawns very smoothly. We also liked the compactness of this mower. Again, this is another feature that makes it a great choice for small lawns and gardens.
How Does it Perform?
The best thing about how this mower performs is how light it is. Everyone in your house will be able to deftly operate this mower because it's so compact and lightweight. The 17" cutting path makes crisp stripes and you can adjust the height between 6 positions.
That's another thing we liked about the performance of this mower. You can adjust the height via a side handle (much like the gear shift on an automatic transmission car). Adjusting the height is very easy as you don't have to struggle against any wheel-mounted levers.
The battery life could be a bit of an issue. The maximum battery life is about one hour; but again, you need to keep in mind that it will be drastically reduced if you're dealing with tough grass. However, if you stick to small lawns and gardens, the battery life shouldn't be a problem.
Turning, which can be a nightmare with some mowers, is very easy as well. You can pivot from the back wheels very easily and move the mower pretty much any way you need to.
Key Features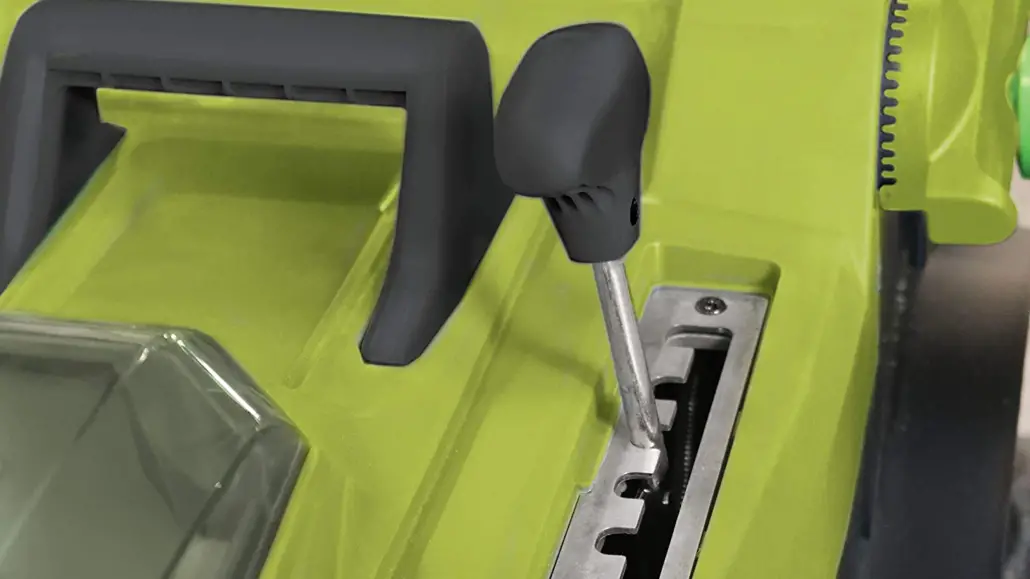 11 Gallon Grass Catcher – Another thing you have to keep in mind about this mower is that it does not give you the option of side discharge. Instead, you have a large 11 gallon rear-mounted grass bag which should be more than enough for small to medium lawns.
Brushless Motor – The best thing about the brushless motor is that it operates surprisingly quietly. It also has a very good torque to weight ratio. Brushless motors also tend to last longer than traditional motors.
Adjustable Deck – The cutting deck can be height adjusted between 6 different positions. The side-mounted handle makes it very easy to adjust it to your desired height.
Cordless Operation – Of course, as a battery-operated electric lawnmower, you don't have to navigate around any power cables.
Dual Battery Operation – The Sun Joe 24v-x2-17lm Lawn Mower is loaded with two rechargeable batteries which makes it formidably powerful for an electric mower.
Pros:
Very lightweight
Good battery life
It can mulch
Foldable handle
Affordable
2-year warranty
Cons:
Both batteries need to be used
Not great for large lawns
Relatively narrow cutting deck
Rear discharge port can get clogged
Overall Score: 94/100
Check Out More Reviews Here:
Who Should Buy it?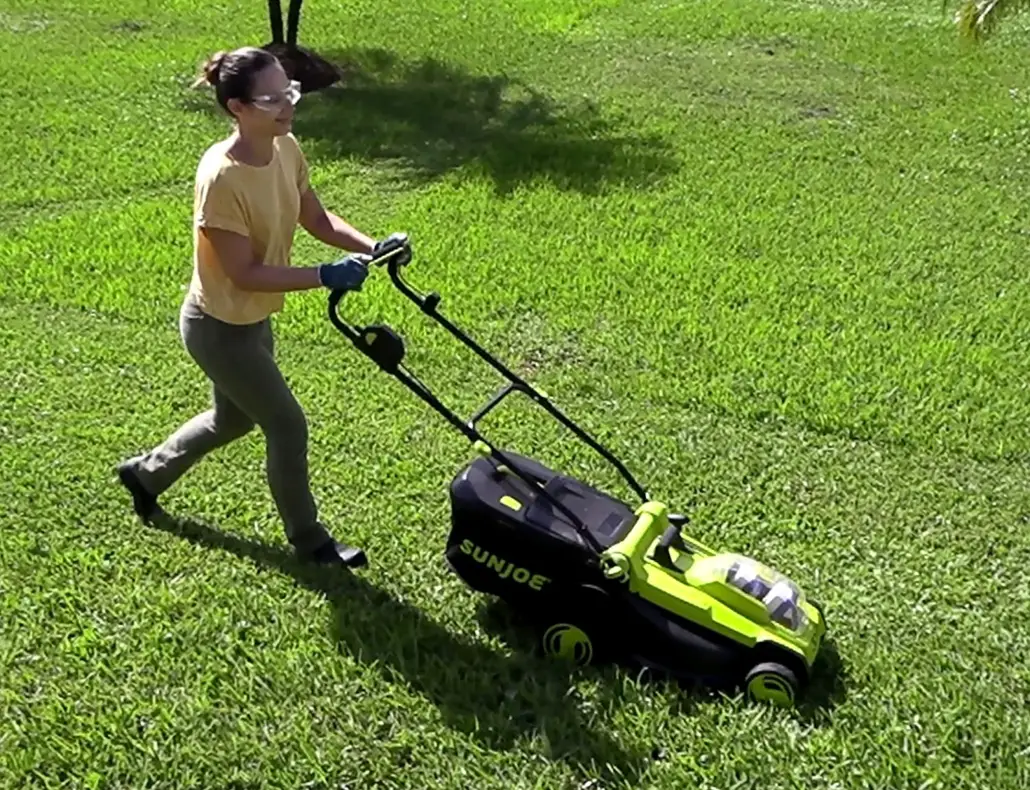 The Sun Joe 24v-x2-17lm Lawn Mower is definitely for anyone with a small to medium lawn. We're talking lawns of up to about 10,000 square feet.
FAQ's
Q: Is Sun Joe Mower A Good Brand?
Sun Joe is an emerging brand that has won over customers for their quality and affordable mowers.
Q: How long should it last?
With proper maintenance you can expect to get at least 5 years out of this mower.
Q: What's the Battery Like?
You get 2 rechargeable lithium-ion batteries that have a max run time of about an hour if the engine isn't made to work too hard. For tough, wet or tall grass, the batteries may only last about a half hour.
Other Mowers to Consider
Final Assessment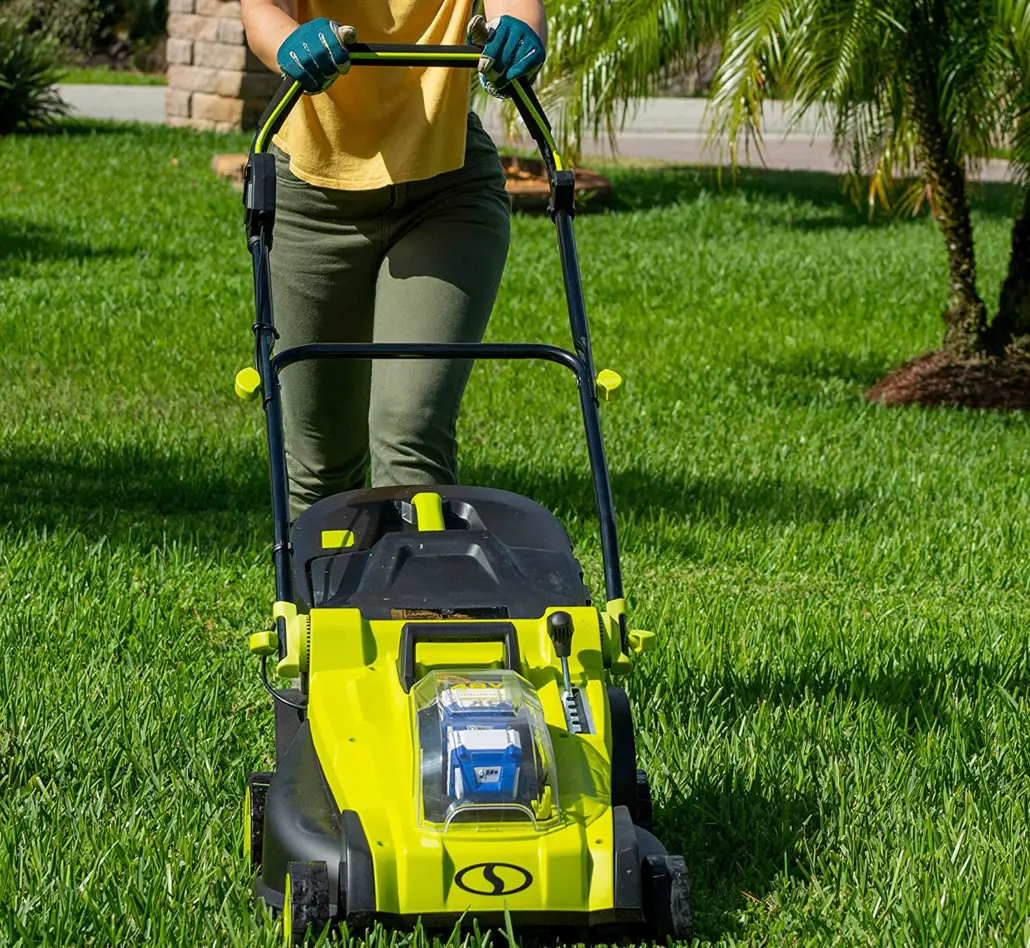 We really liked the Sun Joe 24v-x2-17lm Lawn Mower and don't have any real beefs with it. Again, you will not like this mower if you have a large lawn to mow but for small to medium lawns, this is a perfect fit. It's easy on the body and the motor seems very reliable. It's a great buy for small/medium lawns so be sure to check it out!