Tefal Access Steam+ DT8150 Handheld Clothes Steamer Review – Is It Any Good?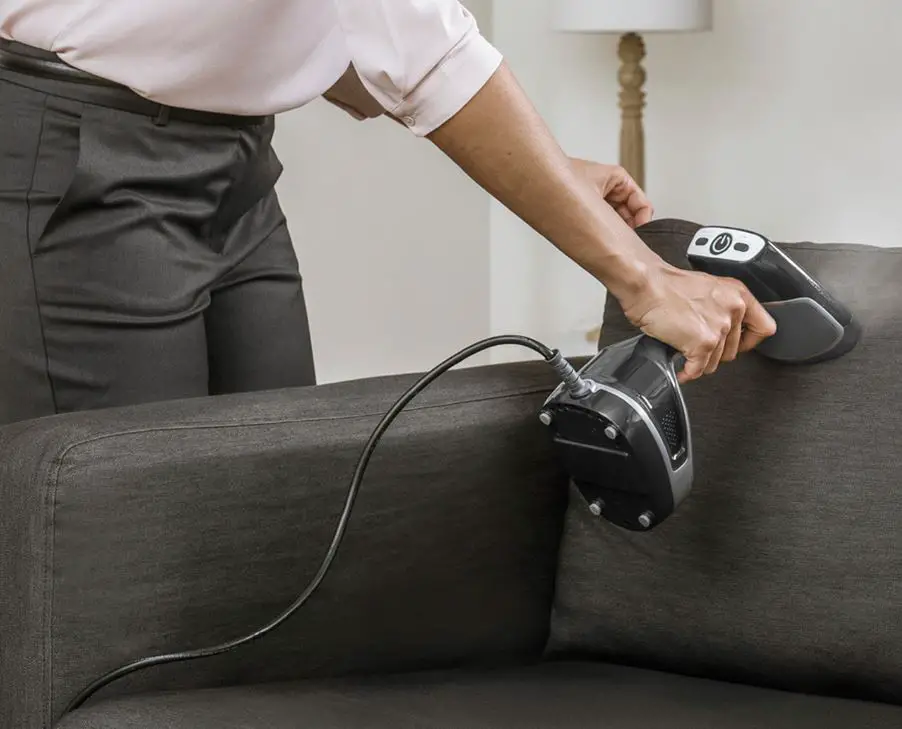 Nowadays, the best technique to get wrinkle-free garments is to steam them. Steaming your clothes, bedding, or other textiles is a breeze with a garment steamer.
To prevent burning or shrinking, you can adjust the power on most models. Better yet, you won't have to waste time with an ironing board.
Portable versions are convenient for on-the-go pressing, last-minute alterations, and compact sleeping quarters.
Let's take a dive into the Tefal Access Steam+ DT8150. Here, we will break down whether it is any good, what its key features are and we compare it to three other popular handheld steamers.
Overview
This powerful handheld steamer with a hot soleplate will have you looking great in no time!
A soleplate heated to 140 degrees Celsius and coated with ceramic is more effective on all materials and can eliminate 99.9 percent of bacteria*.
Heats up in 40 seconds, produces 1600W and 26g/min of steam, and can quickly clean and disinfect
2L detachable tank with lockable trigger, 3m cable, and sturdy base
Accessories include a door hook, brush, pleat attachment, steam bonnet, and a portable carrying case.
First Impressions
At some point or another, we will have to face the facts. Unfortunately, ironing is still one of the best options for removing stubborn wrinkles from clothing.
However, the Tefal Acess Steam+ DT8150 does a respectable job, especially for mildly wrinkled garments.
The great thing about the handheld steamer is that you don't have to take out your ironing board and wait for the iron to heat up; the steamer does it in a couple of seconds.
It is also straightforward to manage, and we loved that it was portable!
However, the compromise likely lies there. Do you want to spend hours struggling with an ironing board and the other hassles of ironing when a steamer may produce just as good of a result with much more ease?
Quick Facts Table
Steam and Power Performance

Power

1600

Steam Output

26g/min

Steam Head

Ceramic Soleplate

Heat-up time

40s

Sanitize

Yes

Comfort In Use

Power Cord Length

3m

Steam Setting

2

Steam Control On Handle

Yes

Water Tank Capacity

0.2L

On/Off Switch

Hand Operated

Water Tank

Removable

Autonomy

10 min

Steam Ready Indicator

Yes

Power Cord Storage

Velcro

Anti-Scale Function

Rinsing System

Accessories Storage

Pouch

Steam On Demand

Yes

Heated Soleplate

Yes

Usage

Vertical

Accessories

Accessories

Fabric Brush, Steam Bonnet, Crease Attachment

Door Hook

Yes
Key Features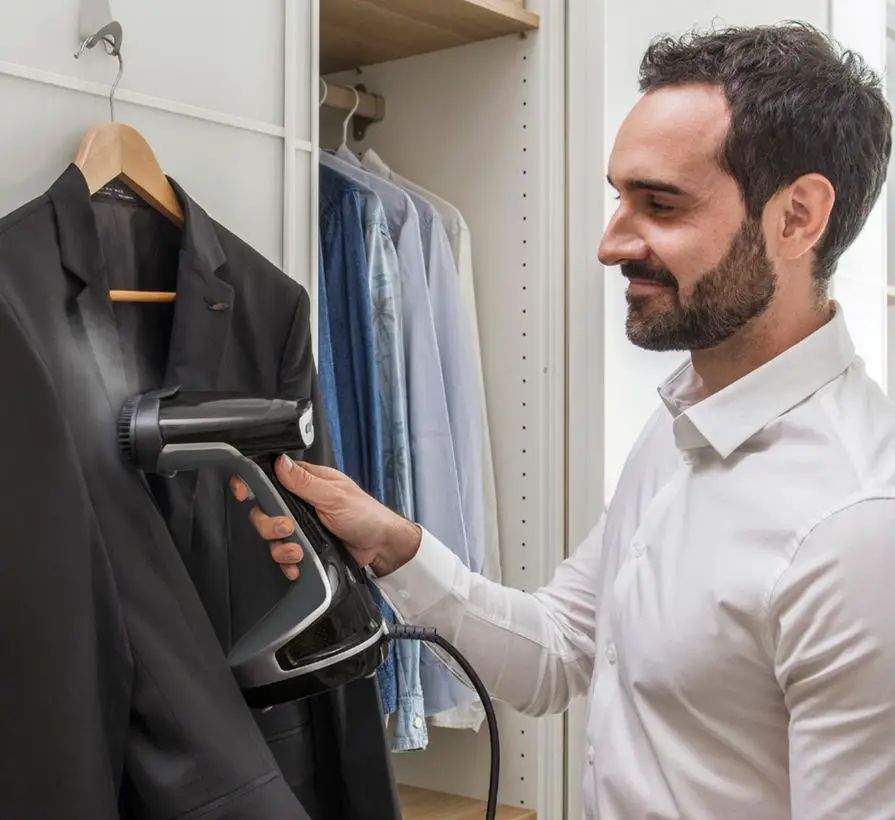 Steams And Sanitizes
All your clothing will look as good as new thanks to the Tefal DT8150 Hand Steamer's antibacterial function, which can eliminate 99.9 percent of microorganisms. And you may use it on all your fabrics, even the most delicate ones.
Fast Heating
The handheld Tefal Access Steam is ready to use after only 40 seconds, making it an excellent option for quick touch-ups!
Rapid Results
The 26g/min super turbo setting lets you quickly steam through even the most stubborn creases.
The convenient Tefal Access Steam+ DT8150 Hand Steamer removes wrinkles from all of your clothing, allowing you to appear your absolute best no matter the event you're attending.
Your garments, whether crumpled shirts or folded skirts, will be ready to wear in minutes. If you come across particularly tenacious creases, you may add a turbo boost spray of steam to the iron.
Ready To Wear
With a heated soleplate of 140 degrees, you will have access to quick-drying, ready-to-wear garments!
Easy to use
If you're ever in a pinch for time, the Access Steam+'s rapid heating and user-friendliness will come in handy.
The water tank is easily detachable for refilling, and additional extras, like a cloth brush and a carrying case, are also included in the package.
How Does It Perform?
If this is your first time using a handheld steamer, the routine will initially feel a little off-center and unusual.
However, you will undoubtedly be pleasantly surprised and how well it functions!
In addition to the fact that the DT8150 eliminates the need for an ironing board, it also heats up so quickly, saving you time when you need to run out of the house!
After plugging in the steamer, you will be ready to use it in about 40 seconds and ready to leave in about 3 minutes; it works that quickly!
We believe the product works well and does exactly what it needs. More often than not, when you are ironing, you probably create new creases for yourself that will need additional ironing.
However, that is not the case with this particular steamer. The steam does all the work for you.
These aspects give this procedure the edge compared to an iron and ironing board!
Pros And Cons Of The Tefal Access Steam+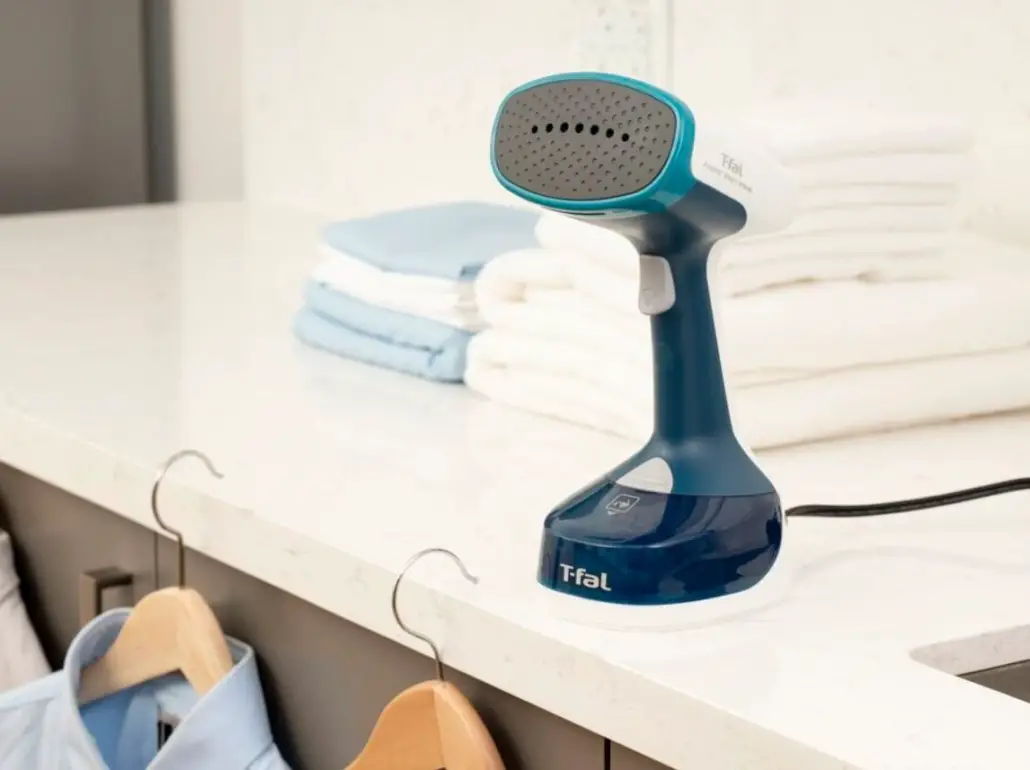 There are many advantages and disadvantages to getting your hands on a Tefal Access Steam+. Continue reading to find out more!
Pros
The danger of scorching silk, satin, and velvet, among other sensitive fabrics, is significantly reduced.
You may steam your garments while still hanging on the hanger, saving you time.
It is compact and easy to store.
It is portable and can be taken almost anywhere.
It is a lot quicker to heat up and use compared to iron.
It's less harsh on clothing, so it lasts longer without showing signs of wear and tear.
It can be used on different types of upholstered furniture.
Cons
Clothes cannot be made completely smooth and crisp using a steamer.
Clothes could become damp after using a steamer, so there may be a slight waiting period before putting your clothes on.
Crinkles in thick or abrasive fabrics cannot be removed effectively.
It does not hold the biggest water tank. Thus if you have a lot of clothing to steam, you may need to fill it up frequently.
 Who Should Buy It?
Using a steamer after washing delicate things at home can make them look as good as they did after being professionally cleaned and ironed.
A steamer is an excellent addition to your laundry armory and can even replace your iron if you have a lot of delicate textiles.
It is also great if you need to freshen up an item of clothes or linen now and then.
When looking at the long-term logistics of whether to invest in a steamer or not, it is good to know that a steamer can also save you money that would have been spent on trips to the dry cleaning.
So if you need something easy to use, quick and reliable, it sounds like you are in the market for a steamer!
Overall Score For The Tefal Access Steam+ DT8150: 91/100
This is an excellent choice if you're looking for a portable steamer to bring on vacation.
It removes wrinkles from silk and viscose fabrics and significantly reduces those from cotton and linen.
The 40-second heat-up time is fair, and there are standard, sensitive, and turbo settings to accommodate a wide range of textiles.
There is also hardly any spitting, and your clothes are rarely (if ever) left soggy.
Its bulky head made it challenging to steam hard-to-reach places like underarms, and the trigger lock frequently came undone.
However, the travel bag and fabric brush were a nice addition to the product.
3 Other Similar Clothes Dryers We Like – Mini Reviews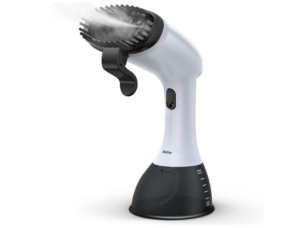 Product Details

Power/ Wattage

2000W

Tank Capacity

400ML

Colours

White
The steam from Welltin's powerful 2000W power clothes steamer is robust and concentrated.
The handheld garment steamer's 400ML water tank will extend the duration for up to 20 minutes, making it less aggravating to refill water regularly while removing wrinkles, odors, and bacteria.
The snug design ensures that no water will leak out during installation; all you have to do is twist it into place.
This handheld steamer is ideal for use at home, at the office, or when traveling due to its small size, portability, and ergonomic design.
The extra-long 86in/2.2m means you can use this garment steamer anywhere!
Overall Score: 89/100

Product Details

Power/ Wattage

1300W

Tank Capacity

0.07L

Colours

Black and Gold

Included Accessories

Fabric brush

Protective Glove

Dimensions (H, W, D)

38cm x 12.8cm x 15cm
This portable version is great if you're always on the go and running short on time. It takes 29 seconds to heat up, and its broad head can quickly remove creases from any fabric.
The trigger switch is not lockable, so keeping it depressed while steaming is essential, making it slightly inconvenient to use in tight spaces.
We were pleasantly pleased by how long the water lasted before it needed to be refilled, given its relatively low capacity. There aren't a ton of extras, but the protective glove is a nice addition too.
Overall Score: 90/100

Product Details

Power/ Wattage

900W

Tank Capacity

400ML

Colours

Black

Included Accessories

None

Dimensions (H, W, D)

18cm x 6cm x 8cm
The powerful steam sterilizes and disinfects clothing, curtains, and upholstery by destroying 99.9 percent of germs and bacteria, making for a cleaner and healthier home environment.
To steam your clothes, go no further than the SteamSmart S200 Pro, the most cutting-edge model currently sold in the UK.
The steam generator in your hand heats up in 25 seconds and keeps pumping out strong steam for 10 minutes.
Unwrinkle your garments quickly and easily with only a plug and some steam.
This handheld clothing steamer is unlike any other steamer on the market since it can be used securely in any orientation, from flat to steaming upright to even upside down.
Modern pumping and steaming methods ensure that it is airtight from every conceivable direction.
Overall Score: 88/100
 Conclusion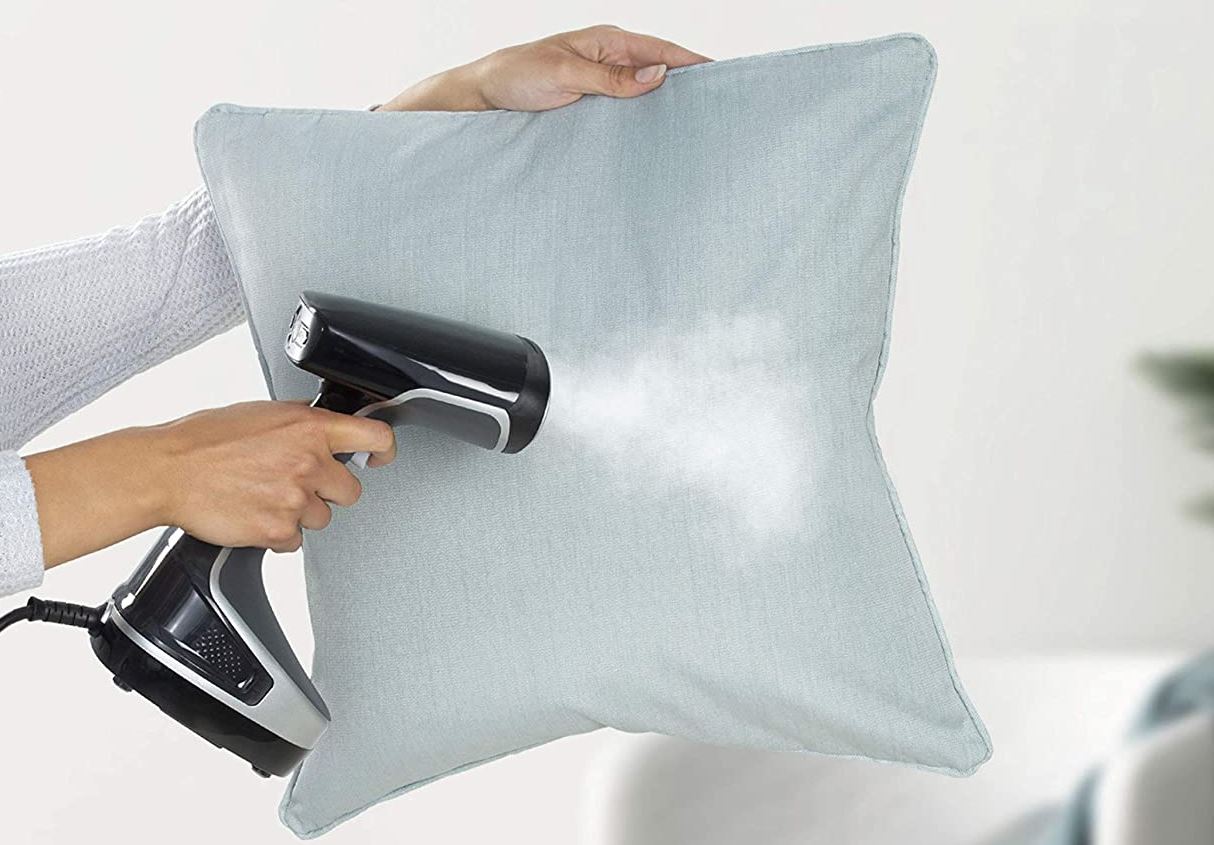 Steaming your clothes has many benefits, including reducing bacteria, ease of use, and convenience. However, there is no reason you wouldn't benefit from investing in one!
Still, there were a few drawbacks, such as the inability to get through thick creases and limited tank space.
And the Tefal Access Steam+ DT8150 has all the bells and whistles you would need. Including the fact that it is small, compact, portable, and does exactly what it needs to do!