Toro PowerMax 824 Snowblower Review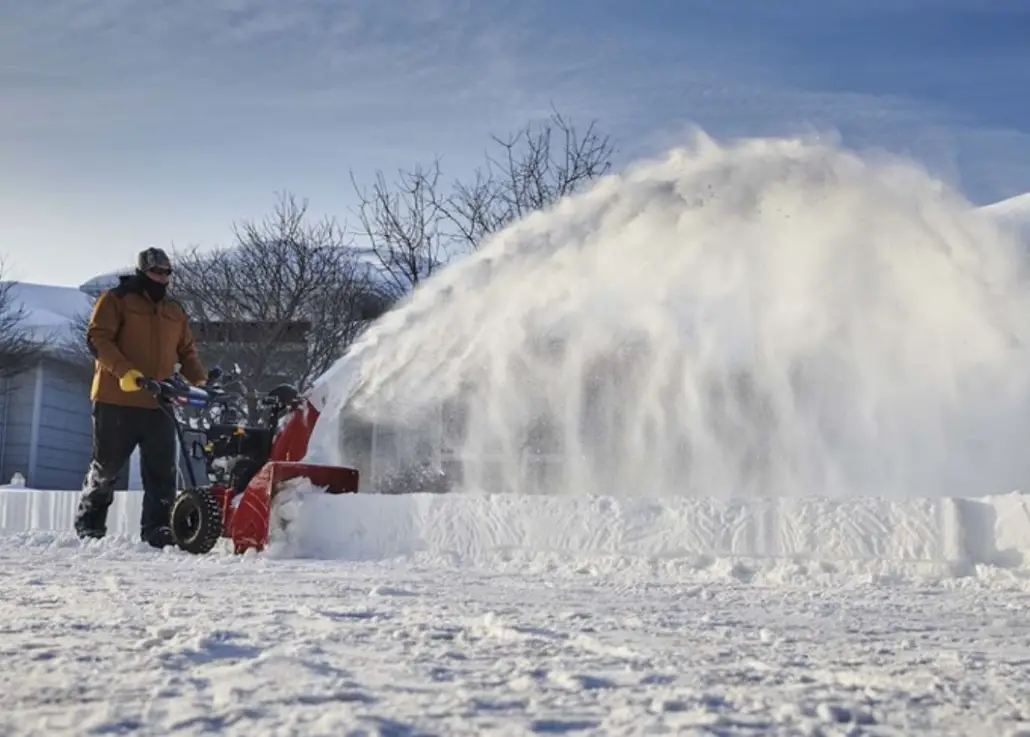 If you're reading a snowblower review, chances are we don't need to convince you of how useful snowblowers can be in areas that experience snowfall.
In this article, we'll be focussing on the Toro PowerMax 824, reviewing its features and comparing it to some of the other options available on the market.
Complete Overview
The Toro PowerMax 824 is a midrange snowblower in the Toro range.
Its design has been optimized for personal use. It's not a big and bulky industrial machine, but it is powerful enough to easily clear the amount of snow that might accumulate in a backyard or driveway.
It is powered by a 252cc Toro Premium 4-cycle OHV engine and is self-propelled, meaning it adjusts its speed according to the pressure put on the handle, sticking to your walking pace as you "push" it along.
First impressions
At first glance, you'll notice that the PowerMax 824 looks compact but sturdy.
It has wide wheels, making it easier to navigate any terrain in snowy and wet conditions, and the chute and structure also look to be solid. 
This faith in its durability is backed up with a 3-year manufacturer's warranty.
Quick facts table
| | |
| --- | --- |
| Power Type | Fuel |
| Maximum Throw Distance | 45 Feet |
| Auger | Anti-clogging steel system |
| Clearing Width | 24 Inch |
| Speed | Self-propelled (it goes at the speed you walk) |
| Headlights | No |
| Handle | Steering handle and chute joystick |
Key features

How does it perform?
The Toro PowerMax 824 is a perfectly capable snowblower.
With a throw distance of 45 feet and a 24-inch clearing width, it compares well with other snowblowers of this size and in this price bracket.
Its performance is based on the 252 cc motor and 10-inch steel auger allowing it to clear substantial amounts of snow with ease.
How much snow can it handle?
The PowerMax 824 is not a heavy-duty snowblower but is powerful enough for personal use in areas that experience moderate snowfall.
It is best suited for areas that experience between 40 and 50 inches of snow per year. It has a ploughing capacity of around 2800 pounds of snow per minute.
How loud is it?
Because of the powerful 252 cc engine, it does make some noise while in operation. 
If noise is an issue, you should consider either a smaller model or one with an alternate power source.
How heavy is it?
The Toro PowerMax 824 weighs 78 kg (171 lbs.)
It is not the heaviest blower, but its weight is negated by its self-propulsion system, meaning you do not carry the load of pushing around 78kgs.
Is it easy to manoeuvre?
One of the most attractive features of the Toro Powermax 824 is its power steering system.
Unlike many other blowers, the Toro Powermax 824 has an automatic detection system that can sense when you are changing direction and allows you to spin it on a 210° turning radius. 
This, along with its wide wheels and self-propulsion system makes it extremely easy to manoeuvre the snowblower to wherever you need to go.
What type of auger does it have?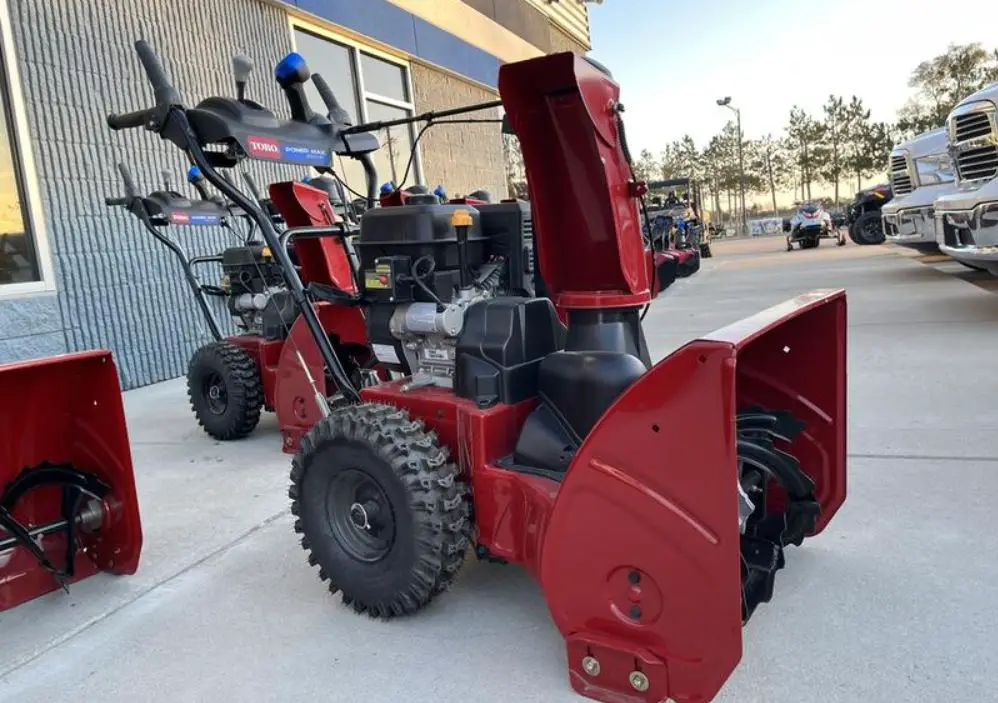 The PowerMax 824 is equipped with a 10-inch steel auger which is recognizable in Toro's trademark helical design.
This design allows the auger to spin much faster than alternatives and consequently get through snow quicker as it drives itself along.
How long does the battery last?
There is no battery on the PowerMax 824.
To make use of the electric start, you connect the blower to a power source within 15m (50 ft) with a cord.
Pros
Easy to manoeuvre 
The PowerMax 824's impressive power steering and self-propulsion systems are among its most attractive attributes.
This design makes clearing snow effortless by allowing users to push and navigate the snowblower without any physical strain. 
Patented helical design
Toro's trademark helical scoop is an ingenious design that optimizes the efficiency of the blower by allowing the auger to spin much faster than most of its competitors.
Chute joystick
The single-hand joystick which controls the chute adds even more to the PowerMax 824's user-friendliness.
It allows you to control the chute without having to stop, which can come in very handy when you need to clear a winding path or sidewalk and don't want to keep pausing to readjust the chute.
Electric and recoil starters
While you would usually be able to start the snowblower using the standard recoil starter, the Toro PowerMax 824 comes with the option of making use of its electric starter when the conditions are too cold for the recoil starter.
You simply connect the starter to a power point using a 15 m long cord and push the start button and your blower will spring into life.
Cons
Price
The Toro PowerMax 824 falls in the upper pricing bracket for blowers of this size.
While you get good value for your money, it is disappointing that some of the components like the chute and scraper are made of plastic considering the price.
Plastic scraper
For the price, you would kind of expect a nice and sturdy scraper.
The chute is also plastic but this is less likely to be a problem than the scraper.
Other Snowblowers to Consider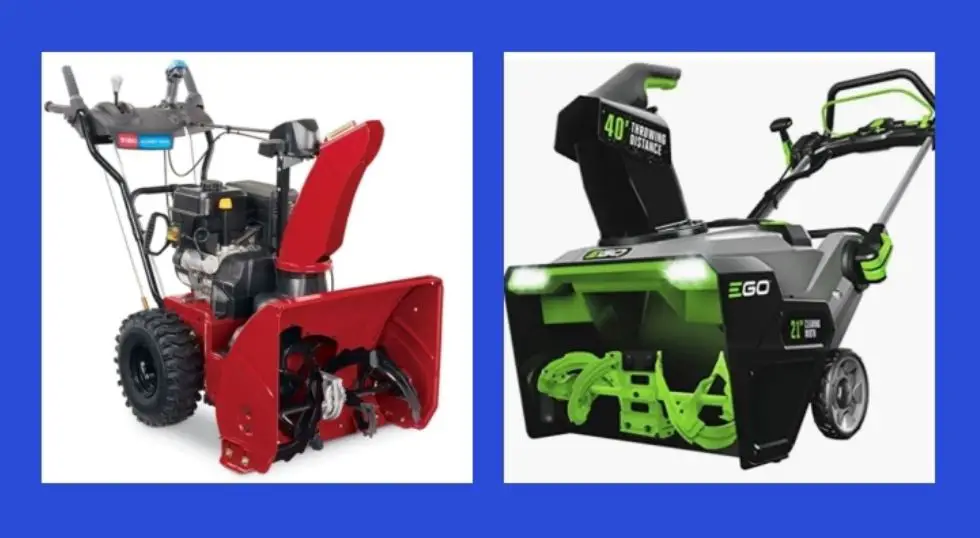 The EGO Power+ SNT2112 is a battery-powered alternative to the Toro PoweMax 824.
The Toro is the more powerful option of the two, and its state-of-the-art power steering system means it's easier to handle than the EGO. 
On the other hand, the battery-powered EGO is still remarkably powerful and is much quieter and cheaper to fuel than the Toro, although the battery will restrict you to about 40 minutes of operation time if you use it on its most powerful setting.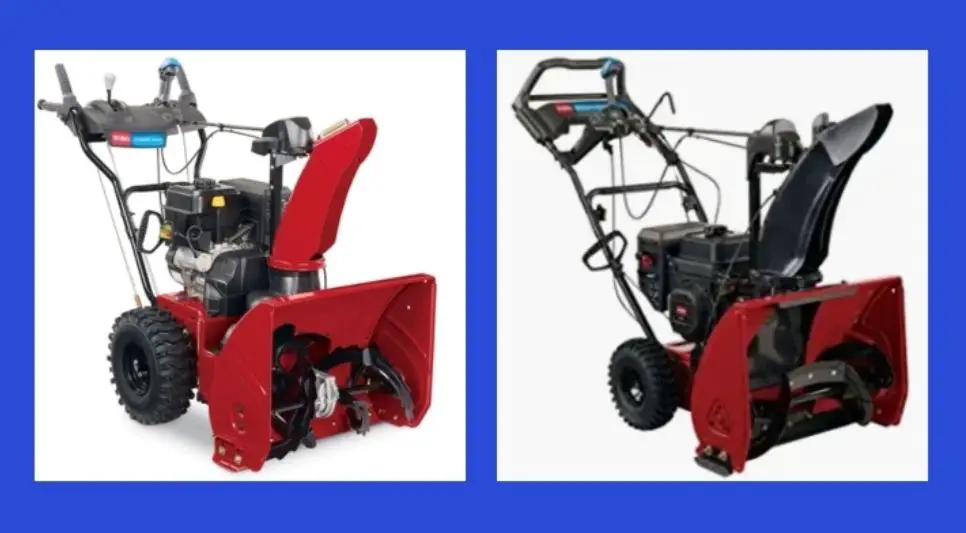 The Toro 724 QXE possesses all of the design advantages that the Toro PowerMax 824 holds over competitors, the only major difference between the two models being the engine size.
The 724 QXE runs on a 212cc OHV 4-cycle engine while the more powerful PowerMax 824 uses a 252cc OHV 4-cycle engine.
In practice, this means that the PowerMax can remove more snow per minute than the smaller 724 QXE.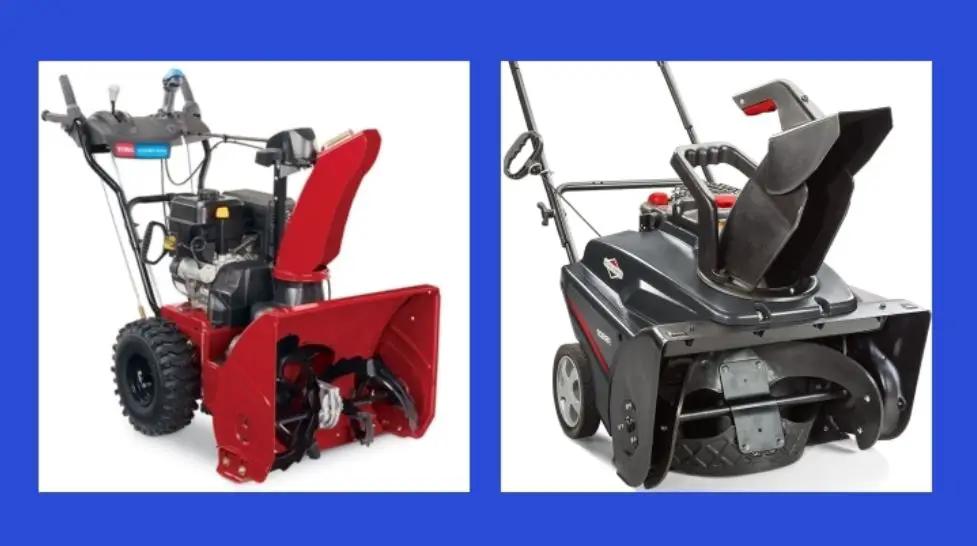 The Briggs & Stratton 1022 is a cheaper, single-stage blower alternative to the Toro.
While the Toro is much more powerful and has a better steering system, the 1022 is cheaper and because it has a rubber-edged auger rather than a steel one, it allows you to clear snow down to the pavement, although this design has limitations when it comes to clearing snow on soil or grass.
Conclusion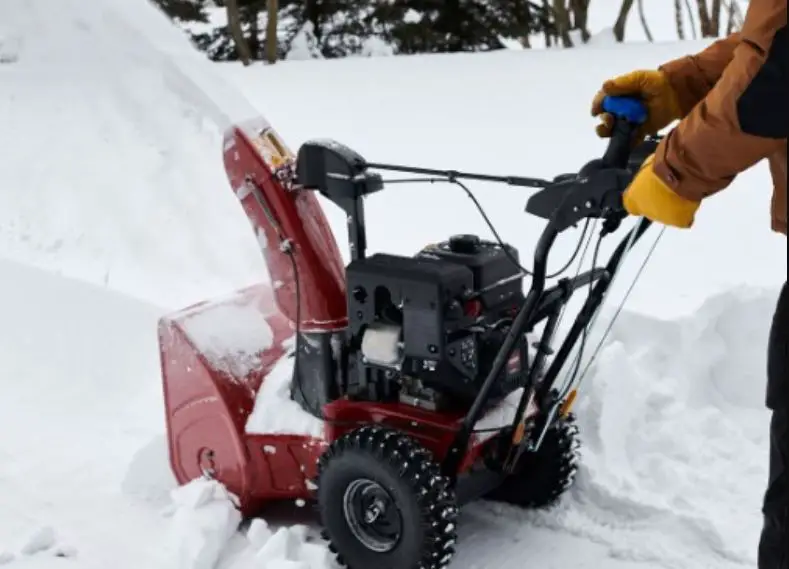 The Toro PowerMax 824 is an excellent snowblower, its steel auger, 252cc engine, special design and ease of use make snow clearing chores much less strenuous.
The only real drawback is the fact that it's not much more expensive to get an even larger snowblower with the PowerMax pricing in the top echelon for snowblowers of this size and the cheaper 724 is almost as efficient despite its smaller engine..
If you're happy with the price and are looking for one of the easiest snowblowers to operate, the Powermax 824 might be the option for you.