Toro 724 QXE Review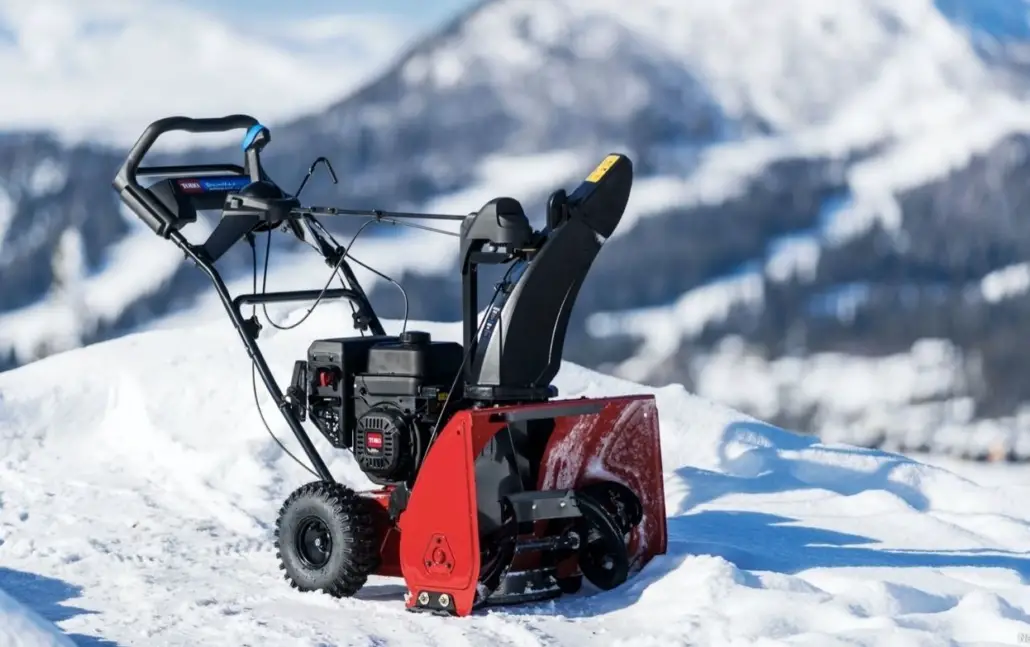 If you have ever had to clear snow, you will be well aware of how arduous a task it can be.
A good snowblower has become essential for anyone who lives in an area with snowfall.
The Toro 724 QXE is an excellent option if you're looking for a smaller blower. In this article, we'll be taking a look at its features and comparing it to some of the alternative options.
Complete overview
The Toro 724 QXE is one of the smaller options in the Toro range.
Still, its 212cc engine is only marginally smaller than the larger Toro PowerMax 824's 252cc engines and the blower is perfectly capable of handling small to medium jobs with ease.
This model includes automatic steering and Toro's recognizable design. It has a strong 10-inch steel auger. Unfortunately, it has a plastic scraper, which could be seen as a weak point of the machine.
First impressions
The first thing you notice is the trademark helical design found in all Toro blowers, this allows the auger to spin at a much faster rate than other designs.
It is smaller and lighter than some of the other Toro snowblowers, but the 724 QXE is perfectly equipped to maintain a smaller yard or driveway.
Quick facts table
| | |
| --- | --- |
| Power Type | Fuel |
| Maximum Throw Distance | 40 Feet |
| Auger | Steel |
| Clearing Width | 24 Inch |
| Speed | Self-propelled (it goes at the speed you walk) |
| Headlights | No |
| Handle | Automatic steering |
Key features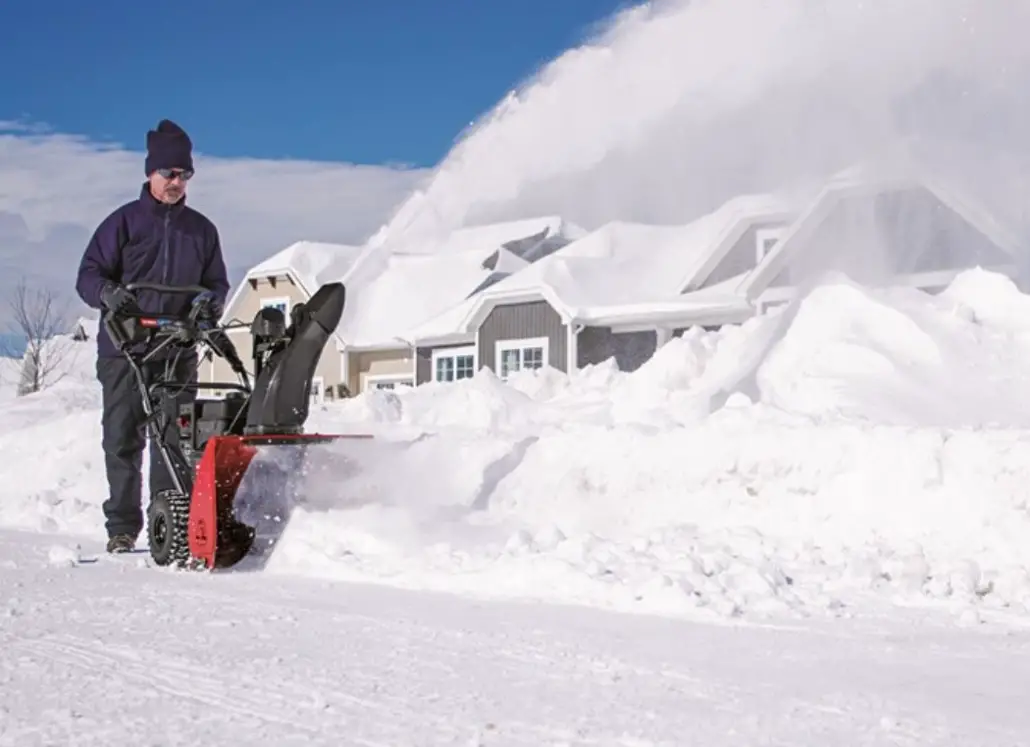 How does it perform?
The Toro 724 QXE is considered to be a smaller, single-stage gas alternative to Toro's more powerful options, suited for driveways and sidewalks.
But if you look at the performance, it really isn't that much smaller than the other options at all.
The 212cc OHV 4-cycle engine produces enough power to clear snow effortlessly and its automatic steering system makes it a breeze to operate.
How much snow can it handle?
The 724 QXE is marketed as a smaller blower, ideal for small yards or driveways.
It can clear up to 2500 pounds of snow per minute, which is actually not much less than the more powerful alternatives which are said to be suited for bigger areas.
How loud is it?
Because it is fuel powered, it does make some noise.
The Toro 724 QXE will not be as loud as blowers with larger engines, but if noise is a big factor, battery-powered alternatives will be quieter.
How heavy is it?
The 724 QXE weighs 125 lbs (57 kg).
With its wide wheels, automatic steering and self-propulsion system though, it won't require as much physical excursion as pushing around 125 lbs would normally. 
Is it easy to manoeuvre?
Yes!
Because of its lightweight design and automatic steering system, the 724 QXE is easy to manoeuvre. 
It doesn't have the power steering systems of some of the bigger models, but it really isn't needed for a blower of this size.
What type of auger does it have?
The Toro 724 QXE has a 10-inch steel auger that is able to spin much faster than other blowers of this size because of Toro's patented helical design.
How long does the battery last?
The Toro 724 QXE does not have a battery.
To make use of the electric start function, you connect the blower to a power source within 15m (50 ft) with a cord.
Pros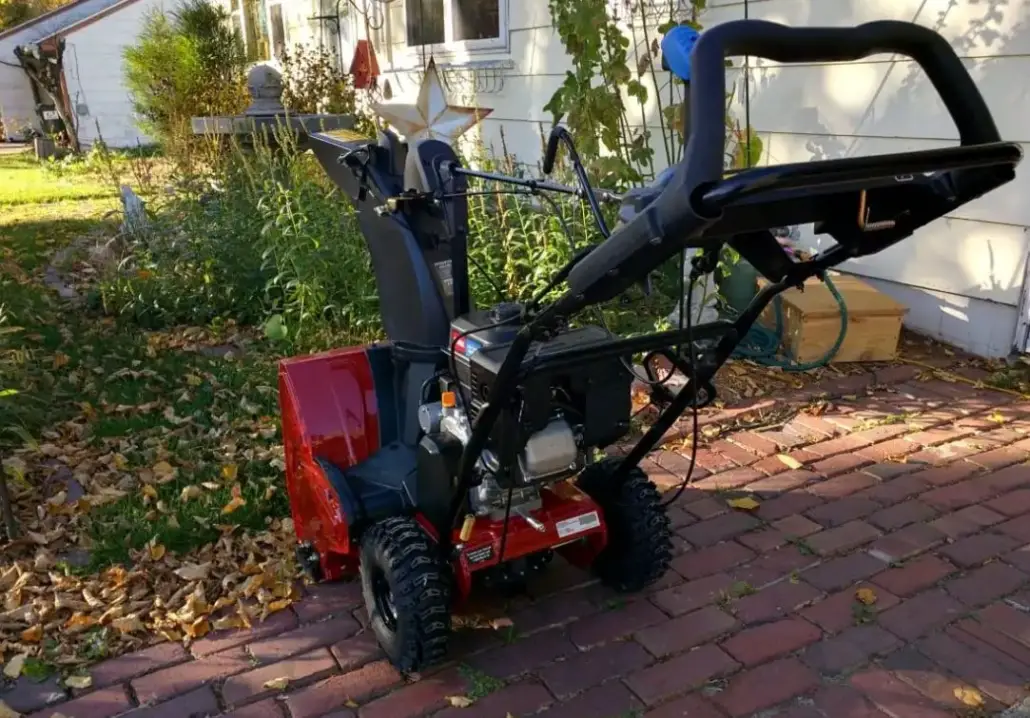 Patented helical design
Toro's trademark helical scoop is an ingenious design that optimizes the efficiency of the blower by allowing the auger to spin much faster than most of its competitors.
Chute joystick
The single-hand joystick which controls the chute adds even more to the user-friendliness of this blower.
It allows you to control the chute without having to stop, which can come in very handy when you need to clear a winding path or sidewalk and don't want to keep pausing to readjust the chute.
Electric and recoil starters
While you would usually be able to start the snowblower using the standard recoil starter, the 724 comes with the option of making use of its electric starter when the conditions are too cold for the recoil starter.
You simply connect the starter to a power point using a 15 m long cord and push the start button and your blower will spring into life.
Power
For what is considered to be a smaller, single-stage snowblower, the Toro 724 QXE is actually extremely powerful.
The 212cc engine can clear almost as much snow as many of the larger, more expensive options available.
Easy to manoeuvre
Because of its lightweight design and automatic steering system, moving the 724 around is an easy task.
If you have smaller areas you need to clear you might not want to struggle with a big and bulky snowblower. So the 724 is perfect for quick, small jobs.
Cons
Plastic components
Even though this is a smaller blower, the fact that the chute and scraper are made of plastic is disappointing.
Other snowblowers to consider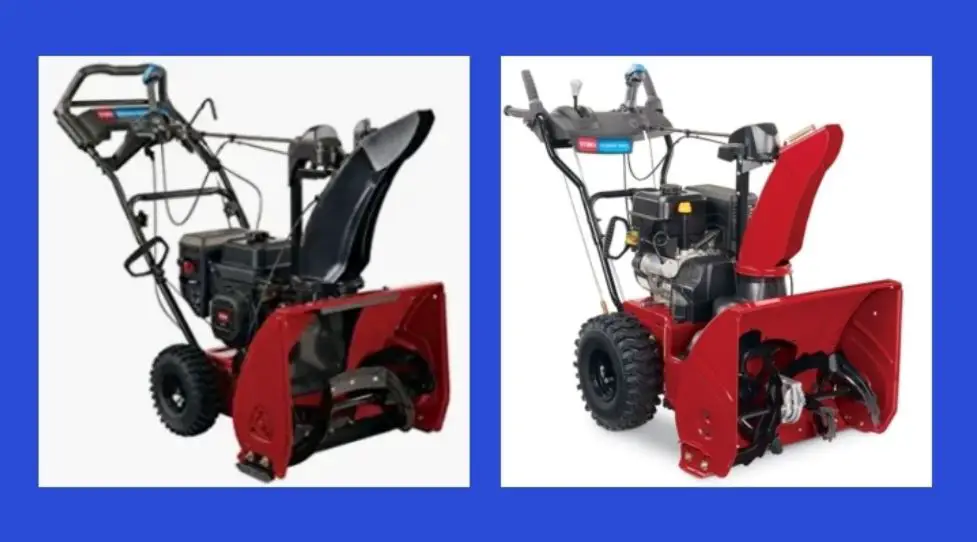 The PowerMax 824 is the next step in the Toro line.
The 824 is a larger, more powerful two-stage fuel-powered snowblower which has proven excellent for work in small to medium-sized yards.
However, especially considering the business in price, the 724 actually holds up extremely well against the Powermax 824.
The smaller 724 can clear nearly the same amount of snow and is more affordable. The only thing that is really missing from the 824 is the power steering, but because the 724 is so lightweight, this isn't a problem.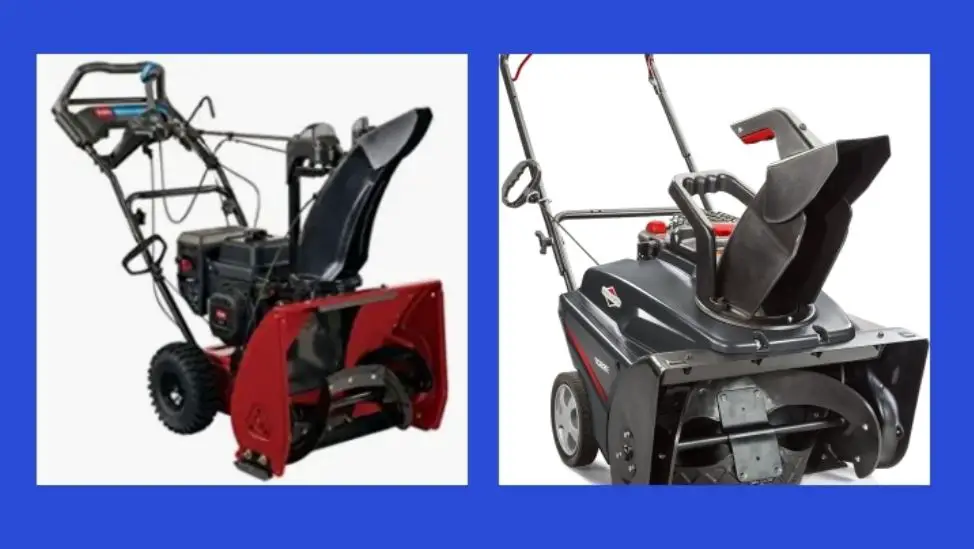 The Briggs & Stratton 1022 is a comparable, small, single-stage snowblower in a much lower price bracket.
It also features a steel auger and electric start, but it comes nowhere near compared to the power of the 724.
This is reflected in the price tag though and you do really end up getting what you pay for, The Briggs & Stratton cost half as much as the Toro, but you can see it in the power.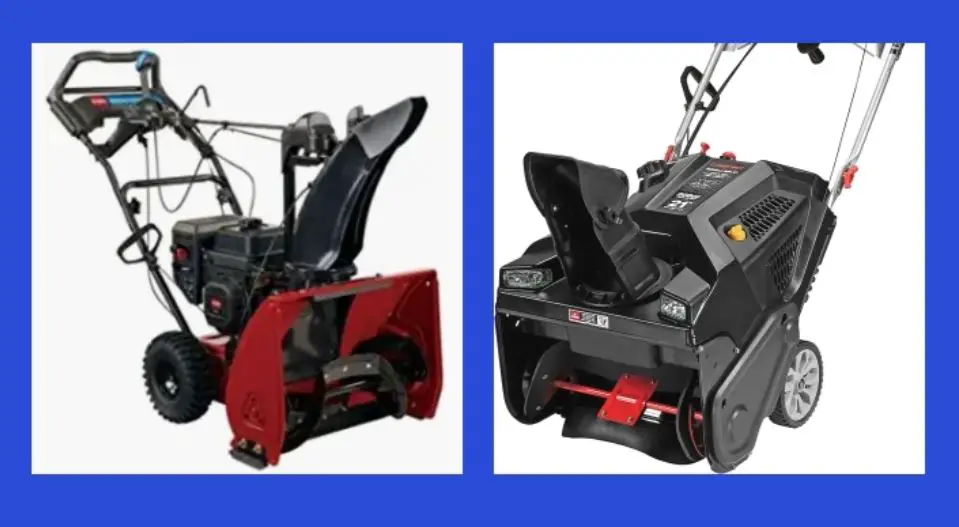 The Troy-Bilt Squall 208 is another alternative in the smaller snowblower range.
Compared to the Toro, the Troy-Bilt is cheaper but has a smaller engine and does not clear snow as fast as the Toro.
If you only have a very small area to clear, a budget option like the Squall might work, but if you experience more snowfall or have a large yard, it'd definitely be worth paying extra for the more powerful Toro.
Conclusion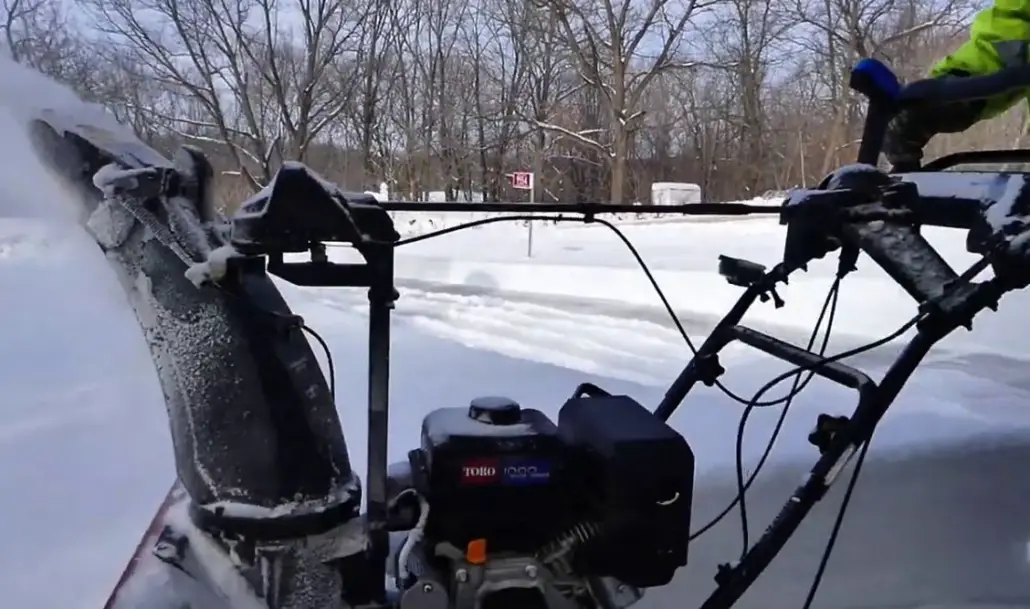 The Toro 724 QXE is our pick for the best value-for-money snowblower available.
Despite the fact that its engine is smaller than the larger 824 models, it can clear nearly the same amount of snow.
It really packs a punch in quite a small motor. The only drawback would be that it is more expensive than other small blowers, and there are a couple of plastic elements that might not be as sturdy as steel would have been.