Worx Trivac WG512 Review
The WORX TRIVAC is a 3-in-1, electric blower/mulcher/vacuum.
It's an excellent multi-tool for anyone with a garden to own.
 In this article, we will review the WORX TRIVAC and compare it to some alternate leaf blower options. 
Complete overview
The patented WORX motor can be switched from mulch to blow to vacuum with a simple turn of a knob.
The user can also adjust the speed of the motor between the maximum and low power modes and it comes with a bag that collects all the leaves and mulch for composting or disposal.
First impressions
On first impression, the TRIVAC looks like an ingenious and useful machine to have if you have a backyard to maintain.
It has a sturdy handle to carry it by, designed to allow you to carry it with one hand and the knobs and settings are all straightforward and understandable.
Key features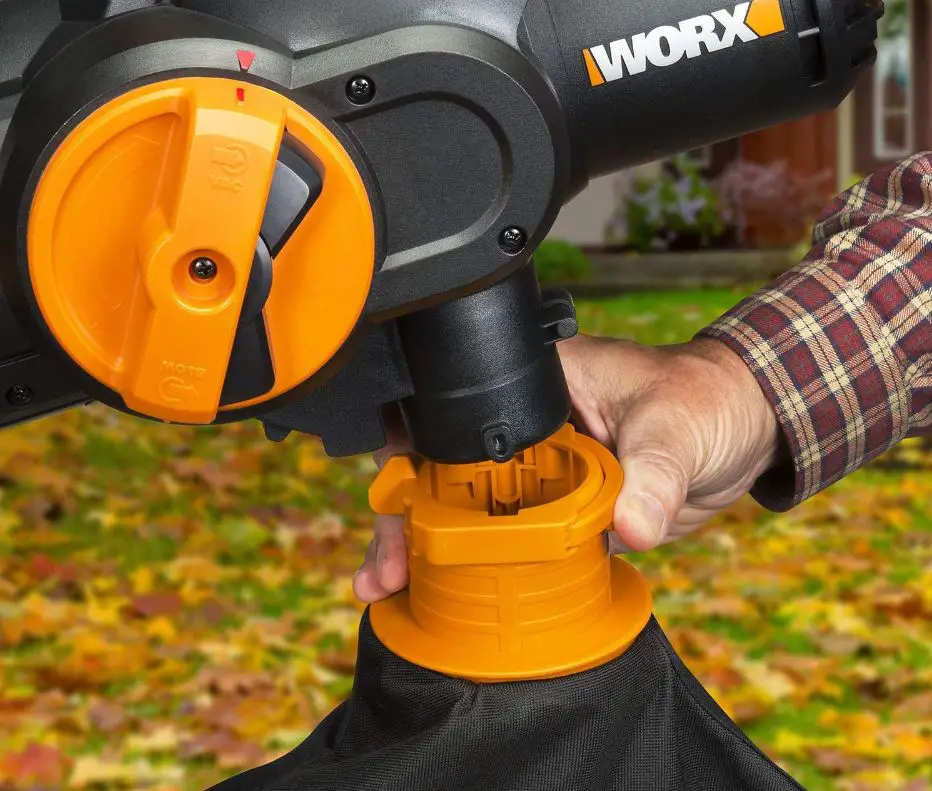 How does it perform?
As a blower and a vacuum, the TRIVAC has acceptable performance, on par with other corded blowers of this size.
Unfortunately, it is let down by its mulching capabilities. It is advertised as having a mulching rate of 16 to 1, which is very handy, but the machine has a tendency to jam as soon as any moist material enters the mulcher.
How loud is it?
It emits about 79 decibels while in use. 
As it is an electric, corded blower, it is much quieter than fuel-powered alternatives.
How heavy is it?
It weighs 8.6 lb and the specially designed handle makes it easier to carry with one hand. 
There are options for lighter handheld blowers though, and though 8.6 lb might not sound like much, it can become a bit heavy for some users after prolonged use.
Is it easy to manoeuvre?
Because it is a handheld blower, it is easy to manoeuvre.
You simply grip the special handle and point the nozzle in the direction of the area you want to blow, vacuum or mulch.
How is the power source?
The WORX TRIVAC is a corded, electric blower, which means that it can only work in areas within range of a power source.
How long does the battery last?
The TRIVAC is not limited by battery lifespan because it connects directly to a power socket.
What type of work is it suitable for?
This model is designed to be used for small jobs around the home.
It's perfect for anyone who only occasionally needs to clean their garden or driveway of leaves and debris.
How durable is it?
While most of the body is made of plastic, it should not generally be exposed to heavy knocks and will survive for a long time if used with care and as intended.
The manufacturer offers a 3-year guarantee which should be an indication of how long they expect it to last.
What attachments can you get for it?
The TRIVAC comes with an 11.2-gallon bag to catch debris vacuumed up.
Additionally, you can also purchase the Leafpro or Gutterpro to attach to the TRIVAC.
Pros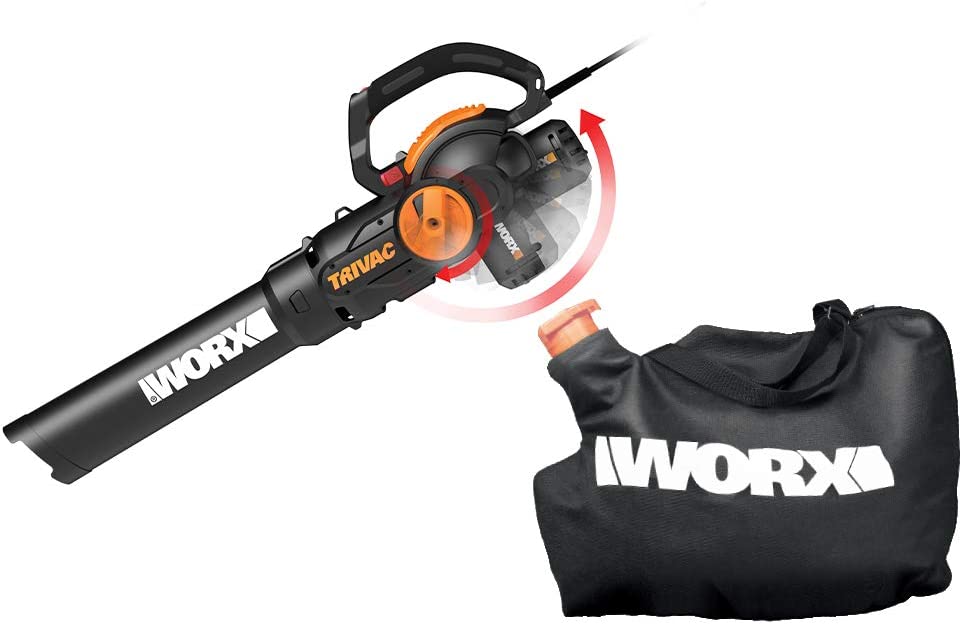 3-in-1 capabilities
The fact that the TRIVAC offers the capabilities of what would otherwise require three separate machines is definitely one of its most attractive features.
With just a turn of a knob, you are able to switch between using it as a blower, a vacuum or a mulcher.
Electric powered
Because the TRIVAC is a corded blower, it is much more silent and lightweight than many of the other types of blowers available.
This also means that you won't run out of fuel or battery power while working.
Angled nozzle
Because of the design of the WORX TRIVAC leafblower, you are able to fulfil your duties, standing up straight and holding the machine with one hand.
The upwards angle of the nozzle makes it easier to reach the intended areas without bending your body into an uncomfortable position.
Metal impeller
Although many of the parts are made of plastic, it's good that the impeller, the blade that acts as a fan and is used for mulching, is made of metal.
The rest of the machine does not take much impact and the plastic body should be durable enough, but having a strong impeller is critical.
Cons
Corded
While there are advantages to having an electric blower, it does limit your use to areas within a certain range of a power source.
Can't handle wet material
The vacuum and mulcher are known to jam whenever wet material is sucked in.
This might not be an issue in some climates, but any gardener knows that you are often working with moist materials and you don't want to be clogging your blower every time you mulch some leaves.
Heavy
Though it is only 8.6 lb, it is actually quite heavy for a handheld blower.
This could become a problem if you need to hold it for longer periods of time.
Other blowers to consider

The Makita DUB362Z is a battery-powered alternative. Because of the accompanying batteries, the Makita is actually even heavier than the WORX, and a bit louder, but it is also much more powerful.
That said, the Makita does not have the accompanying vacuum and mulch functions of the WORX TRIVAC.

The Toro Powerjet is also a corded leafblower.
Even though it does not have the added mulching and vacuuming abilities of the TRIVAC the Powerjet is much more powerful and weighs only half as much as the TRIVAC.

The Ego Power+ is one of the most powerful battery-powered blowers of this size available.
It is heavier than the TRIVAC and can only be used as a blower, but if you have a larger yard and need a proper blower, the Power+ is definitely more suited for the job. 
Its maximum speed is almost three times that of the TRIVAC and for its price, its power is in a class of its own.
Conclusion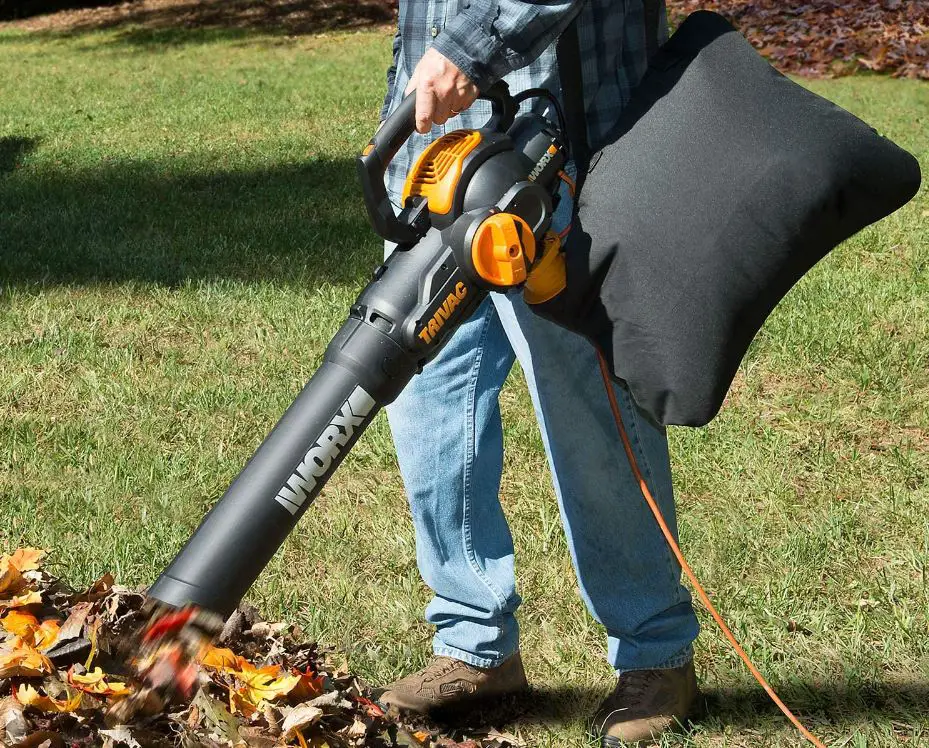 While the WORX TRIVAC might not be the best blower, vacuum or mulcher, it is a very handy 3-in-1 for any gardener that is looking to save space or money by having a machine that can be used as a multitool rather than a range of dedicated machines.
If you have a small garden or driveway that needs maintenance and don't live in a very wet climate, the WORX TRIVAC could be the answer to a number of your problems.