Worx WG163E String Trimmer Review – Is it Any Good?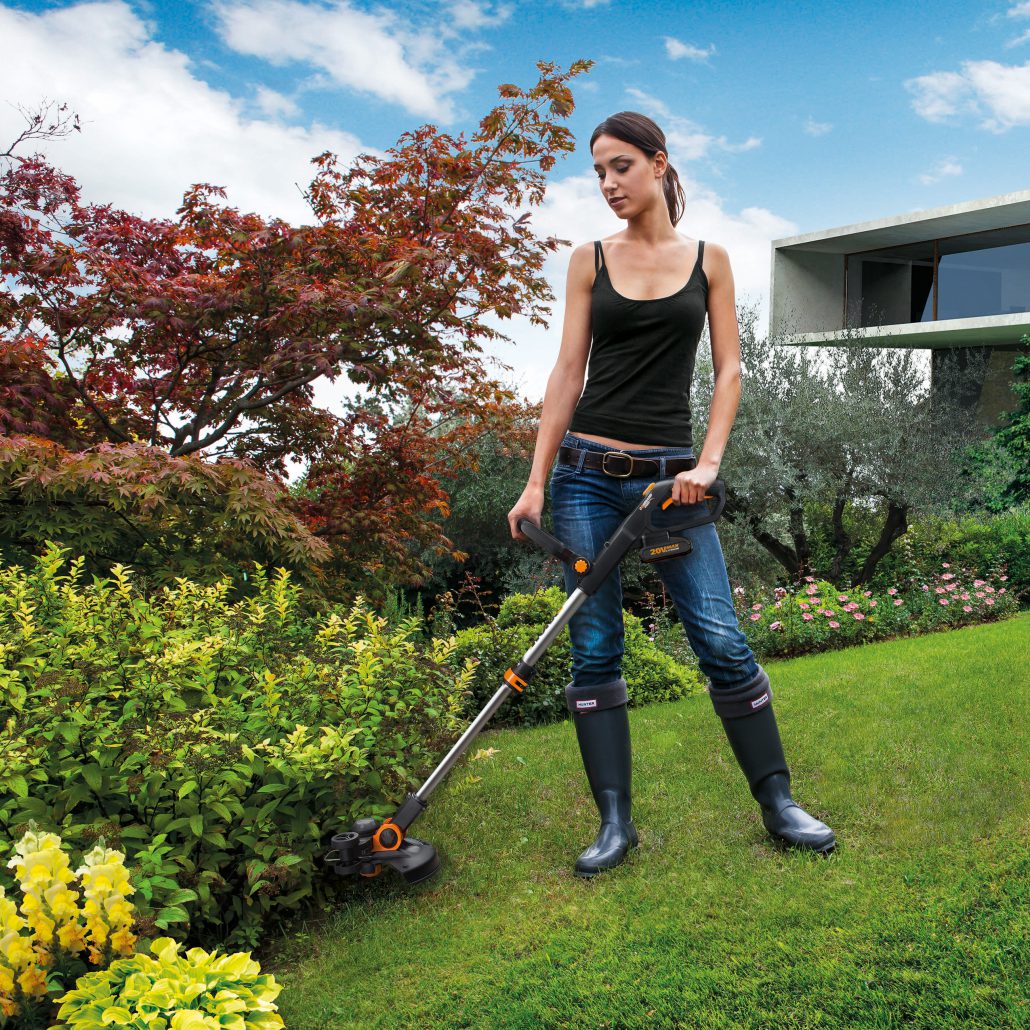 Making the right choice when it comes to your garden tools is important because these types of tools will determine the condition of your lawn.
Some string trimmers don't function well and can leave your lawn or yard looking sloppy.
Other string trimmers don't have helpful features that will help you fine tune the appearance of your lawn. The right choice really matters; but simply making the right choice can be a challenge.
That's why we are reviewing the Worx WG163E string trimmer. It's a popular model but is it really a good string trimmer? Let's take a look.
Worx WG163E Overview
First and foremost, the Worx WG163E is an electric, cordless string trimmer. Among other things, that means it's battery-powered.
But this is also quite a versatile string trimmer because it is also supposed to function as an edger.
In our testing, we found the Worx WG163E to be versatile and everyone of our testers said that it was comfortable to operate too.
This won't be the string trimmer that professional gardeners and landscapers use; but for average home use, it is a viable option.
Quick Facts
| | |
| --- | --- |
| | Worx WG163E |
| Weight | 5.2 pounds |
| Cutting Width | 11.8" |
| Battery | 20v Lithium-ion |
| Length | 44.5" |
Worx WG163E Key Features
Adjustability – Both the handle and the shaft can be adjusted so the Worx WG163E wil be comfortable for a wide variety of people.
Combination Functionality – The Worx WG163E can be used as a string trimmer and an edger.
Flower Guard – When using the Worx WG163E as an edger, you can use the flower guard to protect against delicate garden life and features.
Pivoting Head – The head of this string trimmer pivots 90 degrees which makes it easier to trim on inclined and curved terrain.
Worx WG163E Pros & Cons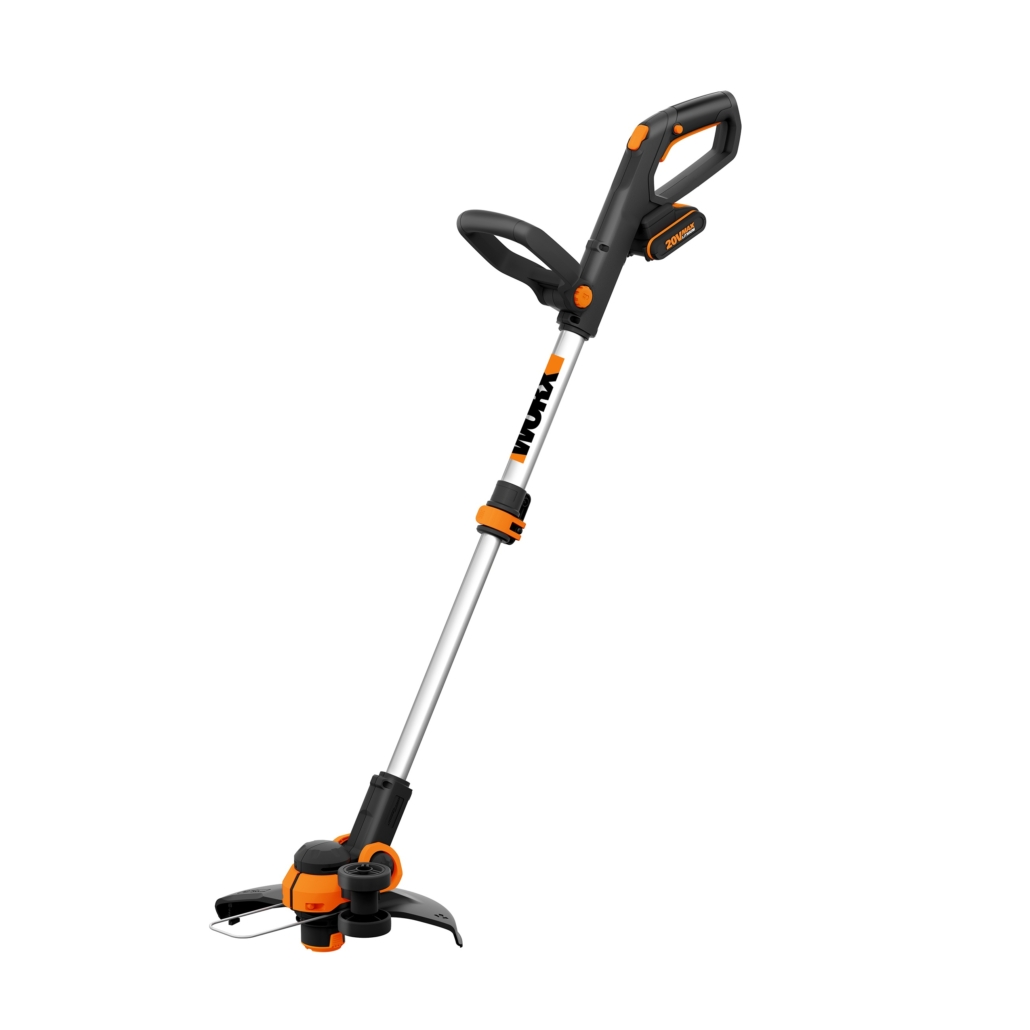 Pros:
Works very well in corners
It can be used as an edger
It's very easy to change the line
Wide cutting width
Great for home gardens
Cons:
Poor battery life
The helper handle is too close to the main handle
Overall Score: 96/100
Check Out More Reviews Here:
Weight & Handling
It's a good thing that the handle and shaft can be extended or shrunk down because if not, the Worx WG163E would be a bit awkward to handle.
The helper (front) handle is just a bit too close to the main handle on the shaft.
But with a couple of adjustments, we were able to find our sweet spot. The Worx WG163E weighs only 5 pounds so it's lightweight overall. When the battery is loaded, it adds about a pound of extra weight but it doesn't make much of a difference.
The Worx WG163E can also be outfitted with guide wheels to make it easier to handle when edging and detailing.
Engine Power
The max voltage output of the Worx WG163E is 20v. So it doesn't really come close to commercial-strength. However, it provides ample cutting power for residential use.
Durability
The shaft looks like steel but it is probably made of aluminum or some composite. We understand the choice to use lighter material to keep the weight down; but at the same time, these lighter materials detriment the durability.
Efficiency
This was another knock against the Worx WG163E. The battery doesn't last for very long. While you don't get a drop-off in power so long as the battery has some modicum of charge, it completely drains after about 30 minutes of use.
Cutting Performance
This is where the Worx WG163E shines. The head can be tilted 90 degrees so you can get into fence and gate corners easily.
This made tackling our crawling ivy in corners a breeze. The 11.8" cutting width is enough to handle most of your trimming, edging and even light mowing needs.
It produces clean cuts, includes a flower guard and even has wheels. We liked using the wheels because it allowed for very fine, detailed edging work.
Worx WG163E Common Issues
Some users of the Worx WG163E have had problems with the motor not starting.
Based on most manufacturer responses, the problem is most likely a completely dead battery.
From these complaints and possible resolutions, we are led to believe that the Worx WG163E batteries don't last very long – although we had no issues like this during our testing.
Other String Trimmers to Consider
Husqvarna 322L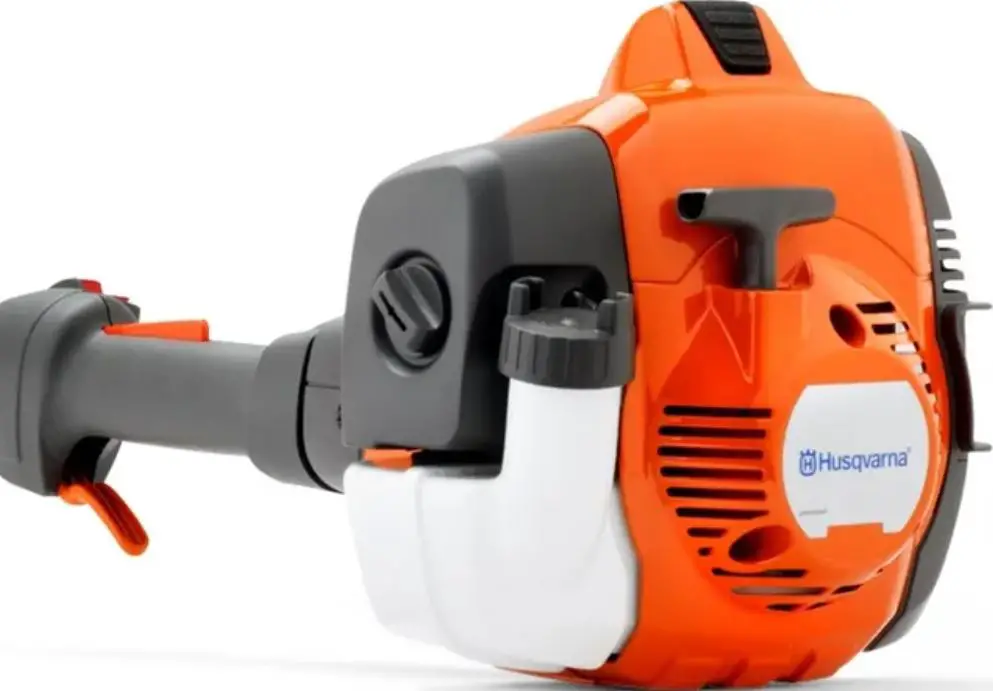 The Husqvarna 322L is a gas-powered string trimmer with a 22.5cc engine. Now this is a commercial-strength trimmer.
It weighs just over 10 pounds and features a chromium plated cylinder bore. This string trimmer should last a long time – even if you use it for commercial work.
Pros:
Very durable design
Suitable for commercial work
Cons:
It lacks an adjustable head
Overall Score: 96/100
Check Out More Reviews Here:
Worx 40v Line Trimmer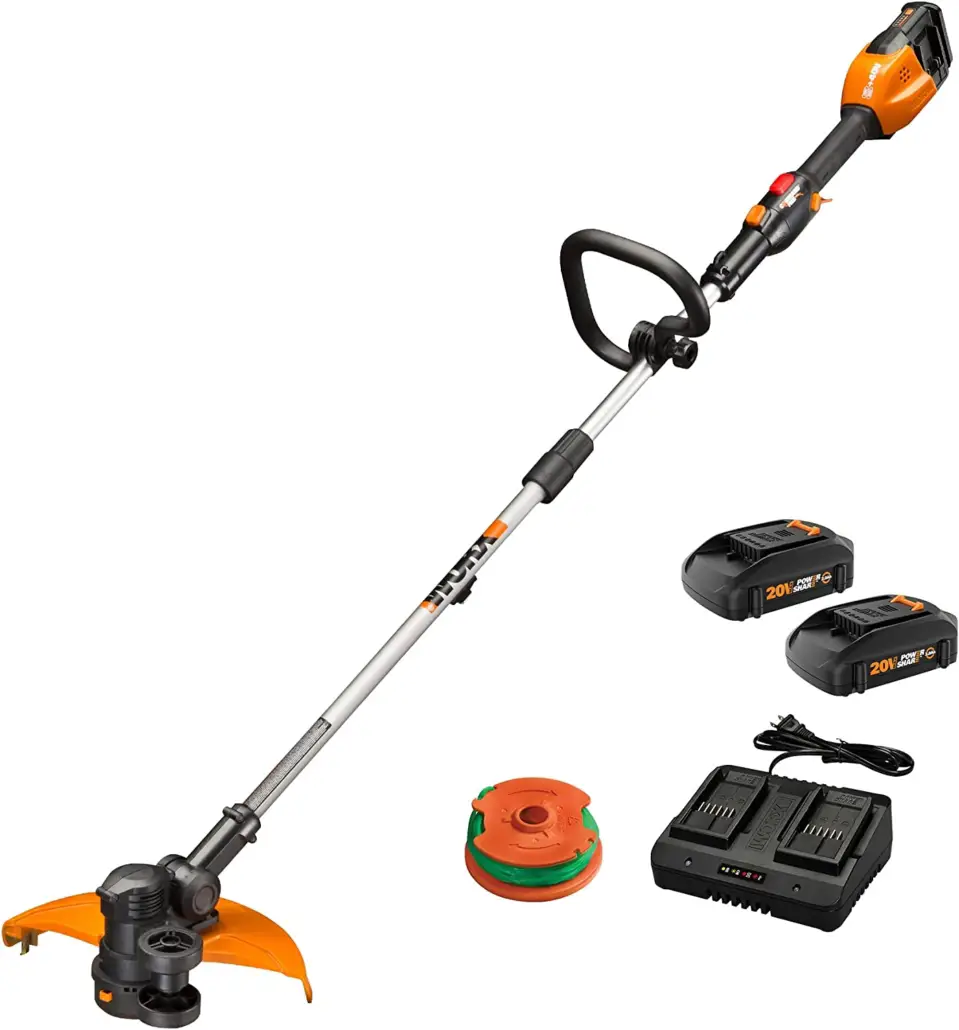 This is another battery-powered string trimmer from Worx. While the battery takes longer to charge, it also lasts longer, addressing one of our main beefs with the Worx WG163E.
Overall, you can trim for up to 45 minutes with the Worx 40v Line Trimmer. It also has an onboard battery life indicator so you know exactly how much charge you have left.
Pros:
Dual line trimming
Good battery life
Cons:
Heavier than the Worx WG163E
Overall Score: 96/100
Check Out More Reviews Here:
Craftsman WS2200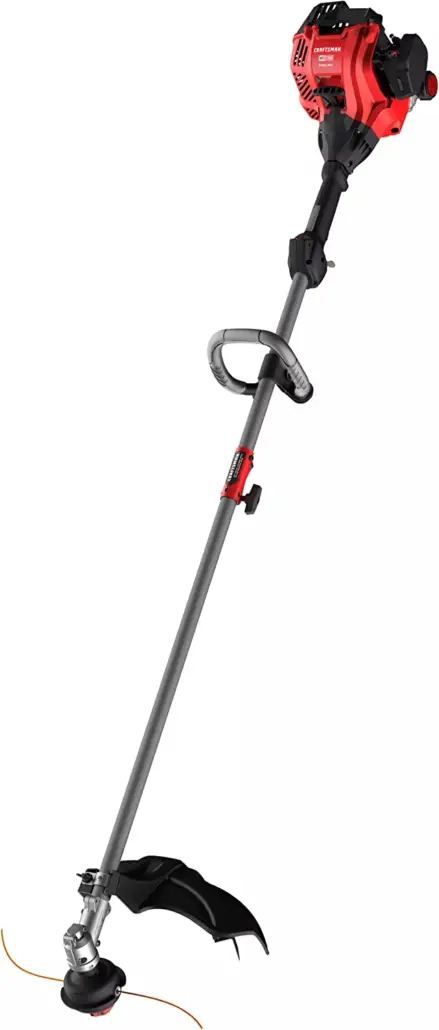 The Craftsman WS2200 is a straight-shaft trimmer. It has a 25cc engine and a 17 inch cutting width. This trimmer is good for large properties and light commercial work.
We also liked the fact that it is compatible with a host of accessories – including an edging accessory.
Pros:
Cons:
Overall Score: 94/100
Check Out More Reviews Here:
Final Assessment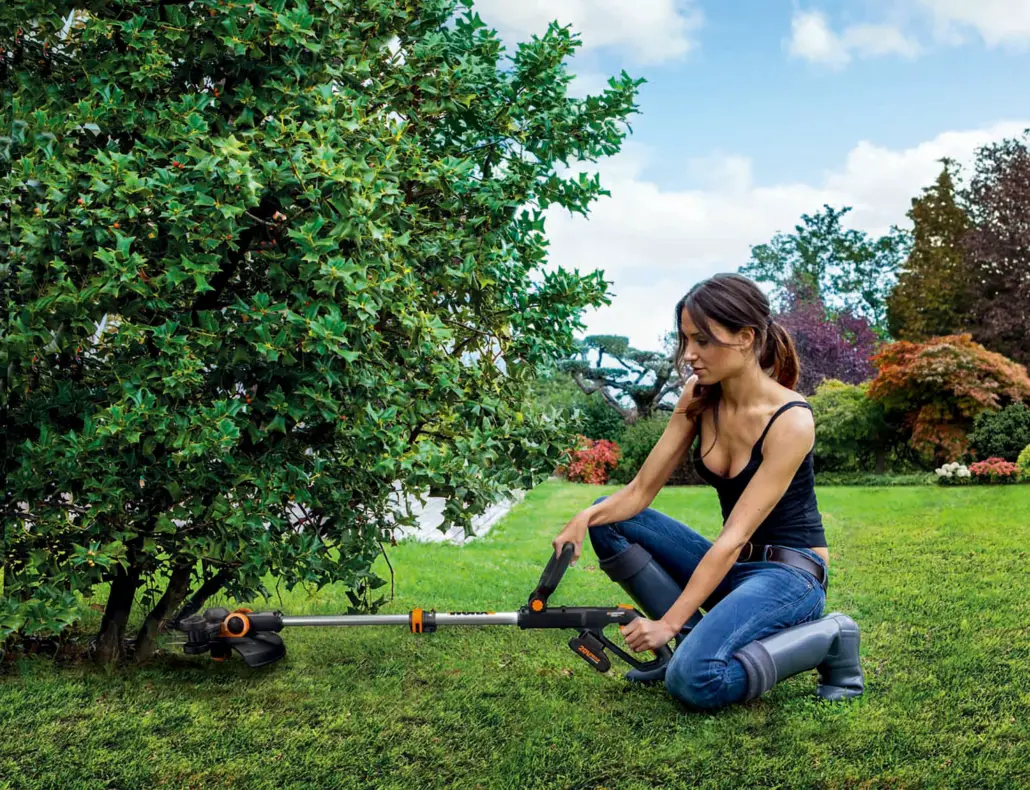 Our main complaints about the Worx WG163E is the short battery life and the possibility that it may not hold up well.
Other than that though, we really liked using this trimmer. The edging function works very well and we were able to make fine cuts in difficult areas.
It's a great choice for small gardens that won't take an hour or more to trim up. So if that sounds like your garden, check the Worx WG163E out.