DeWalt 20v Hedge Trimmer Review – Is it A Good Hedge Trimmer?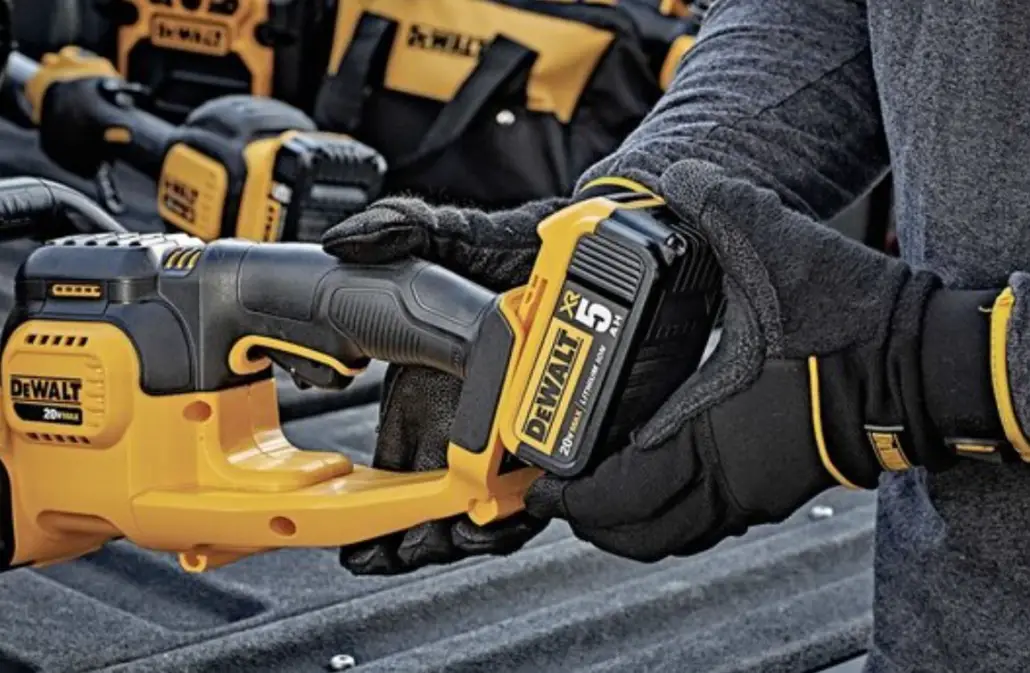 For those of us who take pride in the appearance and upkeep of our lawns and yards, choosing the right hedge trimmer matters. The right hedge trimmer will depend on the kind of hedges you have.
Some trimmers aren't built to cut branches and twigs that are an inch or more in diameter. Some hedge trimmers struggle with thick ivy growth and struggle in wall and fence corners. I
t can be very frustrating when your hedge trimmer doesn't give you the power you need or simply isn't light and maneuverable enough to get into hard-to-reach spots.
But today we will be talking about a hedge trimmer that offers both capable power and usability: the DeWalt 20v Max hedge trimmer. Will it be the right one for you? Find out by reading the following review.
DeWalt 20v Overview
The DeWalt 20v Max hedge trimmer is an electric, battery-powered hedge trimmer that features very durable blades and is capable of tackling most residential jobs.
It is rated to cut through twigs and branches up to ¾" thick. It also runs relatively quietly.
DeWalt 20v First Impressions
We weren't expecting a lot of cutting power from a battery-powered hedge trimmer. However, the DeWalt 20v proved to be capable in most settings.
The blades feature a hooked-tooth design which makes them very efficient at cutting tough branches with a single pass.
While the DeWalt 20v will definitely struggle with burlier branches, overall we were pleased with how it worked on ivy, bushes and most types of hedges.
DeWalt 20v Key Features
22" Blade – The 22" blade gives you good reach for tall hedges. It also makes for efficient cutting without having to change the blade out too often.
Double-Sided Cutting – The DeWalt 20v cuts on both sides of the blade to minimize your trimming time.
Laser-Cut Steel Blades – The steel blades feature a hooked-tooth design. They are incredibly durable, sharp and capable of handling pretty much any residential trimming job.
5lb Weight – Last but not least, the DeWalt 20v is very lightweight and easy on the body. Even if your trimming job lasts for a half hour, you will not be slowed down by the weight of this hedge trimmer.
How Does it Perform?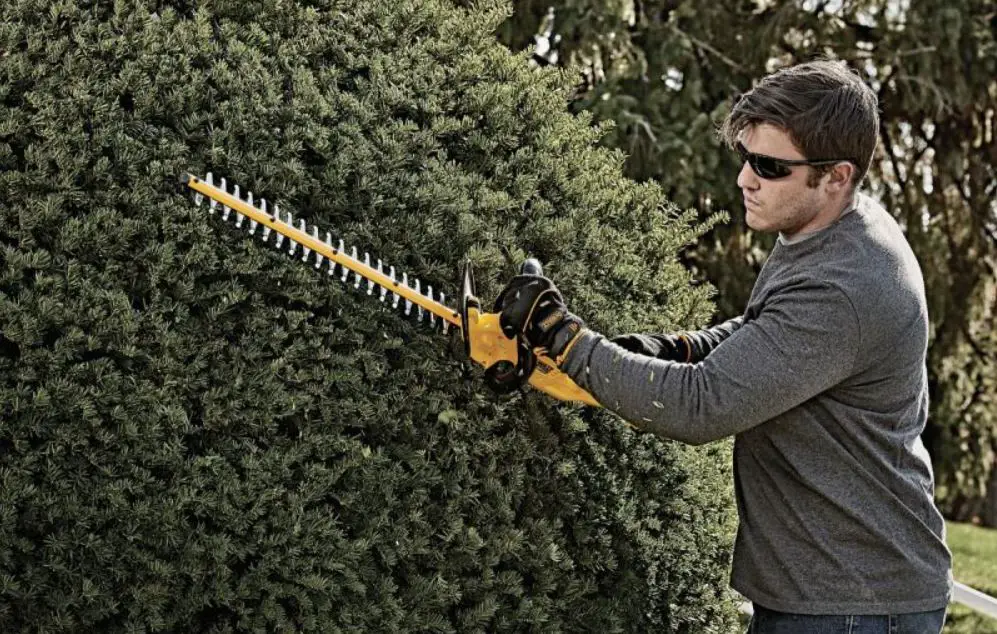 To put it in poetic terms: the DeWalt 20v cuts through vegetation like a hot knife through butter. We were very impressed with the cutting performance.
The blades are very sharp and maintain their sharpness even after dealing with thick branches.
We tested it on some wisteria, crawling ivy and even wild brier and it handled it all easily.
How Loud is it?
The DeWalt 20v can produce an annoying  high-pitched whine when it is operating at its max power level but in most cases, it is pretty quiet.
How Heavy is it?
This is one of the best things about the DeWalt 20v. Even with the battery loaded, it is very lightweight. The machine itself weighs only 7.5 pounds. When the battery is loaded it only gains a pound or so. You can operate this trimmer for as long as it keeps a charge without feeling achy or sore.
Is it Easy to Handle & Maneuver?
Yes. It features an easy-to-handle power trigger that controls the speed (the max blade speed is 2800 SPM). Even if you have never used a hedge trimmer before, you should have no trouble operating the DeWalt 20v.
The 22" blade gives you plenty of reach so even if you have to get up into fruit trees, you should be able to with this hedge trimmer. It also has a wrap-around front handle so you can angle it every which way.
What Size Job Does it Suit?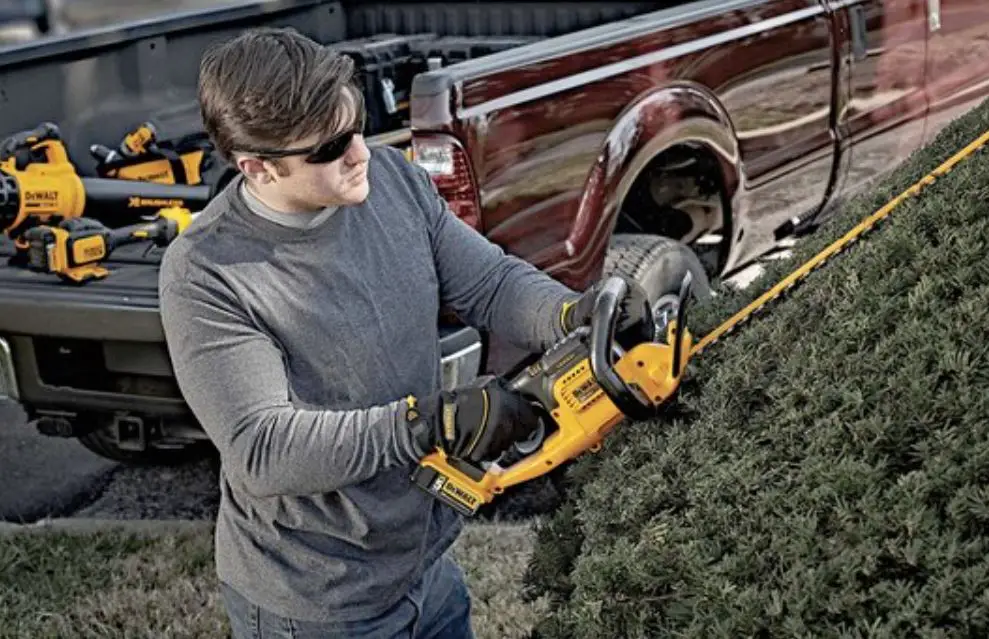 The DeWalt 20v is suitable for most residential tasks. Whether you're clearing suckers off of your citrus tree, trimming the ivy growing on your fence or imparting shape and form to your hedges, the DeWalt 20v will keep up with you.
With that all being said, we can certainly imagine that the DeWalt 20v will struggle with large commercial jobs – especially because the battery lasts for about 40 minutes on a full charge.
How Efficient is it?
On a full charge, the battery will last about 35-40 minutes depending on how much time you spend in the max power position. We found that we had plenty of time to tackle multiple trimming jobs around the yard on a single charge.
How Durable is it?
The DeWalt 20v is built to be very durable. The blades are hardened and maintain their edge even after cutting thick branches. We can see the DeWalt 20v lasting for at least 7-8 years.
DeWalt 20v Pros & Cons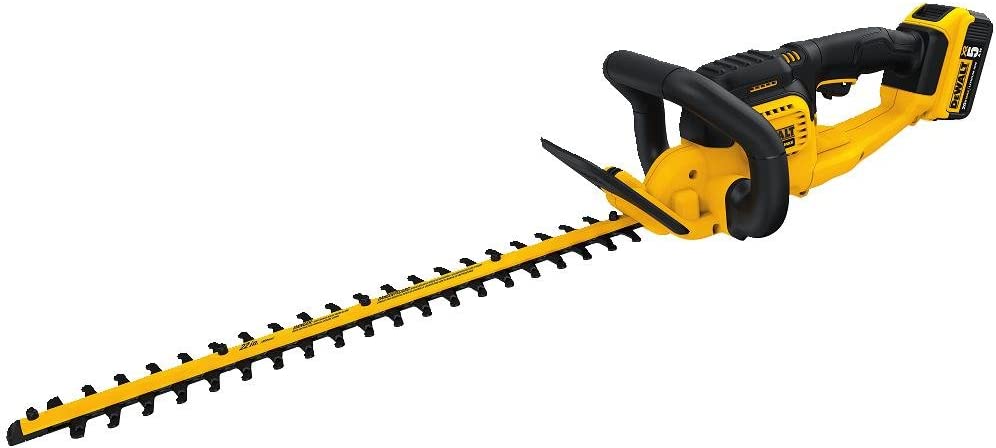 Pros:
Lightweight
Great for residential use
Battery works with other DeWalt tools
Sharp blades
Durable
Cons:
A bit loud
Not for commercial work
Overall Score: 96/100
Check Out More Reviews Here:
Who Should Buy it?
Anyone who needs a solid electric hedge trimmer for home use.
Other Hedge Trimmers to Consider
Husqvarna 122HD60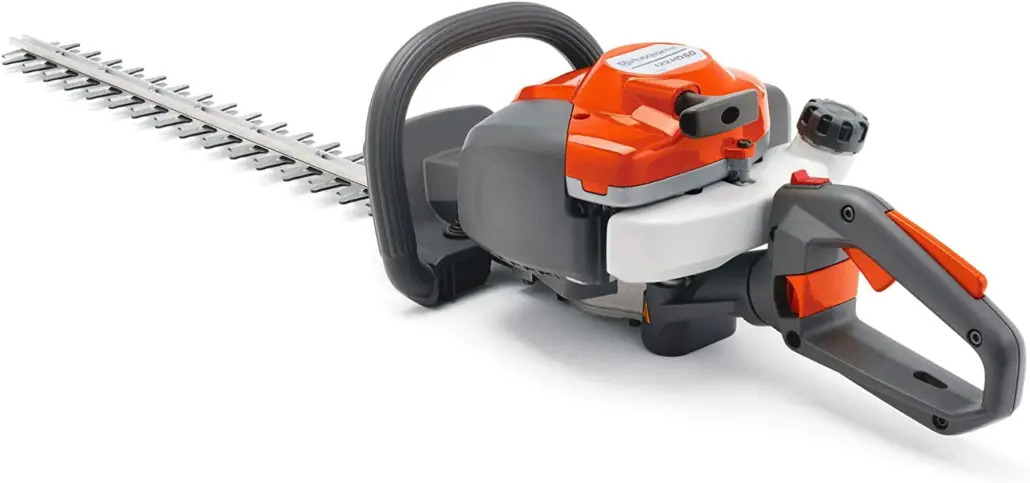 The 122HD60 features a 23" cutting bar, an adjustable handle and weighs only 10.8 pounds. It's a solid choice if you need a trimmer for commercial jobs. It also excels at producing fine cuts.
Pros:
Great for hedge-shaping
Great reach
Cons:
Check Out More Reviews Here:
Walensee 20V Max Cordless Hedge Trimmer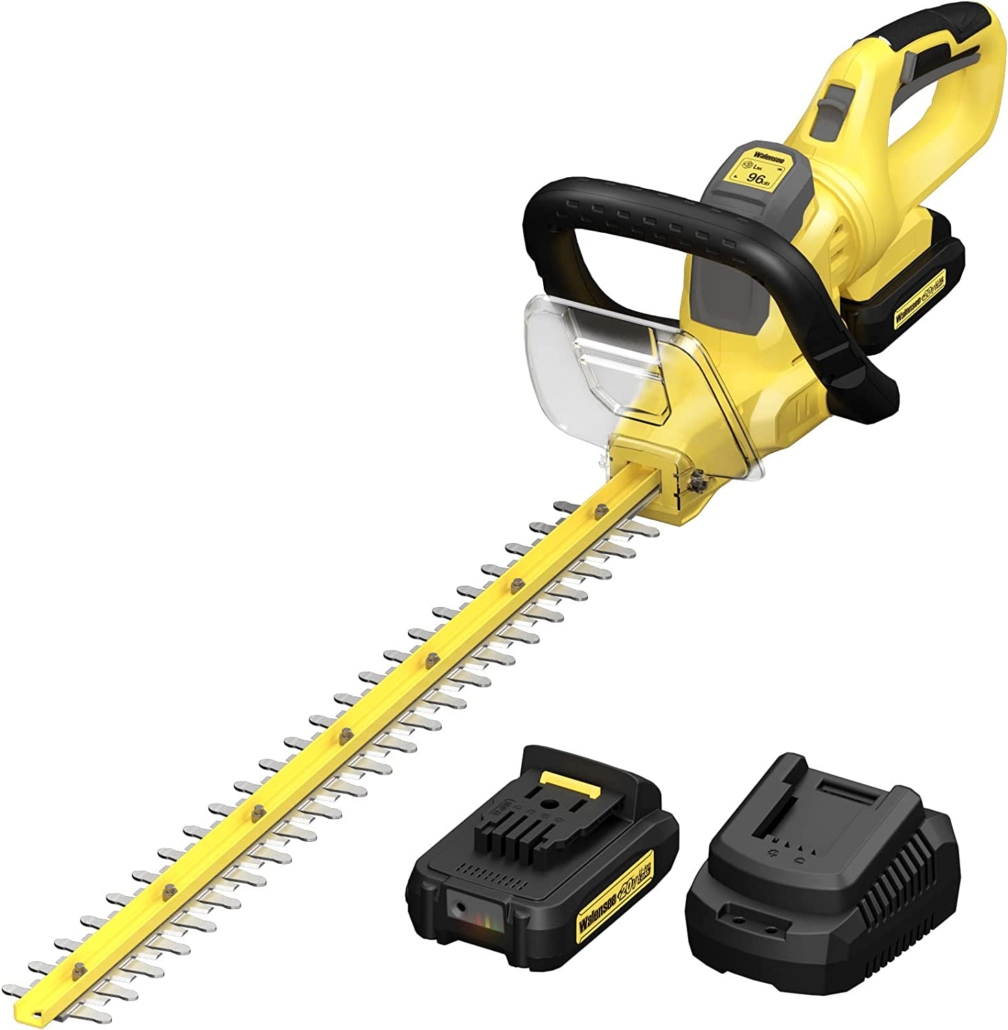 This is another battery-powered, dual action hedge trimmer with a 22" blade. It has a max RPM rating of 1400 and is incredibly lightweight at just over 5 pounds (tool only).
Pros:
Easy on the body
No emissions
Cons:
Check Out More Reviews Here:
Black + Decker 20v Max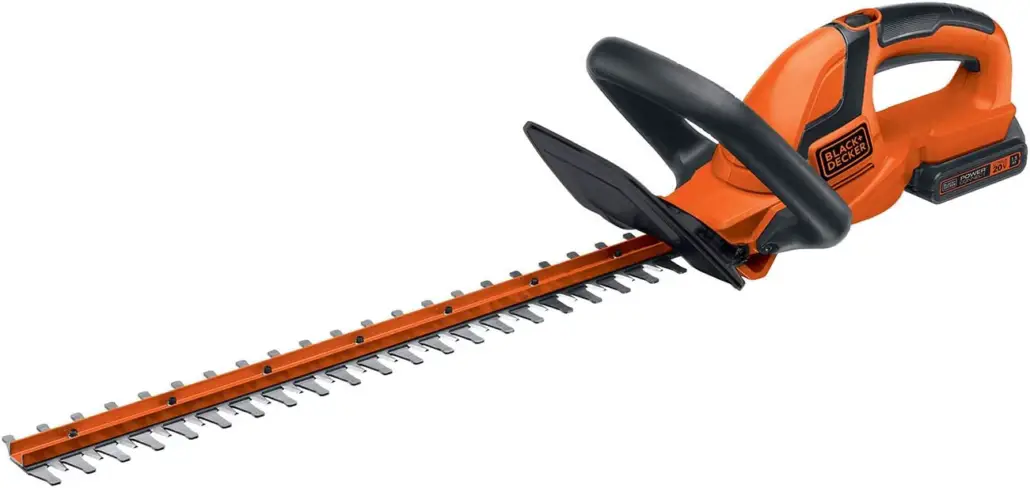 The Black + Decker 20v Max cordless electric hedge trimmer features an 18" blade and is capable of cutting branches up to about 0.6 inches thick. It's very affordable and the battery charges very quickly.
Pros:
Reputable manufacturer
Durable design
Cons:
Check Out More Reviews Here:
Final Assessment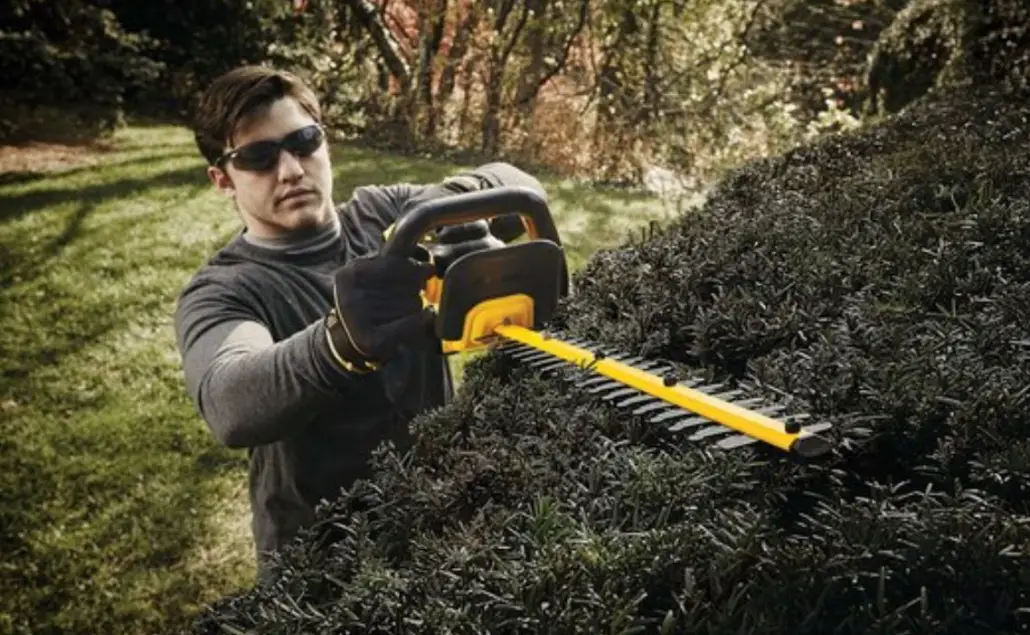 We really liked the DeWalt 20v. Although it has a limited runtime, most people will be able to get their yard trimmed up on a single charge with no problem.
It's lightweight, the blade stays sharp and can handle most, if not all, household trimming work. Be sure to check it out if you need a hedge trimmer for your residential property.