EGO Power+ SNT2102 21-Inch 56-Volt Cordless Snow Blower Review – Is It Any Good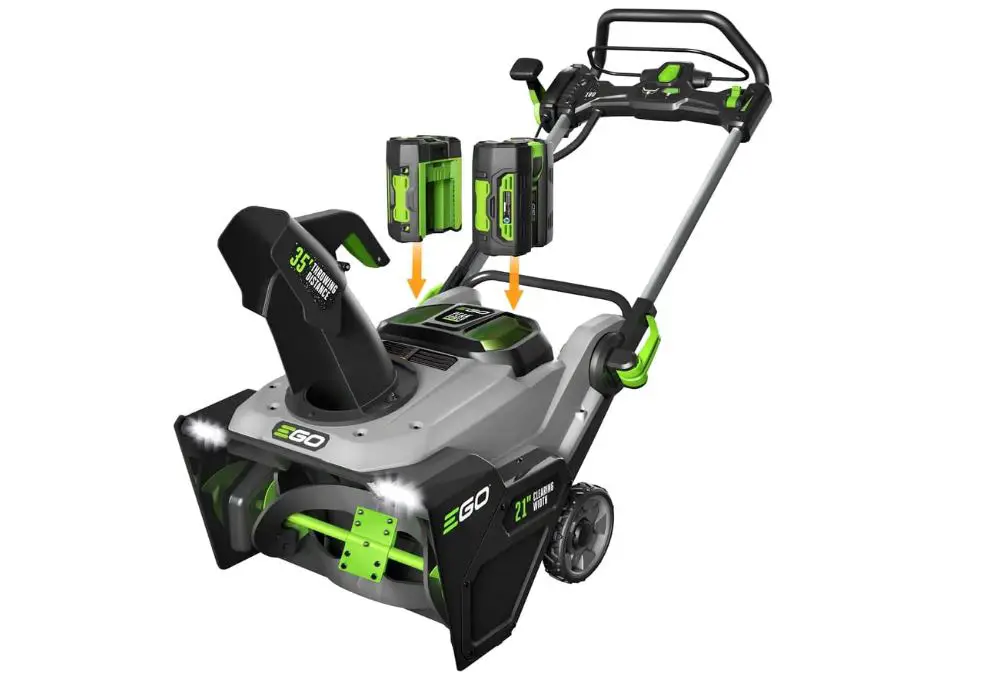 Clearing the driveway so you can head to work in the morning doesn't rank high on fun things to do.
But if you have the right tools, you can at least get it done in the shortest time possible. So, if upgrading your shovel to the EGO Power+ SNT2102 is your plan for this winter, is it a good investment?
For many scenarios, yes!
But keep reading to ensure you pick the right gear for your snow blowing job.
Complete Overview
The EGO Power+ SNT2102 is surprisingly impressive for a battery powered unit.
Although you won't get the full power of a gas driven snow blower, its capacity, low noise levels and easy controls combine to offer great value to homeowners with average sized properties in climates where moderate snow falls are common.
Also, it's great to have a quality cordless option so you can clear snow anywhere, without requiring fuel or a power outlet.
First Impressions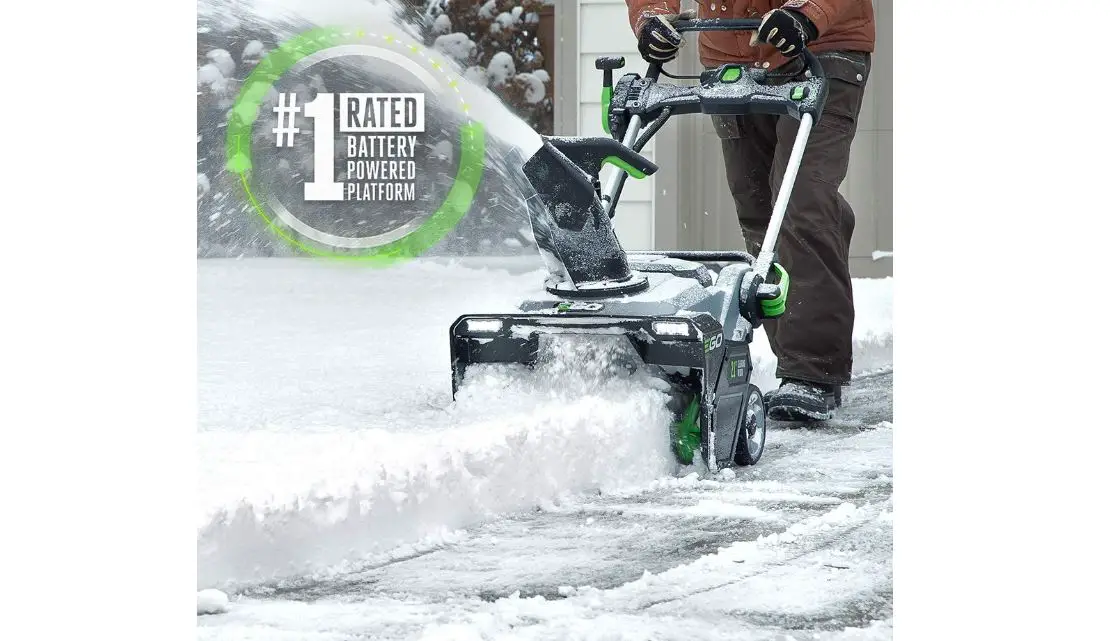 This 21-inch snow blower looks sleek and modern and what's not to love about the small footprint that simplifies storage in summer months?
Although the battery will run down rather quick when working in heavier snowdrifts, both for eco-friendliness and user-friendliness, there's a lot to love about this machine.
Key Features
How Does It Perform?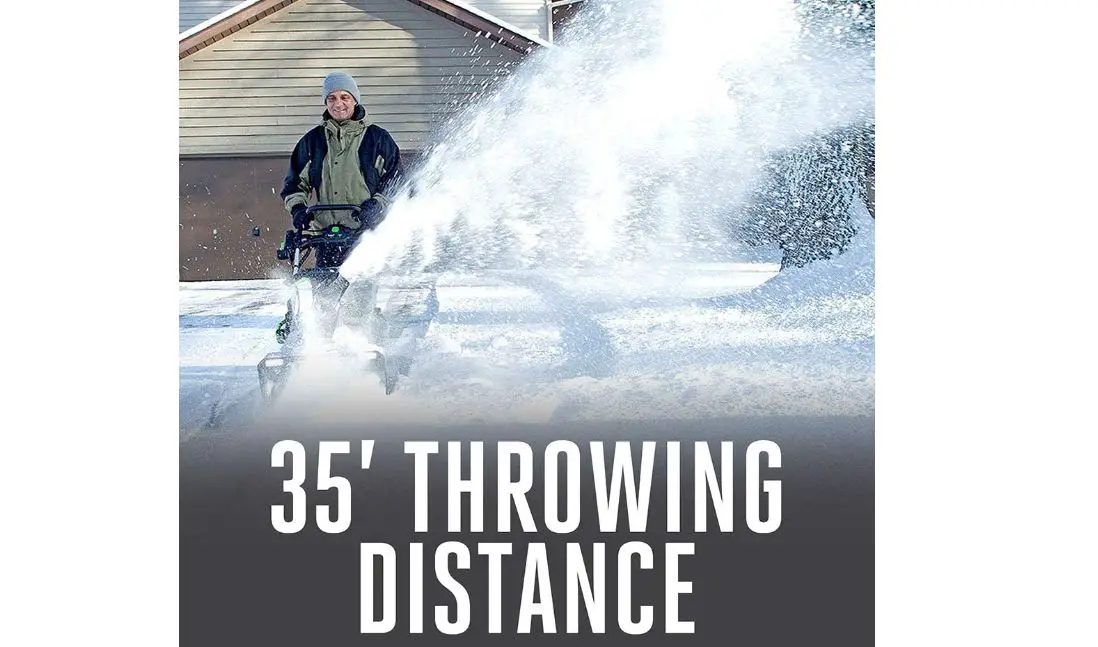 Overall this snow blower delivers well on its promises, especially because it can clear fair amounts of snow with minimal exertion on your part.
Also, it's a bonus that you can do this without using fuel, helping you decrease your household's carbon footprint.
Note that for many aspects of snow blosing, the EGO Power+ SNT2102 will deliver dependent on the type of snow and some other factors.
For example, while it claims it can fling the snow as far as 35ft from the blower, expect it to land much closer in most conditions. In wet snow and windy conditions, it will often travel 20ft or even only 10ft.
What is an impressive aspect of its performance is the ease of use on the chute. You can adjust it with a lever and set its height with an easy-squeeze grip control.
Both these features are quick to operate and much easier than some setups and cranks you find on other popular snowblowers.
How Much Snow Can It Handle?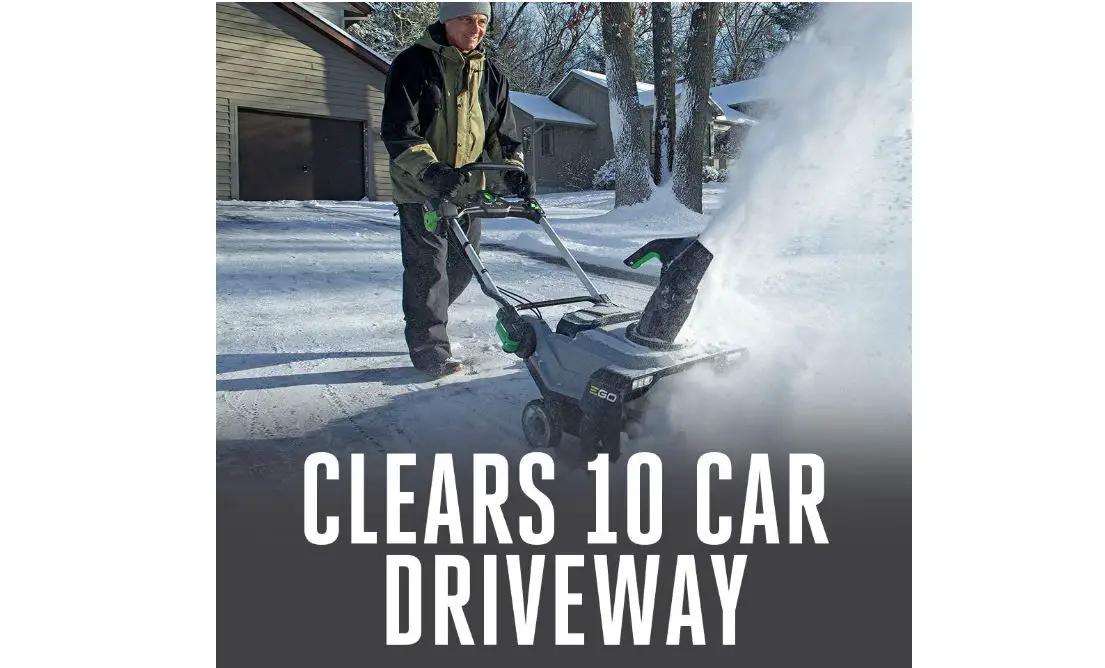 The unit is designed to clear a 21-inch wide section at a time and the manufacturer claims it can handle snow up to 8" deep.
You can attempt this, but it will require some physical effort to push and the batteries will deplete quickly. It does clear extremely well after minimal snowfall.
How Loud Is It?
The sound level is one of the best things about the machine.
Your neighbors won't hate you for starting on the snow early in the morning, becuase it runs fairly quiet.
If your unit is in good condition it won't be much more bothersome than listening to a commercial grade hand dryer.
How Heavy is it?
At just over 60lb with its batteries in place and measuring 45" x 35" x 22", it's robust enough to help you with clearing large amounts of snow, while being light and easy to handle.
Imagine pushing a shovel over the surface in a light snow fall. That's what it will be like pushing this model.
Some users even find it portable enough to load it in a vehicle. You may do this on the weekend for recreational purposes, to clear some space on a nearby field for a sports game in the fresh winter air?
This one handles the hard work, without requiring a trailer to cart it around.
Is it Easy To Manouvre?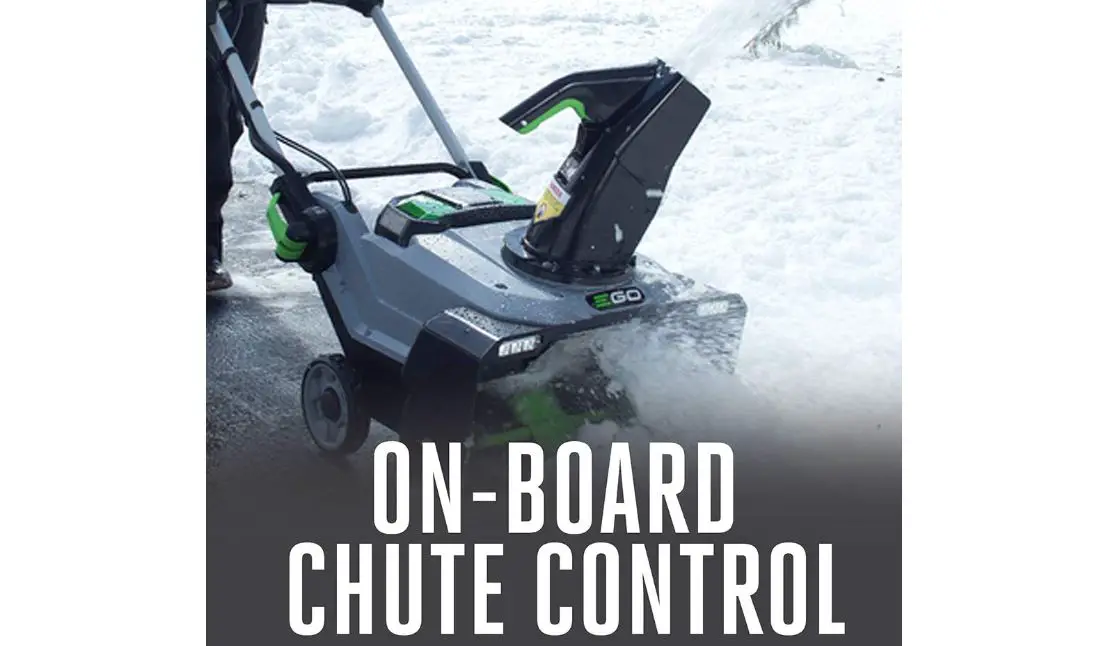 The 60lb weight is fairly easy to push, if the snow isn't too thick.
Also, because its handle folds down for storage purposes, it's easy to maneuvre it around in your garage.
Just remember, it's not self propelled, so in heavier snow you may need to apply some additional effort to keep it moving forward.
How Durable Is It? How Long Should It Last Overall?
The quality steel construction is sturdy enough to handle rough terrain and hard handling.
However, some clients have reported excellent performance followed by sudden breakages or it refusing to start up, even with charged batteries.
But these cases aren't common and EGO does send replacement machines if necessary.
Your warranty covers homeowners for 5 years, which is impressive. Just note you do need to register your machine to claim this warranty cover.
For commercial use the cover is only 3 years. Also, cover may only start 90 days after purchase. Read the fine print, so you know when you're allowed to claim.
What Type of Auger Does it Have?
EGO Power kits out this machine with a variable-speed auger, made of rubber.
It's not self-propelled, but thanks to the ability to adjust speed, it helps the snowblower move forward easier than you'd expect.
How Long Does the Battery Last?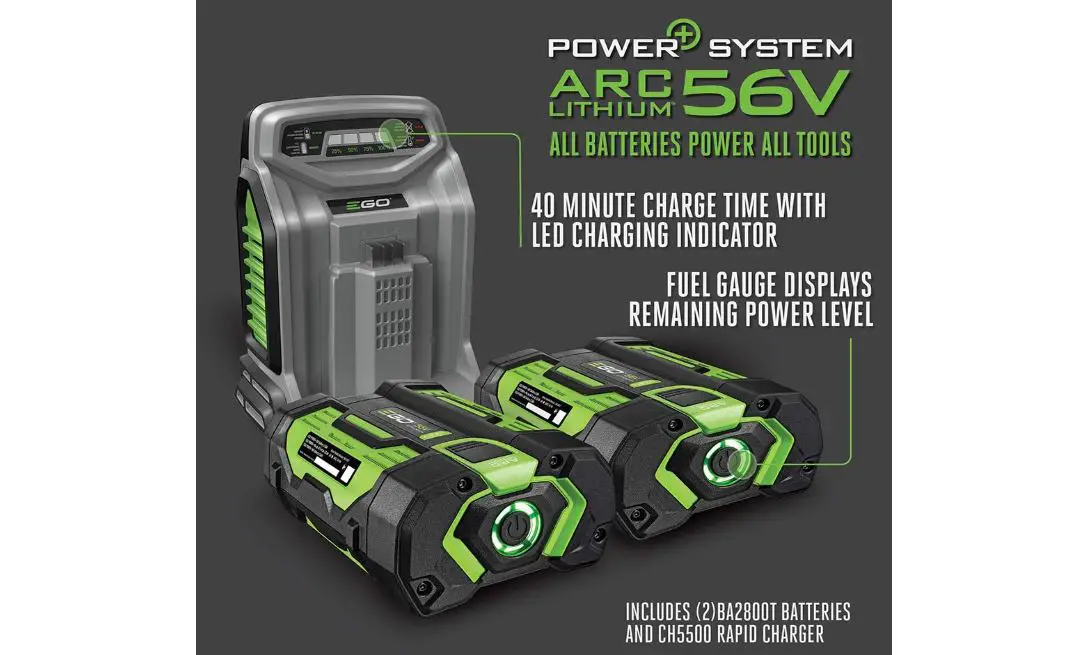 The battery life of the 5.0 Ah ARC lithium batteries is dependent on the type of snow you're clearing.
In minimal snowfalls and if you clear up to 5" of snow, you can expect the unit to run 45 minutes or even an hour on full batteries.
However, if you're clearing deeper snow and the going gets difficult, you'll need to run it at full power to get the result you want.
If you also need to power the LED lights, you may only have around 15 minutes of run-time.
How Can You Replace the Battery?
These snowblowers have rechargeable 56V Lithium batteries, so simply take them out and charge them if they run flat.
You'll wait around 45 minutes for them to be on full power again.
However, the charger only charges one battery at a time. So, if you don't have one or two spare batteries, you'll waste quite a lot of time before getting back to work.
We suggest you invest in two sets of batteries, so there's no need to stop working in between charges.
Exchanging batteries is very simple, with large buttons to eject them. When you replace them, just push them into their assigned spots and they'll click into place.
EGO Snow Blower Steel Auger vs Rubber
EGO designed a unit with a rubber auger and then launched an upgraded version with a steel auger, the SNT2112. The attraction of the rubber units is that they're cheap to replace, but they wear out much faster than steel.
However, rubber units are much less harsh on surfaces like pavements.
Still, with this EGO Power+ snowblower it seems the machine's smart design means the auger doesn't make too much harsh contact with the surface, so picking the steel auger is worth considering for longevity.
Data also shows a steel auger may clear up to 50% faster, so if speed is a priority, it's worth considering EGO's other models.
EGO SNT2102 vs SNT2114
One of the options of a steel auger snow blower from EGO is the SNT2114.
This one is powerful enough to clear 8" of snow in areas as big as a 14-car driveway, all thanks to two 7.5 Ah ARC lithium batteries.
This is more efficient than the SNT2102's 10-car driveway capacity or even the SNT2112's 12-car driveway abilities. You'll pay a little more but still have the benefit of an eco-friendly machine.
However, the SNT2102 is more than sufficient for smaller properties.
Pros
Lightweight
Eco-friendlier than gas powered blowers
User friendly controls
180° chute rotation
Headlights
Runs quiet
Fast charging batteries
Not restricted by cord
Collapses for easy storage
Cons
Not ideal for heavy snow
Not a self propelled blower
Batteries quickly run flat in deeper snow
Charging unit takes one battery at a time
Who Should Buy It?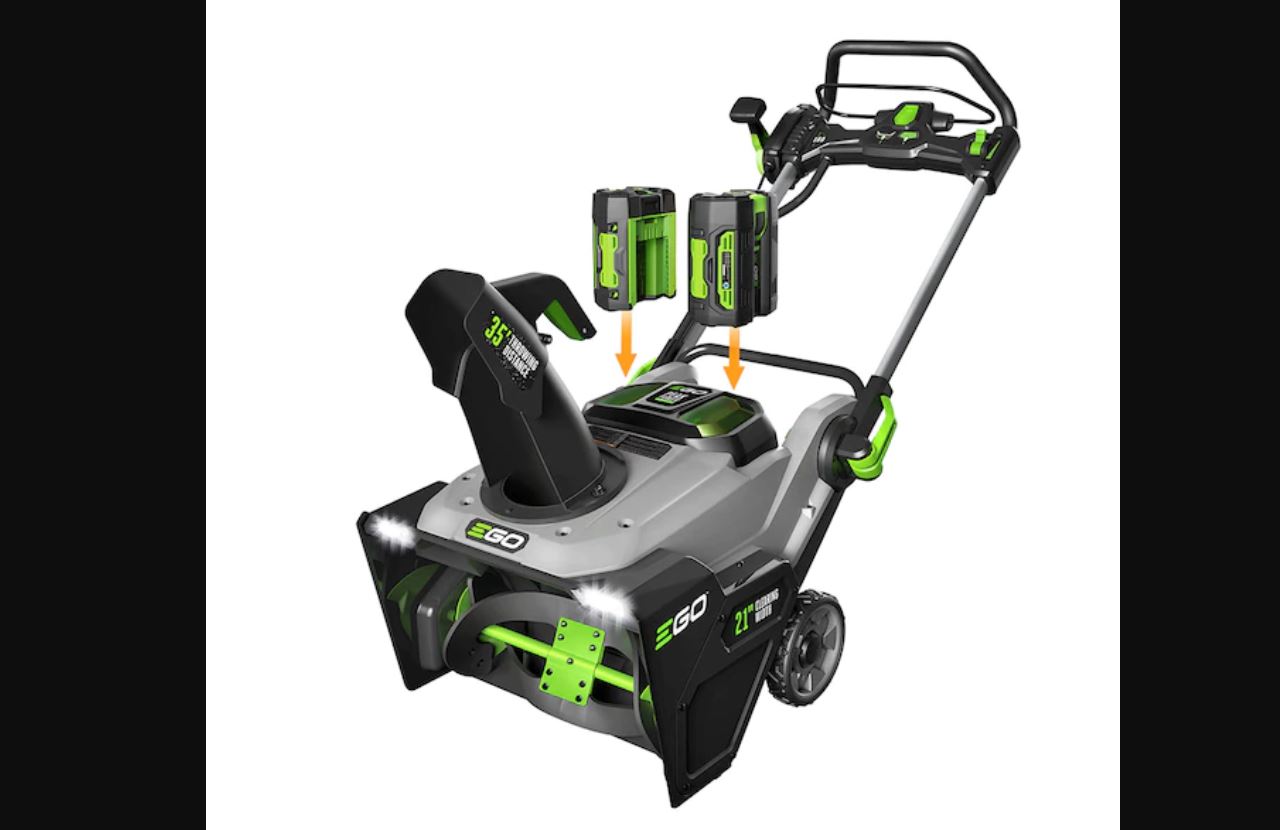 It's a smart investment for home or commercial property owners who need to clear standard driveways or similar-sized spaces.
It's also more practical for those who have no need for these types of machines during warmer months, because storage is easier than fuel powered models.
Overall Score: 90/100
Check Out More Reviews Here:
3 Other Similar Snowblowers We Like – Mini Reviews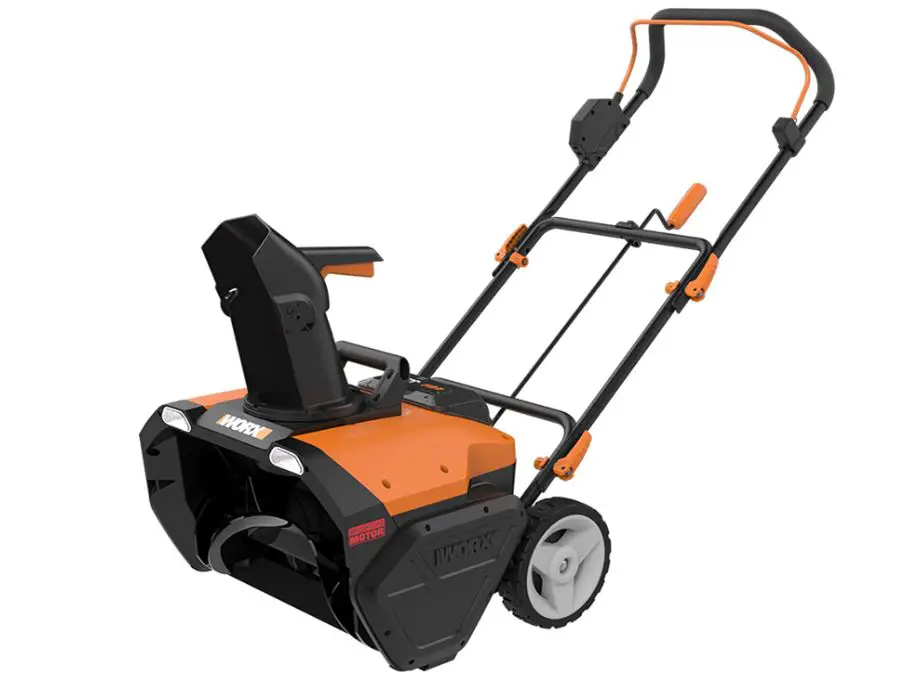 Also battery powered, but with less powerful 20V batteries, you can try the Worx cordless snow blower.
It has other similar features to the SNT2102, like a collapsible handle and chute that's easy to operate. But a bonus is the 4A dual charger that takes two batteries at a time.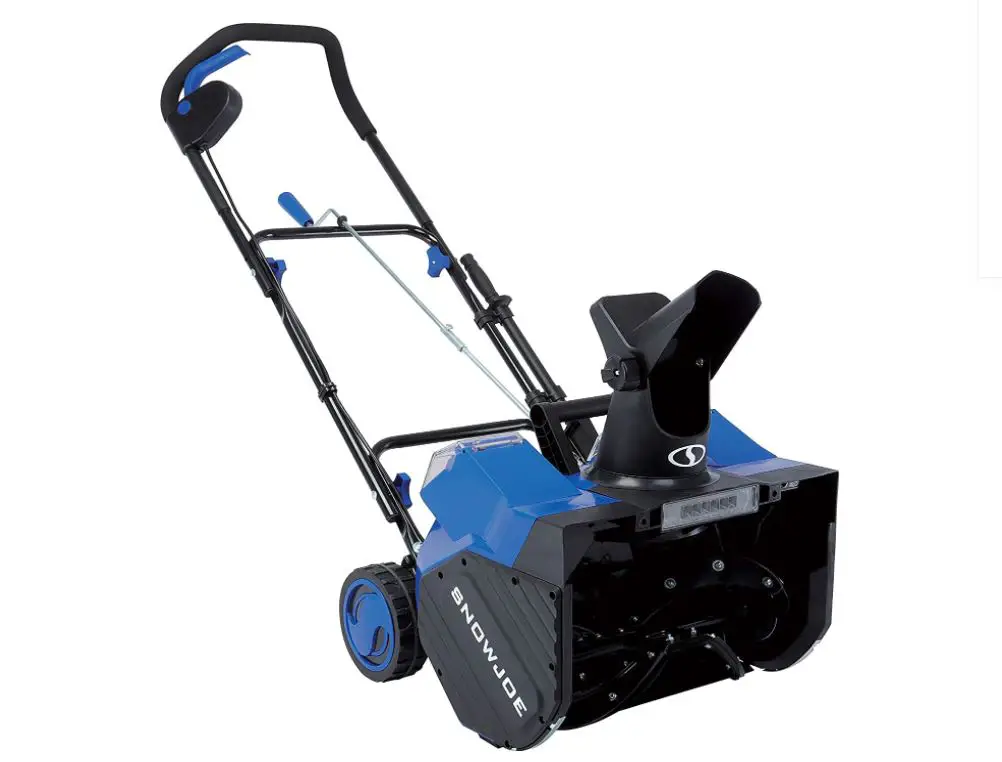 A helpful feature of the Snow Joe model is the steel auger that's rubber-tipped.
It works efficiently, while protecting the surface you work on. The run time may be less than the EGO Power+ SN2102's.
With the two 4.0 Ah batteries, you can expect 40 minutes or less. But it's still a good buy with its 1200W brushless motor and LED lights. Note its design allows clearance of only 18" wide paths at a time.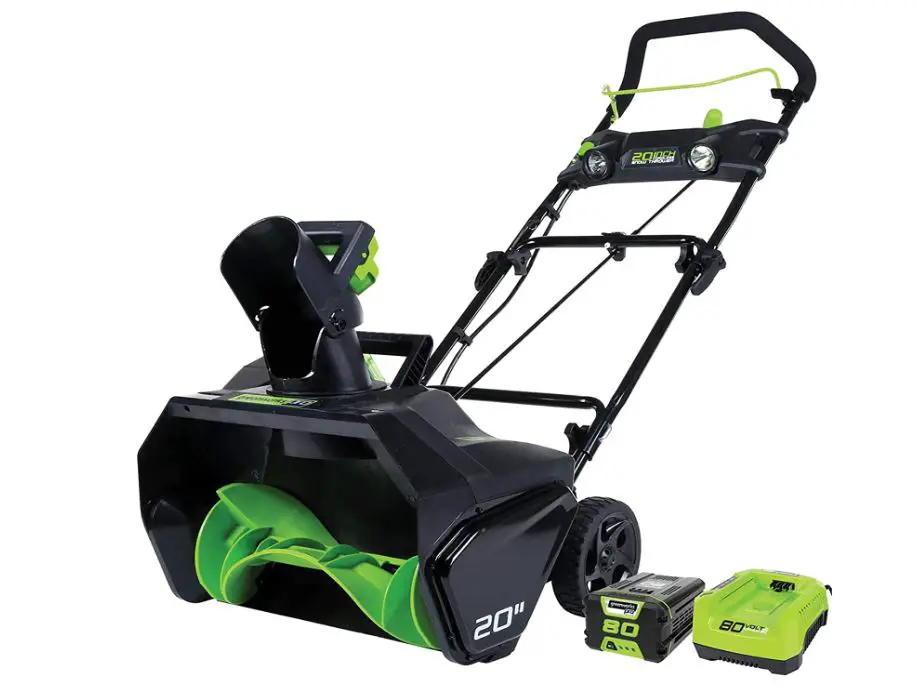 The Greenworks Pro 80V allows for a 20" clearing path and the 80V Li-ion battery system can give you 45 minutes of run time under the right conditions.
Depending on the snow, you may even clear 10" of it efficiently. Just note it's a polyethylene plastic auger, so it may not last as long as some others.
Overall Conclusion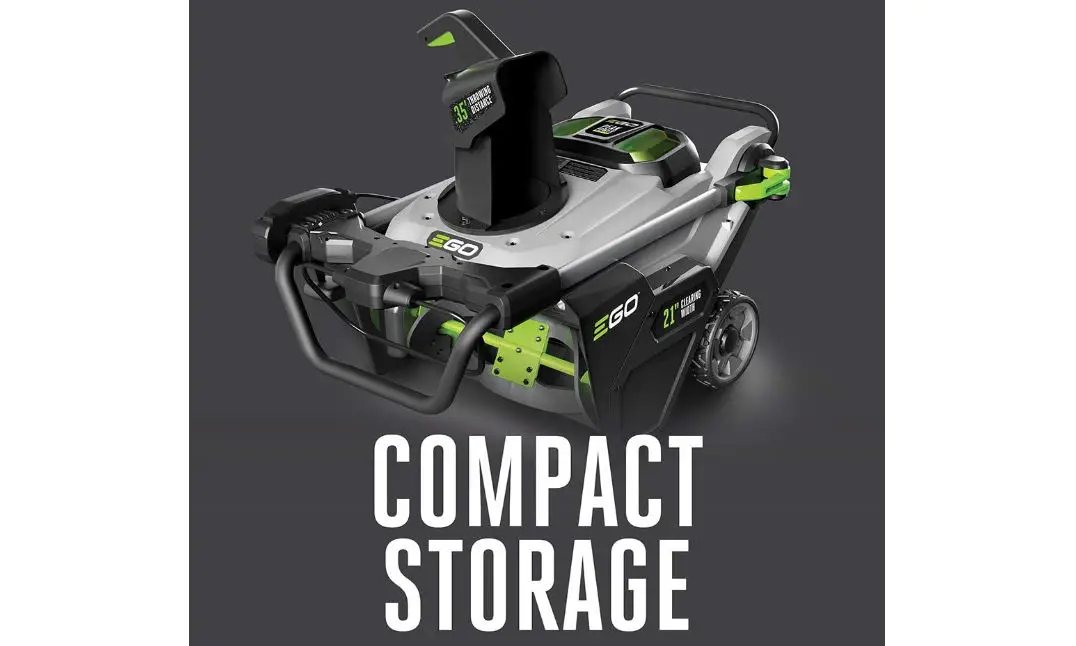 The EGO Power+ SNT2102 comes with multiple advantages over its counterparts.
It's even a best buy compared to models from the same brand. For smaller properties and up to moderate snow, you'll appreciate that you can efficiently clean, while living green.